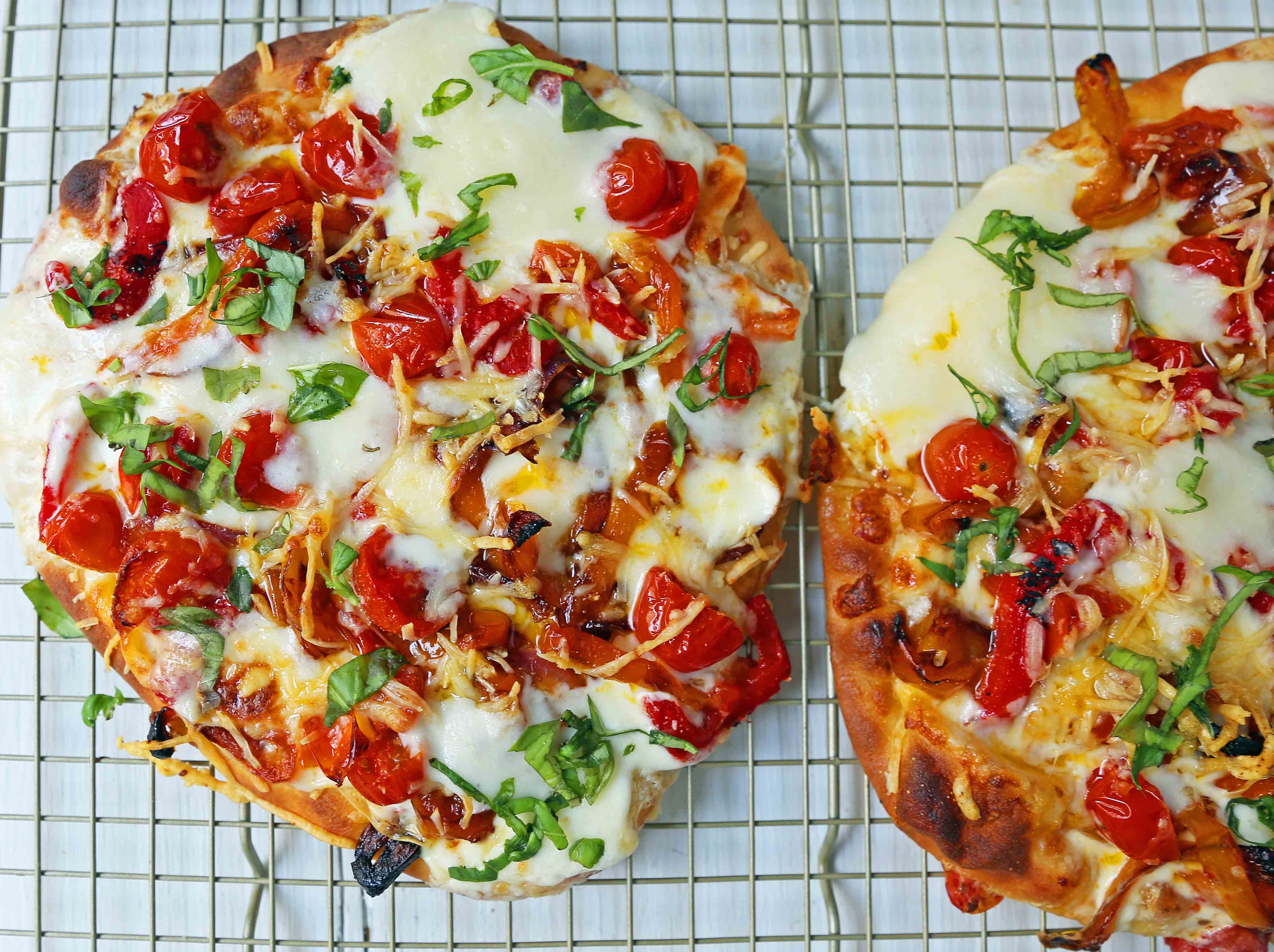 Veggie Pizza
Quick and Easy Veggie Pizza Recipe made with a flatbread crust, creamy mozzarella cheese, roasted summer vegetables, ricotta cheese, and a drizzle of olive oil. 
I am sharing how to make a super simple flatbread pizza made from naan bread. It doesn't get easier than having the crust already done for you! This vegetable pizza starts off with chewy naan bread. By using naan bread for this vegetable pizza, it is saving so much time! You don't have to make the crust nor do you have to wait for the crust to fully cook through.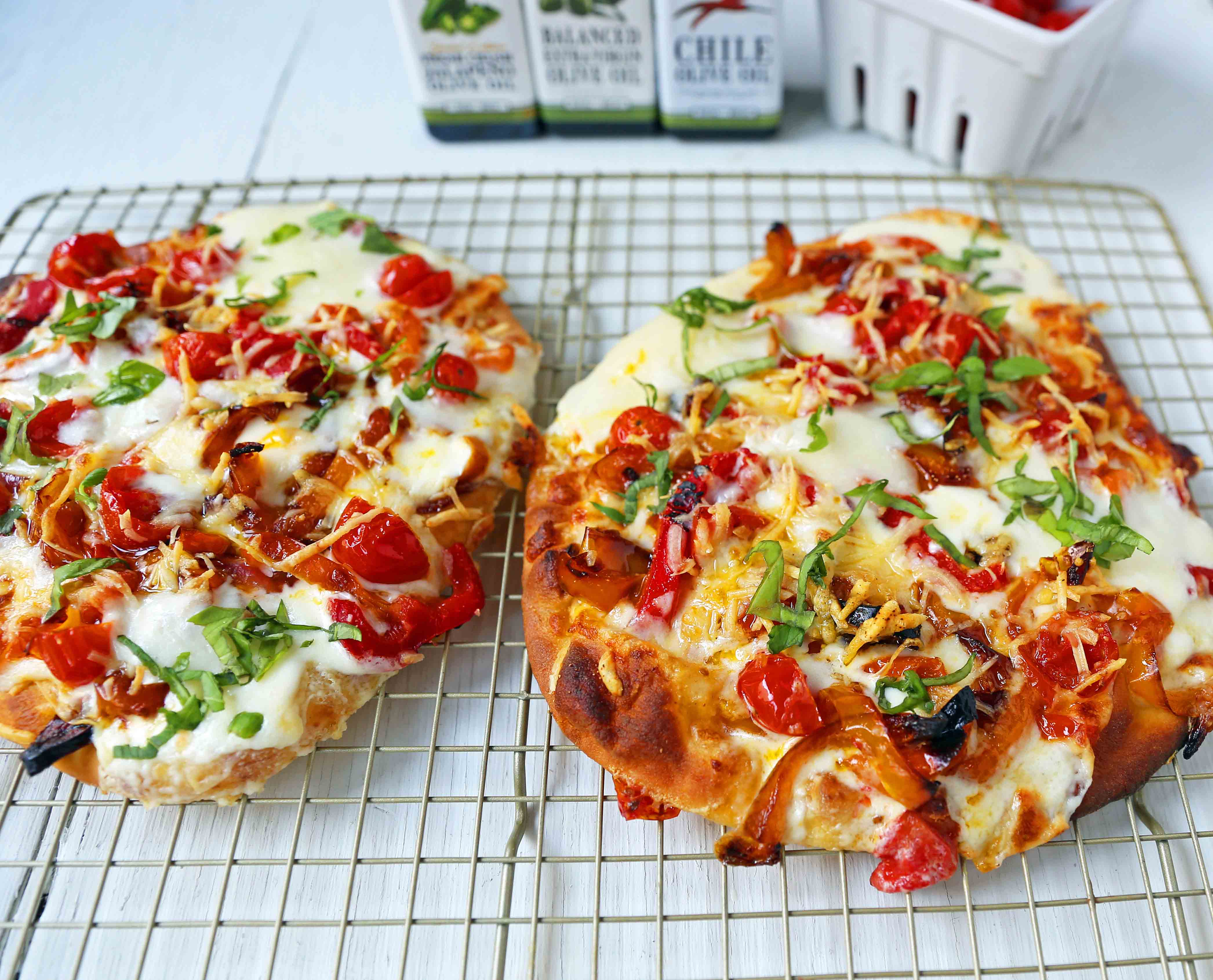 What is naan bread?
Naan is an oven-baked, leavened flatbread often found in Indian cuisine.
I used to make my pizza dough from scratch and it was labor intensive. After using naan bread, I am hooked! Now, I can make homemade pizza in 15-20 minutes. I use the Stonefire naan bread.
What ingredients are on a Veggie Pizza?
Since veggies are the star of the vegetarian pizza, we want to include a lot of them! Red peppers, yellow peppers, grape tomatoes, red onions, zucchini, corn, and more. You can also throw on mushrooms, olives, and spinach. Roasting the vegetables with a little extra-virgin olive oil and salt ahead of time is worth the extra step since it brings out their natural sweetness.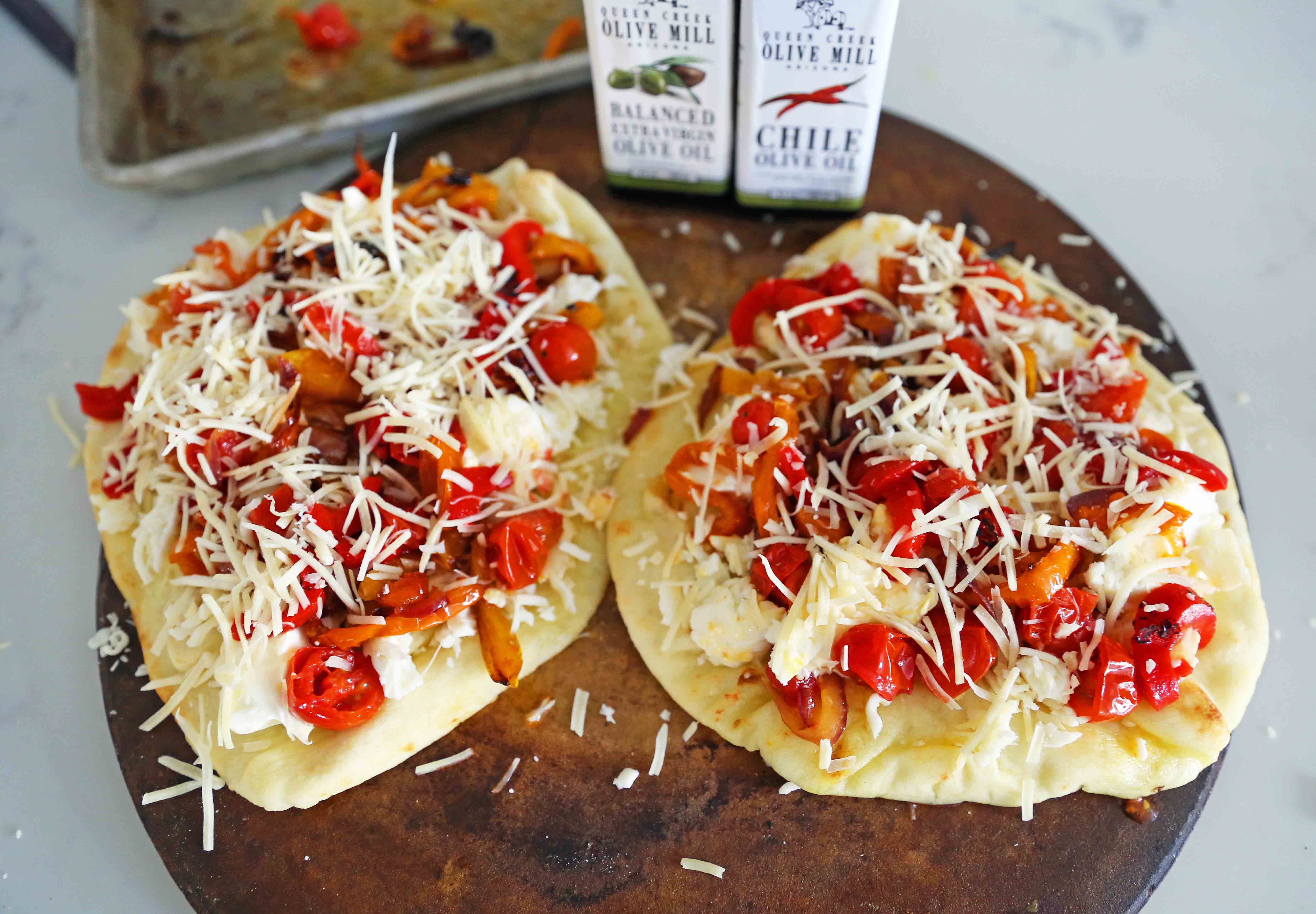 How to roast vegetables?
Preheat oven to 400 degrees. Place cut-up or sliced vegetables on baking sheet. Generously drizzle with extra-virgin olive oil and sprinkle with salt. Cook for 15-20 minutes, depending on the size of the vegetables.
If you want to use raw vegetables instead of roasting them, I suggest cutting them small so they cook faster.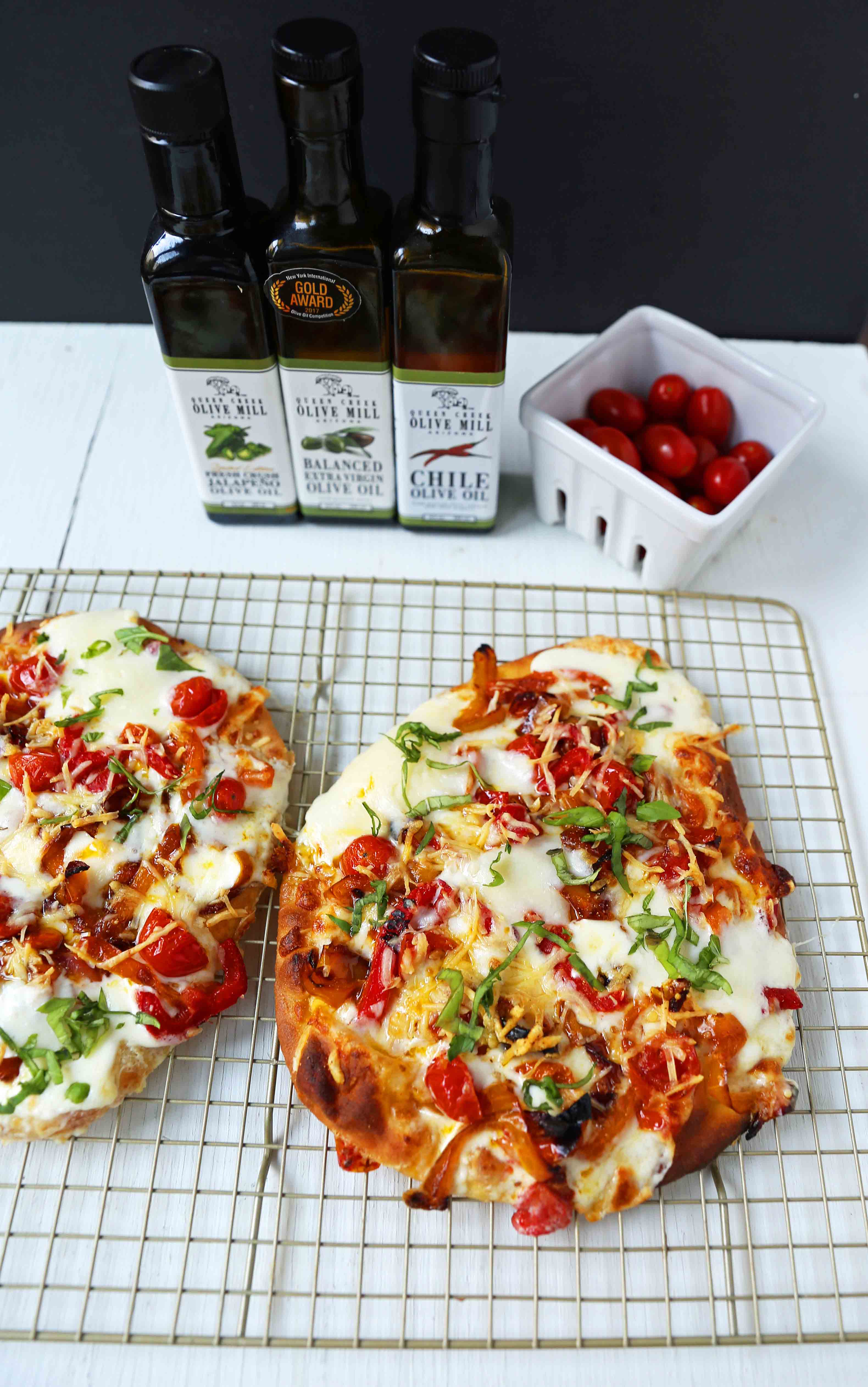 The crust is naan bread and is topped with the chili, jalapeno, or roasted garlic olive oil from the Queen Creek Olive Mill. I am in love with these flavor-infused olive oils because they bring some warm spice to this veggie pizza. If you want to keep it simple, you can even use their balanced extra-virgin olive oil and drizzle it all over the flatbread. You can purchase them here.
Next comes the cheese. One of the highlights of the pizza, without a doubt! You can use a mixture of mozzarella cheese and parmesan cheese, for that extra bite.  Mozzarella cheese is known for its ability to melt beautifully but has a mild flavor. To bring more robust flavor, sprinkle on some parmesan cheese. To add some extra creaminess, add dollops of ricotta cheese all over the top of the pizza.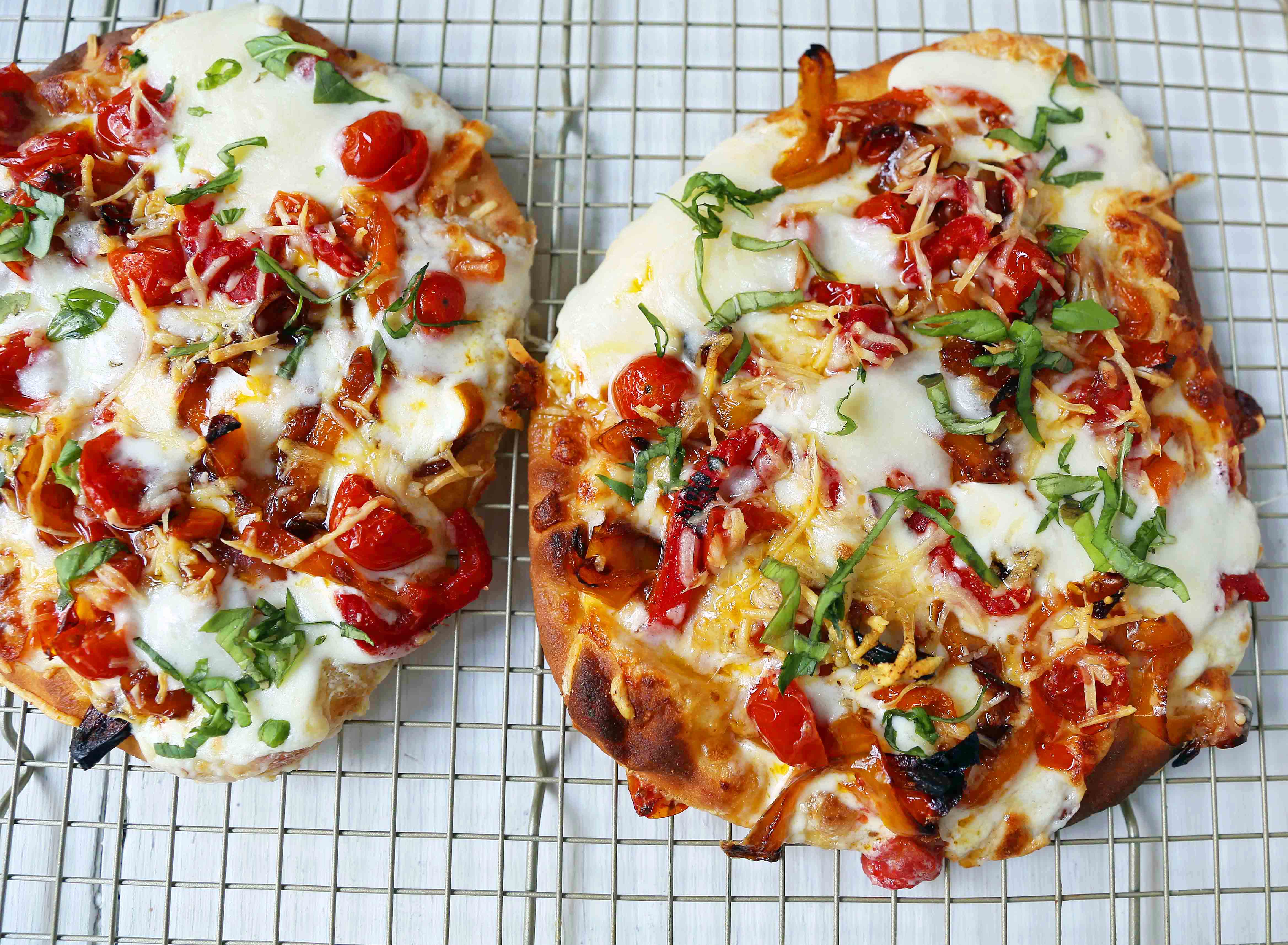 The beauty of this veggie pizza on naan bread is that it cooks so fast! Crank up your oven to 450 degrees to allow the cheese to melt and become bubbly.
This is the perfect summer farmer's market pizza. Grab all of the healthy veggies, roast them until they are bursting with flavor, and top with melty cheese. An easy summer garden pizza! I hope you love this super simple way to make homemade pizzas at home!
FOLLOW ME ON:   INSTAGRAM — FACEBOOK — PINTEREST
Pin on Pinterest: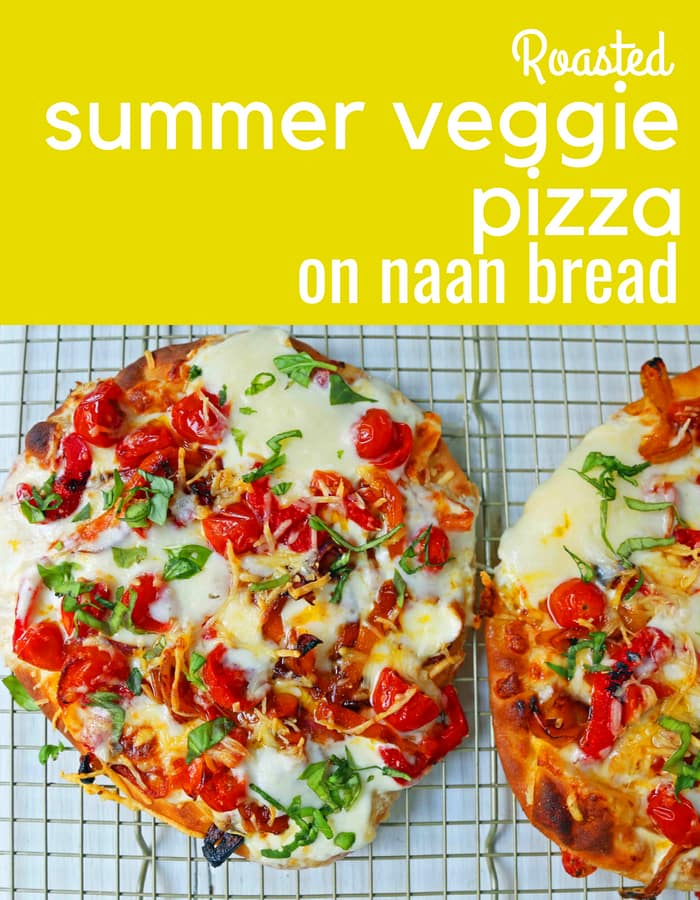 Pin this now to find it later
Pin It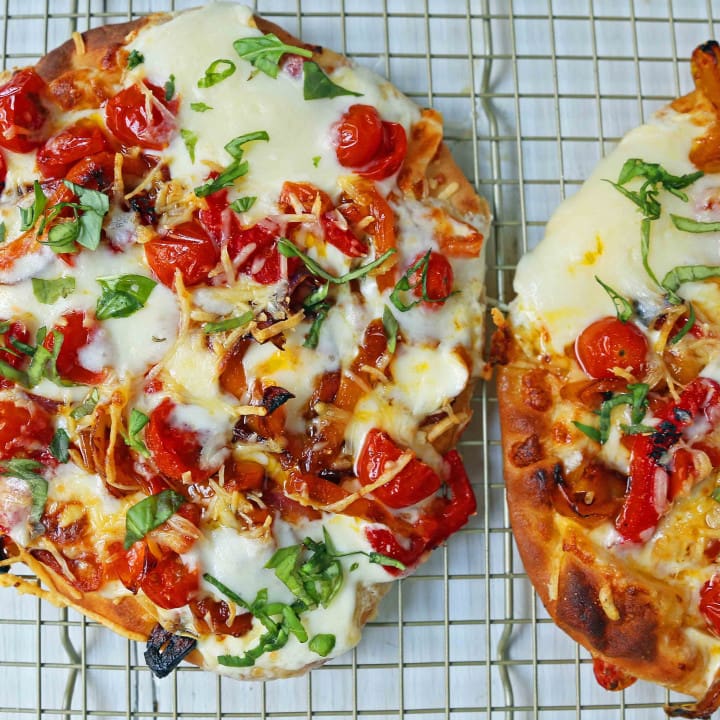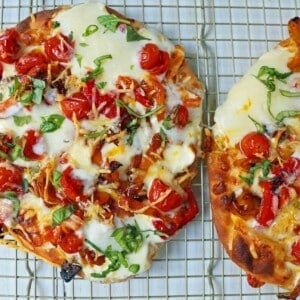 Veggie Pizza
Roasted vegetable pizza with three kinds of cheese and roasted veggies baked on naan bread.
Ingredients
2

pieces

Naan Bread

2

Tablespoons

Extra-Virgin Olive Oil

(plus more for roasting veggies)

1

Large

Red Pepper

sliced

1

Large

Yellow Pepper

sliced

6-10

ounces

Grape Tomatoes

sliced in half

1/4

cup

Red Onion sliced

3

cups

Mozzarella Cheese

1

cup

Ricotta Cheese

1/2

cup

Parmesan Cheese

Fresh Basil
Instructions
To roast vegetables (optional):
Heat oven to 400 degrees. Place all vegetables on baking sheet and drizzle with olive oil and sprinkle with salt. Cook for 15-20 minutes, or until veggies become tender.
To assemble pizzas:
Preheat oven to 450 degrees. Place naan bread on a baking sheet or pizza stone. Drizzle 1 Tablespoon of olive oil over each piece of naan bread. Sprinkle with mozzarella and parmesan cheese. Top with roasted or fresh veggies. Add dollops of ricotta cheese.

Bake naan bread pizza for about 13-16 minutes, or until cheese is melted and bubbly. Watch carefully.

Remove from oven and top with fresh basil.
Notes
I used Stonefire Naan Bread 2-pack
I drizzled on Olive Mill's infused oils. I used jalapeno olive oil on one and chili olive oil on the other.  You can use your favorite flavor of the extra-virgin olive oil. 
Nutrition information is automatically calculated, so should only be used as an approximation.