How to make the best homemade pepperoni pizza at home with homemade pizza dough that makes the perfect crispy yet chewy crust. Tips and tricks for making gourmet pizza at home!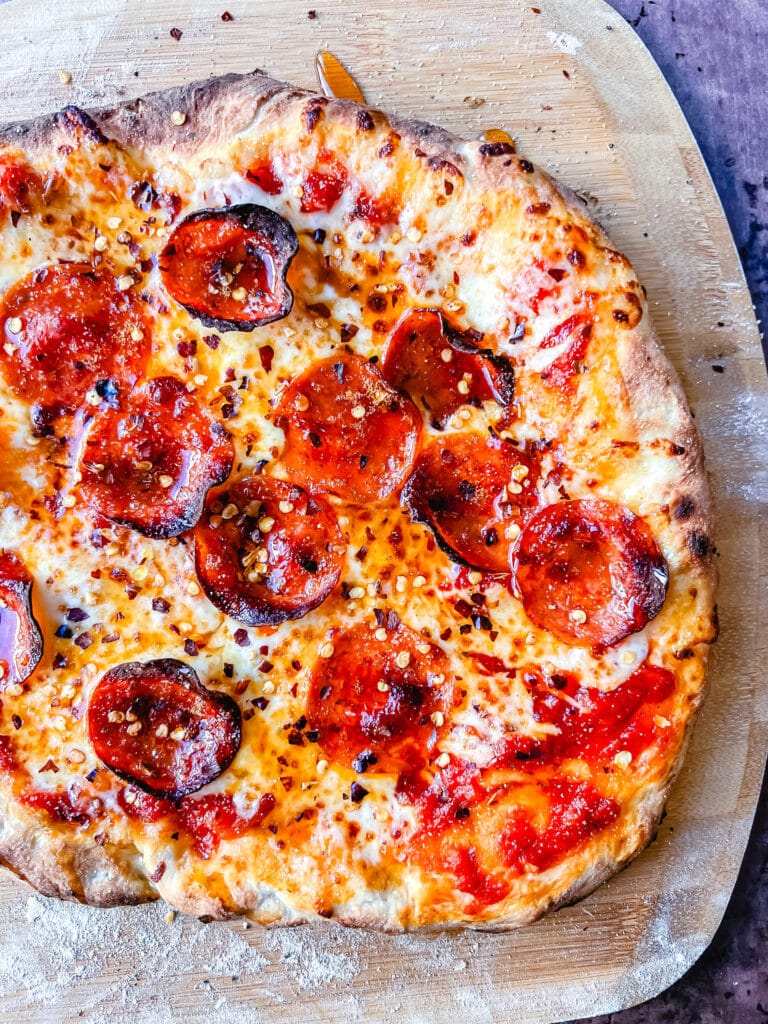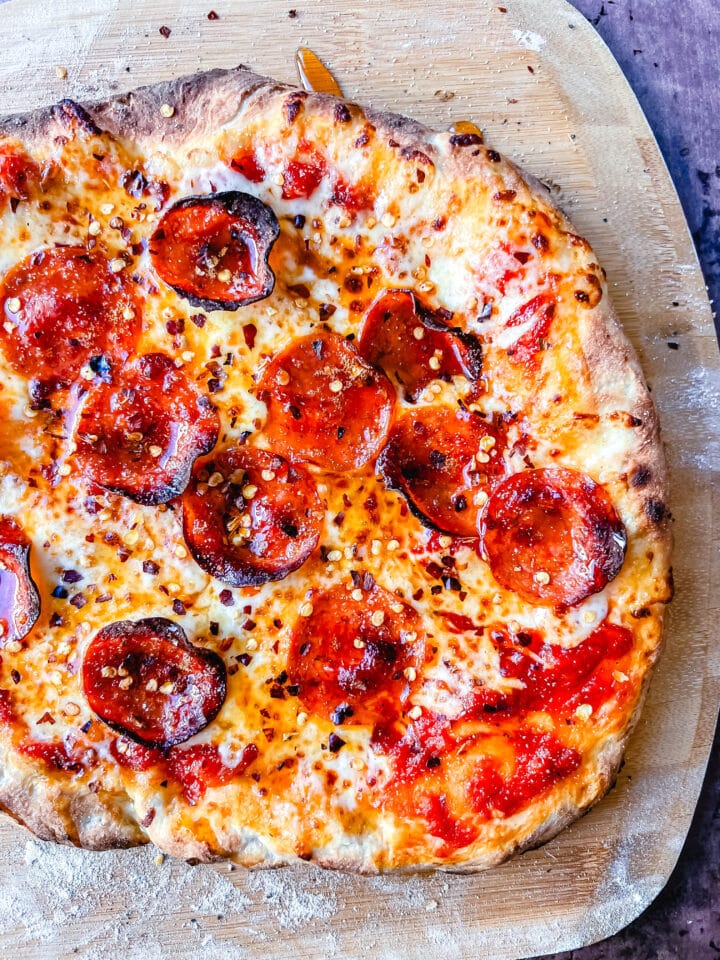 If you love pizza, this gourmet homemade pizza is going to blow your mind. It is all about the simple ingredients, the techniques, and the right equipment and you won't even miss your local pizza shop.
We have been making pepperoni pizza with jalapeno and hot honey on repeat, over and over again. Sometimes we go simple with pepperoni, red chili flakes, and a drizzle of hot honey. Sometimes we add in some hot calabrese salami for some extra spice.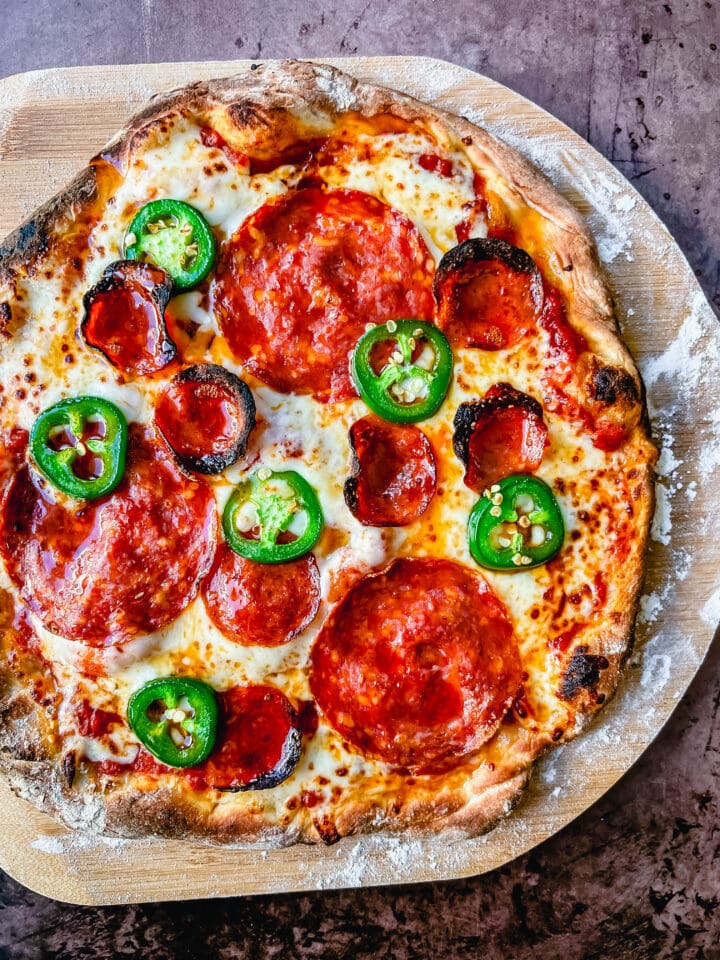 It is so easy to make homemade pizza at home! You can whip up homemade pizza dough in less than 10 minutes and all you have to do is let it rise.
This pizza dough recipe is super simple and creates the perfect pizza crust.
Homemade Pizza Ingredients:
Homemade Pizza Dough or Store-bought Pizza Dough
Pizza Sauce
Mozzarella Cheese
To make your cheese extra melty and bubbly, I suggest buying a block of mozzarella cheese and freshly grating it. The bags of pre-shredded mozzarella cheese don't melt as well.
Optional Ingredients:
Pepperoni
Hot Calabrese Salami
Jalapenos
Hot Honey
Red Chili Flakes
My favorite pepperoni is the Boar's Head brand.
Hot Honey can be found here on Amazon, at Trader Joe's, or at your local grocery store. You can also make your own hot honey by adding chili flakes to honey.
Homemade Pizza Dough Ingredients:
Flour (I suggest 00 Flour or Bread Flour)
Instant Yeast
Sugar
Warm Water
Salt
Extra-Virgin Olive Oil
How to make homemade pizza dough?
It is easier than you think! Just take warm water, yeast, and a touch of sugar and mix it with flour, salt, and a little EVOO. Let it rise for about 1-2 hours until doubles in size and you are ready to make homemade pizzas.
I suggest using 00 Pizza Flour. It helps to create the perfect pizza dough.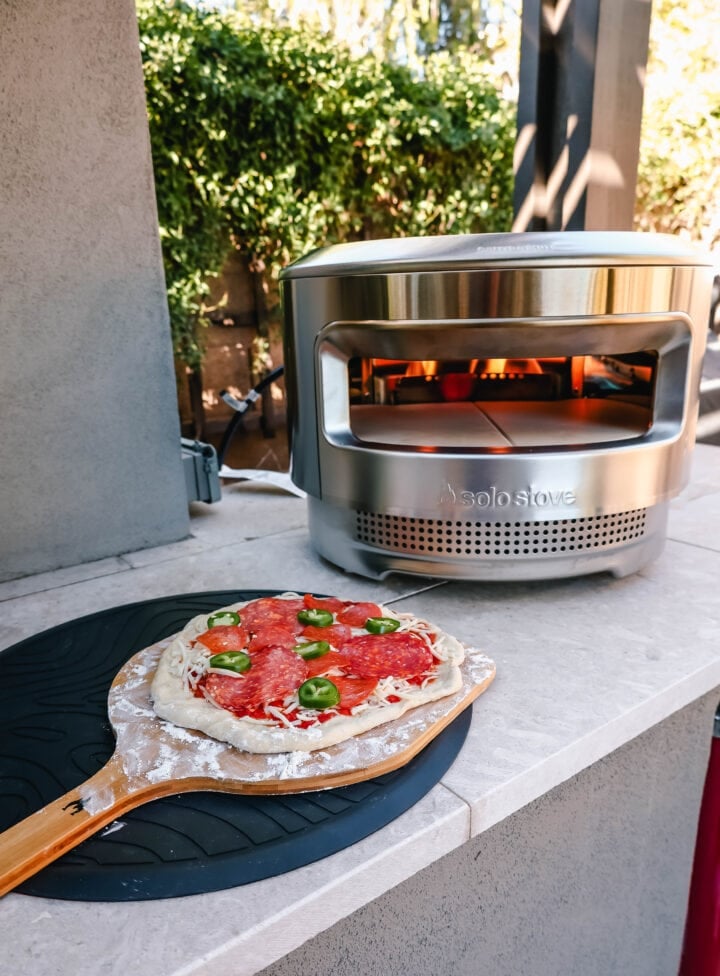 What type of outdoor Pizza Oven to use?
I have tried several pizza ovens and my favorite, hands down, is the Solo Stove Pi Pizza Oven. The pizzas are cooked to perfection in about 90 seconds, with the perfect crispy crust and bubbly cheese.
We added on the gas propane option for extra ease. We love making pizzas in it and our teenagers love making their own custom pizza in just a few minutes.
Can I cook homemade pizza in my oven?
You can also cook your pizza in an oven as well at 450 degrees but it just doesn't get as hot as an outdoor pizza oven. I will share tips for cooking your pizza both ways.
How to make the best Homemade Pizza:
Start by making your homemade pizza dough. The recipe and directions will be listed below. Prepare several hours ahead of time to allow the pizza dough to rise.
Roll out the pizza dough into a circle and top it with your favorite toppings.
Heat the oven or outdoor pizza oven. Heat the indoor oven to as high as it will allow, which is most likely 450 degrees.
Place the pizza on a pizza stone or straight into the outdoor pizza oven (follow the pizza oven directions).
Cook the pizza and remove it from the oven and top it with red chili flakes, hot honey, fresh basil, oregano, balsamic glaze, or any of your favorite ingredients.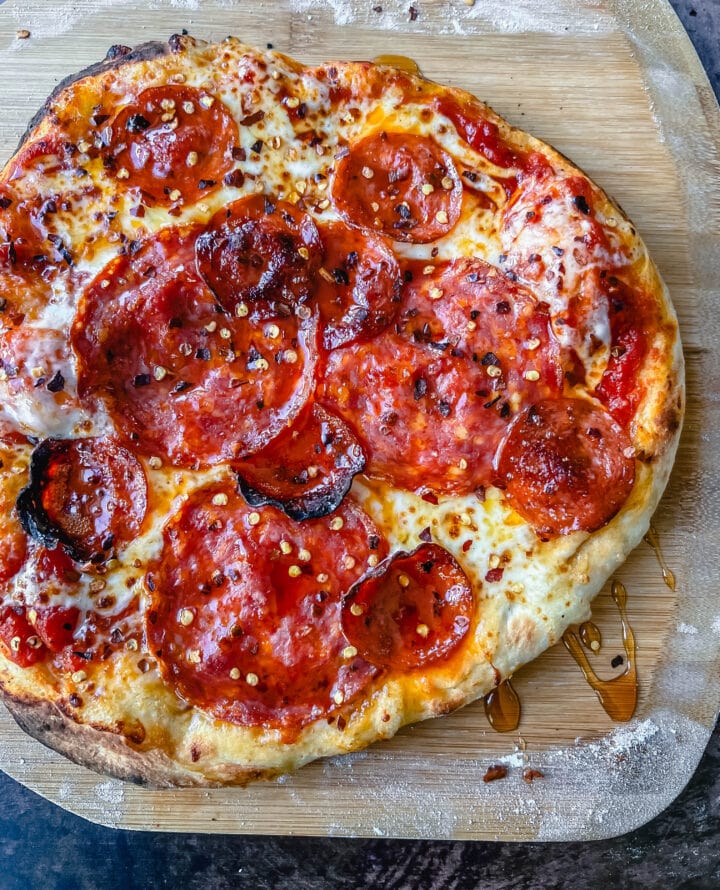 If you love cheese pizza, check out my 3-Cheese White Pizza Recipe.
If you love slider sandwiches, check out my easy Pepperoni Pizza Sliders on Hawaiian Rolls.
I love to hear from you! If you make this recipe, please be sure to leave a comment and give this recipe a rating. Sign up for my newsletter below so you never miss a recipe. Thank you for following along! I truly do have the greatest readers. FOLLOW ME ON: INSTAGRAM --- FACEBOOK --- PINTEREST