Where to stay in Strawberry Arizona
When you live in the hot desert in Arizona, you dream of escaping to the mountains once the mercury starts to rise.
Every single year, we drive up north and stay in mountain towns to enjoy the pines and get away from the heat. It's less than 2 hours away from home and we can relax and enjoy the cool temps.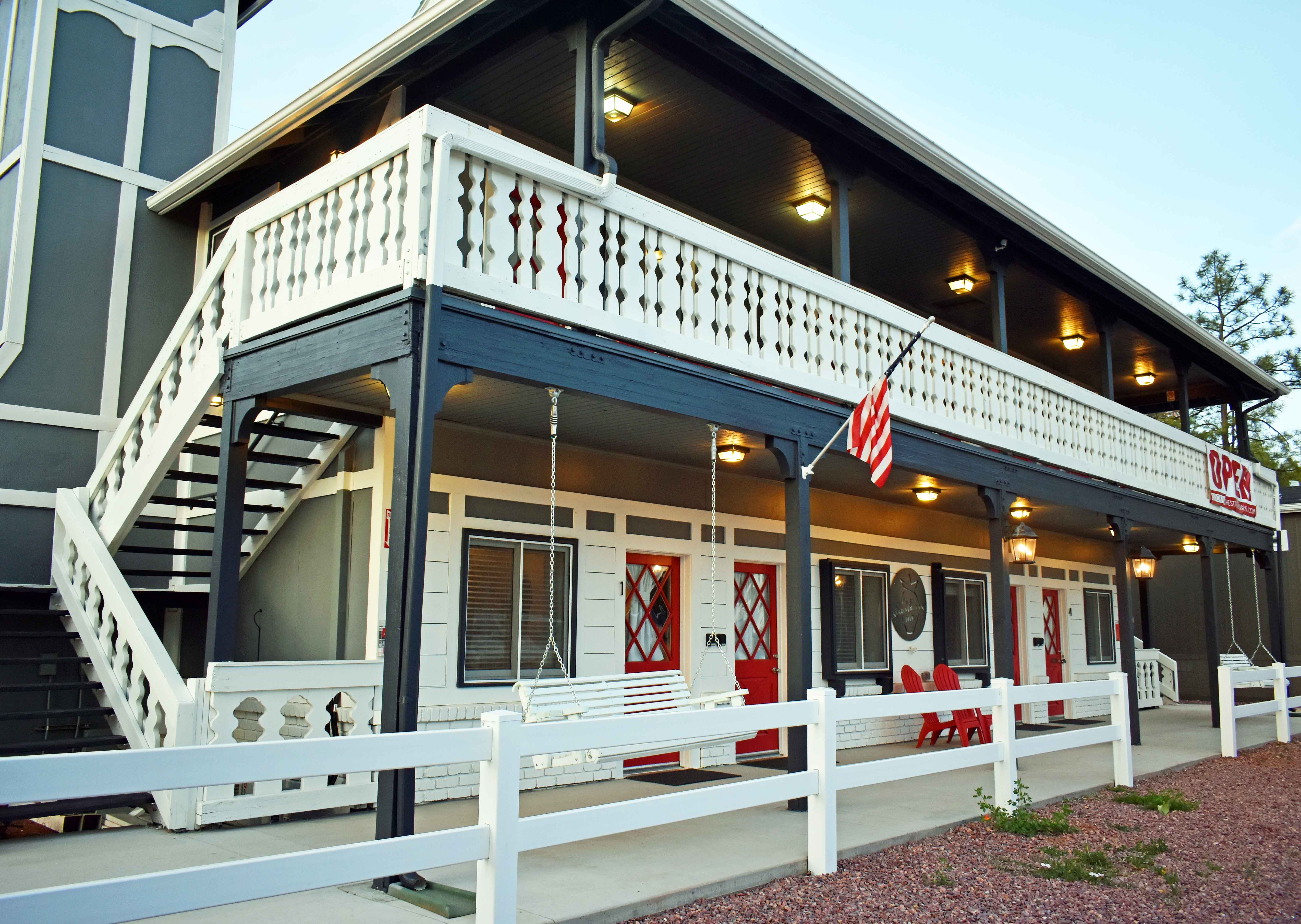 We heard about this darling newly remodeled inn, called The Strawberry Inn, located in Strawberry, Arizona. It sounded like the perfect weekend getaway with my husband. We packed an overnight bag for a weekend in Strawberry/Pine which is located only 100 miles from Phoenix.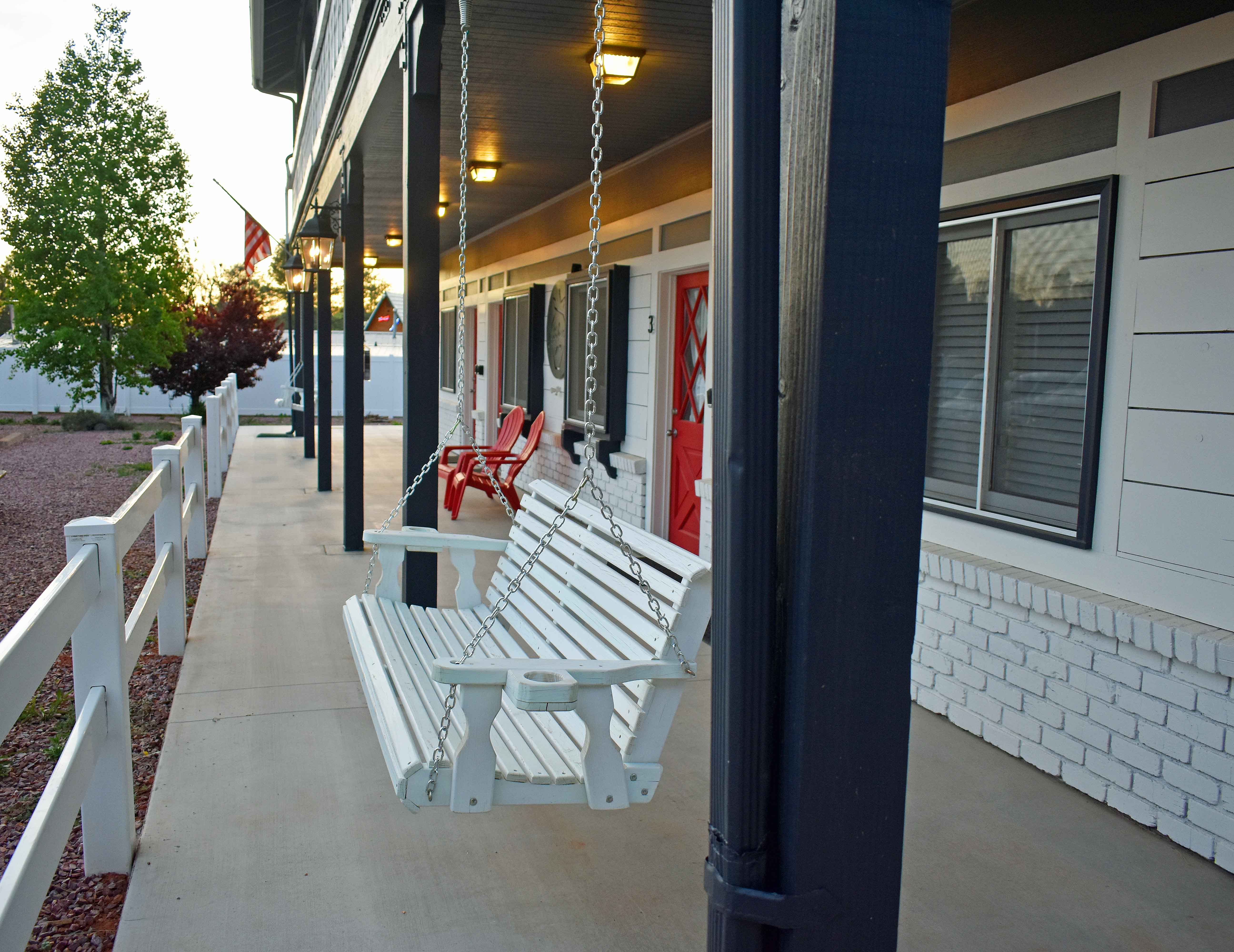 On the way, we stopped at Tonto Natural Bridge, outside of Payson. It offers several hikes that lead to picturesque settings such as waterfalls covered in greenery and gorgeous rock formations. It was so relaxing as we sat and took in the beauty of nature.
We got in the car and headed up the road to Pine and Strawberry (located 5 minutes from each other). We parked our car and walked along Main St. to the shops where you can find handcrafted honey, antique shops, homemade fudge, bakeries and ice cream shops. We had to hit the ice cream shop and pick up some famous Hawaiian ice cream.  We are hitting the fudge shop next time we visit because it looked heavenly!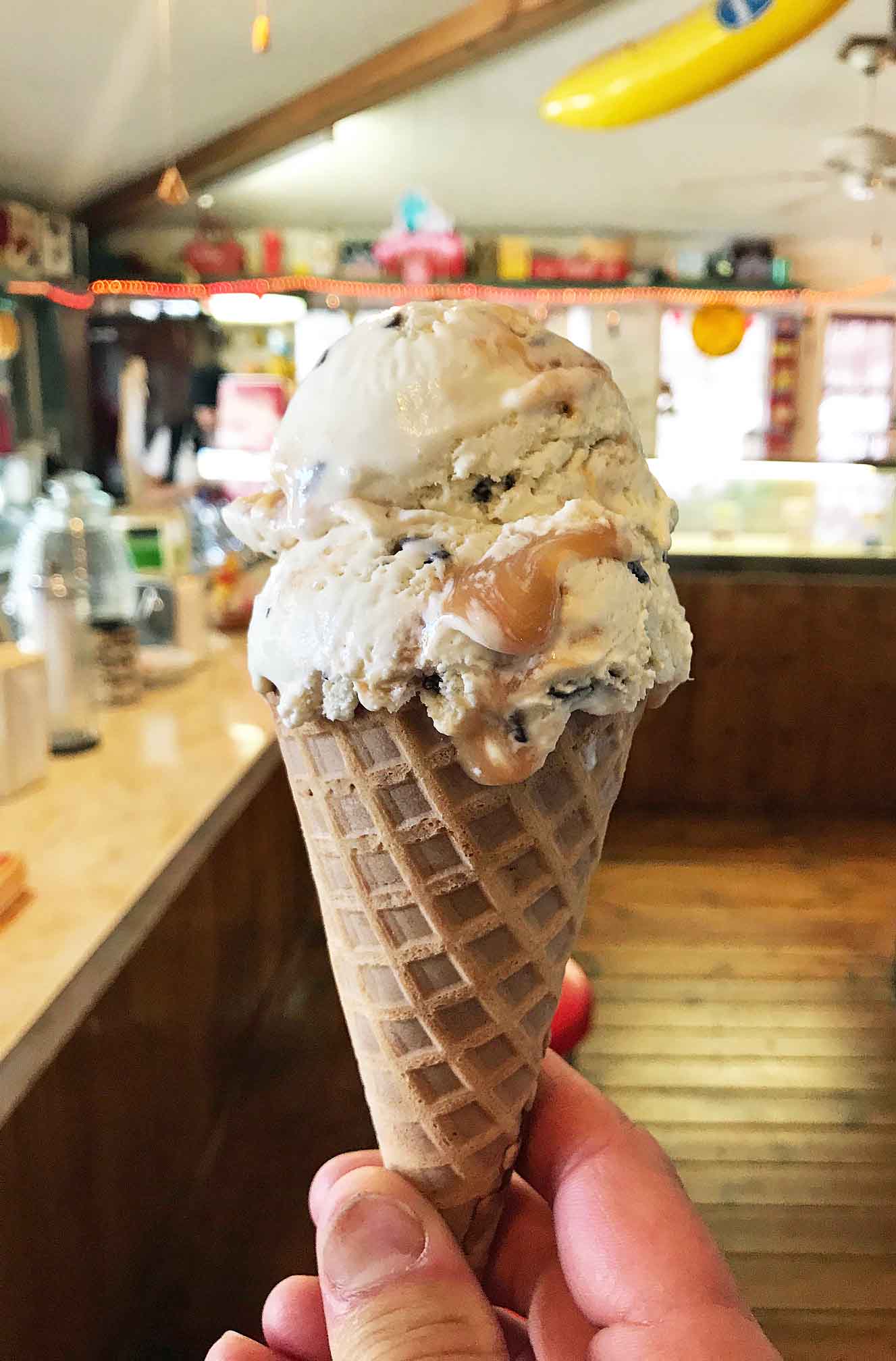 We drove less than 5 minutes up the road to Strawberry and headed up the the road to the Fossil Creek Creamery. They have a petting farm and sell flavored goat cheese and homemade chocolate fudge.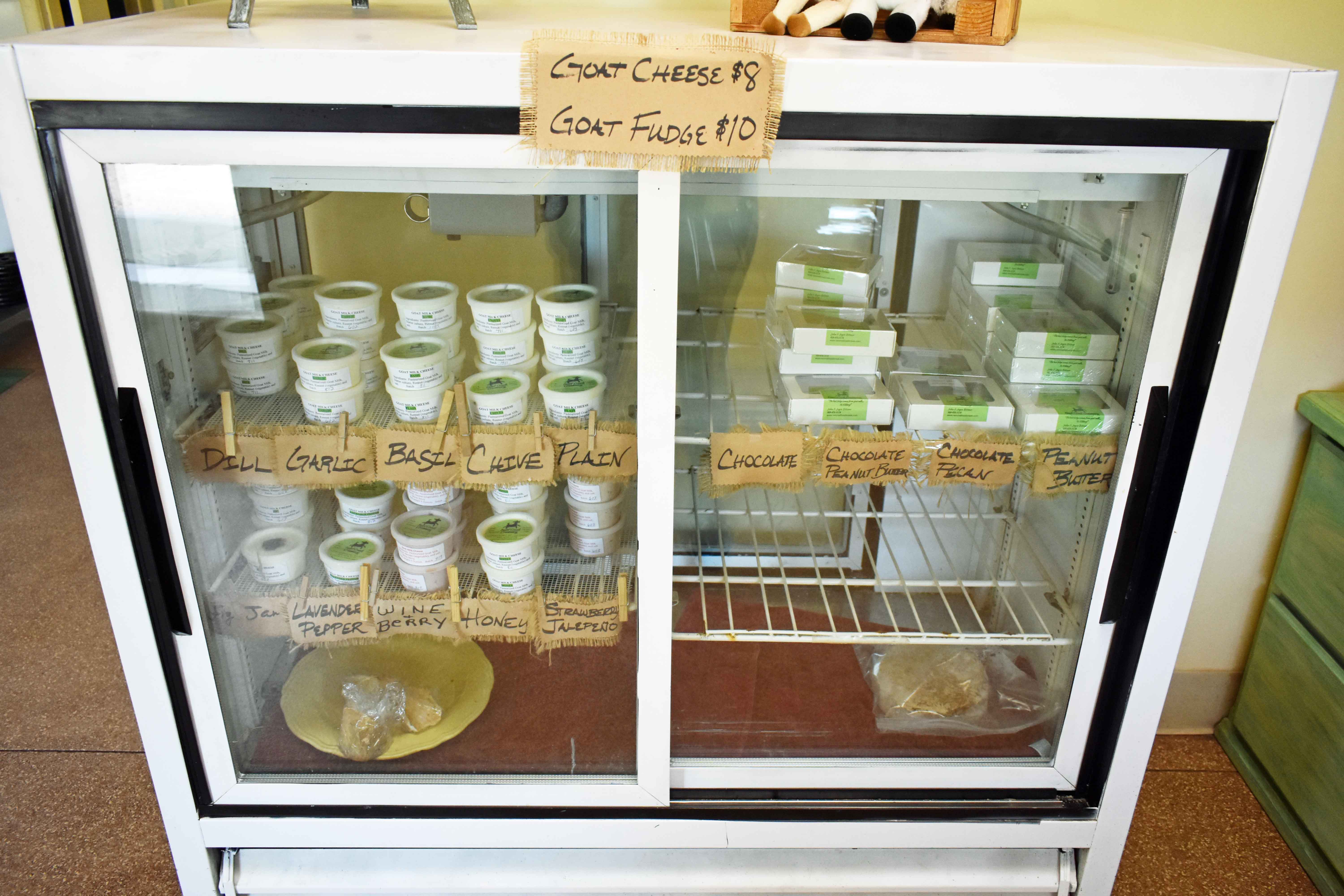 It was time to check into our place and as we drove up to the Strawberry Inn, we immediately fell in love with this charming place. It is a two-story inn with only 8 rooms so it is nice and cozy. It even has a windmill and clock tower which exudes charm. Red adirondack chairs lined the porch and the red doors are so inviting.
As we walked in, all of the walls were covered in shiplap, which made me feel right at home. We also covered our entire family room in wood planks almost 4 years ago and love it! The room was so clean with wood floors, a sitting area, and the softest bedding known to man.
We literally fell on the softest luxurious bed and took the best afternoon nap. Hey, hiking and eating ice cream is exhausting.
Where to eat in Strawberry Arizona
After waking from the super relaxing nap, we had developed quite the appetite and had our mind set on one restaurant. We had done some research ahead of time and heard rave reviews about a restaurant called, the Old County Inn, that just opened a year ago. I went online and salivated looking at the menu. I wanted to order EVERYTHING! Do you ever go to those places where everything on the menu looks good?
As we parked the car and started to walk up to the Old County Inn, we could hear the live music playing and it was so charming. There was a wait for a table and as we waited, we walked around and took it all in.  It was as if time just slowed down and we were loving every minute of it.
We were waiting for an outside table but walked inside to talk to some of the employees. It was imperative that I find out what was good before I ordered, of course. I ended up meeting Michael, the chef and owner, who was creating some pizza pie masterpieces in the wood burning stove.  Almost everything on the menu is handcrafted and made from scratch — even the bacon and sausage, which I respect greatly.
It was finally time to order and you would think we were ordering for 4 people! We went a little crazy. As the food started coming, it exceeded our expectations. The cheese dip with homemade breadsticks was out of this world and the chicken tenders were crispy on the outside and tender on the inside. The homemade buttermilk dressing and pickles put it over the top.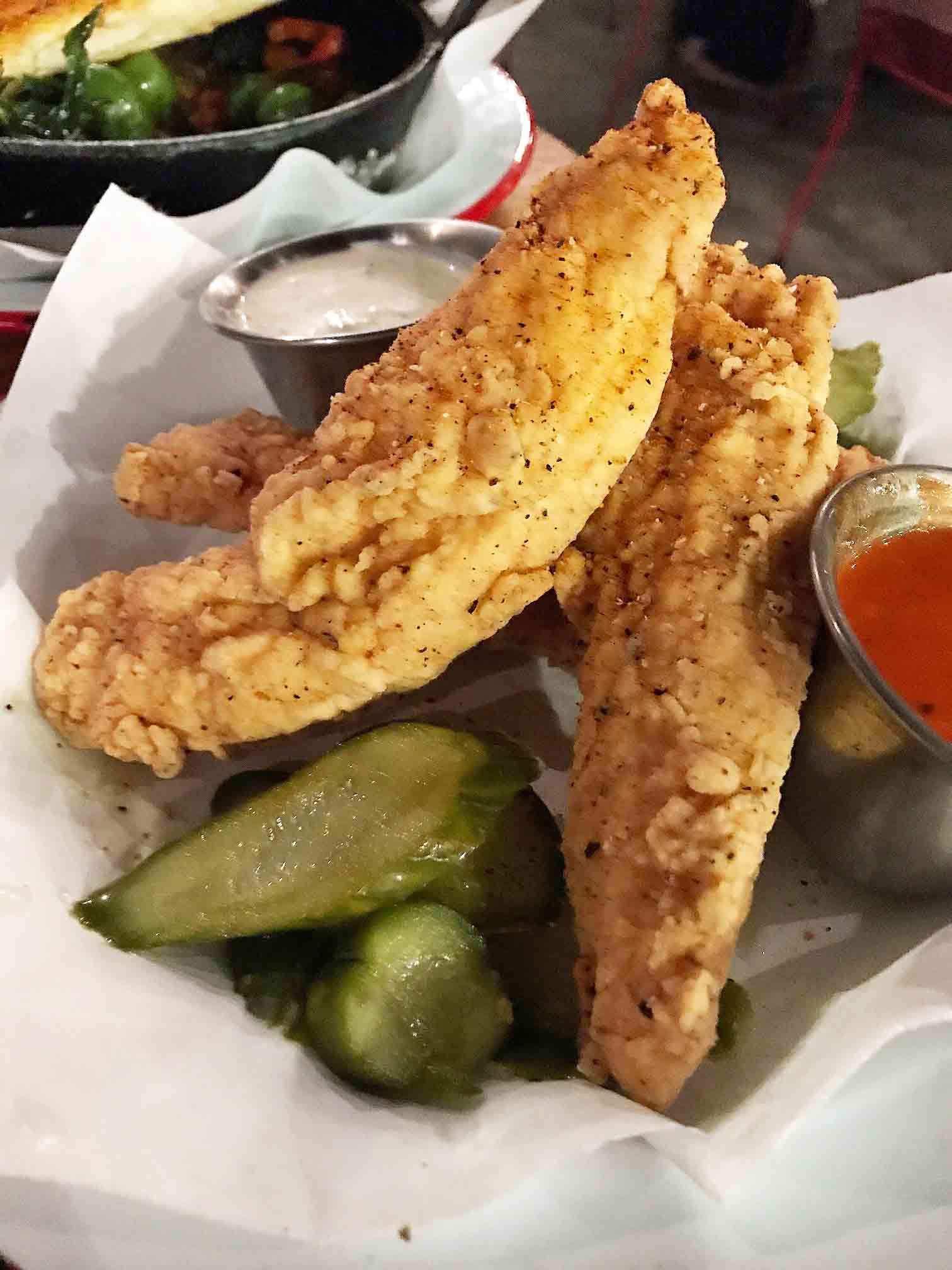 The meat pie was beyond heavenly and we savored every single bite. We must have stayed for hours as we talked to those around us and it was as if everyone was away from their phones for a bit and were connecting.  We loved being able to talk with Michael and his wife Jessie about how opening up this incredible restaurant in Pine Arizona came to be.  Dean and I are can't wait to eat that food again. Everything was outstanding!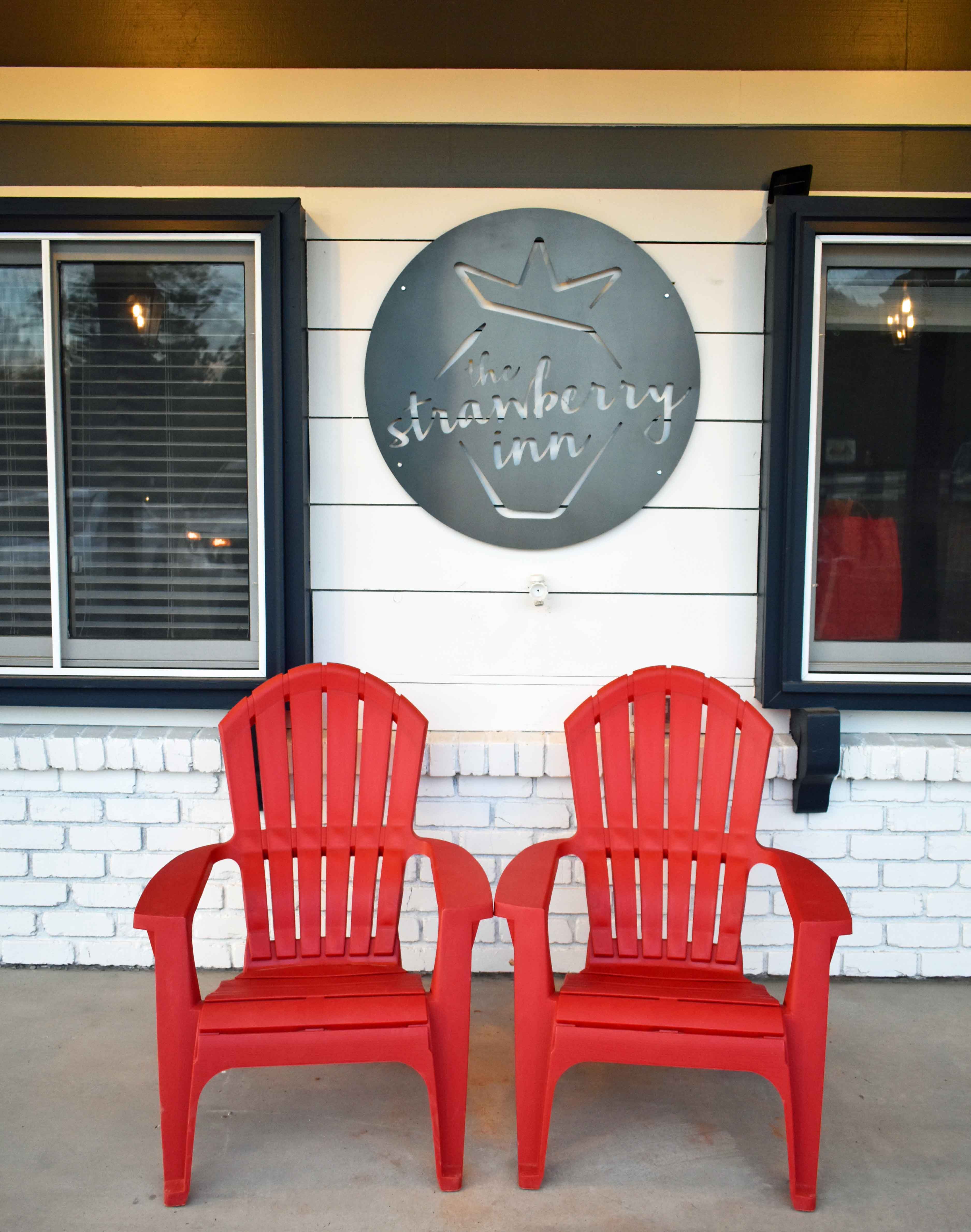 I just love small towns where everyone knows each other.  Everyone was so nice and friendly and took the time to sit and chat. As we were outside, we were able to meet the owners of the Strawberry Inn — Amber and Carson. It was so fun to hear the backstory about how they bought, remodeled, and transformed the inn. They did a beautiful job and made it so cozy, warm, and inviting.  I think they may be the next Chip and Joanna Gaines!
The next morning we headed to the Randall House on Main Street in Pine. It was an old house transformed into a restaurant.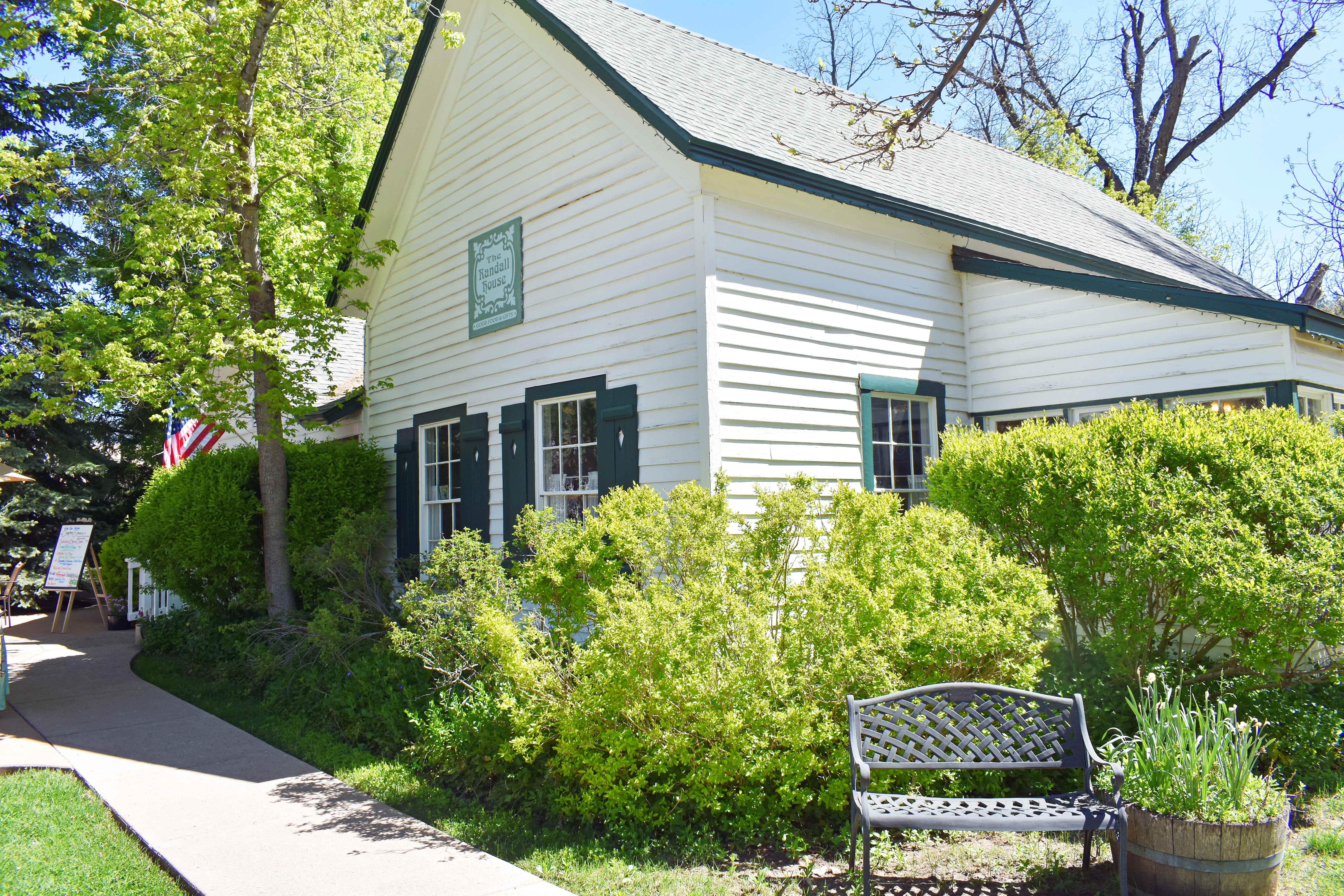 We sat outside and ate our Hatch Chili Sausage Omelette and Strawberry Cream-filled Crepes.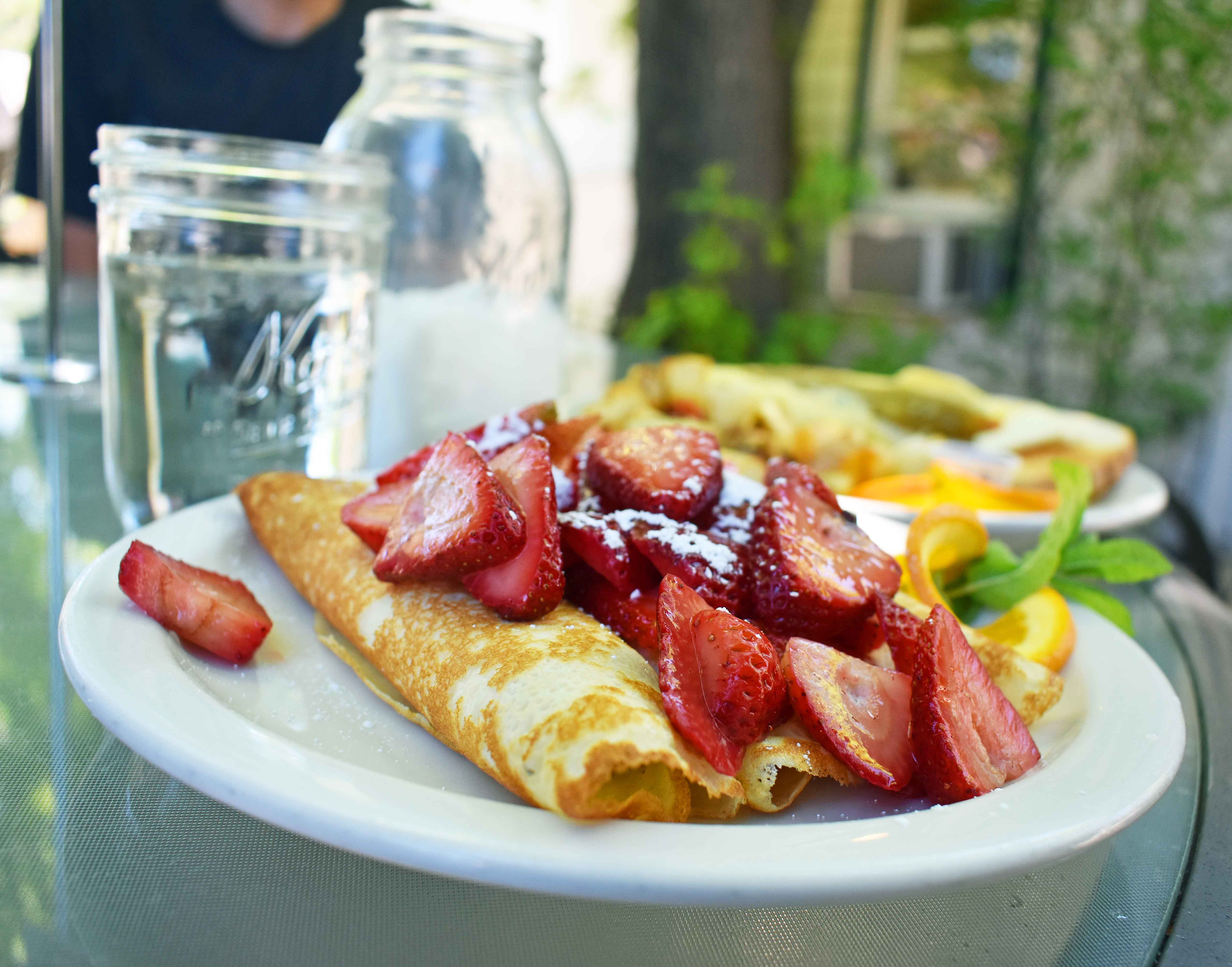 The homemade Key Lime Cream Soda put it over the top for my husband. The setting was absolutely beautiful.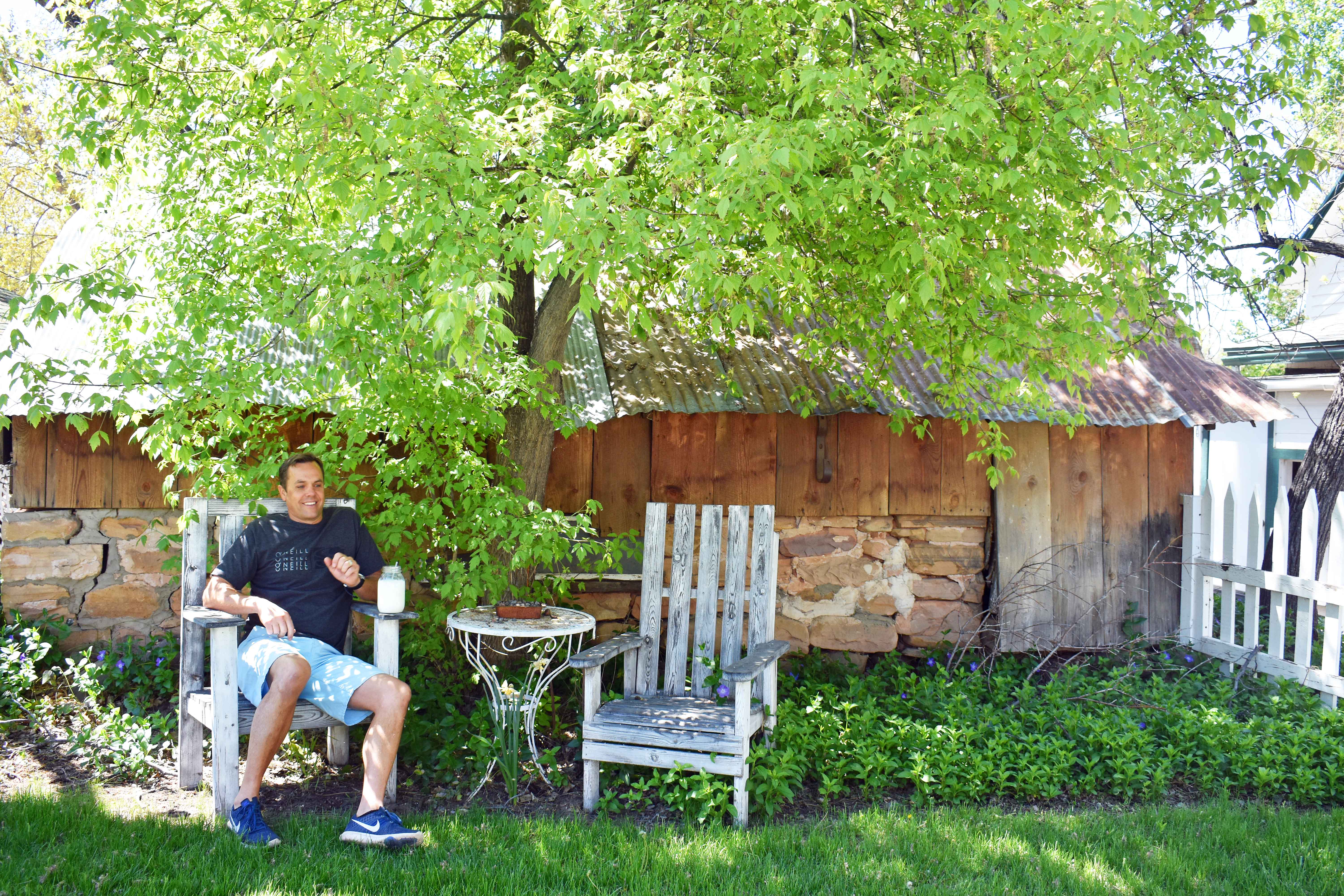 After we arrived home, I reached out to Amber and she offered a discount code for anyone who would like to come stay at the inn.  It's $15 off their booking good now through the end of October.  Enter #modernhoney15 at checkout on their site — www.thestrawberryinn.com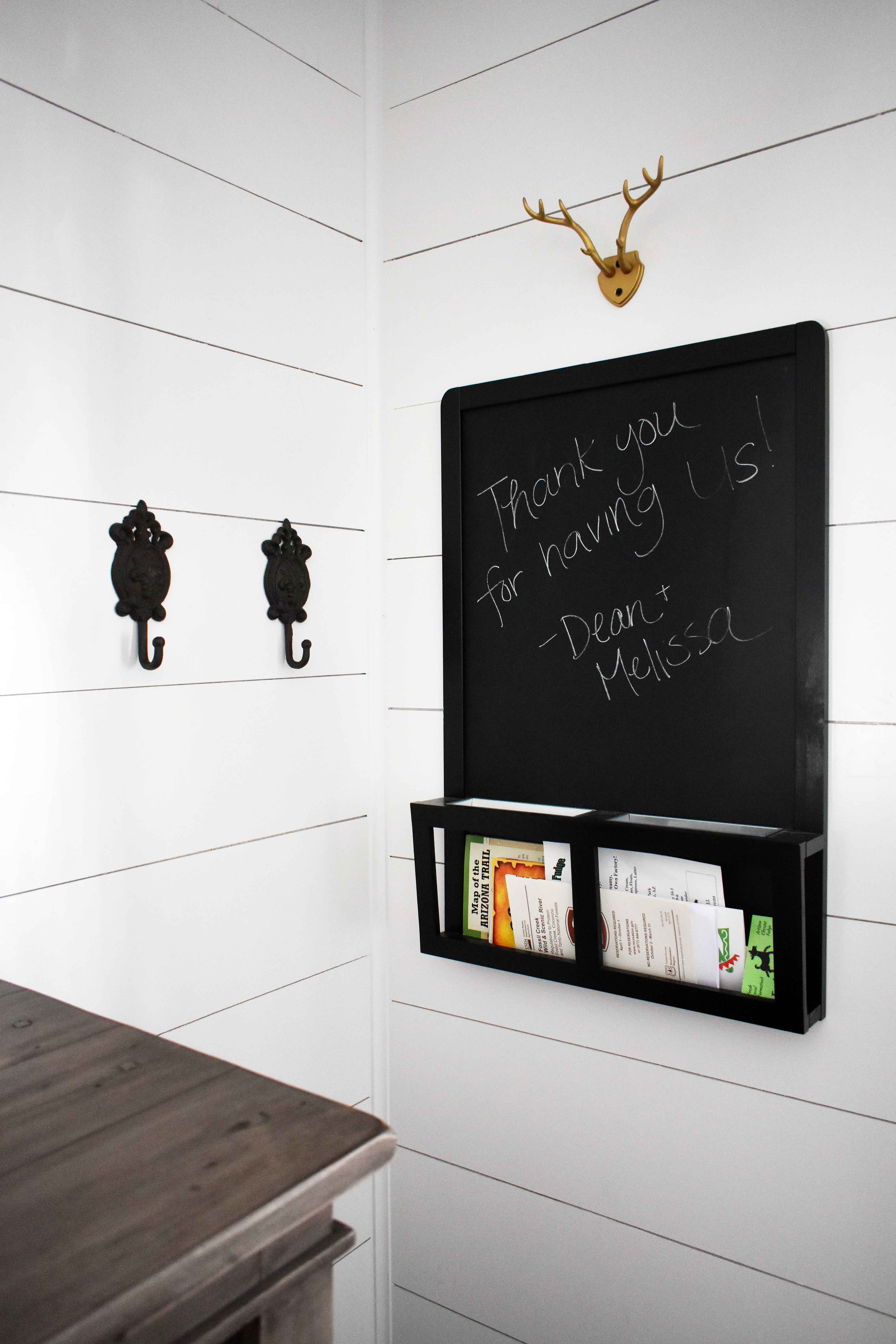 If you are looking for a little getaway to cooler temperatures, this may be the place for you. We loved our weekend getaway in Strawberry Pine, Arizona and can't wait to go back!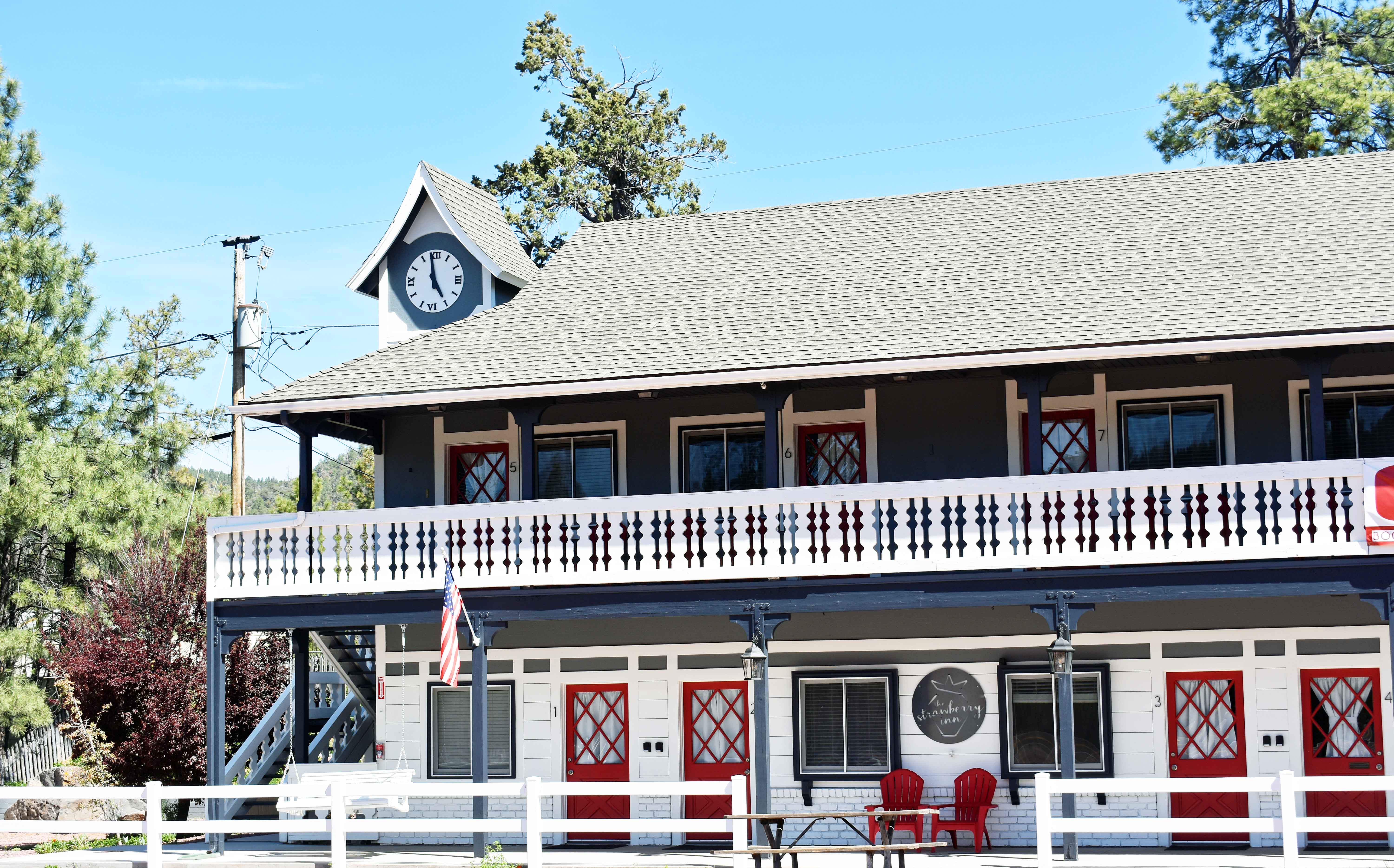 Happy Travels, my friends!