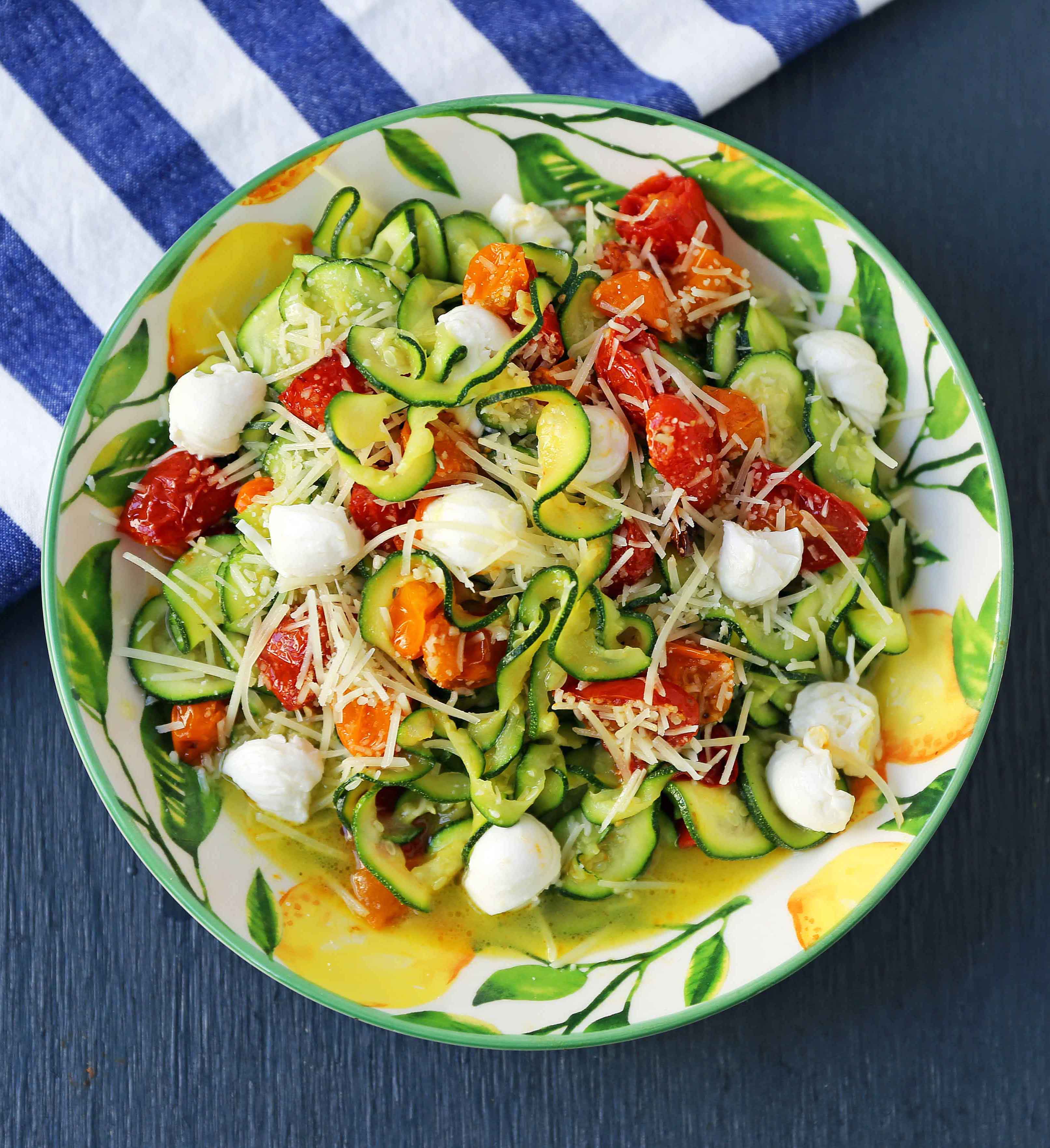 Zucchini Noodles with Tomatoes, Mozzarella, and Basil
We have heard since we came out the womb -- eat your veggies! I am here to tell you that you will LOVE eating your veggies this way! These Zucchini Noodles (aka "Zoodles") will have you begging for vegetables. What is my number one rule when making food at home? Bring on the flavor using spices, herbs, and seasonings to bring out the natural flavors in your foods.
These Spiralized Zucchini Noodles with Tomatoes are made with fresh zucchini sauteed in extra virgin olive oil with fresh garlic, roasted grape tomatoes, fresh mozzarella, parmesan cheese, and fresh basil. I will take this side dish every single day!
The beauty of zucchini is that it is low in calories (about 33 calories for one medium zucchini!) and full of Vitamin C, Magnesium, and B Vitamins. It is a low-calorie food with many nutritional benefits. Plus it tastes amazing! Yes, I just said that a vegetable tastes amazing.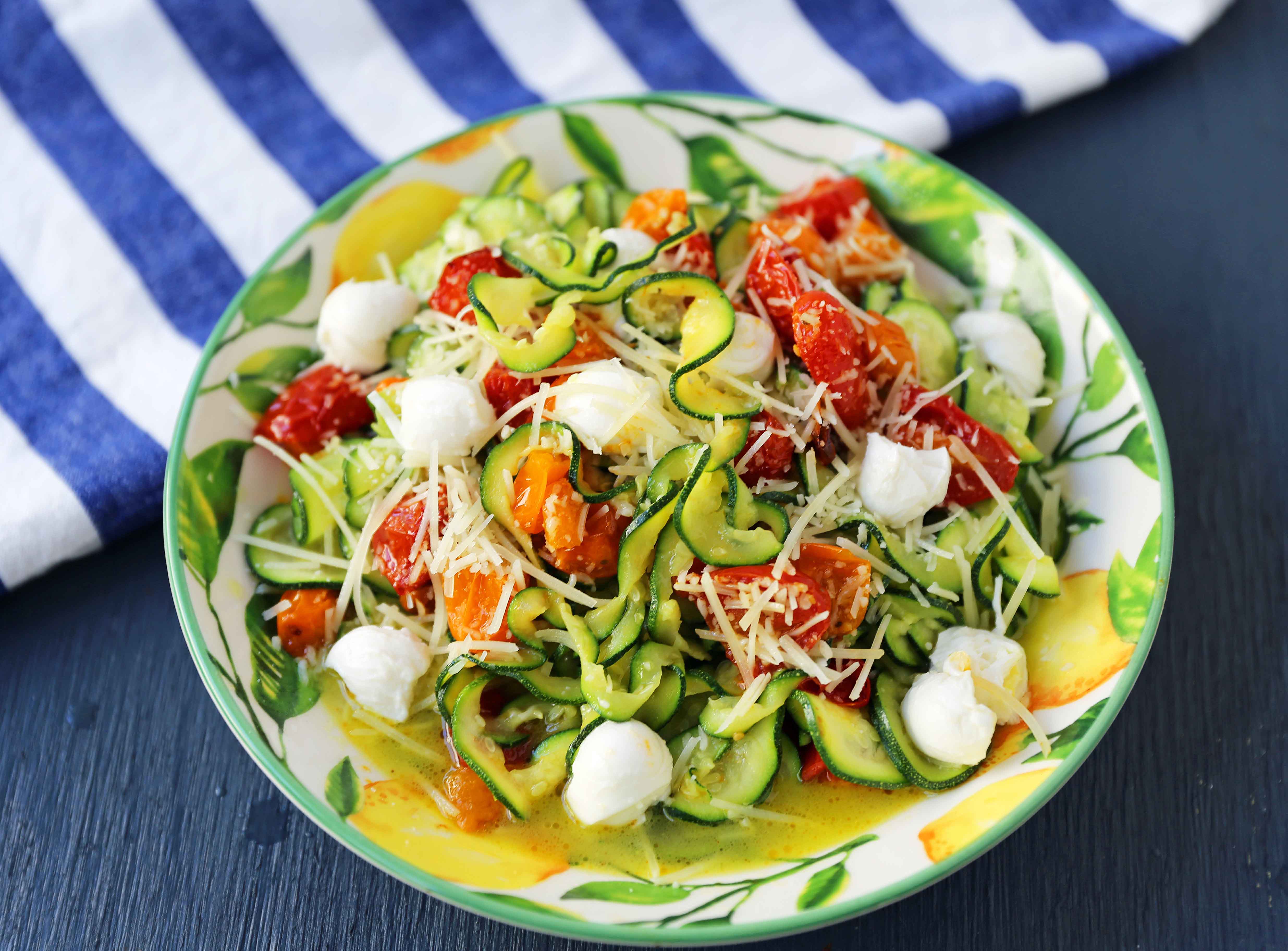 How to make Zucchini Noodles aka Spiralized Zucchini?
I just bought an inexpensive spiralizer for about 15 bucks and it works like a charm. It can make thin noodles or thick ribbons. I've also heard rave reviews about the Paderno spiralizer.
How long do Spiralized Zucchini Noodles need to be sauteed for?
It depends on the size. If the zucchini is cut into a thin noodle, it needs less time -- about 2 minutes. If you are using a thicker ribbon cut zucchini noodle, it may need 5-6 minutes.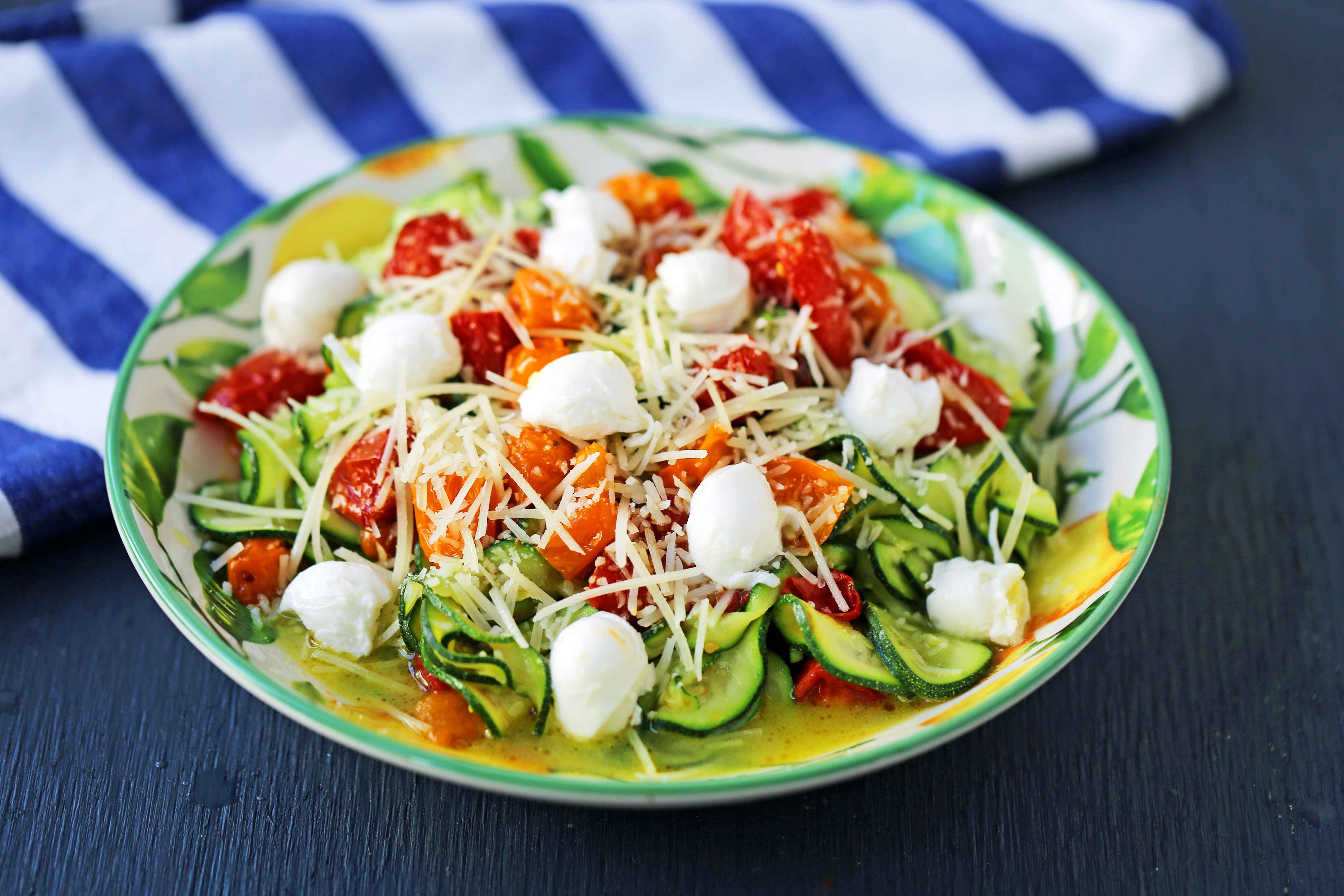 What Tomatoes to use with the Zucchini Ribbons?
I prefer to use grape tomatoes in various colors. You can roast them ahead of time in the oven or throw them in with the zucchini after a few minutes of cooking. If you desire oven roasted tomatoes, preheat the oven to 400 degrees and drizzle extra virgin olive oil all over the grape tomatoes. Sprinkle with sea salt and roast for 10-15 minutes, or until tomatoes begin to burst open.
How to serve Zucchini Noodles?
Top with extra-virgin olive oil, a good amount of salt, fresh mozzarella cheese, parmesan cheese, and fresh basil. You can even use fresh burrata cheese, which would be outstanding. This is such a fresh and delicious side dish!
Pin on Pinterest: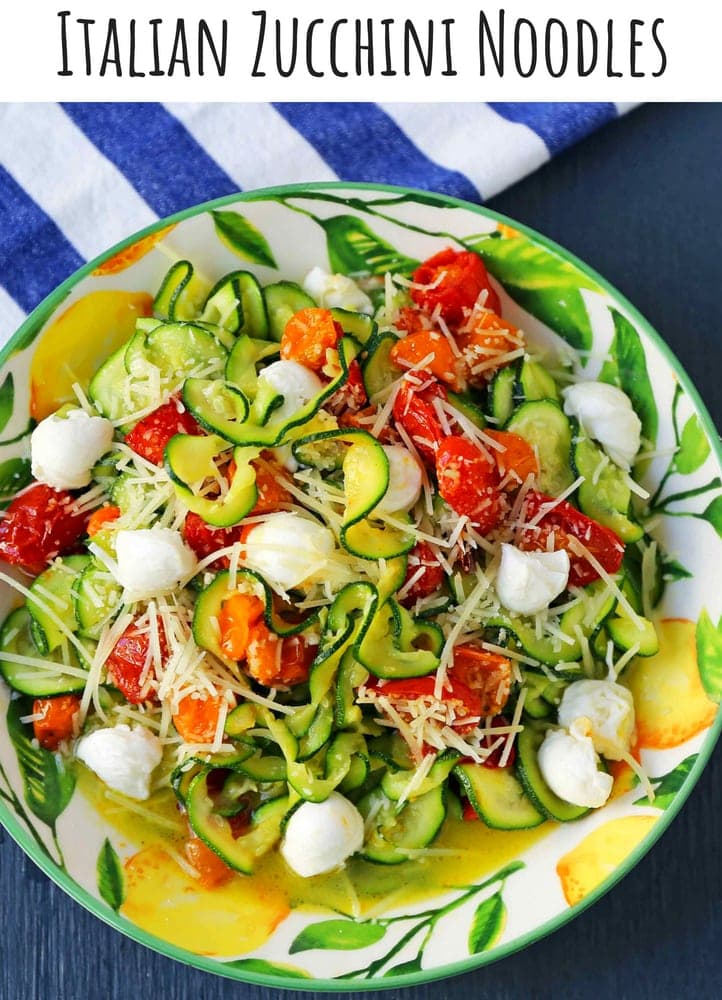 Click below to sign up for my FREE email newsletter to receive my favorite recipes delivered straight to your inbox. Be sure to follow me on Instagram, Facebook, and Pinterest. I would love for you to come say "hi!" Thanks for following along!