DIY APPLE CIDER BAR + HOMEMADE APPLE FRITTERS
How to make quick and easy fried Apple Fritters with sweet and crisp apples plus how to entertain with a DIY Hot Apple Cider Bar. 
I love this time of year! I have such wonderful memories of this time of year spent with friends and family.  When my darling cousin, Michelle, lived in Arizona she would throw a little Fall gathering with a few families. She would have a big pot of apple cider brewing on the stove and her mother-in-law's famous chicken tortilla soup. The kids would run around and play and the adults would laugh and talk. To this day, it is not truly Fall without making a big pot of that fabulous chicken tortilla soup and apple cider.
Move back to Arizona, Michelle, and bring back the tradition!
On Halloween night before the kiddos would go out trick-or-treating, we would head over to my brother Kevin and wife Robyne's home. She would always have a huge spread of food from hearty beef chili (an award-winning recipe) to homemade apple fritters and caramel apples. The cousins would be in heaven showing off their costumes and filling their bellies with delicious food before heading out for the night. Man alive, we miss these cousins too!
These memories will always be so special to us and we want to carry on the tradition.  If you haven't tried my chicken tortilla soup recipe, it is a must try.  It is so flavorful with Mexican spices throughout, tender chicken, and crispy tortilla strips. If you want to serve something super simple and is always fun for kids — this Caramel Apple Nachos Recipe is always a big hit.
Now let's get down to business and talk about these apple fritters. There are two types of apple fritters — the yeast doughnuts and the non-yeast doughnuts.  We are going for the simple version since these apple fritters can be made in no time at all.
The yeast version is what you usually find in most doughnut shops. They are fabulous but time-consuming. The dough has to rise and then is usually refrigerated overnight. I will share this recipe at another time but we are going for the easy apple fritter recipe. Trying to keep things simple on Modern Honey!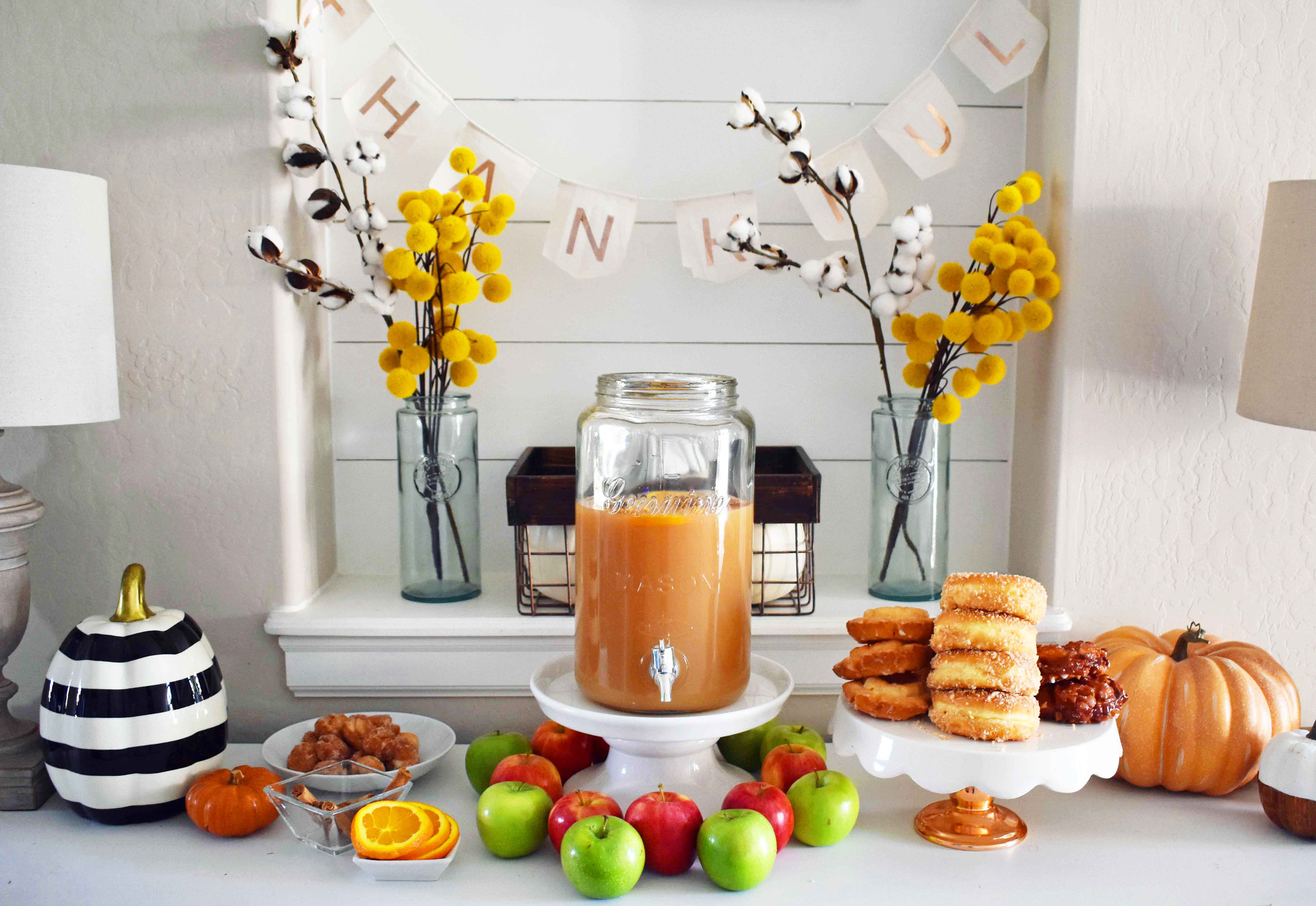 How to make Homemade Apple Fritters:
 Start with crisp, sweet apples. Choose Granny Smith, Honeycrisp, or even Fuji apples. Cut the apples into very small pieces so they are evenly distributed throughout the batter.
2.  Use a mix of buttermilk and whole milk. Why do we love buttermilk so much? Let me count the ways! It gives baked goods that perfect texture.
3.  Get your oil to the correct temperature.  When I first started making doughnuts years ago, the outside would be too brown and the inside would be raw. I was so frustrated until I purchased a thermometer so I could figure out the exact temperature of the oil. Since then, it has been smooth sailing. I usually veer on the lower side to make sure they get completely done in the middle.  I bring my oil to about 340 degrees. If they are getting too brown, reduce the heat or remove the pan from the stove and let cool for a minute or two.
4. Place the apple fritters on a paper towel lined plates.  This helps soak up any excess oil that may come off the fritters.
5. Sprinkle with powdered sugar, roll into cinnamon-sugar mixture, or soak in a homemade glaze using powdered sugar, milk, and vanilla bean.
This apple fritter recipe is best served warm. You can even dip it in a creme Anglaise sauce. Here is a wonderful recipe for creme anglaise or pastry cream recipe.
A fun and festive Fall party begins with a DIY Hot Apple Cider Bar. It is so easy and everyone loves to drink hot apple cider, especially when there's a little chill in the air.
How to create your own DIY Apple Cider Bar:
First, start with quality apple cider. You can make your own using fresh apples or buy the refrigerated apple cider in your local grocery store. When we were visiting New York City in the Fall, we became hooked on a local apple cider sold at Whole Foods. My husband must have devoured gallons of it while in NYC. We have found that the refrigerated apple cider is better than the shelf-stable juices.
Once you make or purchase some apple cider, it is fun to add some spices to it.  Freshly cut orange slices and cinnamon sticks make such a festive cider.  Heat it in a large pot until nice and warm. Just before ready to serve, add it to a large pitcher or canister.
What are some toppings for Apple Cider?
Some of our favorite toppings for hot apple cider are cinnamon sticks, orange slices, caramel candies, marshmallows, and whipped cream.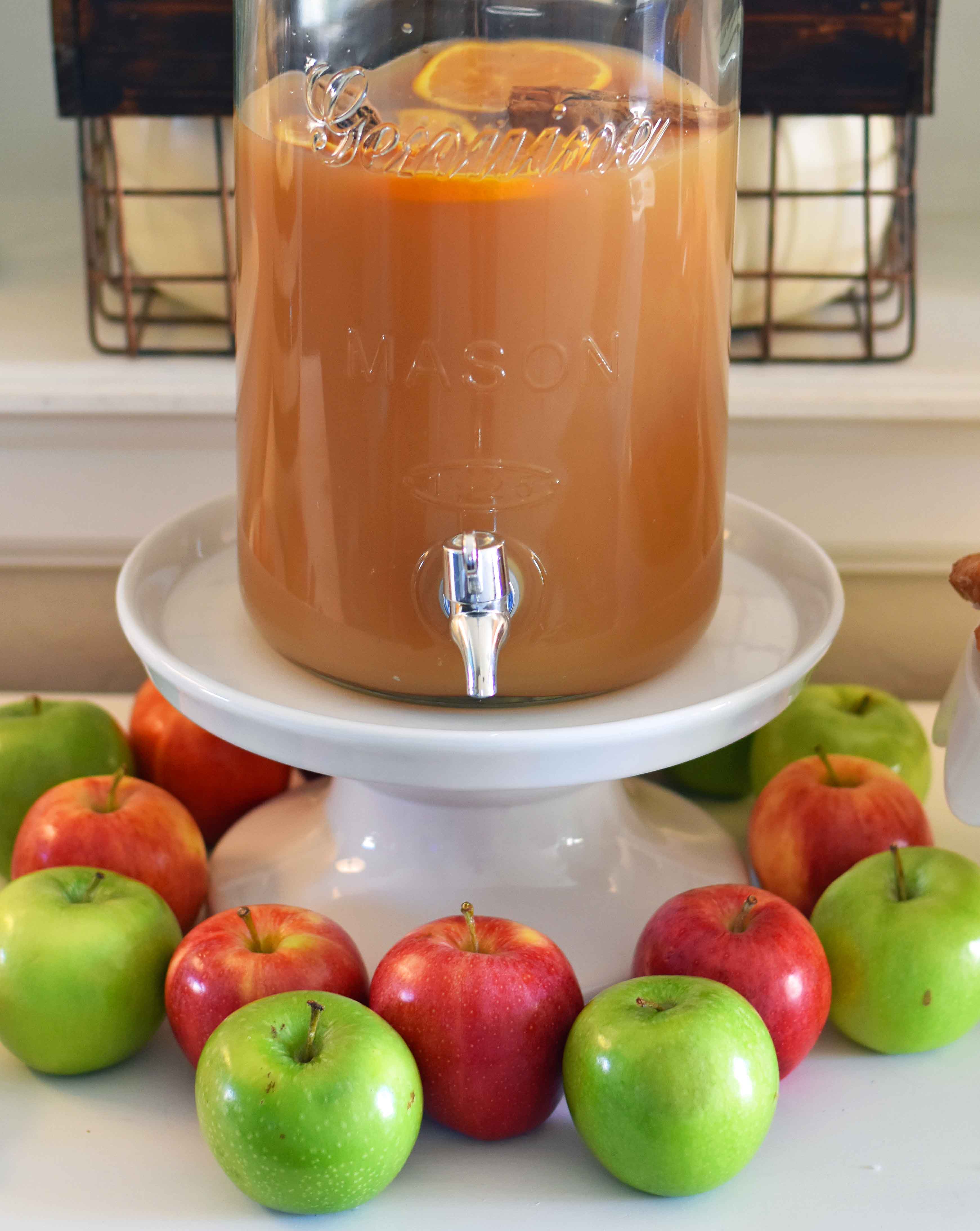 We love to serve it with homemade apple fritters and doughnuts of all kinds.  Handcrafted doughnuts and spiced apple cider are the epitome of Fall. I love to place different types of apples all around the table. It is an inexpensive and colorful display.
This is such a fun time of year to entertain. It is before the hustle and bustle of Christmas and such a great time of year to gather together with friends and family. I would love to see your homemade apple fritters and apple cider bar.  Tag me by using #modernhoney and come to say "hello" on instagram @modern_honey.
Pin on PINTEREST:
Pin this now to find it later
Pin It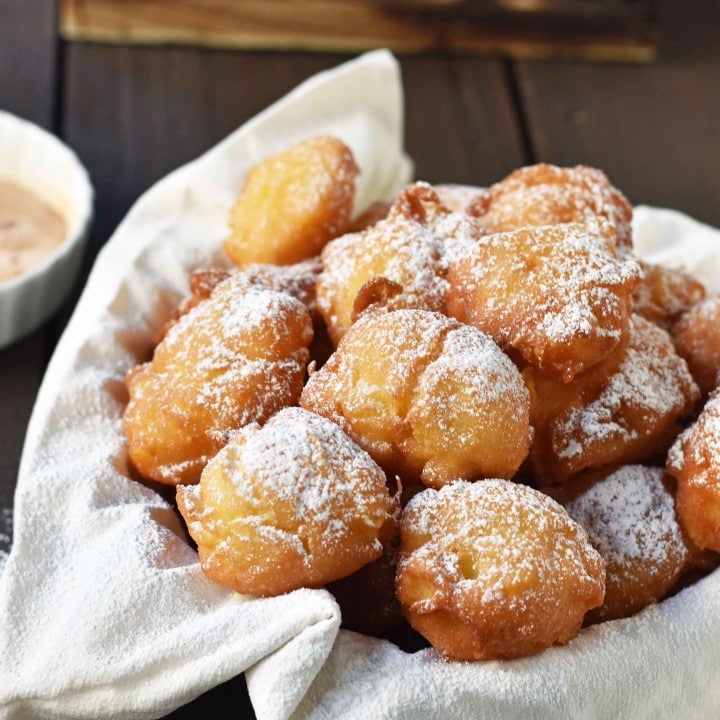 Apple Fritters
How to make quick and easy homemade apple fritters from scratch. Plus an Apple Cider Bar with all of the fixings.
Ingredients
2

cups

Flour

3

teaspoons

Baking Powder

1/2

teaspoon

Salt

2/3

cup

Sugar

1/3

cup

Buttermilk

1/3

cup

Whole Milk

2

Eggs

2

Tablespoons

Butter

Melted

2 1/2

cups

Apples

peeled, cored, and chopped small (approximately 3 Granny Smith or Honeycrisp)

Cooking Oil

enough to fill pan a few inches
Toppings:
Powdered Sugar

Cinnamon Sugar

Vanilla Bean Glaze

powdered sugar, milk, vanilla bean
Instructions
In a mixing bowl, combine flour, baking powder, salt, and sugar.

Add buttermilk, whole milk, eggs, and melted butter. Stir.

Fold in peeled and chopped apples.

Heat several inches of canola oil over medium-low heat. When it gets hot, drop a little drop of batter into the oil. If it sizzles immediately and rises to the top, the oil is ready; if it burns quickly, turn down the heat. If you are using a thermometer, the oil should be at approximately 340 degrees.

Drop small teaspoons of apple fritter batter into the hot oil, about 5 or 6 at a time. Watch them carefully and turn after 1-2 minutes. Cook until golden brown and batter is cooked through -- about 3-4 minutes, depending on how hot the oil is in the pan.

Remove and drain on a paper towel. Dust with powdered sugar, or dip fritters in a cinnamon sugar or vanilla bean glaze (made with powdered sugar, milk, and vanilla bean). May dunk in homemade creme anglaise sauce or pastry cream.

Serve warm.
Nutrition information is automatically calculated, so should only be used as an approximation.
Happy Baking, my friends! xo I hope you love these Apple Fritters and Apple Cider Bar.