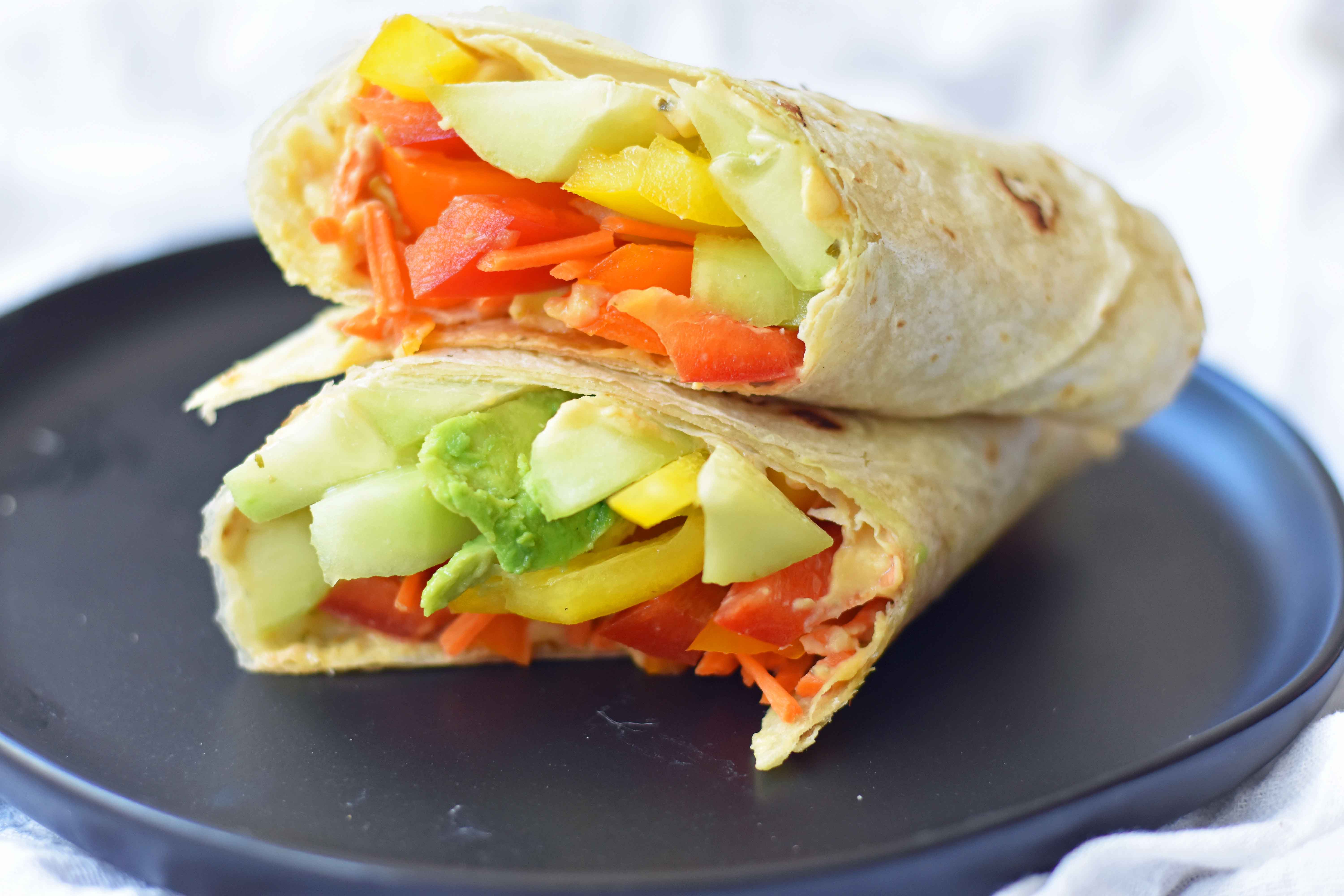 Hummus Veggie Wraps
Homemade Avocado Ranch Hummus rolled with vegetables in a flour tortilla wrap. A healthy lunch idea!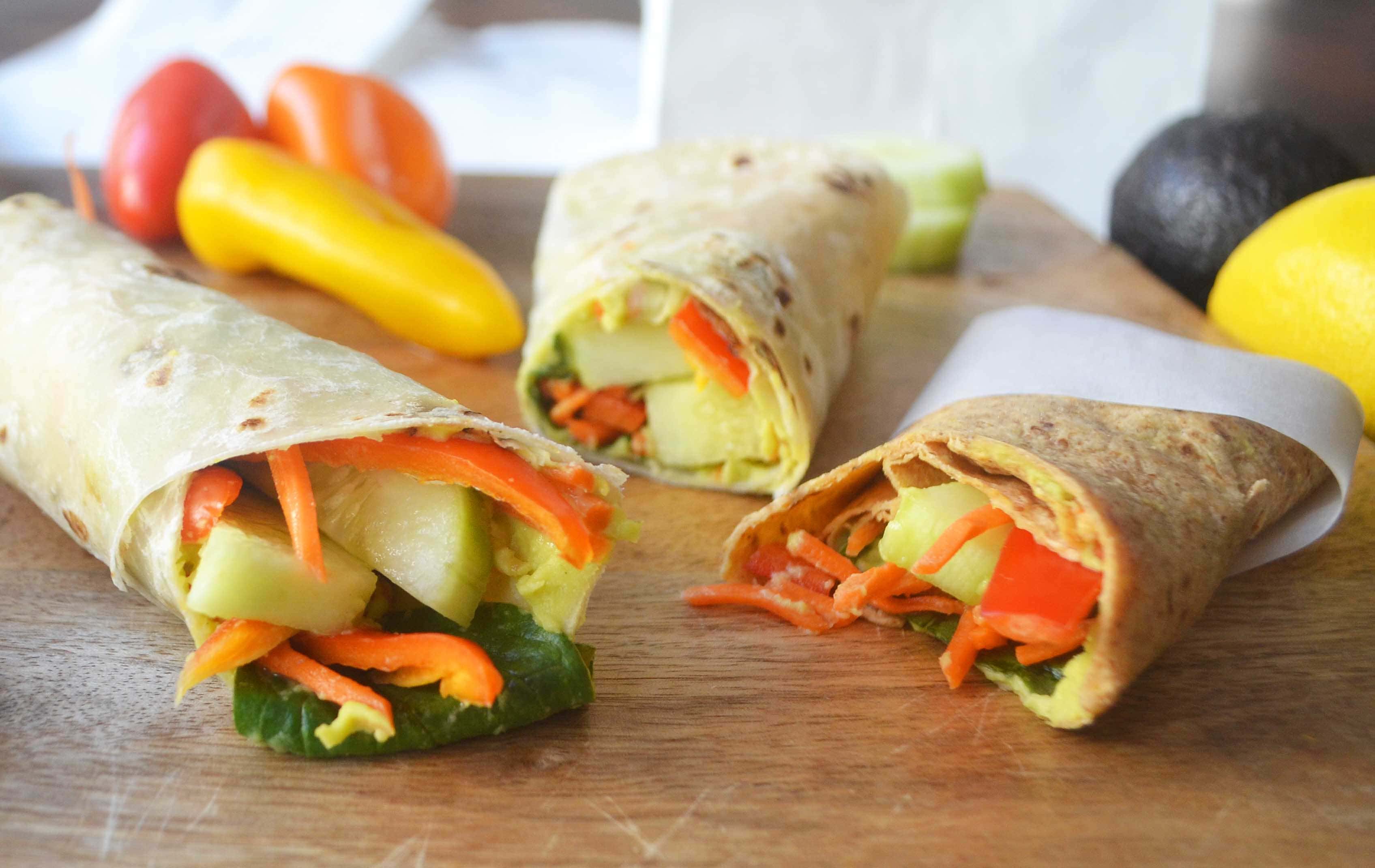 Kids Lunchbox Ideas — A Healthy Veggie Wrap
When you walk into any store this time of year, you start to see all of the back to school clothing from the cable knit sweaters to the corduroy pants.  One of my first jobs was working at the GAP. I used to watch as the racks would fill up with cozy winter clothing and I would long to wear the cute camel leather jackets, jeans, and boots on my first day of school. I had to face the realization that in Arizona the temperatures don't fall below 100 degrees until October so I had to patiently wait to wear these coveted clothes until December.
My kids actually went back to school yesterday (in July where the thermometer hit a scorching 111 degrees!) so I am not sending them with a thermos full of hot soup anytime soon! Since I am a Mom of 4, I have to think of creative items for the lunchbox beside the standard PB+ J. Plus I am always looking for ways to provide healthy lunches that they will actually eat (which we all know is half the battle)!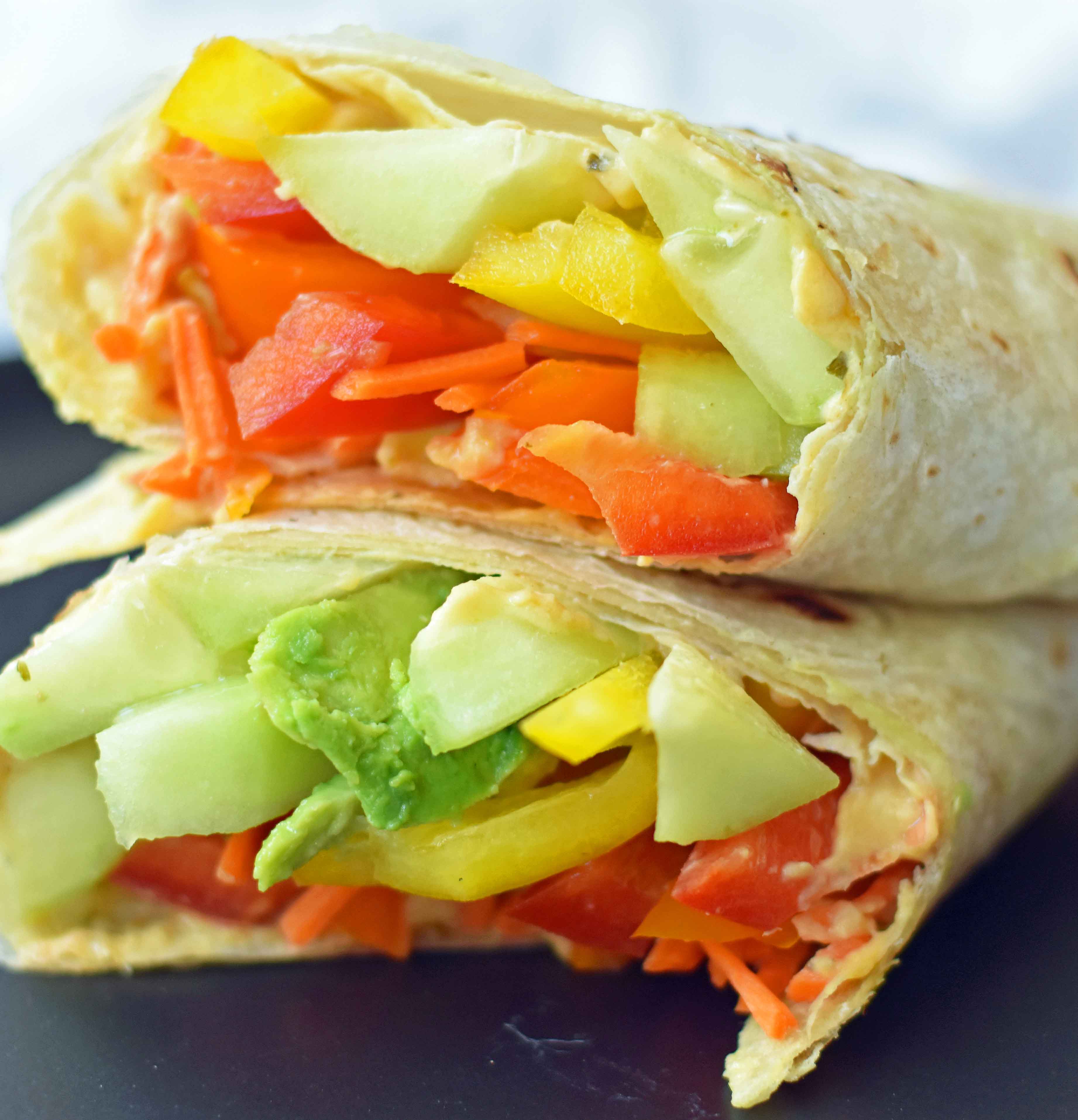 Here's a list of BACK TO SCHOOL KIDS LUNCH IDEAS that will help you figure out what to pack in their lunchbox.
Years ago, I entered a healthy lunchtime contest and had to use ranch dressing powder. Since most kids LOVE anything and everything dipped in ranch dressing, I decided to create a homemade hummus made with creamy avocado, fresh lemon juice, chickpeas, and ranch dressing powder and named it Avocado Ranch Hummus Veggie Wraps. You get the subtle flavor of ranch but combine it with healthy, filling foods that are nutritious for growing bodies. The best part is that they taste delicious!
To save time, you can also use store-bought hummus to be a positive timesaver.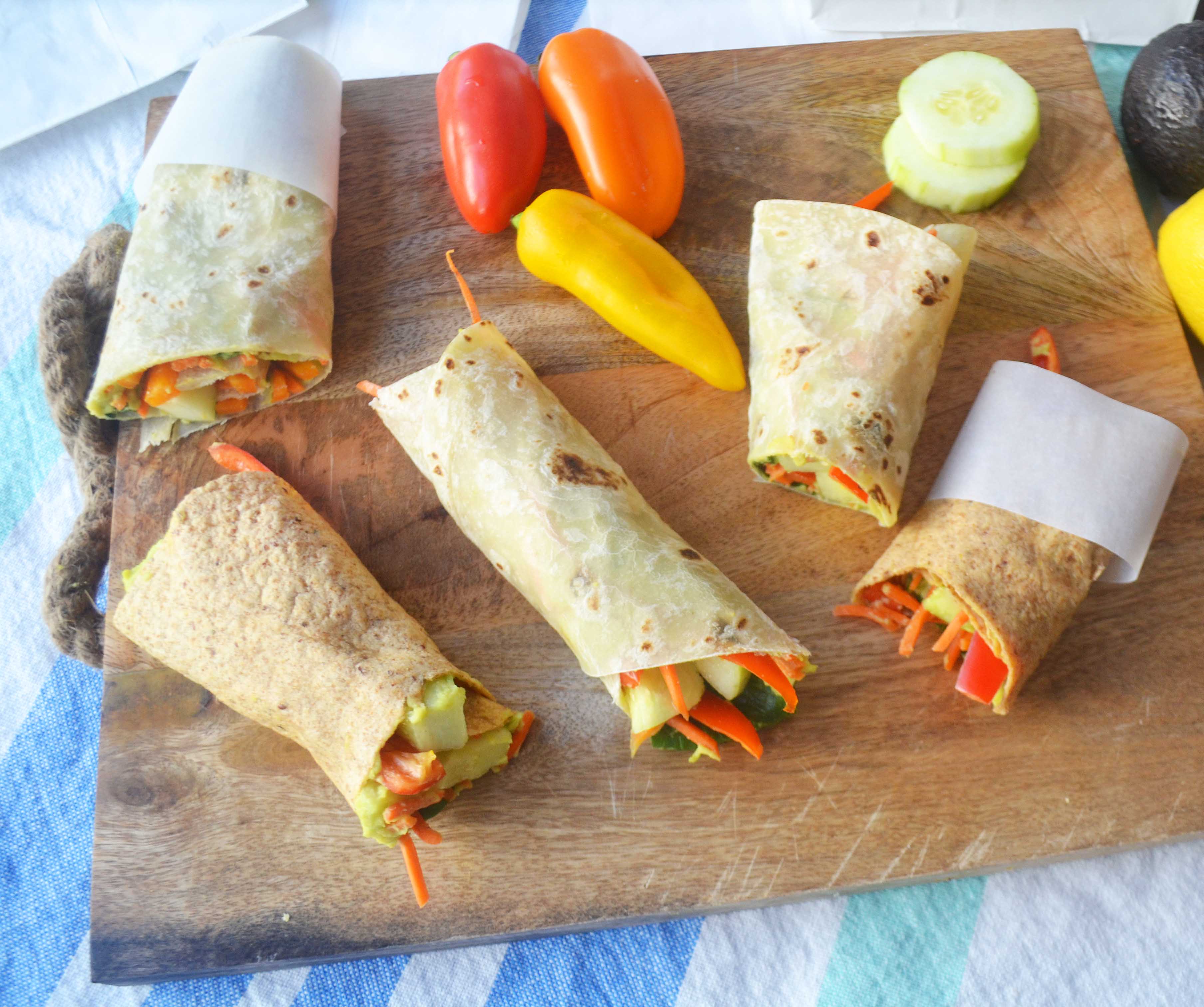 In our family, we top it with crisp cucumber, red, orange, and yellow peppers, matchstick carrots, and a touch of spinach. When you combine the creaminess of the avocado ranch hummus and crunchy veggies and roll it into a soft tortilla, you have a golden ticket to get your kids to eat veggies! I always laugh because my kids beg for these in their lunches and it was even what they requested for their first day of school.
My friends laugh at me but my favorite knives of all time are the Miracle Blade Knives Kit that comes with 11 piece set for about 23 bucks (click HERE for link). It's a steal. I have to share with you because you don't have to pay a lot of money for knives that work.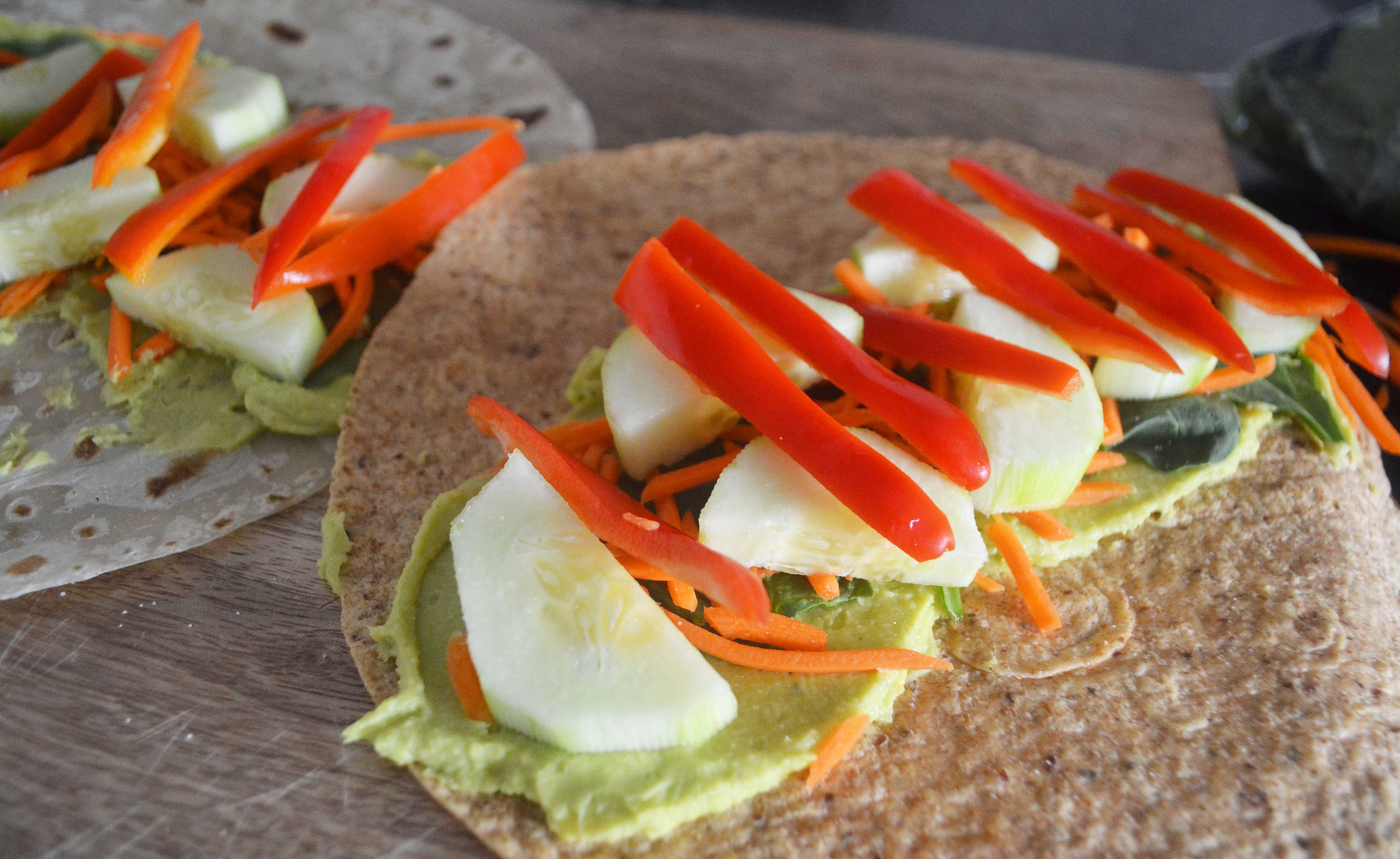 If you don't want to make your own homemade hummus, you can always use your favorite store-bought hummus and spread it on the bottom of each tortilla. You can always add sliced fresh avocado as well but remember to always add a pinch of salt and lemon juice so the avocado doesn't turn brown. Say no to brown avocado!  Another great option is Alouette spreadable cheese which comes in several different flavors. You can also add a slice of soft, creamy cheese such as havarti to add more protein.
The sweet mini peppers that come in a bag are fantastic in these wraps. They come in several different colors and add a fresh, sweet, crunchiness to these Avocado Ranch Hummus Veggie Wraps. Also, matchstix carrots are seriously so cute and small so the kids aren't crunching down on large pieces of carrots. Another key is to lightly salt the cucumber which helps to bring out the flavor.
You can use soft flour tortillas or spinach herb or tomato basil tortillas for extra flavor in these Avocado Ranch Hummus Veggie Wraps. The options are endless!
I hope that everyone is having a fabulous summer and are enjoying your time with family and friends. I took 7 days off at home to spend some quality time with my kids away from my laptop and social media. We had so much fun playing even though there was definitely a fair share of work involved.
I got on an organization and cleaning rampage but it always feels so good in the end to be prepared for the upcoming school year. I will be sharing organizational tips from a professional organizer in the next week so look out for that post! How are you all spending your summer days? Let me know how your kids like these veggie wraps and what variation you tried with your own family. Thanks as always for your support!
Pin on Pinterest: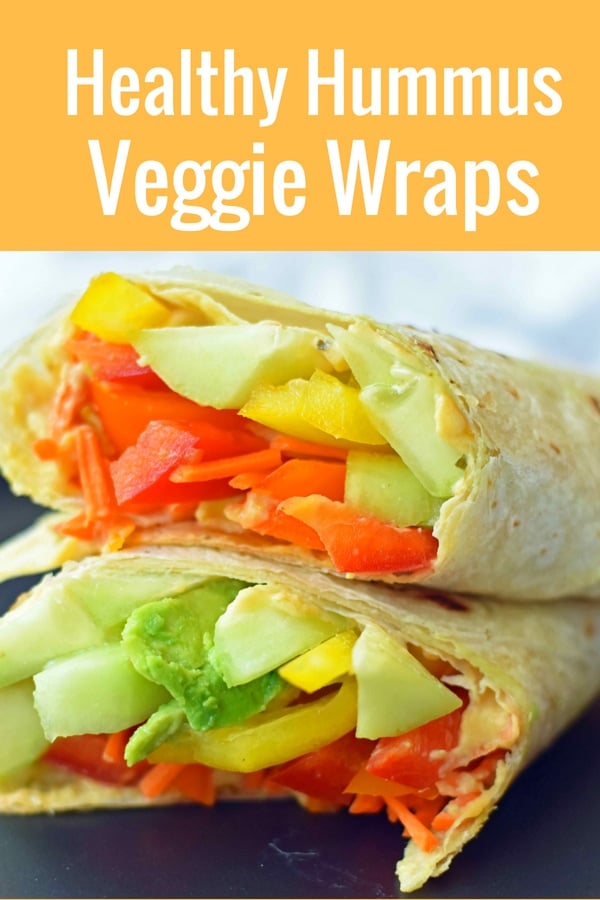 Pin this now to find it later
Pin It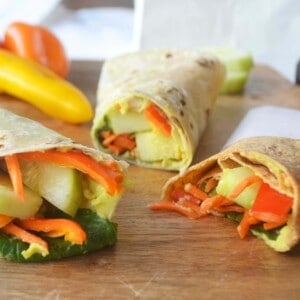 Avocado Ranch Hummus Veggie Wraps
Healthy veggie wraps with creamy homemade avocado ranch hummus will be a hit in your kid's school lunchbox.
Ingredients
Avocado Ranch Hummus:
1

Avocado

3

Tablespoons

Fresh Lemon Juice

3

Tablespoons

Olive Oil

1

Can Chickpeas

Garbanzo Beans, rinsed and drained

2

Tablespoons

Ranch Dressing Powder

1/2

teaspoon

Salt

4

Large Flour Tortillas

of any flavor

16

Spinach Leaves

5

oz.

Matchstick Carrots

1

Cucumber

sliced or julienned

Red

Yellow, Orange Peppers, sliced into thin slices

Salt
Instructions
In a blender, mix avocado, lemon juice, olive oil, beans, ranch powder, and salt. Season to taste.

Can also use store-bought hummus or Alouette cheese spread.

Spread Avocado Ranch Hummus on the bottom of each tortilla. Top with spinach leaves, carrots, cucumber, and peppers. Lightly salt the veggies. If adding sliced avocado to wrap, lightly sprinkle with lemon juice to avoid browning. Can also top with soft, creamy cheese slices (such as havarti cheese).

Tightly roll up and refrigerate if needed ahead of time.
Nutrition
Calories:
207
kcal
,
Carbohydrates:
19
g
,
Protein:
2
g
,
Fat:
13
g
,
Saturated Fat:
2
g
,
Sodium:
728
mg
,
Potassium:
359
mg
,
Fiber:
3
g
,
Sugar:
3
g
,
Vitamin A:
4280
IU
,
Vitamin C:
10
mg
,
Calcium:
43
mg
,
Iron:
1.1
mg
Nutrition information is automatically calculated, so should only be used as an approximation.

Happy Cooking!