Caramel Popcorn Cookies are made with brown sugar cookie dough with chewy, crunchy, caramel popcorn pieces all throughout the cookie. If you love caramel, you are going to love these Caramel Corn Cookies!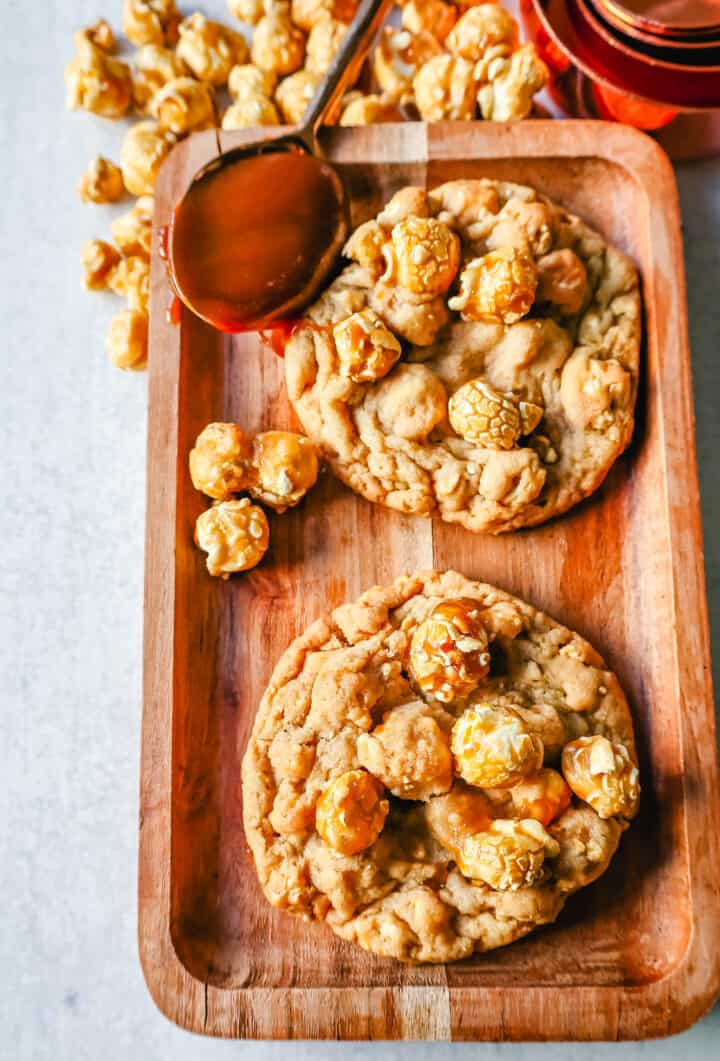 These Caramel Popcorn cookies are like nothing I have ever tasted before in my life.
The first time I made them, I was shocked because they were crunchy and sweet and chewy and had the best buttery caramel flavor. These Caramel Corn Cookies are out of this world!
I found this cookie recipe in a Flour Bakery cookbook and after making them as written, I started playing around with the recipe and making some changes. Now you have the perfect salty and sweet cookie recipe.
If you want to make these cookies with homemade caramel corn, check out my HOMEMADE SOFT CARAMEL CORN RECIPE.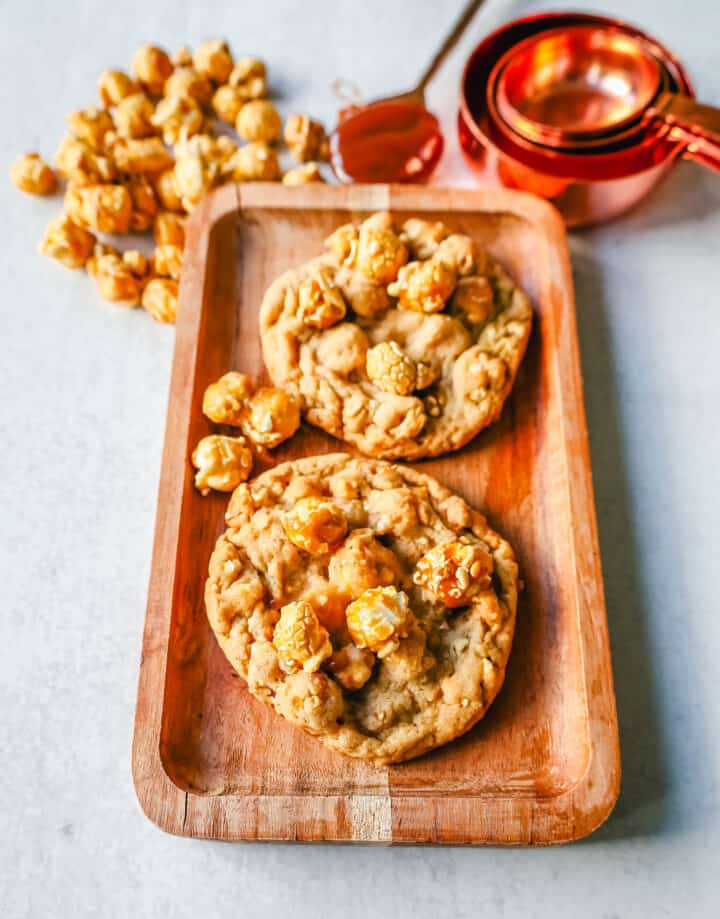 Ingredients in Caramel Corn Cookies:
Butter -- you can use salted or unsalted butter in these cookies. I like the additional salt because it cuts the sweetness of the caramel corn and is the perfect compliment
Brown Sugar -- when you add brown sugar to cookies, it makes a chewier cookie. The higher ratio of brown sugar to sugar creates the perfect, chewy texture
Sugar -- this helps to give those coveted crisp edges to cookies
Eggs -- this recipe calls for one whole egg and one egg yolk. The extra egg yolk gives the cookies extra richness without drying them out
Vanilla Extract -- my vanilla extract of choice is either Nielsen-Massey or real, authentic Mexican vanilla, found online
Flour -- this recipe calls for all-purpose flour
Baking Soda -- this is a leavening agent that is activated by brown sugar and will allow the cookies to raise in the oven
Baking Powder -- another leavening agent that will give the cookies loft
Salt -- an integral ingredient that brings out the flavor and balances out the sweetness
Caramel Corn -- use homemade caramel corn or store-bought caramel corn. I have used both homemade and store-bought with great success. This recipe calls for 4-6 cups of caramel corn. A typical bag of caramel corn is 6 cups for 8 ounces.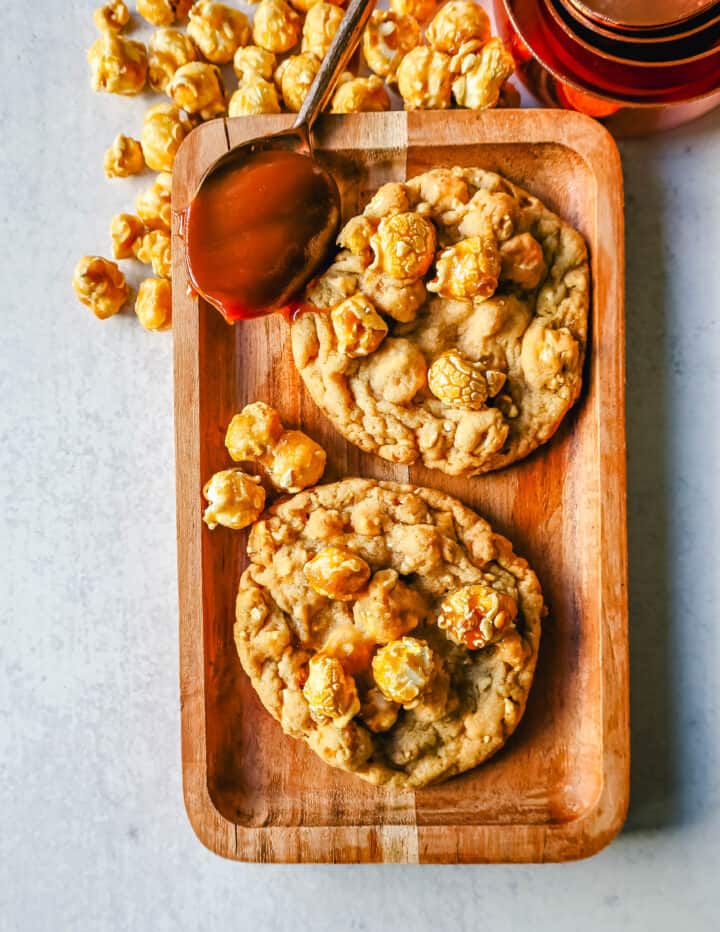 How to make Caramel Popcorn Cookies:
Start by creaming together barely softened butter, brown sugar, and sugar for 4 minutes. Stop and scrape the sides of the bowl, halfway through the time to ensure even mixing. This helps to give the butter time to coat the sugar crystals to create a smooth and creamy cookie texture.
Add egg, egg yolk, and vanilla and mix for 1 minute longer.
Fold in flour, baking soda, baking powder, and salt. Add in 4 cups of caramel corn and mix for about 30 seconds to 1 minute to help break up some of the caramel corn into smaller pieces.
Cover and chill in the refrigerator for 15-30 minutes.
Line light-colored baking sheetswith parchment paper. Drop cookie dough onto baking sheet and make sure to spread them apart in case of spreading.
Top each cookie dough ball with a few caramel corns. Bake for 11-14 minutes. When you remove them from the oven, if the cookies have spread, take a spatula and carefully press the edges of the cookie towards the center to shape it into a circle. To make the cookies look extra gourmet, add a few more caramel corn balls on top of the cookies.
For an extra salty-sweet cookie, sprinkle with sea salt flakes.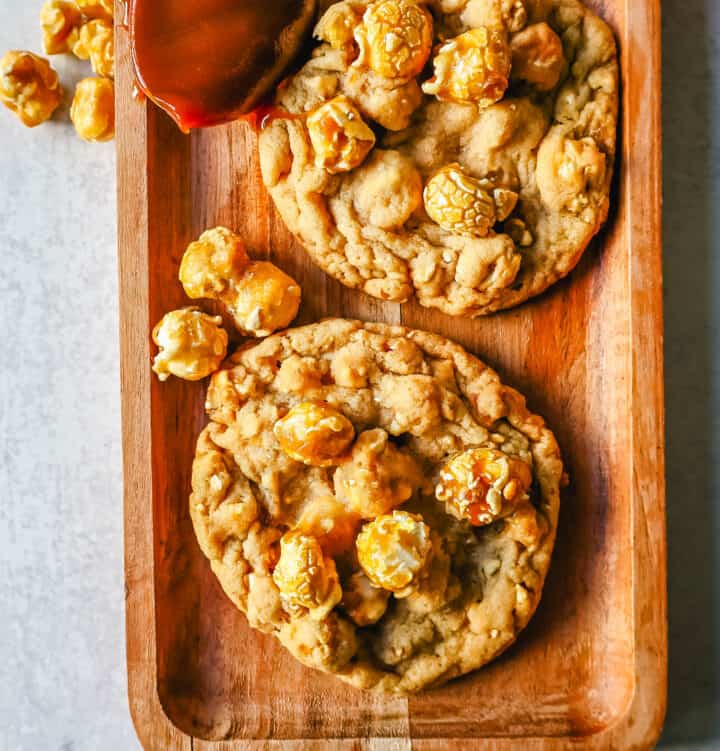 Caramel and Butterscotch Recipes: