This is the Best Cherry Cobbler Recipe! This Old Fashioned Cherry Cobbler is made with fresh cherries lightly sweetened and topped with a homemade sweet and buttery cobbler crust. You are going to love this easy cherry cobbler recipe!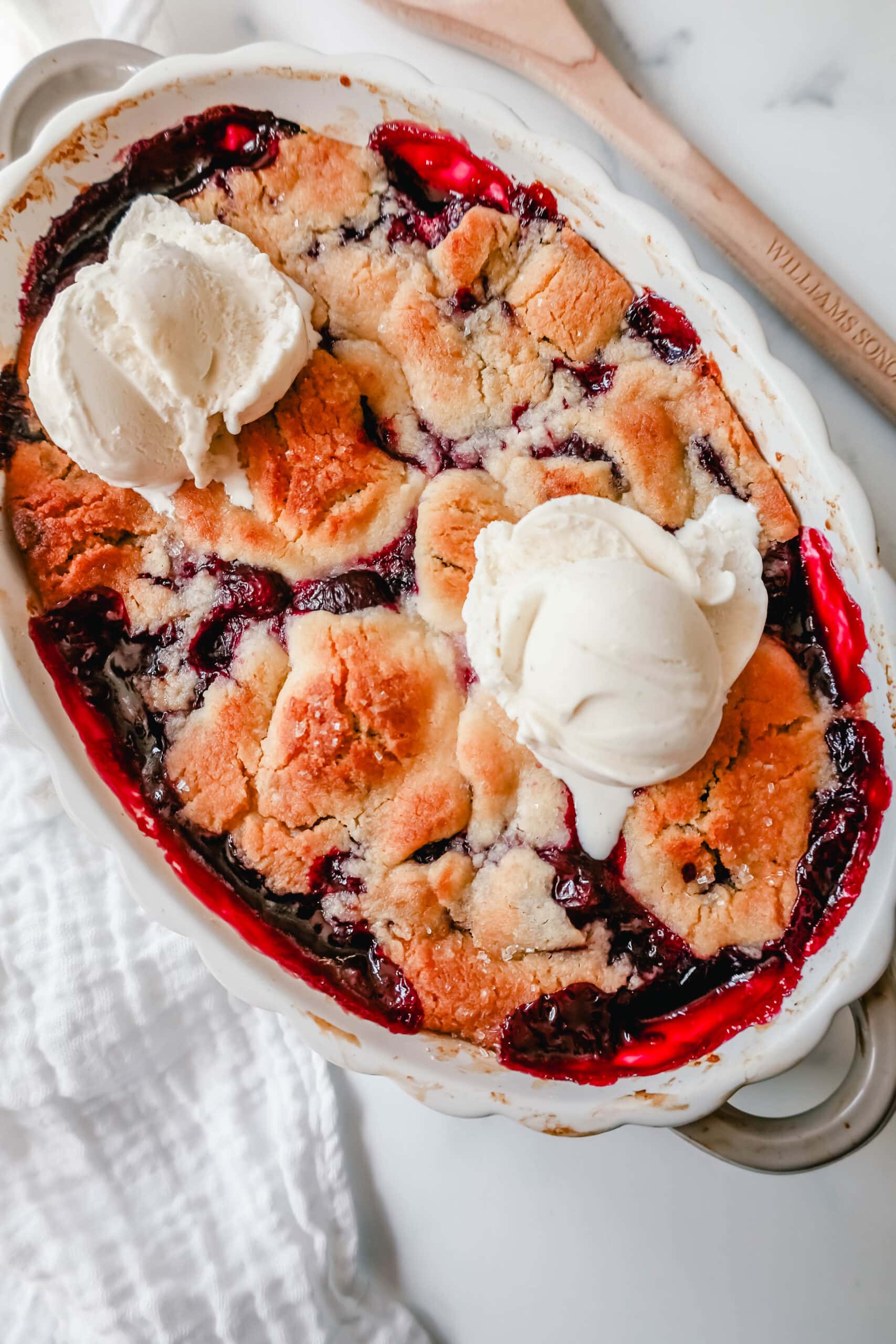 Is there anything more quintessential summer than fresh fruit that is super ripe and juicy? We always look forward to fresh cherry season so we can keep bags of fresh cherries in our refrigerator at all times. It is even better when you find them on sale and you can make a homemade cherry cobbler or cherry jam.
I just created the BEST CHERRY COBBLER Recipe! It is perfectly sweet with a touch of sugar added to the freshly pitted cherries and then the cherries are tossed with a sprinkle of almond and vanilla extract, which pulls out the flavor.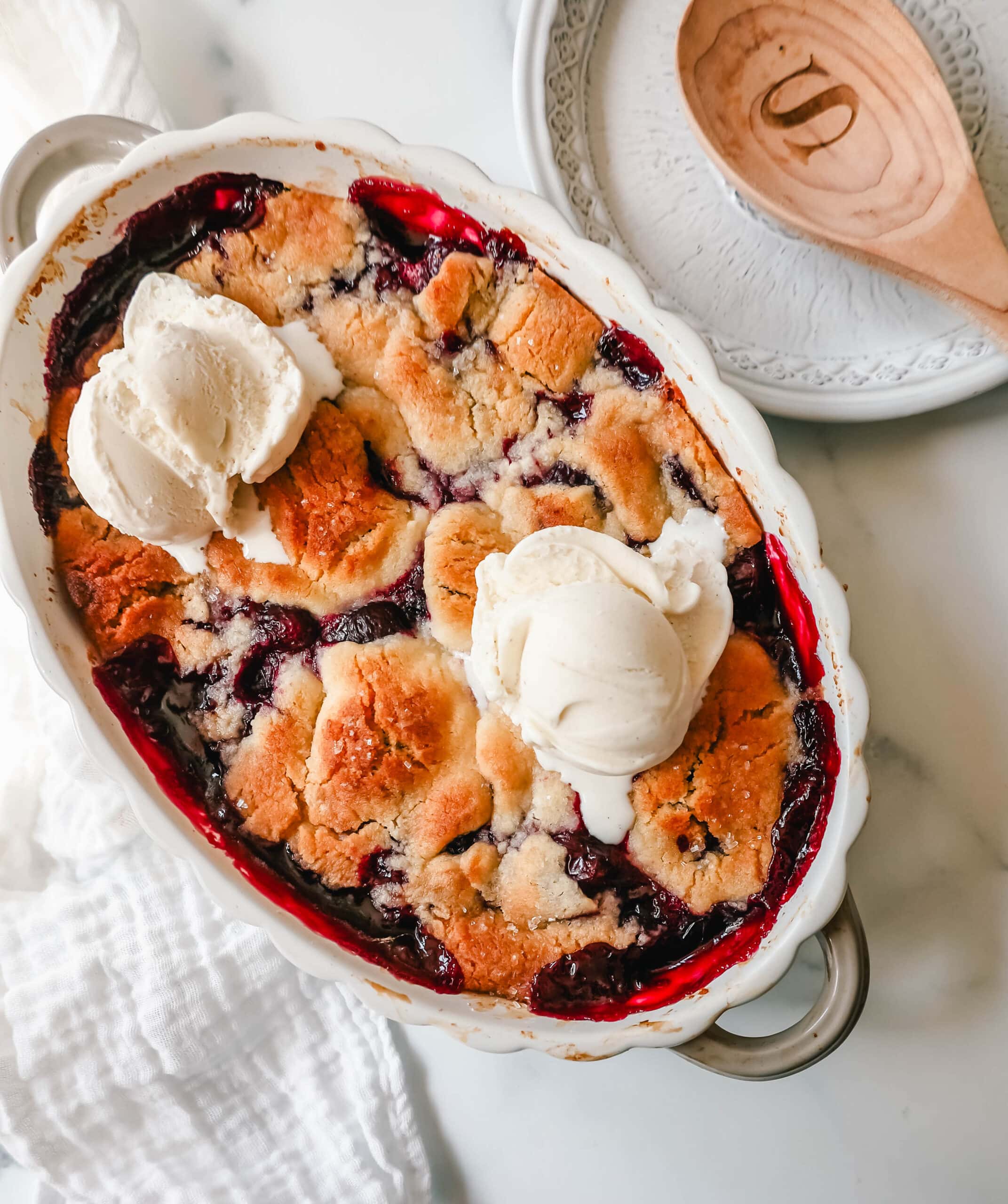 The Fresh Cherry Cobbler Topping is what dreams are made of. The cobbler topping is made with butter, sugar, flour, baking powder, and a pinch of salt. The ratio of butter, sugar, and flour makes it taste like the most perfect sugar cookie topping.
Since cherries are in season now, I suggest using fresh cherries. I bought this fresh cherry pitter to make removing the pits super easy!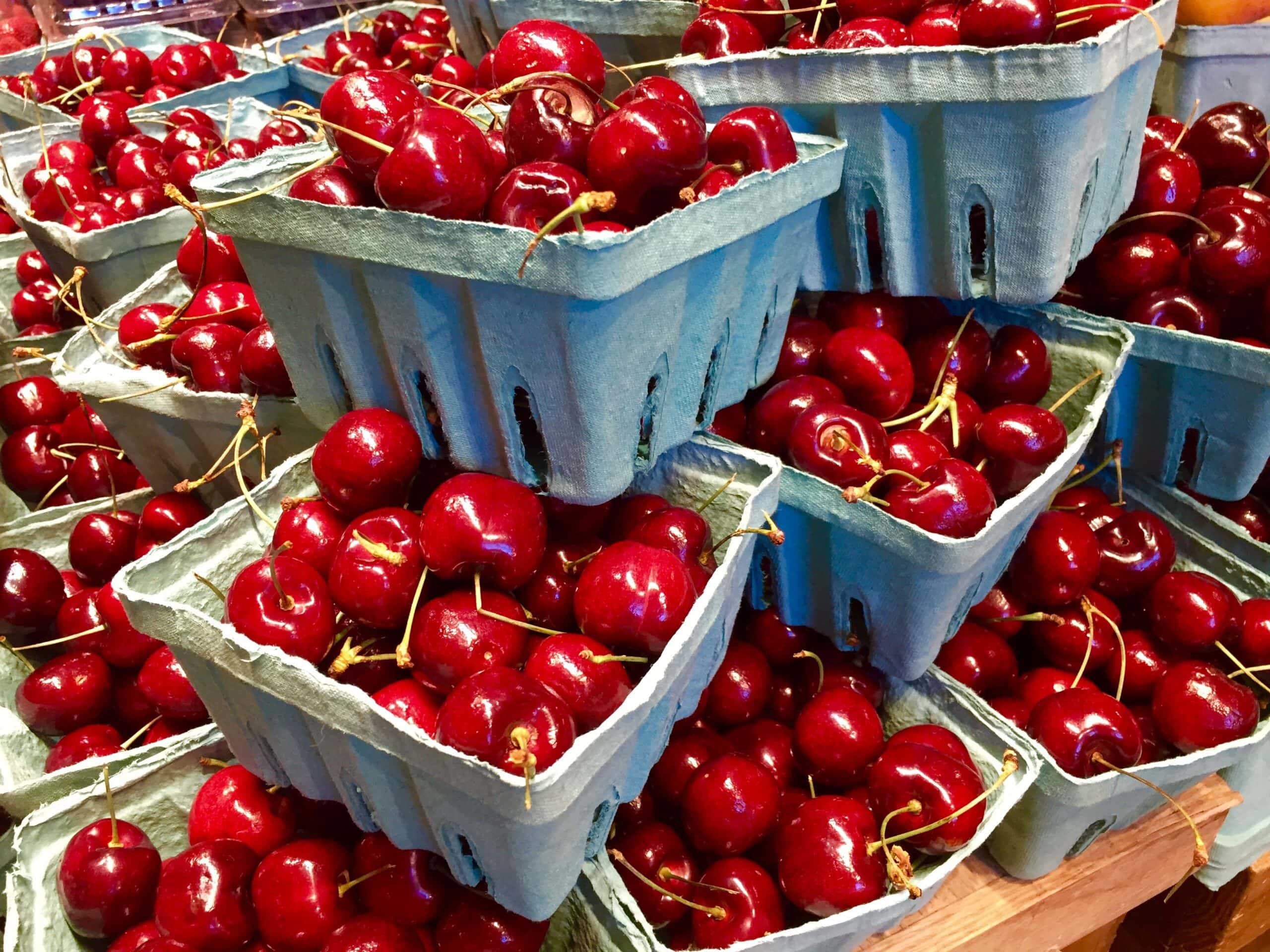 If you want to use frozen cherries in this Cherry Cobbler recipe, I suggest adding additional cornstarch since there will be additional liquid as the cherries defrost.
If you use frozen cherries, I suggest using 1 ½ - 2 Tablespoons of cornstarch instead of 2 teaspoons of cornstarch.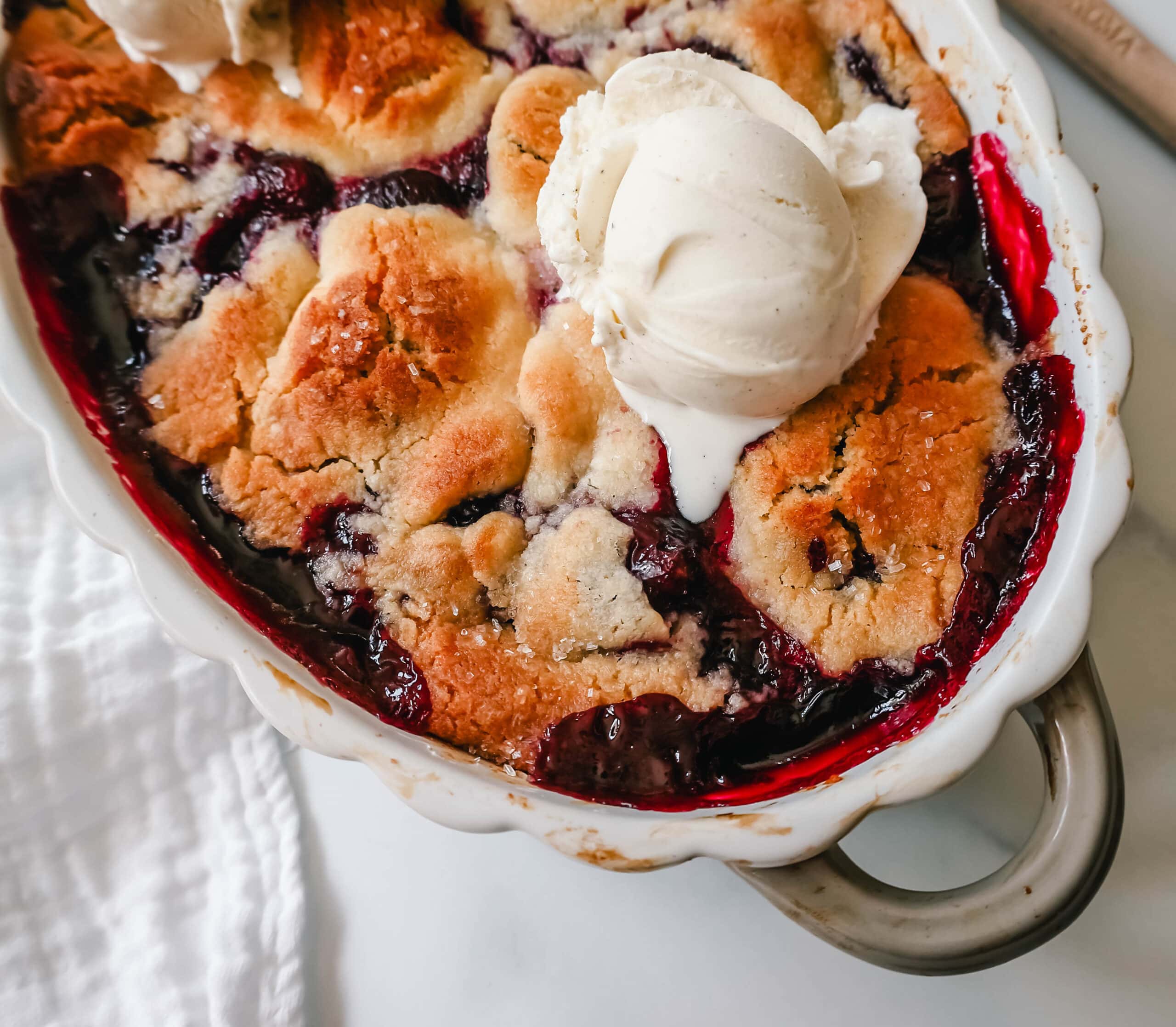 Tips for making an Easy Cherry Cobbler:
Remove the pits from the fresh cherries. Once all of the pits have been removed, toss the fresh cherries with sugar, cornstarch, vanilla and almond extract. Pour into a 8-inch baking dish.
Make the Cherry Cobbler Topping by mixing together melted butter, sugar, flour, baking powder, and salt. Roll into balls and then slightly flatten with your hands and place on top of the sugared cherries.
If you have sparkling sugar, sprinkle on top of the cobbler topping. If you don't have sparkling or pearl sugar, sprinkle a tough of granulated sugar over the top.
Bake until the cherries are bubbling and the crust is a light golden color. Let it cool slightly and then top with vanilla bean ice cream.
This Old Fashioned Cherry Cobbler with Fresh Cherries is best served with a big scoop of vanilla ice cream. It pairs perfectly with the homemade cherry cobbler. This cherry dessert made with fresh cherries will be the annual summer dessert!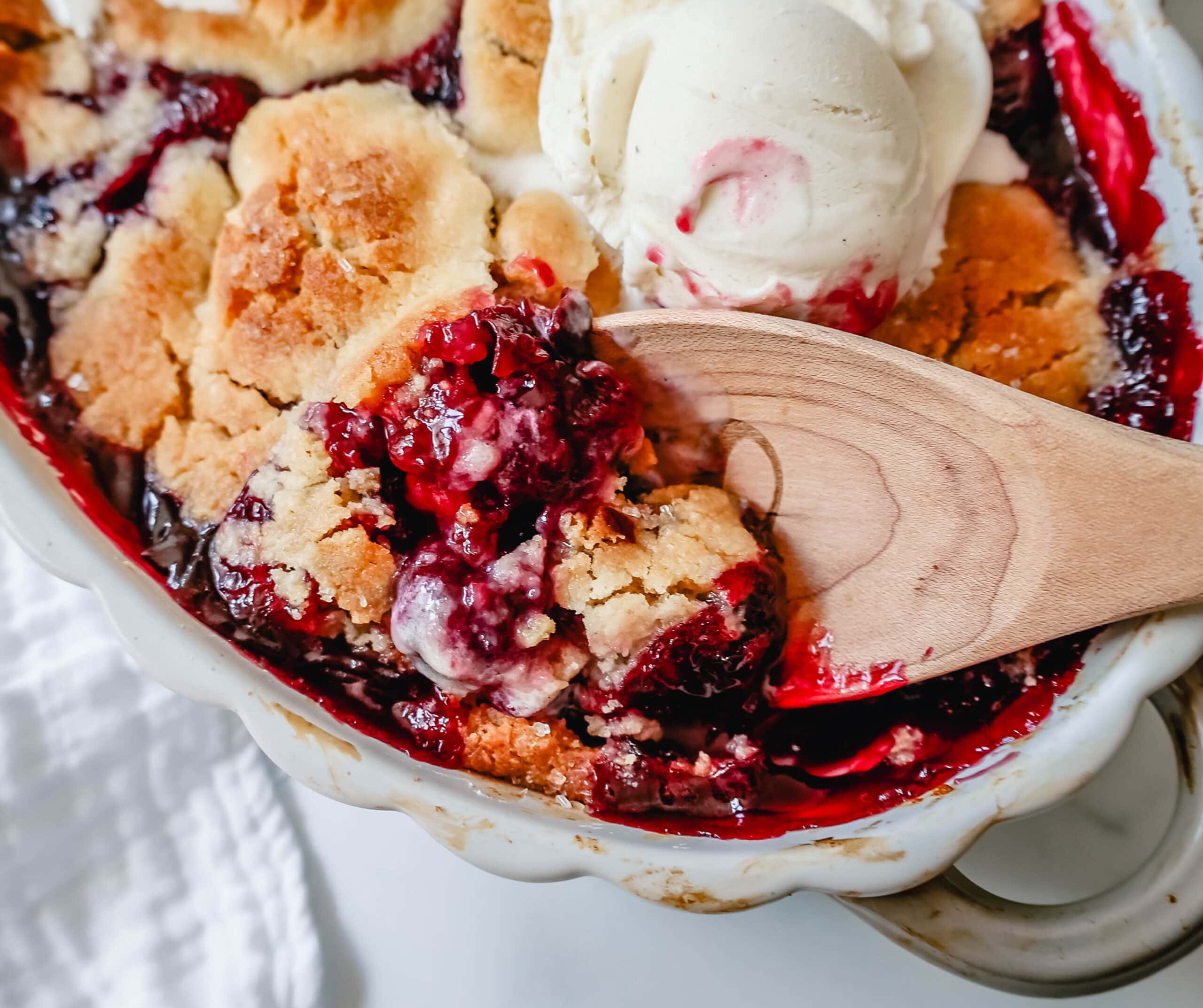 Popular Fruit Dessert Recipes:
PEACH COBBLER
BLACKBERRY COBBLER
TEXAS-STYLE BLUEBERRY COBBLER
PEACH CRISP
STRAWBERRY CRISP