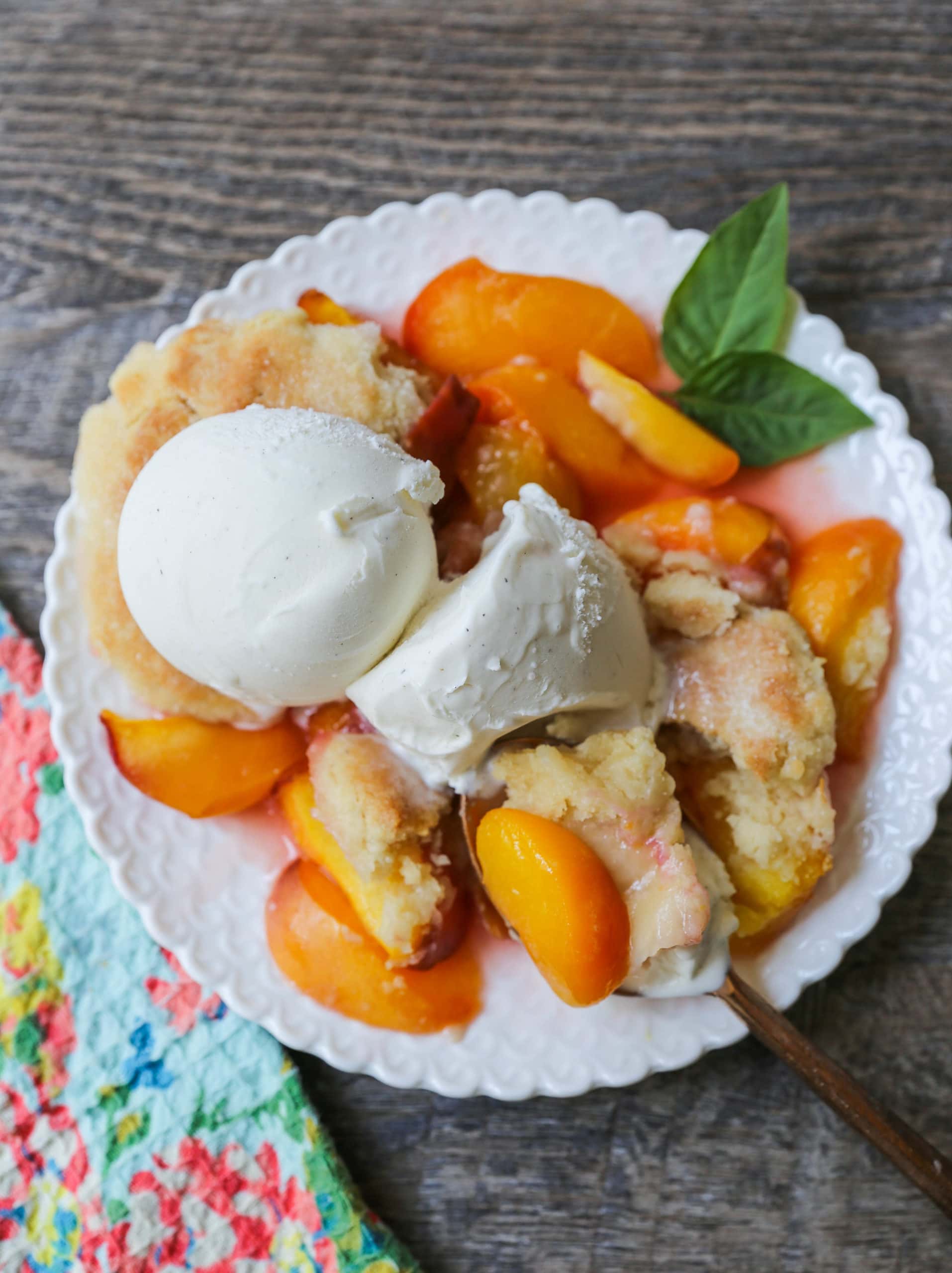 Peach Cobbler
The Best Peach Cobbler Recipe! Fresh peaches tossed with a touch of sugar and topped with a homemade sweet and buttery topping that resembles a mix of a sugar cookie and a sweet biscuit.
I have been recipe testing peach cobbler recipes for years. I just couldn't 100% commit to anything I tried. Every single peach cobbler recipe I tried was good but it wasn't the perfect peach cobber I was looking for...until now.
I found that it all came down to the topping. It had to be stellar -- sweet enough without being too sweet. I didn't want it to be just a biscuit on top of peaches. I wanted a mix between a biscuit and a sugar cookie and it came out like perfection.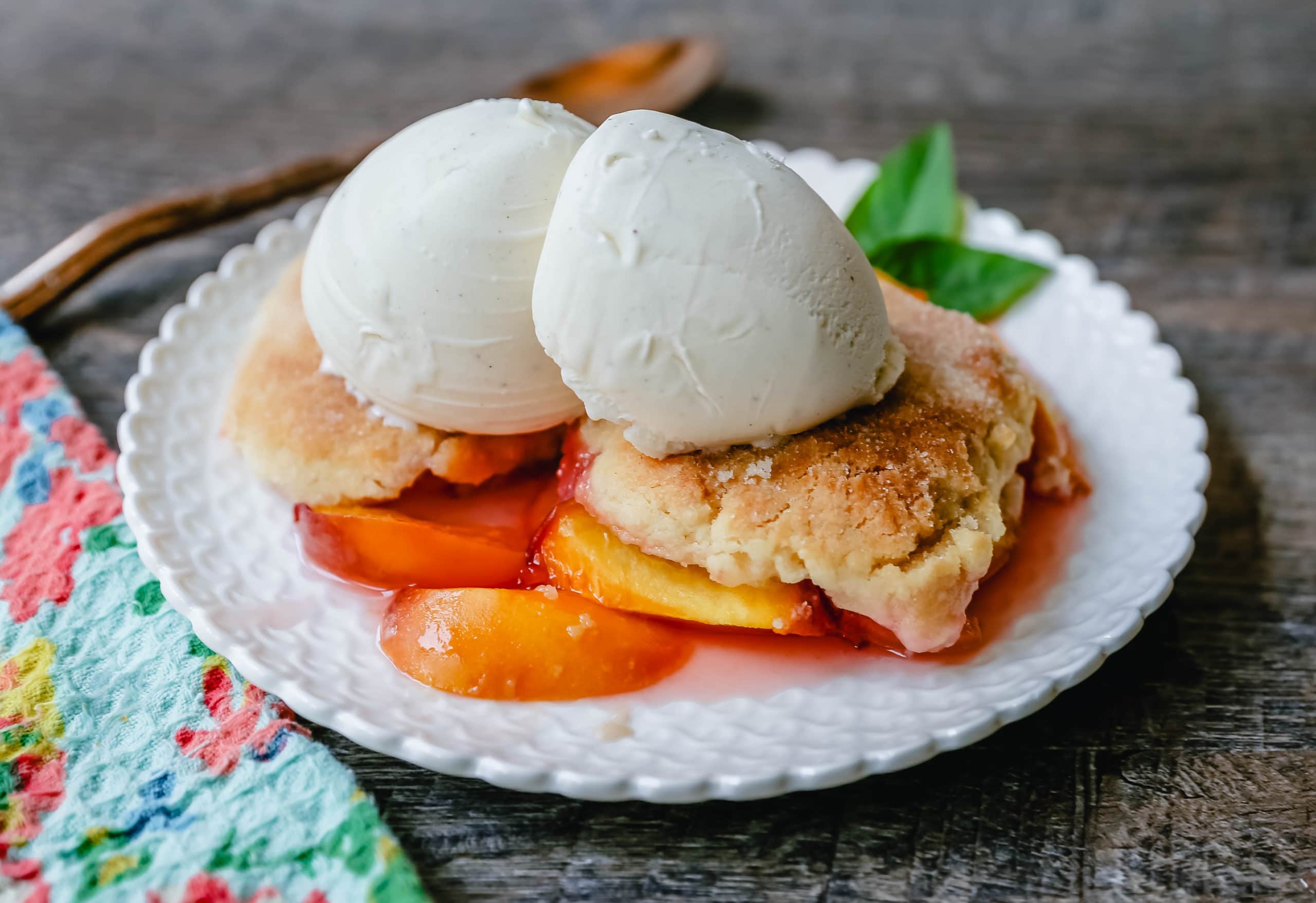 The key was adding some buttermilk to the dough without adding too much. The buttermilk made the texture extra tender. The topping has a slight crunch on the outside while being soft and chewy on the inside. It pairs beautifully with the fresh peaches!
There is a lot of debate out there as to whether or not you add flour or cornstarch to the peaches. It does allow the sauce to thicken; however, you run the risk of it turning the peach mixture to a gummy mess. I decided to just sprinkle the peaches with a touch of sugar and allow the sugar to break down the peaches and become super juicy. Yes, it is a juicer sauce but when you top this fresh peach cobbler with ice cream, the sauce tastes amazing.
ThIs Easy Peach Cobbler Topping is made with butter, sugar, vanilla, buttermilk, flour, baking powder, and salt. It is super simple! I love to sprinkle the cobbler topping with a touch of sugar just before it is done baking to give it a nice crunch.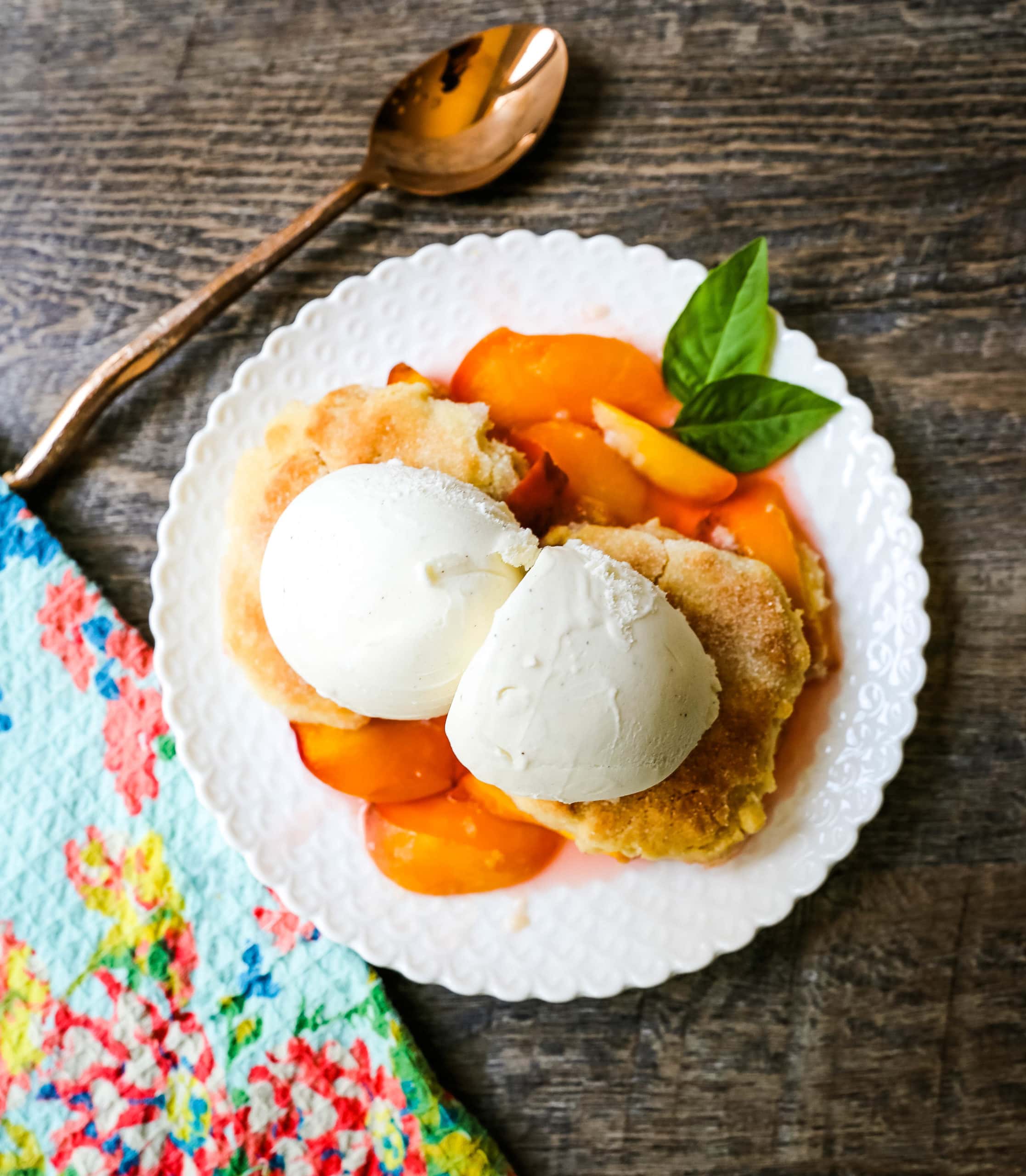 How to make the Best Peach Cobbler:
Start by using ripe, fresh peaches. You want to make sure they are slightly soft to the touch with a slight give to them. If they are hard as a rock, they probably aren't going to be very sweet or juicy. You can peel the skin off or leave it on, depending on your preference. Sprinkle with some sugar.
Mix the melted butter, sugar, vanilla, buttermilk, flour, baking powder, and salt together in a bowl until you can roll it into balls.
Pour the peaches into a baking dish. If you want a thinner peach cobbler, use a 9 x 13 pan. If you want a thicker peach cobbler, use a 9 x 9 pan. Top with scoops of the cobbler topping, trying to cover most of the peaches. Press the dough into circles on top of the peaches.
Bake for about 30 minutes or until the peaches are cooked through and the juices are bubbling. When the juice start to bubble, the high heat helps to thicken the juices. Sprinkle the topping with some sugar and place back in the oven for another 7-10 minutes or until the topping is cooked through.
Let it rest. Since you heated up the juices, it is time to cool them down and let them set-up and thicken. I would suggest waiting at least 20-25 minutes before serving.
Serve warm with vanilla bean ice cream.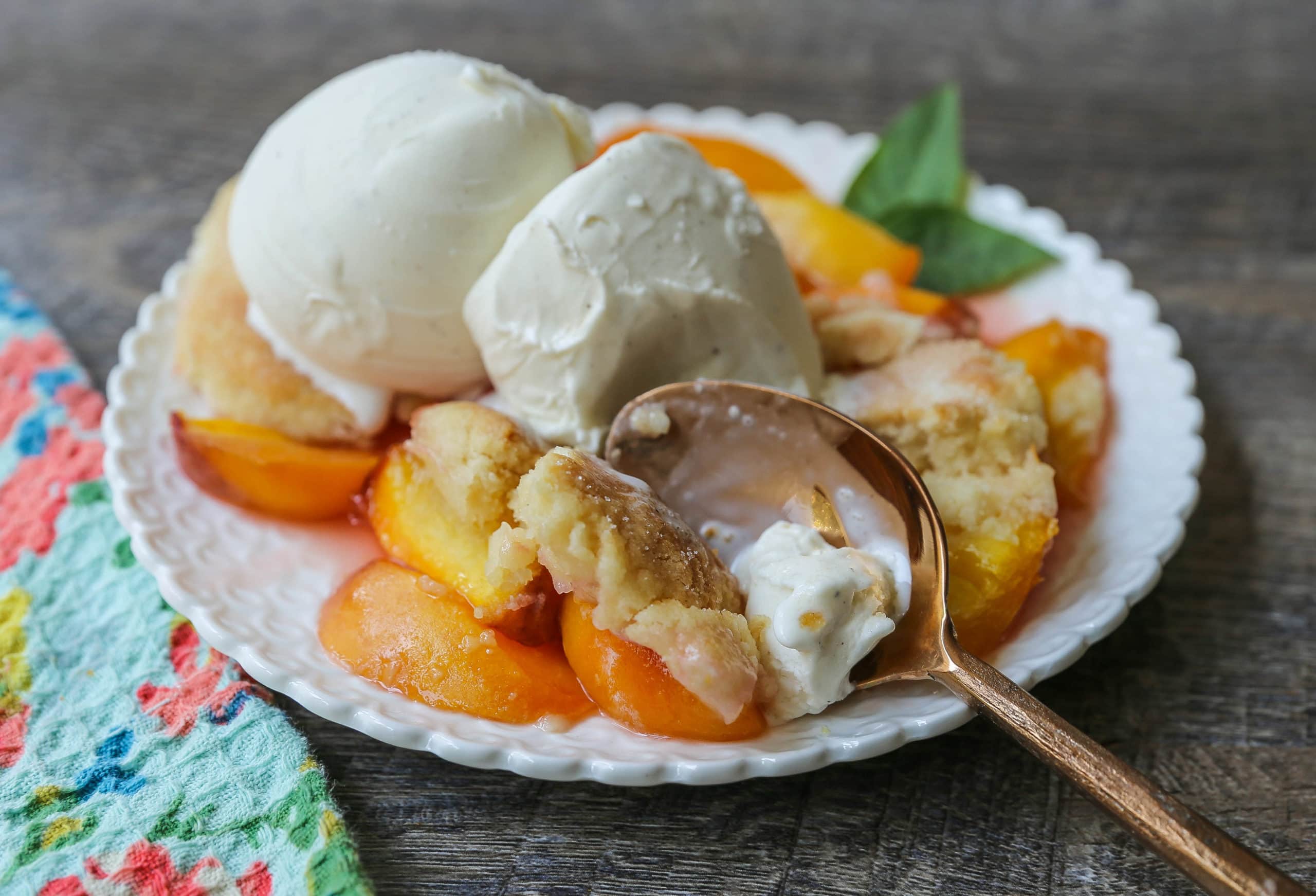 If you love peaches, check out these other peach recipes:
I love to hear from you! If you make this recipe, please be sure to leave a comment and give this recipe a rating. Sign up for my newsletter below so you never miss a recipe. Thank you for following along! I truly do have the greatest readers. FOLLOW ME ON: INSTAGRAM — FACEBOOK— PINTEREST