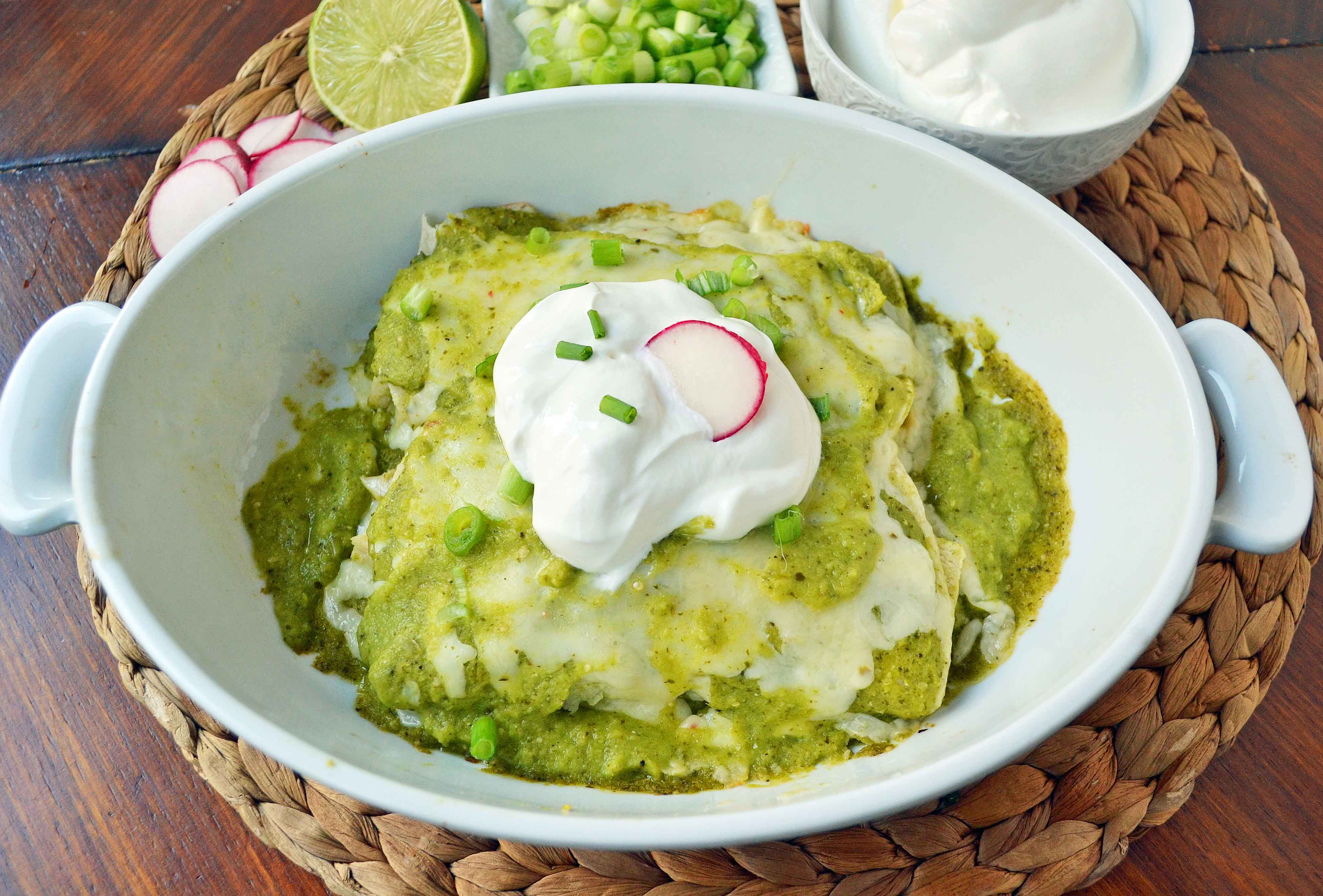 Chicken Enchiladas Verdes
How many of you have opened a can of green enchilada sauce only to find a watery sauce that is lacking in any fresh flavor? I have been there more times than I can count, always hoping I can use canned enchilada sauce as a shortcut when making enchiladas. Every single time I end up disappointed.
Since we love Mexican food more than anything in our family, I was determined to make a green enchilada sauce using fresh ingredients, with a vibrant sauce that has a robust flavor, but still easy enough to put together on a busy weeknight.
After some serious playtime in the kitchen, I have come up with what I believe is the best Chicken Enchiladas Verdes recipe out there. These are melt in your mouth good! You will never go back to canned enchilada sauce because it just doesn't cut it.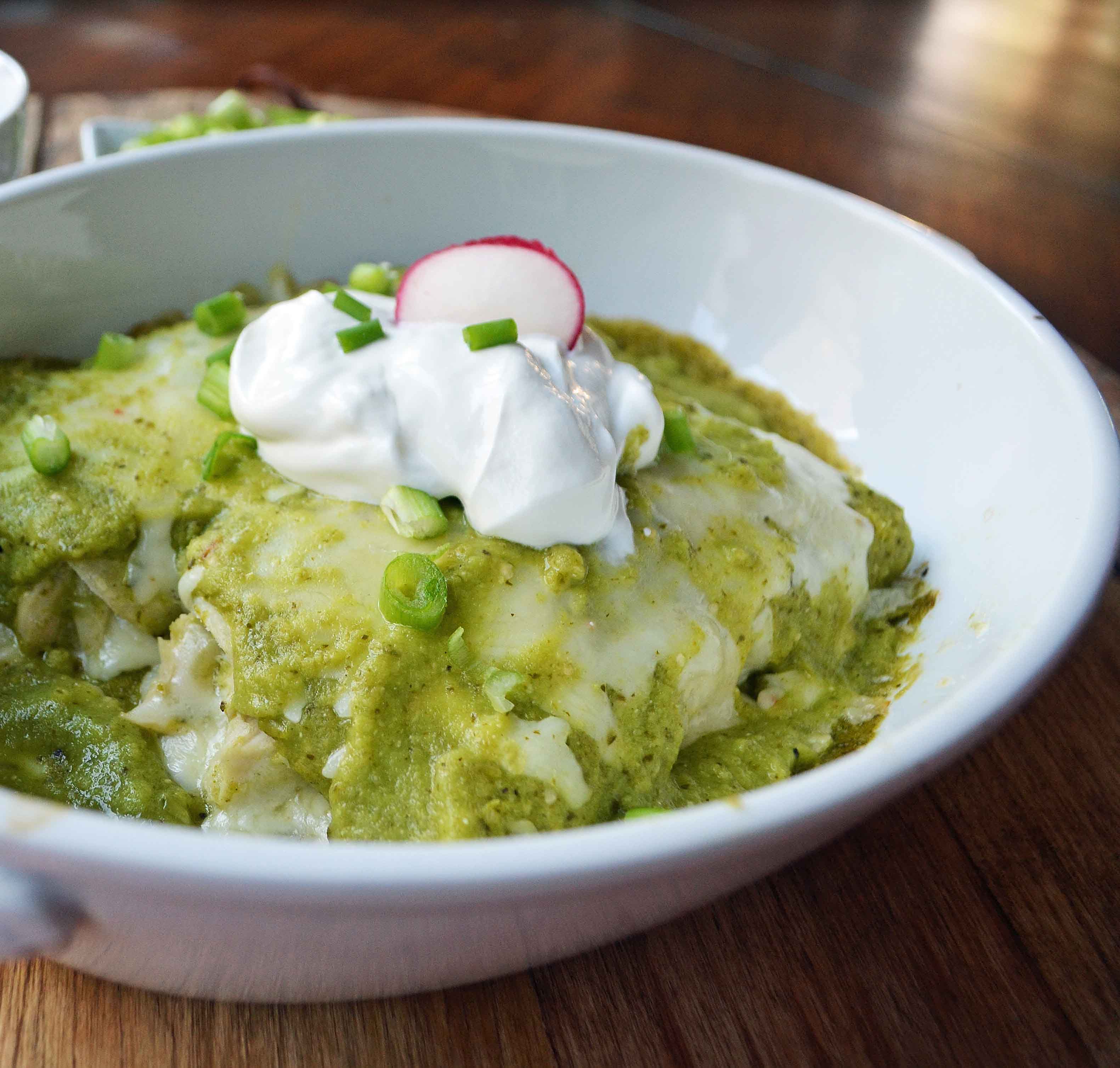 The key to these Chicken Enchiladas Verdes is using tomatillos, a Mexican husk tomato, as the base of the green enchilada sauce. Poblano peppers are a perfect pairing as they add a lot of flavor without too much heat.  They are mild in the heat department, so if you are adventurous you can add a jalapeno to the sauce.
Put the tomatillos and poblano peppers under the broiler for a few minutes to soften them, making them more tender which brings out their natural flavor.
There is something about roasting vegetables that makes them so much better! To add some bright freshness to the sauce, we add cilantro and a touch of sugar adds a bit of sweetness to offset the acidity of the tomatillos. You are going to want to lick the blender clean....this sauce is ridiculously good!
Since these are chicken enchiladas, we have to ensure that the chicken is seasoned to perfection. How many times have you eaten chicken enchiladas in a restaurant only to find that the chicken is bland? You find yourself begging for more sauce to compensate for the lack of flavor. I am a big believer in seasoning all components of the dish in order to have layers of flavor.
We slowly cook the chicken breasts in chicken broth, onions, and cumin to really solidify the flavor and spices. This is an important step to ensure that the chicken doesn't come out dry. By cooking it slowly in liquid, you seal in the juices and keep it moist.
After cooking and chopping the chicken, add some of the tomatillo green enchilada sauce to the chicken to keep it from getting dry and to add some zing.
Where are my cheese fans? When I eat Mexican food the last thing I want is a dry enchilada. In my humble opinion, it needs to be coated with sauce, with melted cheese oozing out with every single bite. The key is to add cheese in two places.
We add cheese when rolling up the chicken into the tortilla and also sprinkle it on top of the enchiladas.  You can use Monterey jack cheese, pepper jack cheese, queso fresco, queso blanco, or any of the Mexican cheese blends.  I use a mix of pepper jack cheese and grated Mexican cheese blend and it's a perfect marriage.
Top these Chicken Enchiladas Verdes with creamy sour cream, fresh avocado, scallions, a squirt of lime, and sliced radishes.
If you are looking for authentic Chicken Enchiladas Verdes, then look no further. These are the best green chicken enchiladas out there and believe me, I have done my fair share of testing.  🙂 Thanks for the love!
Happy Cooking, my friends!