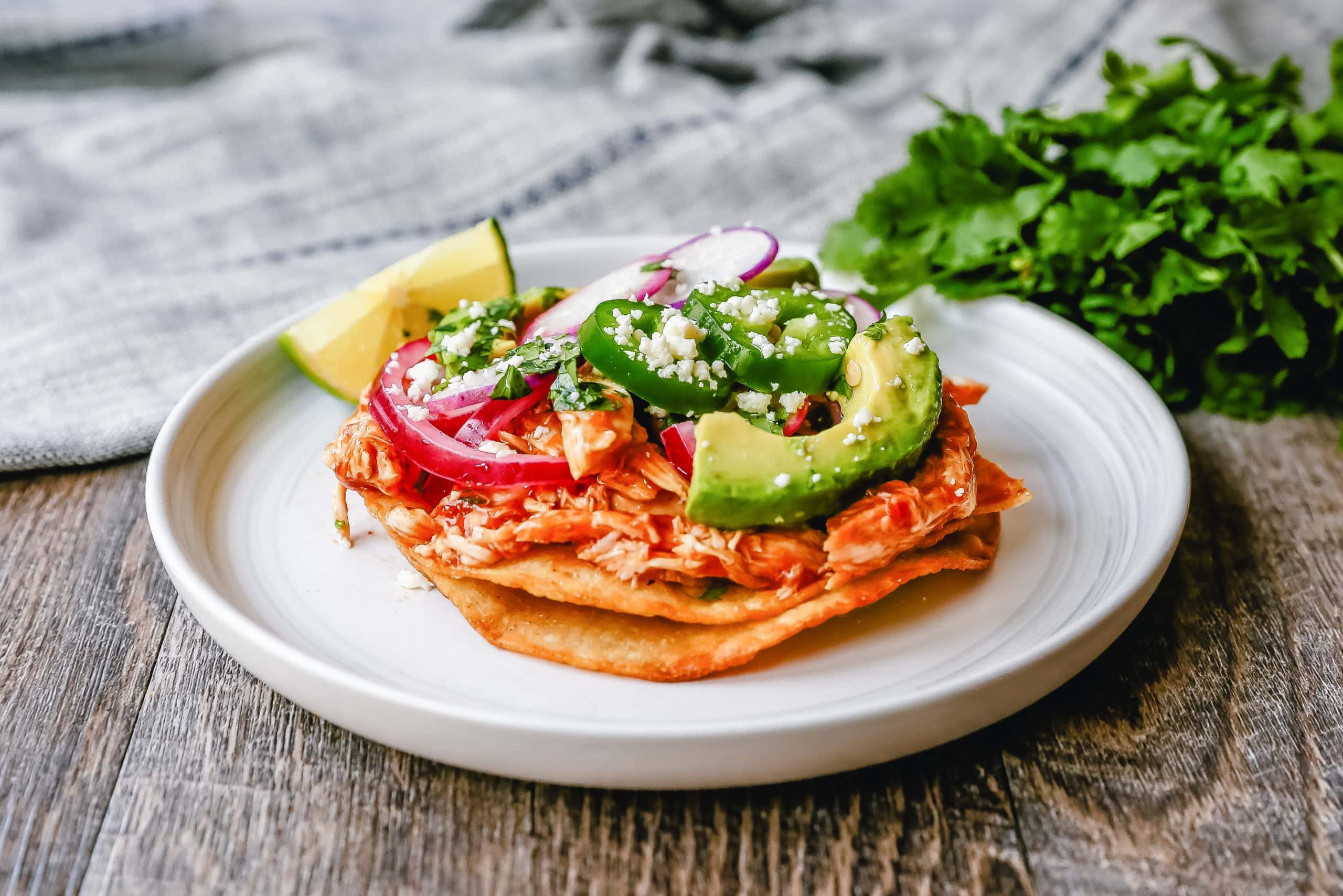 Chicken Tostadas
Chile Chicken Tostadas made with homemade tostada shells topped with chile spiced chicken topped with cotija cheese, cilantro, pickled red onion, fresh avocado, and jalapeños.
These are your quick, easy chicken tostadas for your busy weeknights or entertaining your guests. Even though I cook a ton, I am always faced with the question, "what is for dinner?" So many times I am tired after a long day and don't feel like whipping up an elaborate meal. Let's be real...even though I love to cook, I am consistently reaching for quick and easy recipes!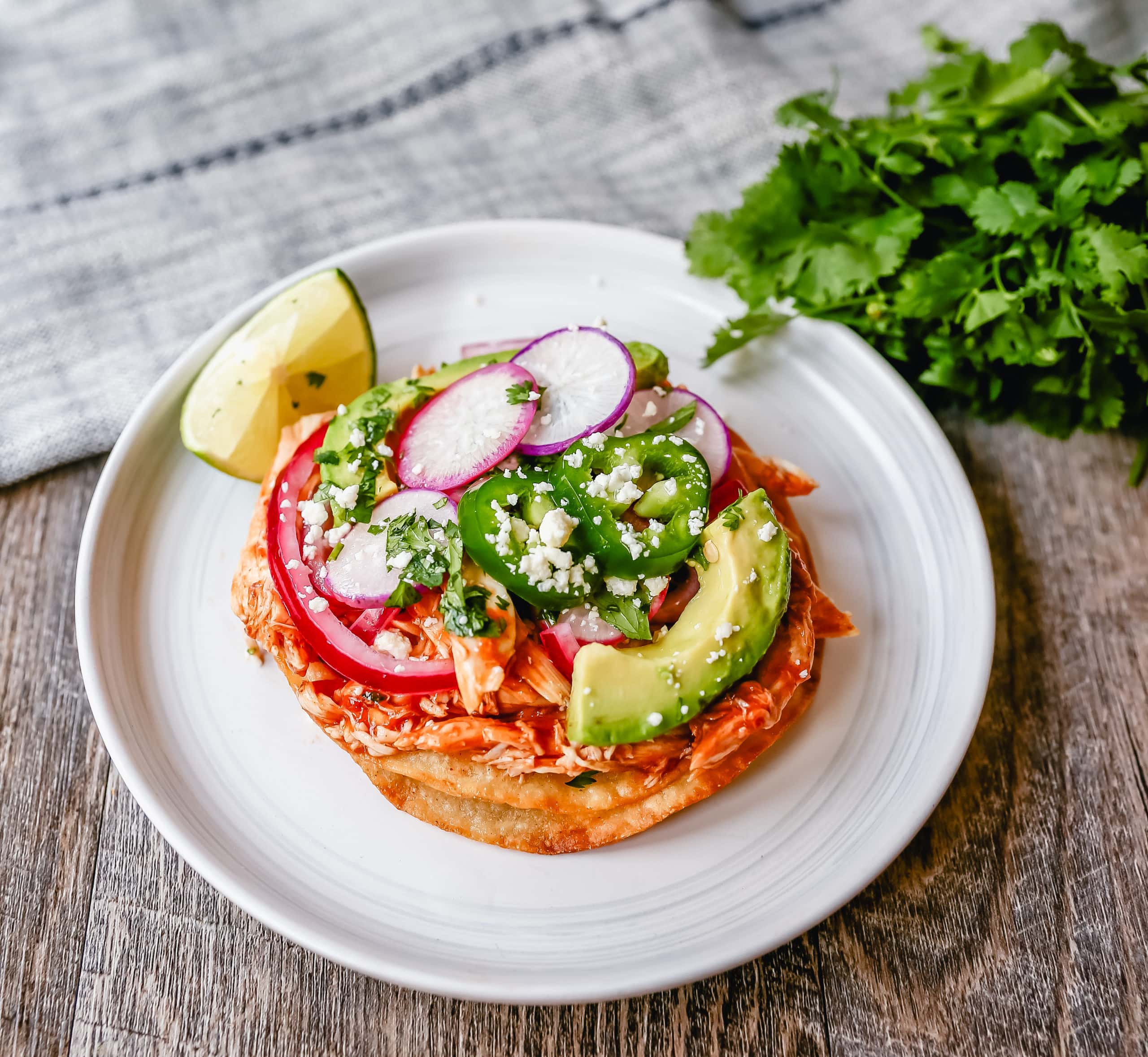 These Chicken Tostadas are made using rotisserie chicken which is one of my favorite time-saving hacks in the kitchen. Then you toss it with some taco sauce and diced chipotle peppers for a slightly smoky and spicy flavor. Then you can sprinkle on your favorite type of Mexican cheese -- cotija for a slight saltiness or pepper jack for a creamy spicy flavor.
Before you add all of the toppings, you can heat the chicken and cheese under a broiler to get it nice and toasted. Then you top it with fresh avocado slices, cilantro, pickled onions, and jalapenos.
Pickled onions are so easy to make with just water, vinegar, sugar, and a touch of salt. Plus the pickled onions stay in the refrigerator for months. They add a tangy, sweet crunch to these chicken tostadas.
The tostada shells are made by frying corn tortillas in oil until nice and crispy. If you want to skip this step, grab your favorite tostada shells from your local grocery store.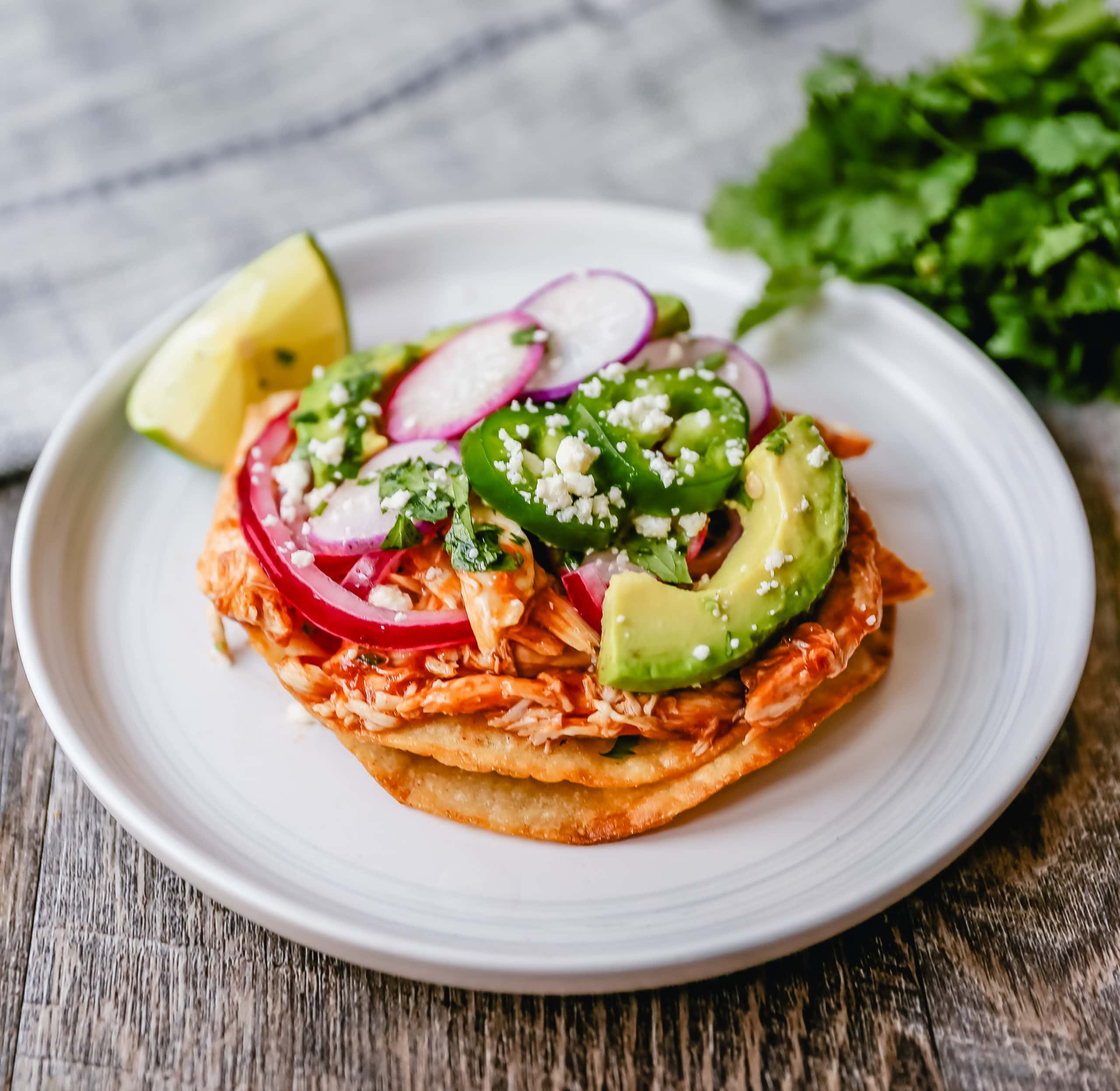 How to make Homemade Chicken Tostadas:
Cook the corn tortillas. Pour about ½ - 1" inch oil into the skillet and turn the stove on to medium heat. Use a thermometer to check if the oil is hot enough, about 350 degrees. As soon as the oil is at the correct temperature, use tongs to place the tortilla into the pan. Cook each tortilla for about 10 to 15 seconds. Flip it over and cook for another 10 seconds. Remove it from the oil using the tongs and place on a paper-towel-lined plate. Sprinkle with salt.
Shred chicken from rotisserie chicken or cooked poached chicken breasts. Toss with taco hot sauce and chopped chipotle chilies. Sprinkle on top of tostada shells.
Top with cotija cheese and place on a baking sheet and put under the broiler to heat up. Top with pickled red onion, fresh avocado, jalapenos, and cilantro. Serve immediately.
If you love Mexican food, check out these other popular recipes:
Mexican Street Corn Chicken Tacos
Cheesy Mexican Chicken and Rice