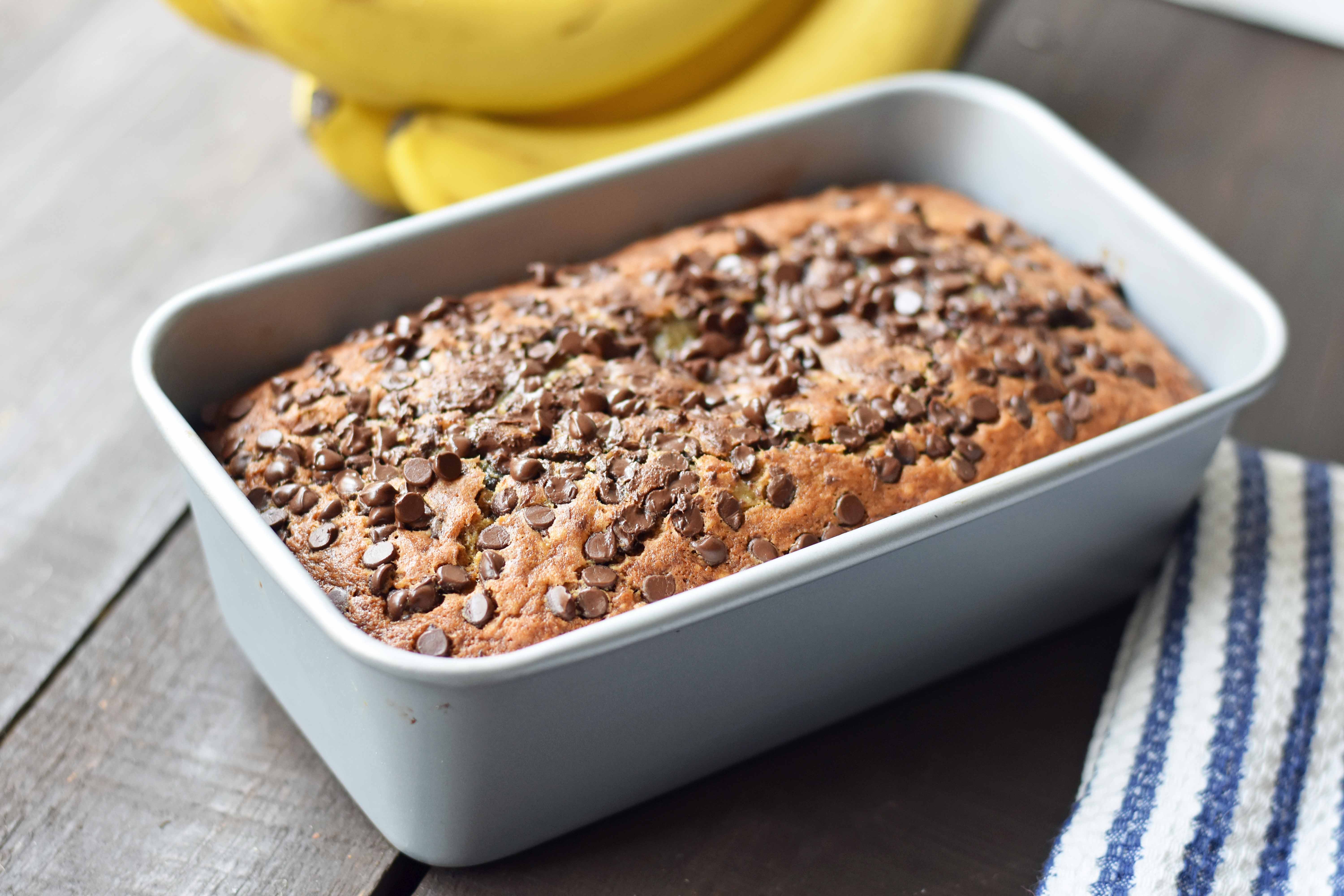 Chocolate Chip Banana Bread
The best ever chocolate chip banana bread is moist, flavorful and always a huge hit!
This Chocolate Chip Banana Bread recipe has been years in the making.  I have made plenty of loaves of banana bread but since I started Modern Honey, I have become determined to figure out how to make the best versions of a recipe.  Hey we are all trying to be the best version of ourselves so why not have the best version of banana bread? It only makes sense.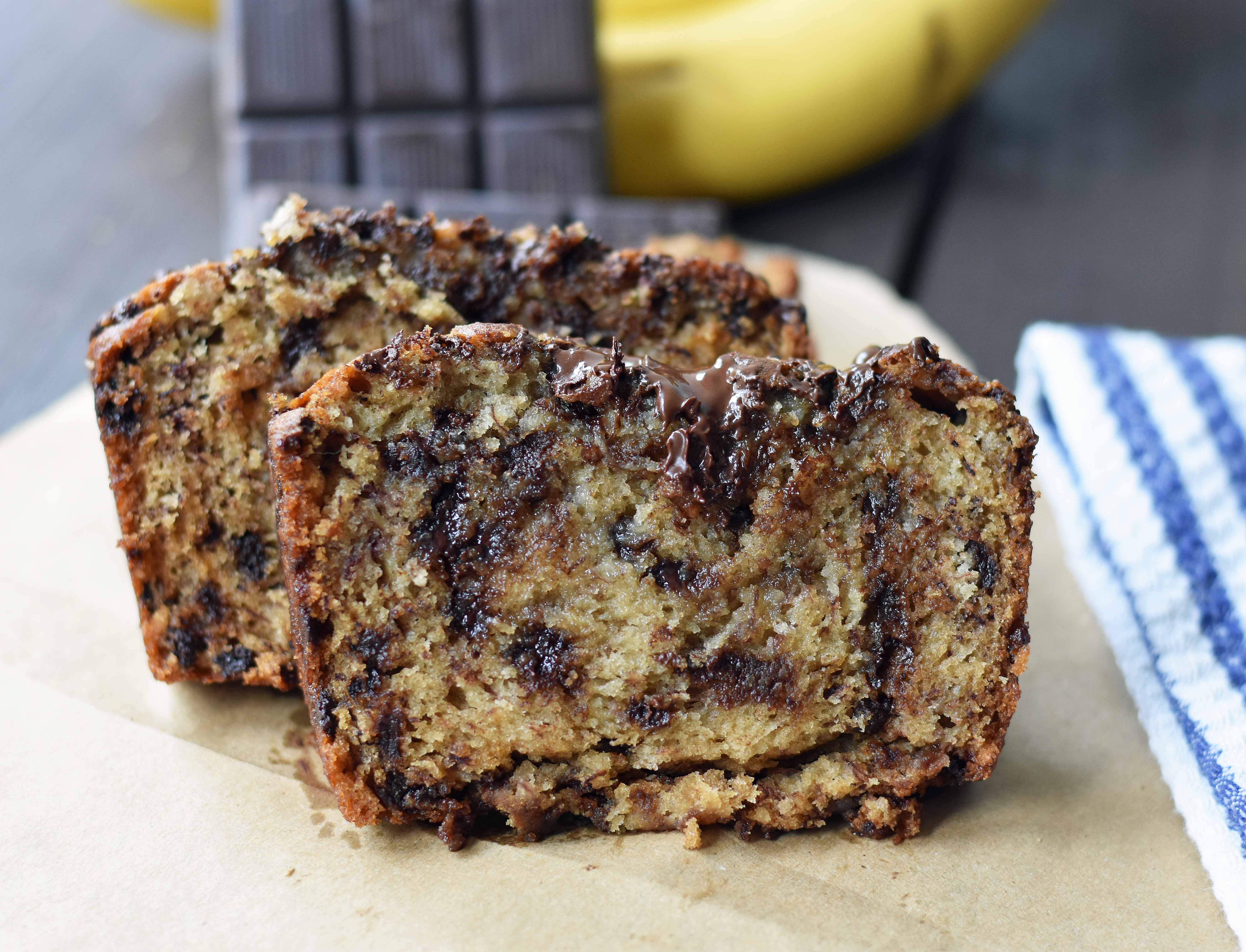 It all started out with a little research. There are two highly opinionated camps -- those who believe banana bread should be made with butter and those who believe it should be made with oil.  Here's the deal...we all know everything is better with butter, right? It adds an insane amount of rich buttery flavor that is perfect in baked goods.
Adding oil to baked goods makes them moist which is super important in banana bread. So why not have the best of both worlds? This chocolate chip banana bread recipe calls for both butter and oil. I am pleasing the masses here while making a killer banana bread.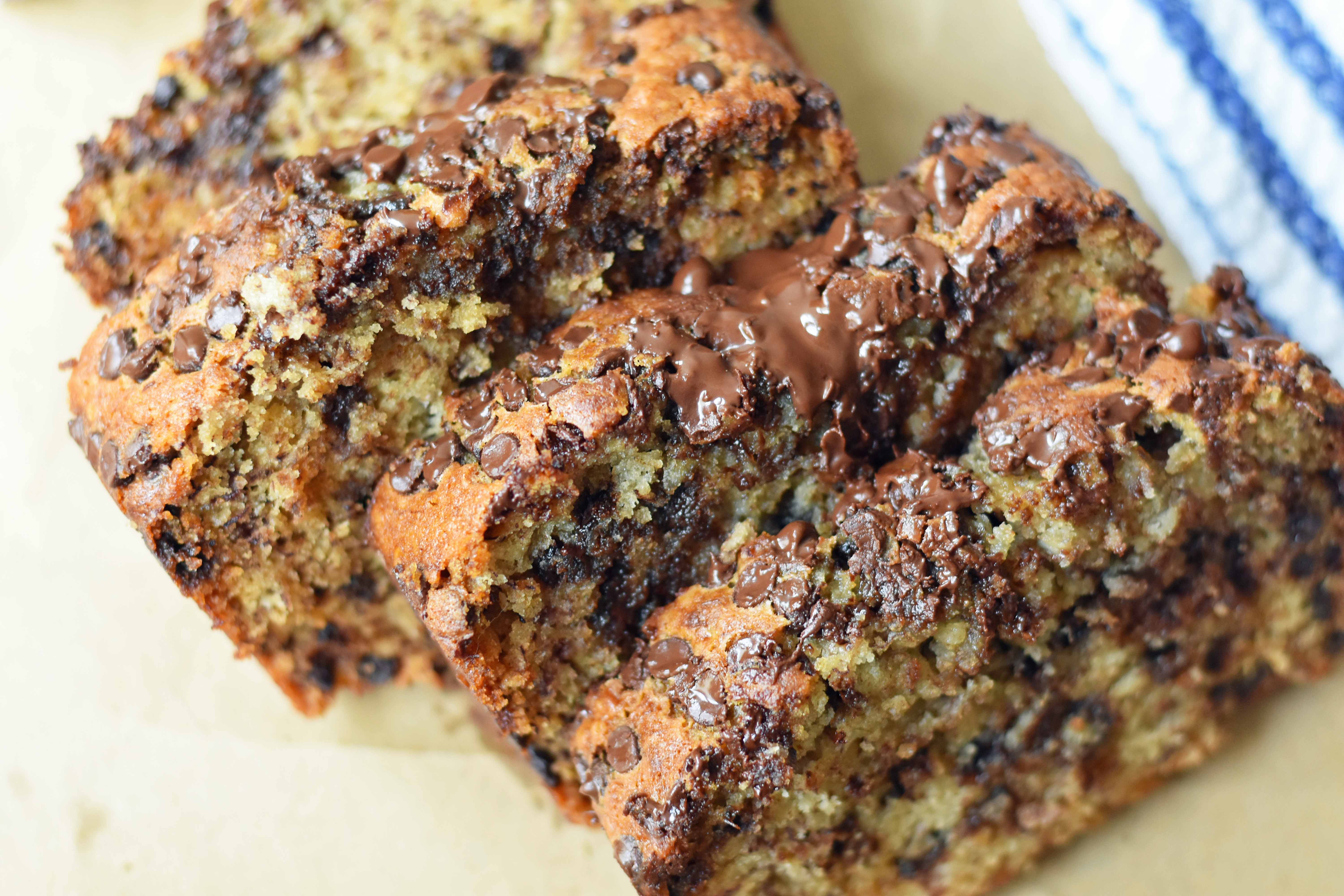 Another key component of making a delectable banana bread is using sour cream. This is going to create a moist texture that melts in your mouth. We don't want dry, hockey puck banana bread here. Not a chance!
It is important when making homemade banana bread to use ripe bananas. As bananas ripen, they develop natural sugars to add more depth of flavor and sweetness to the banana bread.  Watch for bananas to start developing brown spots on their yellow skin to know they are ready for banana bread.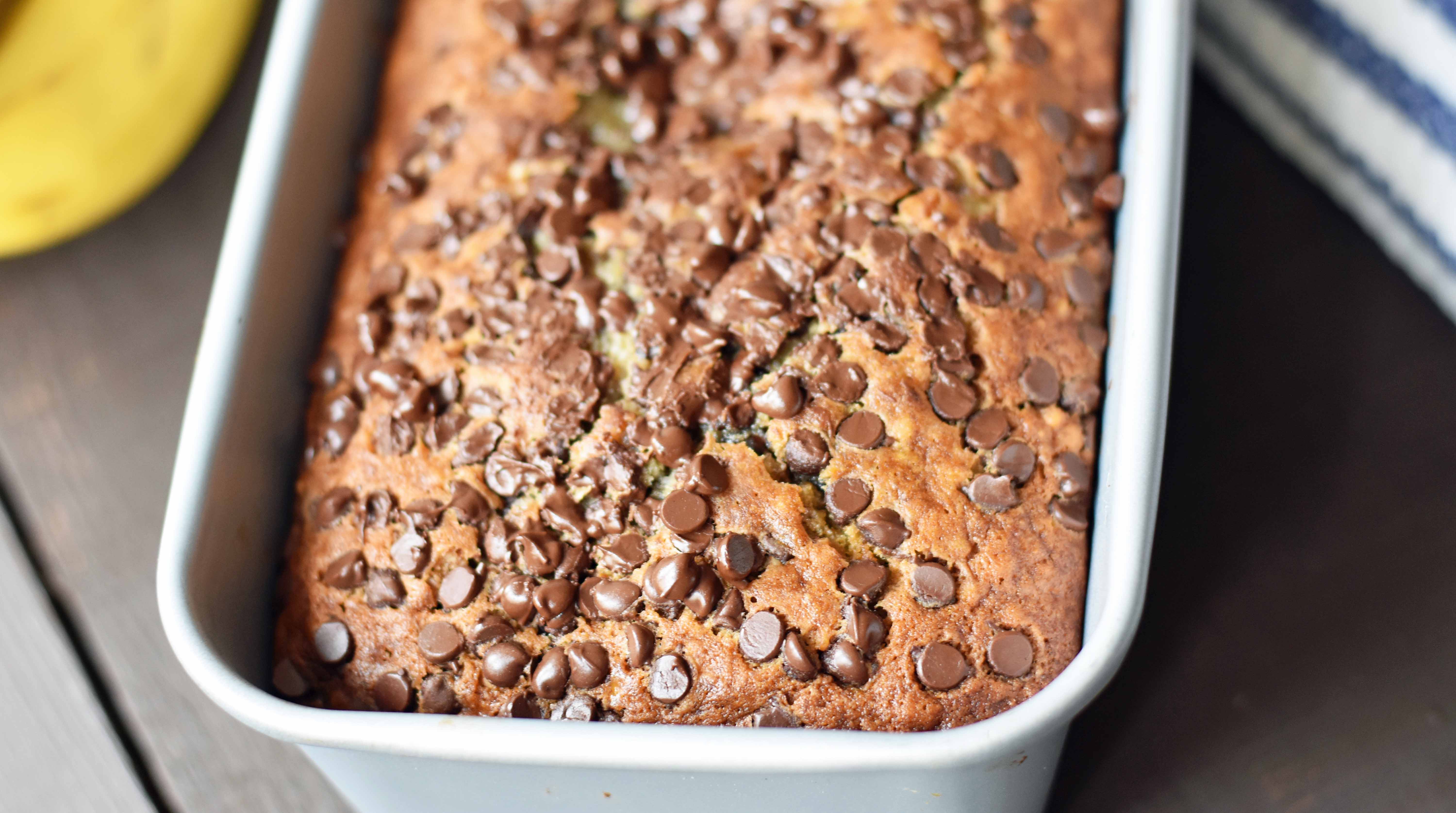 How to cook banana bread in the middle?
When I first started making banana bread, I struggled with getting the center completely done without getting the outside too brown. The struggle is real.  The solution I found that works like a charm is to cover the banana bread with aluminum foil halfway through the baking time.  This ensures the middle gets cooked through without the edges becoming too dark.
How to make Chocolate Chip Banana Muffins:
This recipe can also be made into chocolate chip banana bread muffins. If you love banana bread in bite-size form, you will love these chocolate chip banana muffins. This recipe will make 12 large muffins or 18 small to medium muffins. I usually come out with 12 muffins. Since they are smaller, you will bake them for less time. Set the timer for 15 minutes and keep checking. The muffins are done when a toothpick comes out clean.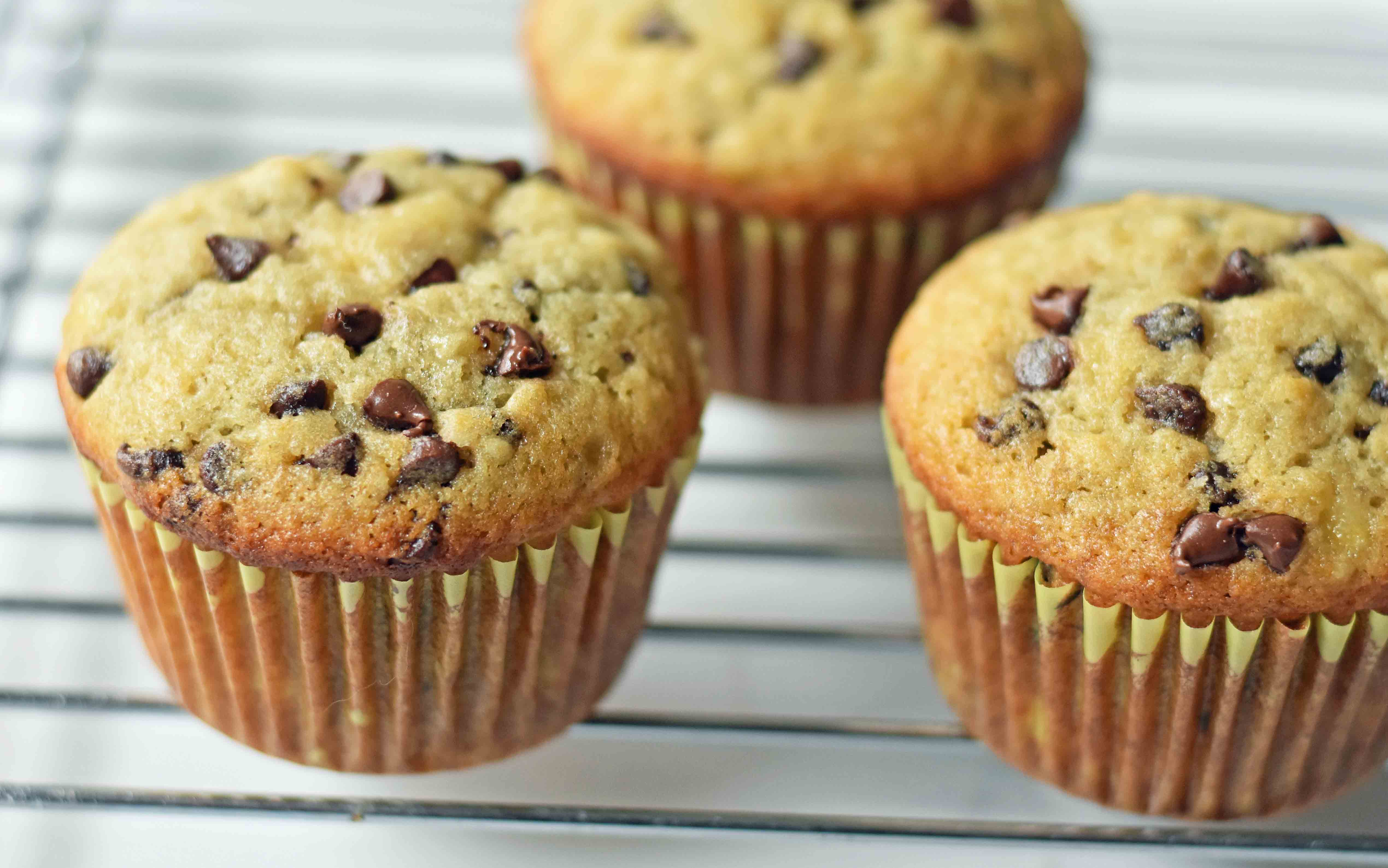 Another tip is to use mini chocolate chips. If you only have regular sized chocolate chips, they will work brilliantly as well. I just like the even distribution of chocolate flavor that mini chocolate chips bring to this chocolate chip banana bread.  You can set aside ¼ cup of mini chocolate chips to sprinkle on the top of the bread. You will have everyone fighting for the tops of the bread after they see that much chocolate! Bring on the chocolate for breakfast.
I used a  8.5 x 4.5 x 2.75 inch loaf pan. This USA pan is my favorite loaf pan because it creates such perfectly baked bread.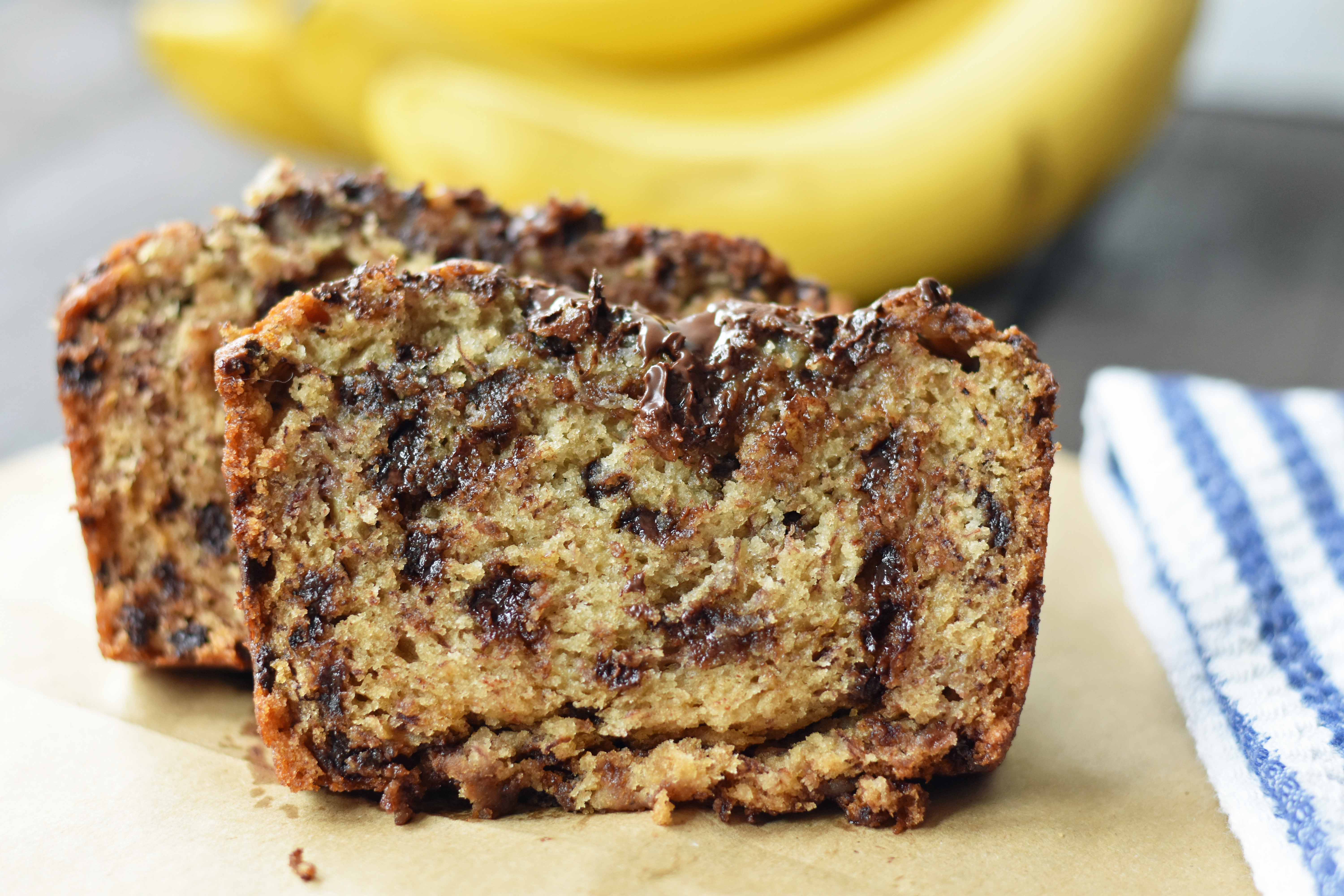 FOLLOW ME ON:   INSTAGRAM --- FACEBOOK --- PINTEREST
If you are looking for more sweet quick bread recipes, check out my Chocolate Zucchini Bread Recipe. You will have no idea there is zucchini in it. It's amazing!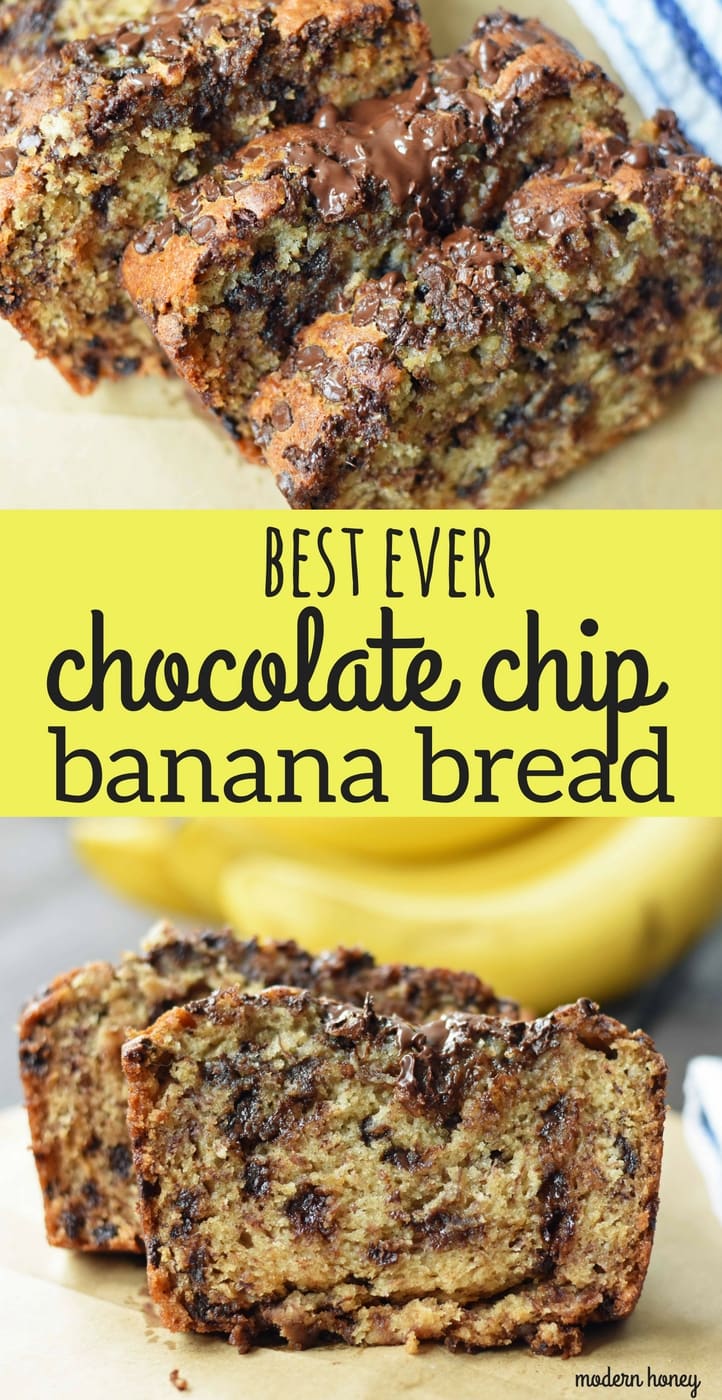 I would love to hear what you think about this chocolate chip banana bread recipe! Come find me on instagram at modern_honey.