Cinnamon Swirl Quick Bread
Soft and moist cinnamon swirl quick bread with cinnamon sugar streusel is perfect to share with neighbors and friends!
It is that time of year to start baking up a storm! I just returned home from two back-to-back trips and I am so ready to be back in my kitchen. I love this time of year when the mornings start to cool down and there is a slight crispness in the air.
This means the oven is ready to be working on overtime! Anyone else loving making quick loaves of bread such as pumpkin, banana, cinnamon swirl, and almond poppyseed? There is no yeast that needs to work so they are so much quicker and easier to throw together.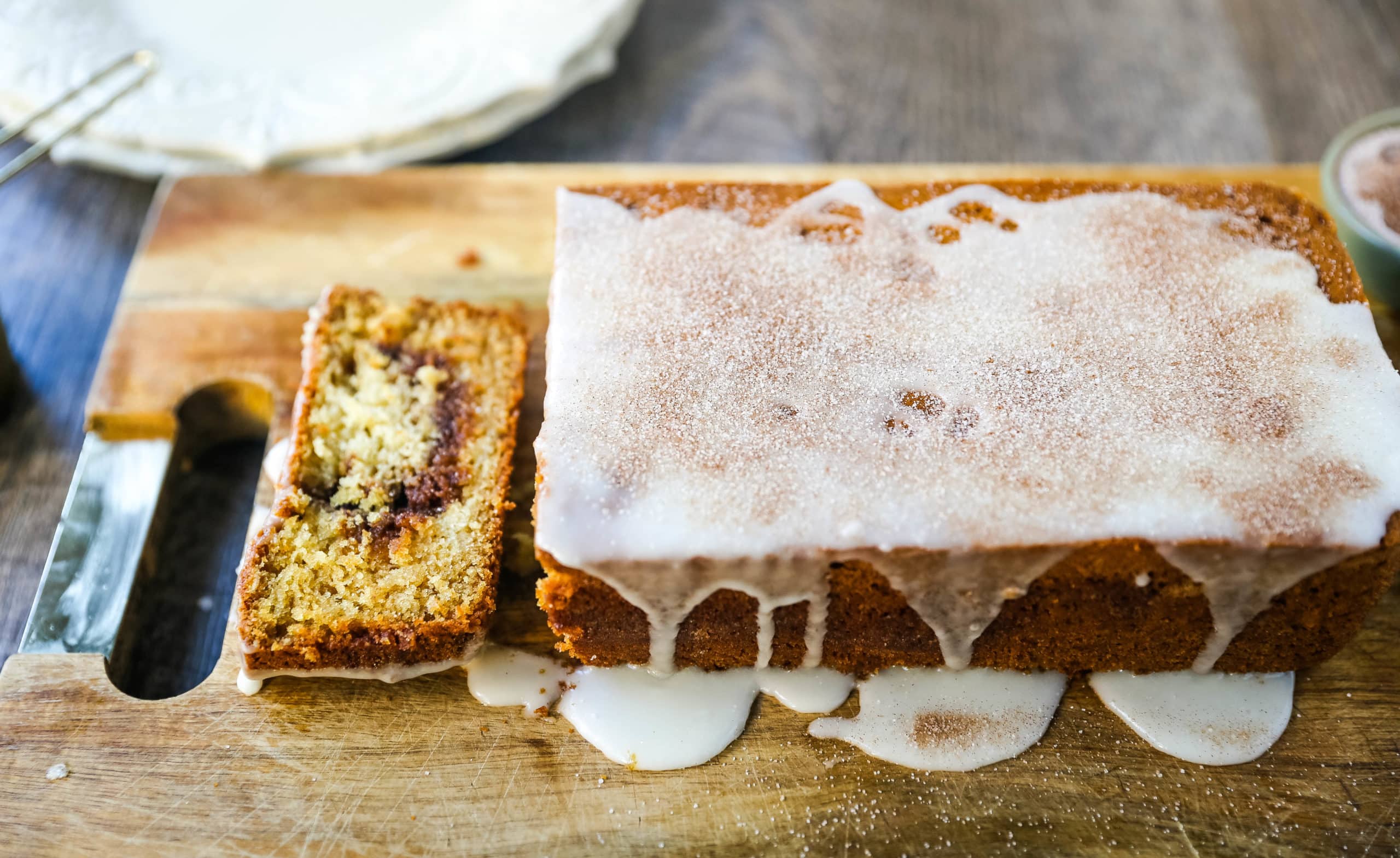 Since we are such big fans of cinnamon rolls in our home, I wanted to create a cinnamon swirl quick bread that has the same flavors as cinnamon rolls, without all of the work! This Cinnamon Streusel Bread is so heavenly with the homemade cinnamon sugar swirl paired with the moist, sweet bread.
This was an adventure creating this cinnamon bread recipe. I want to make sure my quick breads are moist but they also need enough structure to rise. When I first started recipe testing, everything was just right except for the bread could be a tad moister. I wanted a tender texture to pair with the crunchy cinnamon swirl.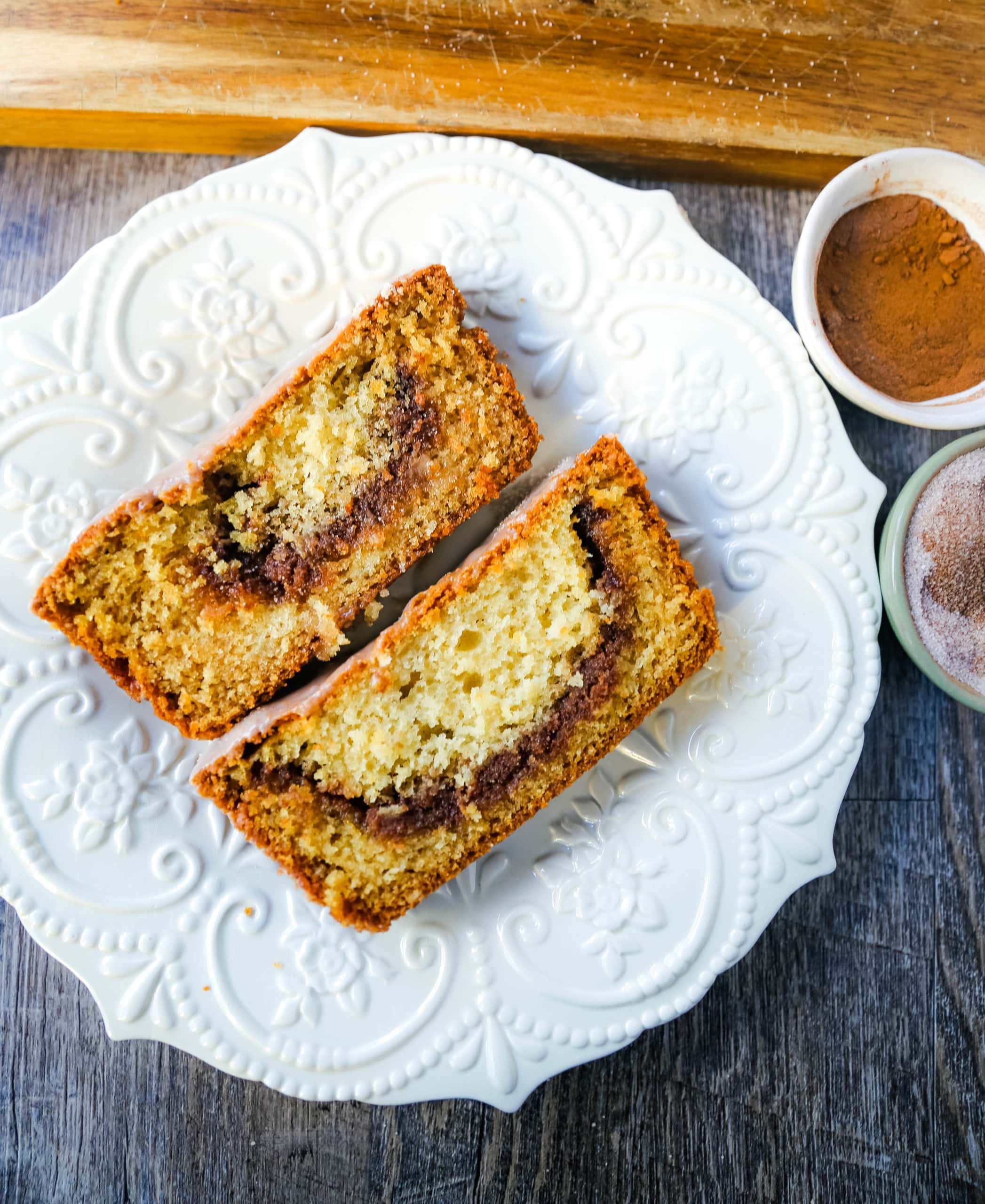 This Cinnamon Bread recipe calls for several ingredients that help to create a moist, soft, tender texture -- buttermilk, sour cream, and oil. These are the powerhouses and they are all in one recipe! I also added some brown sugar to create a chewier bread. The results were a perfectly sweet cinnamon bread recipe!
This is so easy to mix together since it only takes about 10 minutes from start to finish before you put it in the oven. I love wrapping these cinnamon bread loaves up and giving them to neighbors and friends -- especially during the holidays.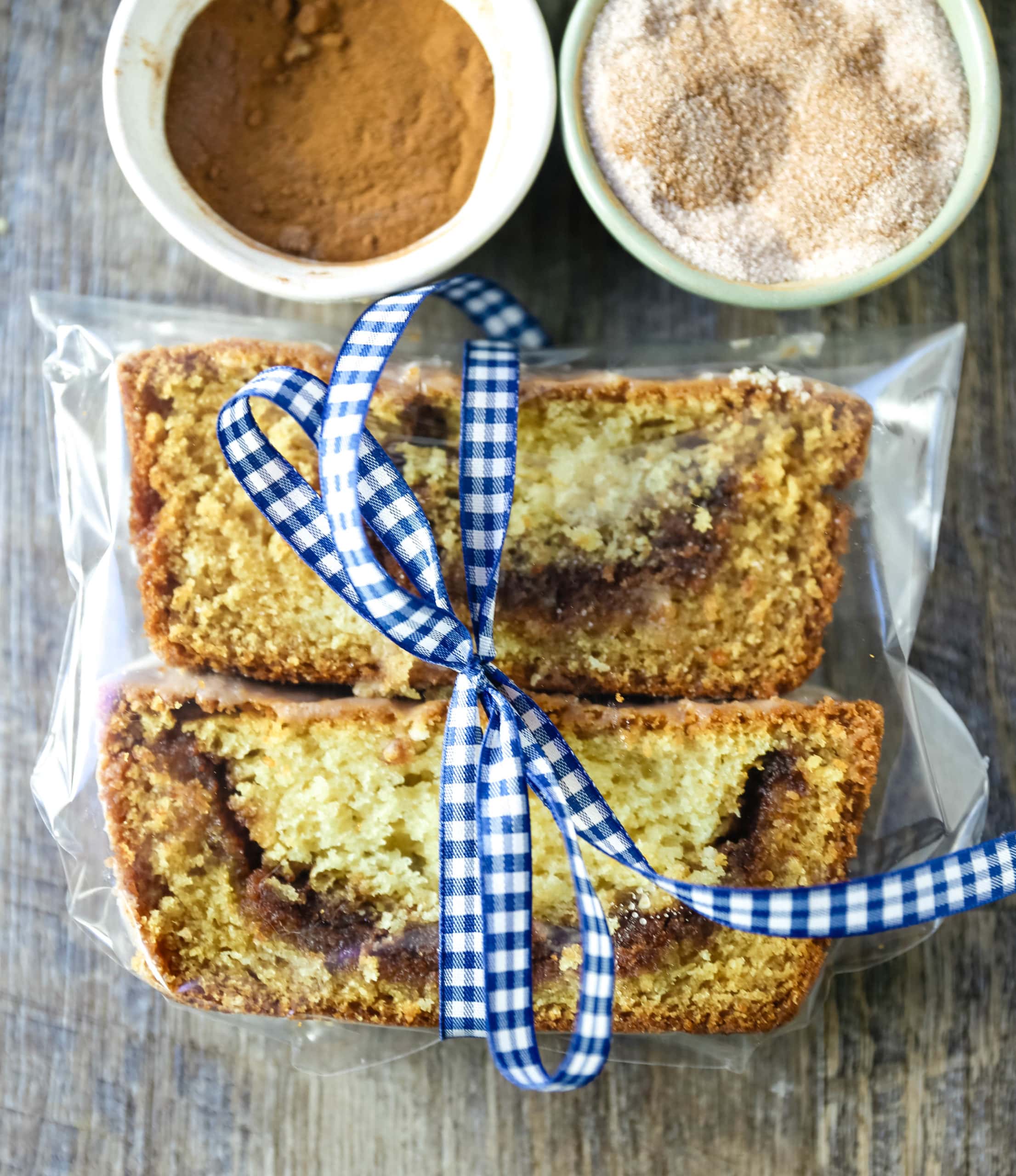 How to make the Best Cinnamon Swirl Quick Bread:
Start by mixing together oil, sugar, brown sugar, sour cream, buttermilk, egg, and vanilla until it is all incorporated. You can use a stand-mixer, a hand-mixer, or even stir this by hand.
Fold in flour, baking soda, baking powder, and salt. I suggest using aluminum-free baking powder, if at all possible. If you want an even more tender texture, use cake flour instead of all-purpose flour.
Make the cinnamon swirl by stirring together sugar, cinnamon, and brown sugar. This will go in the middle of the bread to make a nice swirl throughout the bread.
Pour into greased pans and bake just until a toothpick comes out clean in the center. If the sides of becoming overbaked, cover the bread with foil until the center completely bakes through.
Popular Quick Bread Recipes:
Pumpkin Bread with Brown Sugar Streusel
Banana Bread
Chocolate Chip Banana Bread
Almond Poppyseed Bread with Candied Almonds
I used an 8.5 x 4.5 x 2.75 inch loaf pan. This USA Loaf Pan is my favorite because it creates such perfectly baked bread.