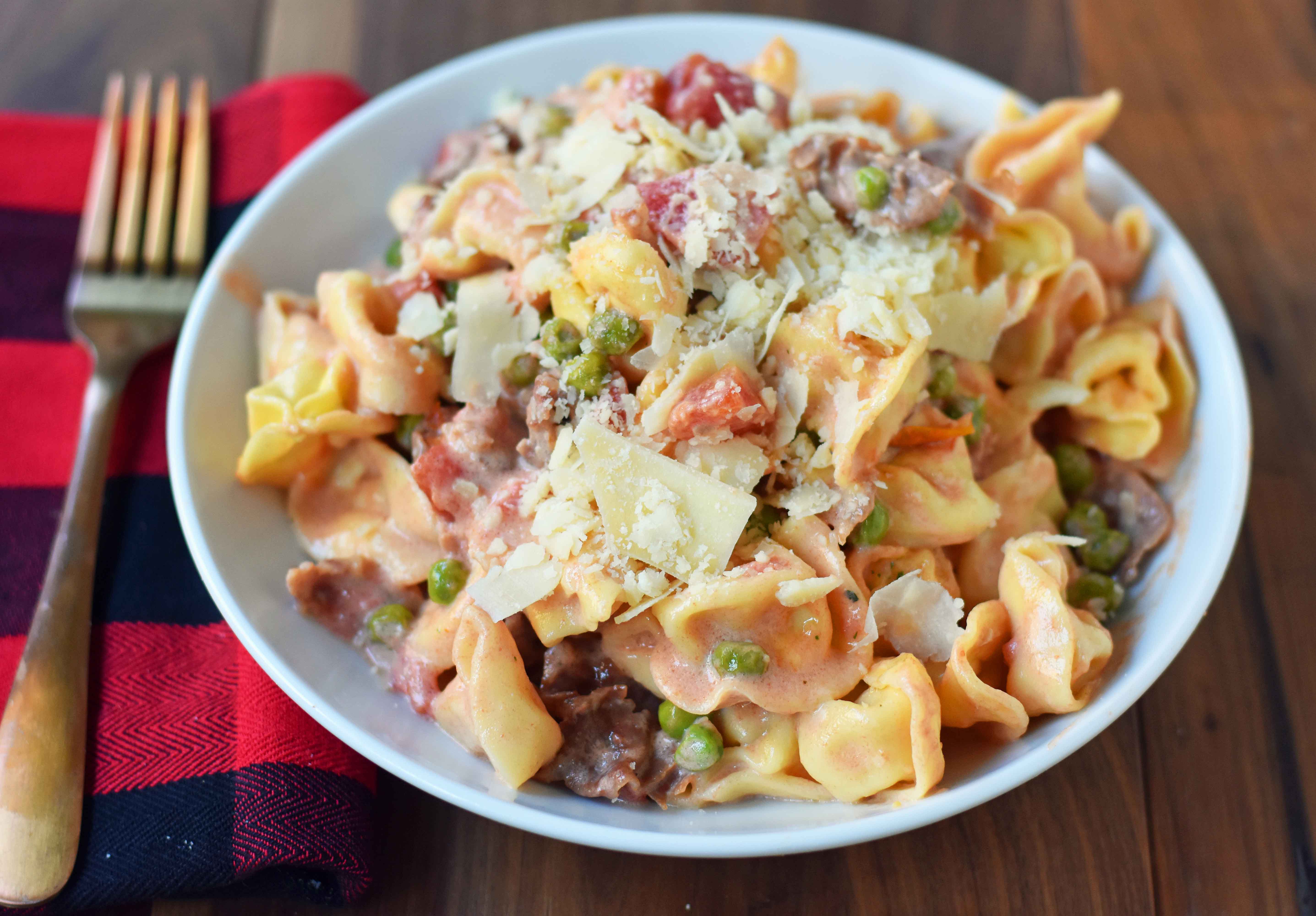 Christmas Tortellini Pasta is made with 4-cheese tortellini pasta tossed in a tomato cream sauce with prosciutto, peas, and parmesan cheese. A decadent and popular Italian dish. 
When my husband and I decided to take that crazy plunge called marriage over 19 years ago (yes, I am getting old), we were young, poor college students….both working our tails off to finish our degrees while living in a tiny apartment.  Date nights were a huge deal as there was nothing we looked forward to more than a night out. It helped us forget about the massive amount of studying we still needed to do.
There was this Italian restaurant up the road that was a total dive. By the way it looked on the outside, you would have never guessed the quality of the authentic Italian food being served on the inside. As we looked over the menu, one dish came highly recommended. It was a tortellini dish with prosciutto and peas in a creamy tomato sauce. Hook, line and sinker….it was one of the best dishes I had ever eaten. Dean and I were living on a student budget, so we split the dish and would savor every single bite! We also managed to eat two whole loaves of french bread in the process.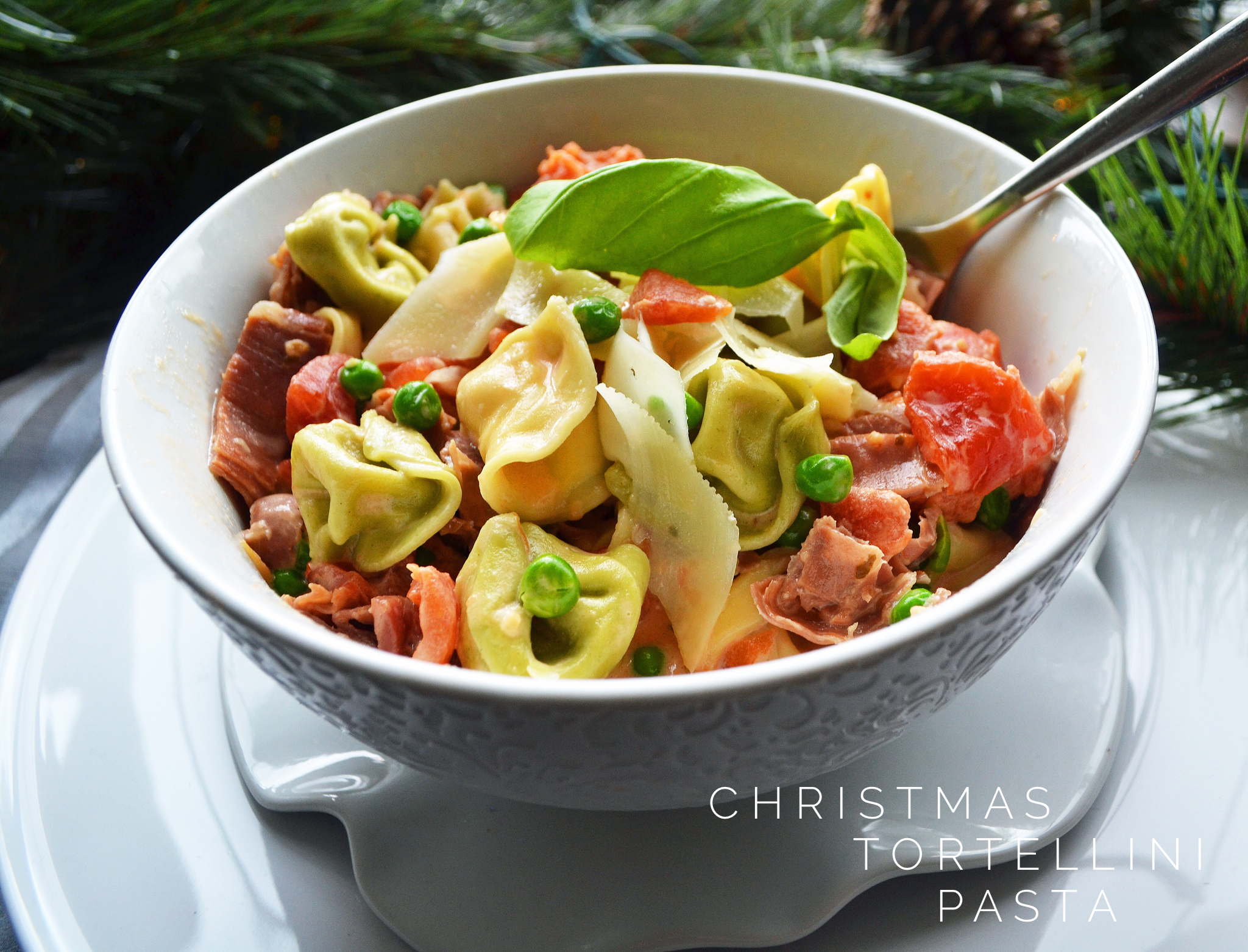 I asked them for the secrets of their Tortellini with Prosciutto and Peas but never got the recipe. However, I think that I am pretty darn close to their tortellini perfection with this Christmas Tortellini Pasta recipe.
My kids devour this dish, even with the peas! This Tortellini with Prosciutto and Peas has the salty goodness of prosciutto, the richness of cheese tortellini all topped off with a fresh tomato cream sauce. We call this our Christmas tortellini because we eat it each year during the holidays and of course because of its colors – red, white and green. It's the perfect comfort food during this time of year. Oh, and did I mention it was easy? Bonus.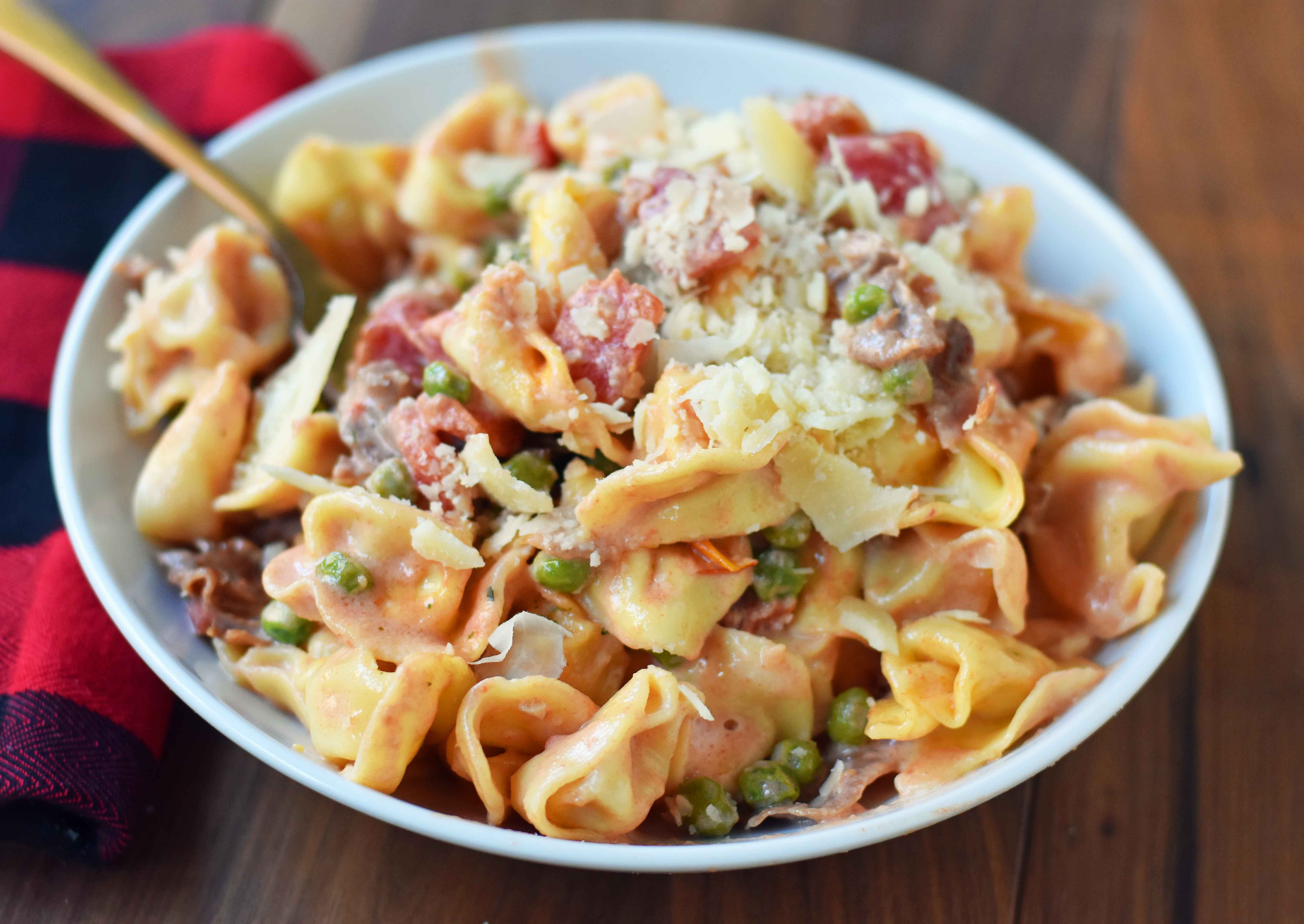 This Tortellini with Peas and Prosciutto in a rich homemade tomato cream sauce will have you coming back for more. It is the combination of ingredients that make you want to keep on eating — the tender cheesy pasta, the rich tomato cream sauce, the crispy prosciutto, the freshness from the peas, and the nuttiness from the parmesan cheese. It's one of our favorite pasta dishes in our family!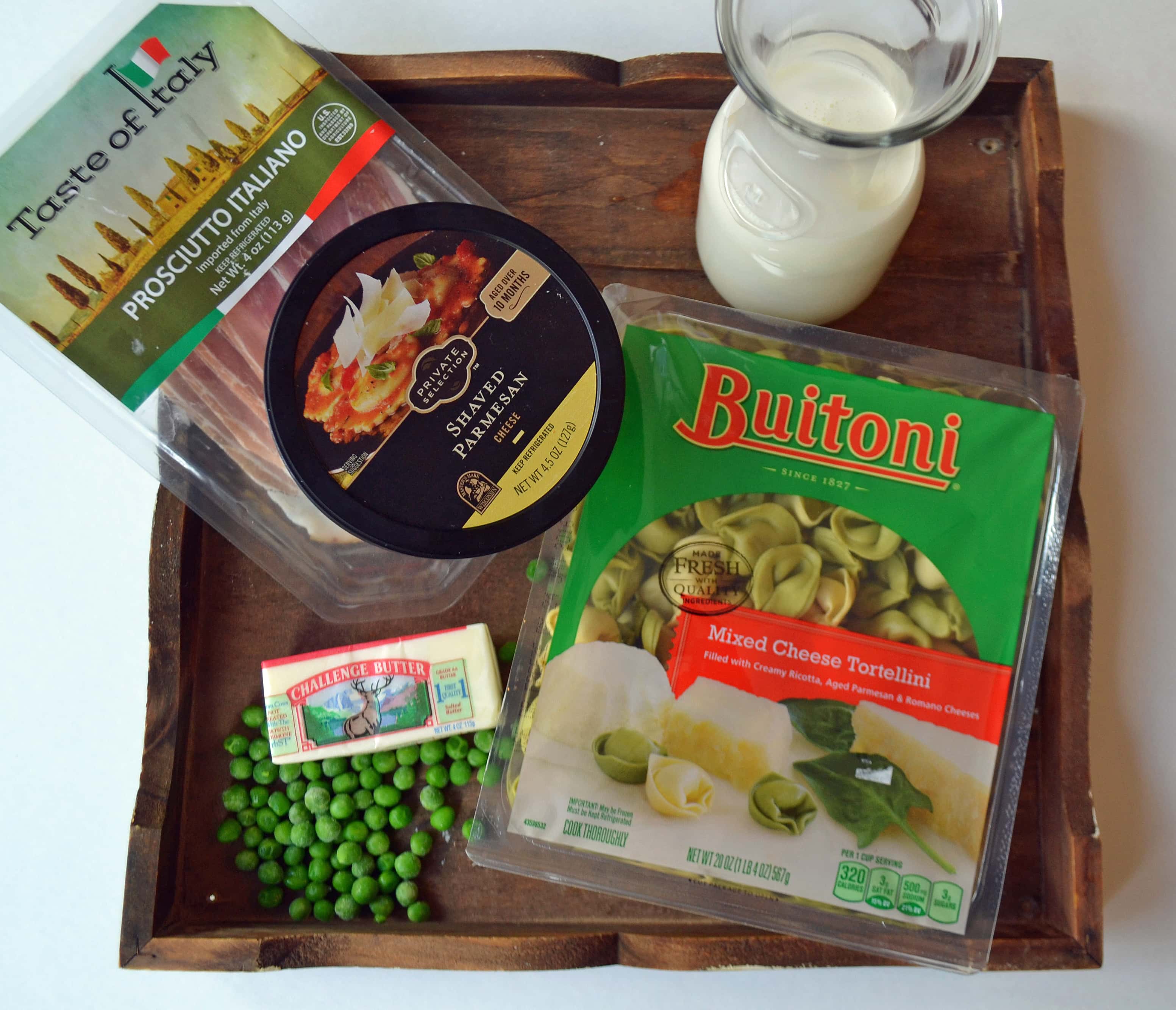 Christmas Tortellini Pasta
This Christmas Tortellini Pasta has the salty goodness of prosciutto, the richness of cheese tortellini and topped off with a fresh tomato cream sauce.
Keyword:
tortellini pasta with proscuitto
Ingredients
18 - 20

ounces

Cheese Tortellini

I buy the fresh refrigerated tortellini

3

Tablespoons

Butter

3

Cloves

Garlic

minced

1/4

pound

Prosciutto

cut into thin strips

2

cups

Heavy Cream

1 - 14 1/2

ounce

can Petite Diced Tomatoes

1/2 - 3/4

cup

Parmesan Cheese

3/4

cup

Frozen Peas

1/3

cup

Fresh Basil

thinly sliced

Salt + Pepper

to taste
Instructions
Cook tortellini according to package instructions. Generously salt water before adding pasta.

Melt butter in large skillet over medium heat. Add garlic and cook for 1 minute. Add prosciutto and cook for 2-3 minutes, until slightly crispy.

Add heavy cream and tomatoes and bring to a simmer. Cook for 5 minutes, stirring often. If you prefer a creamy tomato sauce, you can blend the heavy cream and tomatoes before adding to skillet.

Stir in peas and let cook for 3-4 minutes longer. Stir in 1/4 cup Parmesan cheese (reserving 1/4 cup for garnish). Add salt and pepper to taste.

Toss tortellini and tomato cream sauce together. Top with remaining Parmesan Cheese and Fresh Basil ribbons.
We all need easy dishes this time of year so go whip up something that will taste as if you've been working for hours in the kitchen. This Tortellini Pasta with Prosciutto and Peas will do the trick.
I just want to wish each of you a beautiful and magical Christmas season. May you enjoy the comfort of your family and great food.
Happy Cooking! xo