Creamy Cajun Chicken Pasta is the perfect cajun chicken alfredo dish made with tender chicken tossed in cajun seasoning in a rich, creamy alfredo sauce. The perfect spicy chicken pasta!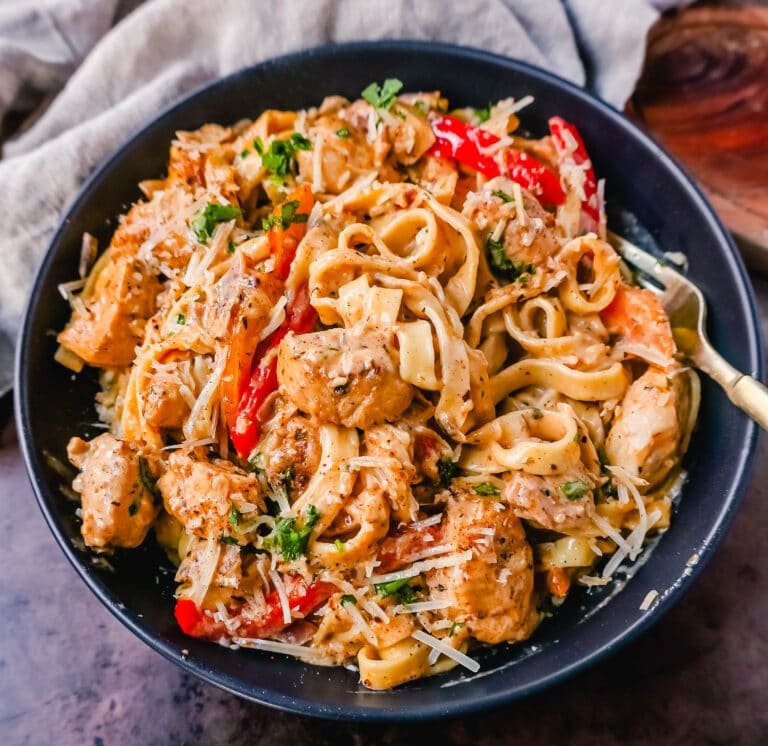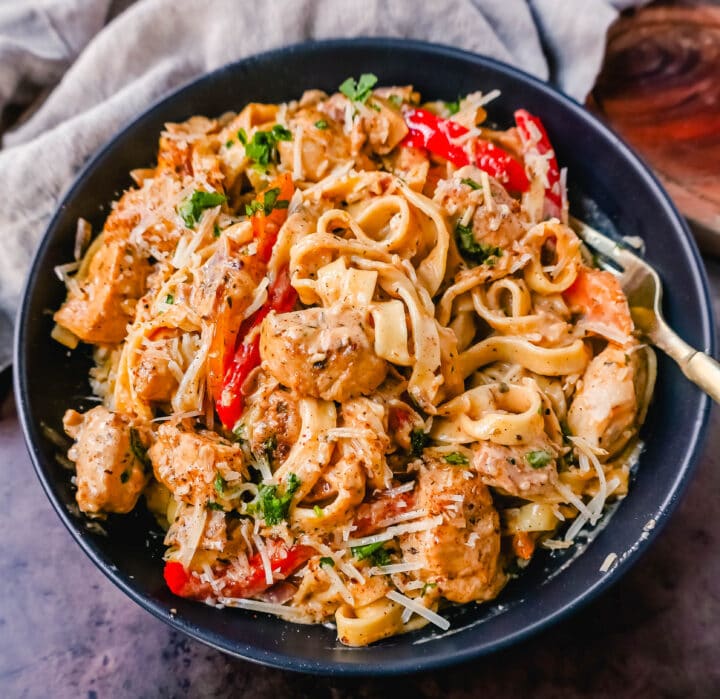 Ok, this cajun pasta is going to knock your socks off!
My Fettuccine Alfredo recipe is one of the most popular recipes on Modern Honey so this is a spicier cousin of alfredo sauce with the addition of the cajun seasoning.
You can add in vegetables like peppers or keep it simple and make it a creamy cajun chicken alfredo. Either way, it is delicious!
After I made it for the first time, I received texts from my teenage kids asking me when I am going to make it again. It is so flavorful, and creamy, with the perfect amount of spice!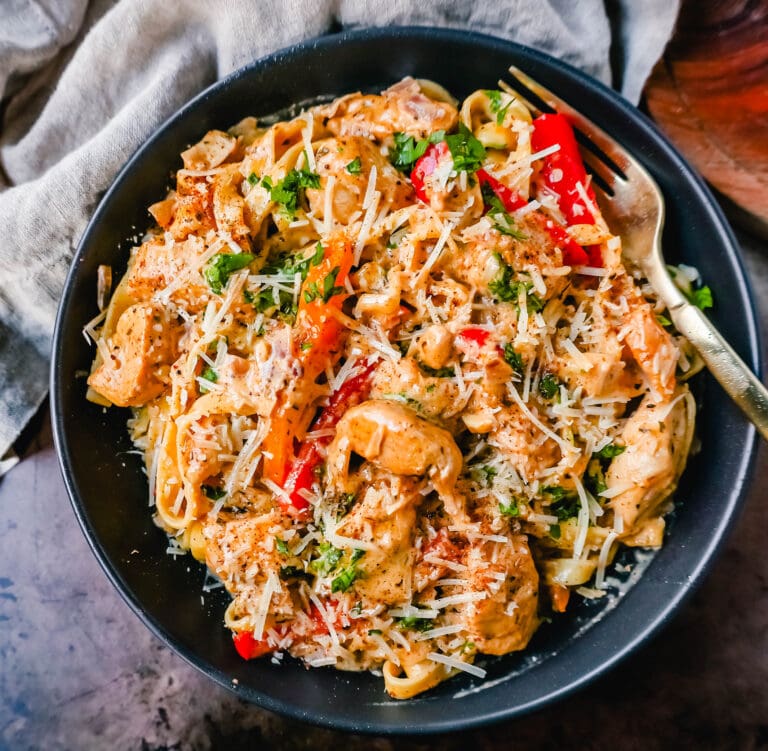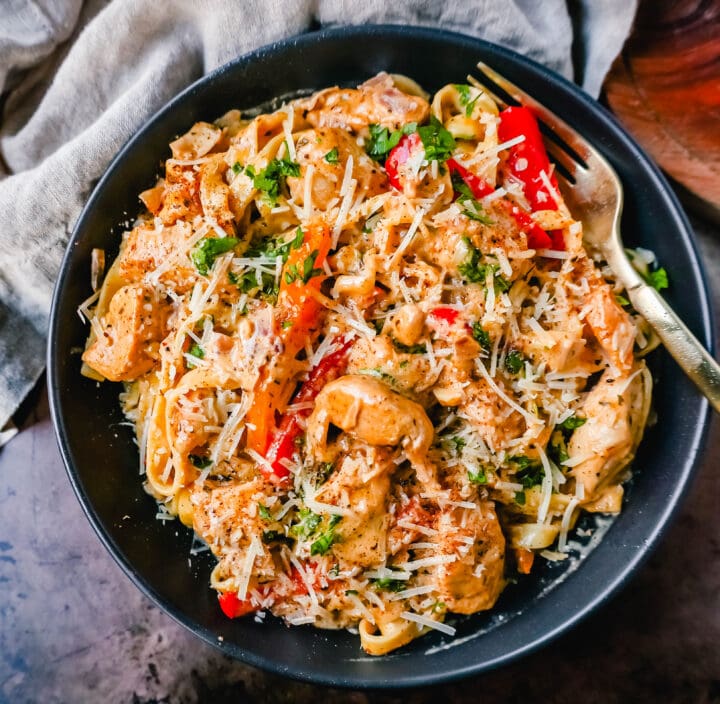 Cajun Chicken Pasta Ingredients:
Chicken Breast -- cut the boneless, skinless chicken breast or tenders into bite-size pieces.
Cajun Seasoning -- this adds spice and flavor to this pasta dish. If you prefer spicier pasta, add more cajun seasoning to taste.
Garlic -- add fresh minced garlic or you can substitute ½ to 1 teaspoon of garlic powder.
Onion -- I suggest using red onion in this cajun pasta dish but any type of onion will work in this recipe.
Pasta -- use your favorite type of pasta noodle. I prefer to use fresh fettuccine noodles. I find my fresh pasta at Whole Foods for $3.99 and it makes a huge difference!
Butter and Oil -- the combination of both butter and oil gives the chicken flavor.
Heavy Cream -- this is what makes this cajun chicken pasta so creamy! You can substitute half-n-half but your sauce will be thinner.
Chicken Broth -- this adds depth of flavor to the cajun sauce. Once you toss the pasta in with the sauce, you can add more chicken broth as desired.
Parmesan Cheese -- adds the perfect nutty, salty flavor to the sauce. Garnish with extra parmesan cheese on the top when serving.
Optional Vegetables -- Red Pepper and Orange Pepper -- for extra fresh flavor, add in peppers when you add in the chicken breast.
What is Cajun Seasoning made of?
Cajun spice mix is known for adding flavor and subtle spice to recipes. Cajun seasoning can vary depending on the brand but most include black pepper, white pepper, cayenne pepper, onion powder, garlic powder, and paprika.Some cajun spice mixes may even contain chili powder and salt.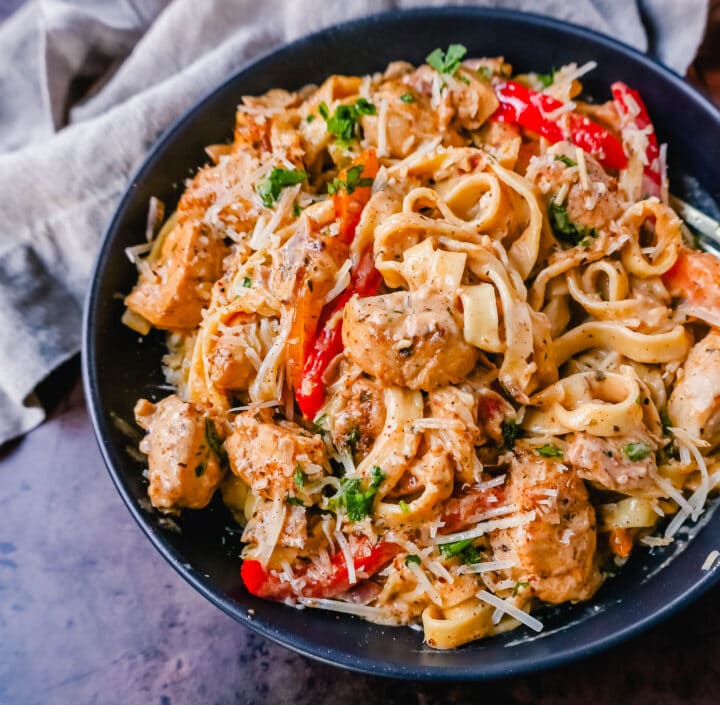 How to make Creamy Cajun Chicken Pasta:
Start by sauteeing onion in butter and olive oil for 3-4 minutes. I suggest finely dicing the onion so it cooks faster.
Add the bite-size chicken breast and saute until cooked through about 7-8 minutes. If you are adding peppers, add them to the chicken and cook at the same time. Add in garlic, salt, pepper, and cajun seasoning, and coat the chicken. If you desire a more spiced pasta, add 1-2 teaspoons more cajun seasoning.
While the chicken is cooking, cook pasta in salted boiling water.
Add chicken broth and heavy cream to the chicken. Let the sauce thicken and coat the chicken. Stir in parmesan cheese in batches, so it is able to fully melt and not clump together.
Once pasta is cooked and drained, toss in with the sauce and fully coat. Taste for seasonings and add more cajun seasoning if needed.
Garnish with fresh Italian parsley and parmesan cheese.
Popular Pasta Dishes: