Funfetti Cake
A fluffy homemade funfetti birthday cake with rainbow sprinkles topped with a light cream cheese buttercream frosting and an array of sprinkles. The perfect birthday cake!
I am pretty sure every kid loves their birthday. I am also pretty convinced every kid loves sprinkles. This means kids will love this Homemade Funfetti Birthday Cake.
As I have shared before in many of my homemade cake posts, we take cake baking pretty seriously around here. Since my kids could talk and form sentences, I let them choose their birthday cake flavor. This has led to a lot of experimenting in the kitchen! Of course, since sprinkles are always a favorite, eventually one of my kids asked for a birthday cake with a TON of SPRINKLES. Basically...the more sprinkles, the better.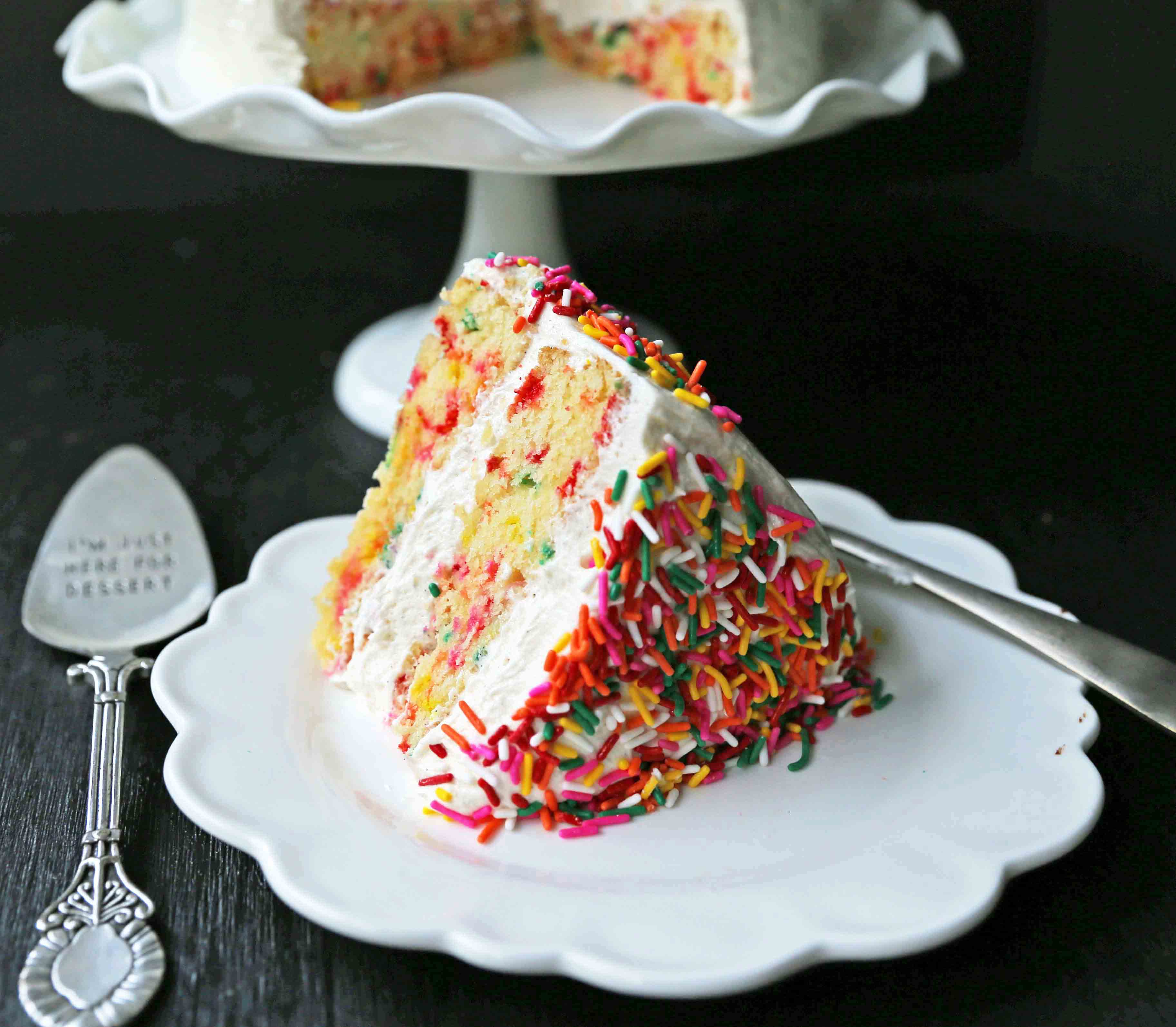 This is when the Sprinkles cake was born. If I ever want to really impress kids, I bake this cake. Hey, it impresses adults at the same time which is a WIN-WIN. I am not wasting my precious calories on some not-so-great birthday cake.
I am big on frosting...but it has to be homemade frosting made with all-natural ingredients I can pronounce. This simple vanilla frosting is made with softened butter, a touch of cream cheese for creamy richness, powdered sugar, vanilla, and a touch of milk or cream. The touch of cream cheese cuts the sweetness and adds a subtle tang. It's a game-changing ingredient!
Some of my favorite cake pans are these USA 8-inch cake pans. They make it easy to remove the cake from the pans! I also love this angled spatulafor frosting. This coconut cooking spray doesn't have all of the unnecessary fillers and I use it all of the time.
How to make Homemade Funfetti Cake:
Start off by mixing the dry ingredients together. Beat the butter into the flour mixture, one cube of butter at a time. Continue to beat until it resembles coarse crumbs (this is a unique technique since but it creates a perfect texture).
In another bowl, mix the wet ingredients -- eggs, milk, vanilla, and oil. Pour only ½ of the mixture into the flour-butter mixture and beat until fluffy.  Add the secret ingredient -- DRY INSTANT VANILLA PUDDING MIX. This creates such a moist, tender crumb.
Bake just until a toothpick comes out clean when inserted into the middle of the cake. Don't overbake your cake! Use a cake tester or toothpick close to the end of the baking time.
Let cake layers cool before frosting. If you want to make frosting the cake extra easy, place the cake layers in the freezer for at least 30 minutes. This helps to seal in the crumb coat and make it easier to frost.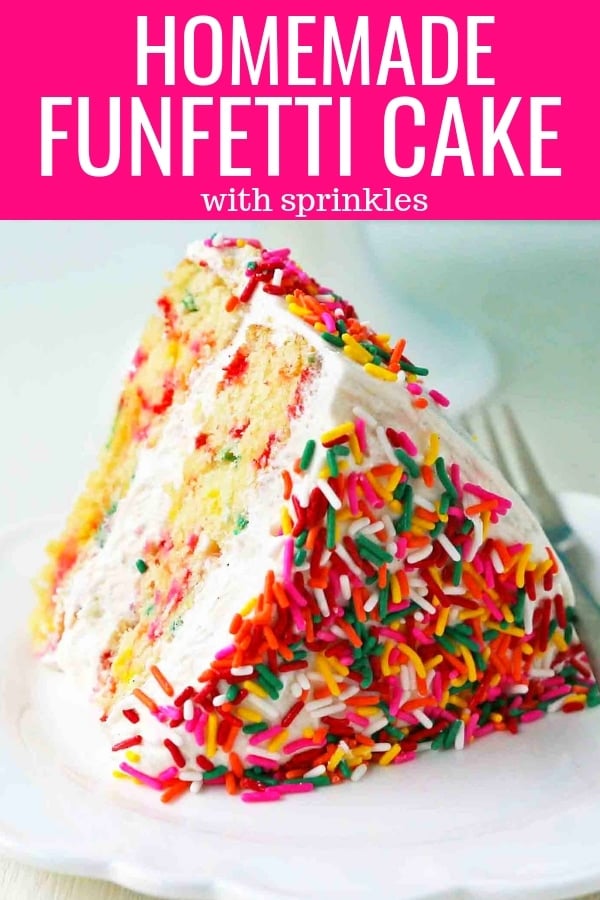 If you LOVE CAKE, here are some of the most popular CAKE RECIPES:
Happy Baking, my friends!