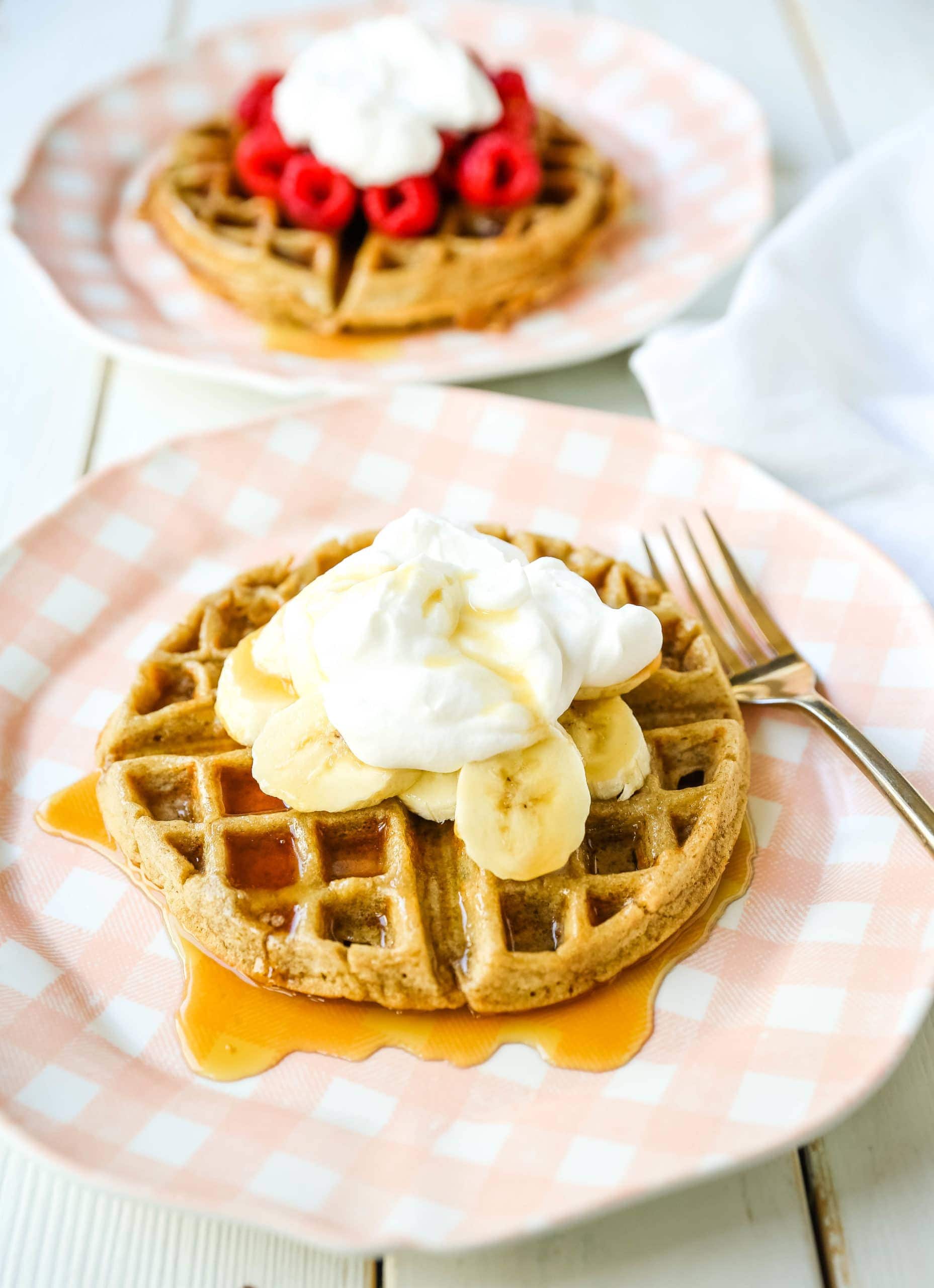 Healthy Gluten-Free Banana Oat Waffles
Gluten-Free, Dairy-Free, and Refined-Sugar Free Waffles and you won't even miss it! These waffles give you the energy you need to start your day!
I am so excited about this recipe and can't wait to share it with you! It feels so good to start off my day with something nutritious and filling and doesn't make me feel like I want to crawl back in bed. These Banana Oat Waffles do the trick!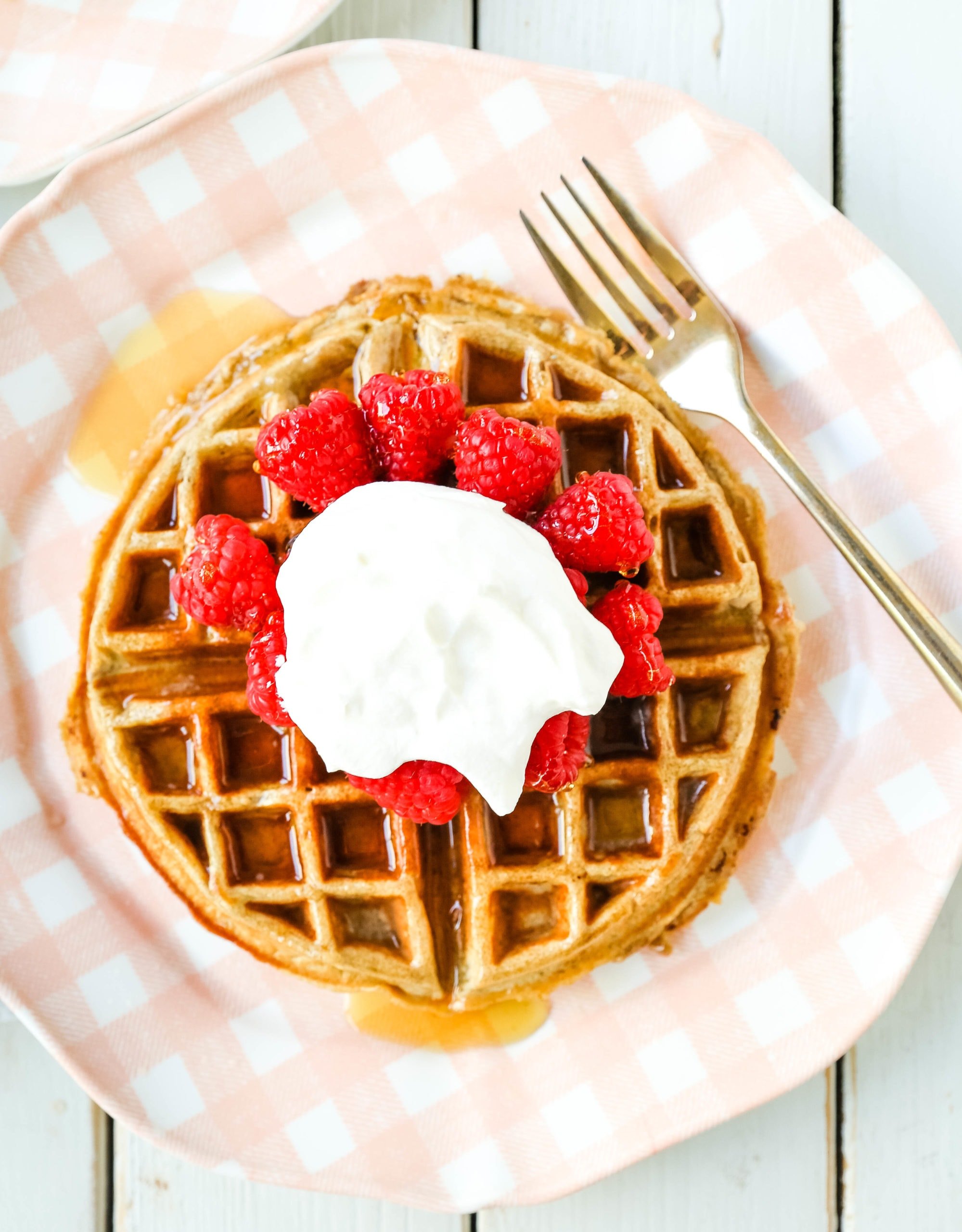 I grew up on a hot breakfast every morning and I consumed a lot of pancakes and waffles in my day. I have described my love of my homemade buttermilk pancakes or my sour cream pancakes and homemade waffles in previous posts and the love runs deep.
However, years ago I decided to adopt a gluten-free and dairy-free diet to help with my Hashimoto's thyroiditis disease. I still wanted to eat my pancakes and waffles so I created a HEALTHY PANCAKE recipe. A few years ago I shared it on Modern Honey and it has become one of the most popular recipes on my site.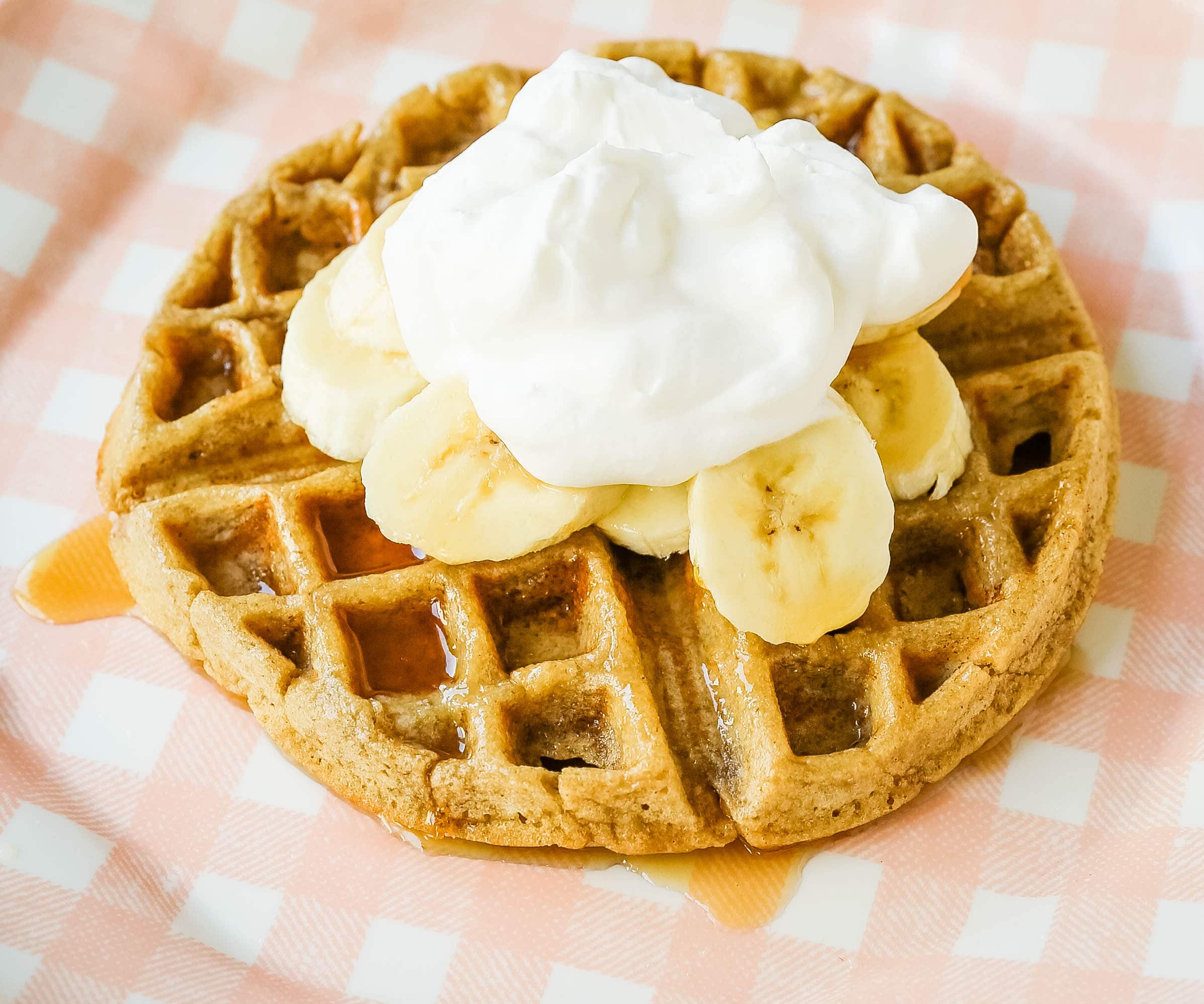 So it was time to create a healthy waffle recipe using the same ingredients in different ratios. I was so giddy when it turned out the first time and now these healthy gluten-free waffles are a staple in our home!
These Healthy Gluten-Free Banana Oat Waffles are gluten-free, dairy-free, and refined sugar-free. There's no butter, no oil, no cow's milk, and no sugar. Can you believe this is real life? A homemade waffle that is healthy and actually tastes good!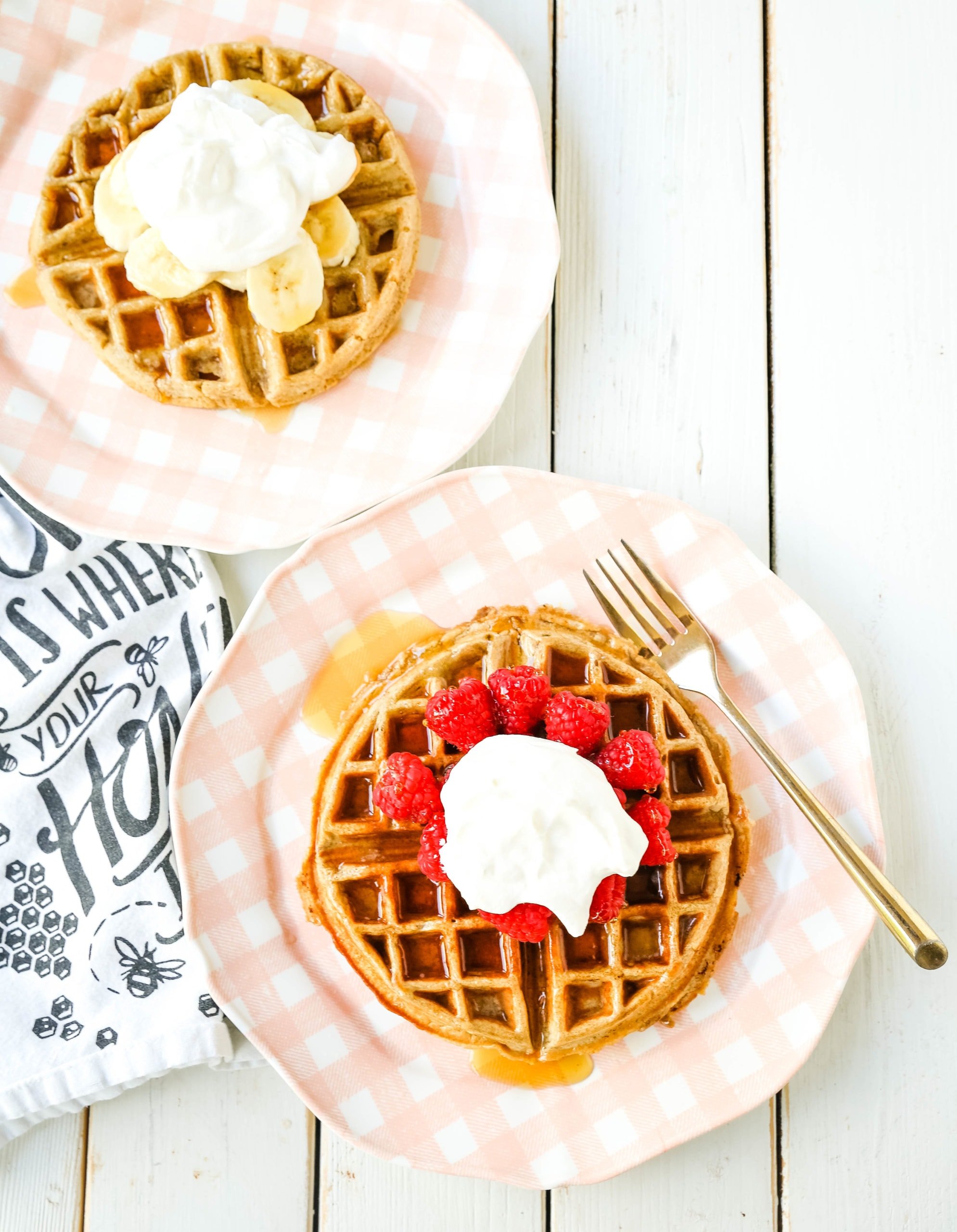 These Banana Oat Waffles are made with rolled oats, unsweetened almond milk, eggs, egg white, vanilla, banana, 100% real maple syrup, baking powder, and salt. These healthy waffles are made with all-natural ingredients to give you the energy boost to start your day.
You can top these with any of your favorite toppings -- raspberries, blueberries, bananas, blackberries, peaches, almonds, real maple syrup, handcrafted whipped cream, walnuts, almond butter, peanut butter, dark chocolate, etc. The sky is the limit!
I am no longer on a strict gluten-free and dairy-free diet but try to eat that way as much as possible. So this is the way I get to still eat waffles and they actually give me energy and make me feel great!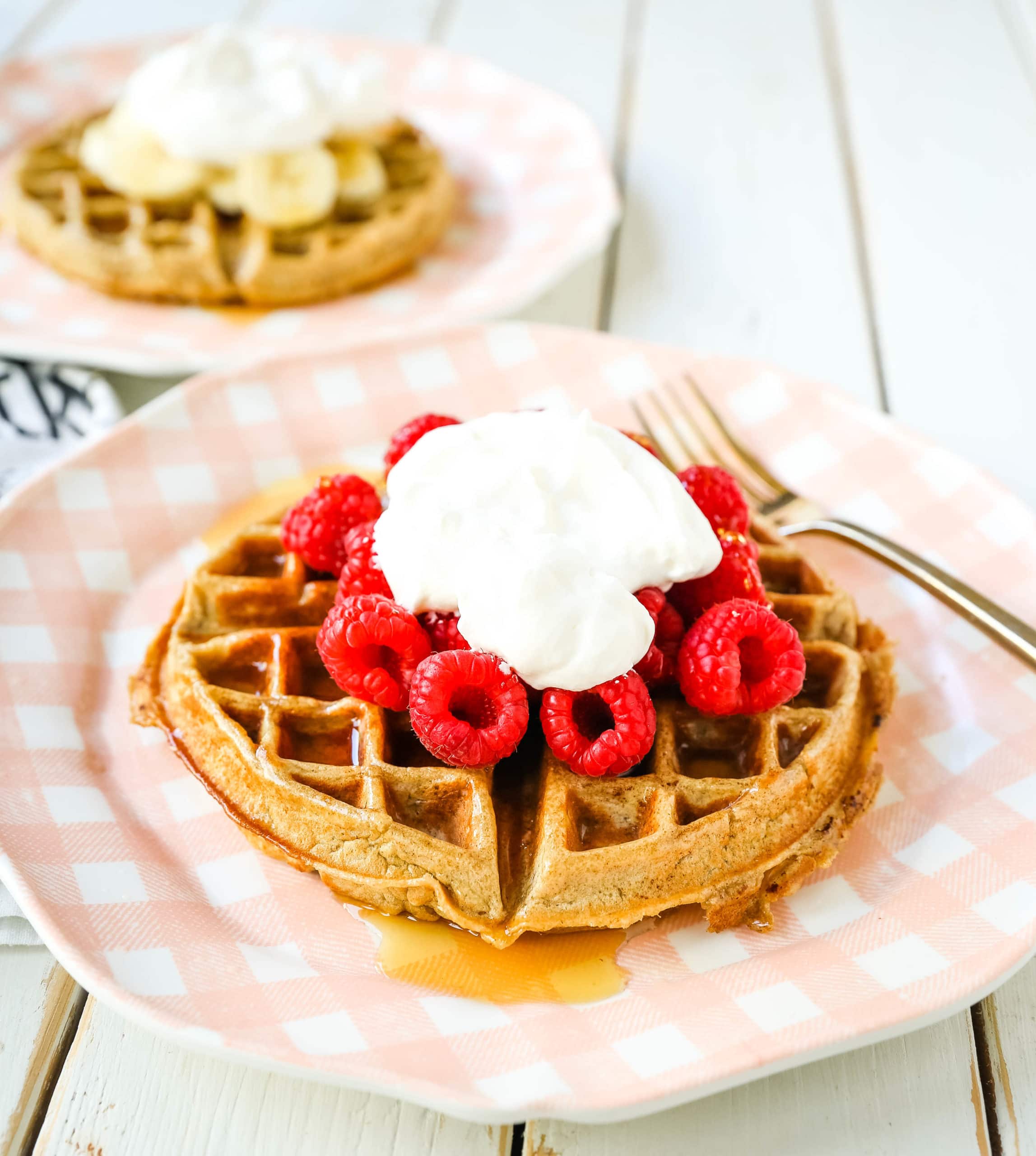 How to make the Best Healthy Waffles:
Start by pouring unsweetened almond milk into a blender. You can use any type of milk in these waffles -- coconut, cashew, almond, cow's, etc.
Add rolled oats. If you have a strict gluten-free allergy, I suggest using certified gluten-free oats. I love to use gluten-free oats from Trader Joe's.
Add a ripe banana. The riper the banana, the naturally sweeter the waffles will be. Honestly, though any banana will do!
Use 100% REAL maple syrup. This adds sweetness without adding refined sugar to the waffles. I pick up a jug from Costco and drizzle all over my healthy waffles when ready to serve.
When cooking the waffles, make sure to spray both sides of the waffle maker with non-stick cooking spray to avoid sticking.
Here are some tools that I used to make these gluten-free waffles:
Cuisinart Waffle Maker
Vitamix BlenderWaffle Tongs