This is the easiest baked chicken recipe that is so flavorful and juicy. This homemade spice rub is perfect for oven baked chicken and makes it perfectly spiced. I am sharing my tips for making the best baked chicken.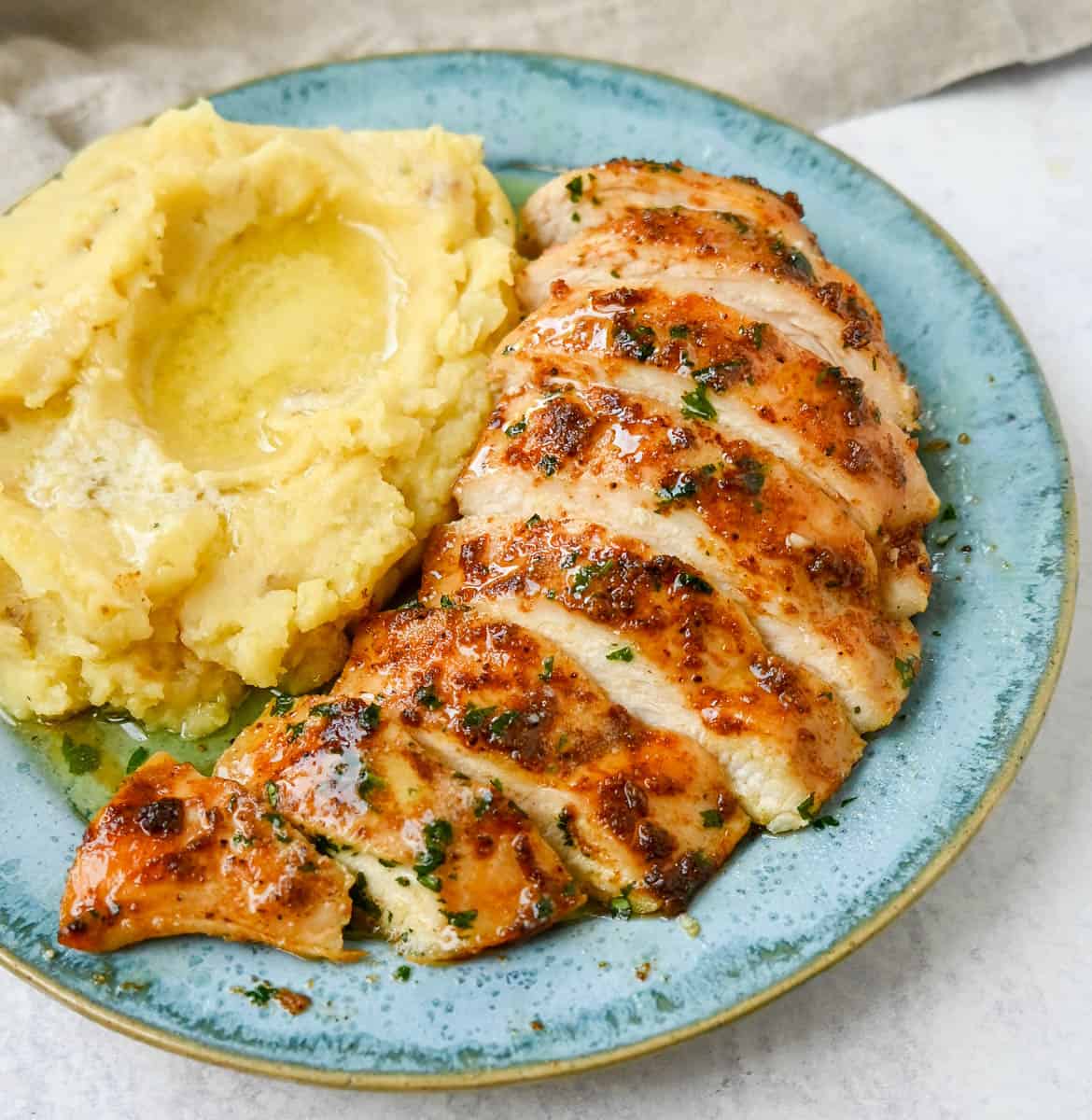 Since I have teenagers in the house, they are always asking for more protein. They love chicken! This is one of my favorite ways to cook chicken because it is so easy!
If you have followed Modern Honey for a while, you may know that I have a delicious chicken marinade recipe that is so popular! So I want to share my easy spice rub that goes perfectly on oven baked chicken.
Jump to: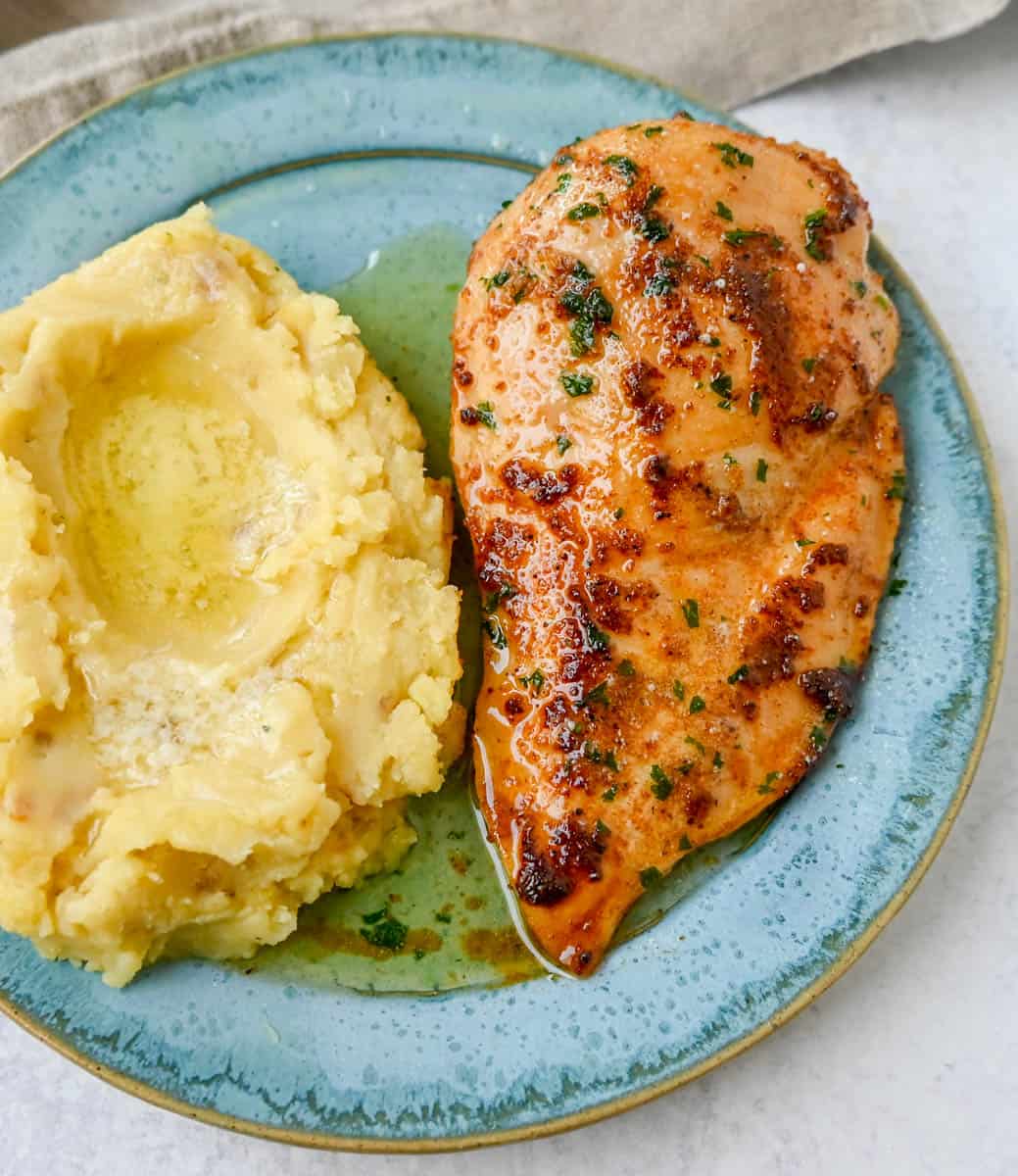 What I love about this Oven Baked Chicken:
The chicken is so quick and easy to prepare. You can even make the chicken spice rub ahead of time so you have it ready to go anytime. Just rub the spices into the chicken and bake it until perfectly cooked.
Oven Baked Chicken is so flavorful and juicy! Since there is a variety of spices, it keeps you guessing. This isn't your typical boring chicken recipe. It has a touch of smokiness with layers of flavor. Oh, and it is so tender and juicy!
This easy chicken recipe takes less than 25 minutes, start to finish. This even includes preheating your oven.
This chicken baked in the oven is perfect to make ahead of time and keep in the refrigerator for quick meals.
Ingredients
This is a simple chicken recipe only calling for chicken breast or thighs, a homemade spiced rub, and a drizzle of olive oil.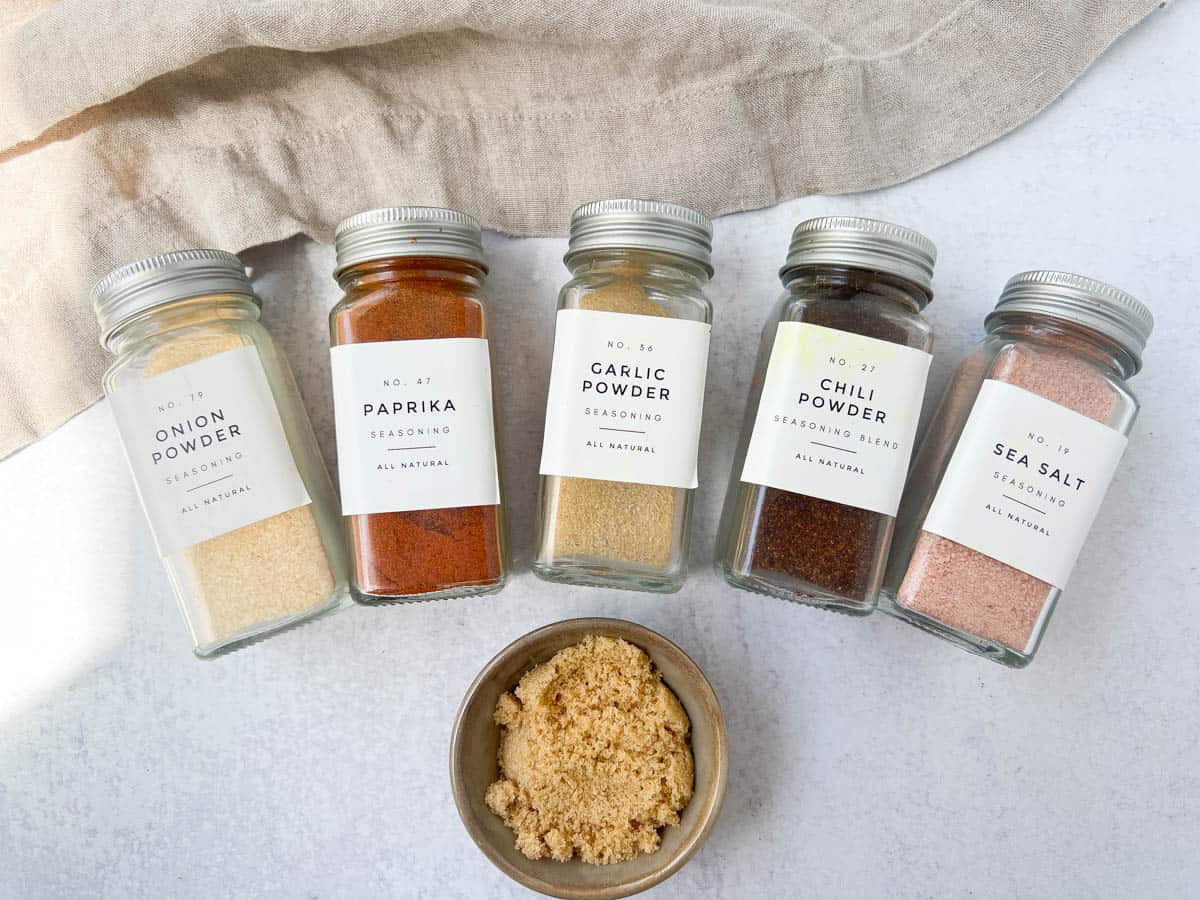 Chicken Breast or Thighs -- I prefer to use thinly sliced chicken breasts because they cook faster and more consistently. You can buy them already thinly sliced or slice the chicken breasts in half lengthwise (butterfly them).
Salt -- this is what infuses flavor into the chicken and is one of the most important ingredients.
Garlic Powder -- I suggest using garlic powder also known as granulated garlic and not garlic salt.
Onion Powder -- adds the onion flavor without having to cut any onions!
Paprika -- adds a smoky flavor to the chicken. There are different types of paprika such as smoked paprika, hot paprika, sweet paprika, and others. Regular paprika contains crushed dried chili peppers while smoked paprika is made from smoke-dried chili peppers that were dried over a fire before being ground into a powder. If you want less BBQ flavor, reduce the amount of smoked paprika in this recipe.
Chili Powder -- adds a subtle heat with complex chili flavors.
Brown Sugar -- this adds the perfect amount of sweetness and also helps to form a golden crust on the chicken.
Olive Oil -- this is to lightly drizzle on the chicken before pressing on the rub.
See the recipe card for quantities.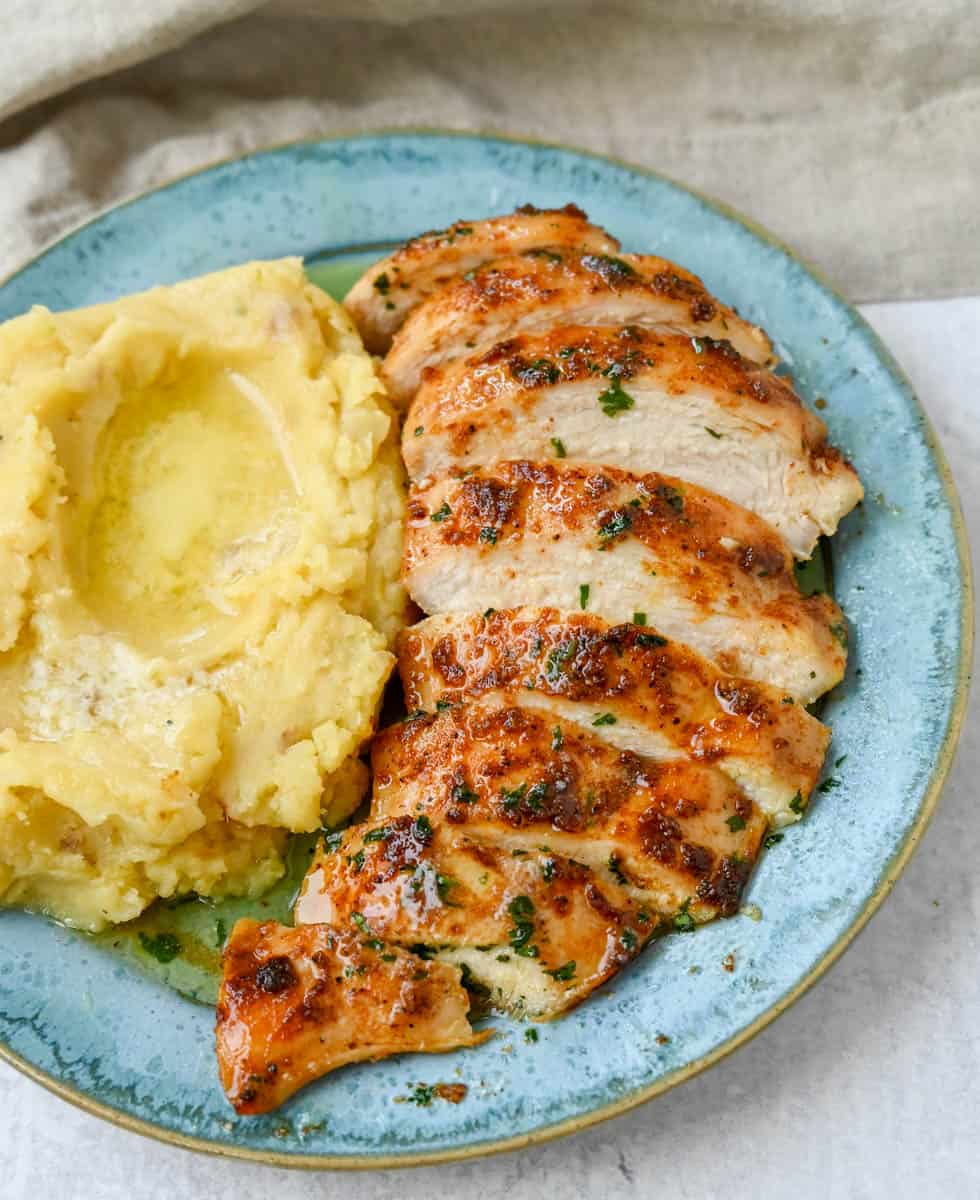 Instructions
There are a few options for cooking this chicken in the oven so I will share both ways you can do it.
Start by preheating the oven to 425 degrees. Cooking it at a high temperature helps to seal in the juices and create the juiciest chicken!
Prepare the chicken breast. If you are using thick chicken breasts, either butterfly the chicken by cutting in half lengthwise or use a mallet or rollling pin to pound the chicken into thinner pieces. I prefer to buy the thin sliced chicken breasts.
Make the spice rub. In a bowl, stir together the salt, garlic, powder, onion powder, chili powder, paprika, and brown sugar.
Line a baking sheet with foil or parchment paper. Lightly drizzle the chicken with olive oil.
Toss the chicken in the seasoning or press into the chicken, coating both sides of the chicken. Place on the baking sheet.
Bake for 14-18 minutes, depending on the thickness of the chicken breasts. A meat thermometer is so helpful to determine when the chicken is done. Chicken is fully cooked at 165 degrees.
Remove from the oven and let rest for 10 minutes before slicing. This is an important step to allow the juices to seep into the chicken.
OPTIONAL: if you want more of a sear on your chicken, heat a large skillet over medium high heat. Drizzle with oil. Cook the chicken for 2 minutes per side. Then transfer to the baking sheet to continue to cook in the oven. If you cook the chicken this way, you may lose some of the spices as they will fall into the skillet. You will also need to cook it for less time in the oven since the cooking process was already started.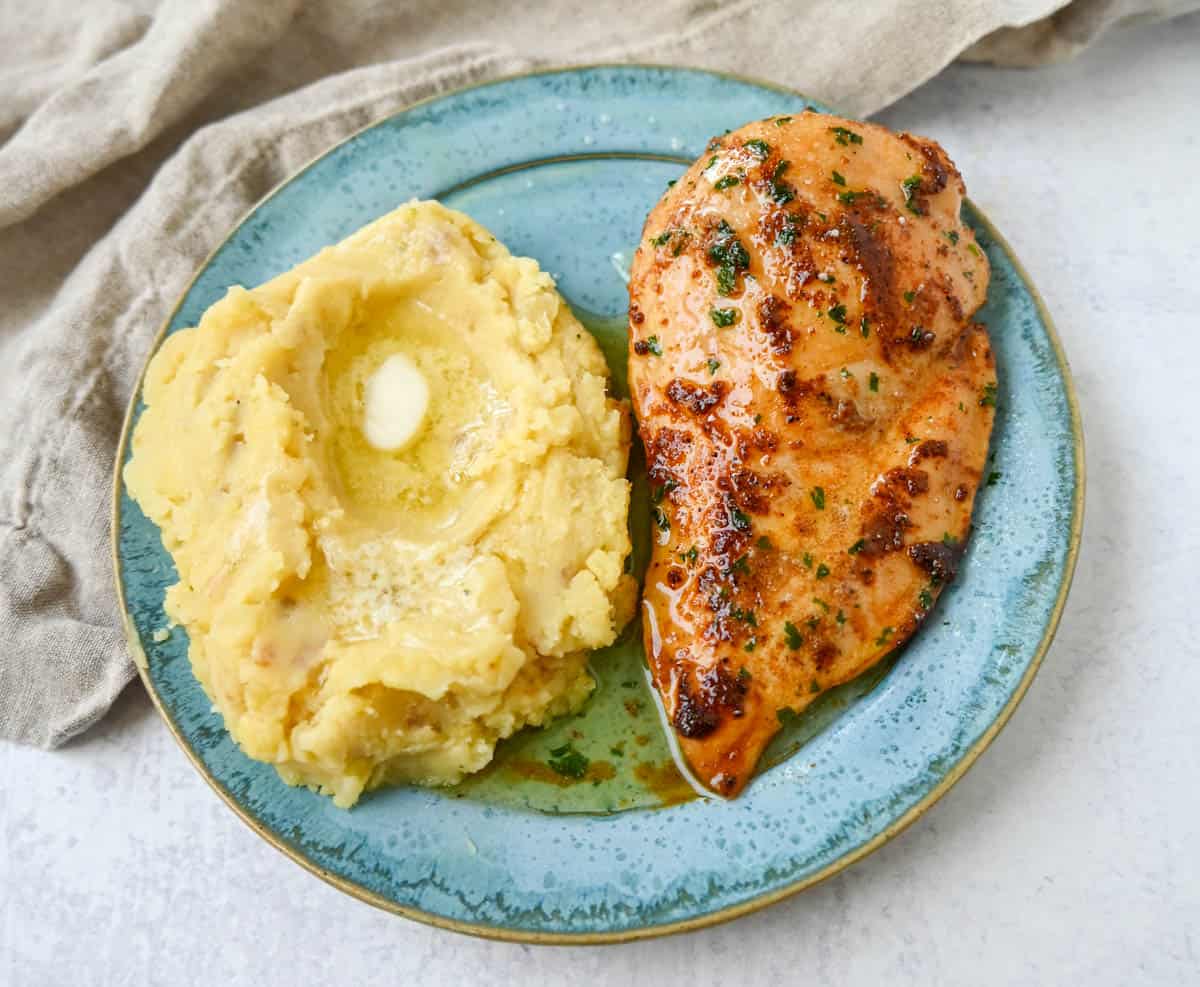 Substitutions
If you want a less smoky, BBQ flavor, use regular paprika, not smoked. You can also reduce the paprika to 1 teaspoon.
You can reduce the brown sugar from 1 Tablespoon to 2 teaspoons to cut down on the sugar.
Storage
This baked chicken can be stored in an airtight container in the refrigerator for about 3-4 days for maximum freshness.
Top tip
For extra flavorful chicken, drizzle the baked chicken with melted garlic butter after you remove it from the oven. Make the garlic butter by melting butter in the microwave and stirring in garlic butter and fresh minced parsley.
Baked Chicken FAQ:
What type of chicken should I use in the oven?
You can use chicken breasts or thighs in this recipe. I suggest using thin sliced chicken breasts or butterflying the chicken breasts to make them thinner for more even and consistent cooking.
How do I know when chicken is fully cooked?
The chicken needs to reach an internal temperature of 165 degrees. I suggest investing in a digital meat thermometer for accuracy. You want to ensure the chicken is fully cooked and no longer pink inside.
Related
Looking for other chicken recipes like this? Try these:
Pairing
These are my favorite dishes to serve with baked chicken: