Light, fluffy homemade lemon cupcakes with fresh lemon frosting are the perfect dessert for lemon lovers. This is the best lemon cupcake recipe!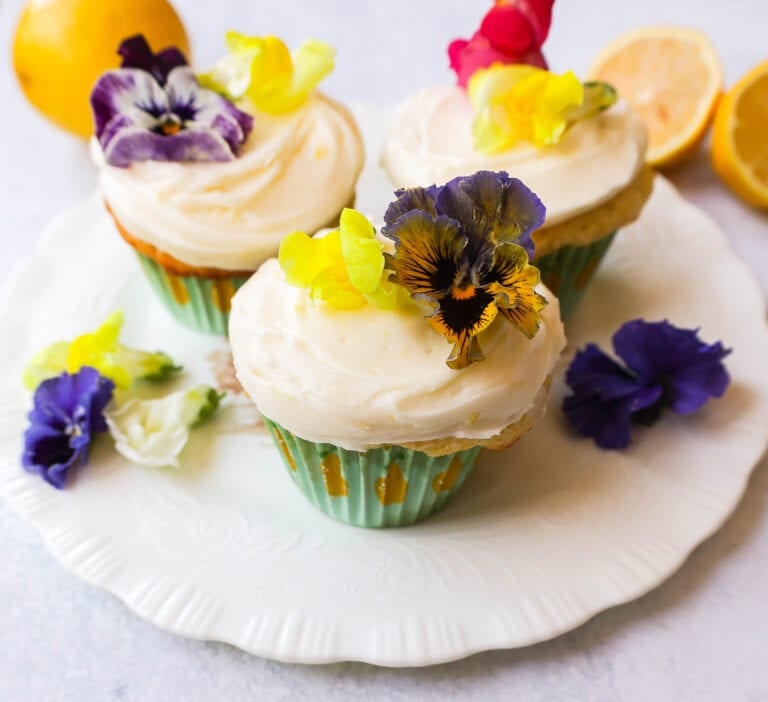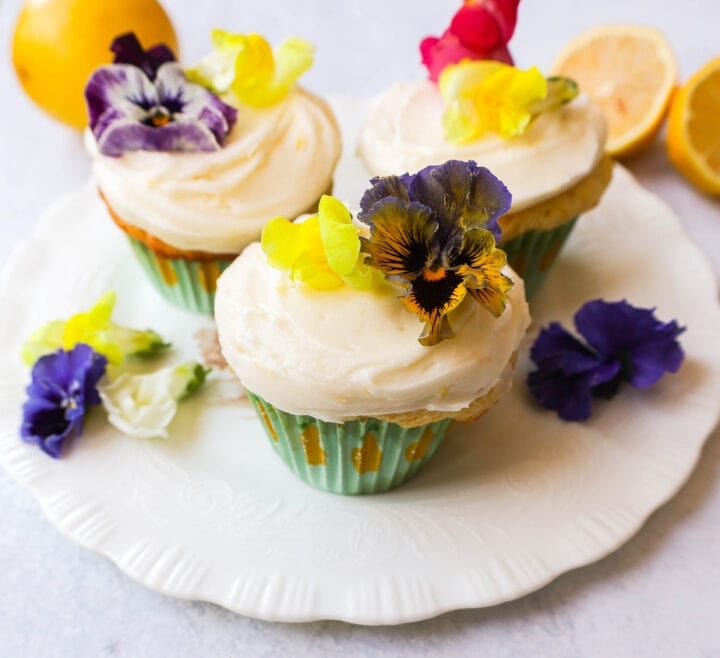 Is there any better Spring or Summer dessert than a moist lemon cupcake?
If you have ever tried my Frosted Lemon Olive Oil Cake, you know it is a winner! I wanted to create a cupcake version of my popular Lemon Cake recipe topped with the lightest, creamiest, fresh lemon frosting that you can imagine.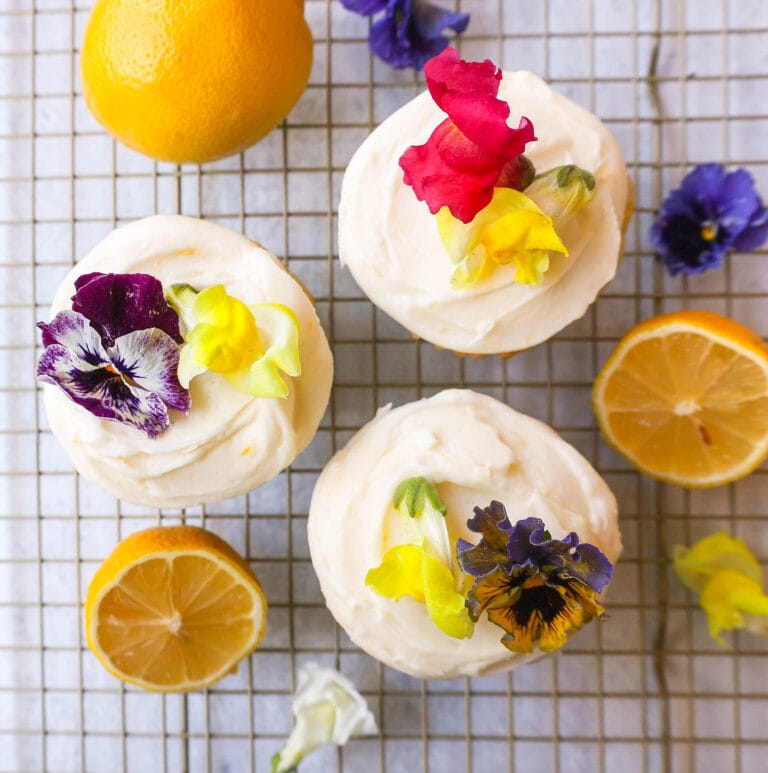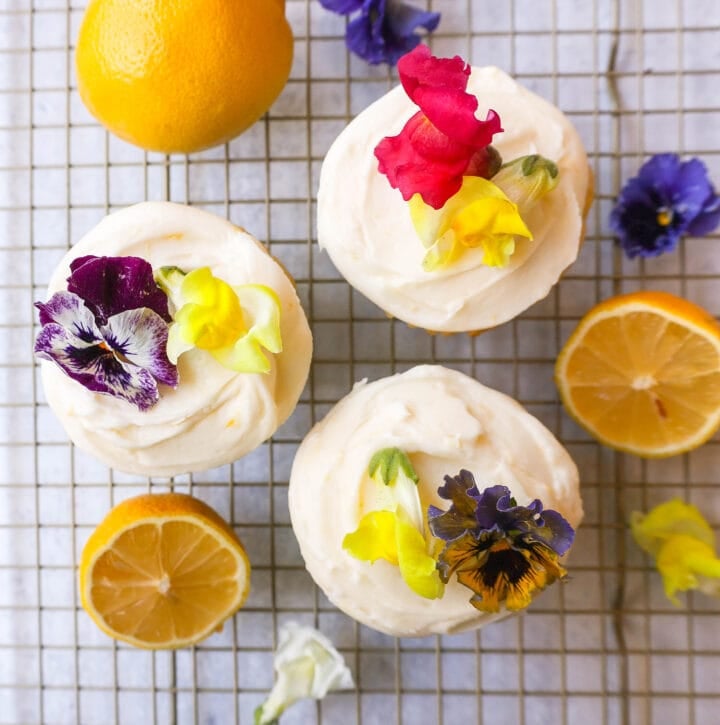 Lemon Cupcake Ingredients:
This lemon cupcake recipe makes such moist cupcakes with a creamy, luxurious lemon frosting with a touch of cream cheese.
Oil -- use your favorite type of neutral oil like canola, vegetable, or olive oil. This helps to keep the lemon cake extra moist.
Sugar -- use granulated sugar in this cake recipe.
Eggs -- always use large eggs.
Whole Milk -- use whole milk or buttermilk for a tender texture.
Lemon Juice -- I suggest using freshly squeezed lemon juice for the most vibrant, freshest lemon flavor.
Lemon Zest -- I suggest zesting the lemons before squeezing to make it easier.
Flour -- use all-purpose or cake flour. The cake flour will create a light, tender texture.
Baking Powder/Baking Soda -- use two leavening agents to create the most loft and rise in the cupcakes.
Salt -- an integral ingredient in baking as it is a flavor enhancer.
Lemon Frosting Ingredients:
I love making homemade lemon frosting with a combination of both butter and cream cheese for the smoothest, most velvety lemon frosting. If you desire a thicker frosting, add more powdered sugar. The lemon zest is what gives a burst of real lemon flavor.
Butter
Cream Cheese
Powdered Sugar
Lemon Juice + Lemon Zest
Vanilla Extract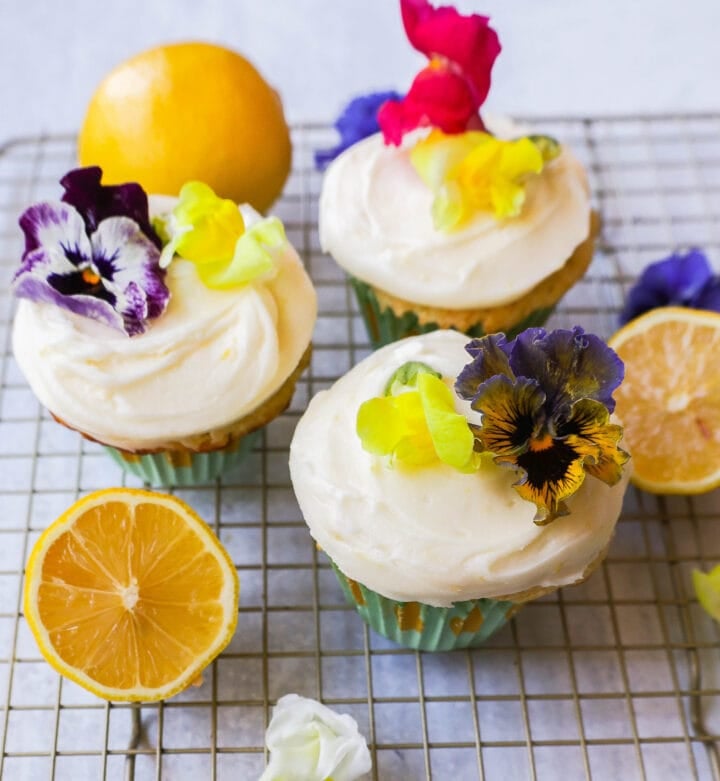 How to make Lemon Cupcakes with Lemon Frosting:
Start by preheating the oven. Place cupcake liners into the standard-sized muffin tins. Lightly spray with non-stick cooking spray.

In a large mixing bowl, add oil, eggs, whole milk, lemon juice, and lemon zest. Cream for 2 minutes.

In a large bowl, add sugar, flour, baking powder, baking soda, and salt. Stir into the egg mixture and fold.

Pour batter into cupcake liners, filling no more than ⅔ or ¾ full. Bake until the toothpick comes out clean in the center of the cupcake. Remove from the oven and let cool.

Make frosting by creaming together butter and cream cheese for 4-5 minutes until light and fluffy, scraping sides of bowl often. Add powdered sugar, lemon juice, vanilla, and lemon zest and mix together.
Once the lemon cupcakes have completely cooled, you can frost or pipe the frosting on each cupcake. May decorate with fresh edible flowers, sparking sugar, or fresh lemon zest.
See the recipe card below for the ingredients list and full instructions.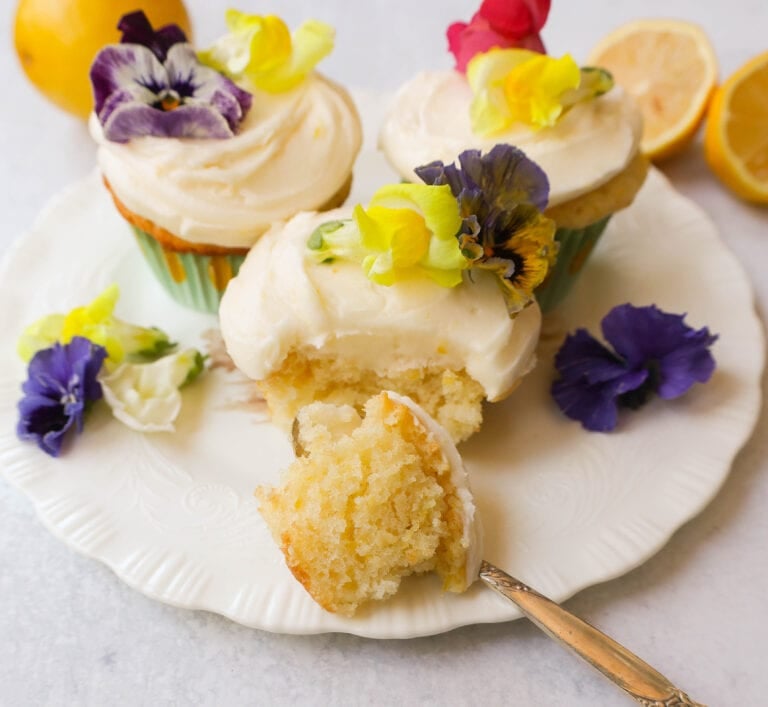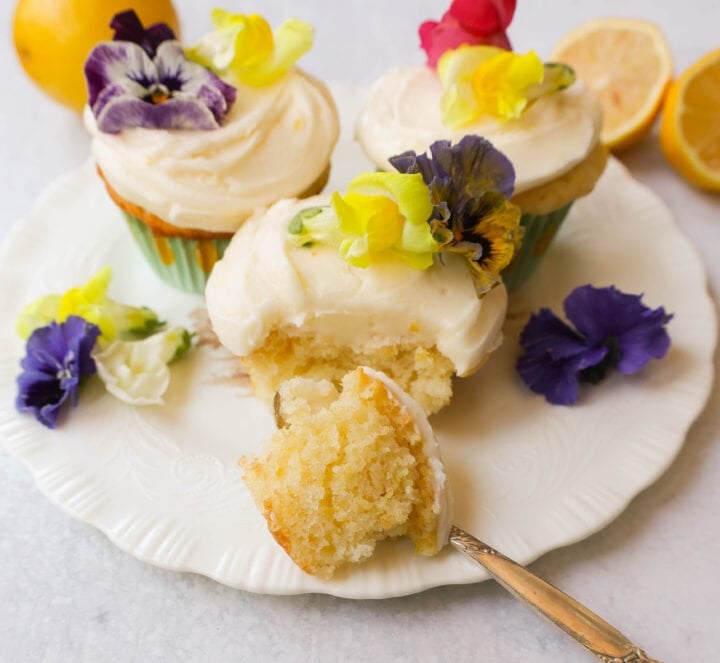 FAQ's about baking Lemon Cupcakes:
How do I know when the cupcakes are done baking?
The cupcakes will begin to rise and slightly dome in the center. The center of the cupcake will no longer be liquid but will look set. You can test out the cupcake's doneness by placing a toothpick or cake tester into the center of the cupcake to make sure it comes out "clean." This just means that the cupcake is no longer liquid in the center.
How full should I fill my cupcake liners?
If you fill cupcake liners too full, the cupcake batter will overfill in the oven and you will end up with a mess. I would suggest filling the cupcakes liners ⅔ to ¾ full to allow for the cupcakes to rise while baking.
When should I frost cupcakes?
Cupcakes need to be completely cool before frosting or the frosting will run off of the cupcake. You can expedite the process by placing the cupcakes in the freezer until they are completely cooled.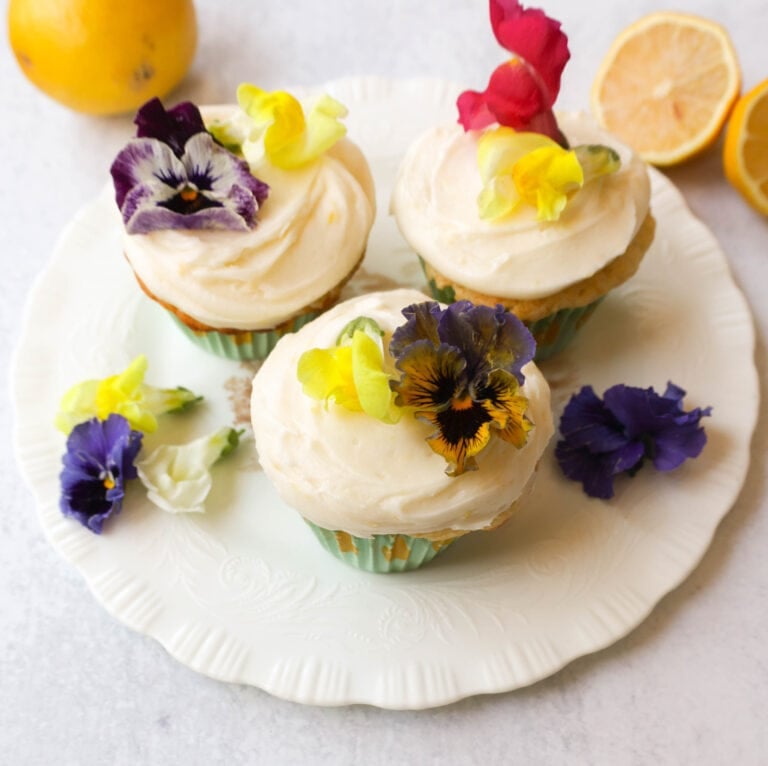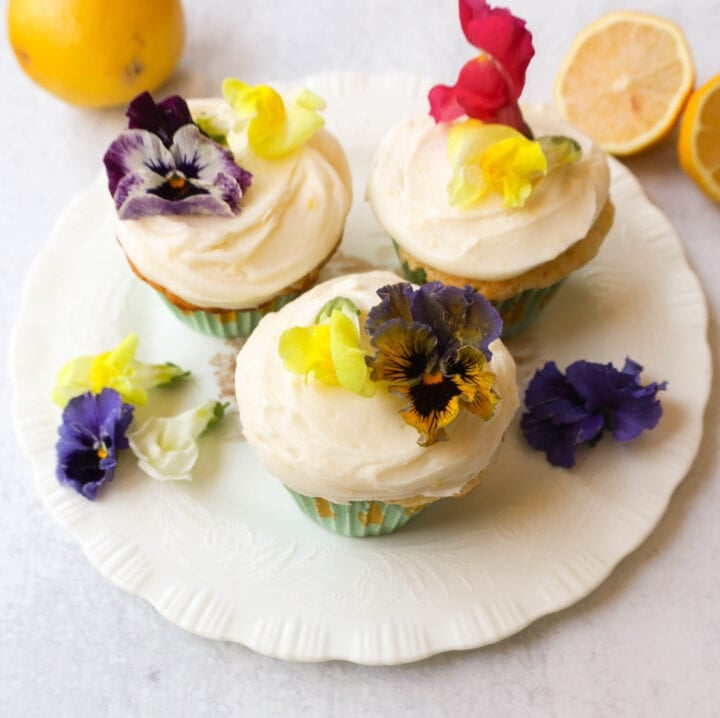 Popular Cake Recipes:
I have so many popular cake recipes on Modern Honey from my light Key Lime Cake with cream cheese frosting to my Orange Cake Recipe using fresh oranges to my decadent, popular Love at First Sight Chocolate Cake Recipe.
Baking Tools:
I love to hear from you! If you make this recipe, please be sure to leave a comment and give this recipe a rating. If you make any of my recipes, tag me on Instagram @modern_honey so I can see your creations. It's one of my favorite things to see you make these recipes in your own kitchen. Sign up for my newsletter below so you never miss a recipe. Thank you for following along! I truly do have the greatest readers. FOLLOW ME ON: INSTAGRAM --- FACEBOOK --- PINTEREST