The BEST Chocolate Cake Recipe in the world. This moist, rich chocolate cake with chocolate frosting is one of the most popular cake recipes. This 5-Star Rated Chocolate Cake Recipe is the best homemade chocolate cake. Everyone will ask for this Chocolate Birthday Cake for every single birthday celebration!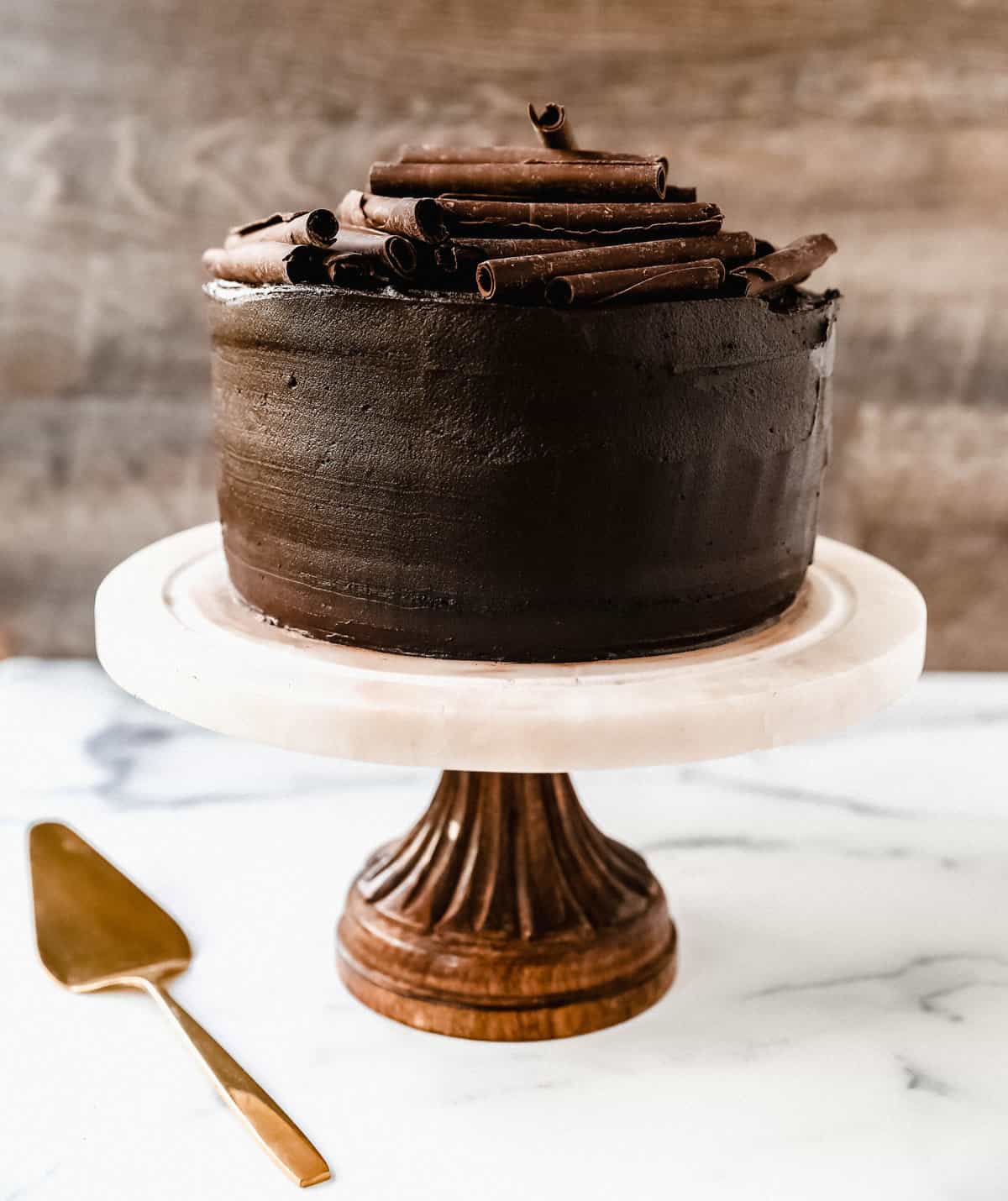 The Best Chocolate Cake Recipe
Everyone loves this homemade chocolate cake recipe…just read the reviews!
I have been on a baking quest for years….trying out every single chocolate cake recipe that I can get my hands on. It's my duty as a baker to ensure that I test them all, right? I wanted to test out every baking method, different ingredients, all types of brands of cocoa powder, butter vs. oil in cakes…all to find the best chocolate cake recipe.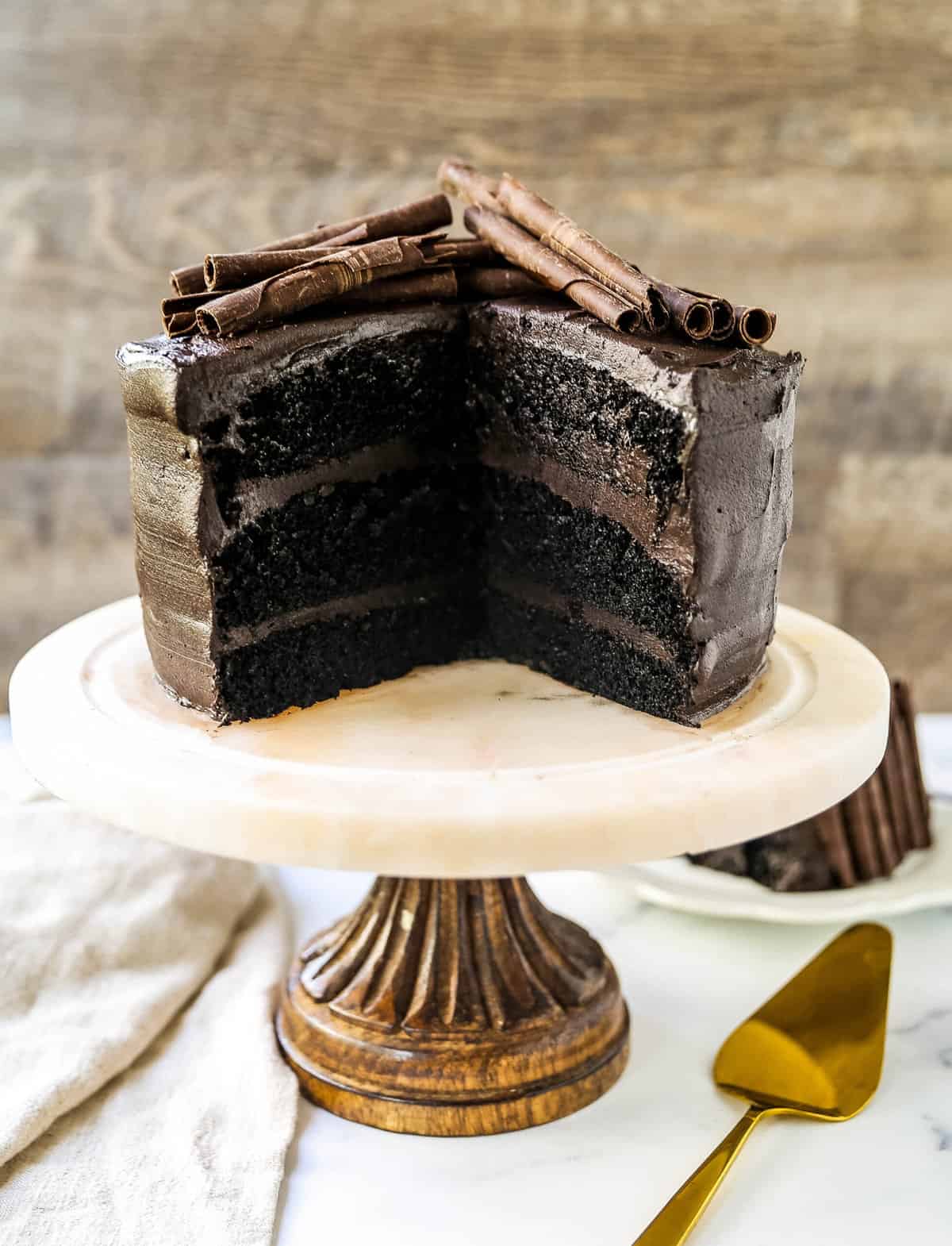 My sister-in-law owns her own cake business and is the baking goddess. Years ago, she decided that every Sunday she was going to test out a different chocolate cake recipe. She did this for months on end and through her exhaustive research, she found her favorite.
This Love at First Sight Chocolate Cake is an adaption of her ultimate cake and it's everything a perfect chocolate cake should be – rich, moist, fudgy, and the best chocolate cake you will ever eat. We've done the research for you so you don't have to. This is a 5-star rated moist chocolate cake with chocolate buttercream frosting.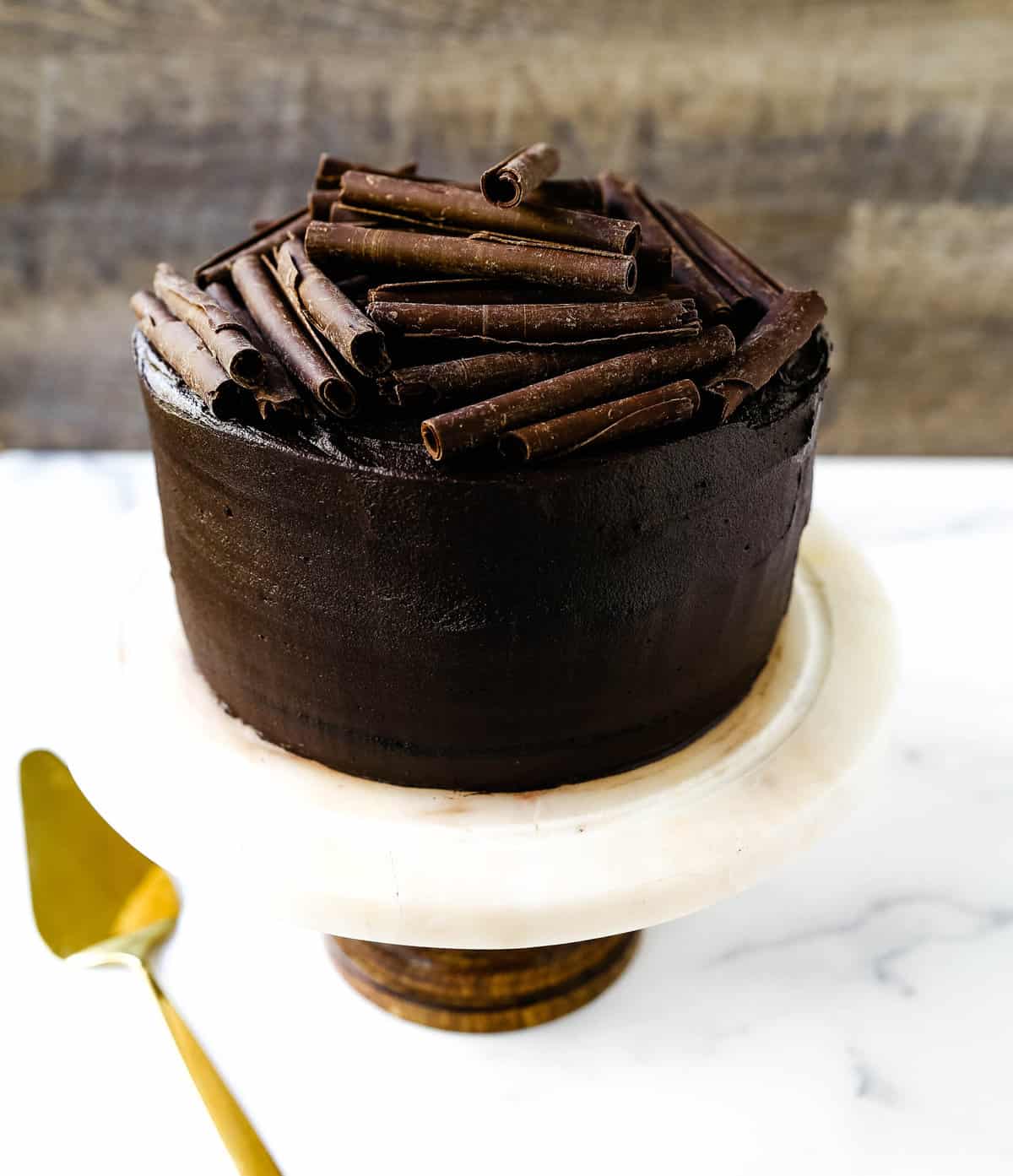 I have been baking ever since I can remember with my Mom and Grandma. They have taught me so much over the years about baking and I will be sharing all of the tips and tricks I have learned to make a perfect homemade chocolate cake. There are tricks of the trade to make sure the cake easily comes out of the pan and how to frost the cake so the frosting comes out smooth. Baking is all about ratios and you have to find that perfect balance. Here are some of the most important things I have learned about the art of baking cakes.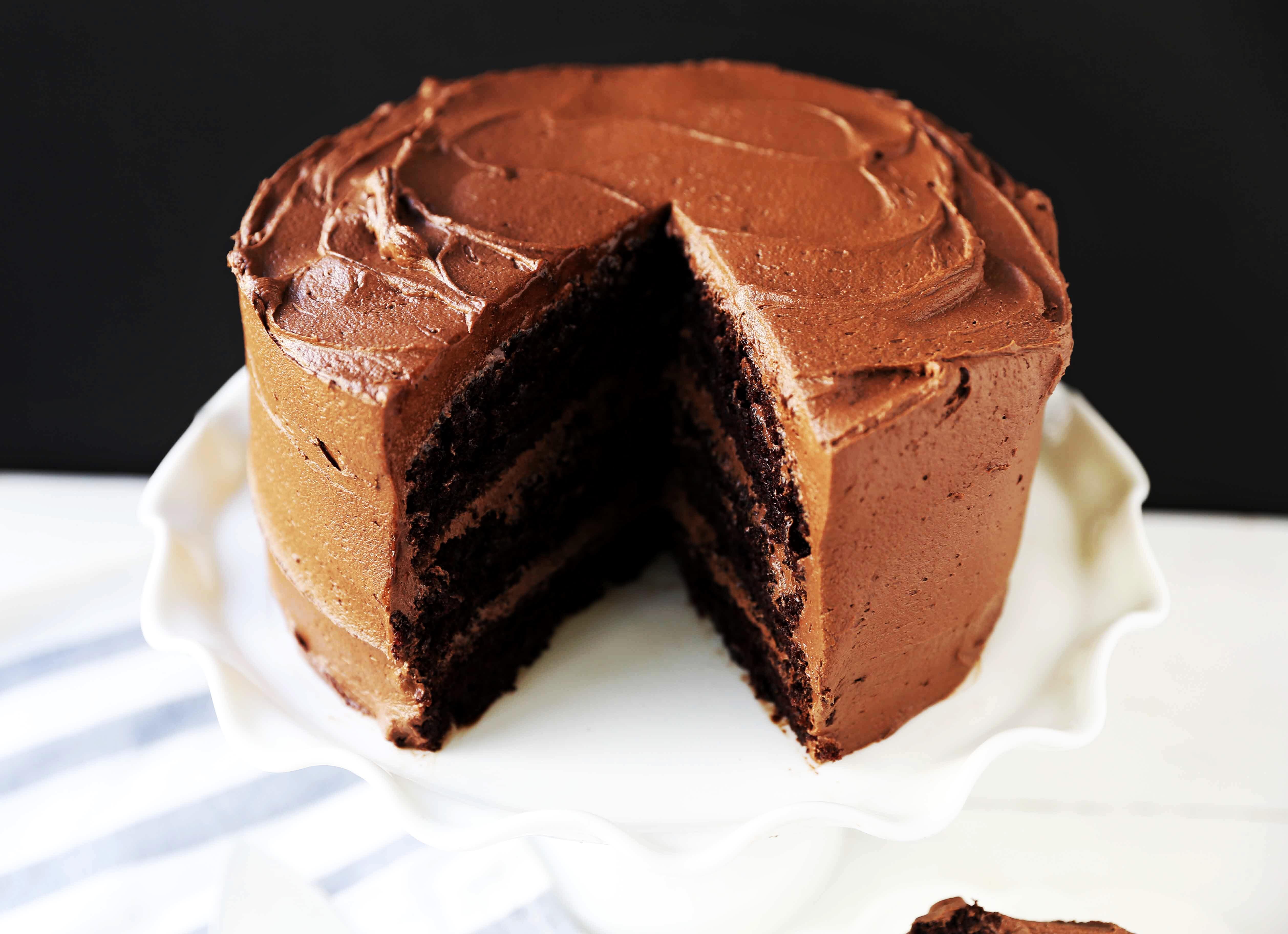 What ingredients are in Chocolate Birthday Cake?
Oil
Sugar
Eggs
Buttermilk
Vanilla
Unsweetened Cocoa Powder
Flour
Baking Soda + Baking Powder + Salt
Hot Water
Butter
Powdered Sugar
Heavy Cream
The cake is super moist as a result of using both oil and buttermilk. The buttermilk creates a tender crumb. The hot water (or you can use hot coffee) makes it extra moist and helps to dissolve the baking soda and activate it.
The chocolate buttercream frosting is made with sweet cream butter, unsweetened cocoa powder, powdered sugar, and heavy cream.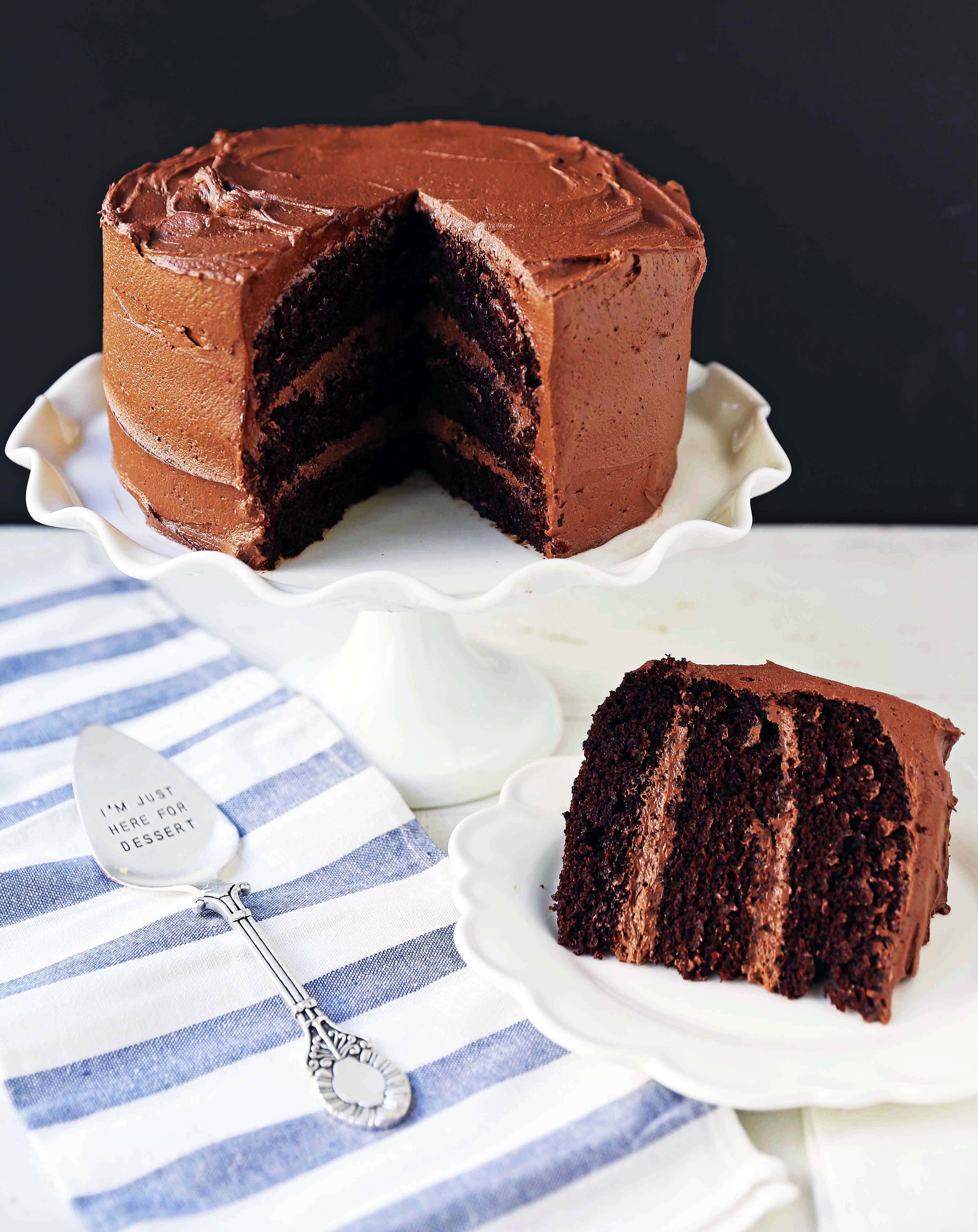 What type of Unsweetened Cocoa Powder should I use in cake recipes?
According to America's Test Kitchen, "Cocoa powder is the chocolate liquor that is processed to remove all but 10-24% of the cocoa butter. Cocoa Powder comes in natural and Dutched versions. Dutching raises the cocoa powder's pH levels, which neutralizes its acids and rounds out its flavor. Both natural and Dutch cocoa will work in recipes. Dutch-processed cocoa will produce baked goods with a darker color and moister texture."
If you notice in the photos of my Love at First Sight Chocolate Cake, I used two different types of cocoa powder, which creates different hues.
The chocolate cake recipe photos at the top of the post use a Guittard Dark Dutch Cocoa Powder. This is a true black cocoa powder with an intensely deep, rich flavor thanks to a 10-12% cocoa butter content.
The homemade chocolate cake recipe photos below use a Callebaut Dutched Cocoa Powder. It has a warmer color with reddish-brown notes. It is slightly sweeter than the dark dutch cocoa powder. I find this unsweetened cocoa powder in the bulk section at Winco. It is much less expensive at Winco, than you can find online.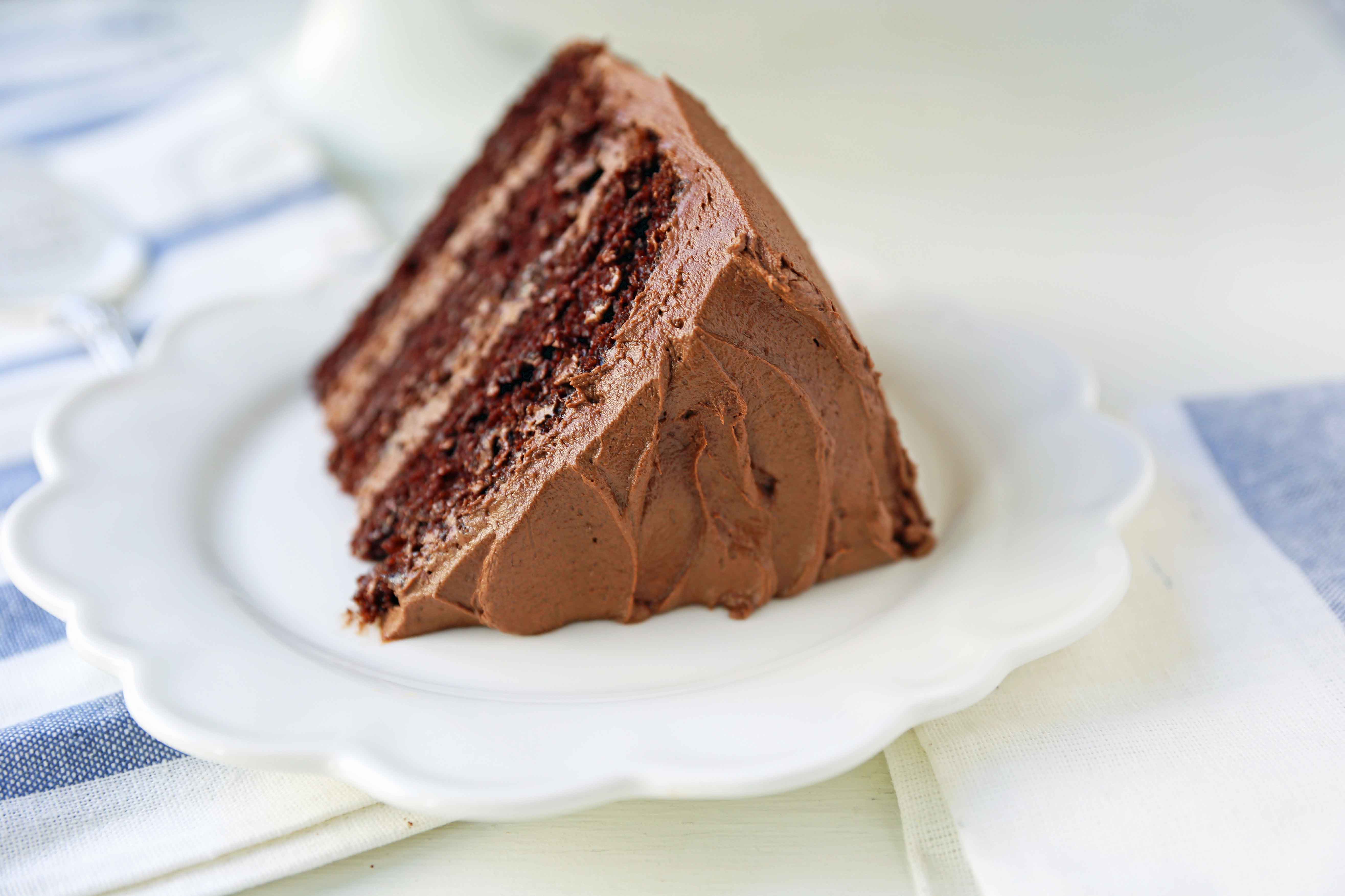 You can top this dark chocolate cake with chocolate shavings or chocolate sprinkles. This chocolate birthday cake is the perfect cake to bake for any celebration!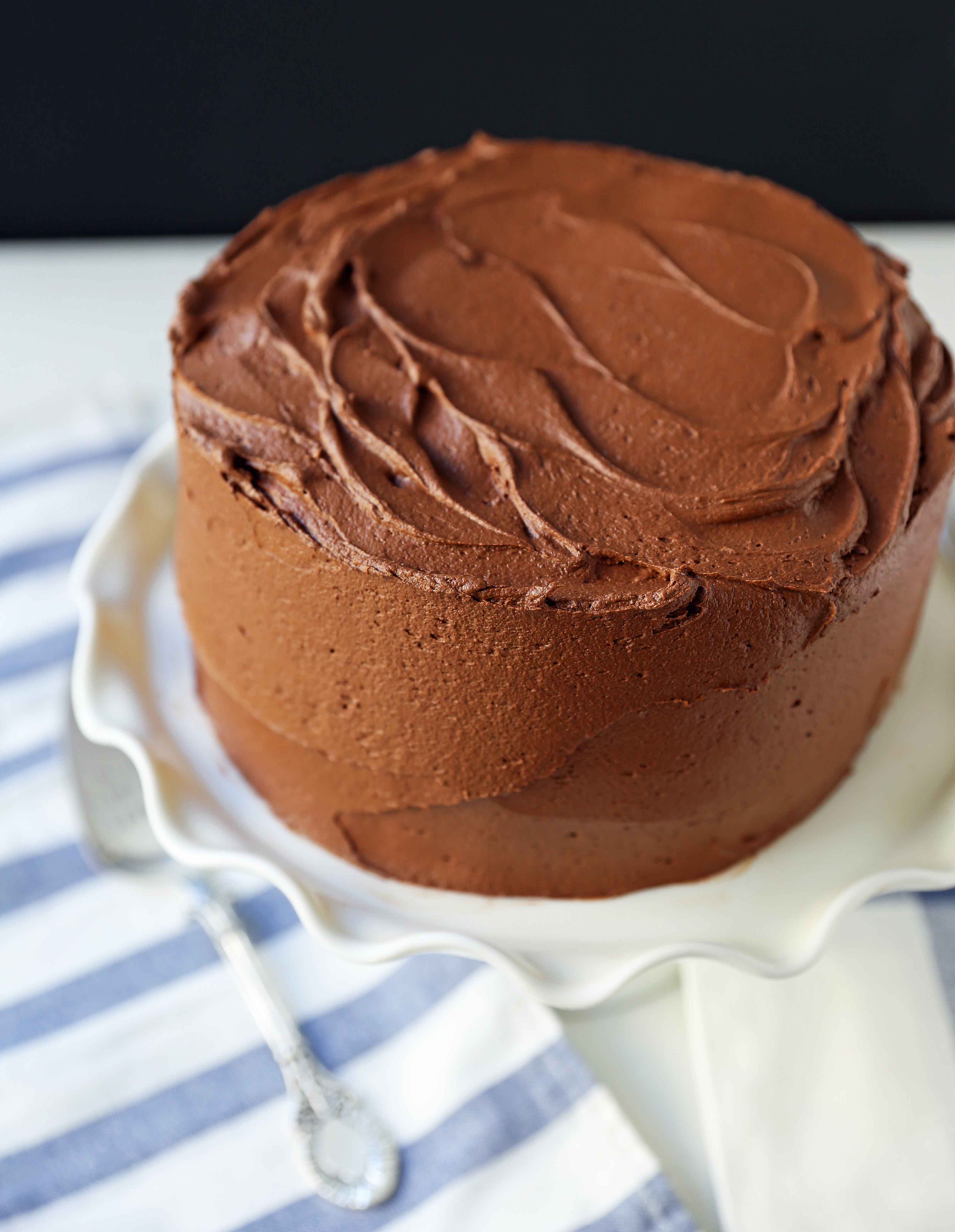 How to make the PERFECT CHOCOLATE CAKE:
Oil works best in chocolate cakes (in my humble opinion). Even though I am the biggest butter fan, adding oil to a chocolate cake batter creates a moist texture. I have used both canola and coconut oils and both turn out beautifully. When I use melted coconut oil, there is surprisingly no coconut oil taste in the cake. My favorite baking appliance when making cakes and cookies is my KITCHENAID MIXER. You can find all types of colors and sizes by clicking HERE.
Cake flour does make a difference in the tender crumb of the cake but you can substitute all-purpose flour.
A high-quality cocoa powder can change the depth of chocolate flavor. I use Callebaut Cocoa (which I find in the bulk section at Winco. It is so inexpensive when you buy it from the bulk bins. You can buy as little or as much as you need).
Using both baking soda and baking powder gives it the best rise. Homemade cakes don't puff up as much in the middle as boxed cake mixes do so don't be surprised when they are a tad flatter. It makes them so much easier to stack and frost.
Buttermilk is a must because it gives it the melt-in-your-mouth texture.
Don't overbake your cake. You want that moist, tender crumb so watch it carefully.
My favorite baking pans are these ones —

Wilton 8 Inch Round Pan

and

USA Round Cake Pan, 9 inch

. A flat spatula to frost a cake is essential and is only around 5 bucks —

Wilton Angled Icing Spatula

.
Spray the pans with non-stick cooking spray. After baking, let the cakes cool for about 15 minutes before removing them from pans. If you want to make them extra easy to frost, stick them in the freezer for about 20-30 minutes. Remove from freezer when ready to frost.
Spread a thin layer of frosting called a "crumb coat" all over the cake. This helps to smooth out the crumbs to prepare for the final coating of frosting. It is like a primer for a cake.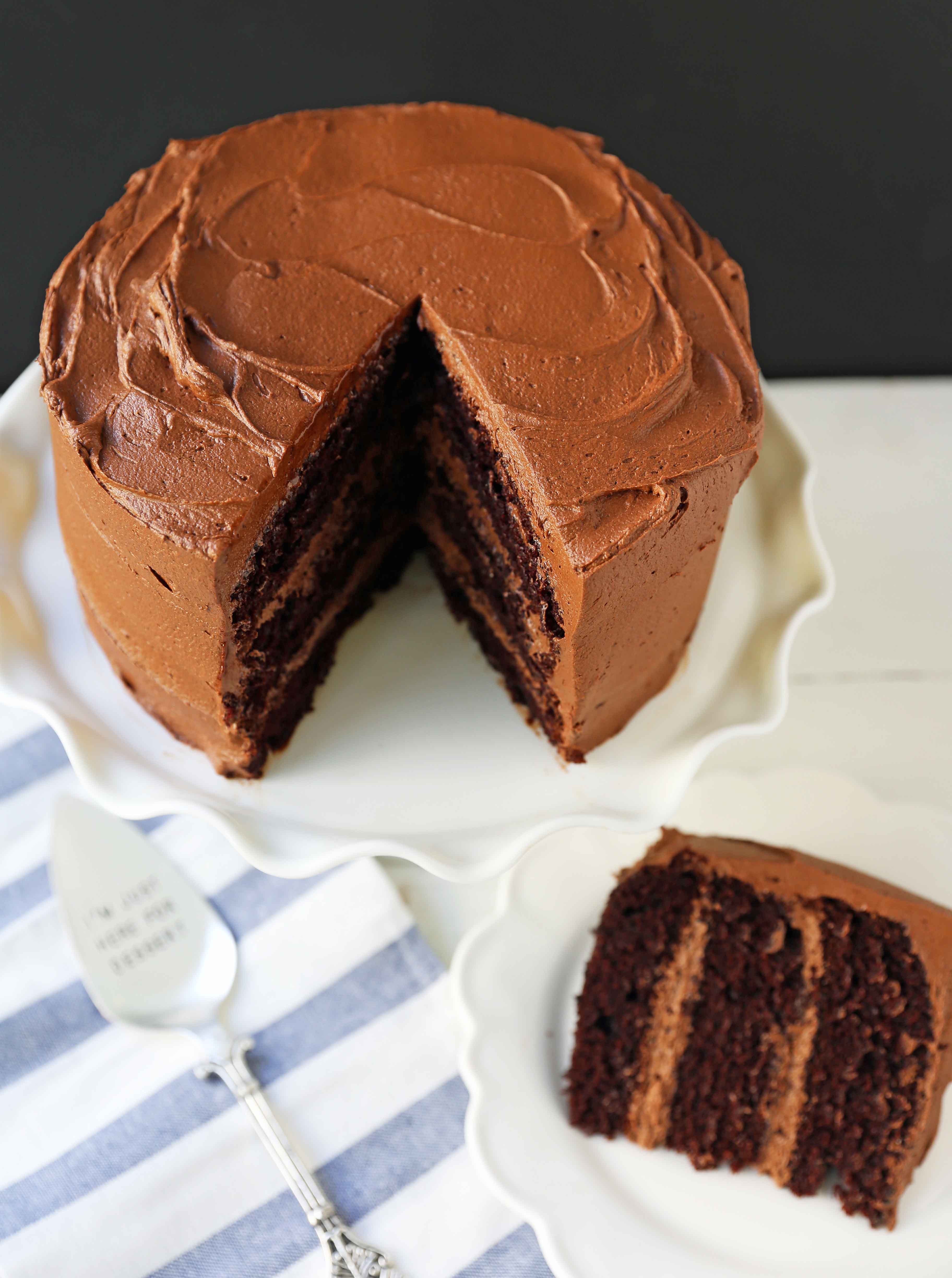 Every Valentine's Day, I make my husband his very own chocolate cake. The problem is that he goes to work, leaving me at home staring at a triple layer chocolate layer cake that is begging to be eaten….by me. Oh, the torture. But I always say that if I am going to eat the calories, make it worth it. This cake is worth every single calorie, I promise.
This is also our most requested birthday cake. This chocolate birthday cake with chocolate frosting is always a crowd-pleaser!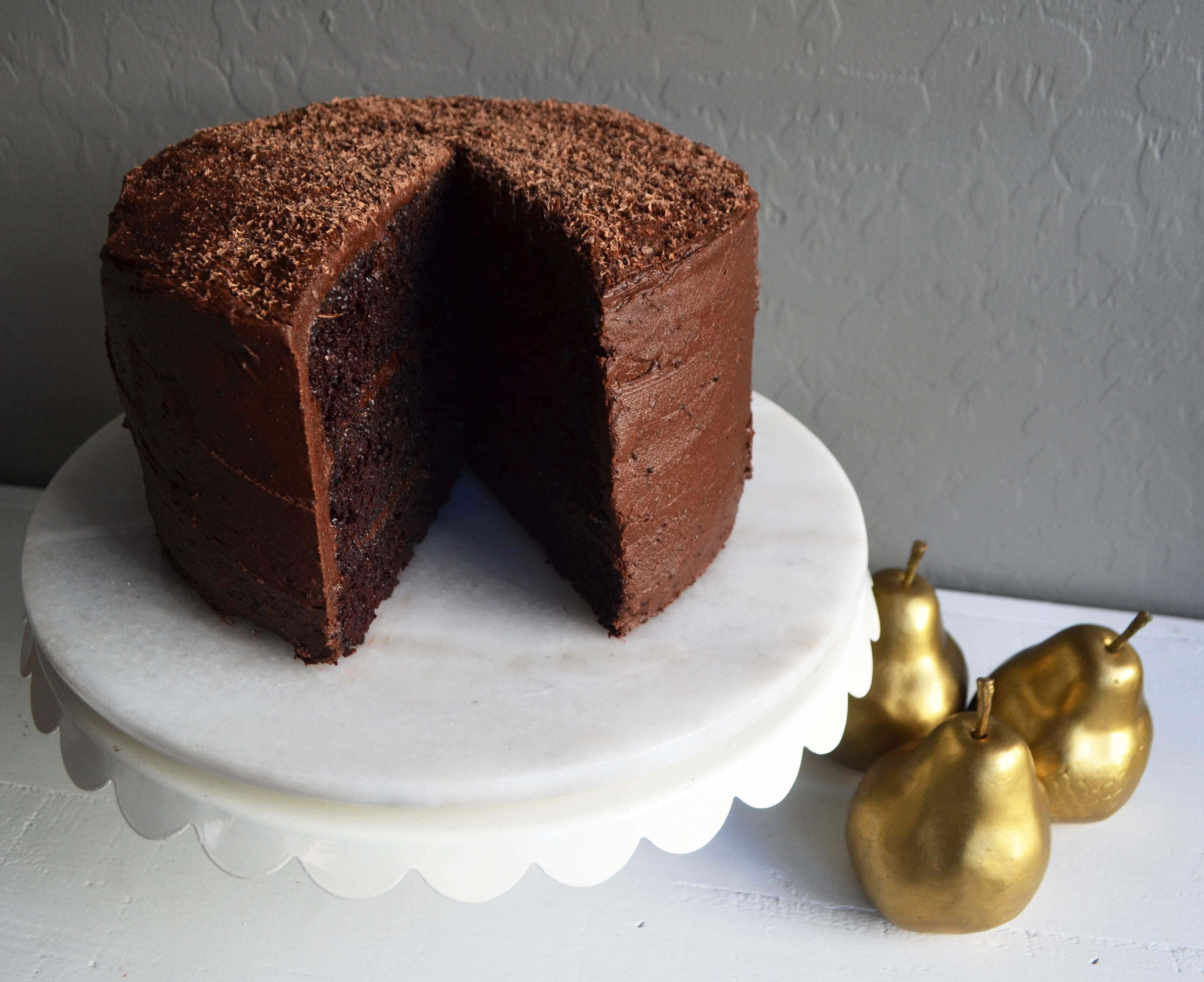 So what's with the name — Love at First Sight Chocolate Cake?
I was fresh out of high school and about ready to embark on my freshman year in college when I met HIM. You know the guy that stops you in your tracks and makes your jaw drop to the floor. He was sipping water out of the drinking fountain at a college dance and my friend grabbed me and said, "did you just see the eyes on that guy?"
I looked over to see this tall, dark, and handsome guy with piercing blue eyes walking down the hallway. My friend, who felt that she just found her soulmate, ran after him to ask him to dance. I tried to play it a little bit cool even though my heart was beating out of my chest at first glance.
As we walked outside to the dance, the music was starting to fade as a slow song begun. I was standing in a large group of friends when I felt someone tap my shoulder. I turned around to see "him." He was even better looking close up and I didn't think that was even possible. He asked if I wanted to dance and of course, I answered a resounding "yes" as he grabbed my hand to guide me to the dance floor.
The connection was instant and undeniable and I thought to myself that I didn't want it to end. Lucky for me, before the end of the night he asked for my phone number and I was one giddy girl all the way home.
So that "love at first sight" encounter actually turned into real life, true, unconditional love. This guy eventually got down on one knee in a small fishing boat in the middle of the lake, surrounded by candlelight to ask me to marry him.
I was a young 20-year old who had a lot of life to figure out but we decided that we were ready to grow together – to learn, to make mistakes, and to eventually start a family together. We will hit our 20 year anniversary this November (woo hoo!) and I love him so much more now than the day we got married.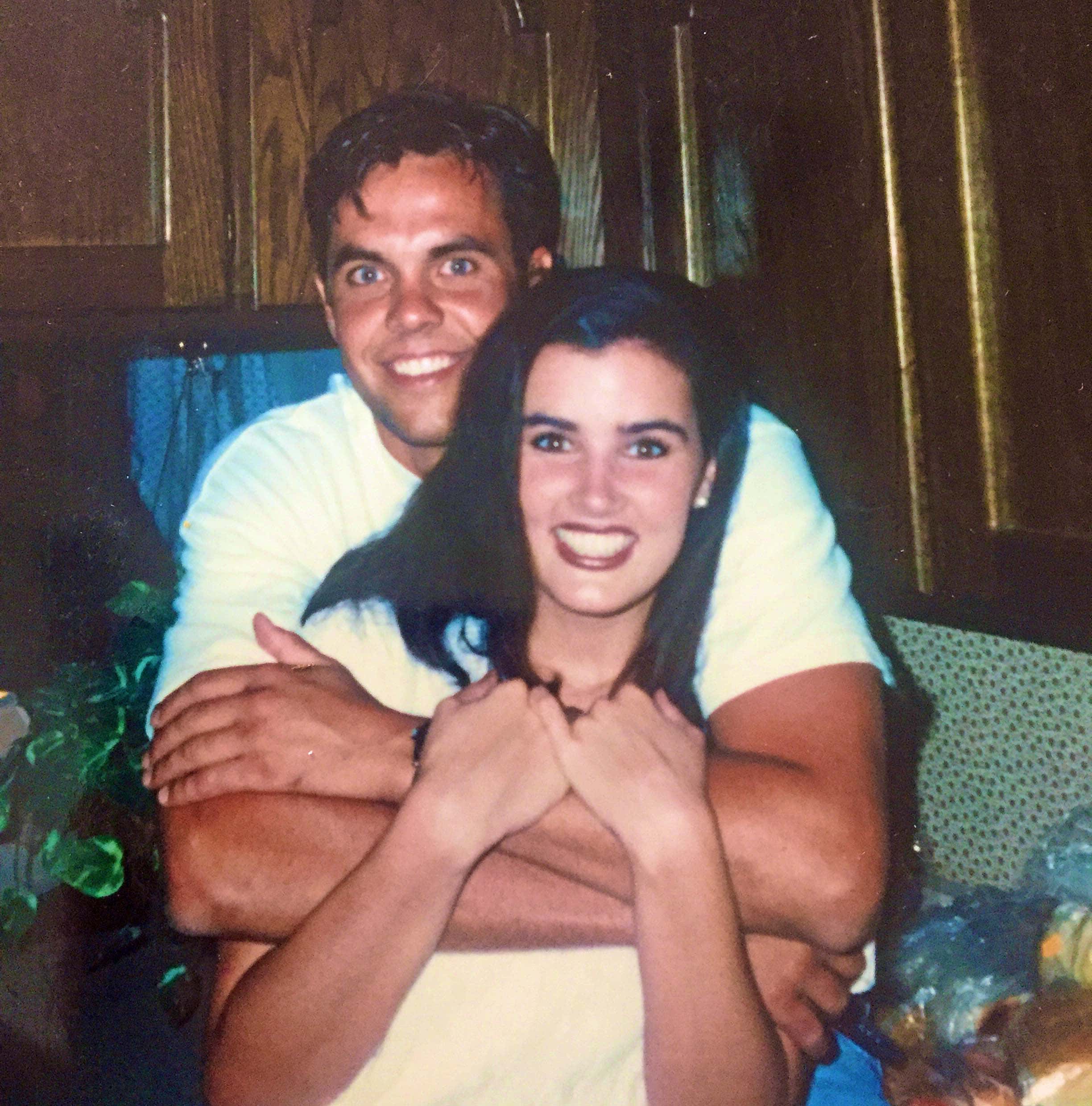 Let's get back to this Love at First Sight Cake because I am falling in love with this more and more by the minute. This is seriously the BEST Chocolate Cake Recipe.
What cake pans should I use?
To make this homemade chocolate cake, I usually use three 8-inch cake pans to make three thin layers. You can also use two 9-inch thicker layers, if you prefer. To see which brand is my favorite, you can find the links above. This chocolate cake recipe makes at least 12-24 slices of cake, depending on how you slice it. It is the perfect chocolate birthday cake to feed a crowd!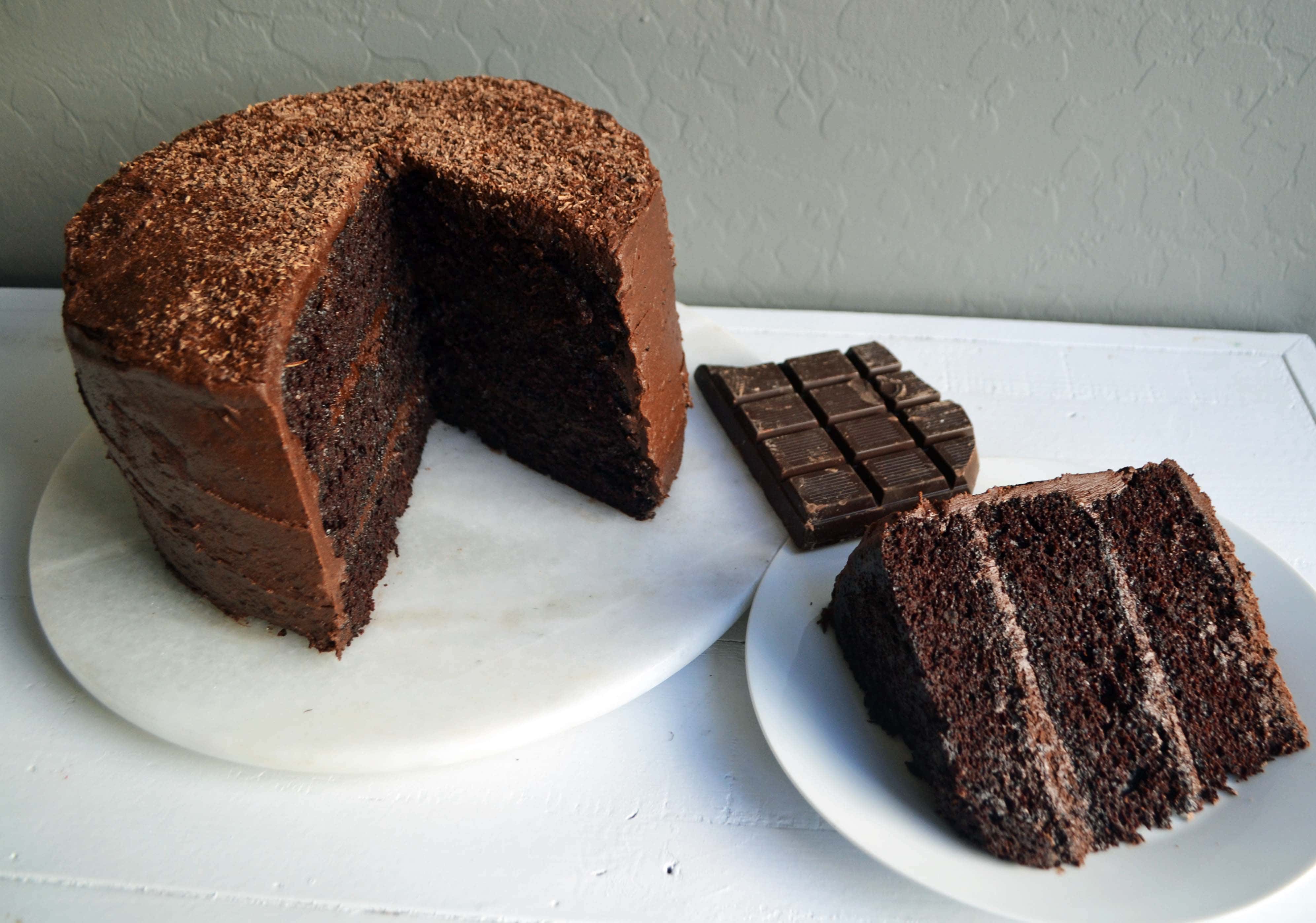 Pin on PINTEREST: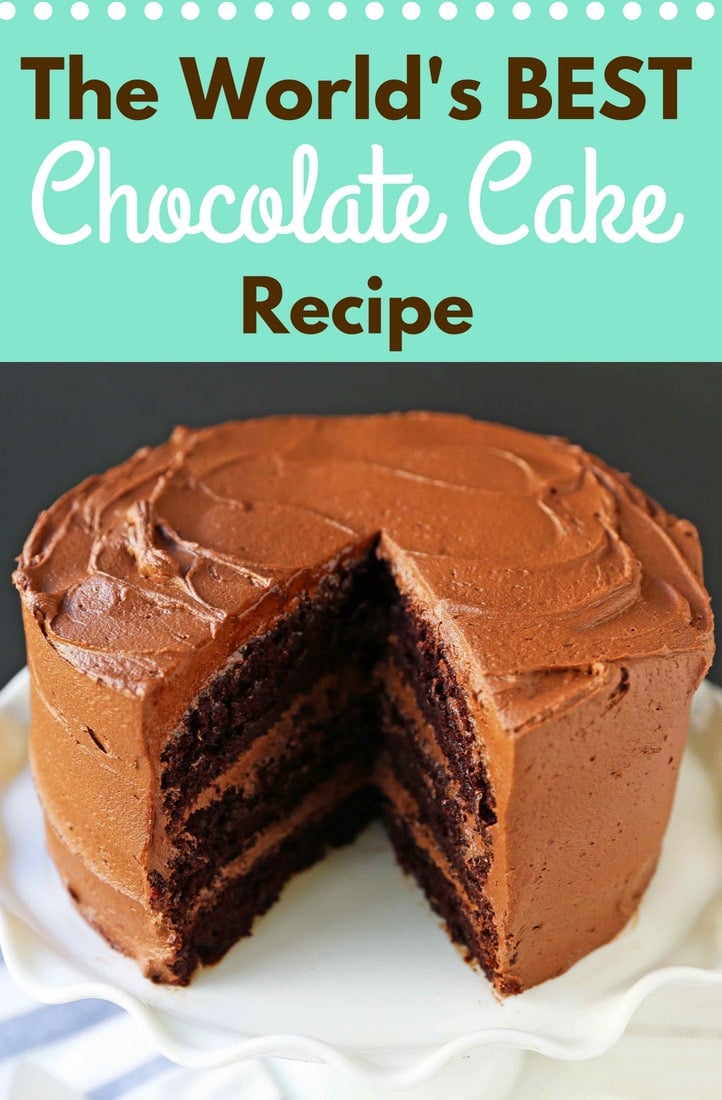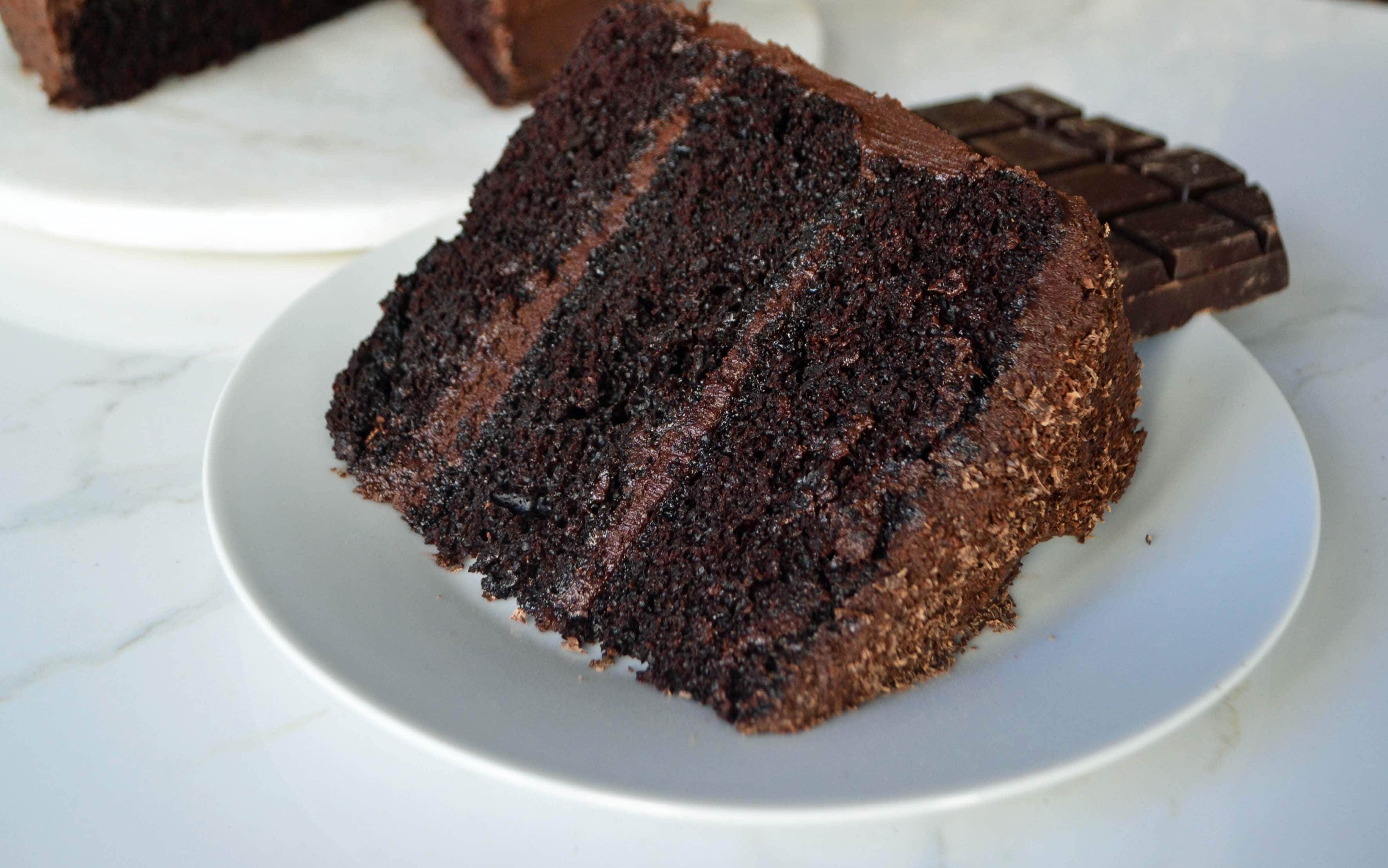 Pin this now to find it later
Pin It
Love at First Sight Chocolate Cake
The BEST Chocolate Cake Recipe in the World. This decadent chocolate cake is rich, moist, and will cure your chocolate cravings.
Ingredients
Chocolate Cake:
1 3/4

cup

Flour

1 3/4

cup

Sugar

3/4

cup

Cocoa

high quality

2

teaspoons

Baking Soda

1

teaspoon

Baking Powder

1

teaspoon

Salt

1/2

cup

Oil

canola or coconut oil

2

Eggs

1

cup

Buttermilk

1 1/2

teaspoons

Vanilla

1

cup

Hot Water
Chocolate Buttercream:
1 1/2

cups

Butter

softened

1

cup

Cocoa

5

cups

Powdered Sugar

1/3

cup

Cream

Half n Half or Milk
Instructions
Preheat oven to 350 degrees.

In a large bowl, stir together flour, sugar, cocoa, baking soda, baking powder, and salt. If you have a flour sifter, sift all dry ingredients.

In mixing bowl, beat oil, eggs, buttermilk, and vanilla for 1 minute. Add dry ingredients to wet ingredients and stir until combined. Pour in hot water and mix together. The batter will be liquidy but that's a good thing -- it will create a moist cake.

Spray two 9-inch cake pans with non-stick cooking spray. You can also use three 8-inch cake pans for this recipe. Pour batter evenly into each pan. Bake at 22-27 minutes. Place toothpick or cake tester in the center of the cake to check if it comes out clean.

Let cool before frosting.
To make Chocolate Buttercream:
In mixing bowl, cream together Butter, Cocoa, Powdered Sugar, and Cream until light and fluffy. You may want to add more cream or milk depending on consistency. Once the cake has cooled and has been removed from pans, frost each layer with frosting.

Top with chocolate shavings, chocolate chips, sprinkles, M & M's or whatever your heart desires.
Notes
*This recipe makes three 8-inch thin layers to two 9-inch thick layers. If you would like to make a thick triple layer cake, 1 1/2 times the recipe and use three 9-inch cake pans.
This is one baked good that gets even better the next day if covered.
Nutrition information is automatically calculated, so should only be used as an approximation.
Go get a fork, a plate, and dig into the best chocolate cake on the planet.
Happy Baking!