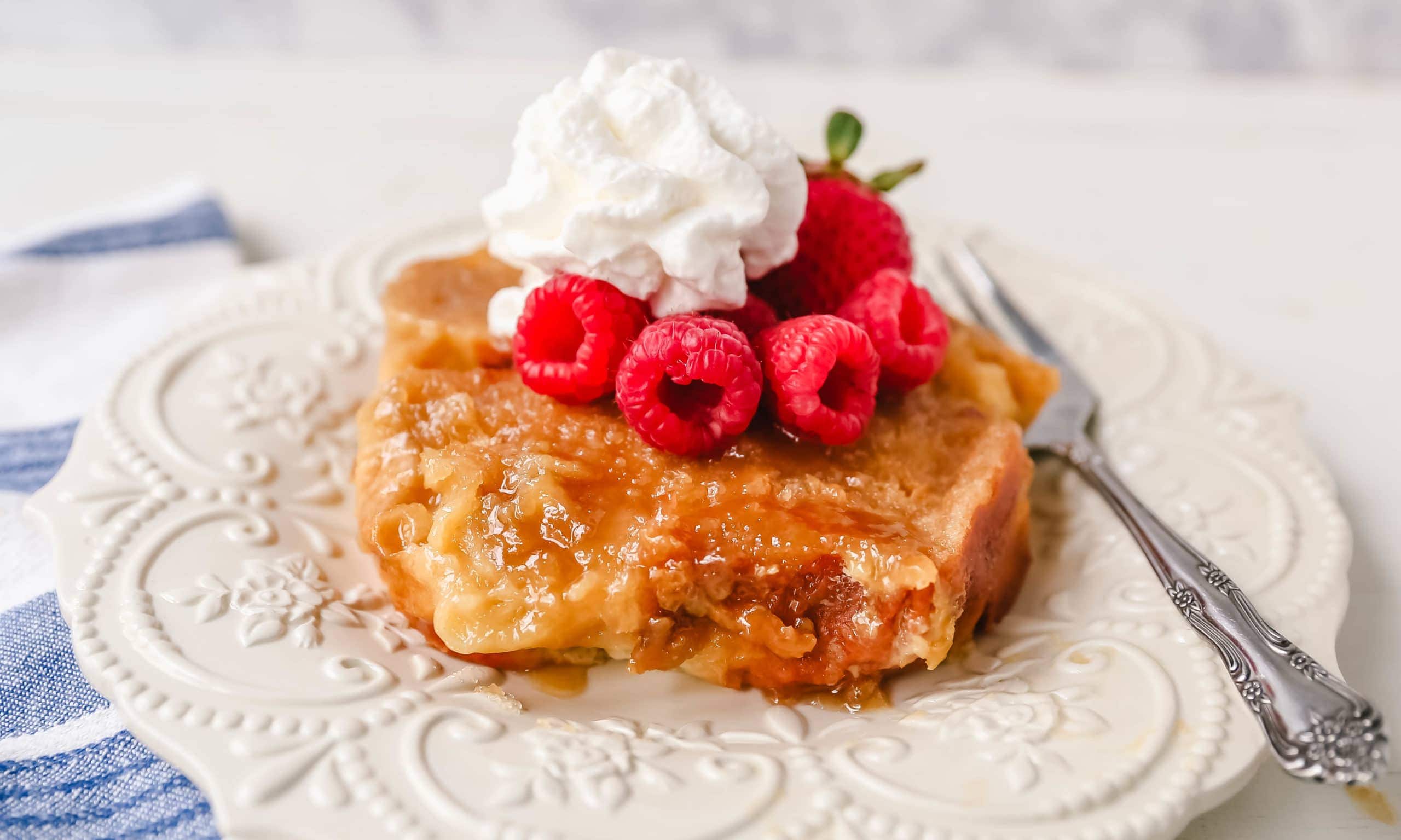 Overnight Creme Brûlée French Toast
an easy overnight french toast with thick bread in a buttery sugar glaze and soaked with a sweet custard.
This is hands-down my favorite french toast recipe ever.
Just think of a buttery brown sugar sauce with brioche or country bread soaked with cream, sugar, and eggs overnight and baked until golden and bubbly. It is a heaven-sent breakfast and a certifiable crowd pleaser.
This Overnight Creme Brulee French Toast is the kind of breakfast if you want to roll out of bed and basically have breakfast already done for you. Everything is prepped the night before and all you have to do is stick it in a hot oven and let it bake.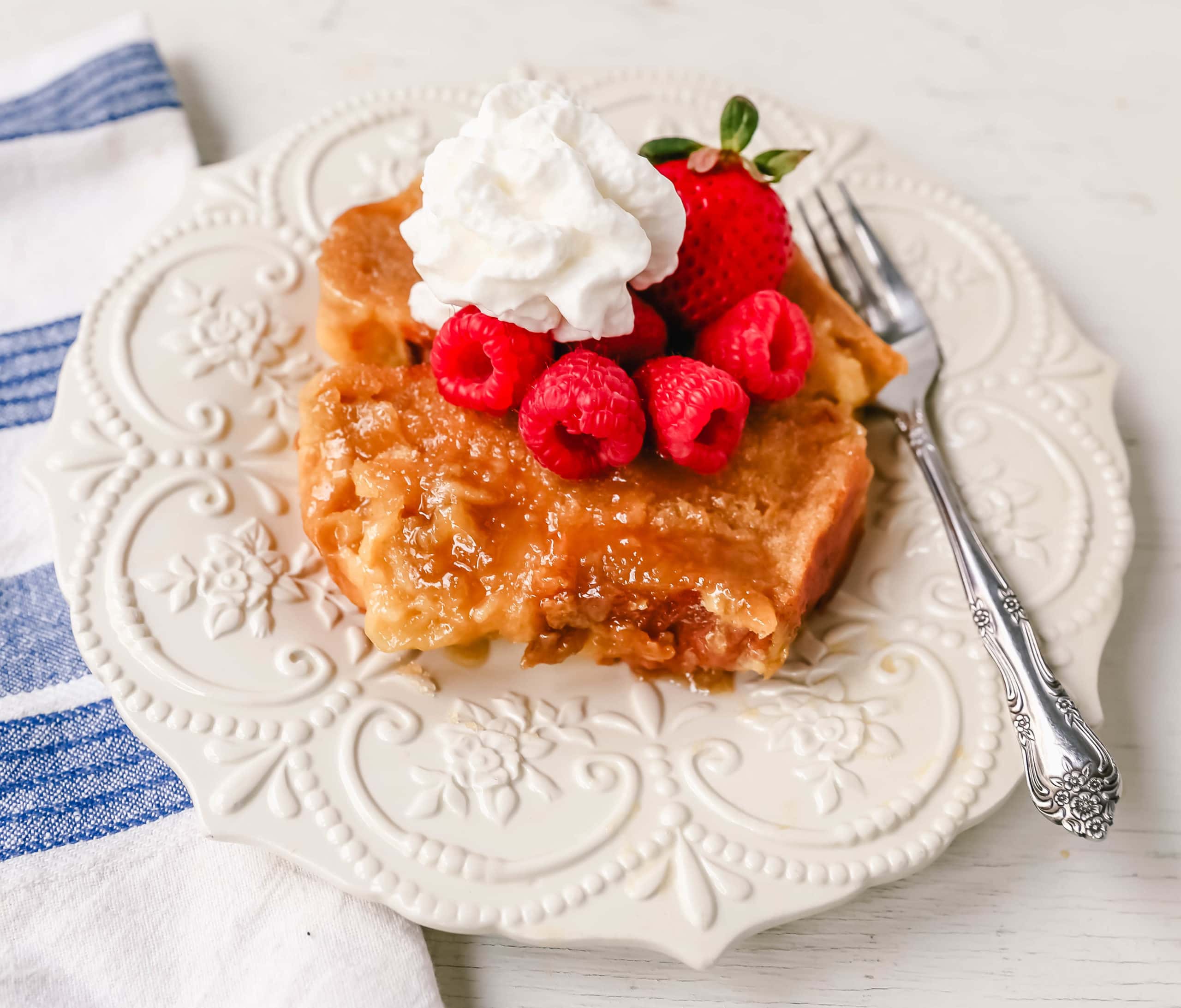 So basically you want to impress your guests or even just your family but with minimal work in the morning when you can barely keep your eyes open. You can serve it with fresh berries and handcrafted whipped cream to offset the sweetness. No syrup needed with this overnight french toast!
Now you just need to run to the store to pick up all of the ingredients, throw it together tonight, and you have a gourmet breakfast ready to go! This Creme Brulee French Toast is beyond easy!
The creme brulee french toast sauce is made with melting butter, brown sugar, and a touch of corn syrup together in a saucepan until silky smooth. The custard is made with eggs, half-n-half, and vanilla and is soaked up by your favorite type of bread. Then you just place it in the refrigerator overnight to let the bread soak up every ounce of the custard goodness and then bake it in the morning.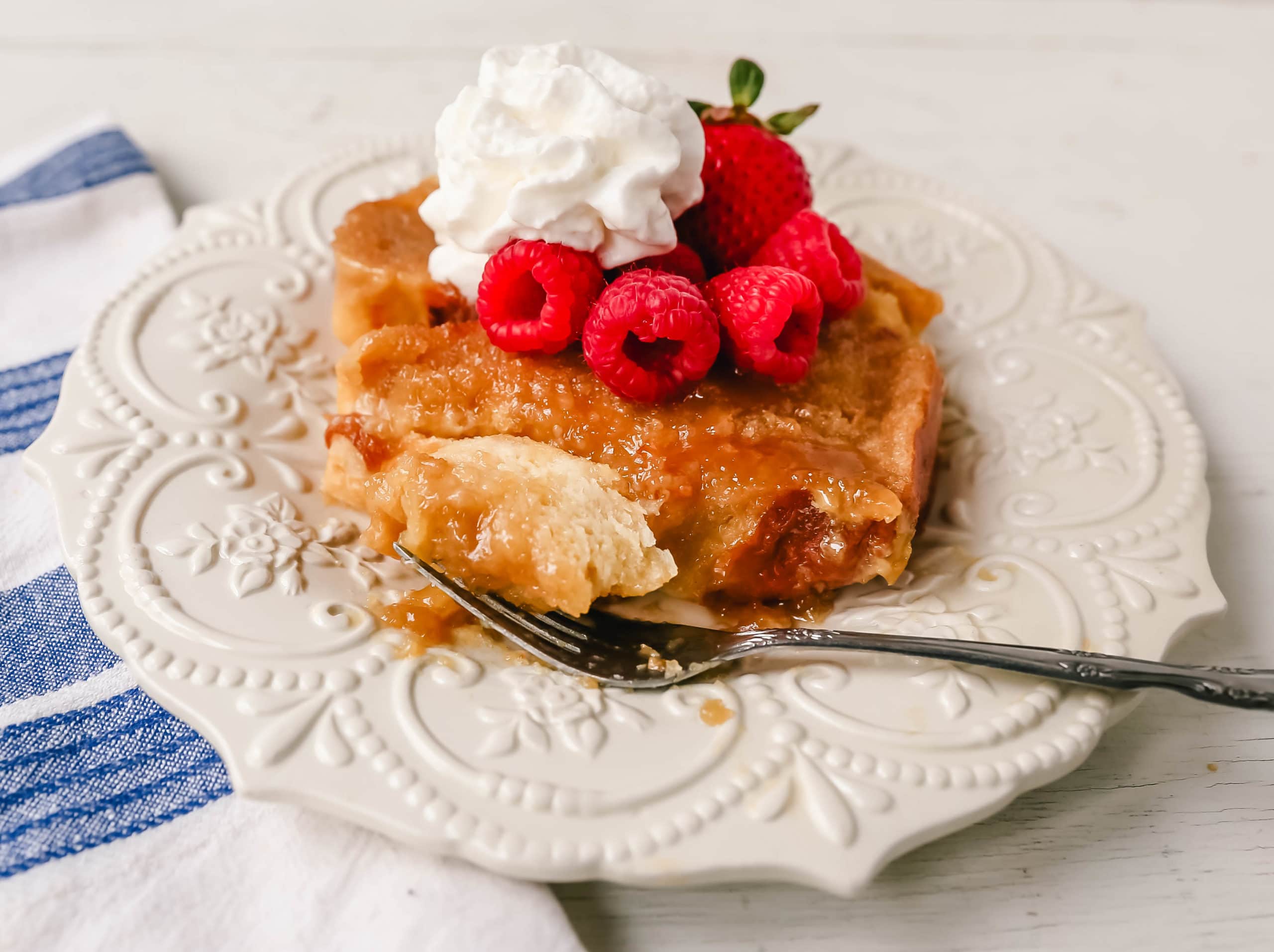 How to make the Best Overnight Creme Brulee French Toast:
Start by cooking the butter, brown sugar, and corn syrup together until the sugar is completely melted and smooth. You want to make sure it is completely dissolved to remove any of the graininess. Pour into a 9 x 13 pan.
Pick your favorite bread. You can use any type of French bread, brioche, challah, country, or thick white bread. I prefer using softer bread since some types of artisan loaves of bread have really tough exteriors. Cut into slices or into cubes.
Make a custard using eggs, milk, sugar, and vanilla. Use a whisk or a blender to make sure it is completely creamy and the eggs are mixed together. Completely cover the bread with the custard and let it soak overnight.
Bake until the bread starts to puff up and become a light golden color. Serve with fresh berries and whipped cream.