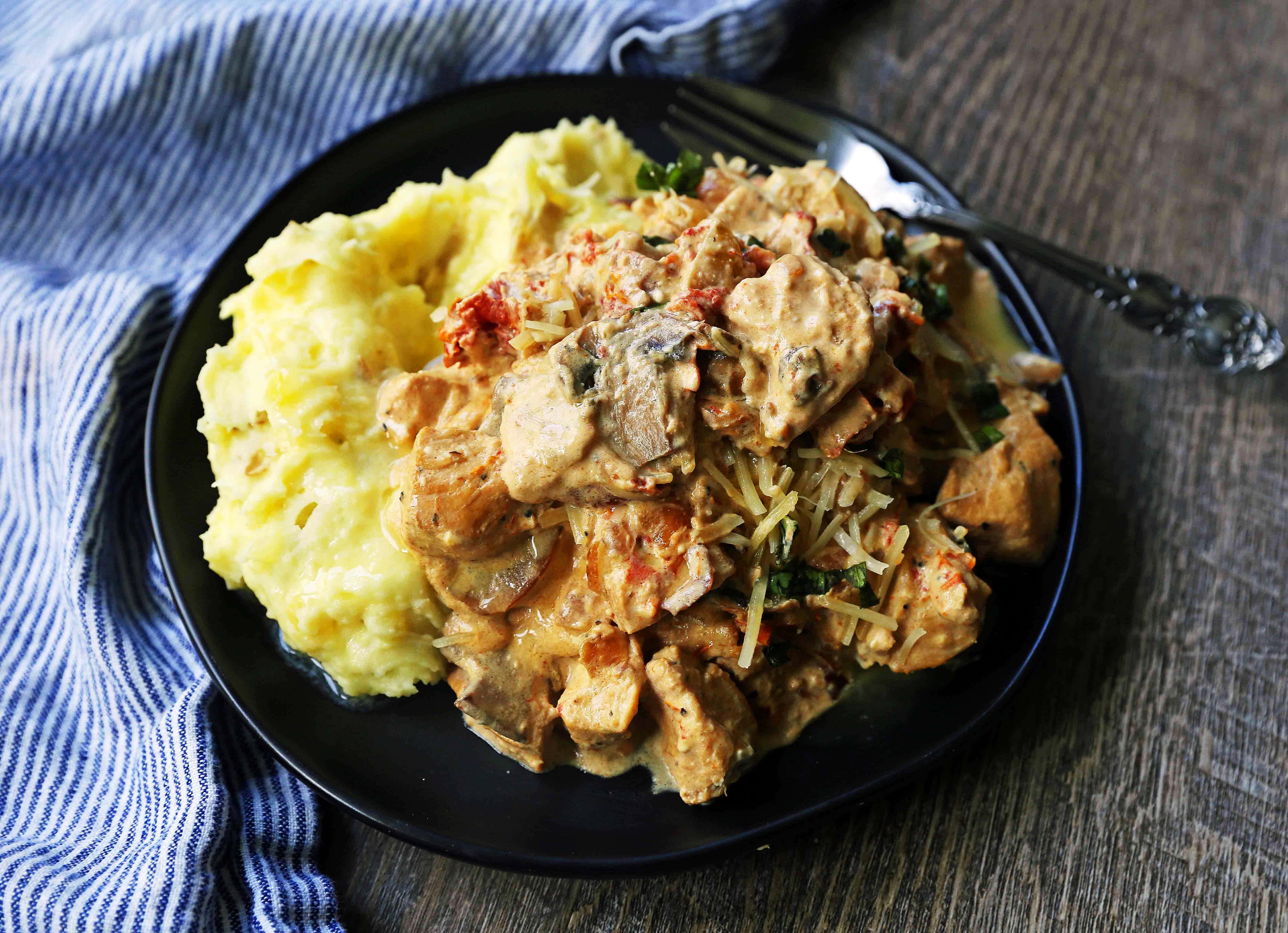 Slow Cooker Creamy Tuscan Chicken
Creamy tender chicken in prosciutto, mushroom, and sundried tomato cream sauce
One of our favorite dishes to get at Carrabba's is their Chicken Rosa Maria. I made this copycat recipe here so I can eat it at home whenever I want. However, I decided to take it a step further. I created a recipe with all of the flavors of that popular dish but made it even easier by cooking it in a slow cooker. Saving time here, people!
The Slow Cooker Creamy Tuscan Chicken was born. Man alive, it is GOOD.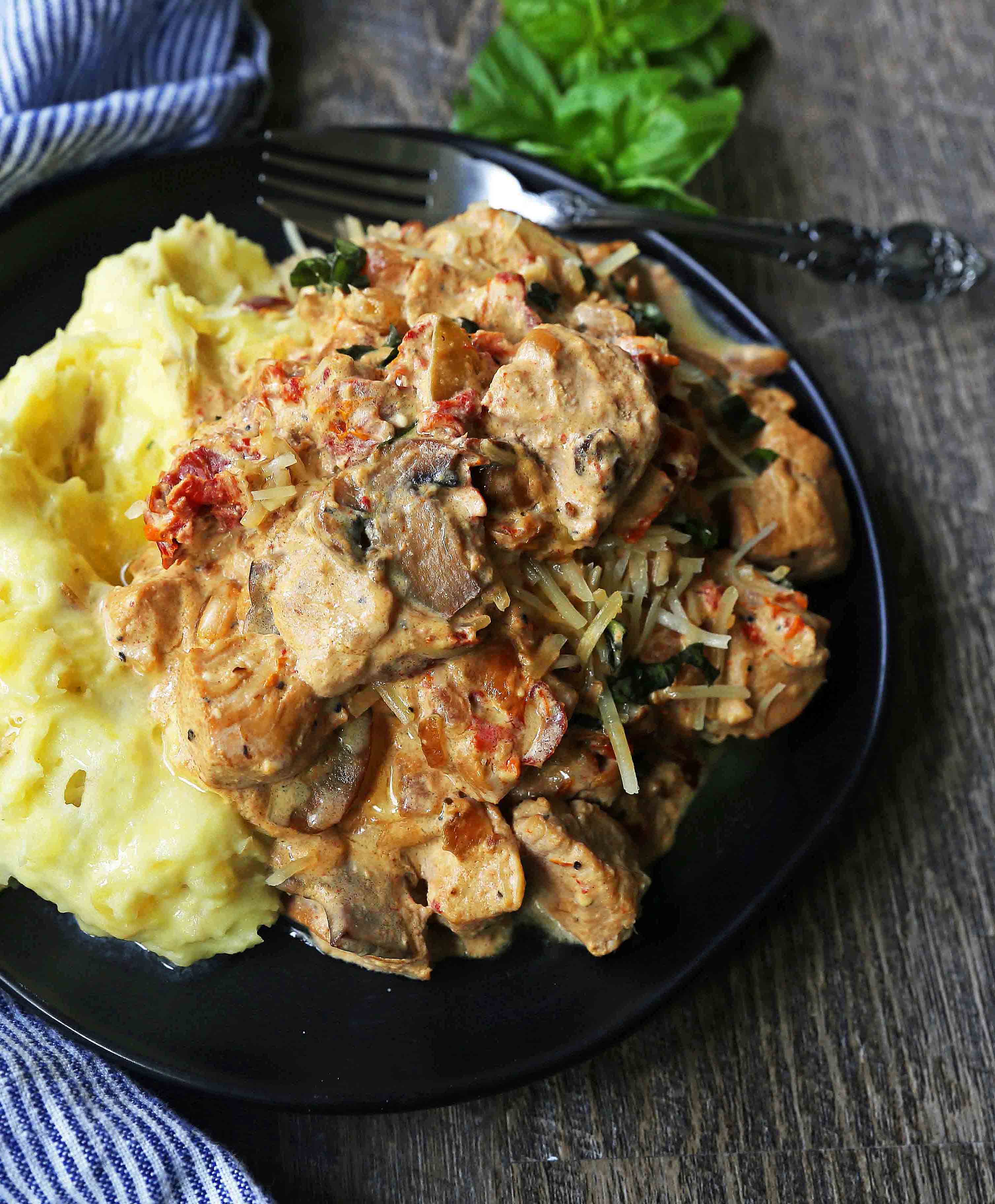 This easy crockpot dinner recipe is made with chicken breast, sauteed onions, mushrooms, and prosciutto in a creamy sundried tomato sauce. It is perfect served on a bed of mashed potatoes, vegetables, or pasta.
What is prosciutto? It is an Italian ham, which has been aged and dry-cured. It is one of one of my favorite ingredients to use because it adds a salty savory element to dishes and is beyond flavorful.
The secret ingredient for making a rich creamy sauce is cream cheese. We are changing up the typical heavy cream since cream cheese adds the perfect thickness. It is added in the last 45 minutes of cooking time to slowly melt and make a velvety sauce.
I make this ahead of time and keep it in my refrigerator for leftovers. It reheats beautifully and is such a warm, comforting dish.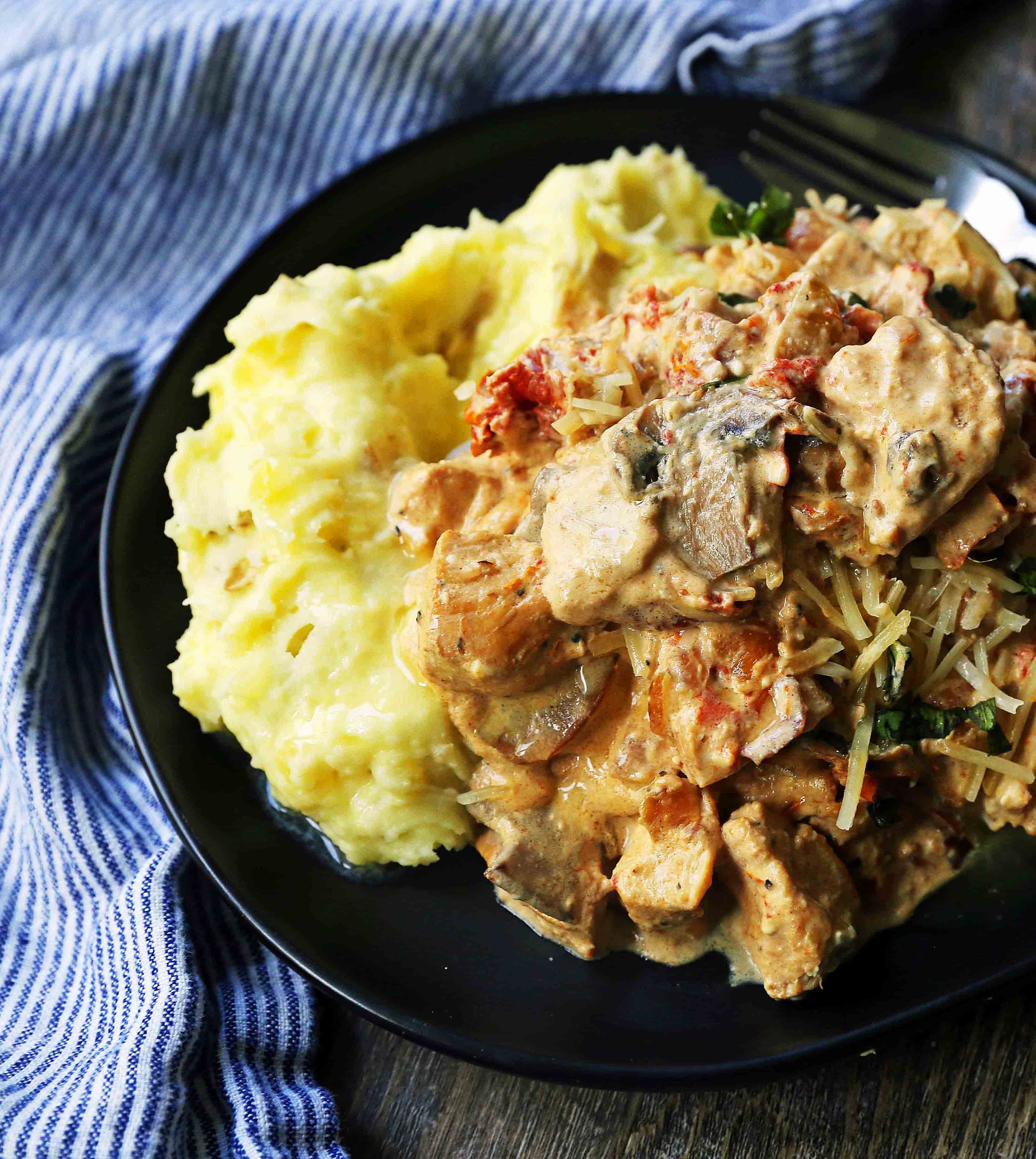 How to make the Slow Cooker Creamy Tuscan Chicken:
 Start off by cutting chicken breast into bite-size pieces and placing into the slow cooker. Sprinkle with fresh garlic or garlic powder and add chicken broth to give it extra flavor. Add chopped sun-dried tomatoes (make sure the sundried tomatoes are drained before adding them).
Saute onions in butter for about 5-7 minutes, or until they start to soften.  Add mushrooms and continue to cook until softened.  Stir in chopped prosciutto and let it crisp up for a few minutes. Sprinkle with salt and pepper.
After the chicken has cooked low and slow and has about 45 minutes left of cooking time, add the mushroom prosciutto mixture and 1 block of cream cheese. The cream cheese is what gives the sauce a creamy richness.
Check for seasonings. Make sure there is enough salt, pepper, and garlic. Top with fresh basil to add some freshness.
You can find more Popular Dinner Recipes HERE:
I love to hear from you! If you make this recipe, please be sure to leave a comment and give this recipe a rating. If you make any of my recipes, tag me on Instagram @modern_honey and use #modernhoney so I can see your creations. It's one of my favorite things seeing you make these recipes in your own kitchen. Sign up for my newsletter below so you never miss a recipe. Thank you for following along! I truly do have the greatest readers. FOLLOW ME ON:   INSTAGRAM --- FACEBOOK --- PINTEREST
Thank for following along and have a great day!