This Mississippi Pot Roast Recipe is the most tender, flavorful, melt-in-your-mouth beef roast recipe and is made with only five ingredients. This is the best beef pot roast recipe ever and is slow cooked in a crockpot.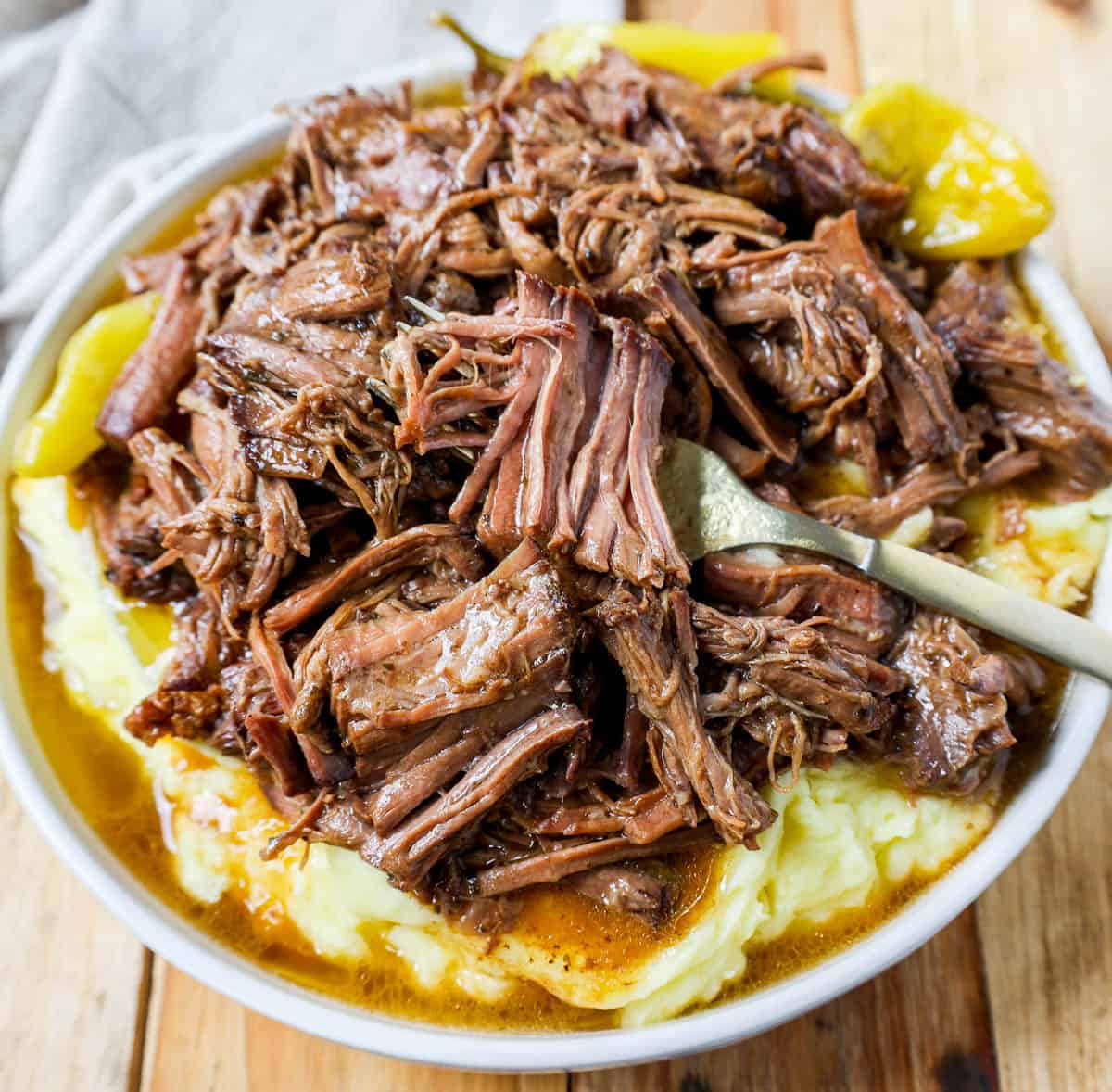 This is the most viral Beef Pot Roast Recipe. I have been making this easy pot roast recipe and my family declared it the best beef pot roast they've ever eaten in their life.
Believe me, we've eaten a lot of beef roast in our days!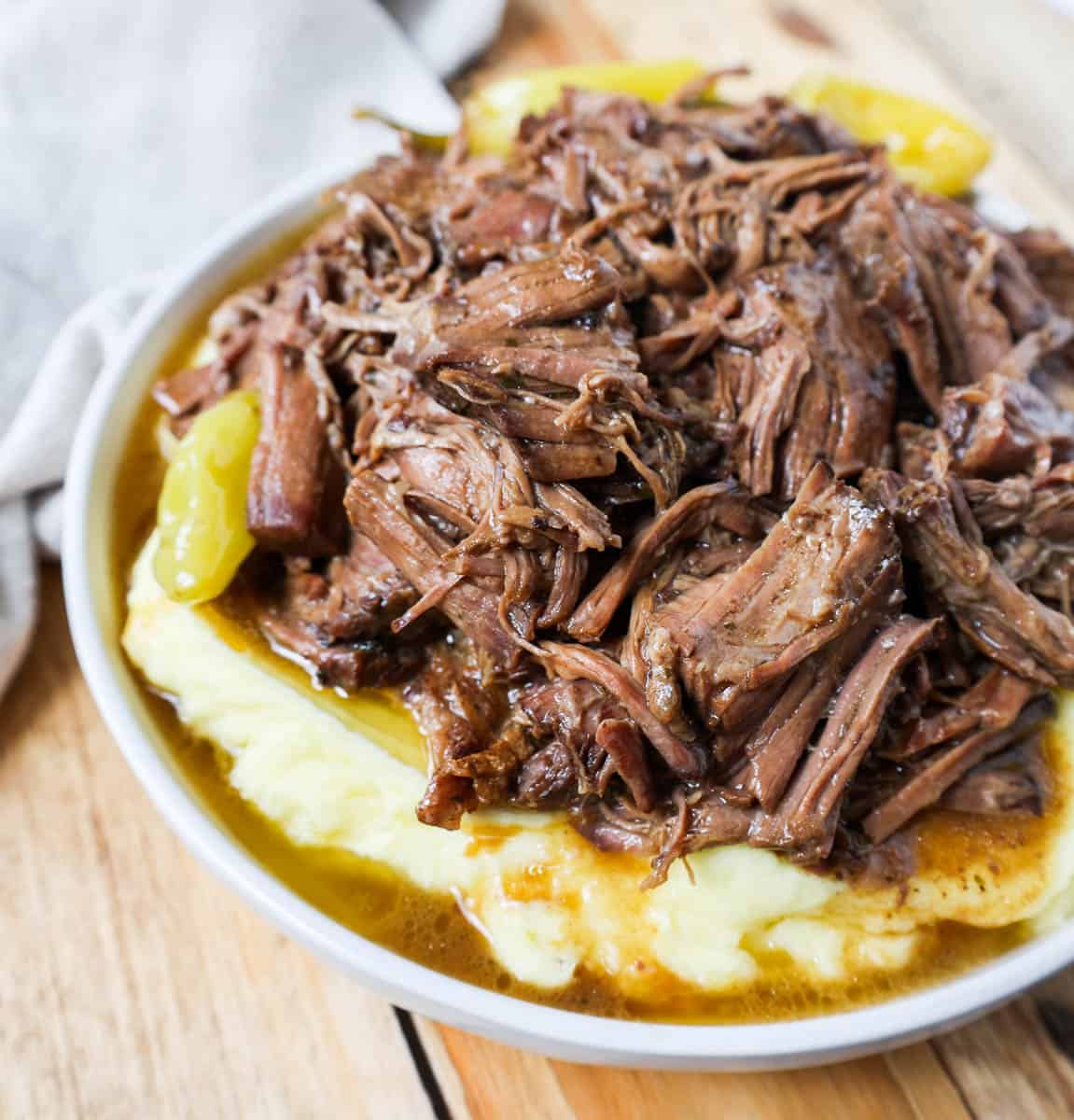 What is Mississippi Pot Roast?
It is a famous pot roast recipe made with only five ingredients. It originated from Robin Chapman, from Ripley Massachusetts who adapted a recipe given to her in the 1990s. She submitted it to her local church cookbook and the rest is history.
At one point, this beef roast recipe eventually became so popular that the New York Times said it was "the roast that owns the internet."
It is made with a beef chuck roast, au jus gravy mix packet, ranch powder, pepperoncini peppers, and butter. You will never eat a better pot roast in your life!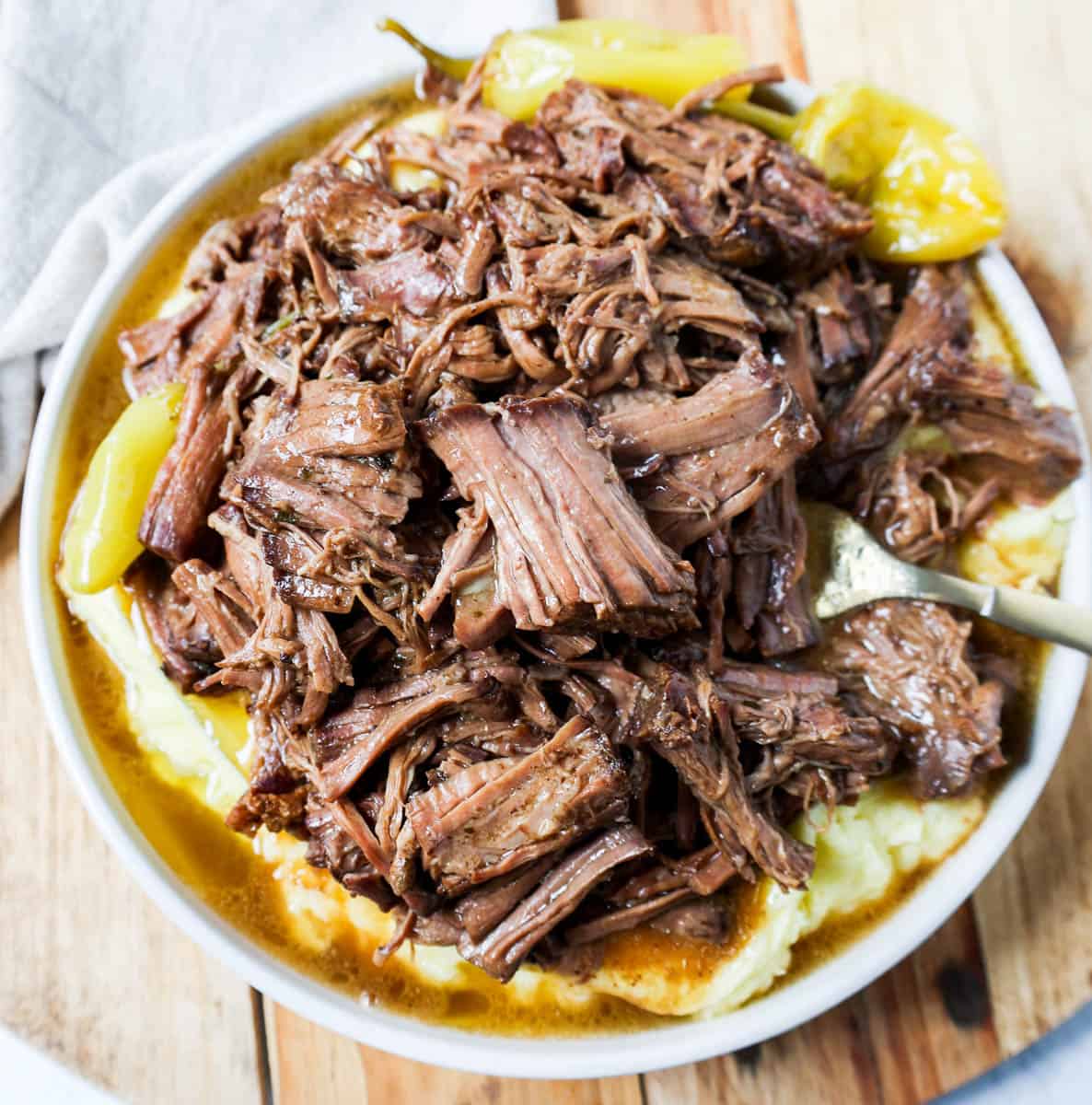 Why you will love this Mississippi Roast Recipe:
It is so flavorful! There may be only five ingredients but those ingredients work wonders to bring out the flavors of the beef.
It is so tender. This pot roast is cooked low and slow in a crockpot until it can be easily shredded with a fork. You won't believe how this just melts in your mouth!
Everyone loves it! If I am cooking up a homemade beef roast for my family or taking it to friends or family, I am 100% confident they will love it.
Best Beef Pot Roast Ingredients:
The best Mississippi pot roast recipe is made with only 5 simple ingredients and is the most flavorful and easiest beef roast you'll ever eat!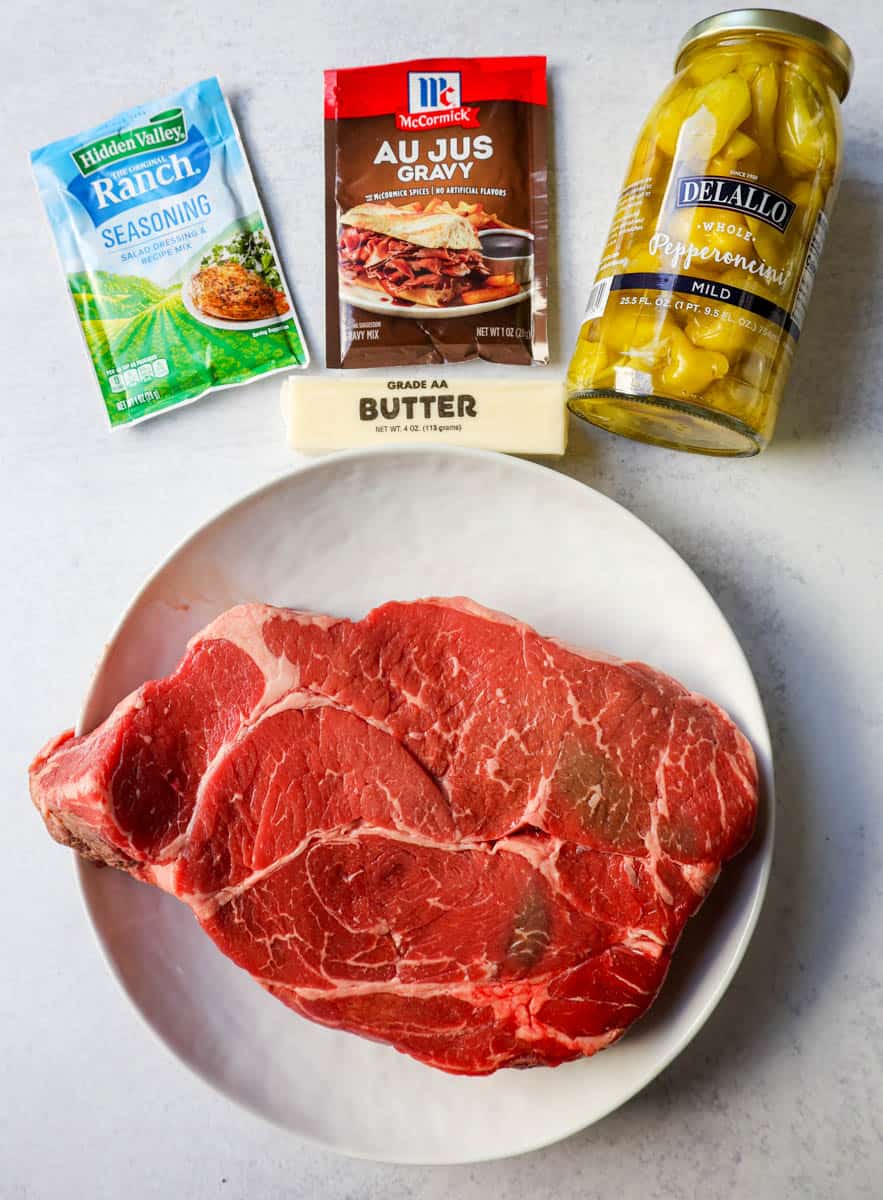 Beef Roast -- I suggest using chuck beef roast. Scroll below for more beef pot roast analysis.
Au Jus Gravy Mix -- this is the flavor powerhouse and can be found in a packet. You can also use a brown gravy mix packet.
Ranch Powder -- this is the dried ranch dressing powder you can find in the dressing or spice section at the grocery store. I use Hidden Valley Ranch ranch powder.
Pepperoncinis -- these yellow peppers add the perfect amount of spice and tang.
Butter -- if you are concerned about the sodium amount, you can use unsalted butter in this recipe.
Optional: Salt and Pepper
See the recipe card at the bottom of the page for quantities.
What type of Beef Roast should I use for making Pot Roast?
What Is Pot Roast?
Pot Roast isn't a type or a cut of meat but actually a method of cooking the meat. It can be seared and then cooked low and slow in a slow cooker (also known as a crockpot) with spices and liquid until it is perfectly tender and can be shredded with two forks.
What type of beef works best for pot roast?
Chuck is the most popular cut of meat to use when you want to cook a beef roast.
Round would be my second choice which can also be called a rump roast or bottom round roast.
The key is to cook the beef at a very low temperature for a long period of time for the most tender roast.
Instructions
This is such a simple, easy pot roast recipe!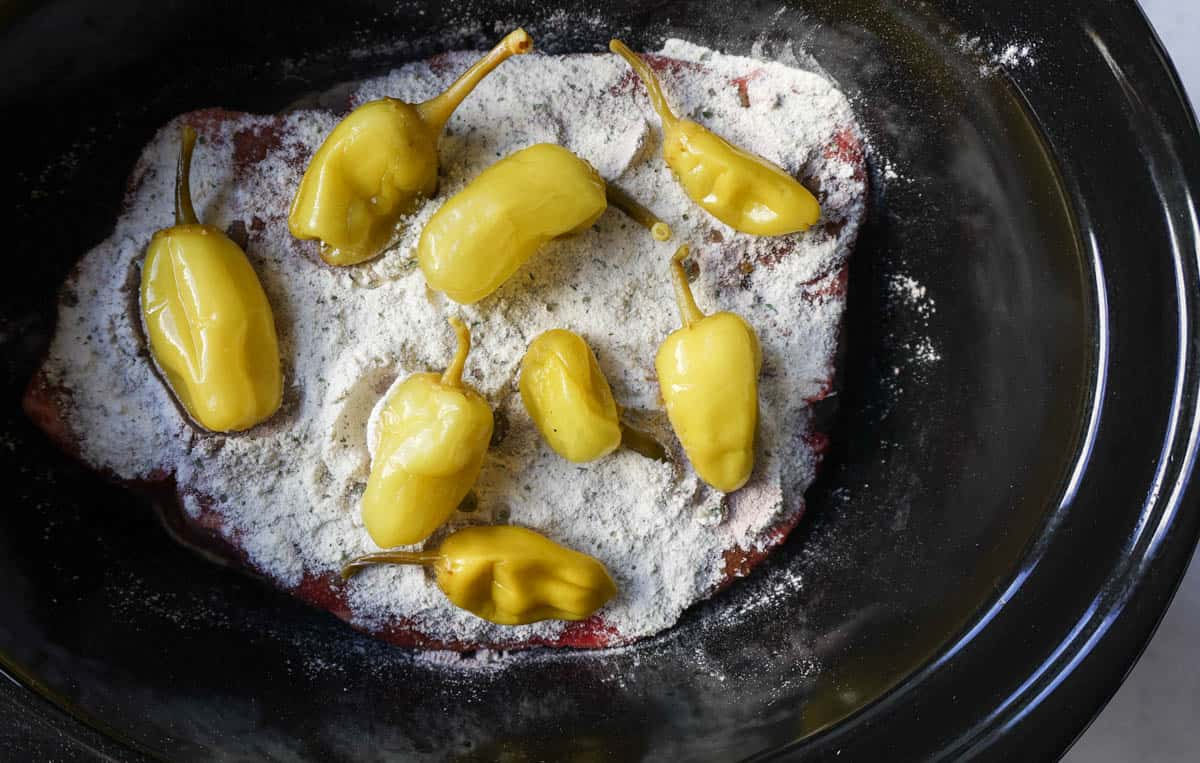 Place the chuck roast into a slow cooker. Sprinkle with au jus gravy mix and dry ranch powder. Place pepperoncinis on the top.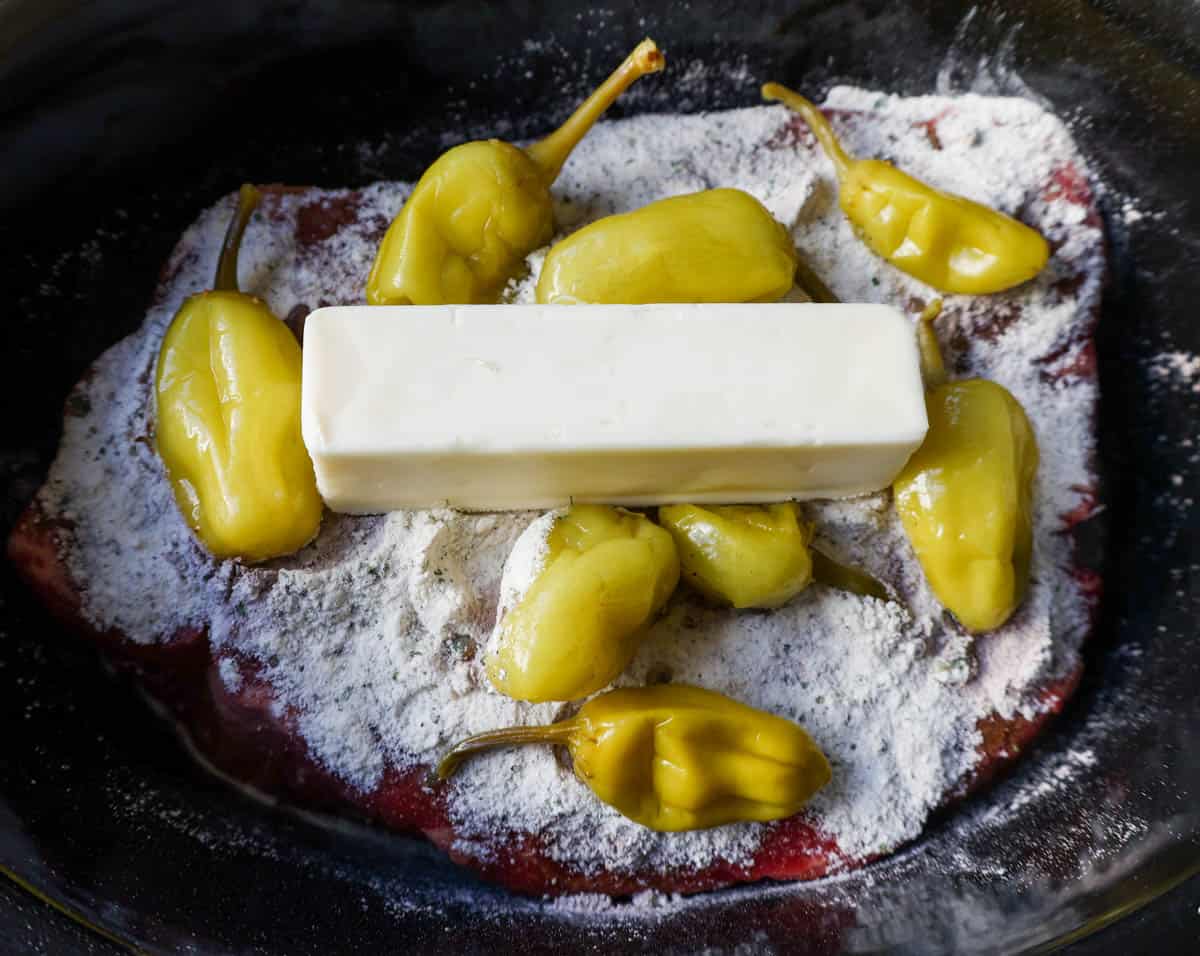 Place a stick of butter on the top of the roast and pepperoncini peppers. Cover and cook on low for 8-9 hours.
When the pot roast has finished cooking, shred the beef with two forks. Taste for seasonings.
Serve with your favorite vegetables like creamy mashed potatoes.
How long to cook beef pot roast in the slow cooker crockpot?
The pot roast needs to be cooked in a slow cooker at the lowest temperature for 8-9 hours.
Beef pot roast can be cooked on high for 5 hours but I don't suggest it. A good roast needs time to break down the fibers and become tender.
Also, don't open the crockpot while cooking the roast!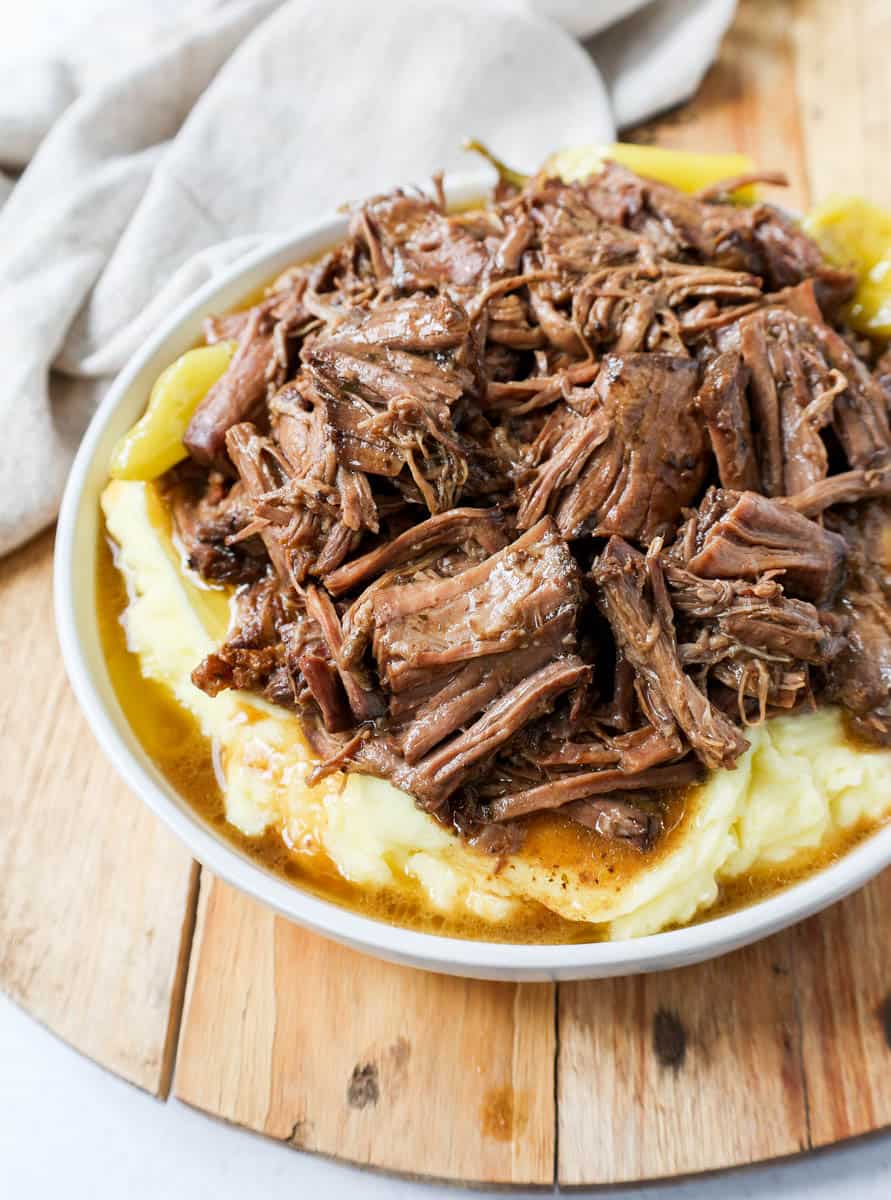 Do I need to sear the beef roast before cooking it in slow cooker?
You don't have to! This is the easiest beef pot roast recipe because you just throw all of the ingredients into a crockpot, set it, and forget it.
But if you want to infuse a little more flavor into the beef and start the cooking process, you can sear the beef in a skillet drizzled with oil over medium-high heat before adding it to the slow cooker.
Do I have to use butter in the pot roast recipe?
Butter adds so many rich, velvety flavor to the beef and it creates the most amazing sauce for the beef to braise in. If you can, leave the butter in!
Can I add vegetables to cook with the pot roast?
Yes! You can add bite-size potatoes, carrots, and onions to the roast to cook with it.
Do I need to add any broth?
No! The juices from the meat once it starts to cook mixes with the butter and the au jus mix to make the most flavorful sauce and braising liquid.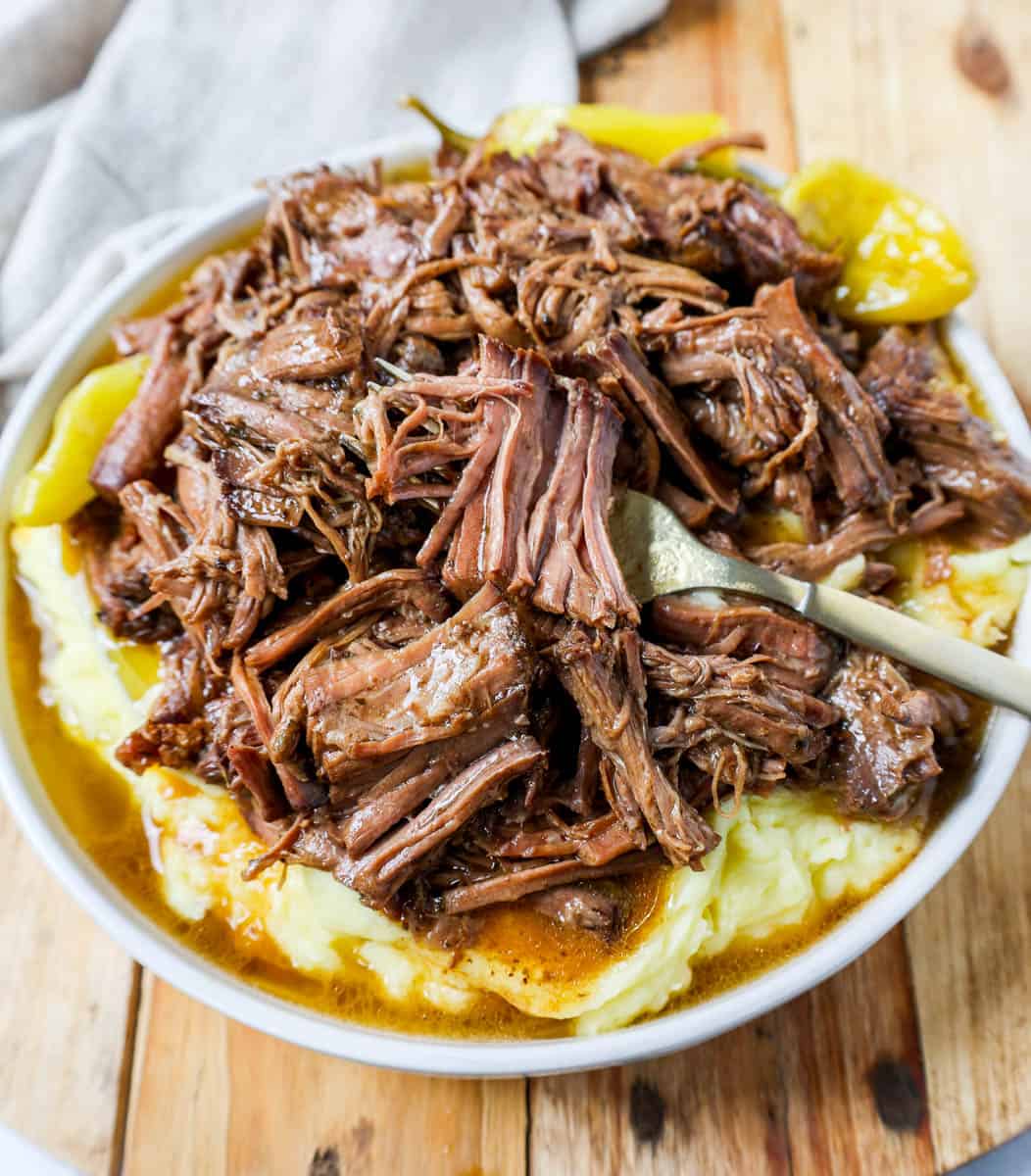 Substitutions
What if I can't find the au jus gravy mix? You can use brown gravy mix in the place of the au jus gravy packet. The au jus packet does have a higher sodium content so if you use the brown gravy mix, you may need to add some salt and pepper.
What can you substitute for pepperoncini peppers? If you can't find pepperoncini peppers, you can use jarred banana peppers or jalapeno peppers. If you use fresh jalapeno peppers, they are spicier than pepperoncinis so you may want to deseed the jalapenos before adding to the crockpot.
What to serve with Mississippi Pot Roast
Equipment
I love a good crockpot! It is one of my favorite kitchen appliances. This is my go to classic crockpot.
Storage
This pot roast can be stored in the refrigerator in a covered container. I would suggest adding all of the juices to the pot roast to keep it moist and tender.
You can also freeze this beef roast in freezer safe Ziploc bags.
Top tip
Cook the beef roast low and slow! This isn't a recipe to be rushed. I suggest cooking it on the low setting for 8-9 hours for the most tender beef.
Related
Looking for other recipes like this? Try these:
Pairing
These are my favorite dishes to serve with Mississippi Pot Roast: