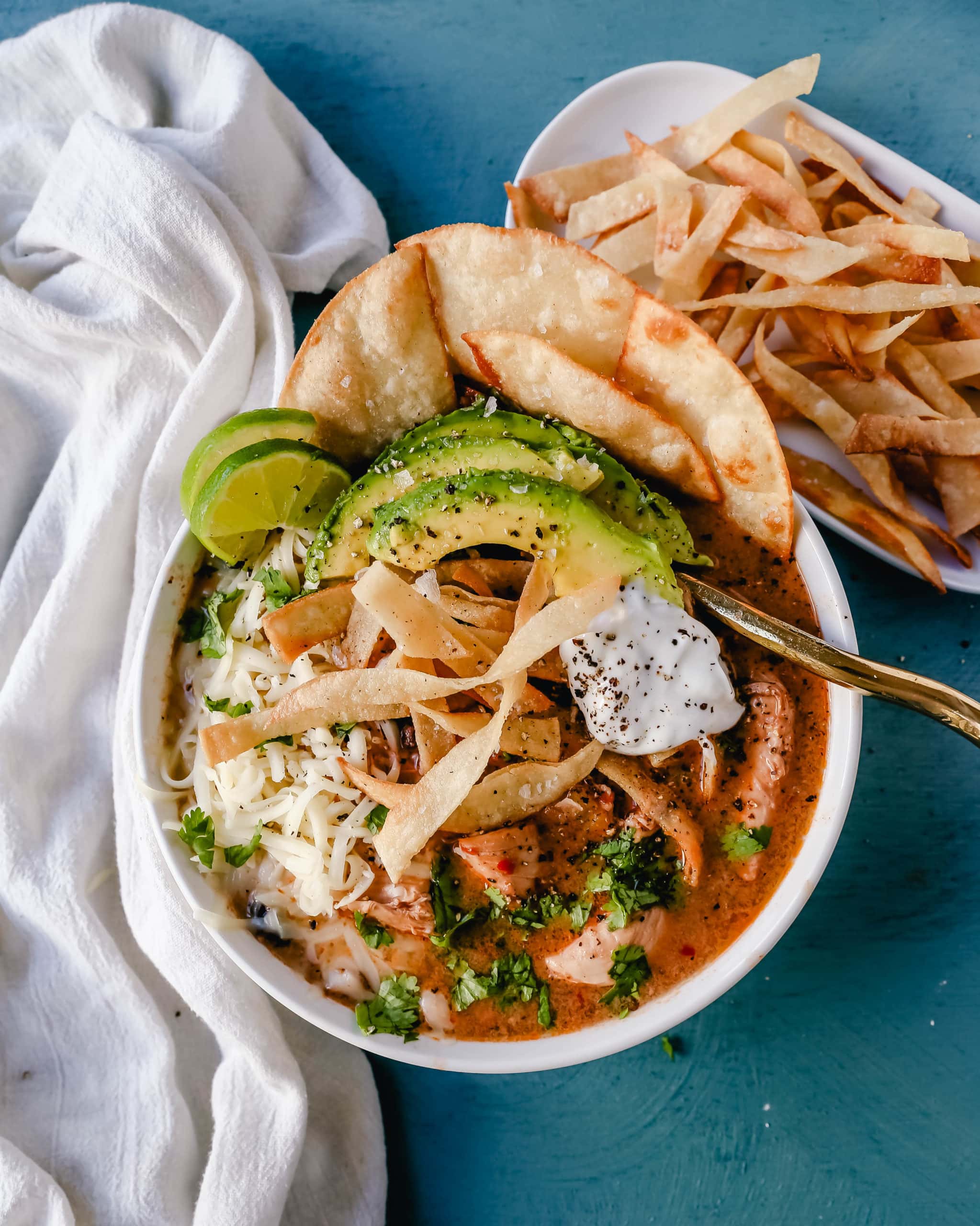 Slow Cooker Creamy Chicken Tortilla Soup
Creamy, spicy, warm, and comforting creamy chicken tortilla soup all made in a crockpot! The best crockpot creamy chicken tortilla soup recipe!
We are days away from October which means soup season is upon us. I love soup season for so many reasons -- make delicious leftovers for a quick lunch, can sneak in a lot of vegetables, and are a warm and comforting meal.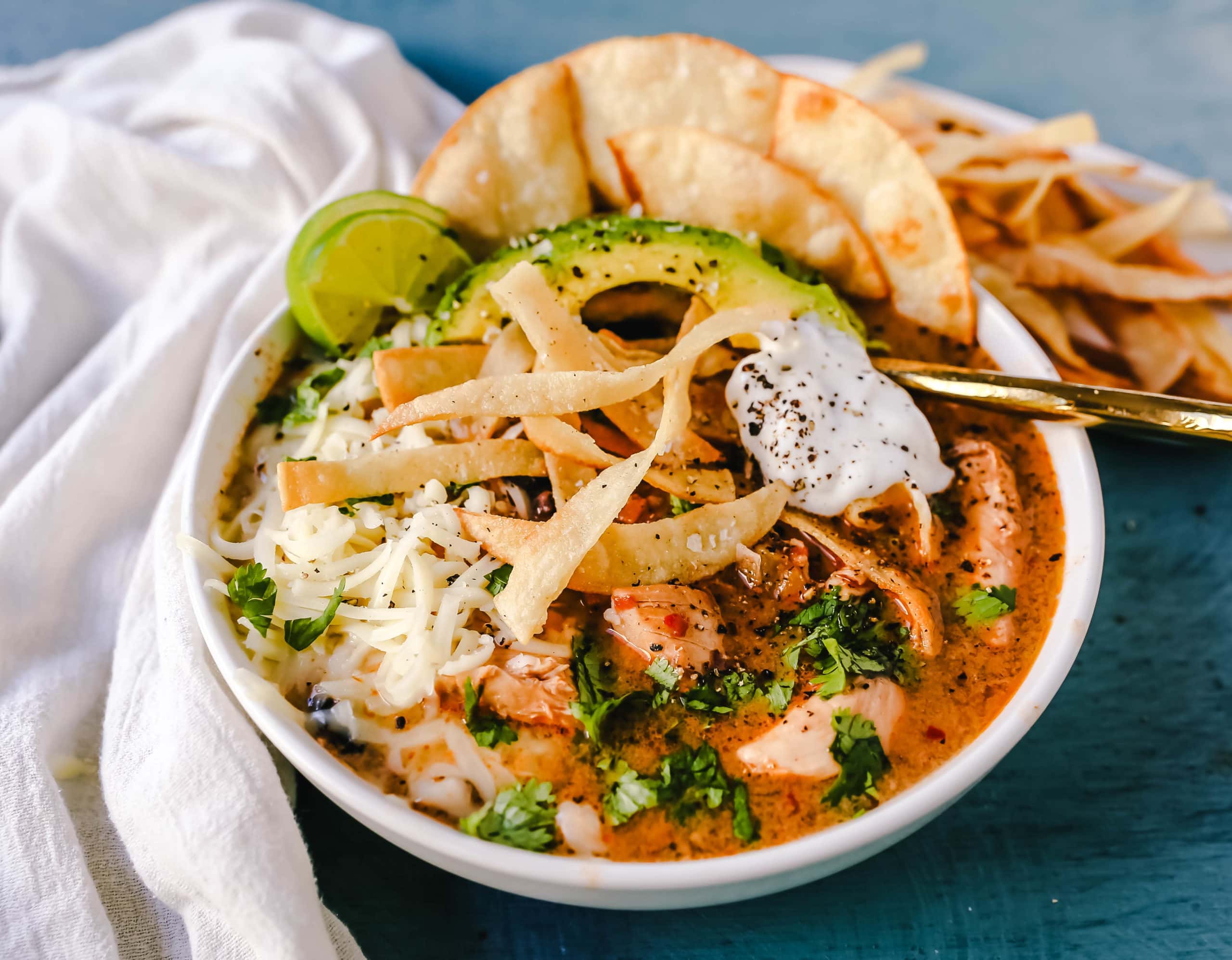 If you have read Modern Honey for some time, you will know I have a strong love for my crockpot. It can do no wrong! It helps to create tender, flavorful meals with minimal work. What is there not to love? One of my favorite meals to make in a slow cooker is soup because you just have to throw everything into the crockpot, set it, and basically forget it.
I already shared my favorite chicken tortilla soup recipe on Modern Honey but I wanted to create a creamier version made in a slow cooker. This Slow Cooker Creamy Chicken Tortilla Soup is perfection and perfect for those busy weeknights...or just when you are feeling lazy. 🙂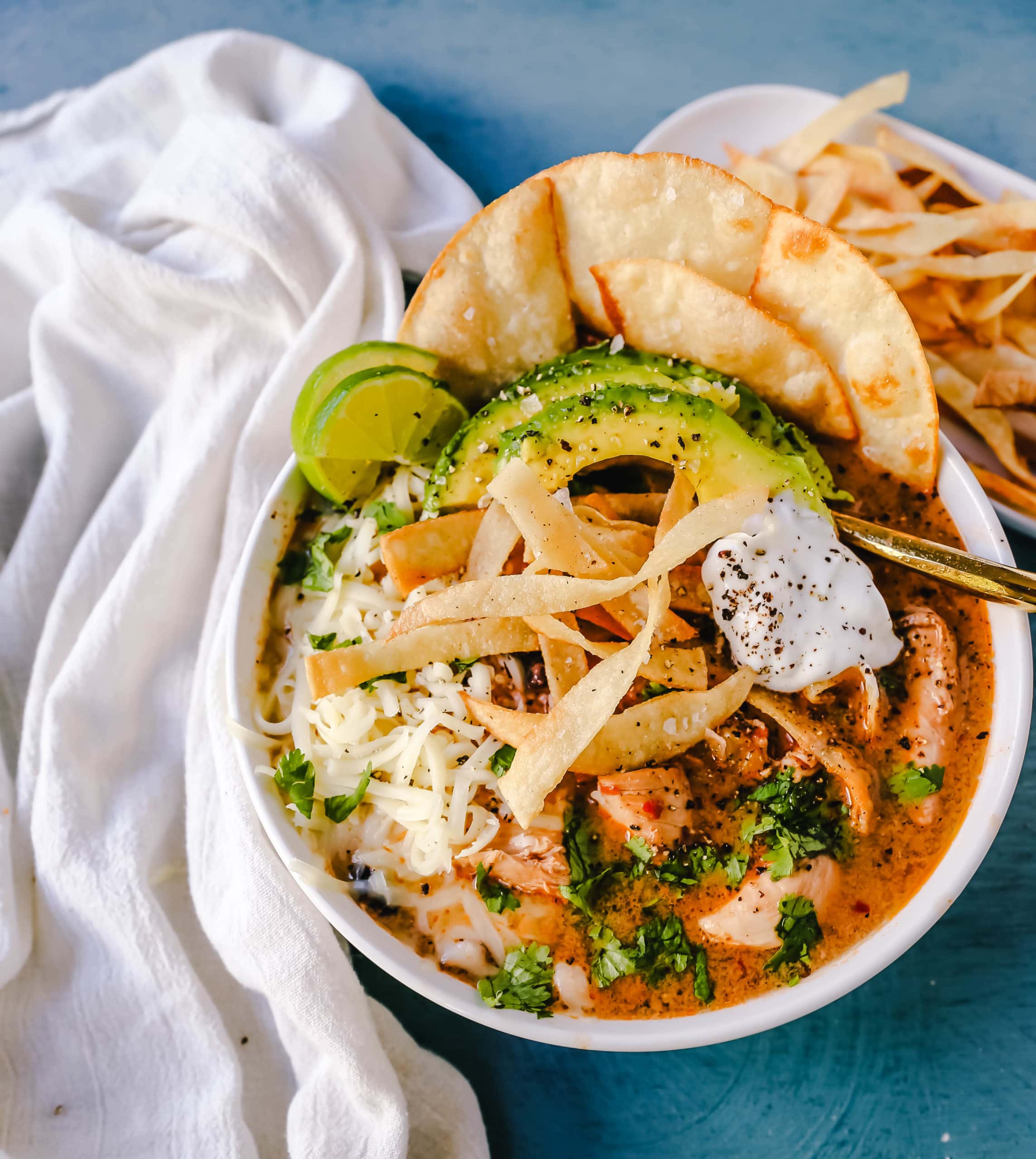 This Crockpot Creamy Chicken Tortilla Soup is full of all of the flavor ingredients -- onions, jalapenos, green chilies, Mexican spices, and salsa. I am a strong believer in layers of flavor so food isn't just one note. I want to keep you guessing!
This Creamy Chicken Tortilla Soup is one of the most requested soups in our home. Everyone loves it! One of my favorite parts of this creamy tortilla soup is the toppings! I love topping it with homemade fried tortilla strips, creamy avocado, shredded cheese, cilantro, and a dollop of sour cream. I also sprinkle on salt over the avocado and tortilla strips too.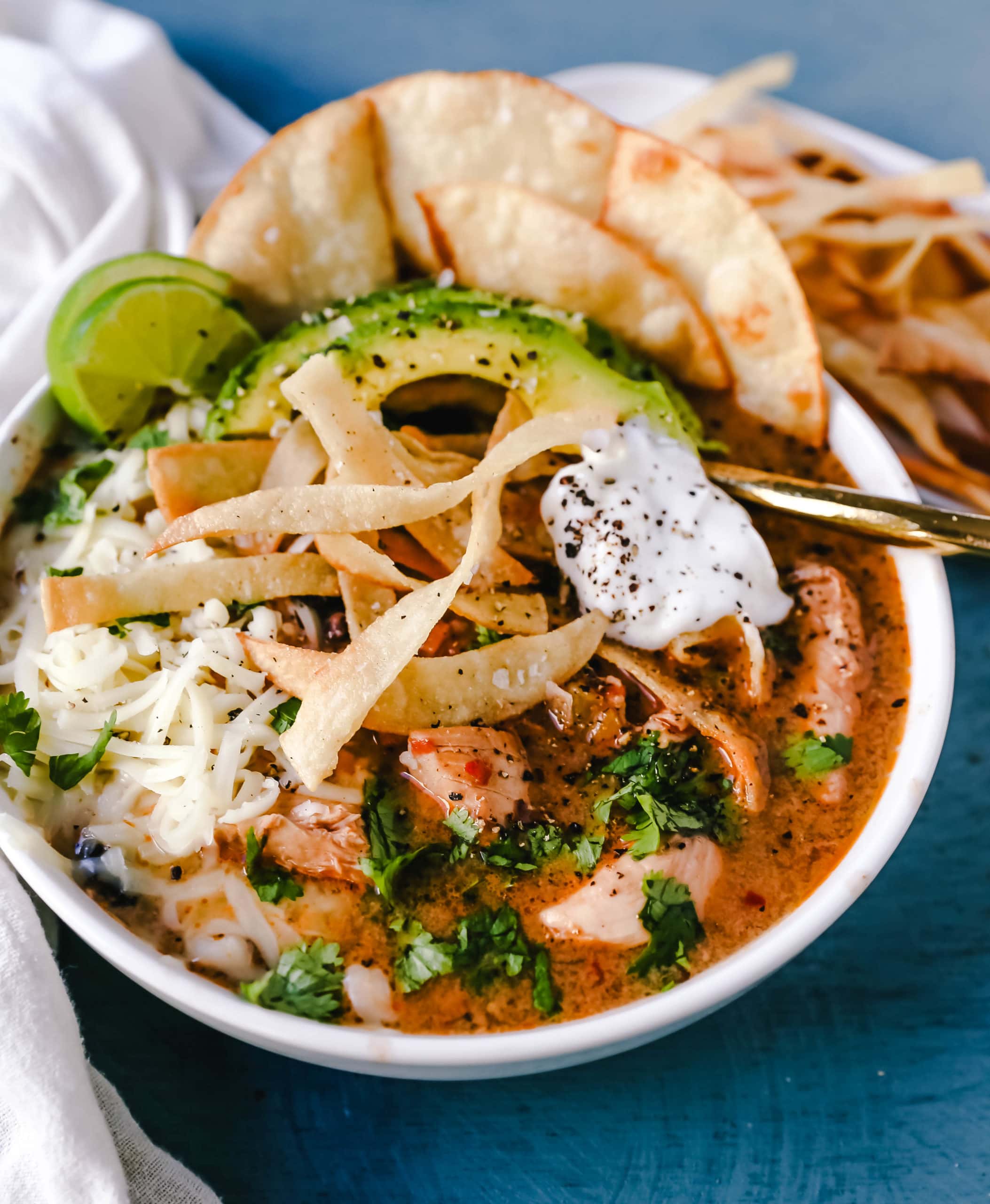 How to make the Best Slow Cooker Creamy Chicken Tortilla Soup:
There are two options for the onions. You can saute them in a skillet with a little bit of oil to make them less pungent and sweeter. The other option is to throw them into the slow cooker and let them cook low and slow with the rest of the ingredients. It is completely up to you!
Use your favorite jarred salsa. I love to throw in some salsa into this soup instead of canned tomatoes because it is already bursting with flavor.
Cook low and slow for the most tender chicken. If you are in a hurry, you can use chicken tenders and cook on high as well.
When there are 30 minutes left on the clock, I like to add in the heavy cream, black beans, and pinto beans. Make sure to drain your beans so you don't end up with all of the liquid in the soup. The heavy cream adds a touch of creaminess to the soup and is so good!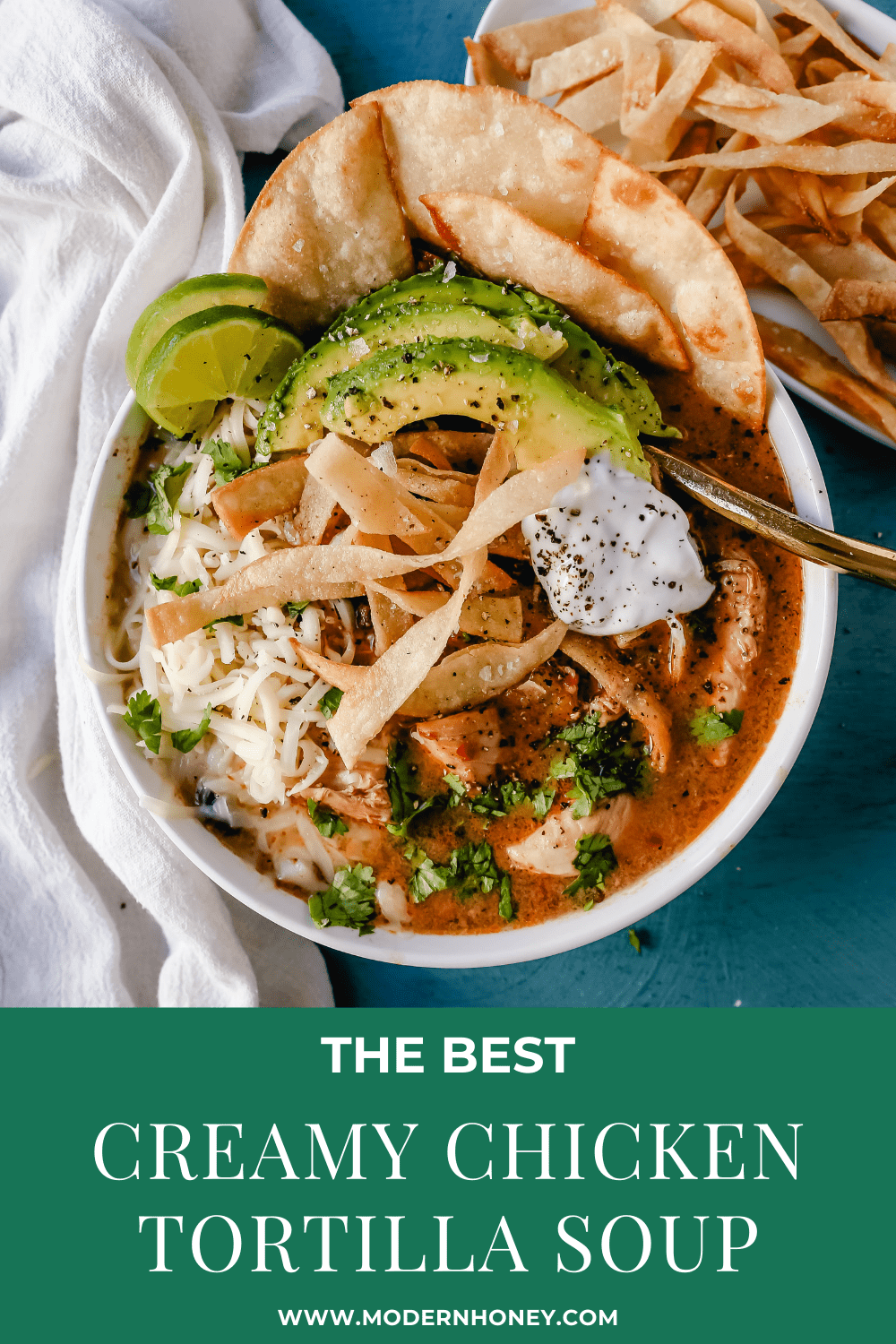 If you love soup, check out these popular soup recipes:
Olive Garden Zuppa Toscana Soup
Creamy Spinach Artichoke Soup (keto-friendly)
Creamy Sausage Tortellini Soup
Chicken Tortilla Soup
Thai Chicken Noodle Soup
Creamy Baked Potato Soup
Cheesy Creamy Cauliflower Soup
Here are my kitchen essentials for this recipe:
Crockpot Slow Cooker Crock-Pot SCCPVP600-S Smart-Pot 6-Quart Slow Cooker, Brushed Stainless Steel
Non-Stick Skillet