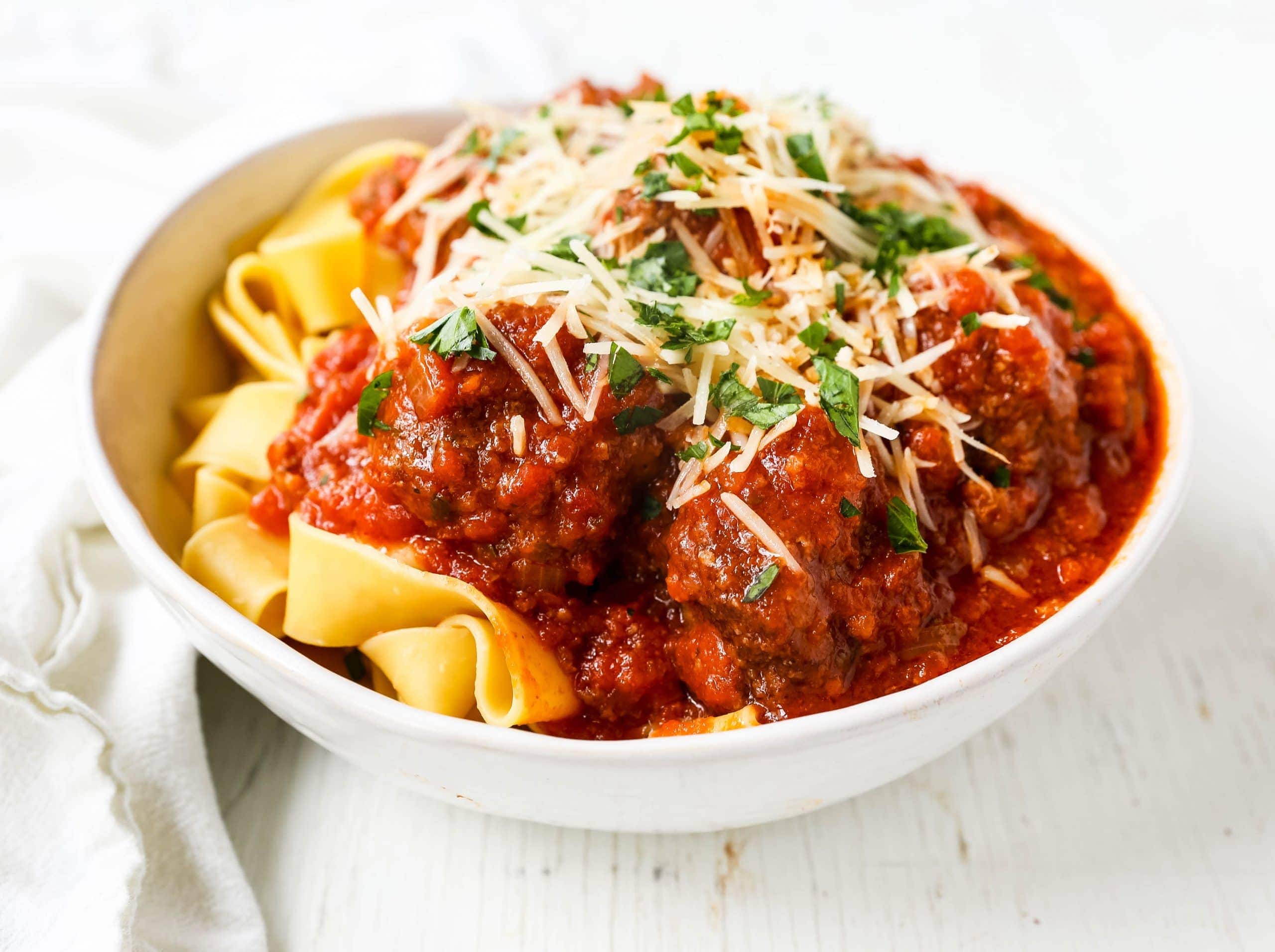 Slow Cooker Meatballs
Tender, moist homemade meatballs made with ground beef, sausage, parmesan cheese, bread crumbs, and spices. Slow cooking the meatballs make the most melt-in-your-mouth meatball!
I think we all need a home-cooked comfort food meal today. It has been quite a few days with so much uncertainty swirling around us. Fear can definitely be a crippling emotion. I am hoping this will be a time where everyone slows down, gets back to the basics of home and family, and stays healthy and strong.
Yesterday I shared a simple marinara sauce recipe with you that you can make with canned tomatoes from your pantry. Now I am sharing the most amazing meatball recipe that is slowly simmered in the homemade sauce in the slow cooker. This is how you make a tender meatball! I am going to share all of my tips and tricks for making the best Italian meatballs at home.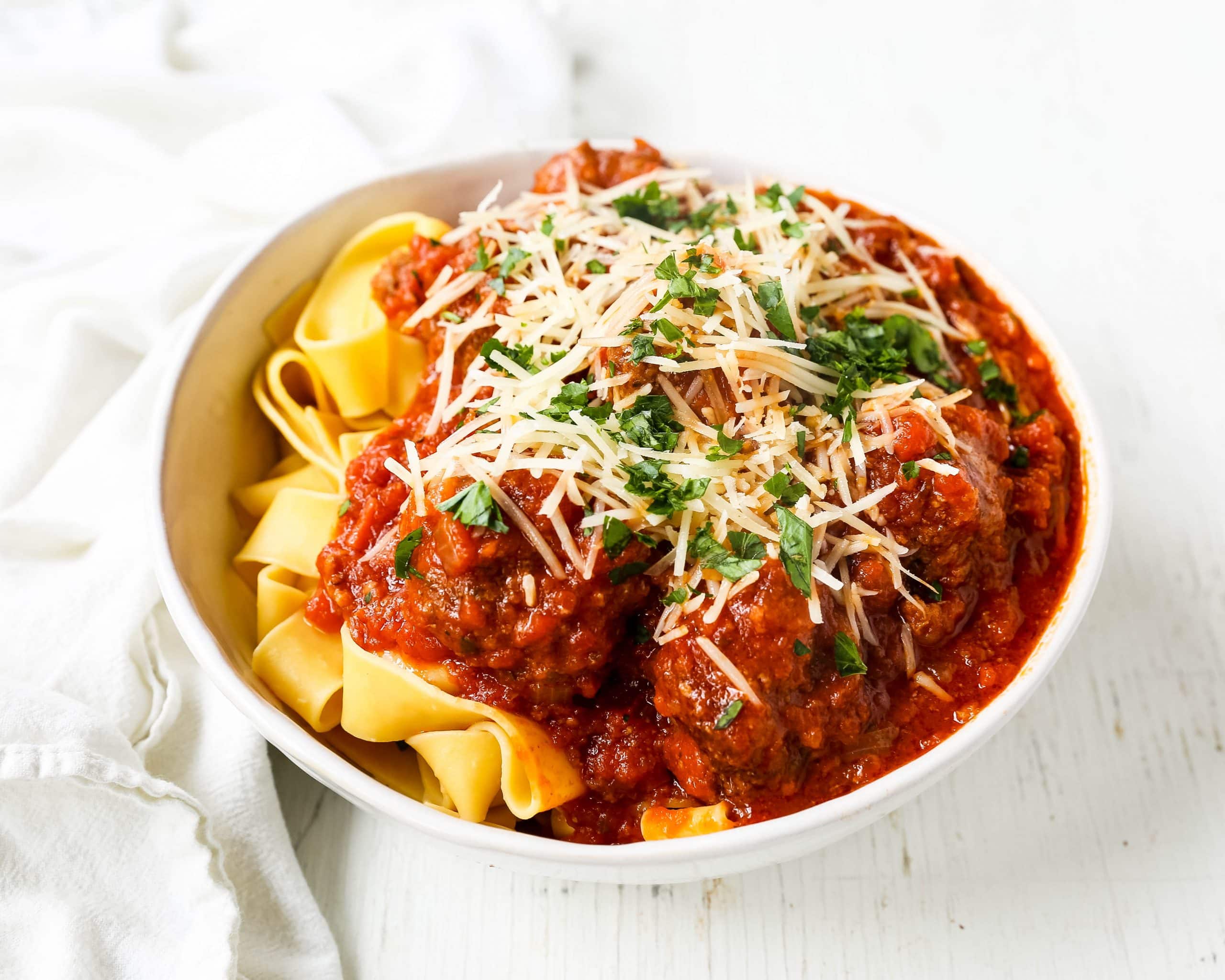 A stellar meatball starts off with a combination of meats -- both ground beef and Italian sausage. I prefer to use 80% lean ground beef because it has the perfect amount of fat to keep the meatball nice and moist. I reach for Italian ground sausage in either mild or hot, depending on preference.
You always want to include ingredients that bring it all together so eggs and bread crumbs (or bread soaked in milk) are essential to making the ultimate meatball. I use panko bread crumbs in this recipe but you can also use Italian bread crumbs or whatever you have on hand. Just make sure the bread crumbs are fresh as they can go stale pretty quickly!
I love to add parmesan cheese to my meatballs because it gives a nutty creaminess to these Italian meatballs. I use a combination of fresh herbs and spices -- fresh basil, fresh Italian parsley, garlic powder, oregano, salt, and pepper.
Before placing the beef meatballs in the slow cooker, we saute them in extra-virgin olive oil to brown them and bring out the flavor of the meatball. Then they are put in a slow cooker with the classic Italian tomato sauce and slowly cook for 3 hours on high or 5 hours on low.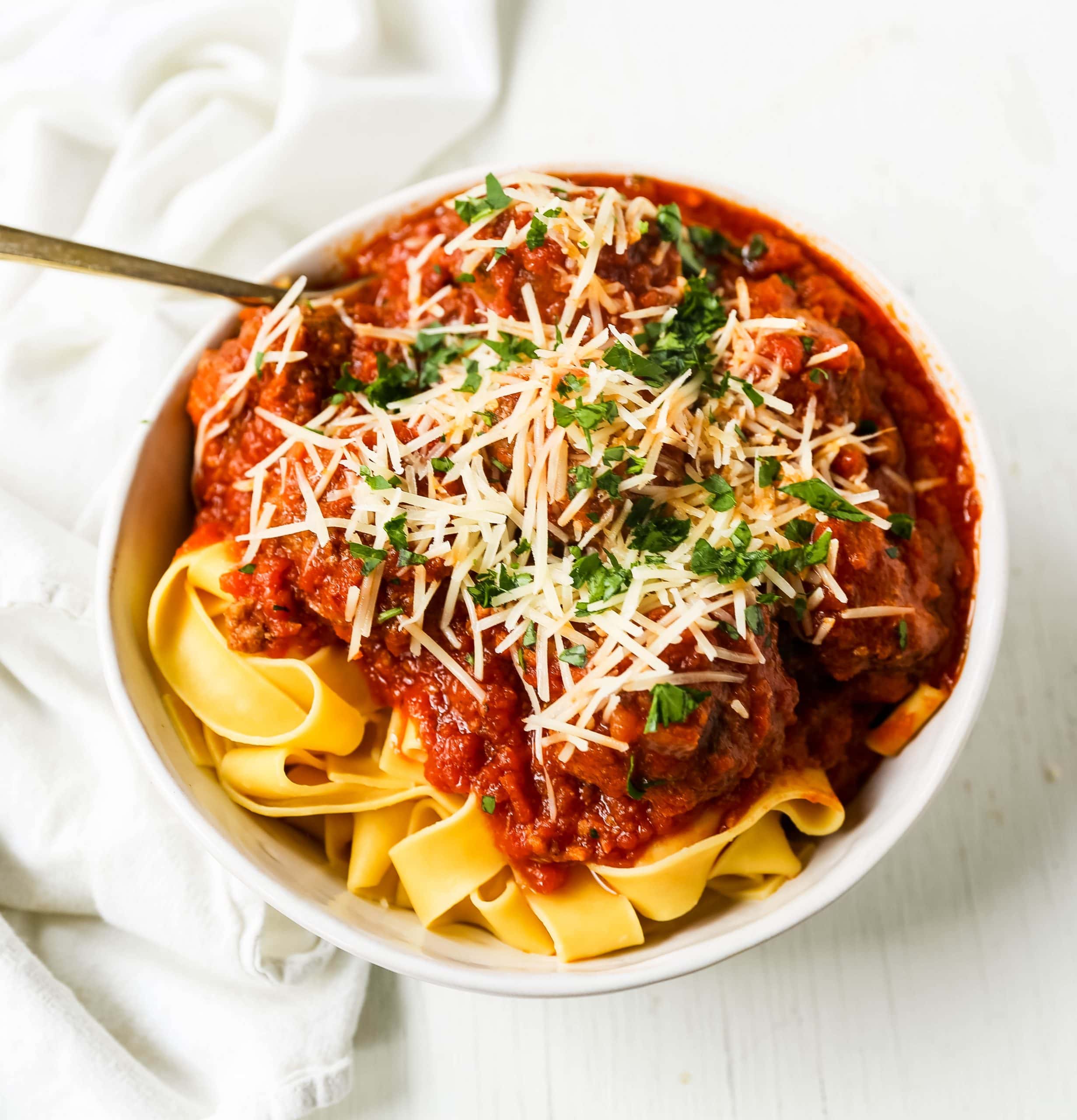 How to make the Best Crockpot Meatballs:
In a large bowl, combine 80% lean ground beef and Italian sausage. Add your favorite bread crumbs such as Panko or Italian bread crumbs. Stir in egg, fresh parmesan cheese, fresh basil, fresh Italian parsley, oregano, garlic powder, salt, and pepper. Use your hands to mix it all together.
In a large skillet, heat olive oil over medium-high heat. Roll meatballs into balls and add to the skillet. Cook for about 3-4 minutes per side until browned.
Remove from skillet and add to the slow cooker. Cover with homemade marinara sauce. Cook for 5 hours on low or 3 hours on high or until completely cooked through.
Top with freshly grated parmesan cheese and toss with your favorite pasta.