S'more Rice Krispie Treats made with Golden Graham, Rice Krispies, Marshmallows, Butter, and Hershey's Milk Chocolate Bars. The perfect S'more Rice Krispies that can be made in less than 15 minutes!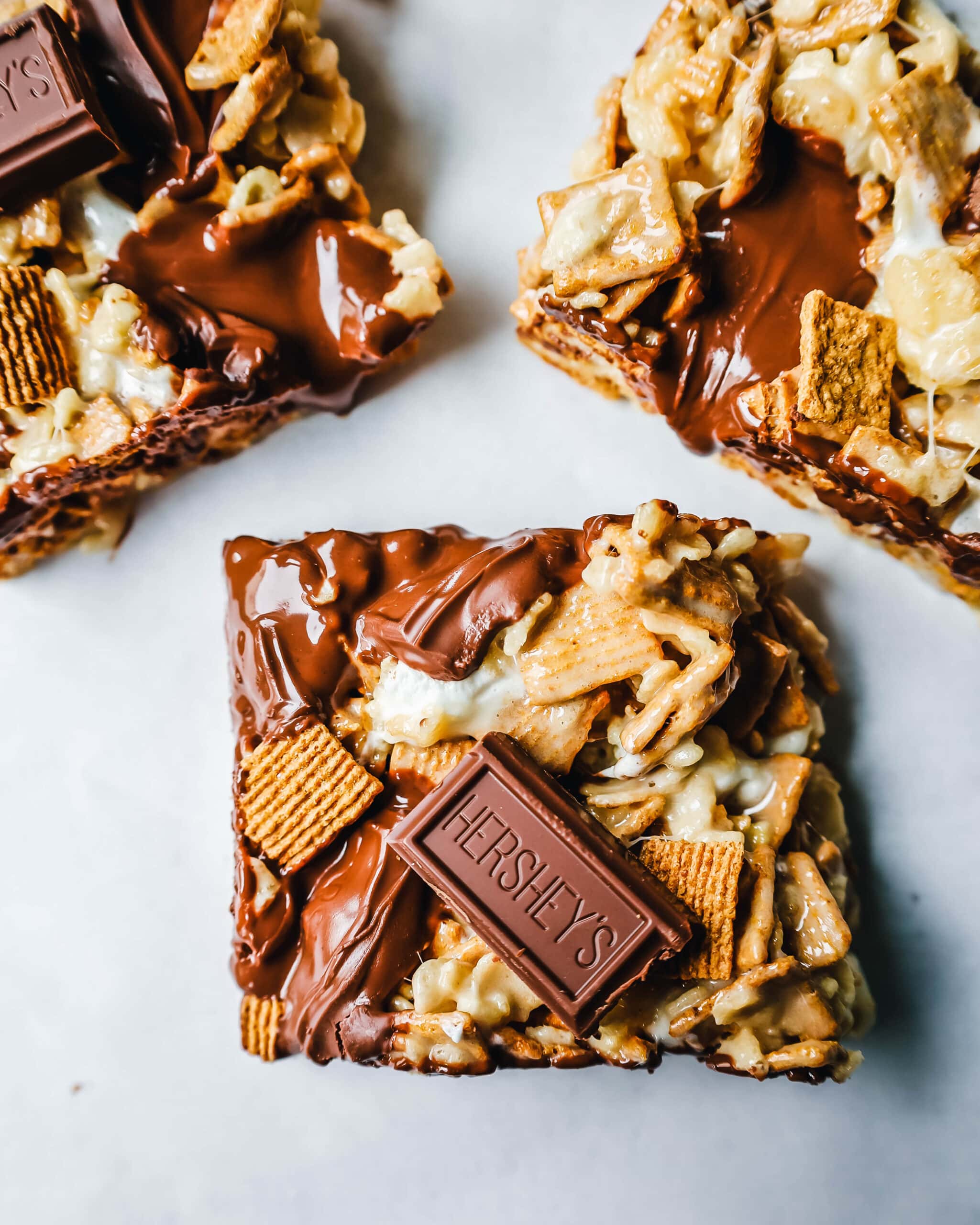 I am beyond excited to share this Golden Graham Rice Krispie Treats Recipe with you! This is literally one of my favorite and easiest dessert recipes for summer and I literally couldn't get it out to you all fast enough!
Since it is Father's Day tomorrow, I wanted to create an easy recipe that kids can make for their Dads because is there anything cuter than kids cooking in the kitchen? I grew up baking up a storm so I love to see other kids use their creativity to do the same!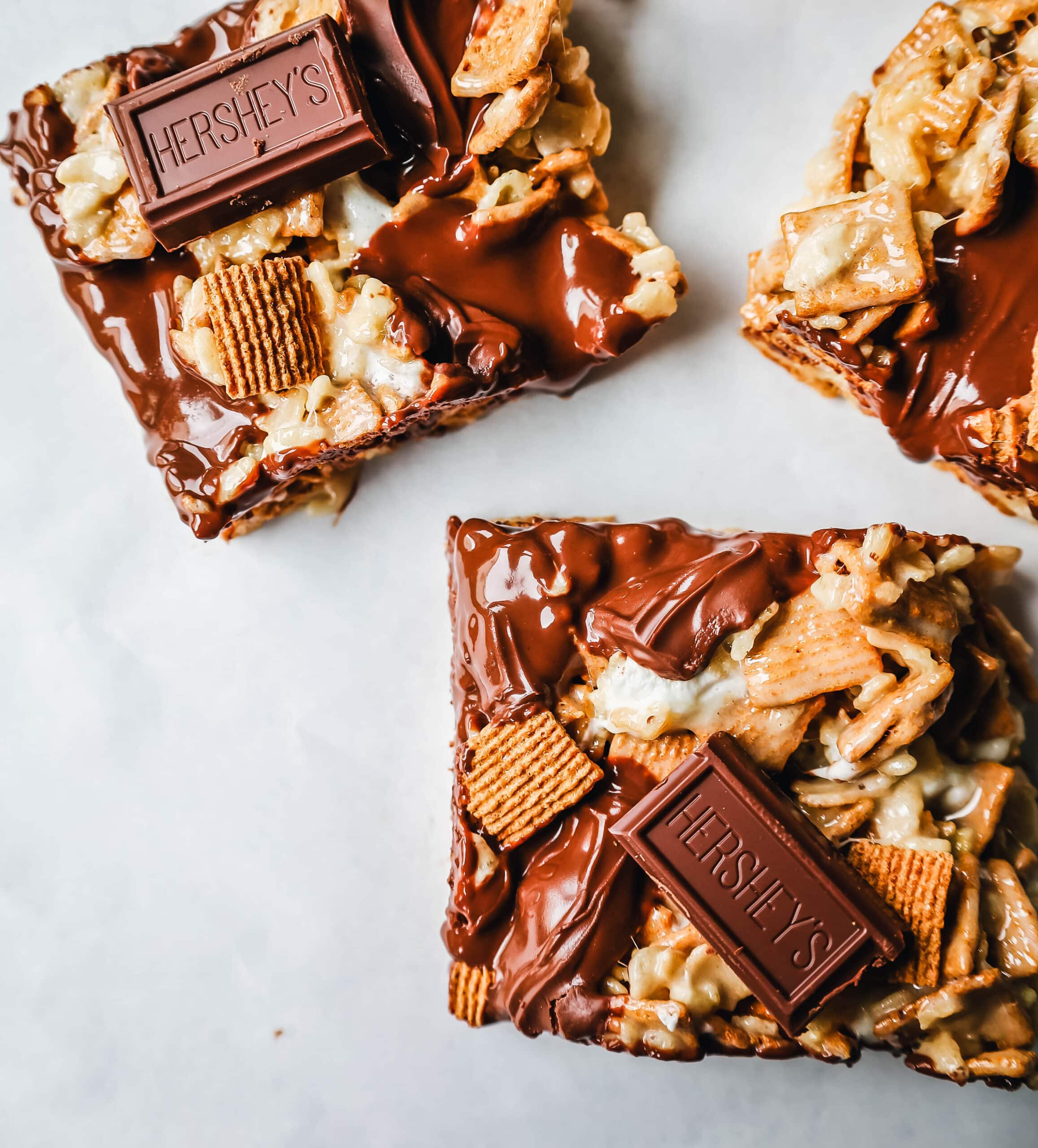 I was brainstorming with my husband about making some rice krispie treat variations and want to do one for summer. I thought a S'more Krispie Treat would be super yummy for summer. I decided to swap out the Rice Krispie Cereal for Golden Grahams but I was worried about the Golden Grahams being too hard and crunchy and also overwhelmingly sweet.
My super creative husband came up with the idea of doing half Golden Grahams and half Rice Krispies cereal. This way you get the best of both worlds! The Golden Grahams taste like a graham cracker so it is the perfect base for these S'mores Treat Bars.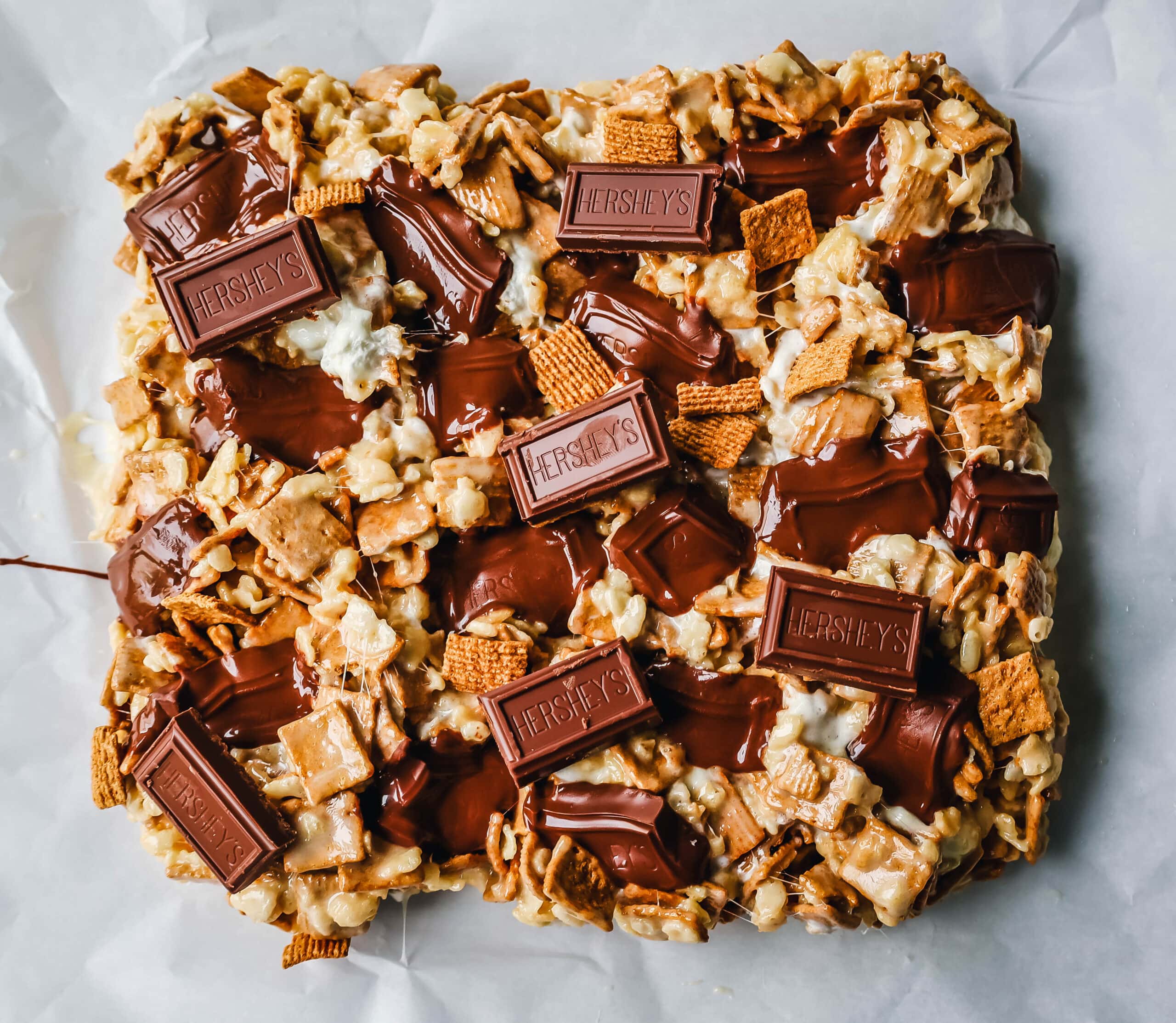 S'mores Rice Krispie Treats Ingredients:
Golden Grahams Cereal
Rice Krispies Cereal
Marshmallows
Butter
Hershey's Milk Chocolate Bars
Sea Salt
The secret to making delicious Rice Krispies Treats that are soft and chewy is to make sure you add a lot of marshmallows! You want them to be ooey gooey so we add a good amount of marshmallows and butter as the base.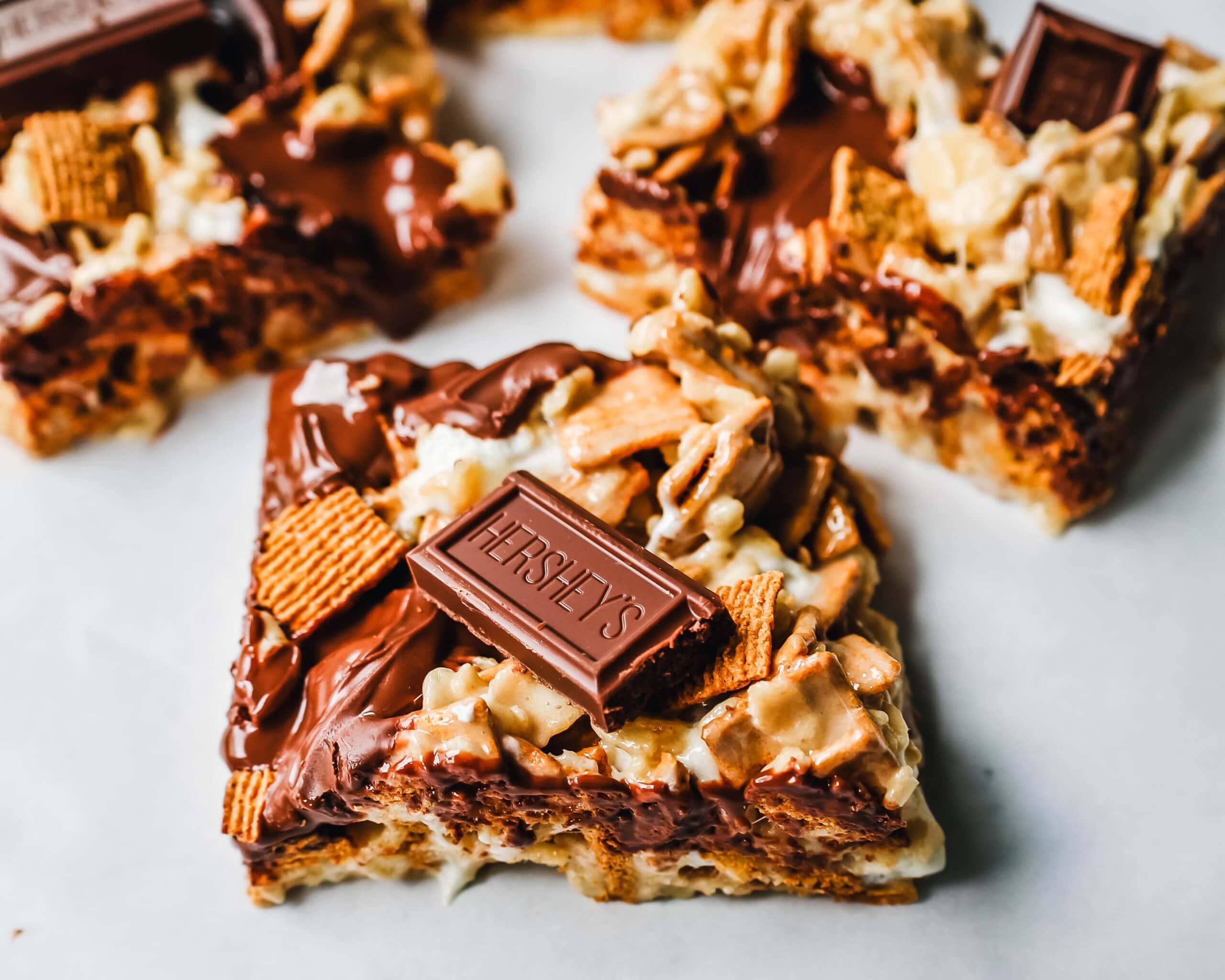 How to make S'mores Chocolate Marshmallow Rice Krispies Treats:
Measure out all of your ingredients and have them all ready. Start by melting the butter in a large pot. Once the butter is melted, add the marshmallows, setting aside 2 cups of marshmallows to be added later. Stir often and watch for the marshmallows to melt.
Once the marshmallows have melted, remove them from the heat and stir in both Golden Grahams cereal and Rice Krispies Cereal. Once they are completely coated, add reserved marshmallows and mix just until partially melted.
Pour into a 9 x 13 pan lined with parchment paper or foil (sprayed with non-stick cooking spray). I like to make my Golden Grahams Bars a little bit thicker so I don't spread the mixture all of the way to the edges. I take a spatula and press the mixture towards the center.
Gently press the mixture into the pan. Don't press down too hard as you don't want to compress the smore rice krispie treats too much or they will end up hard and crunchy and we are aiming for soft and chewy!
Carefully press half of the Hershey Milk Chocolate Bars on the top of the smore krispie treats. Let cool for 1 hour. If you like salty and sweet, sprinkle with a touch of sea salt. Once they have cooled, press the remaining Hershey's Bars into the s'mores chocolate marshmallow treats.
Cut S'mores Treats into 16 or 24 bars. Keep in a sealed container and the Golden Grahams treats will last for days.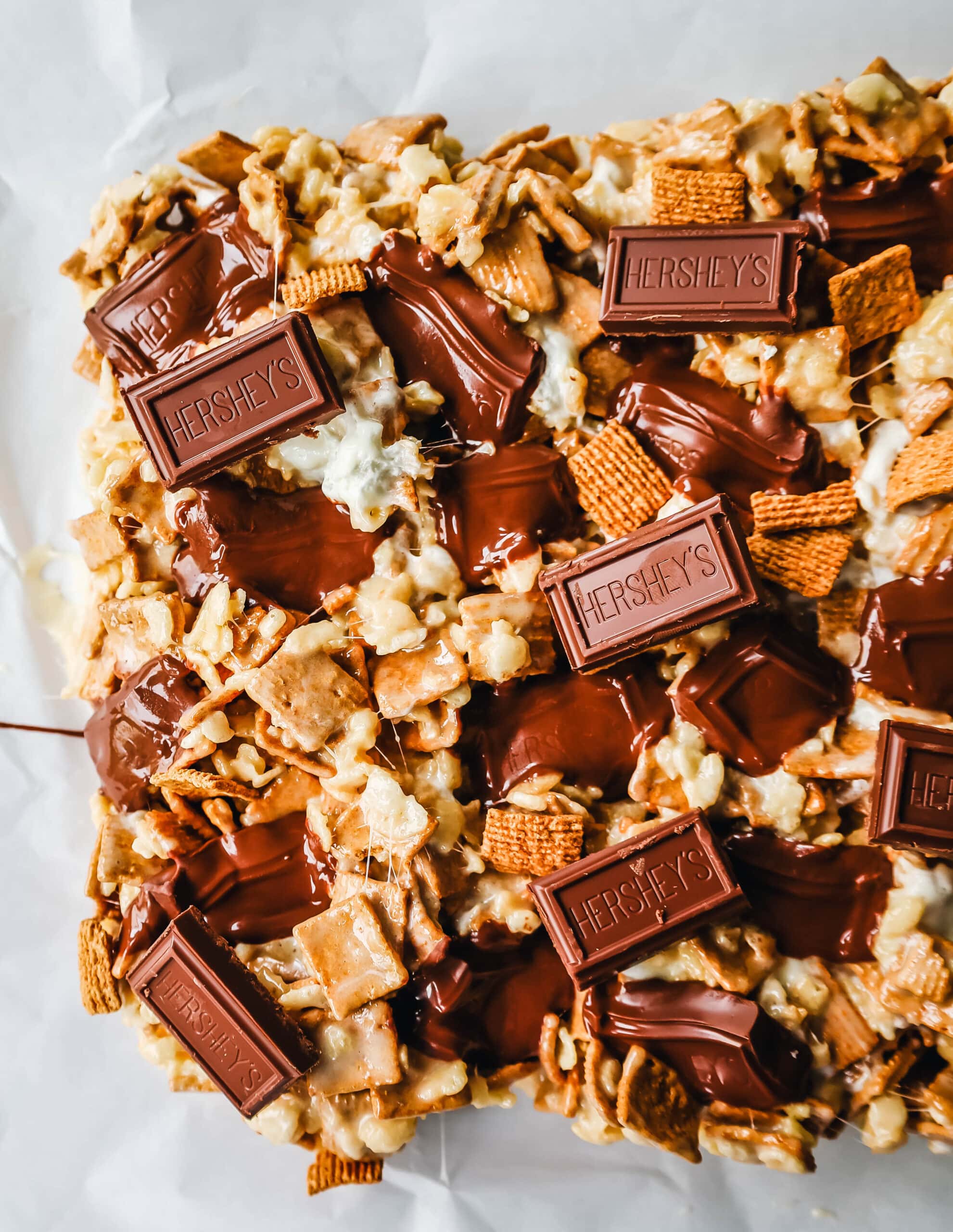 Popular S'mores Recipes: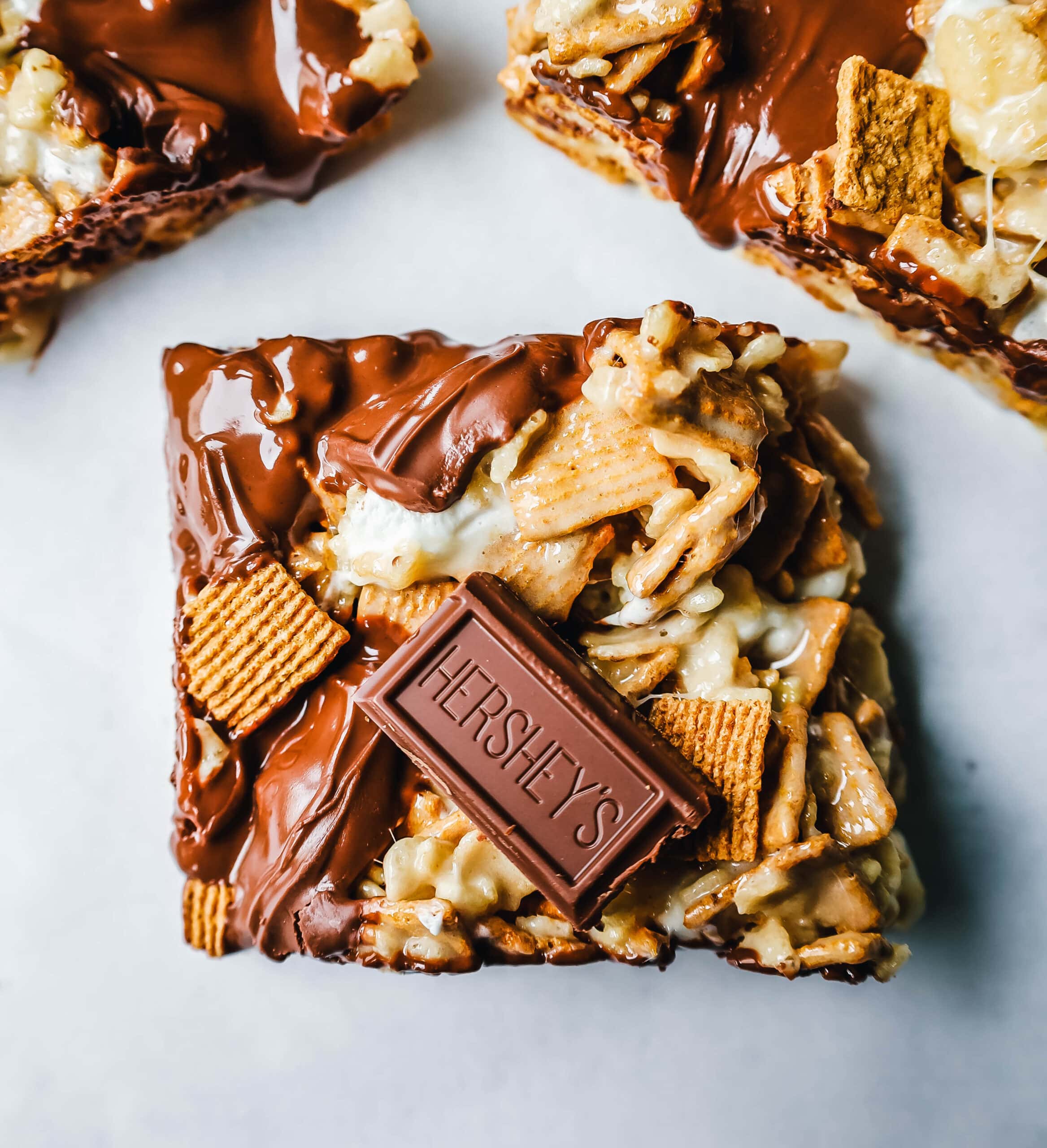 I can't wait to hear how much you love these Rice Krispie Treats with Golden Grahams, Chocolate, and Marshmallows. I hope they become a family favorite recipe. Thank you for following Modern Honey!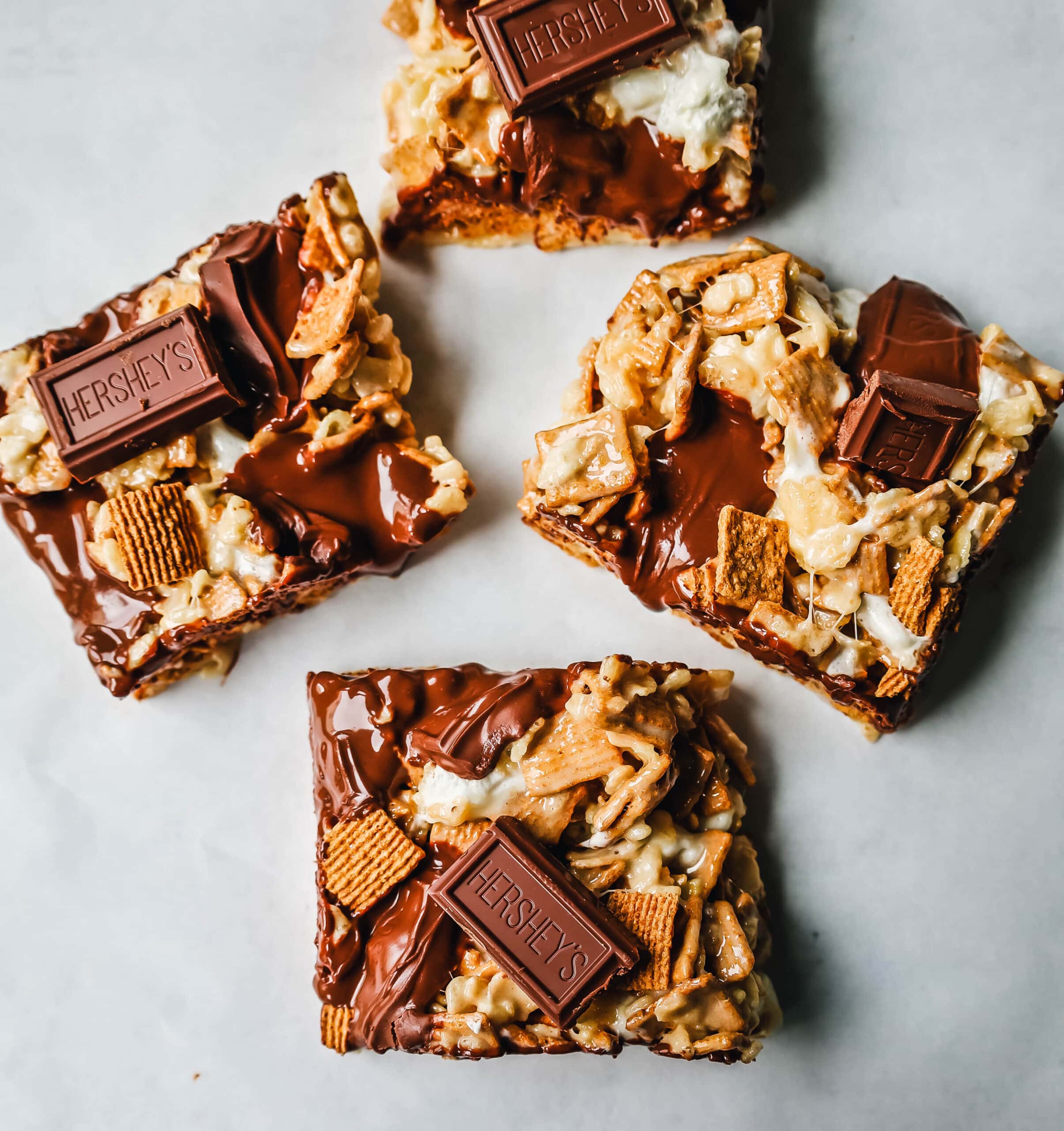 If you love this Golden Grahams S'mores Treats Recipe, share the recipe with your friends and family by pinning the photo below. Thank you for sharing!