This Sticky Pineapple Chicken is made with chicken tossed in pineapple juice, sweet chili sauce, soy sauce, brown sugar, ginger, and fresh pineapple. This Hawaiian Chicken is perfectly sweet and sticky!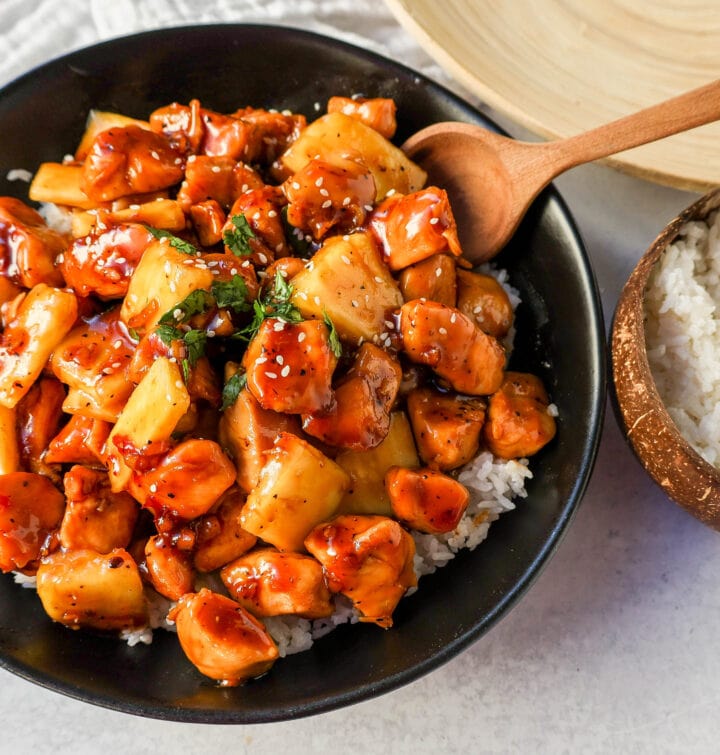 I love easy weeknight meals made with chicken breast that I can throw together in less than 20 minutes like my popular Honey Chicken Recipe. This Sweet and Sticky Pineapple Chicken is made with a sweet pineapple sauce and tossed with fresh pineapple and everyone loves it!
It reminds me so much of summer days spent in Hawaii devouring pineapple for an afternoon snack. This sweet and tangy sauce pairs perfectly with chicken.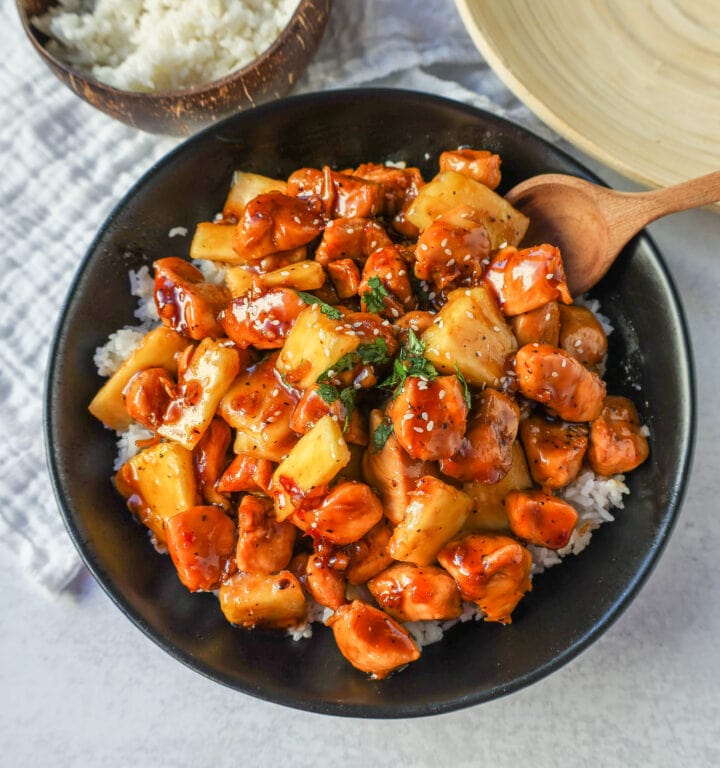 INGREDIENTS:
This Pineapple Chicken is made with only 8 ingredients and is so easy to throw together.
Chicken -- I suggest using boneless skinless chicken breast or thighs, cut into bite-size pieces.
Pineapple Juice -- use fresh pineapple juice in a can or carton.
Soy Sauce -- this adds the perfect amount of saltiness to the dish. You can also substitute tamari sauce if you prefer gluten-free.
Sweet Chili Sauce -- a popular sweet and sour sauce made with sugar, picked red chilis, vinegar, garlic, sugar, and salt. You can find the Mae Ploy Sweet Chili Sauce in most grocery stores in the Asian section. Trader Joe's also carries their own sweet chili sauce.
Cornstarch -- this helps to thicken the sauce.
Ginger -- use fresh ginger or dried ginger. If using dried ginger, reduce the ginger amount to ¼ teaspoon.
Oil -- just need a touch of oil to put in the skillet to cook the chicken.
Fresh Pineapple -- add the fresh pineapple right before serving for extra sweetness.
Optional: Cashews, Almonds, and fresh Cilantro. I love to serve this with Homemade Coconut Rice.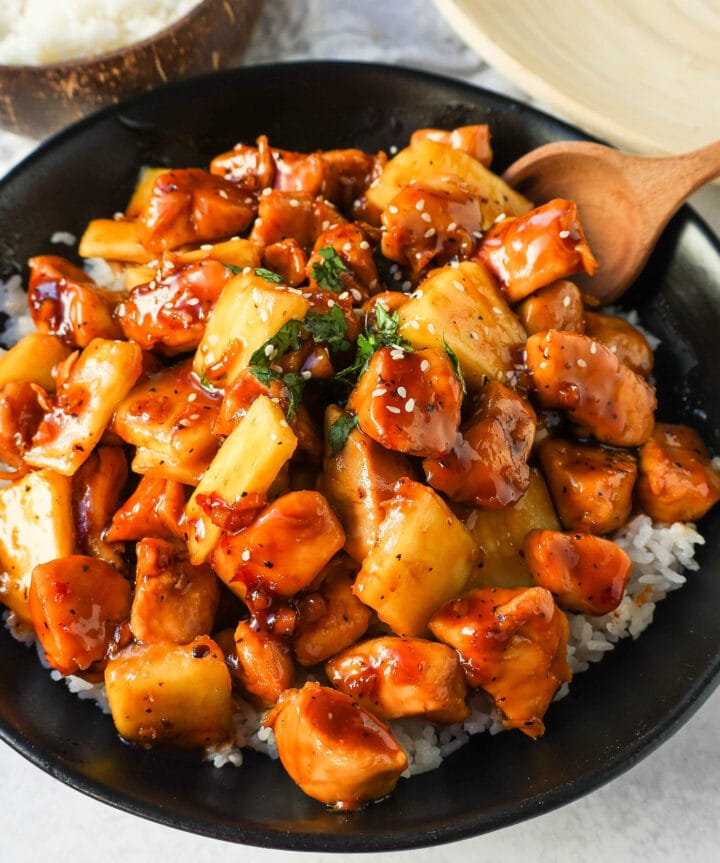 How to make Sticky Pineapple Chicken:
Start by cutting the chicken into bite-size pieces. Pat dry with a paper towel. Sprinkle with salt and pepper.
Heat a large skillet over medium-high heat. Add oil. Cook chicken for 6-8 minutes.
Meanwhile, make the sticky pineapple sauce. Add the pineapple juice, soy sauce, brown sugar, sweet chili sauce, cornstarch, and ginger to a pot and let cook and thicken for about 5 minutes.
Once the chicken has cooked through, add the sauce to the chicken and toss to coat.
Sprinkle with fresh cilantro.
See the recipe card below for full instructions.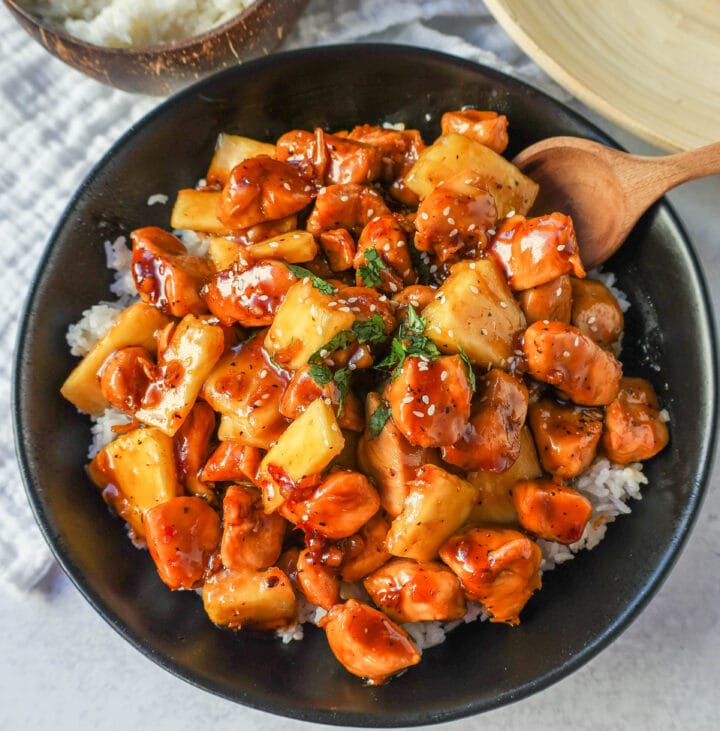 If you love easy, better than take-out recipes, check out these favorite recipes...
Serve this Sweet and Sticky Pineapple Chicken with Coconut Rice.
STORAGE:
This Hawaiian Chicken can be stored in an air-tight container in the refrigerator for up to 5 days. To reheat it, I suggest heating it in a skillet.
I love to hear from you! If you make this recipe, please be sure to leave a comment and give this recipe a rating. If you make any of my recipes, tag me on Instagram @modern_honey so I can see your creations. It's one of my favorite things seeing you make these recipes in your own kitchen. Sign up for my newsletter below so you never miss a recipe. Thank you for following along! I truly do have the greatest readers.
FOLLOW ME ON: INSTAGRAM --- FACEBOOK --- PINTEREST