These toffee, chocolate chip, and pretzel cookies are the perfect salty and sweet bakery cookie! Made with buttery chocolate toffee chunks, crunchy salty pretzels, and sweet milk chocolate chips. Truly the "Golden Child" of cookies!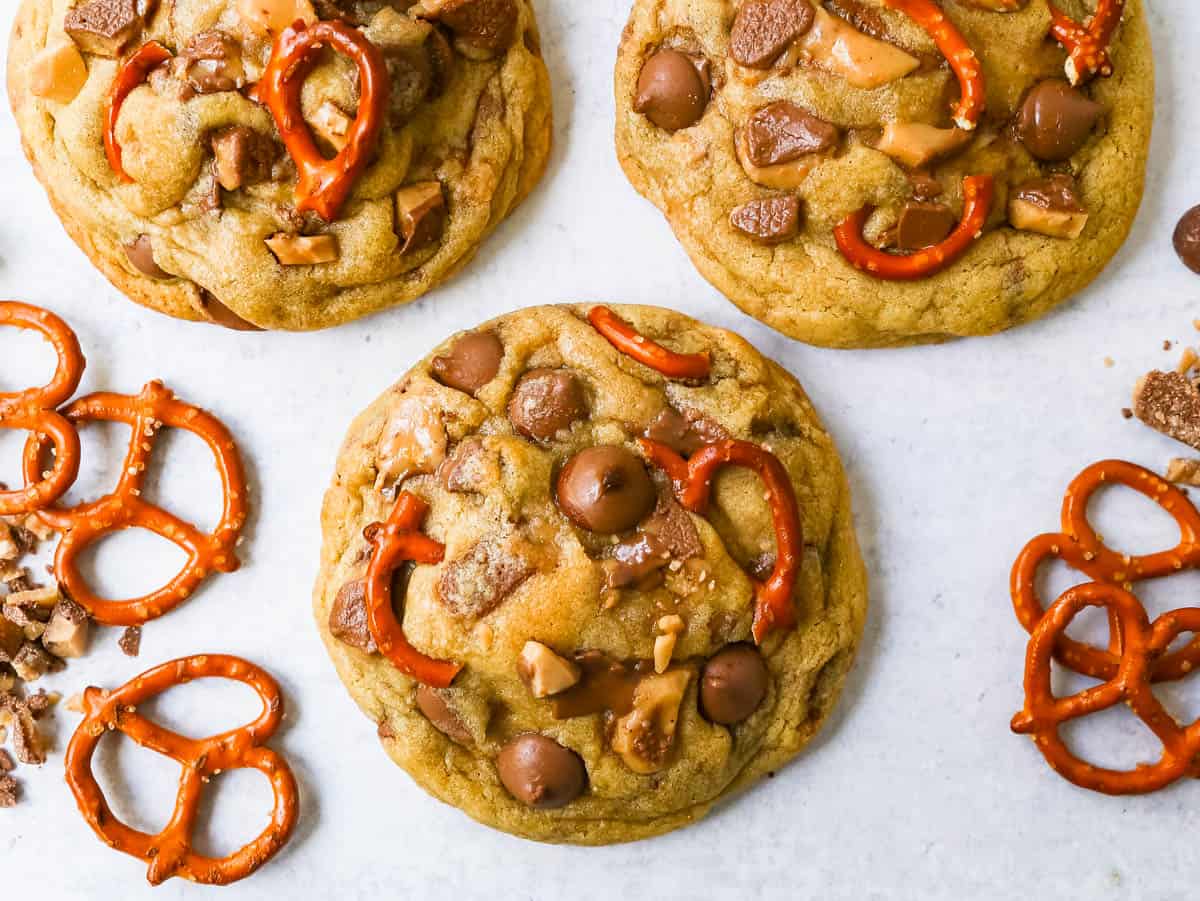 Why you'll love this toffee cookie recipe
Sweet and salty is one of the most popular flavor combinations of all time, and for good reason! These cookies are the "Golden Child" of sweet, chewy, cookies and the crunchy saltiness of pretzels and toffee.
This Toffee Cookie starts off with my Bakery Chocolate Chip Cookie base and it is filled with Heath Bar Chocolate Covered Toffee Chunks, Crunchy Pretzel Pieces, and Creamy Milk Chocolate Chips. If you want a true salty sweet combination, sprinkle the cookies with a touch of sea salt. It is crunchy, creamy, and perfectly salty and sweet.
Ingredients
Butter: I use unsalted (there will be plenty of salt from pretzels, toffee, and flaky salt), but you can use salted butter if you prefer. For this recipe, the butter is still cold and cut into cubes.
Brown sugar: This helps the cookies stay moist and chewy! Unless otherwise stated, I usually use light brown sugar in my cookies. Make sure to pack the brown sugar into the measuring cup.
Granulated sugar: Sugar helps the texture of the cookie. It prevents it from drying out, and keeps the cookies soft.
Eggs: These help provide structure to the cookies. You should use large eggs for this recipe, and if possible, bring them to room temperature. You can do this by running it under warm or room temperature water for 30-45 seconds.
Vanilla: I suggest that you use real vanilla instead of imitation vanilla to get the best flavor. My go-to vanilla is Nielsen-Massey pure vanilla extract, Mexican Vanilla, or Vanilla Bean Paste.
Flour: Keeps the cookie thick and helps it not spread all over the baking sheet. Make sure to use the "scoop and sweep" (dip the measuring cup in the flour and level it off by sliding a knife across the top) method to ensure that you're getting the right measurement.
Cornstarch: Why use cornstarch in cookies? I love to use cornstarch in cookies to give them a soft texture and it helps to keep them staying fresh longer. It thickens the cookies without giving them a cakey texture.
Baking soda: a leavening agent that provides lift to baked goods. Tiny bubbles are what lift the dough and gives baked goods the lift we are looking for. It also promotes browning.
Salt: Salt enhances the flavors in the cookies, plus it balances out the sweetness of the cookies.
Milk chocolate chips: My personal favorite brands of chocolate to use in my cookies are Guittard, Ghirardelli, and Trader Joe's.
Toffee: Buttery and nutty toffee give the cookies a rich and warm crunch.
Pretzels: The type of pretzel that you use is dependent on your preference. I would recommend choosing salted rather than unsalted for this recipe.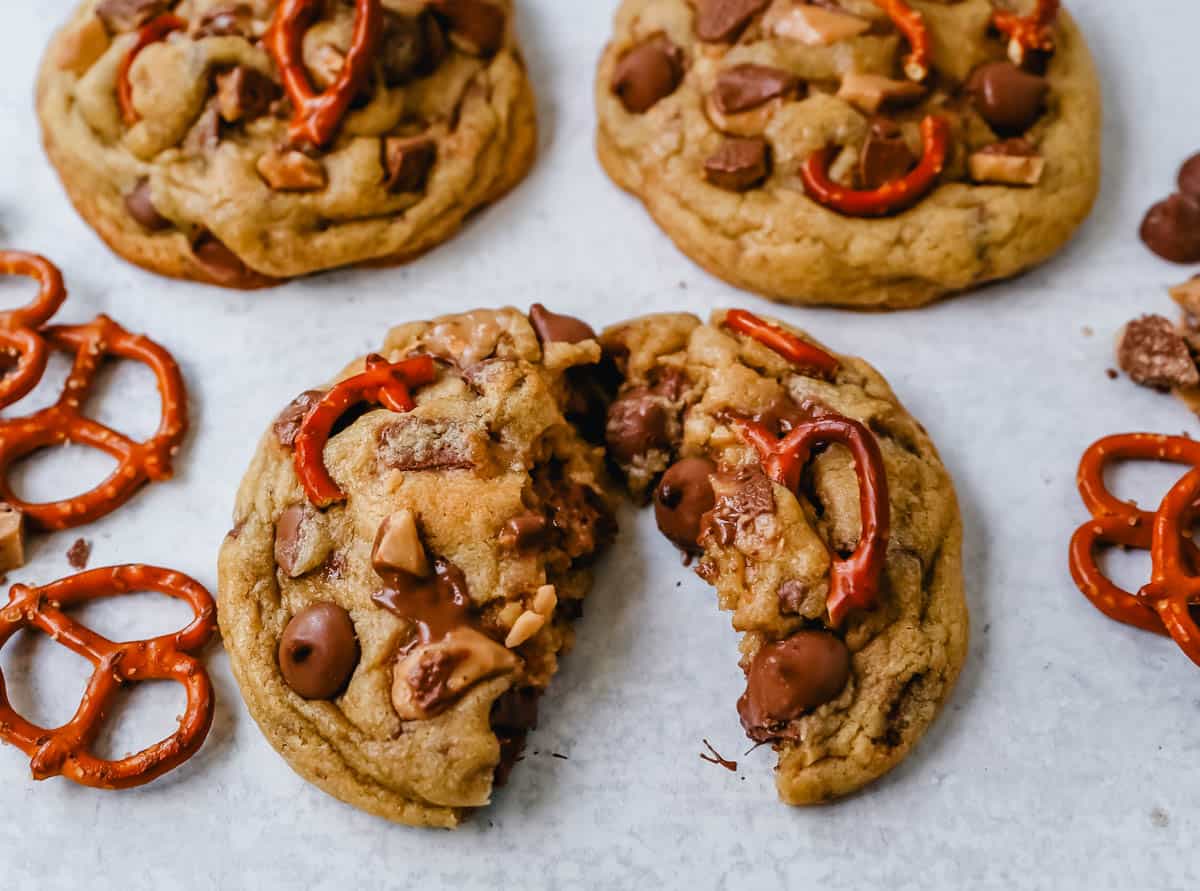 QUESTION: What type of toffee should I use in cookies?
I recommend using Heath Bar Toffee Chunks. You can buy Heath Bars in your local grocery store and chop into chunks or some stores even carry Heath Bars already chopped and bagged. I suggest using large toffee chunks for these cookies.
Instructions:
Start by preheating the oven to 400 degrees. You may want to check your oven temperature to make sure that it's accurate to avoid over-baking or under-baking these cookies.
Cream together the cold cubed butter and both sugars. I would recommend doing this in a Kitchen Aid or another stand mixer so that you can do other things in the meantime. Let mix for about 4 minutes. The mixture should go from being a yellow, sandy texture to a light and fluffy ivory color. This shows that enough air has been incorporated.
Add in eggs and vanilla and mix for another minute until it's all incorporated.
Fold in dry ingredients: flour, cornstarch, baking soda, and salt. You only want to mix these for about 30 seconds. Over-mixing the dry ingredients can make the cookies dense and tough.
Add in all the fun things! Milk chocolate chips, chocolate toffee chunks, and crushed pretzels. Mix until they are all combined and evenly distributed throughout the dough.
If you have a food scale, weigh the dough into 4 ounce balls. These cookies can definitely be made any size, but I have found my favorite to be 4 ounces. It lets the edges brown while the center stays chewy and soft. Place onto a light colored baking sheet and bake for 9-11 minutes.
The cookies might look slightly underbaked, and that's okay! They will need time to set up on the pan after baking, usually for about 10 minutes before moving to the cooking rack. Sprinkle flaky salt on top (if so desired) and enjoy!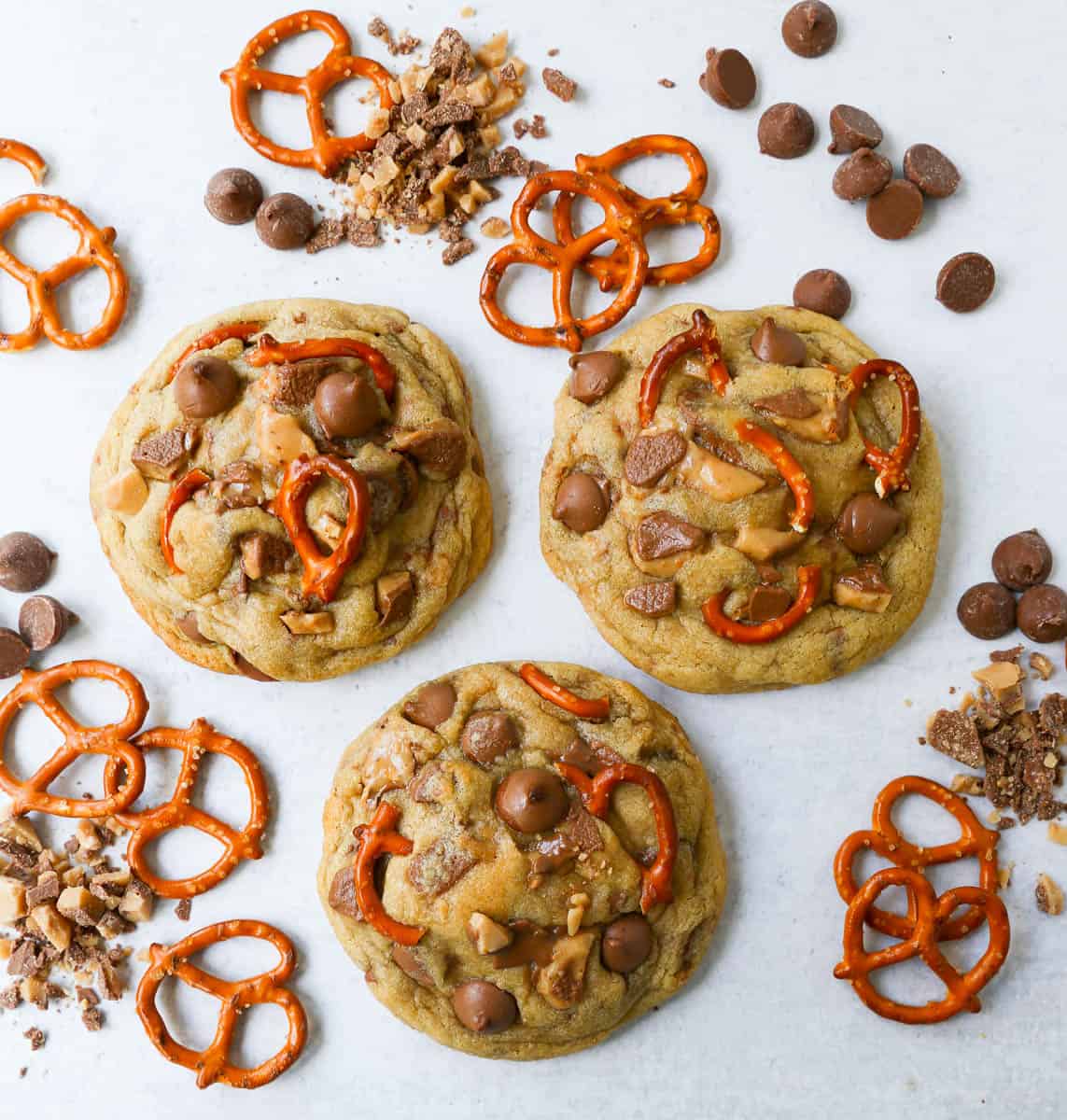 QUESTION: What kind of baking sheet is best for cookies?
I always use heavy, lightly colored baking sheets. The thin, dark baking sheets will attract too much heat and the cookies will burn on the bottom before they are fully baked in the center. I suggest using light-colored baking sheets for even baking. If you don't have any, you can try stacking two thin cookie sheets on one another.
Variations
Love these cookies? Try mixing them up a bit to match your preferences better! Here are some of my favorite ideas:
Everything but the Kitchen Sink Cookies: Also called "garbage cookies" (not my favorite name for them), these cookies help clean out your pantry! Keep the dough and mix-ins all the same, just add your favorite crushed up potato chips. Something simple and salty, such as Lay's or Ruffles, add even more salt and crunch to these chocolate chip toffee pretzel cookies.
White Chocolate: Instead of using 1 1/2 cups of milk chocolate chips, do 3/4 cup milk chocolate and add another 3/4 of white chocolate chips.
Nutty Pretzel Chocolate Chip Cookie: If you don't have/don't like toffee, you can use this same recipe but use your favorite nuts in place of toffee. Pecans or walnuts would be my suggestion!
Frequently Asked Questions
How can I make my cookies look "gourmet"?
If you want "prettier" cookies to be able to post on Instagram, they key is to press chocolate chips, toffee bits, and additional pretzels into the tops of cookies when they are first pulled from the oven. At that point, the cookies are still soft and it's easy to decorate them with all the mix ins!
Do you put flaky salt on cookies before or after baking them?
I like to add my flaky salt to my cookies immediately after baking, when they are still soft. Flaky salt can be a fun way to bring out the other flavors of the cookie, and to add some extra saltiness to each bite.
How do I keep my cookies from spreading?
Your dough might be too warm, and the butter could be too soft. Using cold cubed butter ensures that the butter isn't too warm or even melted, which would cause the cookies to have less structure and melt together. You may want to chill the dough in the refrigerator for about 30 minutes before trying to bake if your butter and your dough are too warm.
Your baking sheets may be too hot. Make sure that in between batches of cookies, your pan has enough time to cool. If it's too warm then it will melt the butter in the dough and the cookies will spread.
You also might be placing the cookies too close together. Space the cookies at least two-inches apart as it allows the air to properly circulate around the cookies and evenly bake the cookies. If your cookies run together after baking, take a small spatula to separate them and shape each one into a circle.
Similar recipes
I love to hear from you! If you make this recipe, please be sure to leave a comment and give this recipe a rating. Sign up for my newsletter below so you never miss a recipe. Thank you for following along! I truly do have the greatest readers. FOLLOW ME ON:   INSTAGRAM — FACEBOOK — PINTEREST
I hope you absolutely love these Toffee Chocolate Chip Pretzel Cookies! They are the perfect salty and sweet bakery cookie!
What baking tools do you suggest for baking cookies?
Light Colored Baking Sheets
Parchment Paper Sheets
KitchenAid Mixer
Spatula
Cooling Rack
Food Scale
Pin this now to find it later
Pin It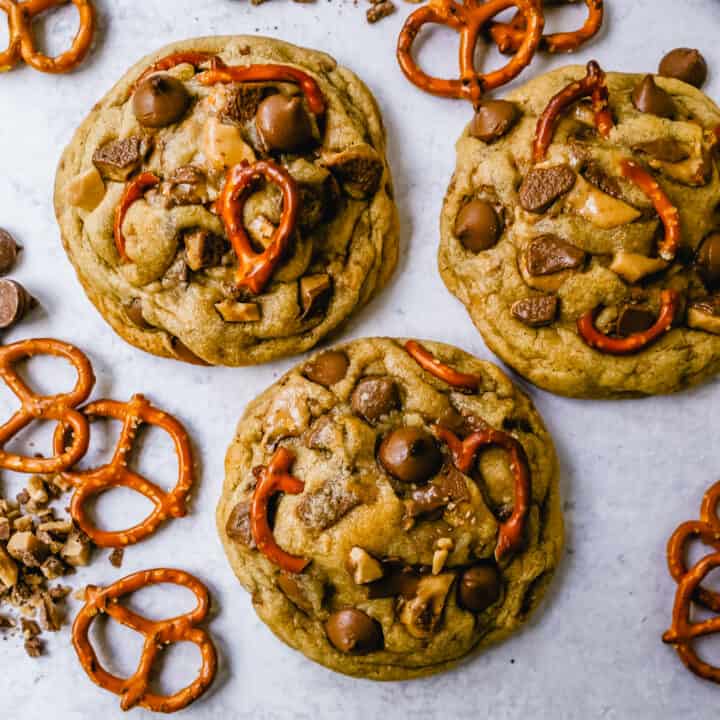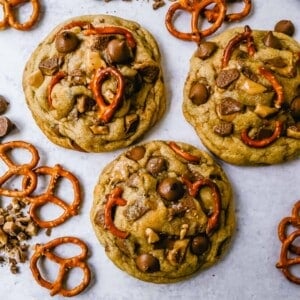 The "Golden Child" Toffee Pretzel Milk Chocolate Cookies
Toffee Chocolate Chip Pretzel Cookies are made with chocolate toffee chunks, salty pretzels, and milk chocolate chips. The perfect salty and sweet bakery cookie!
Equipment
kitchenaid mixer

baking sheet

parchment paper baking sheets

measuring cups and spoons

turner

spatula set

cookie scoop
Ingredients
1

cup

Butter *

(cut into cubes)

1

cup

Brown Sugar

1/2

cup

Sugar

2

large

Eggs

1

teaspoon

Vanilla

2 3/4

cups

Flour

1

teaspoon

Cornstarch

3/4

teaspoon

Baking Soda

1

teaspoon

Salt

1 1/2

cups

Milk Chocolate Chips

1 1/2

cups

Chocolate Toffee Chunks

(Heath Bar)

1

cup

Salted Pretzels

Sea Salt Flakes

(optional)
Instructions
Preheat oven to 400 degrees. In a large bowl, add cold, cubed butter, brown sugar, and sugar and mix for 4 minutes, or until light and fluffy. Scrape the sides of the bowl several times.

Add eggs and vanilla and mix for 1 minute longer.

Fold in flour, cornstarch, baking soda, and salt. Mix for 30 seconds.

Add milk chocolate chips, chocolate toffee chunks, and salted pretzels. Mix until combined.

If you have a food scale, I suggest using it to weigh out 4 ounce balls of cookie dough. This recipe can be made any size but I prefer 4-ounce cookies. Place on a light-colored baking sheet and make sure to give ample space for spreading.

Bake for 9-11 minutes. These cookies are best a tad underbaked. The cookies will set up after removed from the oven. Allow the cookies to set-up for 10 minutes after removing from the oven before placing on a cooling rack or eating.

If you want an extra salty sweet combination, lightly sprinkle the cookies with Maldon sea salt flakes.
Notes
I suggest using cold or barely softened butter for these cookies.
I always suggest using light colored baking sheets when baking cookies to ensure the bottoms of the cookies don't bake too quickly and become too dark.
Nutrition information is automatically calculated, so should only be used as an approximation.