This is the best Baklava recipe made with layers of crisp, flaky, and buttery phyllo dough with crunchy cinnamon walnuts and soaked in sweet honey syrup. This is the most popular Greek dessert for good reason. Here are step-by-step instructions for making homemade Greek Baklava.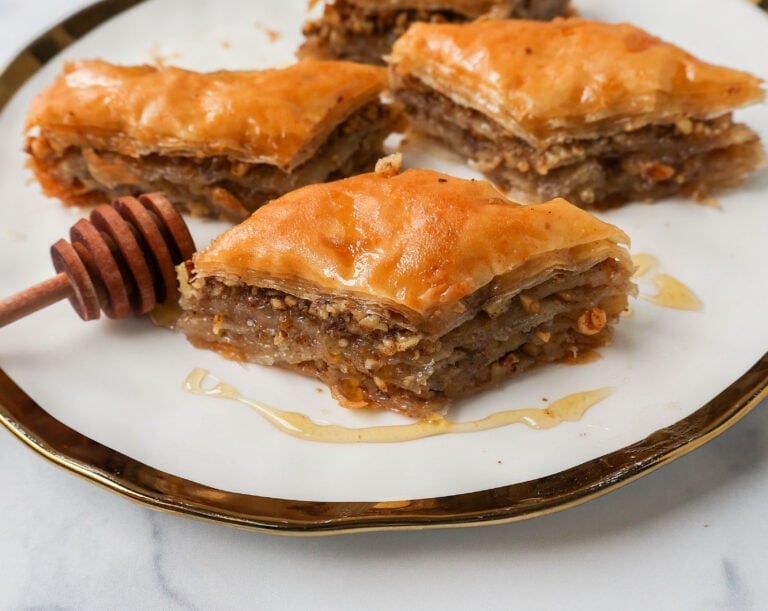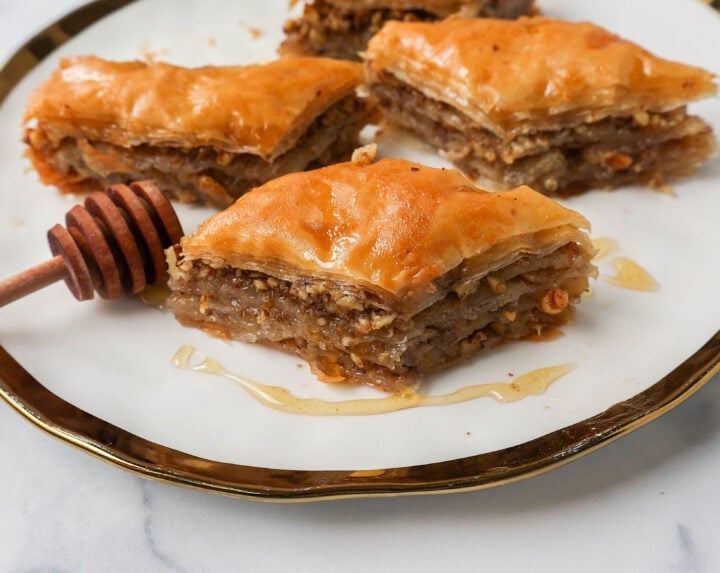 This is Greek Week on Modern Honey and I am sharing all of my favorite Greek recipes. It wouldn't be an authentic Greek week without sharing the most popular Greek dessert recipe. I love this recipe so much because it has the most buttery layer of crunchy phyllo dough, paired with sweet honey syrup, and cinnamon nuts. This is the best baklava recipe!
What is Baklava?
Balkava is a layered dessert made with butter-brushed phyllo dough, filled with spiced nuts, baked until perfectly golden, and then soaked in a warm honey syrup. It is crunchy, sweet, and the most comforting dessert. The honey-soaked layers of phyllo dough with the crunchy cinnamon nuts is heavenly! Honey, nuts, and buttery phyllo dough are the stars of the show in this recipe.
Baklava is popular in Middle Eastern countries. The origins of the baklava are Turkish and is served in most Greek and Lebanese restaurants.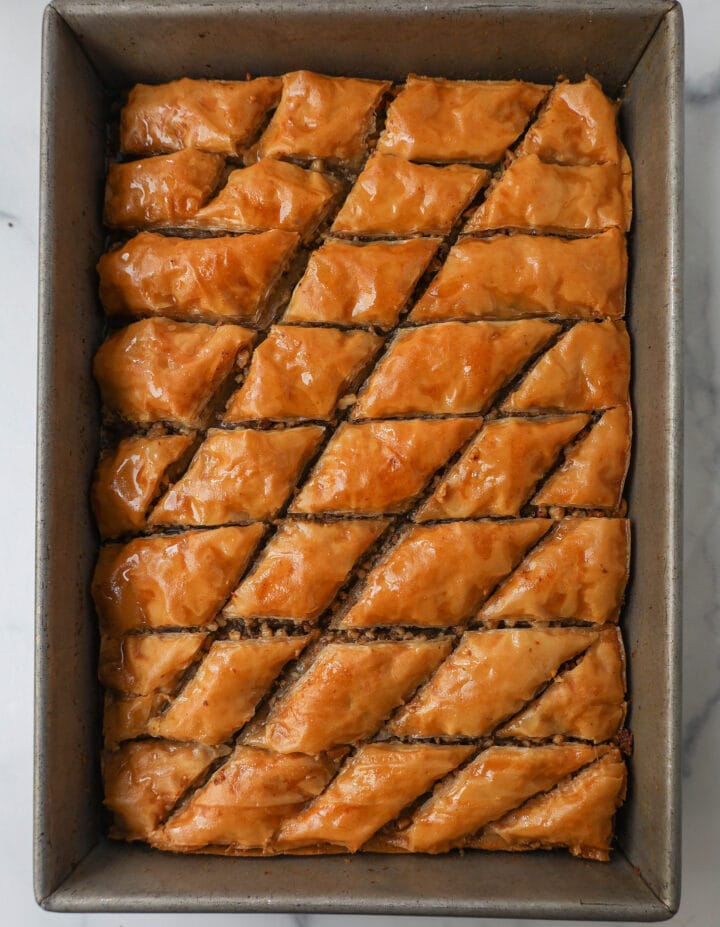 Ingredients:
Phyllo Dough -- can be found in the frozen section at the grocery store. Make sure to thaw in the refrigerator (about 12 hours) overnight before using.
Butter -- this creates the buttery, flaky, crunchy layers in the phyllo dough. Brush each layer of phyllo dough with melted butter before baking.
Walnuts (or Pistachios) -- use your favorite type of nuts but the most traditional baklava is made with walnuts. You can also do a mixture of nuts -- walnuts, pistachios, and hazelnuts.
Cinnamon -- this adds warmth to the walnuts. May add cloves or cardamom as well for extra spice. If you love cinnamon, add more cinnamon than what is listed on the recipe.
Honey -- use high-quality honey as it is the star of the show and one of the most important ingredients in baklava.
Sugar + Water -- make a sweet sugar syrup with sugar and water and then add honey. This is what the baklava is soaked in after baking.
Optional Ingredients:
Cardamom or Cloves to be added to the nut mixture for extra spice.
Orange Zest to the honey mixture for a bright, fresh citrus flavor.
What nuts to use in Baklava?
The most traditionally used nuts in baklava are walnuts or pistachios. In most Greek restaurants, you will find baklava made with walnuts. You can use a combination of nuts -- walnuts and pistachios for the best of both worlds.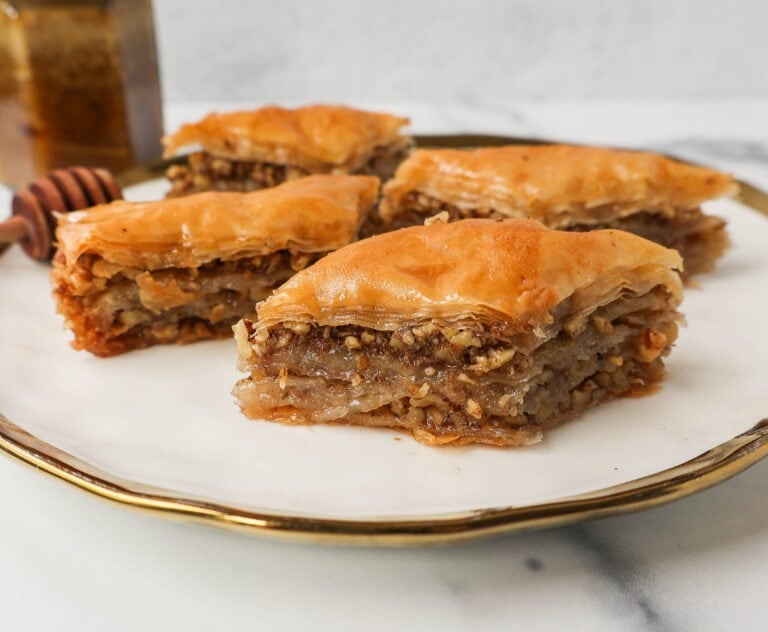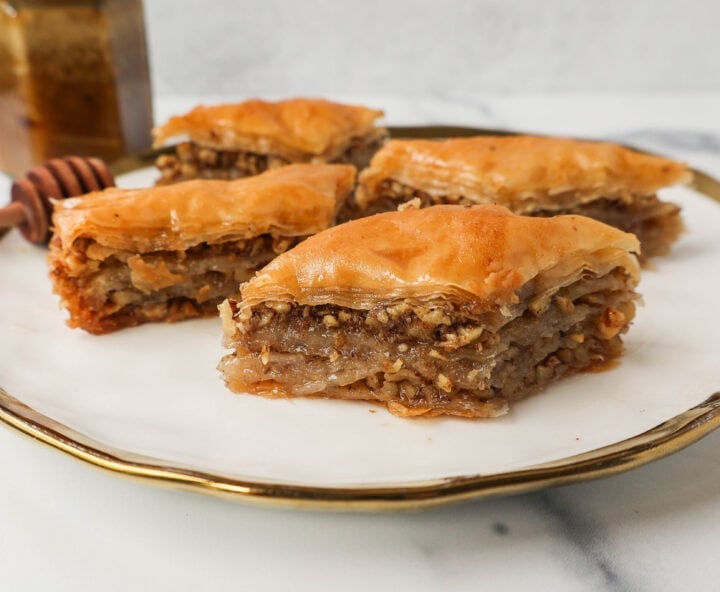 How to make Baklava step-by-step:
Making homemade baklava can be intimidating. It doesn't call for many ingredients but it can be technical and a little time-consuming. The key is to be gentle with the phyllo dough to keep it from tearing or drying out. A lot of butter helps to keep it from drying out! I will share all of my tips and tricks for perfecting baklava at home.
Thaw the phyllo dough. When you buy phyllo dough it is frozen. It is important to allow it to thaw overnight in the refrigerator to prepare it to make baklava. Keep the baklava in the sealed package until ready to use so it doesn't dry out. Read the instructions on the phyllo dough package.
Trim the phyllo dough to fit the baking dish. I use a 9 x13 baking dish and the phyllo dough I use measures 9 x 14. I trim off 1 inch and it fits perfectly. Have a damp tea towel handy to place over the phyllo dough to keep it from drying out. The phyllo dough I use is 1 lb. and contains 40 phyllo sheets.
Place the walnuts in a food processor and pulse about 8-10 times or until the nuts are coarsely ground. Don't over pulse or you will end up with nut crumbs. Stir in cinnamon.
Preheat oven to 350 degrees. Melt the butter. Carefully place 1 phyllo sheet into the baking pan. Brush with butter. Repeat brushing butter on each layer until you have 10 layers stacked in the pan.
Sprinkle ¾ cup of the walnut mixture over the layers of phyllo dough and spread evenly.
Add 5 butter sheets of phyllo, then another layer of nuts. Repeat 4 more times. So the sequence should be 10, 5, 5, 5, 5, 10 with nuts in between layers. You will start with 10 layers and then 5 layers repeated 4 times and then finish off with 10 layers. Brush the very top with melted butter.
Cut the baklava into pieces before baking. This helps to make it extra crunchy. I suggest using a very sharp knife. Cut the phyllo dough into 1 ½ inch wide strips and then cut them into a diagonal to form a diamond.
Bake for about 48-50 minutes or until a perfect, light golden color.
While baking, make the sweet honey syrup. It is important to do it right away to allow the honey syrup to cool before adding it to the hot baklava. You can also make this ahead of time and keep at room temperature. In a saucepan, combine sugar and water and bring to a boil. Once it is boiling, reduce heat and let cook for 5 minutes. Remove from heat and stir in honey. Pour into a container and place in the refrigerator to chill for 20 minutes.
Once the baklava has finished baking, remove it from the oven and immediately pour the honey syrup all over the baklava to allow it to soak into the baklava.
Allow the baklava to soak up the honey mixture for at least 4 hours but 8 hours is ideal. Baklava is the perfect dessert to make ahead of time because it's even better the next day!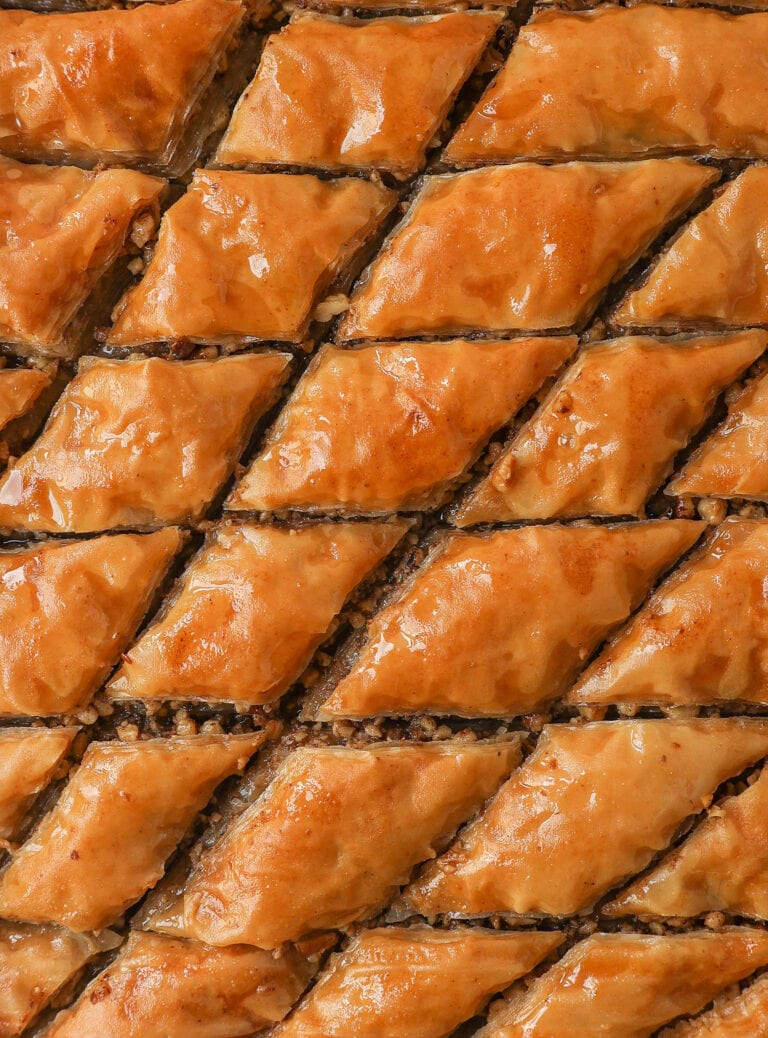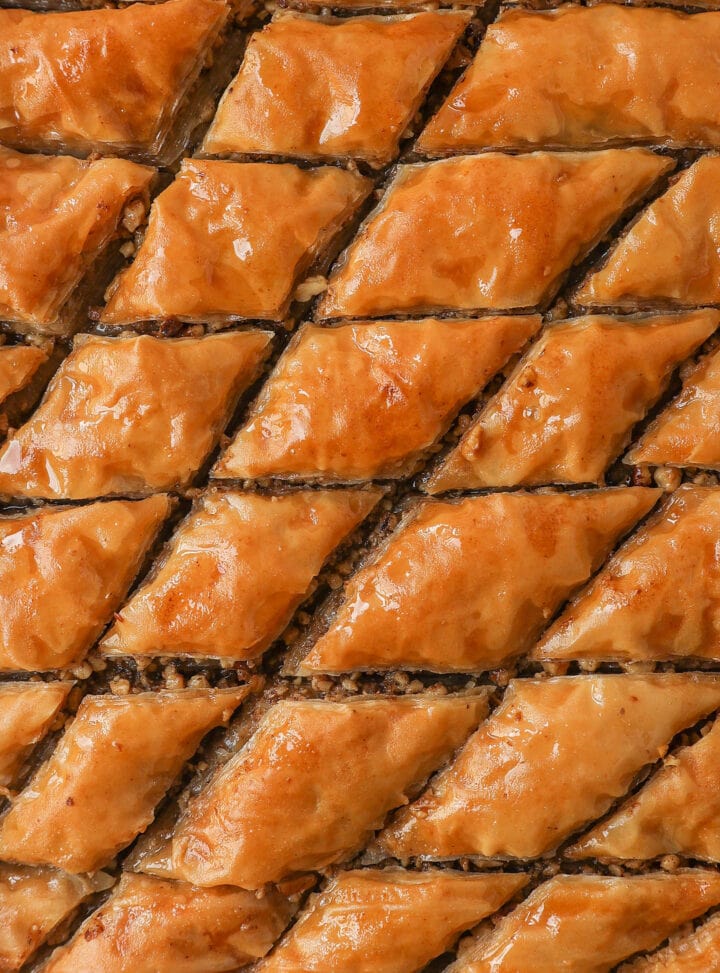 How to make crispy baklava and keep it from getting soggy:
In order to keep the phyllo dough perfectly crunchy, you want to add room temperature honey syrup to the hot baklava. This will allow the baklava to fully soak in all of the sweet honey while staying perfectly flaky. If the syrup is too warm, it won't soak into the layers.
How to store baklava?
Baklava is a make-ahead dessert and tastes even better the next day after the phyllo has soaked in all of the honey syrup. It is best stored covered to keep it from drying out. It can be kept out at room temperature.
You can also refrigerate the baklava after a few days but it may dry out.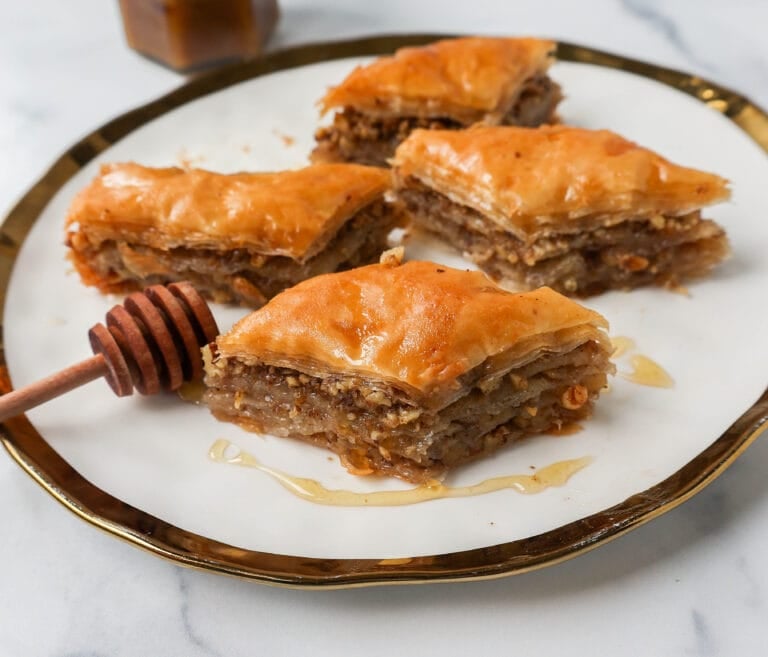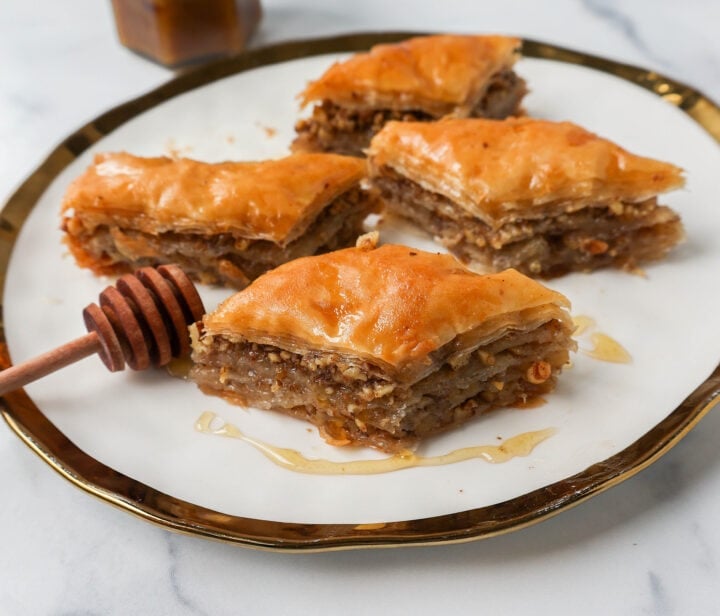 Popular Greek Recipes:
Greek Chicken Gyros with Homemade Tzatziki Sauce
Greek Chicken Bowls with Tzatziki Sauce