These Crunchy Butterfinger Bars are made with graham crackers, sweetened condensed milk, melted butter, Butterfinger candy bars, and topped with milk chocolate. These are the perfect creamy and crunchy peanut butter chocolate Butterfinger bars!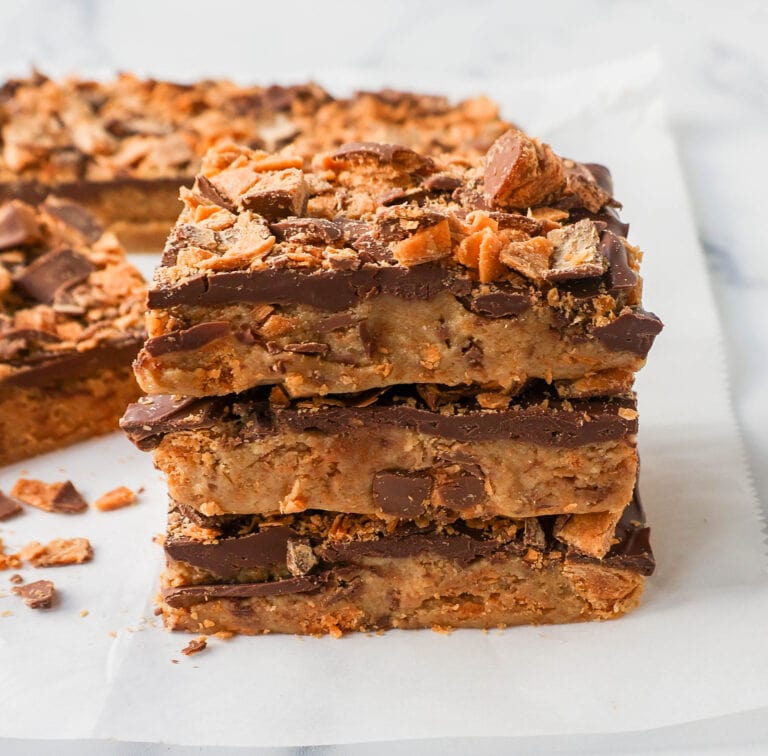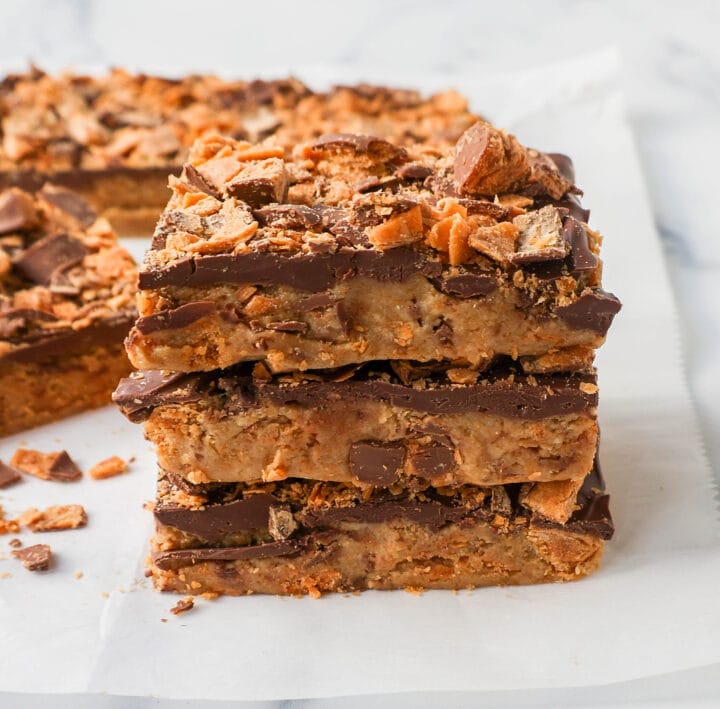 These delicious no-bake dessert bars are so easy and made with only 5 ingredients!
I love a yummy salty-sweet dessert bar with a touch of crunch.
They are so simple to make -- just combine finely ground graham crackers, sweetened condensed milk, and melted butter. Then fold in chopped Butterfinger bars and spread into a pan. Top with melted chocolate and chill until set. It couldn't be easier!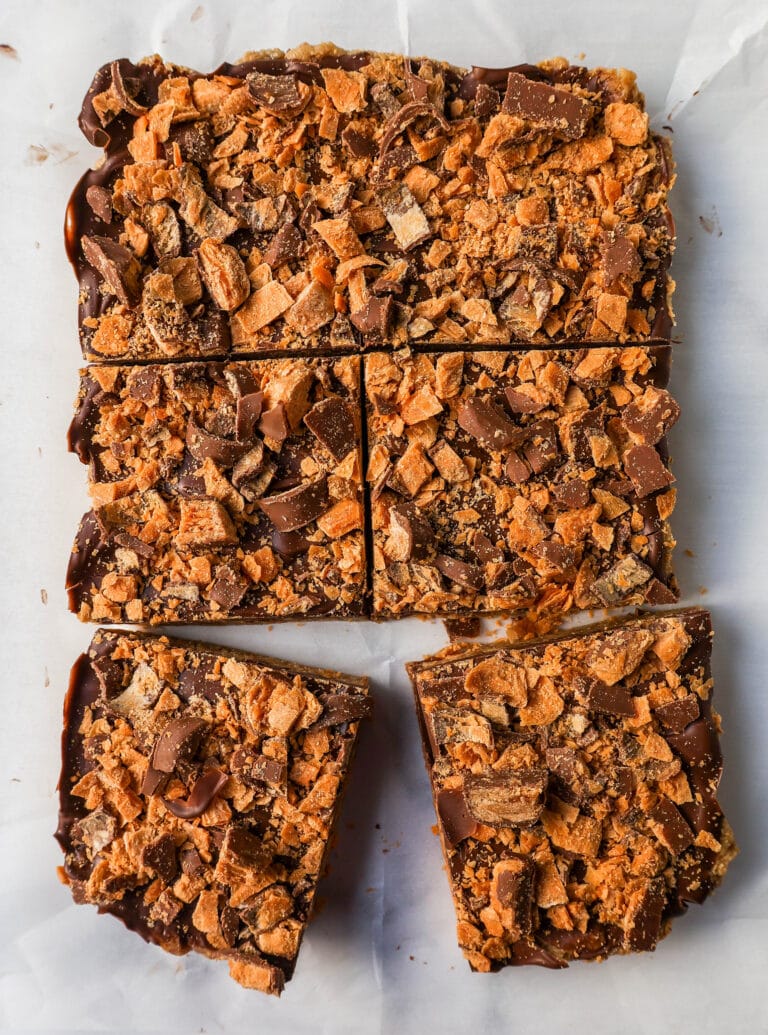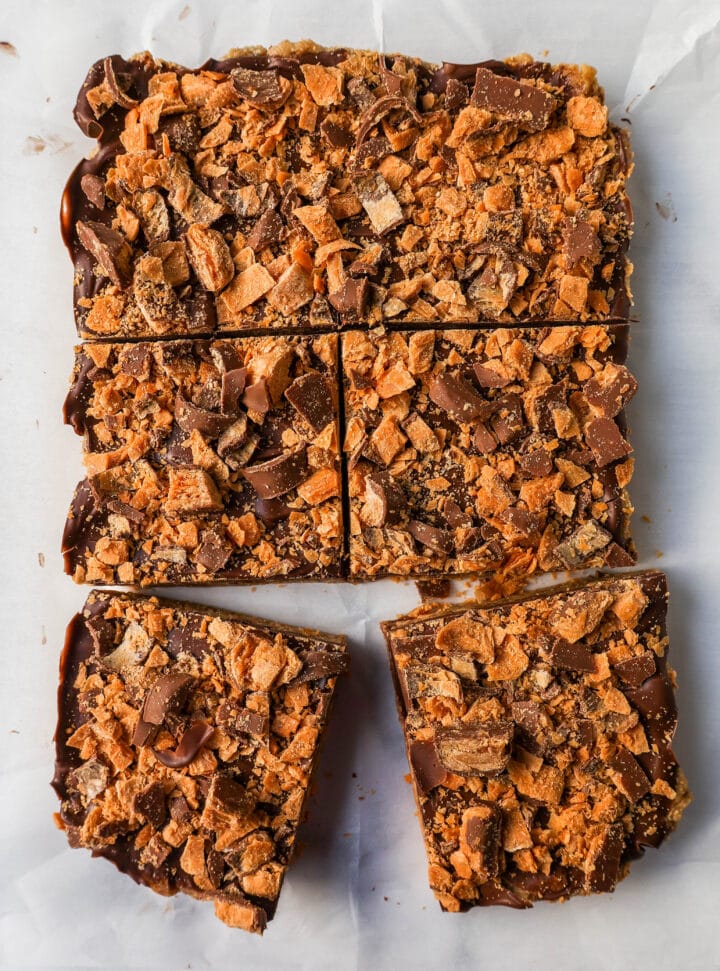 Butterfinger Bars Ingredients:
Graham Crackers -- make sure to finely ground the graham crackers to create the best texture in these dessert bars.
Sweetened Condensed Milk -- canned sweetened condensed milk can be found in the baking aisle and shouldn't be confused with evaporated milk.
Butter -- use salted butter for a sweet and salty bar or use unsalted butter for a less salty flavor. I use salted butter.
Butterfinger Candy Bars -- roughly chop Butterfinger candy bars that go inside the bar and also on the top of the bar.
Milk Chocolate -- use your favorite type of chocolate. Use Ghirardelli milk chocolate melting wafers for extra smooth chocolate.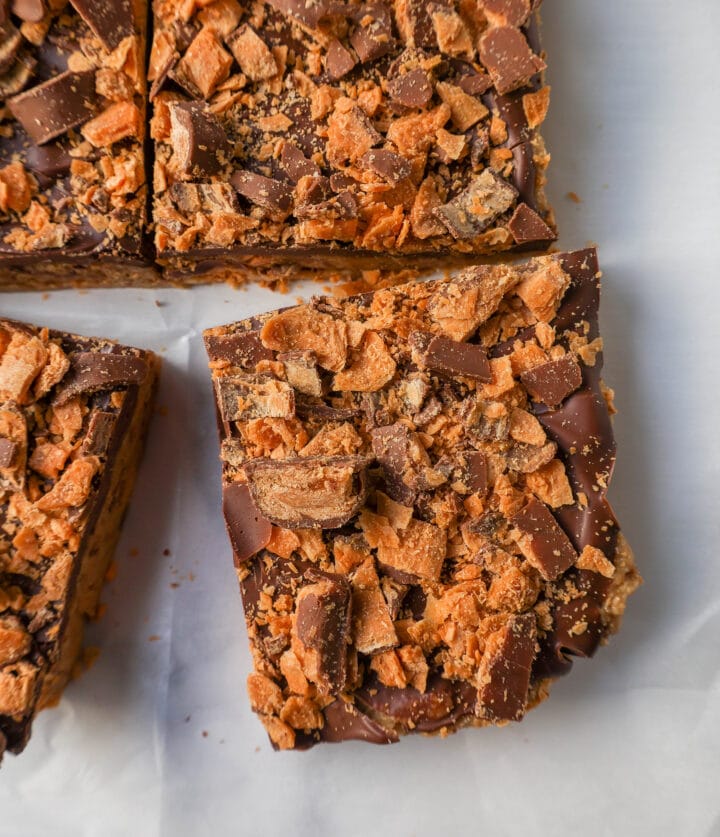 How to make Crunchy Butterfinger Peanut Butter Chocolate Bars:
Step #1: Start by placing the graham cracker in a food processor and pulsing until fine crumbs. If you don't have a food processor, place the graham crackers in a large Ziploc bag and crush with a rolling pin.
Step #2: Add 1 can of sweetened condensed milk and melted butter and mix until combined. Fold in chopped butterfinger bars, reserving some for the topping. Pour into a parchment paper lined pan.
Step #3: Melt the milk chocolate in a microwave-safe bowl in 30-second increments at 50% power until completely melted. You can use milk chocolate chips, milk chocolate bars, or milk chocolate melting wafers. Pour over the crust and spread evenly to the corners. Sprinkle chopped butterfinger candy bars on top of the chocolate.
Step #4: Place the refrigerator or freezer to set the chocolate. Once the chocolate is set, cut them into squares.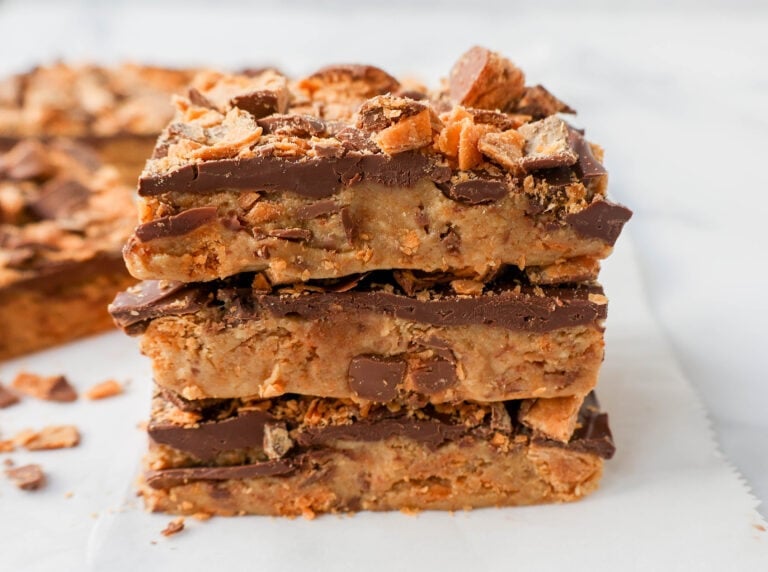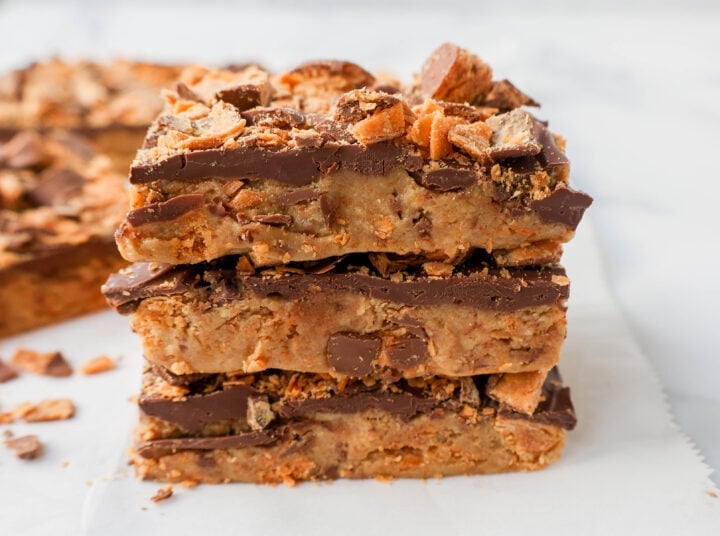 Substitutions:
Instead of graham crackers, you can use Biscoff cookies, shortbread cookies, pretzels, and more. If you use pretzels, I suggest using unsalted butter.
Instead of Butterfinger candy bars, you can use peanut butter cups, Snickers candy bars, Twix candy bars, and any of your favorite candy bars.
Instead of melted milk chocolate, you can substitute semi-sweet chocolate or dark chocolate.
Equipment:
I love to use my food processor in so many recipes. It helps to create fine graham cracker crumbs.
My favorite pans are made by USA pans. I also use pyrex glass pans.
I keep a huge stash of parchment paper sheets. It helps when removing dessert bars from the pan.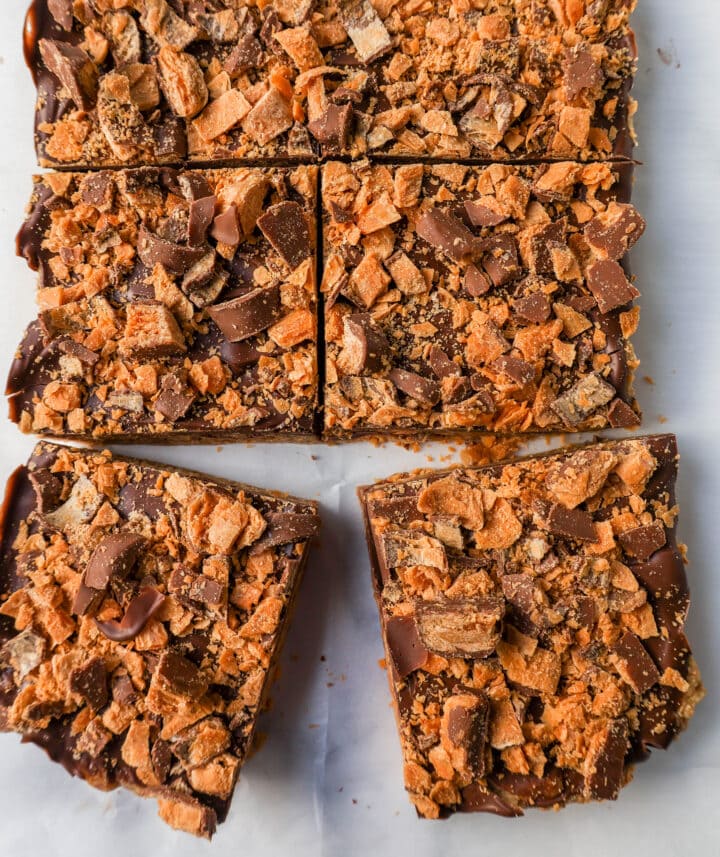 Storage:
These homemade chocolate Butterfinger bars can be stored in an airtight container. These bars can be kept at room temperature or chilled in the refrigerator.
Top tip:
Make sure to finely grind the graham crackers.
FAQ:
Can I use different types of candy bars?
Absolutely! You can use your favorite kind of candy bars such as Twix, Snickers, Peanut Butter Cups, KitKat, Milky Way, Take 5, Heath Bar and more.
Dessert Bar Recipes: