These soft, chewy carrot cake bars with cream cheese frosting are perfect for your Spring gathering. These carrot cake blondies taste even better than carrot cake!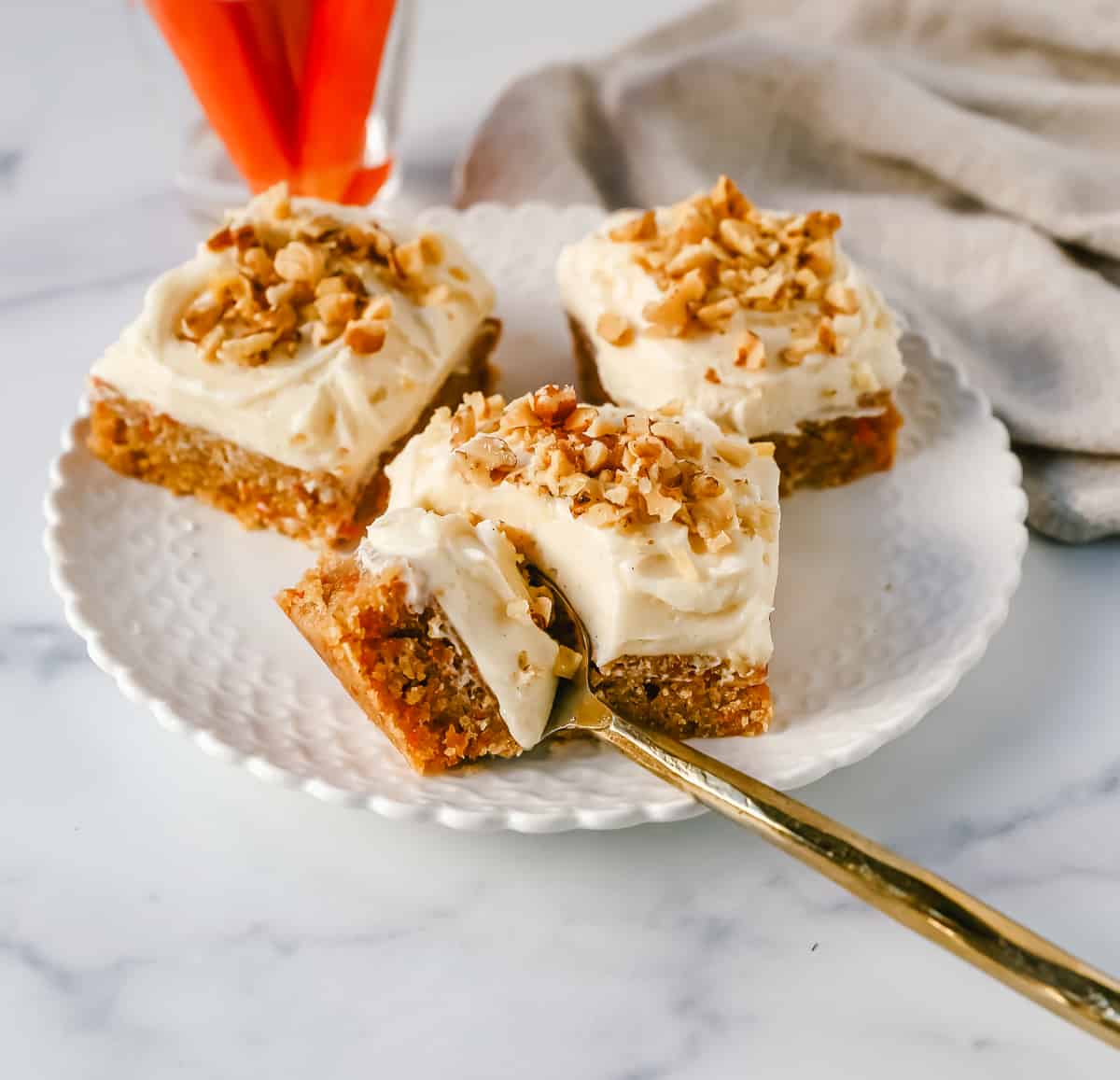 Oh, how I love this time of year! Easter is right around the corner, the sun is shining more, and it is warming up. These past few months, I have been recipe testing like crazy. I have 62 recipes ready to go, which means the recipes have been tested and re-tested and photographed, and I just can't get them out to you fast enough. Get ready for some amazing recipes coming to you in the next 10 days! You can find all of my EASTER RECIPES HERE.
There are some recipes that we refer to as "labor of love recipes." It just means that I am in the kitchen testing and re-testing to get them just right. These Carrot Cake Blondie Bars have definitely been a labor of love! I wanted to make sure they weren't too cakey and were just simply carrot cake made into bars. I wanted them to be a little more like a decadent carrot cake brownie. It is as if a carrot cake and a brownie had a baby! This is the texture I was looking for.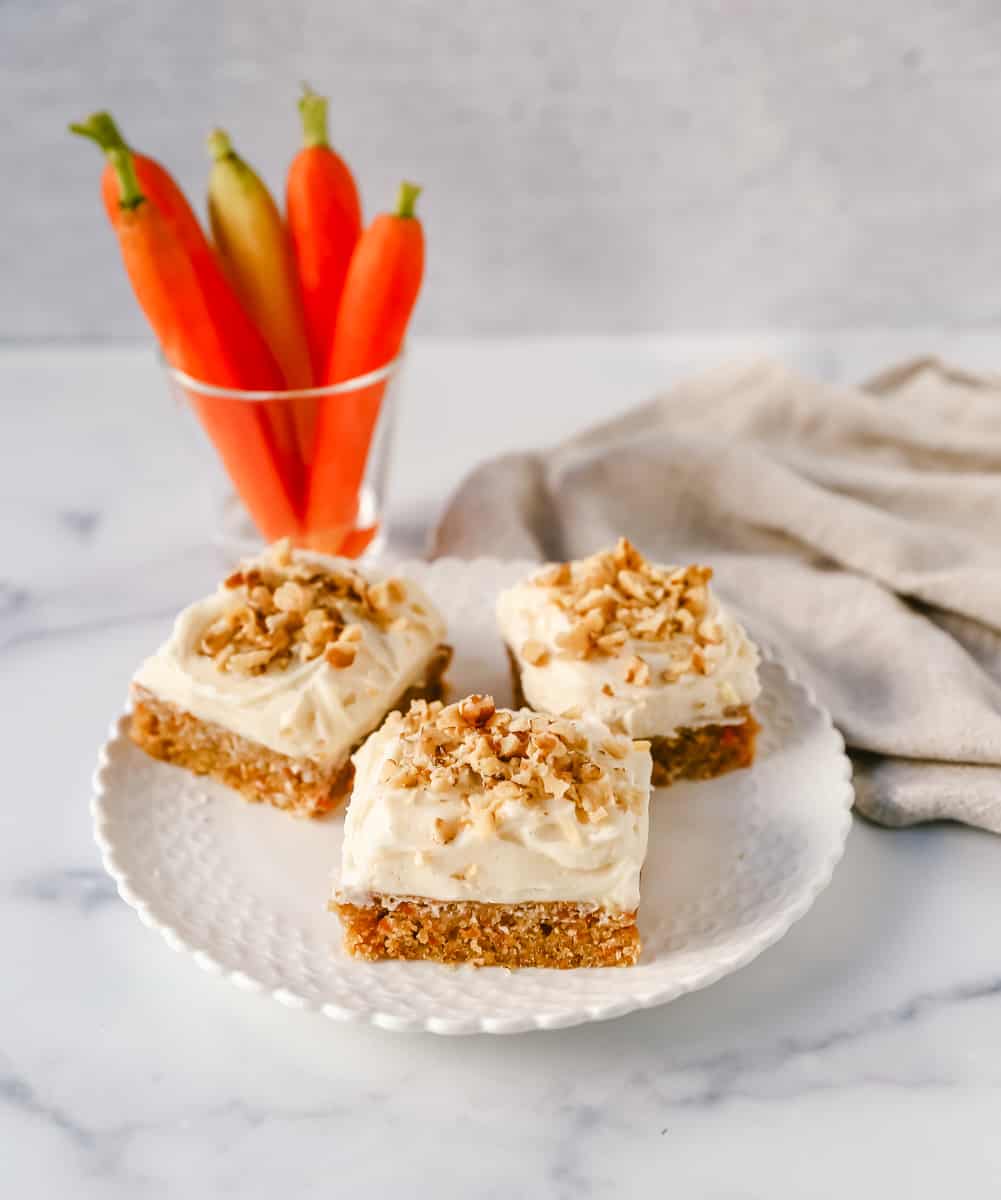 What ingredients are in Carrot Cake Blondies?
Melted Butter
Brown Sugar
Egg
Vanilla
Fresh Grated Carrots
Flour
Salt
Cinnamon
Cream Cheese Frosting (butter + cream cheese + powdered sugar + vanilla)
Pecans
I tried all types of variations to get that perfect texture. I tried all butter vs part butter and oil, more carrots vs less carrots, baking soda vs no baking soda, more flour vs. less flour, more brown sugar vs less brown sugar, etc. You get the point!
I first tried part melted browned butter and oil. I loved the texture as the oil made them so moist but the oil flavor really came through. I wanted more of the butter flavor to be highlighted. One tip when using oil is to make sure your oil is fresh. If it is too old and has even a slight smell, it will translate into the baked goods. So I tried using all browned butter and that was perfect.
I wanted to see how the carrot cake brownies would turn out with a leavening agent so I tried adding only ¼ teaspoon of baking soda. It was surprising to me how much more loft it gave the carrot cake bars. I don't put a leavening agent in my chocolate brownies recipe so I decided to leave it out and the result was a perfectly soft, chewy carrot cake square.
I found that melting the butter in a saucepan and let it become a light golden color was the perfect base flavor for this recipe. The final product was the most light yet decadent Carrot Cake Bar with a silky smooth cream cheese frosting. Even though I have been testing these carrot bars over and over again, my kids and friends keep on eating them. I am thankful for willing taste testers!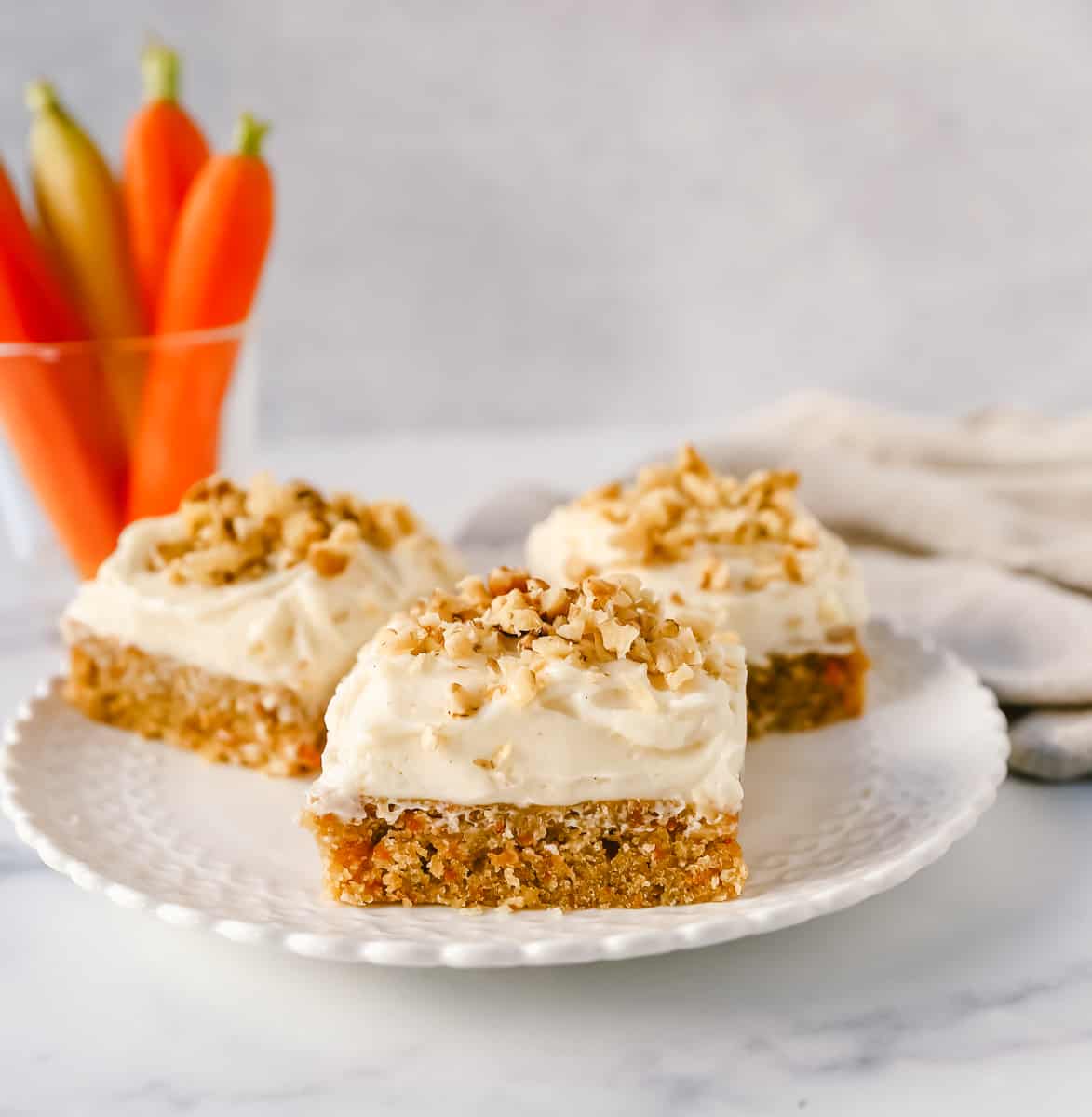 What size pan should I bake these Carrot Cake Bars in?
I would suggest using a 8 x 8 aluminum baking pan. It gives the perfect amount of carrot cake square thickness. This is my favorite 8 x 8 baking pan.
I suggest using parchment paper to line the baking pan for easy removal. Another tip is to use a plastic knife to cut the carrot cake blondies. It cuts them absolutely perfectly!
Do I need to refrigerate and chill these Carrot Cake Brownies?
Since these carrot cake bars and frosted with cream cheese frosting, I suggest refrigerating until ready to serve. Another tip is to wait to cut the carrot cake bars until they are chilled or even frozen. It makes them so much easier to cut.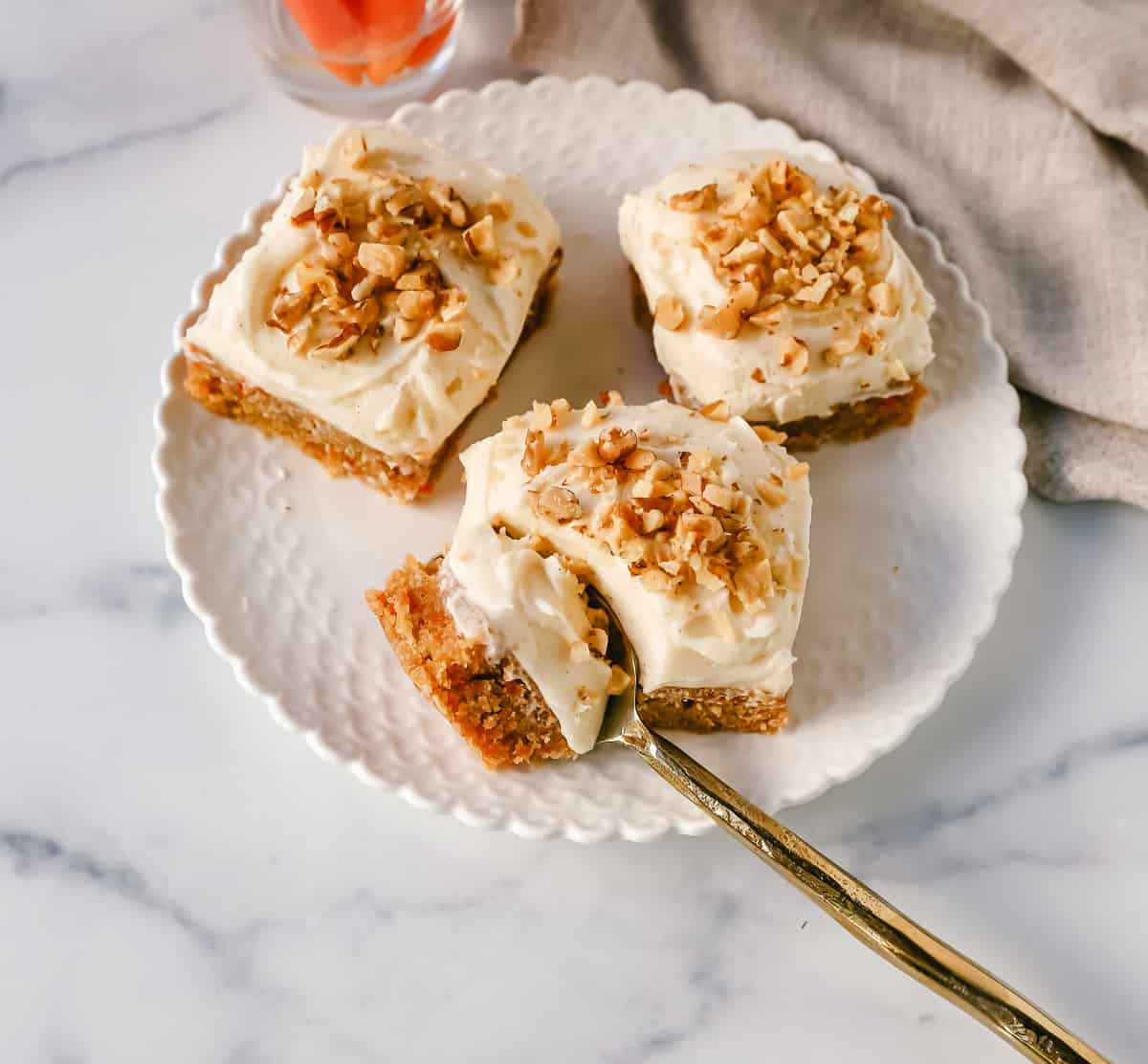 CHECK OUT THESE OTHER DESSERT RECIPES:
Classic Carrot Cake with Cream Cheese Frosting
Frosted Sugar Cookie Bars
Lemon Brownies
Baking Tools for making Carrot Cake Bars: