These oatmeal chocolate chip cookies have the perfect chewy centers and crispy edges and will have you coming back for seconds!

Chocolate Chip Oatmeal Cookies
It's National Chocolate Chip Cookie Day and we can't let this day go by without acknowledging this fabulous holiday. I am sharing a chocolate chip oatmeal cookie made with ground oatmeal, which means we are sneaking in the oatmeal!
When I made these chewy oatmeal chocolate chip cookies, my husband went nuts for them.  He has asked me over and over again when I am making them again and also why in the world I haven't posted them yet. Patience, my dear, patience.
The beauty of this recipe is that it is surprising. The ground oatmeal gives it a nice crispy chewy texture that keeps you guessing. It doesn't outwardly look like a typical oatmeal cookie because it is playing a solid game of hide and seek and winning at it. These chocolate chip oatmeal cookies are climbing the top cookie charts!
How to make the BEST Chocolate Chip Oatmeal Cookies:
 Start with Old-Fashioned Rolled Oats. Place the oats in a

food processor

and process until finely ground. This is what helps to create that chewy hearty texture. By turning the thick rolled oats into a fine powder, it creates the perfect oatmeal chocolate chip cookie.
Beat that Butter. Cream the butter for 3 minutes to get it light and fluffy. Add the sugars and beat for 2 minutes longer to make it smooth and creamy.
Using a spatula, scrape down the sides of the bowl often to ensure even mixing.
Stir in dry ingredients and make sure not to overmix.  Since we want tender cookies, it is important to not overwork the flour (which can create gluten and make tough cookies).  Mix just until combined.
Use both chocolate chunks/shavings and chips, if possible. By chopping up a block of chocolate or a chocolate bar, it creates ribbons of chocolate throughout the cookie.  The chips give it structure and are meant to hold their shape while chocolate bars melt more easily.
Chill the dough. Cookie Dough gets better with age. Remember chilling cookie dough for 24-48 hours makes the cookies that much better. It takes patience but it is well worth the wait.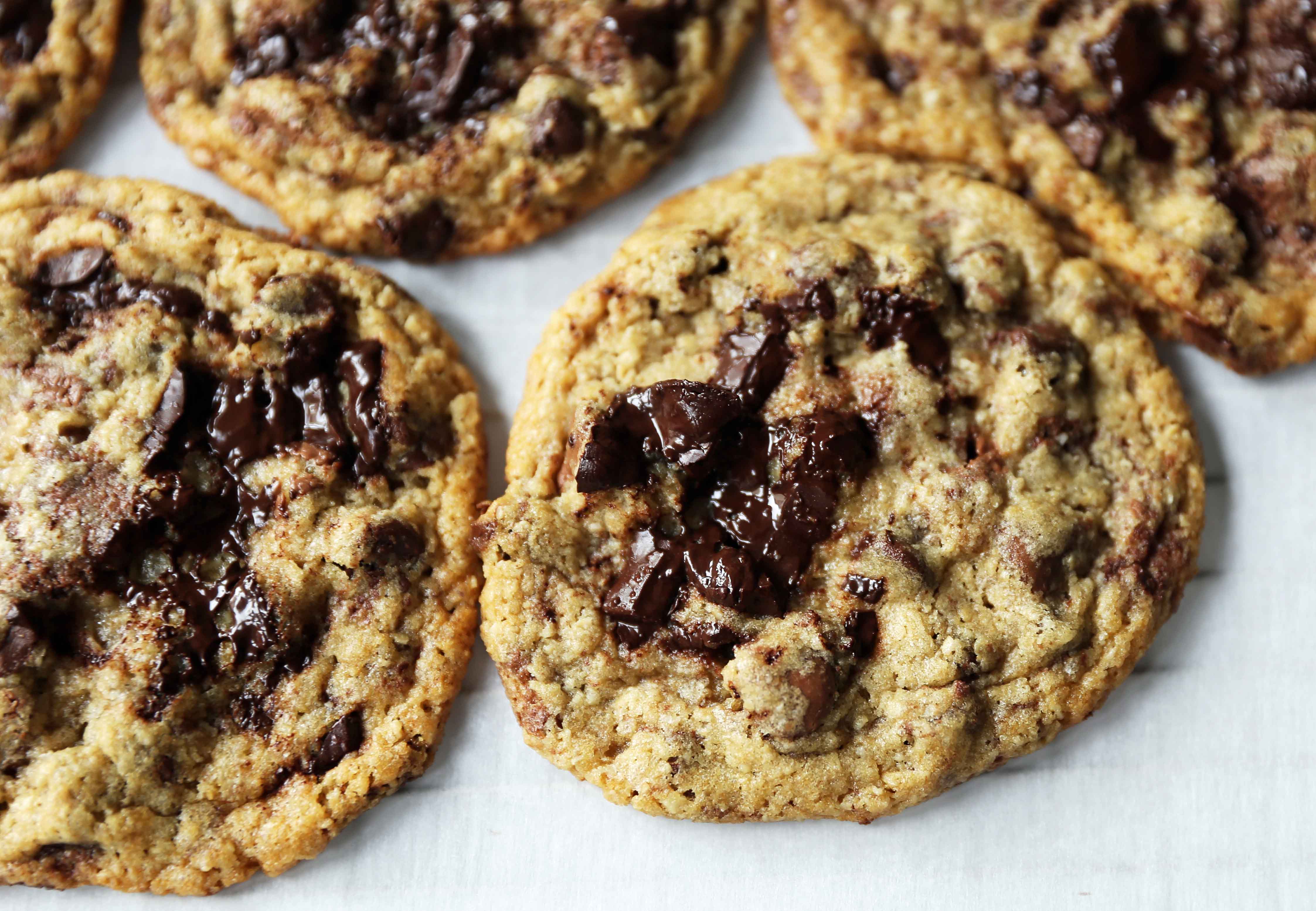 What are the best cookie sheets?
I have collected more cookie sheets than I would like to admit and here are some of my favorites -- USA Half Sheet Pan , Nordicware Half Pan andChicago Metallic Baking Sheets. I also like the 2-pack baking sheets from Costco and the price is right! I always look for light colored baking sheets as the dark baking sheets will draw more heat and the bottoms of cookies may burn more easily.
I also love to use easy cleanup parchment paper sheets. They make it so the cookies don't stick to the pan and clean up is a piece of cake! Less clean-up = happier Mommy.
The Chocolate Chip Oatmeal Cookie Recipe Story:
Now every good cookie starts with a story. These cookies are no different. It was 2011, which was almost five years before starting Modern Honey. If you have read about my health story in my smoothies post, you know that I went on a super strict diet to help with some health issues. I even went gluten-free and dairy-free for a good amount of time. That's not an easy feat for a baker like myself!  I found out the Cooking Channel was on the hunt for the perfect cookie recipe in America. This was a dream contest for me and right up my alley!
I ended up winning the contest for the perfect cookie recipe! They flew me and Dean to New York City to film a segment for a show in the Food Network Studios (you can read about it here). I was ecstatic for the trip and to experience NYC! I couldn't wait to EAT my way around the city. The only problem was that I was still on a pretty strict diet -- no gluten, no dairy. Bye, bye bakeries.  I was shooting a show the next afternoon so I had to withstand the temptation for only one more day. I could do it, right? It was all fine and dandy until I watched Dean scarf down two pieces of New York cheese pizza. It was then when I experienced coveting at it's finest.
Then, it really happened. We stumbled upon this little bakery which I had heard about for a long time called Milk and Cookies. They specialize in cookies, which is basically the way to my heart. I had to go in and see it, smell the cookies, and dream about eating them. I was walking into the den of temptation and was I strong enough to withstand the smell of butter, chocolate, and sugar wrapped into one? Hmm...not sure this was the smartest idea.
I convinced Dean it was totally cool for him to get a cookie or two. He opted for two Milk and Cookies famous chocolate chip cookies sandwiched together with vanilla ice cream in the middle. I wasn't jealous AT ALL. I literally stood there and took pictures of him eating it. I was vicariously living through him.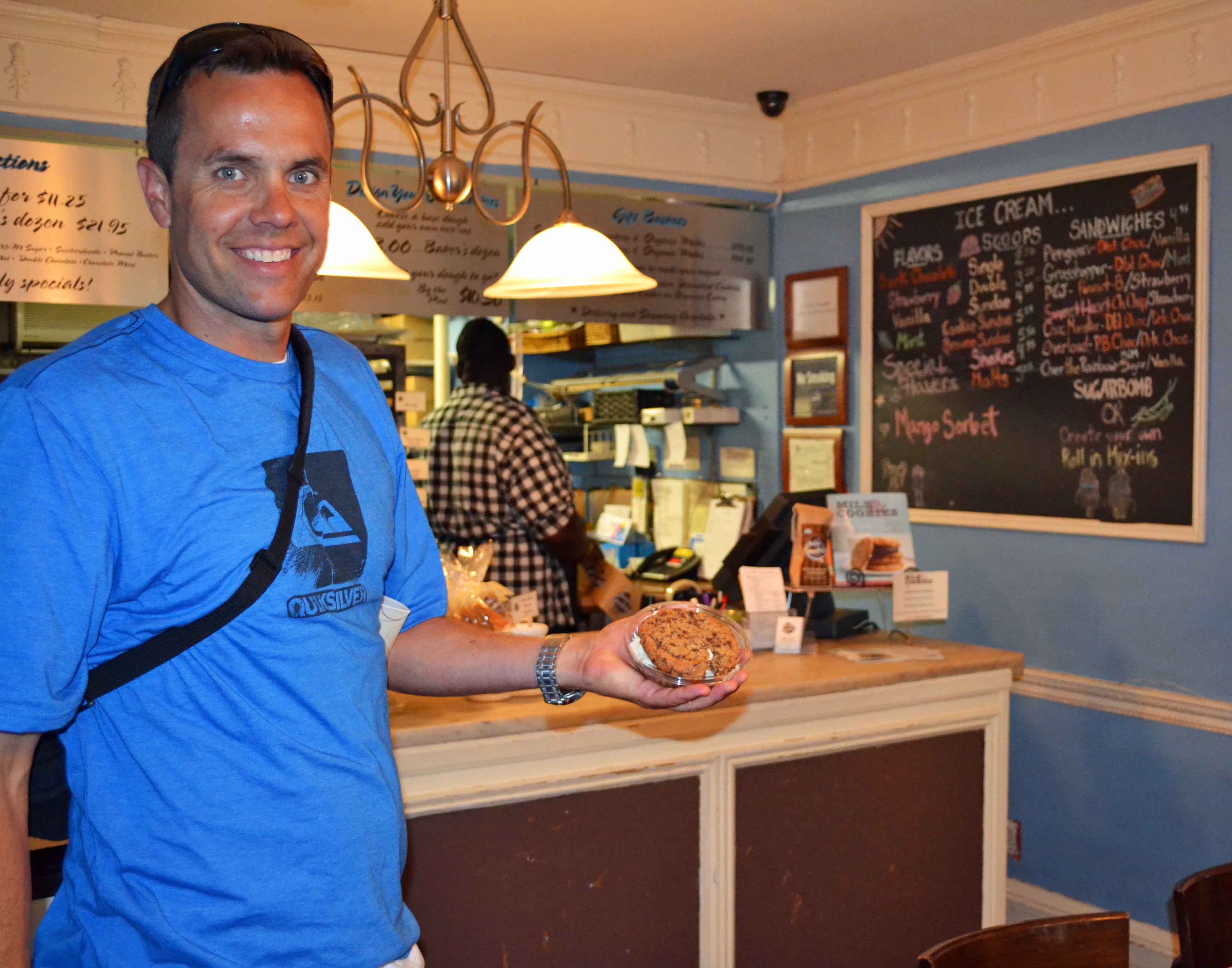 So, I made a deal. After filming was all done and on the last day of our trip, I would return and get my very own cookie. This is what kept me going.  I tried this NYC legendary cookie and it was chewy, it was crispy, it was chocolate-y, and I loved it! It was well worth the wait. So, when I saw that Milk and Cookies came out with their very own cookbook, you better believe I thumbed through to find the oatmeal chocolate chip cookie recipe. This recipe is an adaption of Milk and Cookies Bakery Classic Chocolate Chip Cookies. I hope I did them justice. You will love this recipe!
Pin on Pinterest: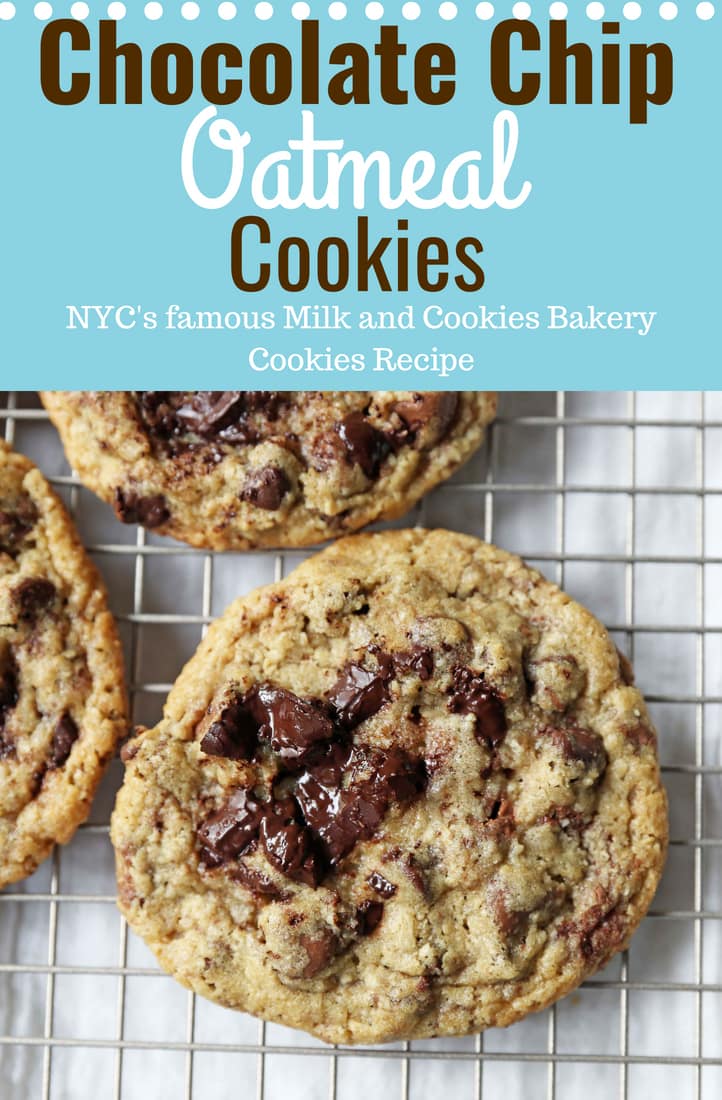 I hope you love these Chocolate Chip Oatmeal Cookies! Share them with me on instagram @modern_honey using hashtag #modernhoney. I love to see your creations on your instagram stories too! Happy Baking, my friends!