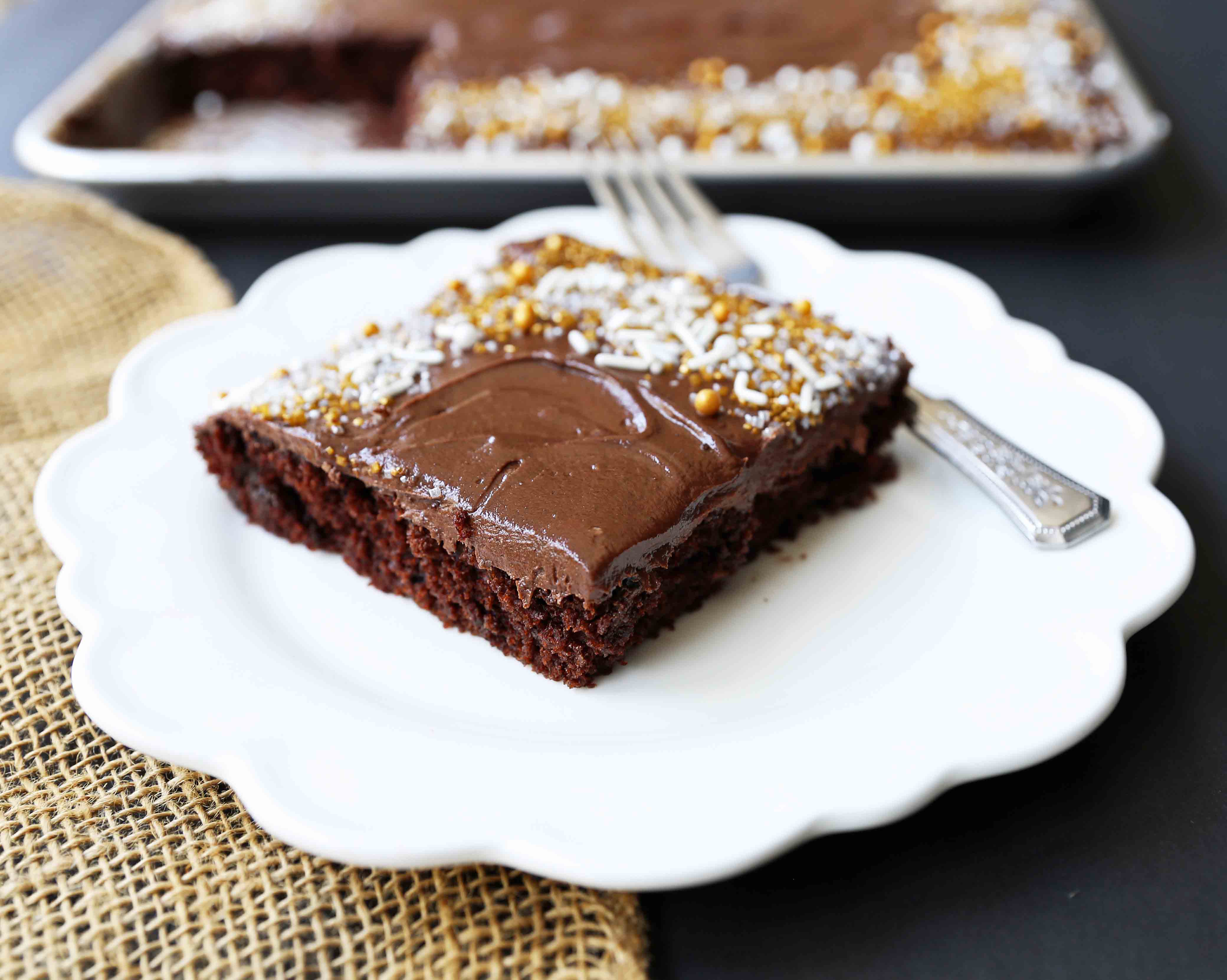 Chocolate Sheet Cake with Milk Chocolate Frosting
The easiest best chocolate sheet cake with chocolate frosting all made in one pan! The quickest and easiest way to make a homemade chocolate sheet cake!
I am picky about my homemade cakes. There is such a difference in making a homemade cake from scratch and the cake you get from a box. But when I am in a pinch for time, I go straight for my sheet cake recipes because they are so quick and easy!
The beauty of sheet cake recipes is that you don't have to worry about whether or not the cake will release from the pans or whether or not you will end up with lopsided layers, or even just trying to frost the cake so it looks perfect.  The pressure is off when you whip up a chocolate sheet cake!
This is all about whipping up a cake batter in less than 10 minutes, pouring it into a sheet pan, baking it, and then spreading frosting on top. Homemade chocolate sheet cake in no time at all!
My Love at First Sight Chocolate Cake has always been one of the most popular recipes on my website. I am so grateful that people love it! This is an adaption of that popular cake recipe made in a sheet pan to make it that much easier. So if you are intimidated by making homemade cakes, this chocolate sheet cake recipe is for you!
How to make a Chocolate Sheet Cake with Milk Chocolate Frosting:
Start by mixing dry ingredients together -- flour, cocoa powder, sugar, baking soda, and salt. Don't overmix but just give it a light stir.
This sheet cake recipe calls for oil because it helps to create a moist texture.
Buttermilk is always a game changer in baking. It is the secret ingredient to create a melt-in-your-mouth texture.
Hot water is added to the batter which is an important step as it helps to dissolve the cocoa powder and brings out the flavor of the cocoa. Place the hot water in a microwave-safe dish and heat until it is very hot.  Be careful removing from the microwave and pour into the bowl.
Choosing the right cocoa powder can make a huge difference in your chocolate baked goods such as cakes, cookies, and brownies. I always appreciate the meticulous studying that Cook's Illustrated and America's Test Kitchen does to analyze products readily found in the grocery store. They tested the most popular cocoa powders and came up with their favorites. You can find out more information HERE.
I usually pick up my cocoa powder from my local Winco's bulk section. My store in Gilbert, Arizona stocks Callebaut cocoa powder. Callebaut is a fine, high-quality, and usually expensive cocoa powder; however, it is such a crazy good price compared to the price you find online on Amazon and other retailers. It is even cheaper than Hershey's and you get such a high-quality cocoa powder. If you live by a Winco, stock up on it!
You can find some of my favorite sheet pans here. I also love to use an angled spatula to make spreading the frosting so easy and beautiful. It costs less than 7 bucks on Amazon.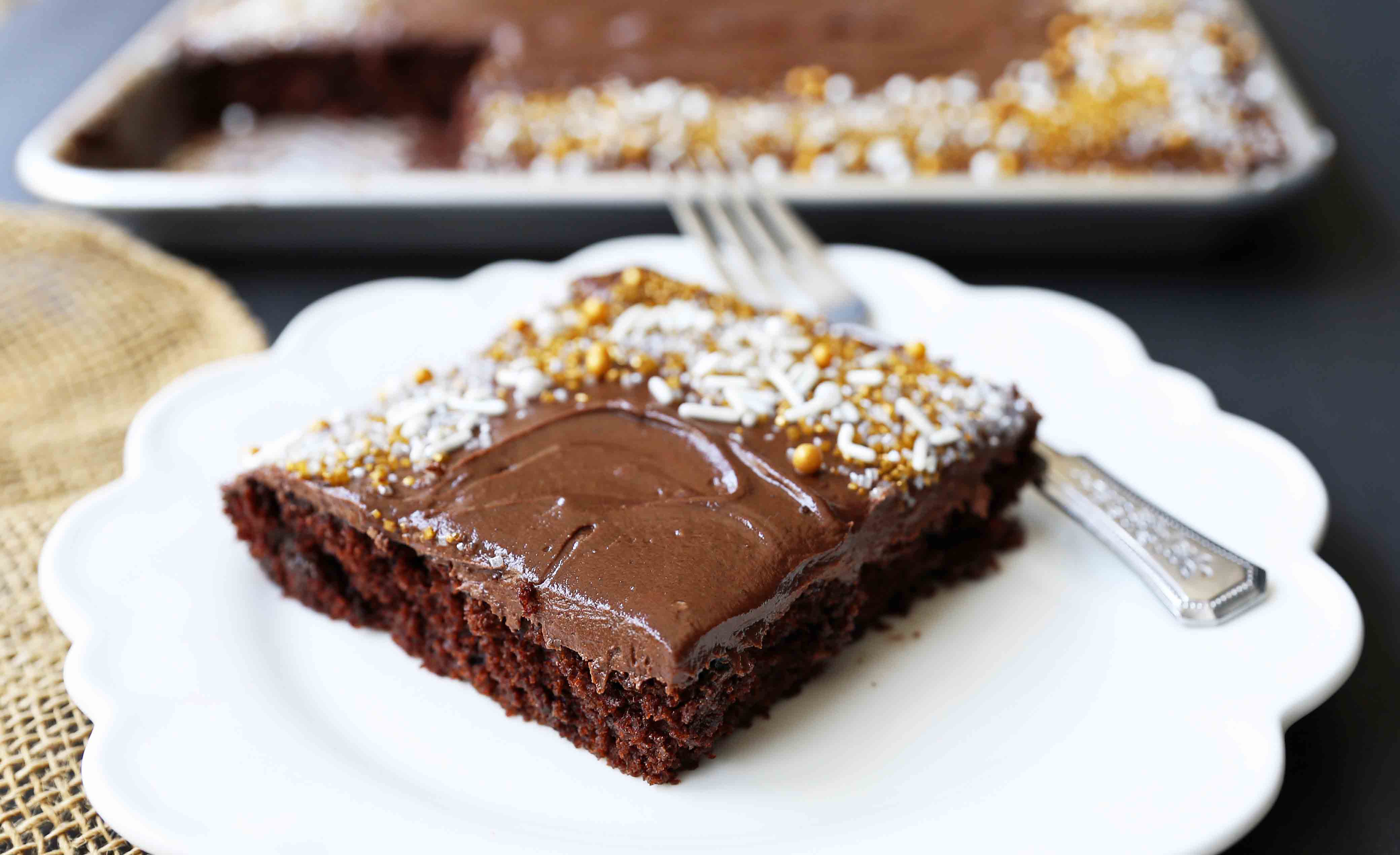 If you love SHEET CAKE RECIPES, check out more below:
I love to hear from you! If you make this recipe, please be sure to leave a comment and give this recipe a rating. Also, tag me on Instagram @modern_honey so I can see your creations. Be sure to tag your photo using the hashtag #modernhoney. It's one of my favorite things seeing you make these recipes in your own kitchen. Thank you for following along! I truly do have the greatest readers. FOLLOW ME ON:   INSTAGRAM --- FACEBOOK --- PINTEREST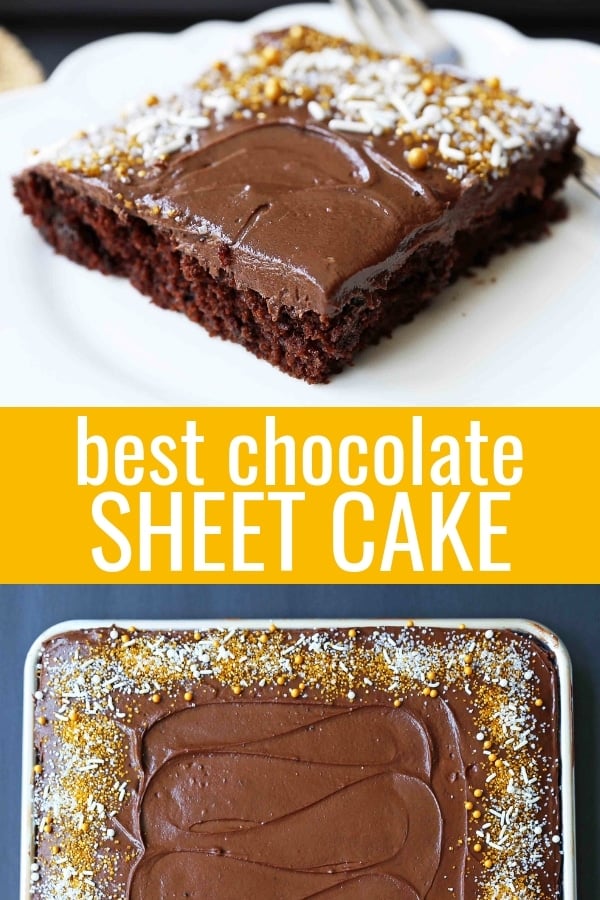 I hope you love this Chocolate Sheet Cake with Milk Chocolate Frosting! Thank you for stopping by!