How do you celebrate the 4th of July? What are your favorite traditions -- watching fireworks, a parade, having a BBQ, eating homemade ice cream, playing on the beach, swimming? I am predicting it most likely includes some seriously good food. I am sharing links below to some of my favorite recipes to serve on 4th of July.
This Vanilla Almond White Texas Sheet Cake with Cream Cheese Frosting is such a fun and festive dessert for your 4th of July party.
Oh this cake is so heavenly. It is a vanilla white fluffy cake with a buttery cream cheese frosting with almond or vanilla extract. It is so easy to serve at parties or for a yummy Sunday dessert.
The beauty of Texas sheet cake is its simplicity. The batter is made in less than 10 minutes and easily poured into a large jelly roll pan (aka a large cookie sheet). It is always moist and tender plus it feeds a ton of people! My Chocolate Texas Sheet Cake is always a hit so let's add a Vanilla Texas Sheet Cake to the mix.
This Vanilla Almond White Texas Sheet Cake is a fluffy, moist white cake topped with an almond cream cheese frosting and topped with fresh fruit. It's perfect to place the berries in a flag pattern for a 4th of July celebration and make your very own Flag Cake. I used fresh raspberries and blueberries to make a flag pattern by alternating two rows of raspberries with the white frosting and using the blueberries for the stars. This Flag Sheet Cake is so festive and pretty!
How do you make a Vanilla Almond White Texas Sheet Cake?
It's a little unique and uses different methods than a traditional cake. Butter and water is melted down in a saucepan and then sugar is added until it is nice and dissolved. Eggs, sour cream, and vanilla are added to give it flavor and moistness. Flour, baking soda, and salt round it out. It is poured into a large cookie sheet and baked until lightly golden brown. A buttery almond cream cheese frosting is spread all over the vanilla sheet cake. Then you can top it with your favorite fruits or keep it super simple.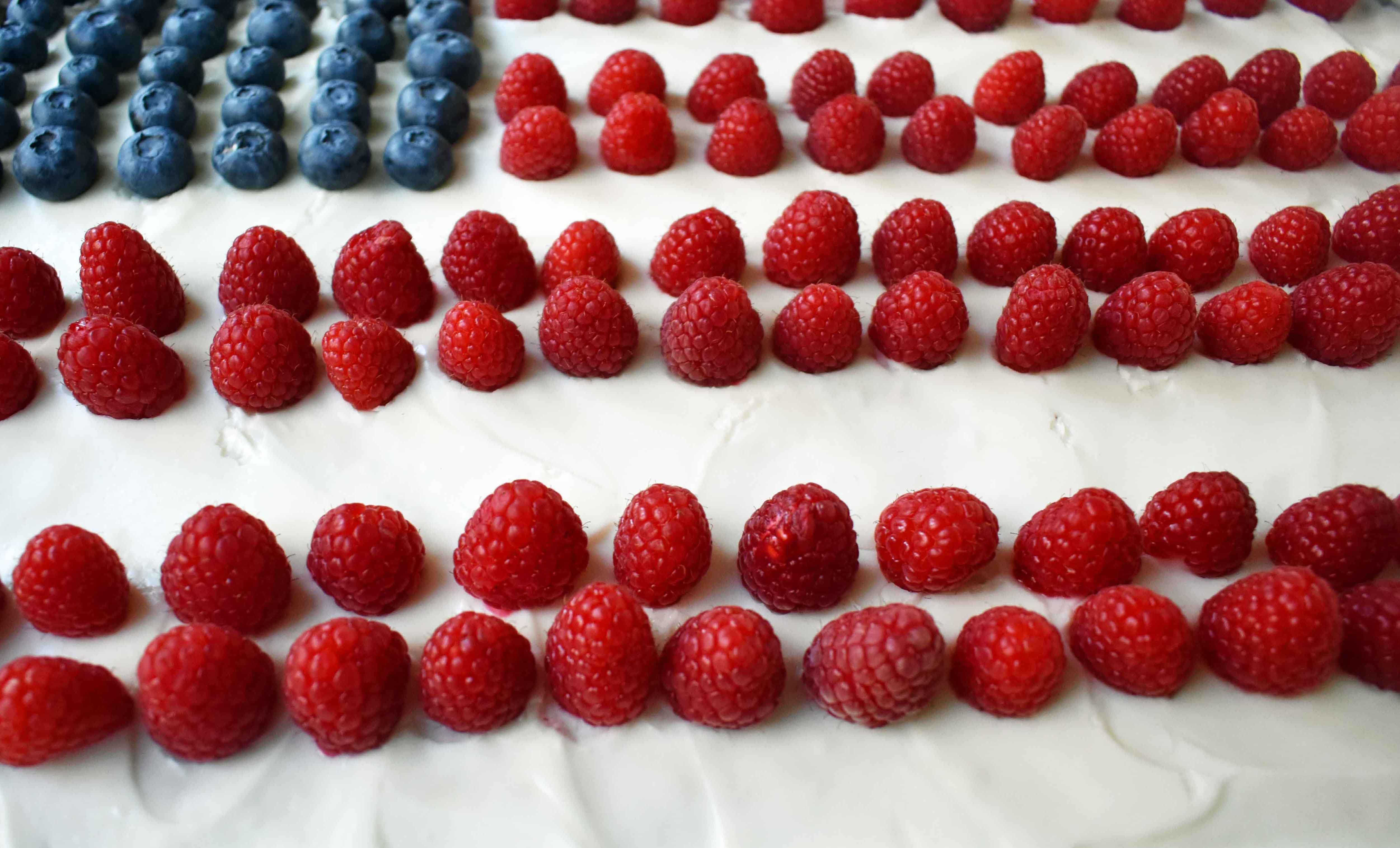 Vanilla Almond White Texas Sheet Cake
A simple vanilla white sheet cake recipe that is moist and delicious and covered in a creamy almond cream cheese frosting.
Ingredients
Vanilla Sheet Cake:
1

cup

Butter

1

cup

Water

2

cups

Sugar

⅔

cup

Sour Cream

2

Eggs

2

teaspoons

Vanilla

2

cups

Flour

1

teaspoon

Baking Soda

½

teaspoon

Salt



Almond Cream Cheese Frosting:
½

cup

Butter

softened

1 - 8

oz

pkg. Cream cheese

softened

4

cups

Powdered Sugar

2

Tablespoons

Milk or Cream

¼-1/2

teaspoon

Pure Almond Extract



To make Flag Cake:
12

ounces

Fresh Raspberries

6

ounces

Fresh Blueberries
Instructions
Preheat oven to 350°F.

Light spray a 13 x 18 jelly roll pan with butter or non-stick cooking spray.

In medium pot, add butter and water and cook over medium heat until melted, about 3-4 minutes. Add sugar and whisk until smooth.

Remove from heat and let cool for 10 minutes.

Whisk in sour cream, eggs, and vanilla. Then whisk in flour, baking soda and salt.

Pour batter into prepared jelly roll pan and bake for 18-20 minutes, or until a toothpick inserted in the center comes out clean.

To make frosting:

Cream together butter and cream cheese until nice and fluffy, about 4 minutes. Add powdered sugar, milk, and pure almond extract.

Spread over cake and top with fresh fruit, if so desired.

To make flag cake:

Make two rows of fresh raspberries and skip one to allow the white frosting to show and repeat. Place the blueberries in the corner to make stars.
You can also serve this plain and simple. I love to spread the buttery cream cheese frosting with an angled spatula. It has the perfect ratio of cake and frosting and is oh so decadent.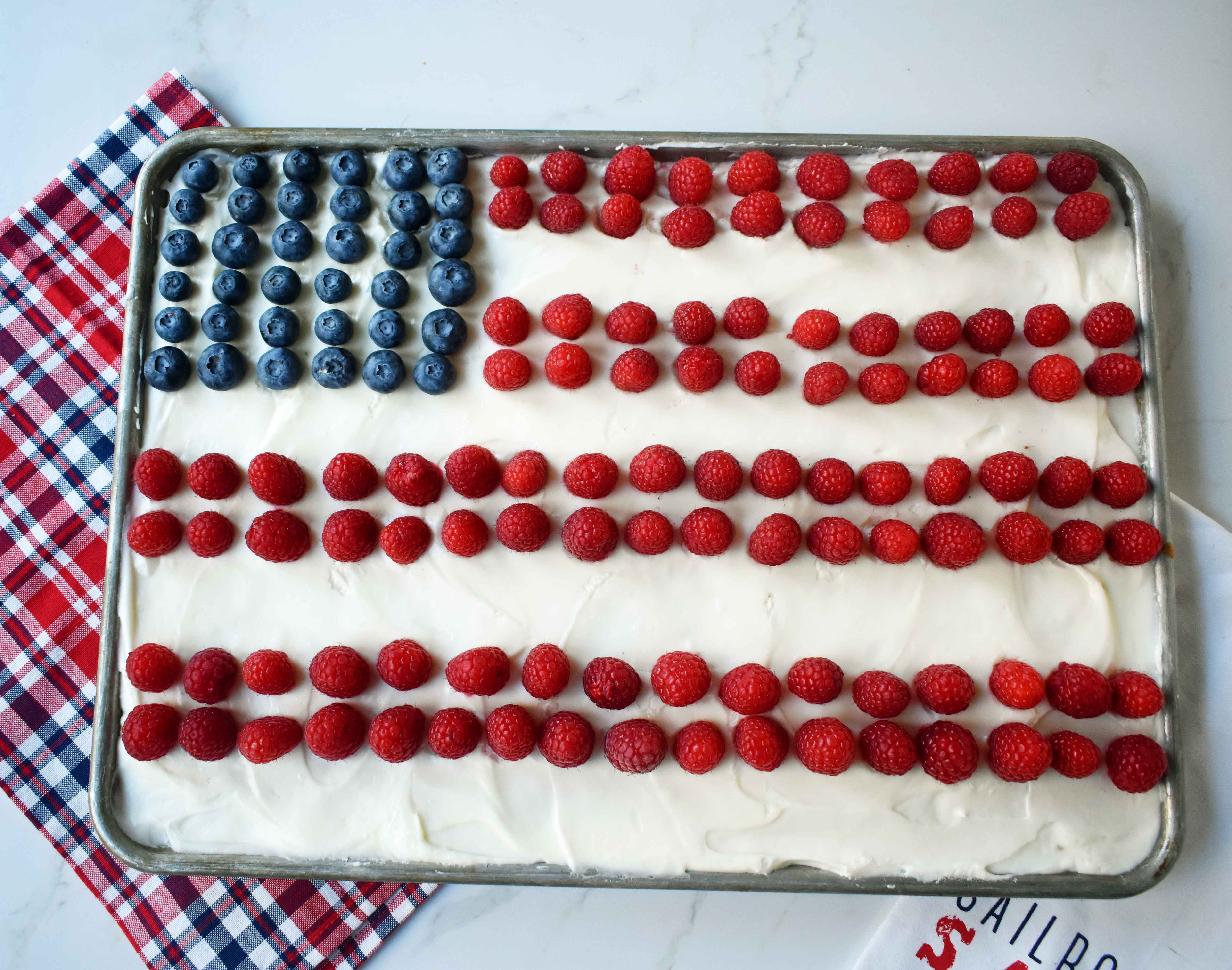 4th of July Recipes:
Fresh Mozzarella Caprese Watermelon Skewers
Homemade Vanilla Bean Ice Cream
Pucker Up Buttercup Lemon Ice Cream
Chocolate Covered Rice Krispies Treats
Lady's Chocolate Chip Skillet Cookie
I hope you all have an amazing 4th of July! Happy Baking! xo