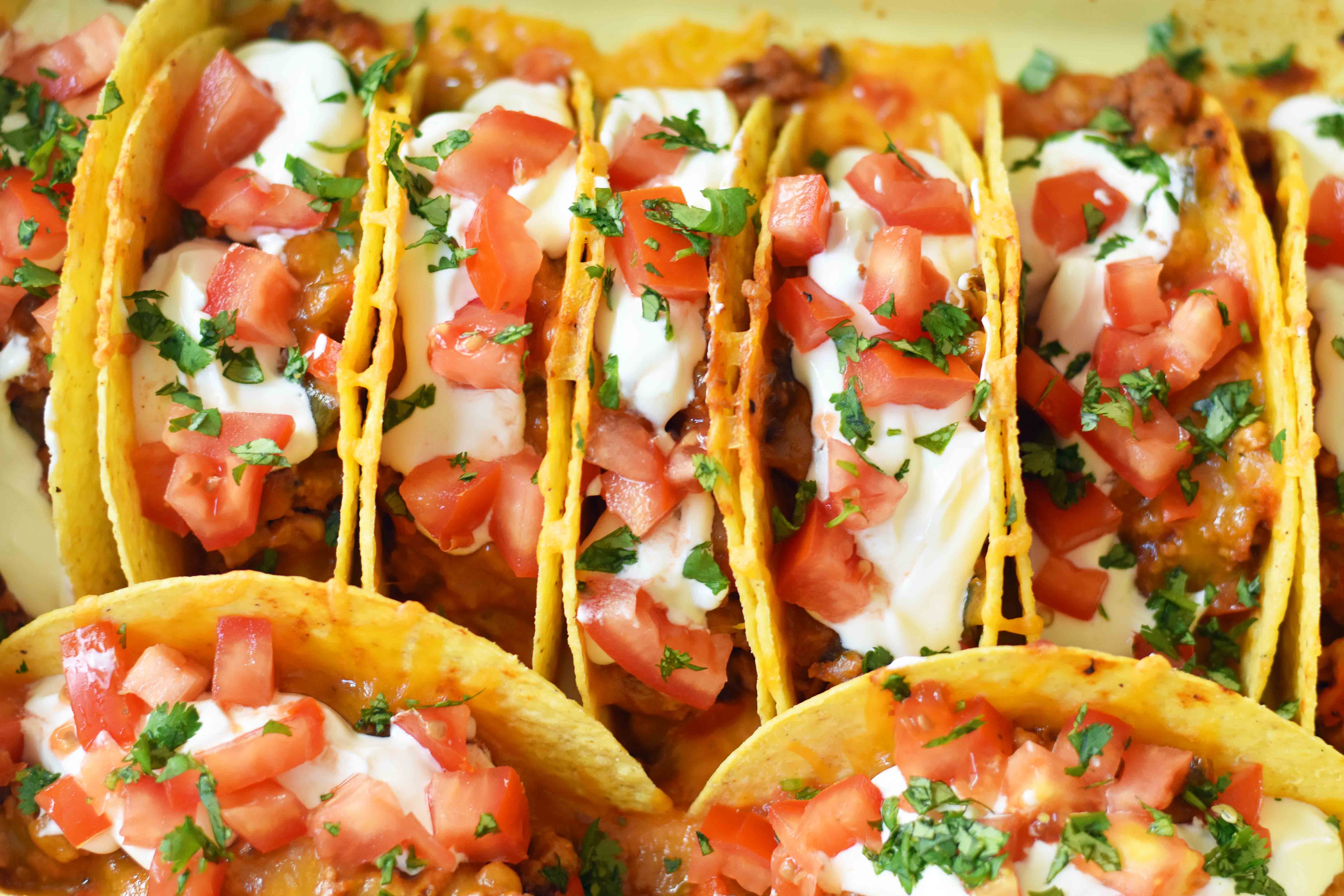 Oven-Baked Beef Tacos 
Easy Oven-Baked Beef Tacos are spicy seasoned beef tacos sprinkled with Mexican cheeses and baked in the oven until melted. These delicious tacos are topped with sour cream or crema, guacamole, fresh tomatoes, and even lettuce. These are basically PARTY TACOS, all done at once, which makes dinnertime a breeze.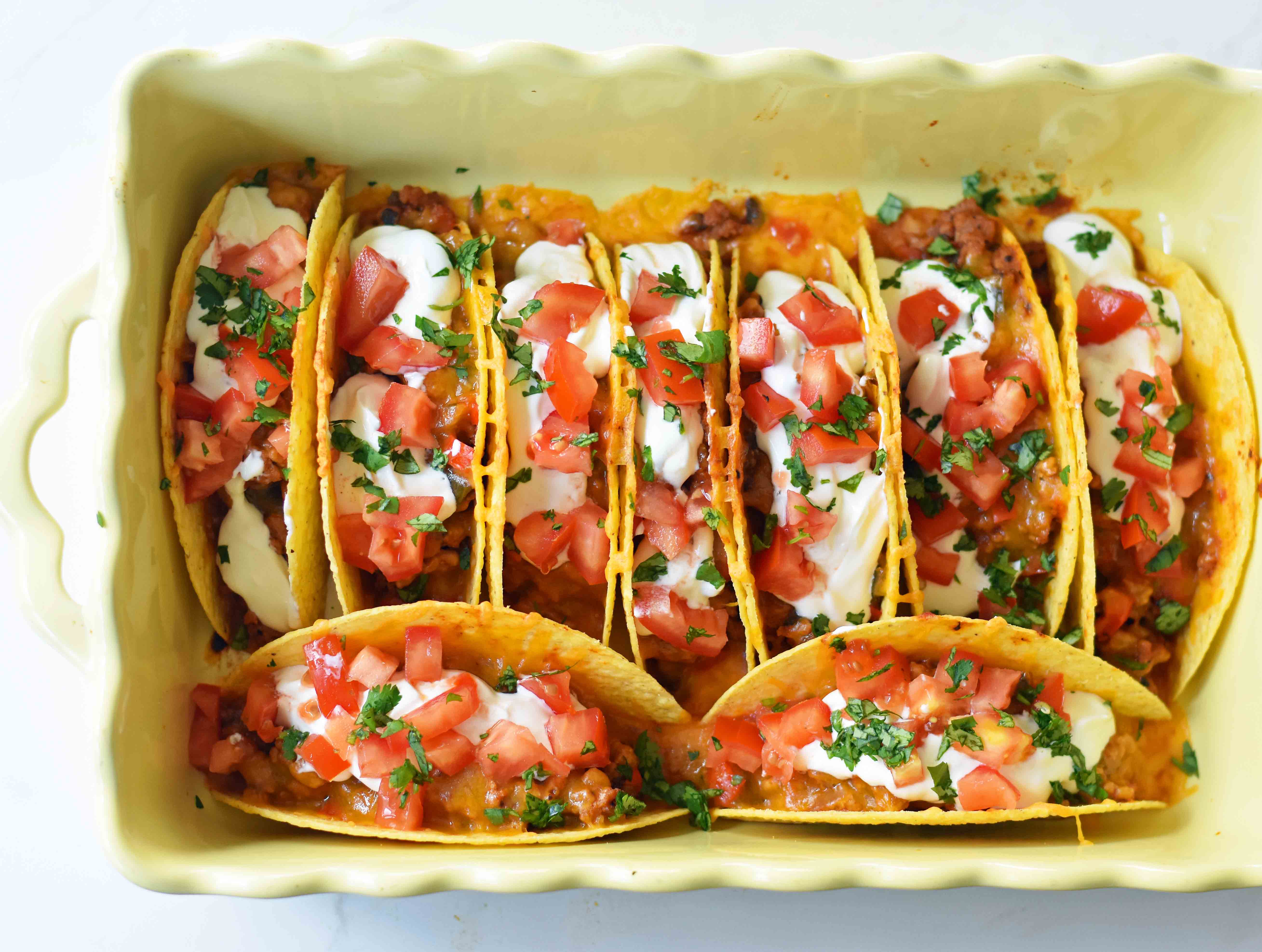 We are IN LOVE with these Oven Baked Beef Tacos. I mean...we all love TACOS but these just took our love to another level. This dinner is ridiculously popular in our home and these tacos are gone within seconds.
When I first got married, I discovered really quickly that my husband's favorite meal was ground beef tacos. Simple tacos.  I would watch in wonder as he would down 6 tacos in one sitting.  To this day, it is one of his absolute favorite dinners.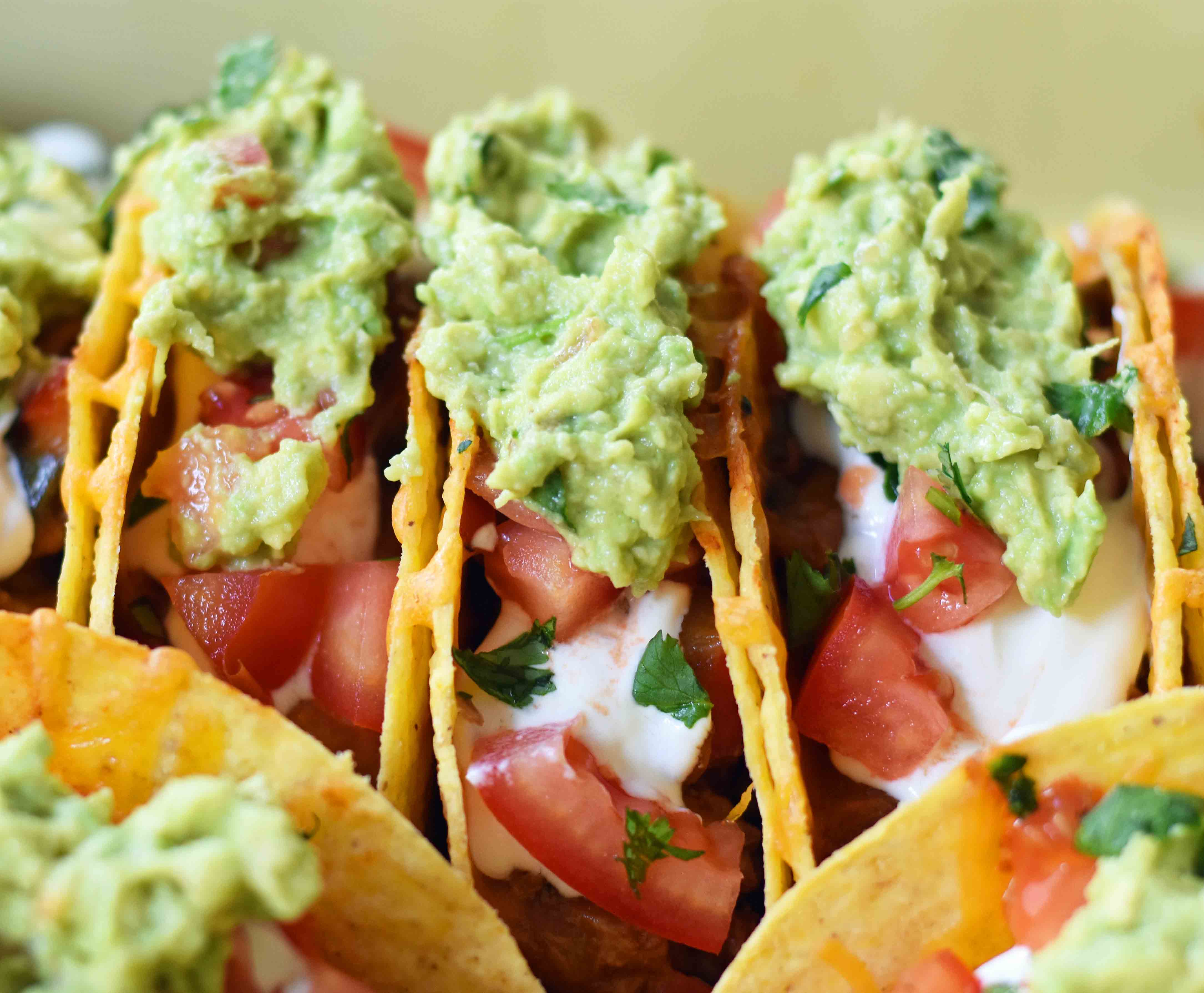 How to make EASY OVEN BAKED BEEF TACOS in 4 simple steps:
 Cook ground beef with onions, red pepper (if you love them), poblano or jalapeno pepper. The peppers and onion and going to give these tacos the huge FLAVOR pay-off.
Season with Mexican spices.  A mix of chili powder, cumin, tomato sauce, salt, and pepper are what makes these tacos so mouthwatering.

Fill flat-bottomed taco shells (such as Stand N' Stuff) with meat and sprinkle with Mexican cheeses.

  Line baking pan with two sheets of foil to help keep the tacos nice and crispy.  Bake until cheese is melted.

Top with sour cream (or

Mexican

crema), zesty guacamole, fresh salsa, diced tomatoes, and even lettuce

(if you like it gringo style)

. Serve immediately to your hungry friends and family. They will THANK YOU.
This recipe will become a family favorite in no time at all! These Oven Baked Beef Tacos are beyond easy and a real crowd pleaser.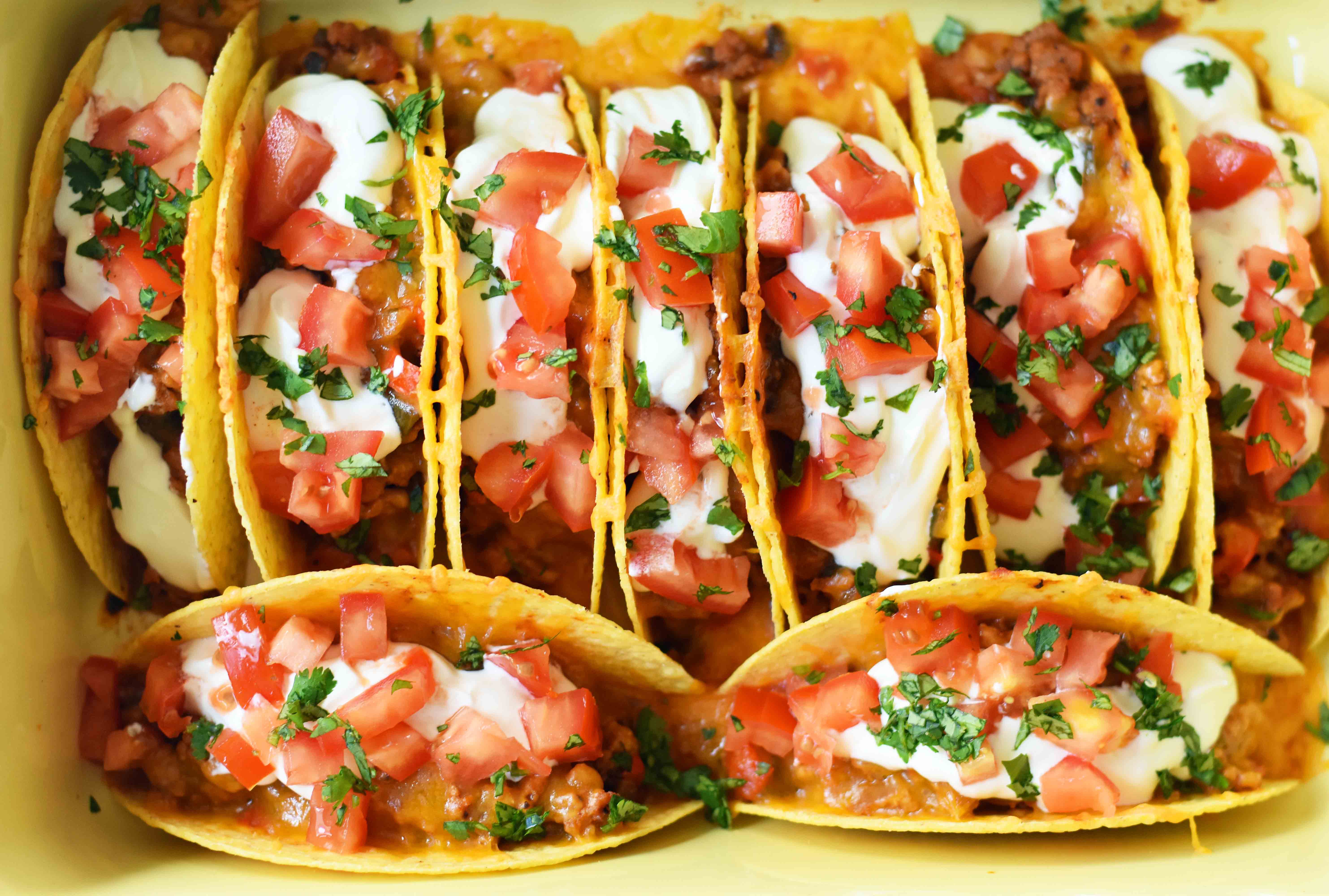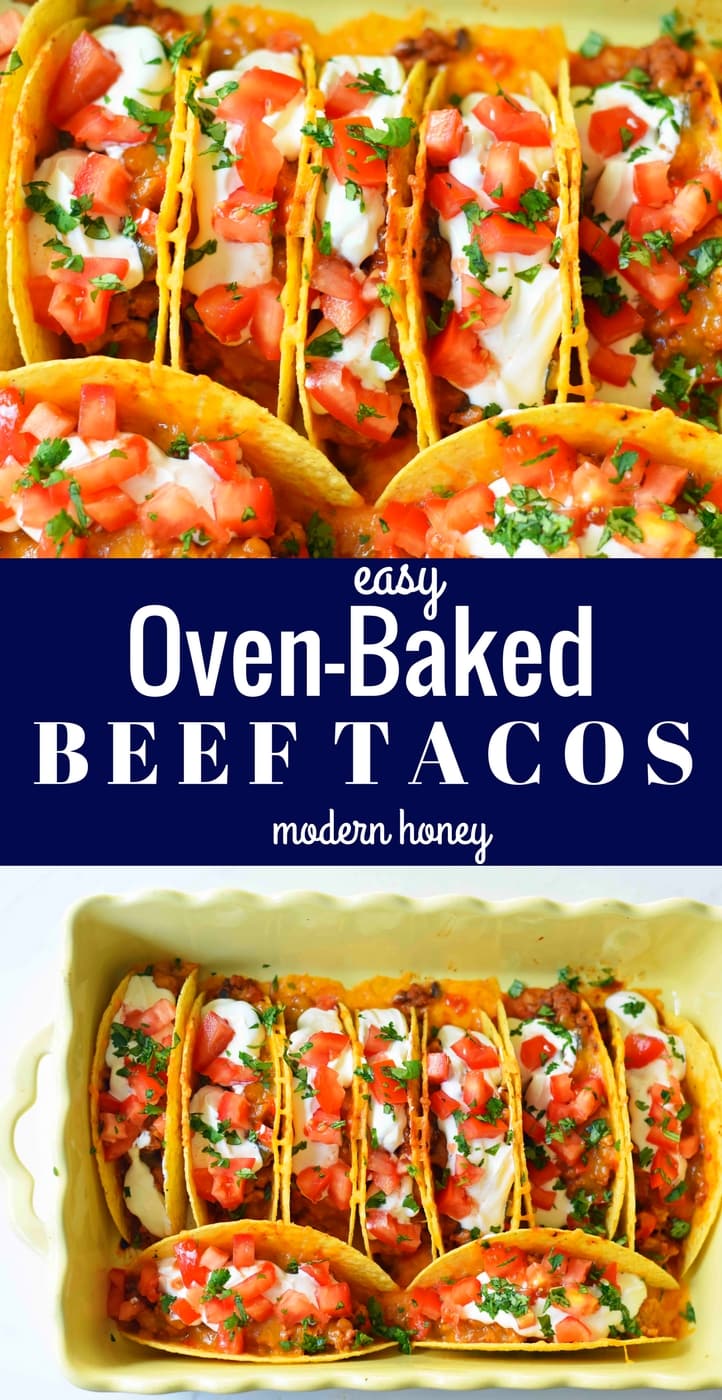 It's TACO TUESDAY tomorrow so the perfect way to celebrate is to whip up some of these Oven Baked Beef Tacos! Am I right?
Happy Cooking, my friends!