A gourmet grilled cheese sandwich made with smoked gouda cheese, sweet crisp Honeycrisp apple slices, and crispy bacon all on buttery sourdough bread.
We take grilled cheese very seriously in this family. If I say to my kids or husband that we are having grilled cheese sandwiches for dinner, they will drop everything to get their buns in the kitchen.  We love to experiment with different types of bread and cheese and let me tell you...this Gouda Honeycrisp Apple Bacon Grilled Cheese is on another level. This is the perfect sweet, cheesy and salty bacon grilled cheese sandwich.
The key to making perfect grilled cheese sandwiches is to ensure that you use a good melting cheese with some serious flavor.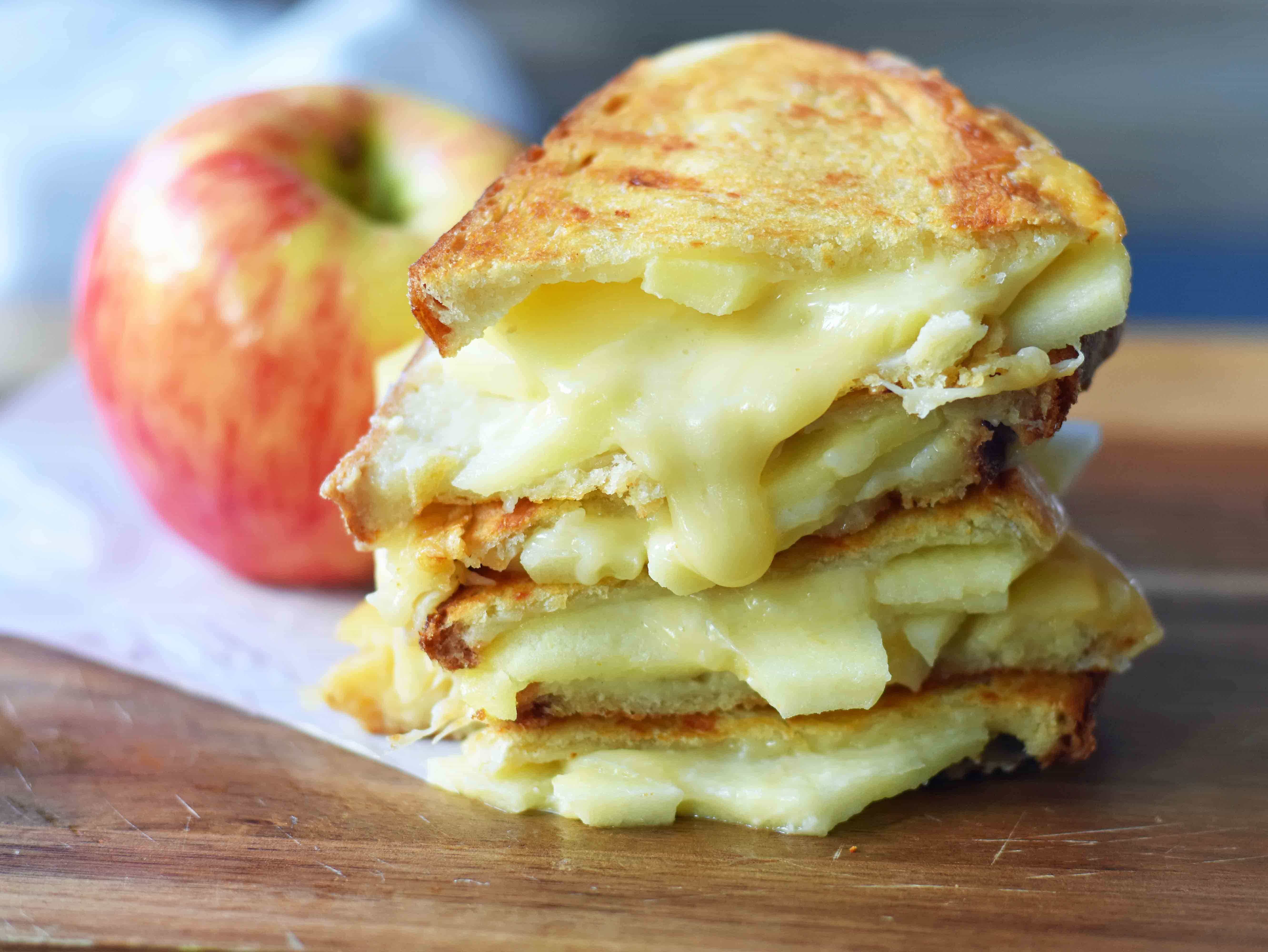 I love to use a sharp cheddar cheese if I am making a classic grilled cheese sandwich. Since we are making a gourmet grilled cheese sandwich, I wanted to bring in some creamy gouda cheese. Gouda is a popular Dutch cheese that has buttery caramel notes. If you buy smoked Gouda Cheese, it will have a slightly smoked flavor. It melts so beautifully in a smoked gouda grilled cheese sandwich!
Since apples pair so well with gouda cheese, it was a no-brainer to add crisp sweet apples to this gourmet grilled cheese sandwich.  I used honeycrisp apples for their juicy and sweet taste.  It adds a touch of sweetness to complement the creaminess of the cheese.  You may also use gala or fuji apples instead. A little tip: slice the apples thin and layer them. Drizzle on some honey or fig jam if you desire some extra sweetness.
This Grilled Cheese with Apple and Bacon is elevated by the addition of crispy bacon. Bacon just makes everything better! You can pan-fry your bacon until crispy or bake your bacon at 400 degrees for about 20 minutes, or until desired crispiness. If you like your bacon extra crispy, cook for 2-3 minutes longer.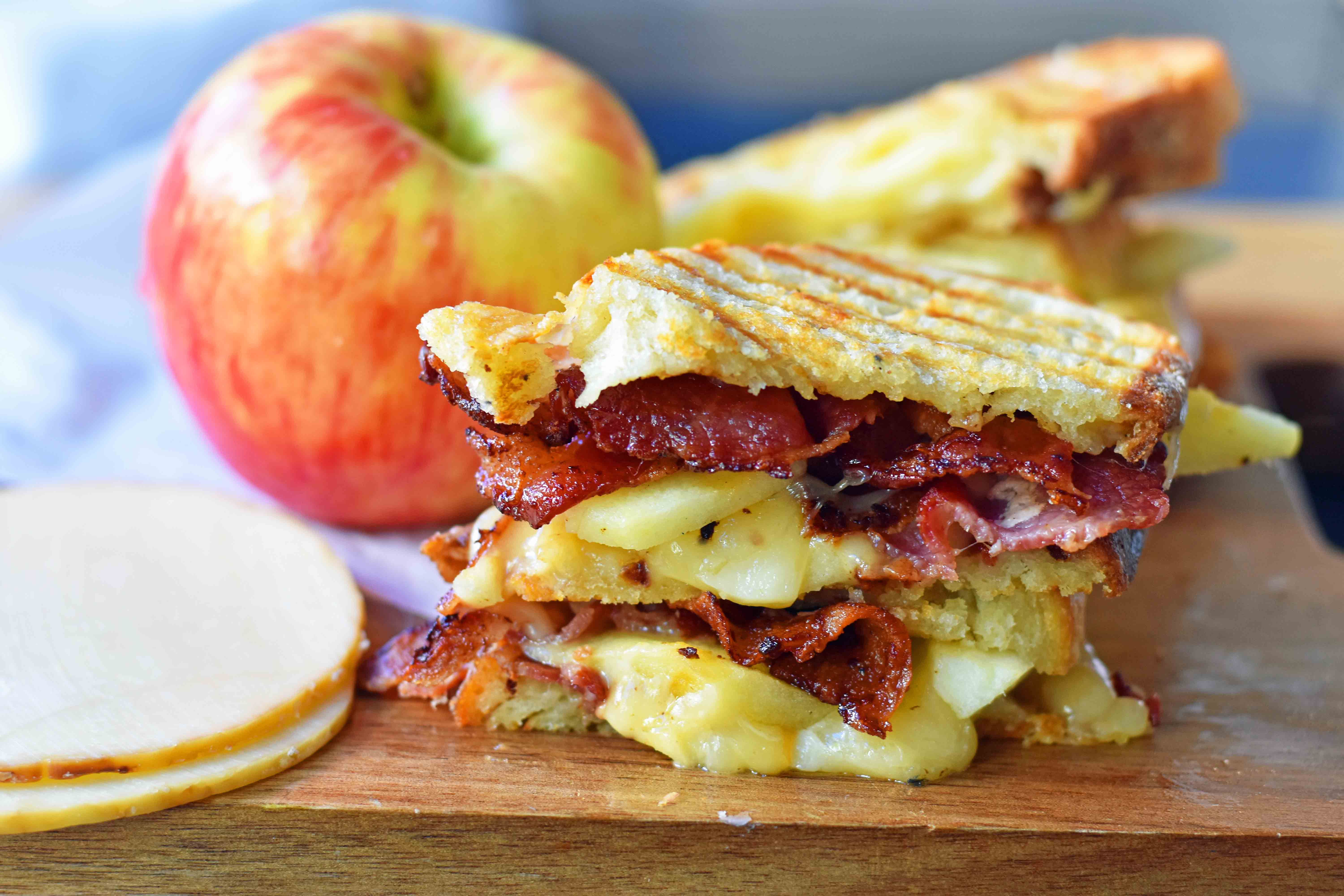 How to make the perfect Grilled Cheese Sandwich:
Pick the Best Bread. This is the base of the grilled cheese sandwich and you want it to hold together. Sourdough has a nice chewy and golden crust and is always a winner. Pullman Bread or Ciabatta Bread also holds up nicely when heated.

Use the Right Cheese.

You want to use a cheese that melts nicely.  Cheddar, Fontina, Gouda, Gruyere, Pepper Jack, Havarti, and many others are soft enough to melt when heated.

Bring on the butter.

Spread butter on both sides of the bread so the grilled cheese becomes nice and golden on both sides. It also brings a lot of flavor so don't skimp on the butter.

Cook LOW and SLOW.

  Have you ever eaten a grilled cheese that is way overcooked on the outside but the cheese is barely melted on the inside? That is never a good thing. You want to give the cheese enough time to melt and do its thing. Cooking the grilled cheese on a low temperature ensures the cheese melts before the outside gets overcooked. I usually use a medium-low setting and watch the grilled cheese closely.
Elevate the Grilled Cheese Sandwich.  To make this Gouda Honeycrisp Apple Bacon Sandwich, we added some crispy bacon and sweet apple to put it over the top.  You can even add a drizzle of honey or fig jam.
If you LOVE Grilled Cheese Sandwiches, you can find more recipes HERE:
Grown Up Grilled Cheese Sandwich --  three cheese, crispy bacon, juicy tomato, creamy avocado
Mrs.Fancy Pants Turkey Bacon Panini -- honey turkey, crispy bacon, havarti cheese, bosc pear, fig jam
Pin on PINTEREST: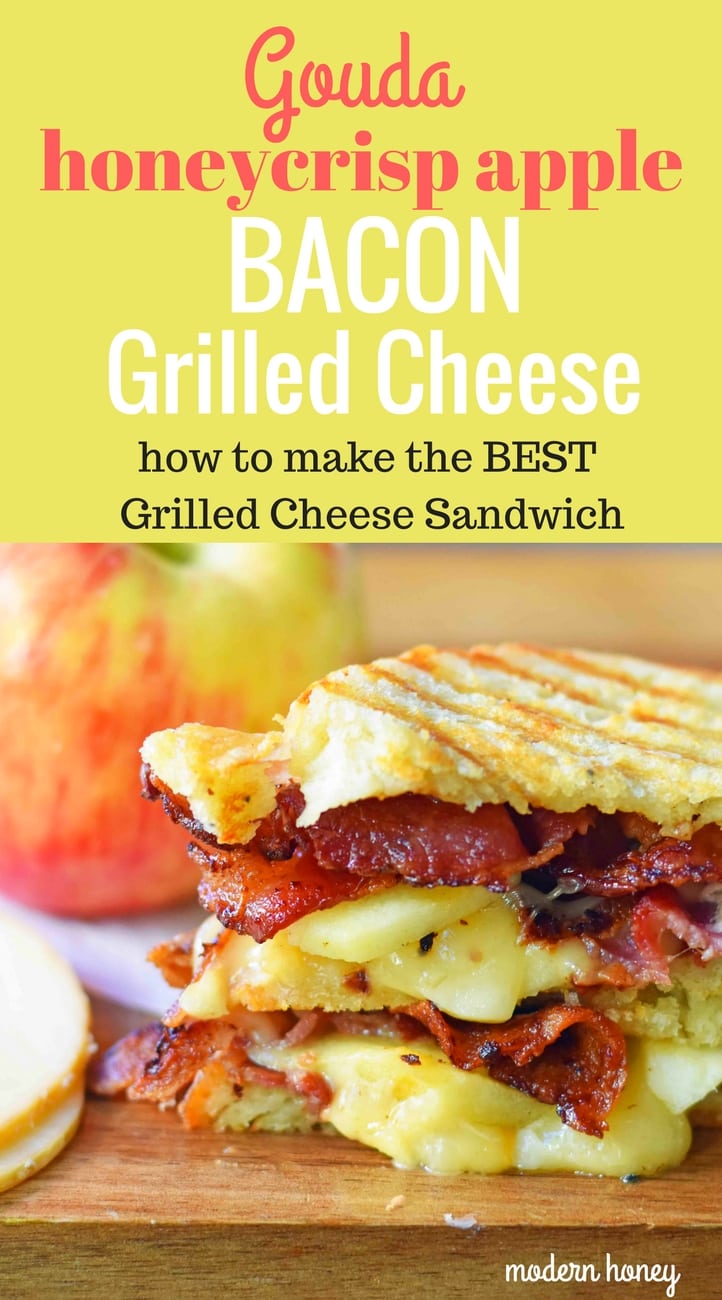 I hope you love this Gouda Apple Bacon Grilled Cheese Sandwich! I can't wait to hear all about it. Happy Cooking! xo