This simple Greek Salad is made with fresh tomatoes, cucumbers, red onion, kalamata olives, feta cheese, and all tossed with a homemade tangy Greek dressing.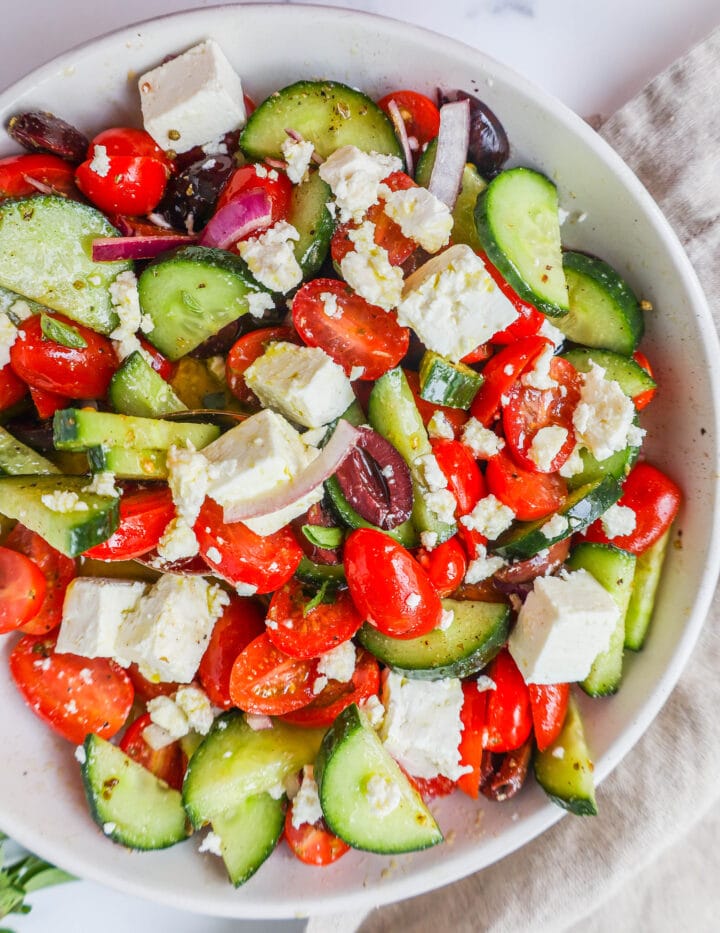 It is GREEK week on Modern Honey and I am sharing some of my favorite Greek food recipes. I just shared my go-to Greek Chicken Marinade Recipe yesterday and I love to pair the chicken with a simple Greek salad with fresh vegetables, creamy tangy feta cheese, and tossed in a herb Greek dressing.
This quick and easy salad is something we keep in the refrigerator for a quick snack or lunch with some grilled chicken. It is so simple and flavorful!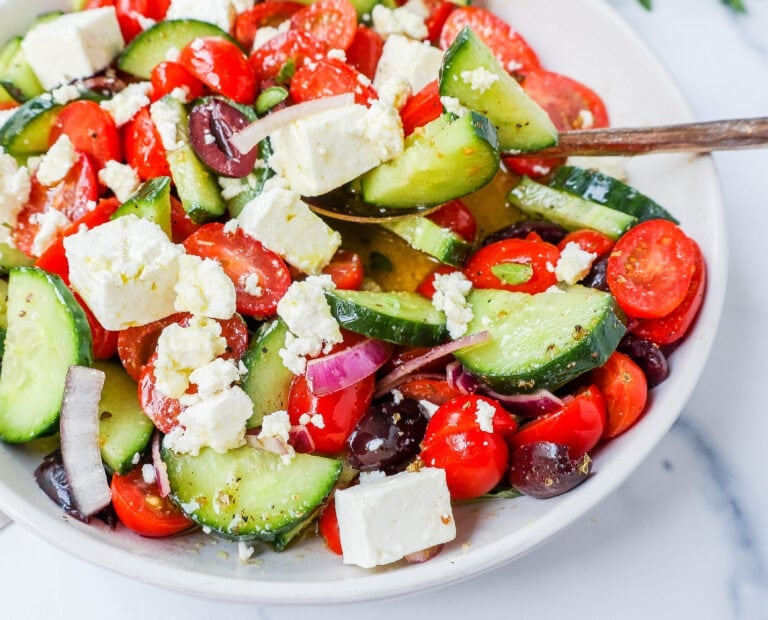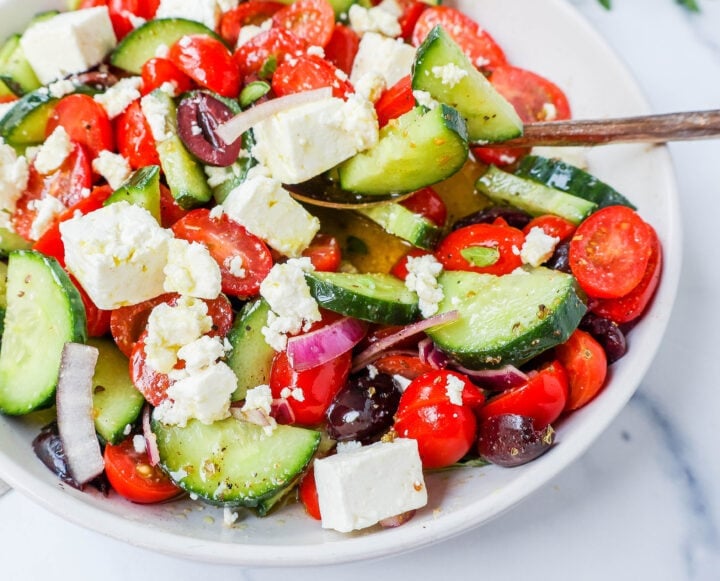 Greek Salad Ingredients:
This tomato cucumber feta salad is tossed with a homemade Greek dressing. You can also add romaine lettuce to the salad. If you add lettuce, I would suggest doubling the dressing recipe.
Tomatoes -- use grape or cherry tomatoes, cut into half lengthwise.
Cucumbers -- I suggest using a hot house cucumber but any type of cucumber work in this greek salad recipe.
Red Onion -- I suggest thinly slicing and not adding too much or it can overpower the salad.
Feta Cheese -- I love to use block feta cheese cut into squares. You can use any type of feta cheese though.
Kalamata Olives -- this adds the perfect salty briny flavor. If your local grocery store offers an olive bar, pick up some fresh olives there.
Greek Dressing -- it is so easy to whip up homemade Greek dressing made with only olive oil, red wine vinegar, garlic, oregano, fresh herbs, and salt.
Optional: Green Peppers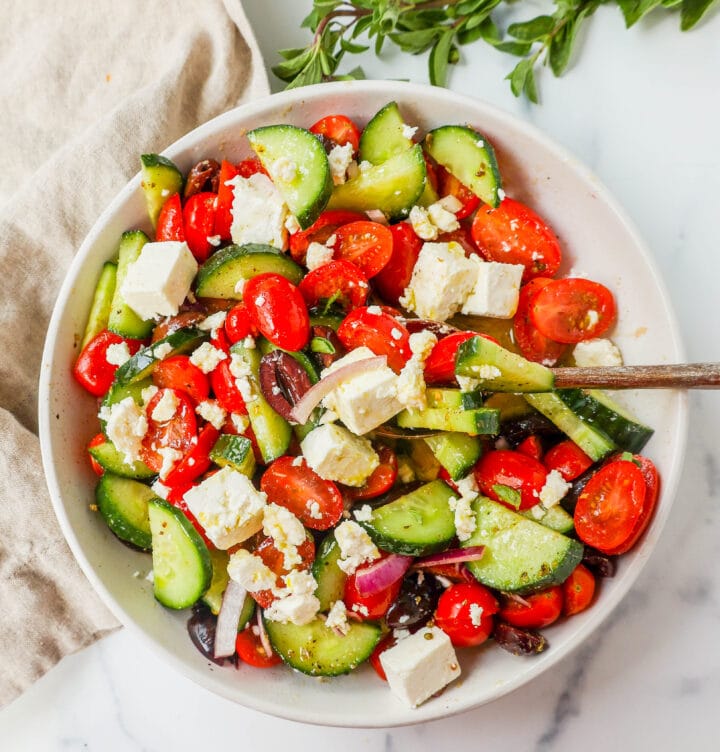 How to make Homemade Greek Salad:
This is such a simple and easy recipe to throw together and is popular at potlucks.
Start by slicing the tomatoes in half lengthwise and the cucumber into slices. I suggest thinly slicing the red onion and cutting it into small pieces. You can keep the kalamata olives whole or slice in half lengthwise. Cut the feta cheese into blocks, if using fresh feta cheese.
Make the dressing by blending olive oil, red wine vinegar, garlic, oregano, salt, and pepper. Taste for seasonings.
Add the vegetables and cheese to a bowl and toss with Greek dressing until fully coated.
Cover and chill until ready to serve.
How to store Greek Salad:
This tomato cucumber feta salad is best kept in the refrigerator in an air-tight container.
How long does it last in the refrigerator?
This salad will last about 7 days in the refrigerator. The tomatoes and cucumbers won't be as crisp as time goes by but will be flavorful.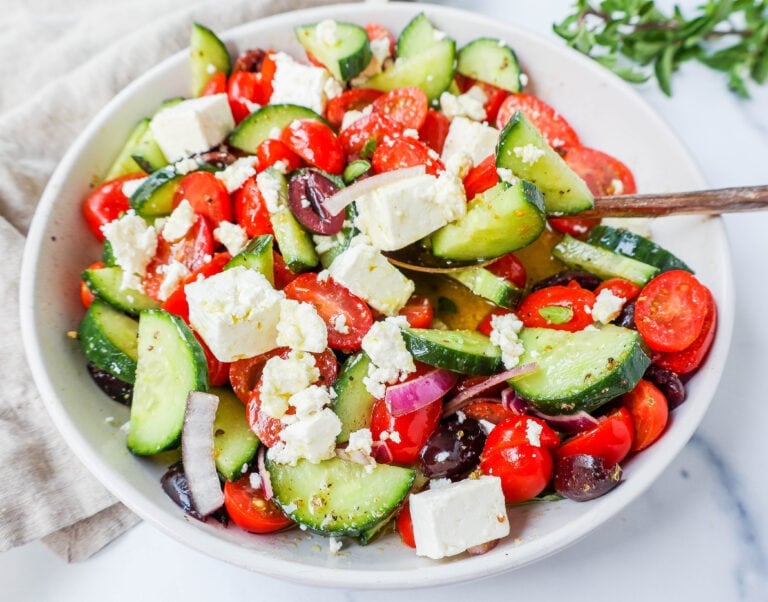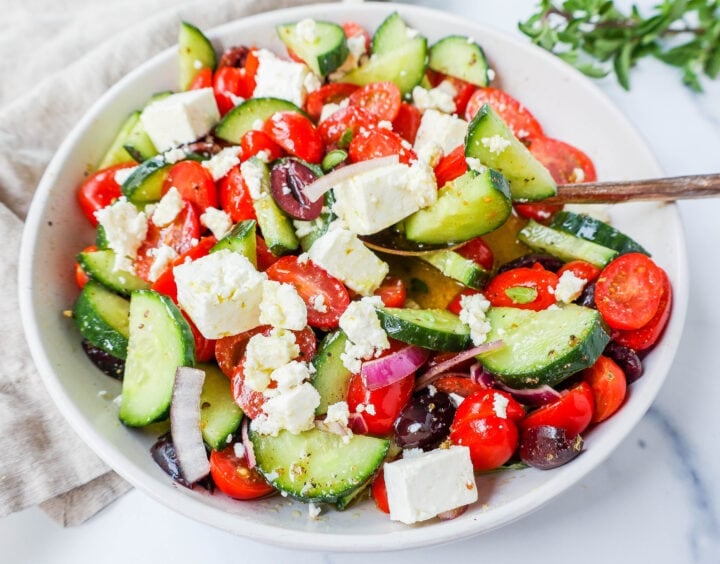 Substitutions:
If you don't want to use kalamata olives, you can use green olives. There are some delicious green olives stuffed with garlic that would taste amazing as well.
If you don't want to make your own homemade Greek dressing, you can buy store-bought Greek dressing. You can also just drizzle the Greek salad with extra-virgin olive oil, red wine vinegar, and a generous amount of salt and pepper.
Popular Greek Recipes:
Greek Chicken Gyros with Homemade Tzatziki Sauce
Greek Chicken Bowls with Tzatziki Sauce