Homemade Marinara Spaghetti Sauce
The spaghetti sauce was slowly simmering on the stove. My Mom was standing at the stove stirring a batch of her homemade marinara sauce with her tried and true wooden spoon.
We looked forward to spaghetti nights in our home and filling our bowls to the brim with pasta and fresh tomato marinara sauce. We ate together as a family every single night. The numbers would differ -- sometimes there would be three, sometimes six, and when we were really lucky -- all eight of us sat around the kitchen table.
There's just something super special about family dinners.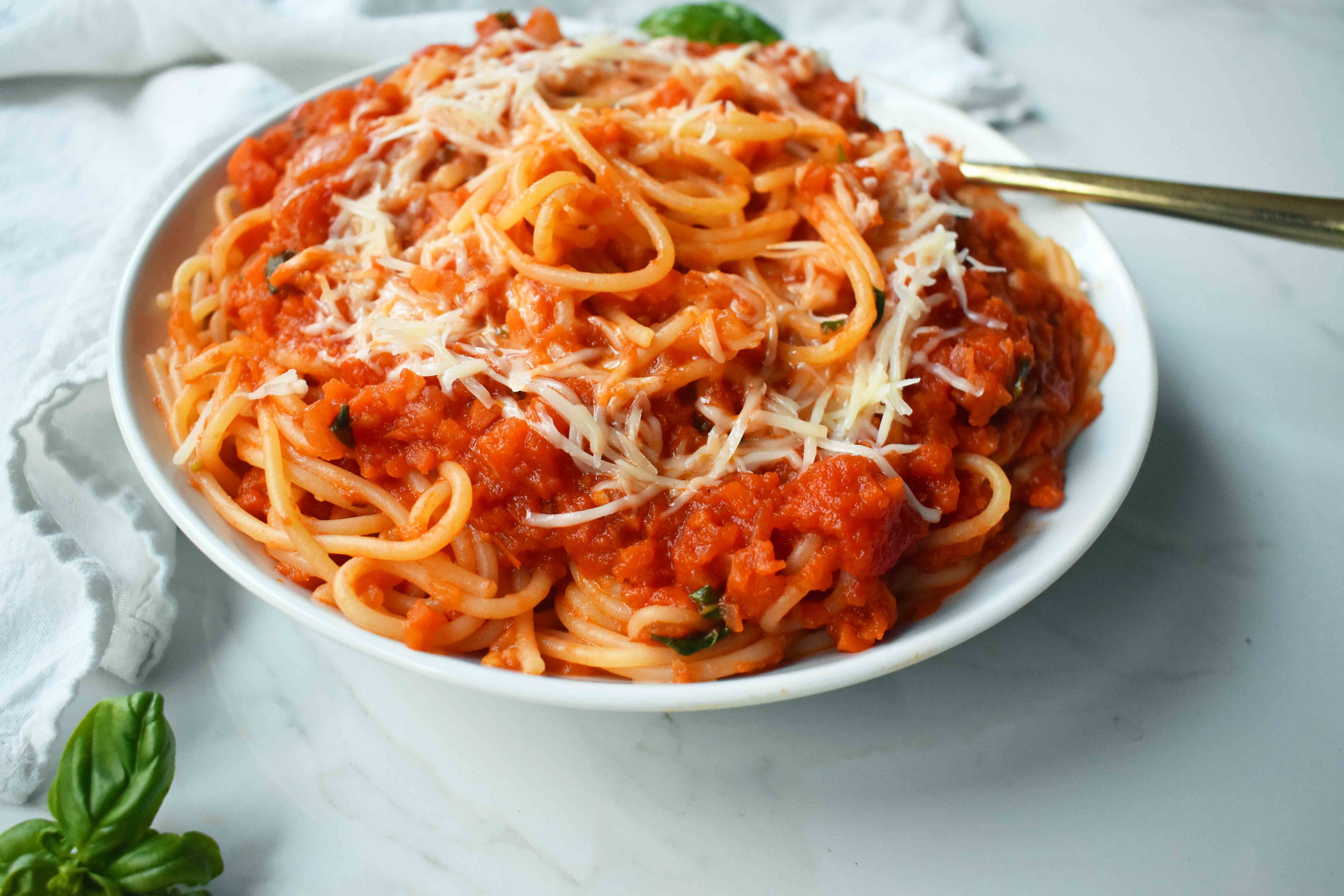 I look at my family these days. We are in the busy time of life when practices and lessons keep us so busy running around that the times when we are all together just doesn't happen enough. For example, tonight I made skirt steak tacos with all of the fixings, but since we are still on Spring Break, my kids are scattered all over the place, playing with their friends. One child came home and said she already ate at her friend's house and another announced she was off to dinner with some friends....but I am crossing my fingers and hoping my two boys will finish off the tacos. There are no placemats or fancy goblets tonights. It will likely be a "stand around-the-island and scarf down some tacos" kind of night.
I cherish the slow days when my entire table is filled with the people I love the most. No empty chairs.
Just like I looked forward to spaghetti nights as a kid, my kids do the same. My daughter declares it her ultimate comfort food meal and since she is heading off to college in the Fall, I tried to teach her how to make it on her own. I may just have to send up a few jars of homemade marinara sauce to get her started! There's just something so comforting with a big bowl of pasta.
Learning how to make a homemade spaghetti sauce is one of those essential basic recipes to commit to memory. A homemade marinara sauce is so versatile. It can be tossed with all kinds of pasta, be drizzled on chicken parmesan, or on any Italian dish. You can even add some heavy cream to make a tomato cream sauce. This is the BEST marinara sauce recipe!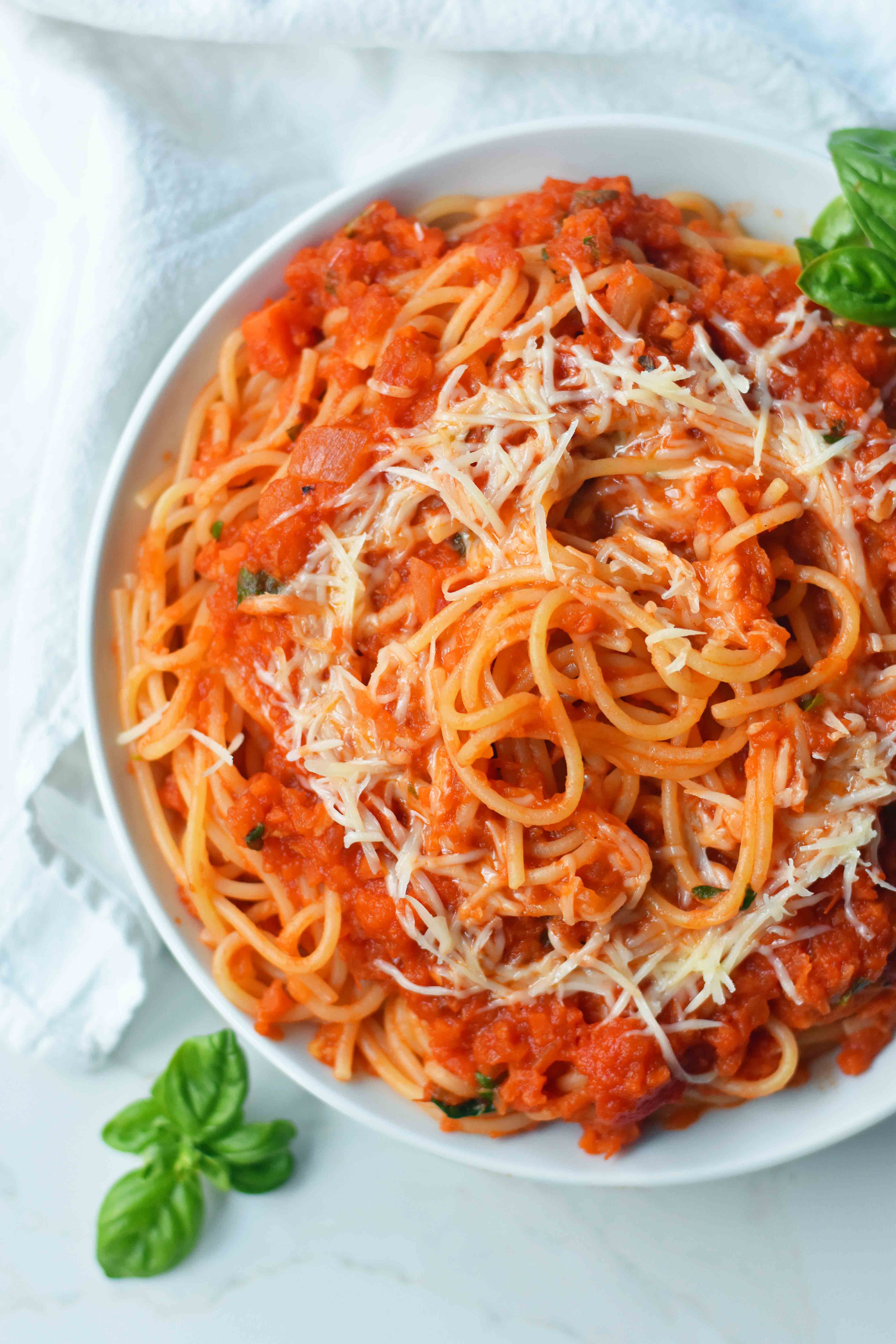 How to make Homemade Marinara Spaghetti Sauce:
 Start off with Extra-Virgin Olive Oil. Saute finely diced onion and carrot until nice and soft. Add garlic and cook for 1-2 minutes. Garlic can easily burn so watch carefully.  Add a pinch of red pepper flakes for a touch of spice.
Add a pinch of Sugar. Since this is a tomato-based marinara sauce and tomatoes can be highly acidic, sugar is known to cut some of the acidity. It doesn't make the sauce sweet but just cuts the acidic flavor.
Use Whole Peeled Tomatoes.  If it is in your budget, San Marzona Tomatoes makes such a beautiful sauce.  Use your favorite canned whole peeled tomatoes.
If you want a smoother sauce, whip the sauce in a blender. If you want a chunky marinara sauce, use a wooden spoon to press down on tomatoes and break them up into pieces.
Use Fresh Basil. It adds that burst of freshness that makes you feel you are eating tomatoes straight from the garden.
Toss the pasta with some Parmigiano-Reggiano Cheese (the "real deal" Parmesan cheese).  This recipe is an adaption of Alex Guarnaschelli's famous spicy weeknight marinara sauce and she says that by tossing a portion of the cheese with the pasta before adding the sauce adds richness and a bit of saltiness.
If you want to add meat, saute it with the onions and carrots.  This can be transformed into a hearty sauce. Just brown the meat in the pan before adding the garlic and red pepper flakes.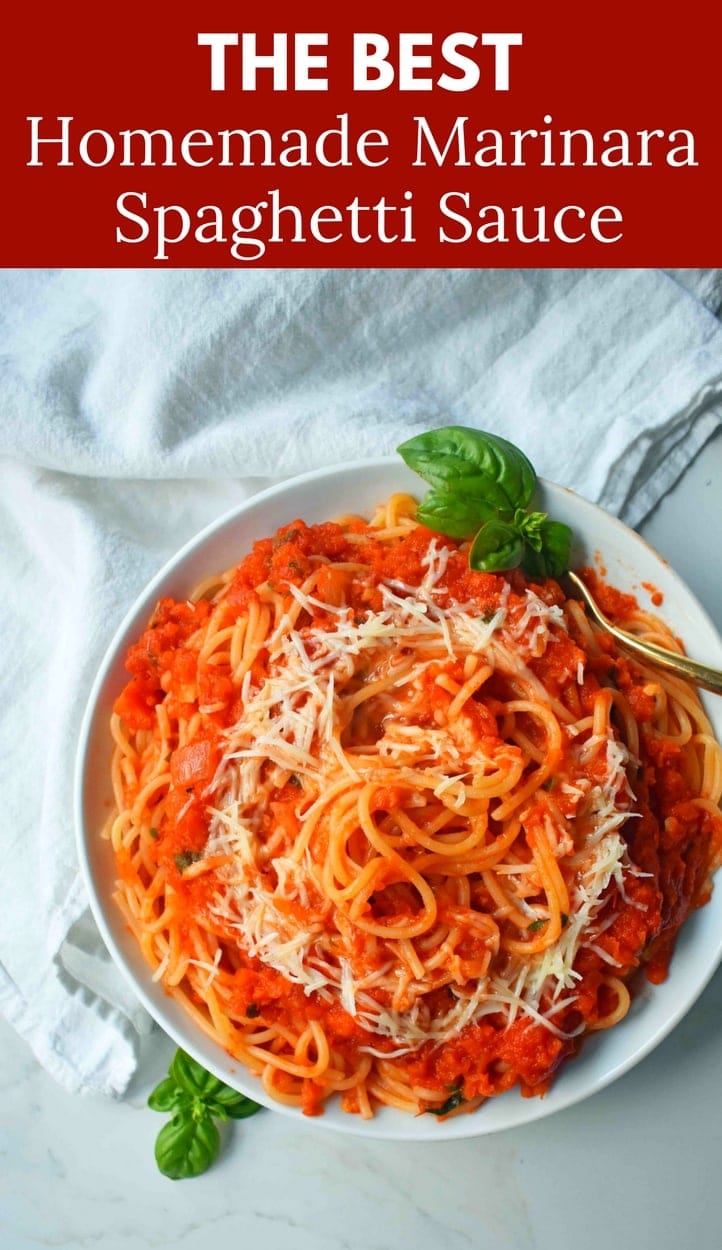 I hope you love this authentic Italian marinara sauce! Happy Cooking, my friends!