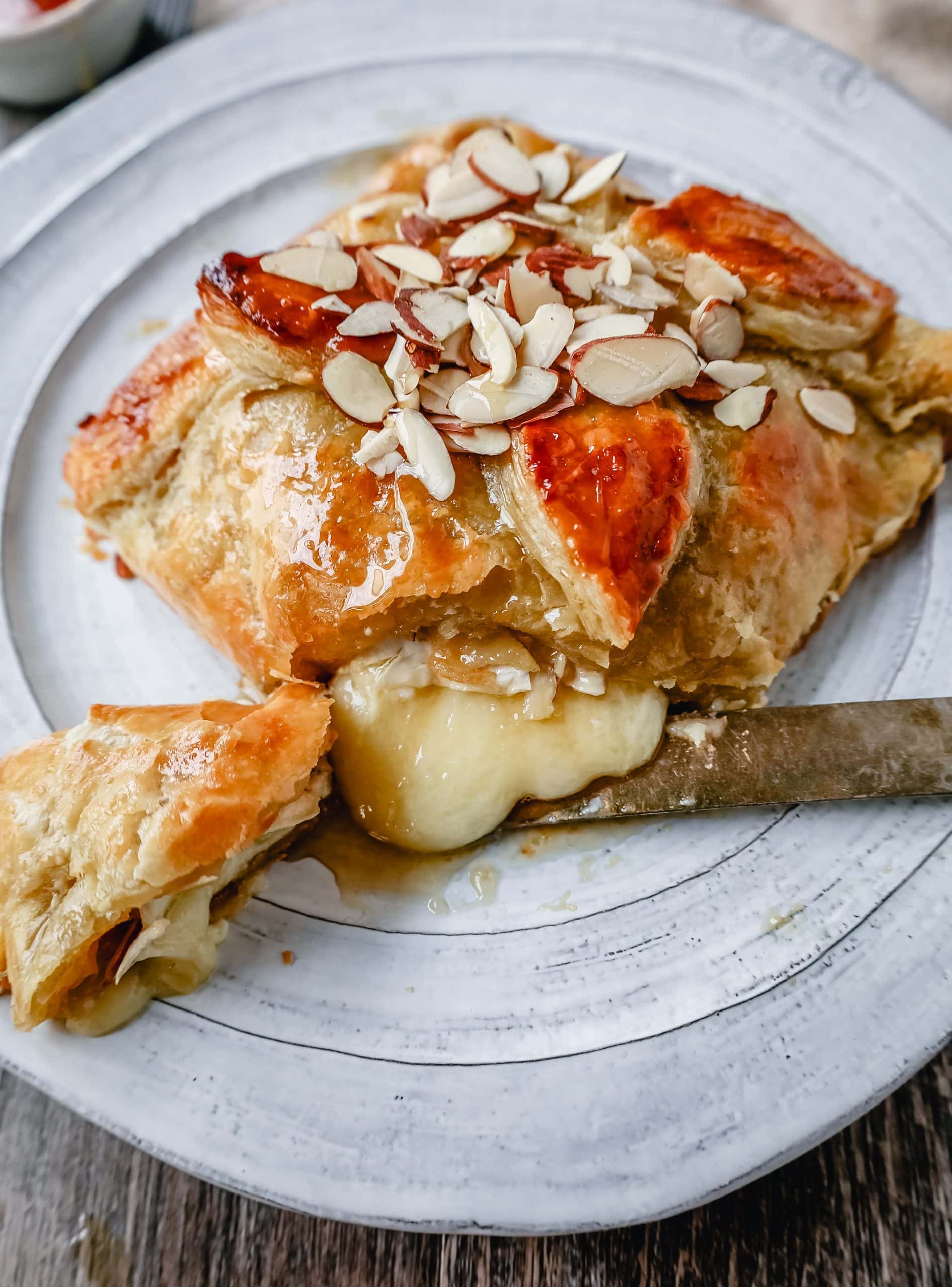 Honey Almond Puff Pastry Wrapped Brie
Brie cheese wrapped in buttery puff pastry with local honey and sliced almonds. This baked brie is a sweet and salty festive party appetizer.
This is the time of year where parties and get-togethers are abundant and appetizers and quick desserts are on the menu. I have to say that one of my secret weapons is to always have frozen puff pastry sheets in my freezer. The amount of recipes you can create from one sheet of puff pastry is incredible.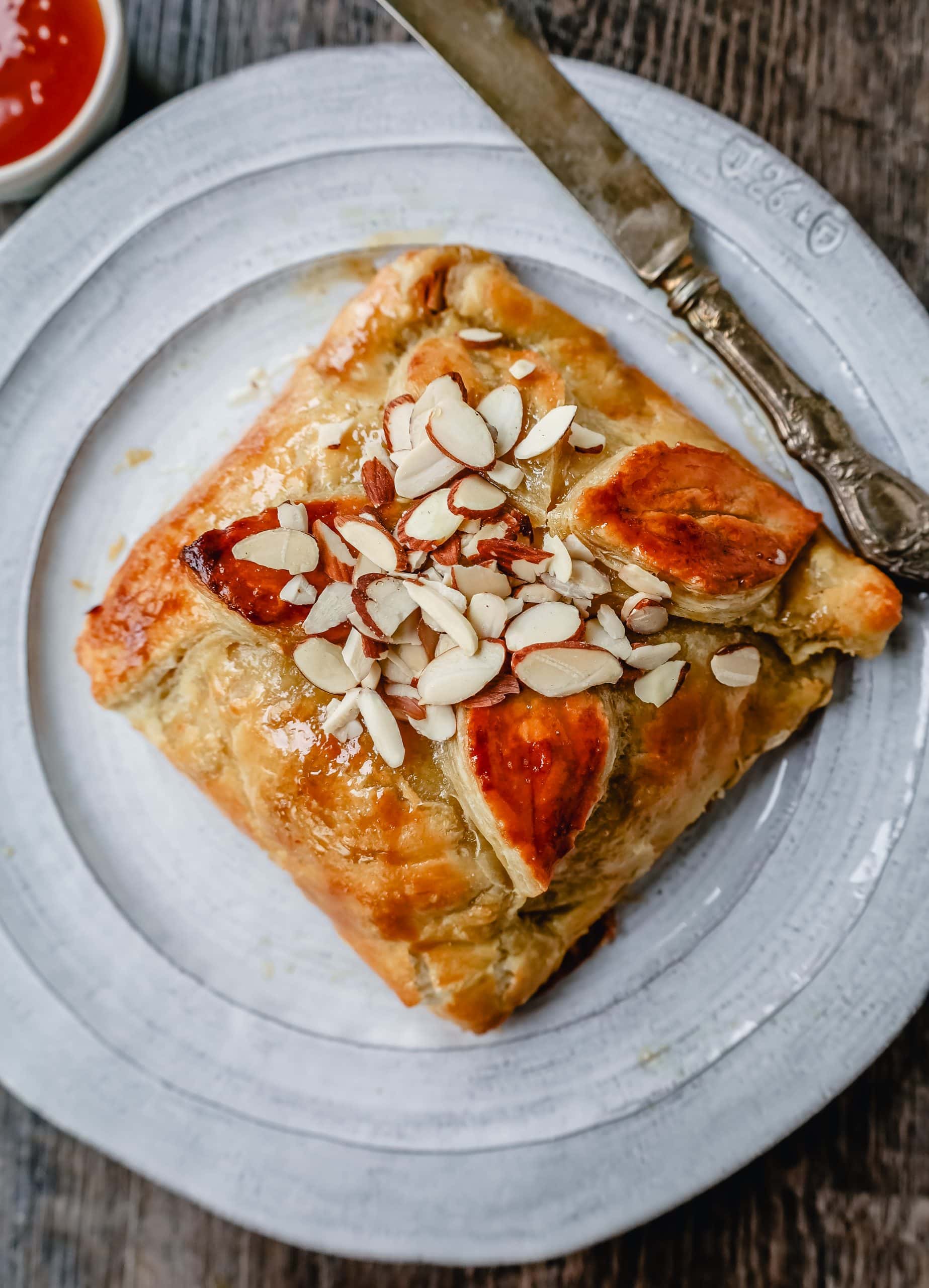 This quick and easy baked brie holiday appetizer is made with a buttery puff pastry sheet, a wheel of Brie cheese, local honey, sliced almonds, and brushed with an egg wash for sheen. You can't get more simple than that! It is baked until the cheese is ooey, gooey, and served with crackers, baguettes, or fresh apples.
This Honey Almond Puff Pastry Wrapped Brie is such a stunning appetizer. It can be served on a platter surrounded by fresh fruit such as grapes and sliced apples. It can even be the center of a festive charcuterie board.
How to make this Brie Wrapped Puff Pastry with Honey and Almonds:
Prepare the puff pastry. If using frozen puff pastry sheets, remove them from the freezer and let them defrost according to package instructions. When ready, carefully roll the puff pastry into a 12-inch square.
Place the brie round in the center of the puff pastry. Sprinkle with honey and half of the sliced almonds.
Fold up the corners of the puff pastry to wrap around the brie, brushing with an egg wash to keep it in place. An egg wash will act like glue. Brush the top and sides of the puff pastry until it is all covered. This is when you can get creative. You can cut shapes from the remaining puff pastry to place on top of the shaped puff pastry.
Bake the brie puff pastry for about 10 minutes. Remove from the oven and drizzle the remaining honey on top and sliced almonds. You don't want to put the almonds on the top for the entire baking time or they will become too brown. Continue to bake for 8-10 more minutes.
Serve warm with french baguettes, crackers, or sliced apples.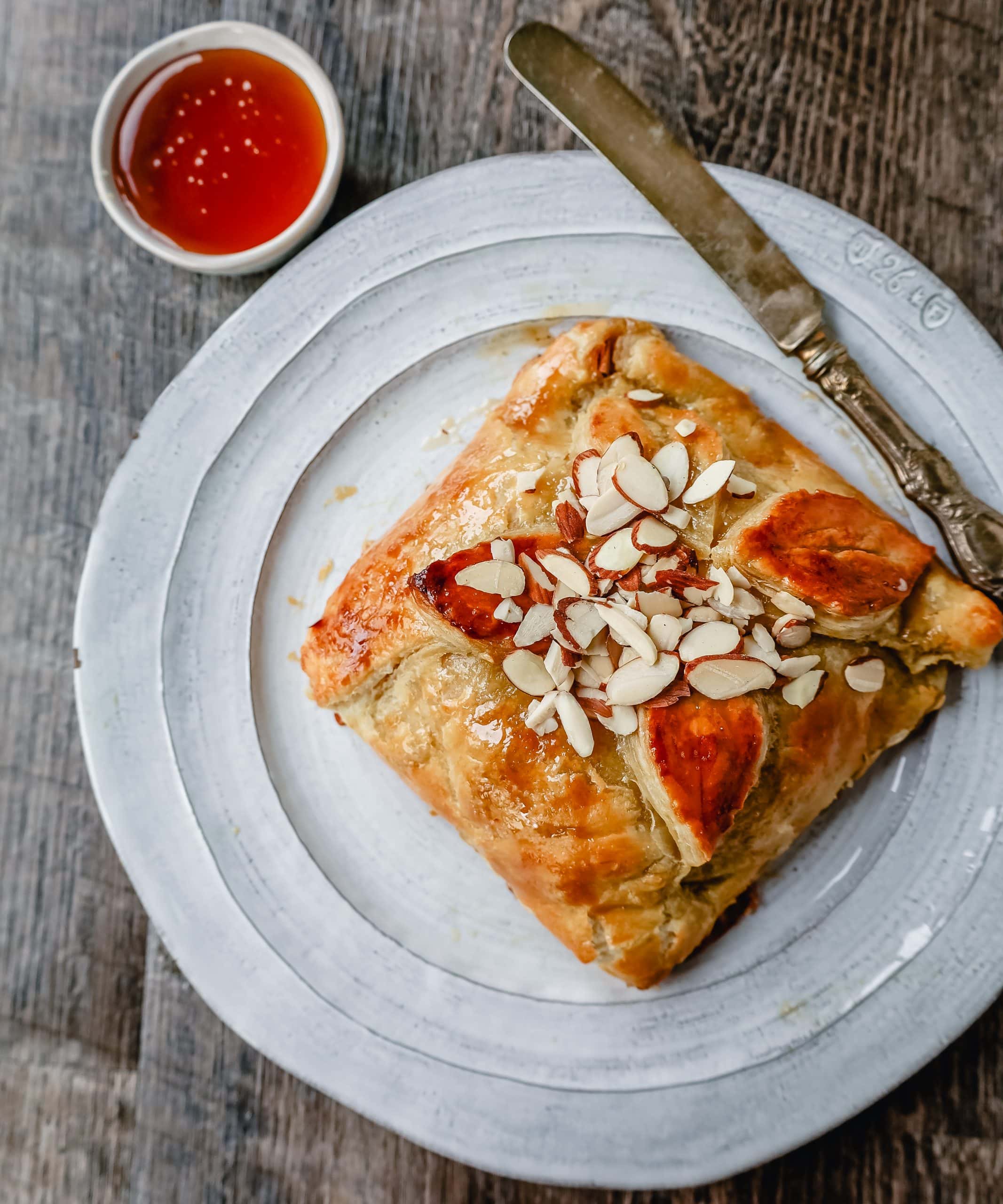 If you love appetizers, try these festive holiday appetizers:
Chocolate Candy Bar Cheese Ball
Sweet Salsa Verde (Green Salsa)
Homemade Restaurant-Style Salsa