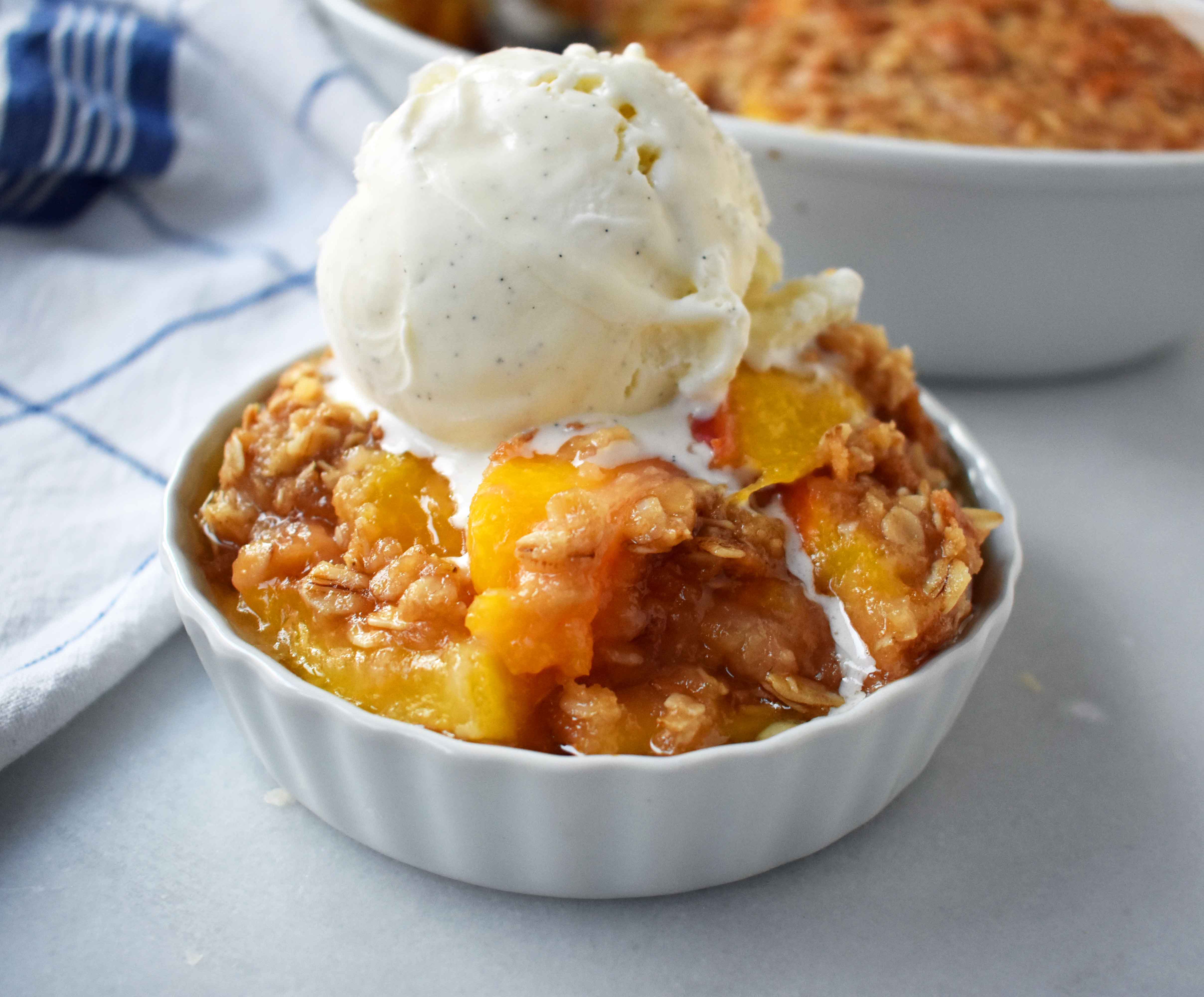 It's peach and nectarine season so let's bring on the dessert! I grew up eating this almost every single Sunday when it was peach season.
This Nectarine Brown Sugar Crisp is made with nectarines or peaches picked at the peak of the season and tossed with fresh lemon juice, cornstarch for thickness, and a touch of sugar. This Nectarine Crisp is topped with a buttery brown sugar oat crumble made with butter, brown sugar, sugar, oats, and flour. It melts into a crunchy, sweet topping that pairs so nicely with the ripe nectarines. Top it with some vanilla bean ice cream and you are in business!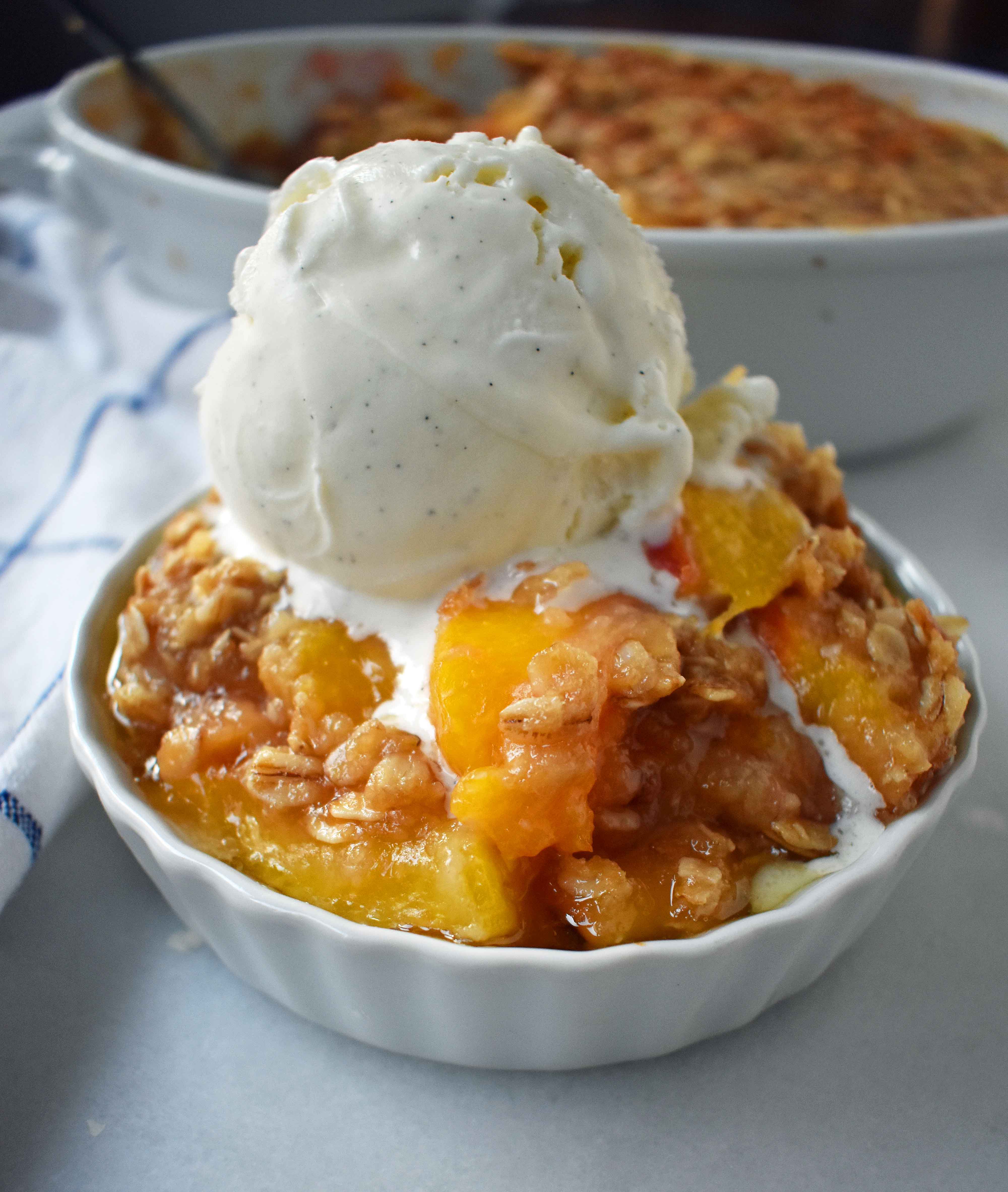 So it is story time. I like embarrassing stories so why not share one of mine. It's basically a crash and burn scenario.
Years before I started Modern Honey, I used to scour the internet for recipe contests. Here's how it would work…a company would host a contest and in order to win, I would have to use their product in a unique and creative way, write it down and send it in. I loved the challenge. I would get up early before my kids woke up and fill notebooks with ideas!
I found a contest being held New York City to compete in the Truvia Baking Star competition. It combined two of my favorites things — recipe contests and travel. To enter, I had to create a recipe using Truvia, shoot a video, and submit it. The deadline was that day so I literally ran to Fry's and back to create a peach crisp recipe, shot a one-take video with my iphone and submitted it one hour later.
I really wanted to win this one! I waited on pins and needles for days until they announced the top 10 finalists and hallelujah….I made the TOP 10!
After Truvia had narrowed it down to the top 10 finalists,  it had to go to a public vote to choose the final 3. This may be the worst part of all — begging friends for votes. This all happened before my blog so I didn't have my readers to rely on.  I just hoped that my great friends and family would get me in.  Thanks to my phenomenal people, I landed in the finals!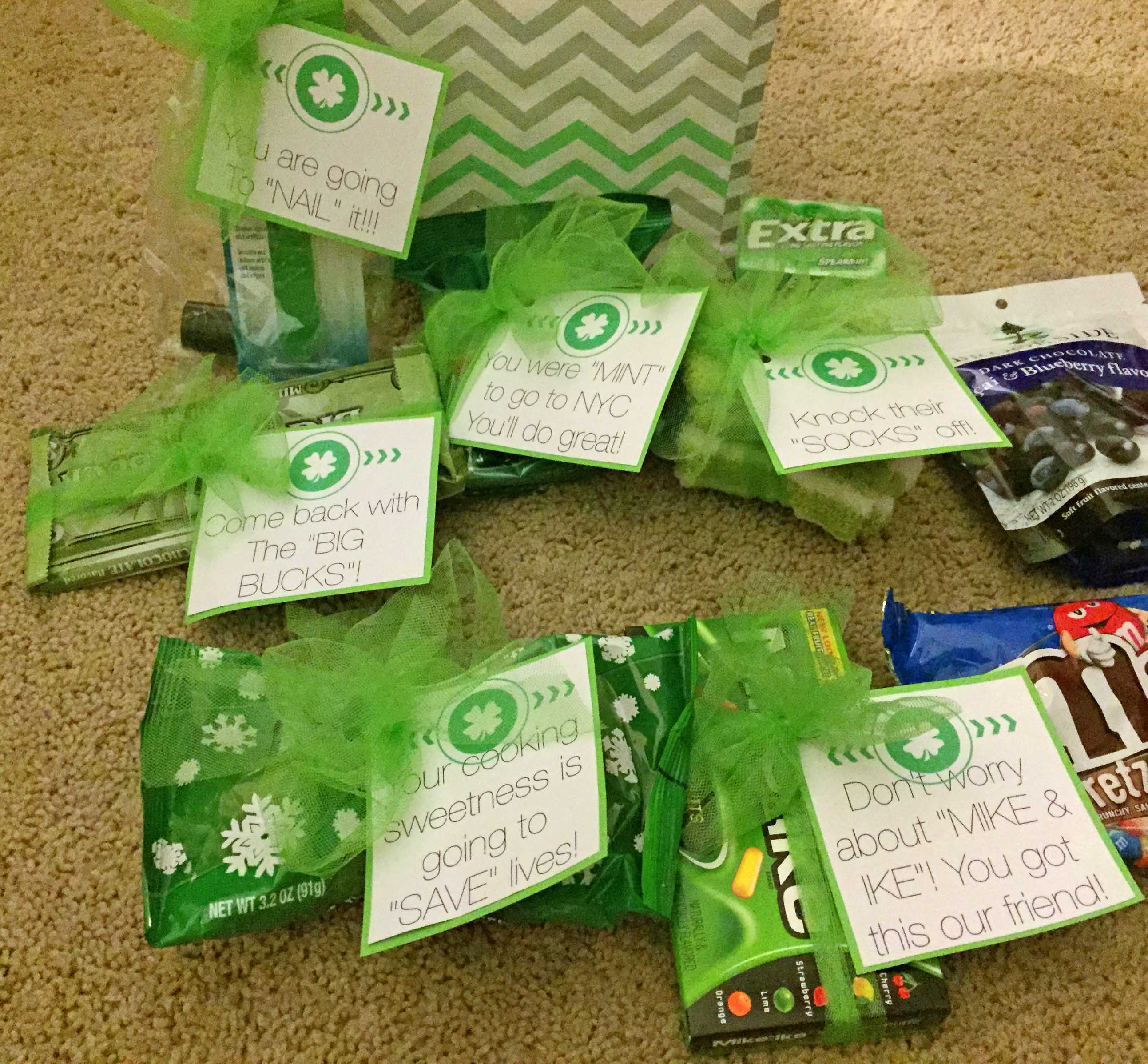 The night before I left, I found a huge good luck sign on my front door. My friends had decorated my front yard with four leaf clovers and brought over all of my favorite treats with good luck messages. They know how to make me cry! It meant so much to me and I feel so lucky to have such thoughtful and supportive people in my life.
Dean and I flew to New York City and arrived to our Chelsea hotel. The next morning was the competition and I am sure I didn't sleep much at all. I was nervous because I had no idea what to expect. As I arrived at the venue, there were cameras everywhere. The judges arrived and I recognized several from their amazing blogs. Big time magazines and media outlets were in the house as well.
(This photo below is of me getting ready to get my microphone on before it all went downhill)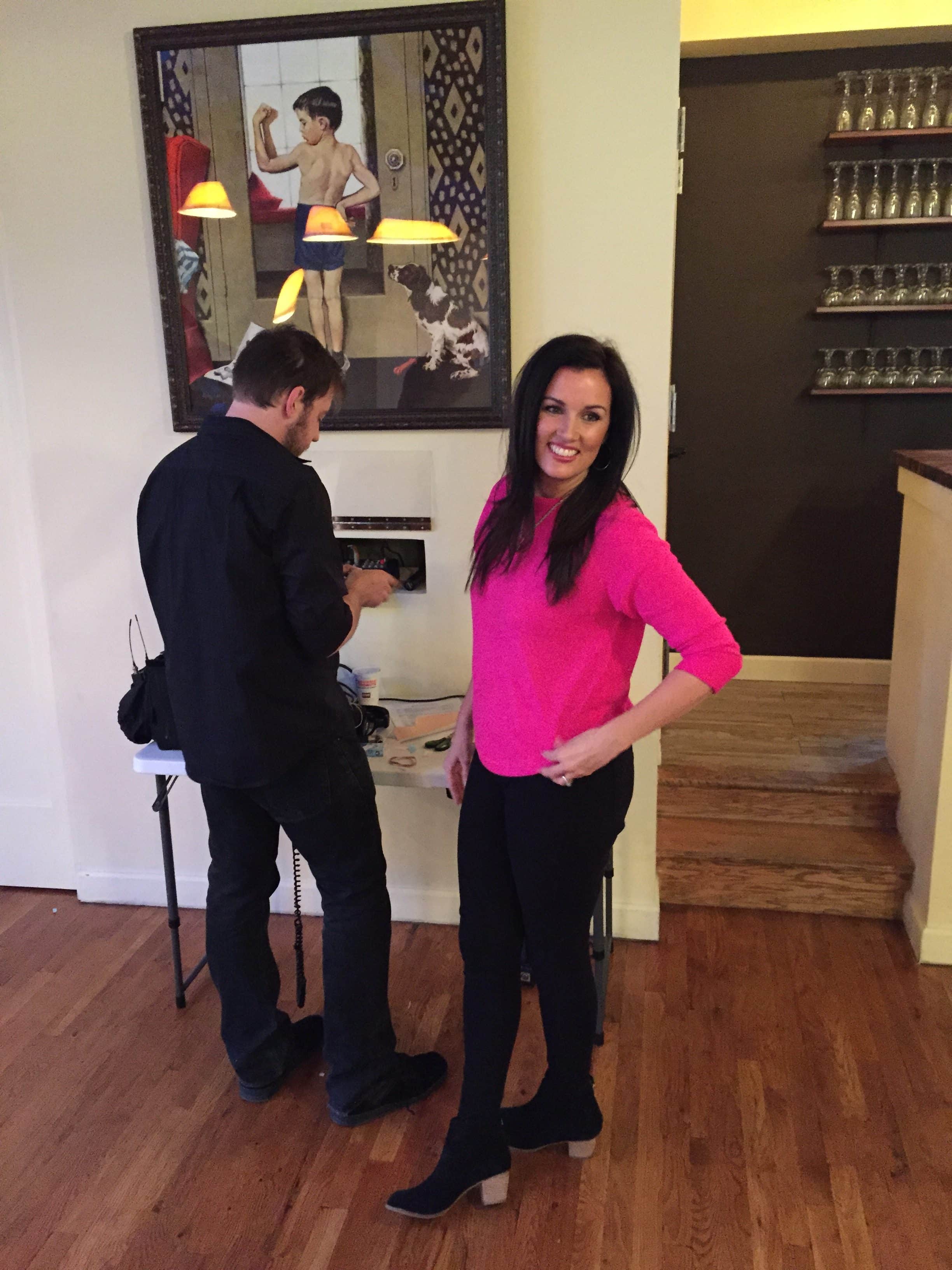 I sat down to meet my fellow baking competitors and they were so sweet and friendly. Loved them both!
So here's the thing. Anytime I have ever done live TV or filmed in Food Network Studios, I never rehearsed or over prepared.  I wanted to be natural, relaxed and not come off as canned. I am a "wing it" kind of girl when it comes to chatting about food, and that was my plan. Well it was my plan until this happened…
One of my fellow competitors asked me, "so, Melissa, how long is your part?"
My part?  Hmmm…..let me think about that. I don't have a part! I calmly asked her "what part? I don't know anything about a part."
"Well, you were supposed to come up with and act out a part for a commercial. So basically if you win, you are shooting a commercial right after." Okay this is all coming back to me now! I knew they would be shooting a little commercial but had no idea that I was providing the entire content! This is a game changer and I had zero preparation. This just "wing it" approach was backfiring big time.
I may have looked calm and cool on the outside but I was officially freaking out!! I grabbed my little purse and headed to the bathroom to regroup. Not going to lie….I started shaking and literally knocked my purse into the sink. Well, it was one of those automatic sinks and my entire purse started to fill with water. I had to laugh because I thought, "you've got to be kidding me." Everything was soaking wet!
As soon as I walked out of the bathroom, I was approached by media and peppered with questions. There was no solace or time to prepare. I was a hot mess! I grabbed a napkin and started jotting down detailed talking points, trying to nail something down. You know how I said I liked to be relaxed and natural on camera? Well suddenly I felt none of the above.
We had to wait in the backroom until it was our time to go up. The first girl went out and she killed it! She was an actress on Broadway for years and had her 4 minutes memorized and it sounded like perfection….which of course made me even more nervous!
Enter crash and burn.
I basically went out, stumbled all over my words, couldn't remember what the heck I was even talking about, and bombed big time. No seriously bombed! My nerves made me so discombobulated that I am pretty sure I didn't make much sense.
Not a SHOCKER: the perfectly polished girl won. I was so happy for her and she deserved it big time! I went and gave my husband a hug and just laughed at myself. I told him before the trip that no matter the outcome, I wouldn't let it affect me or make me sad. However, I did tell him that I never ever ever wanted to watch the video he recorded on his phone in my life. Haha!
We ended up having the best day in New York City and every time I would start to think about my Truiva Baking Star experience, I had to  just laugh. Good times and life lessons learned. I always tell my kids…."if you are prepared, you shall not fear." I guess I need to take that lesson to heart. 🙂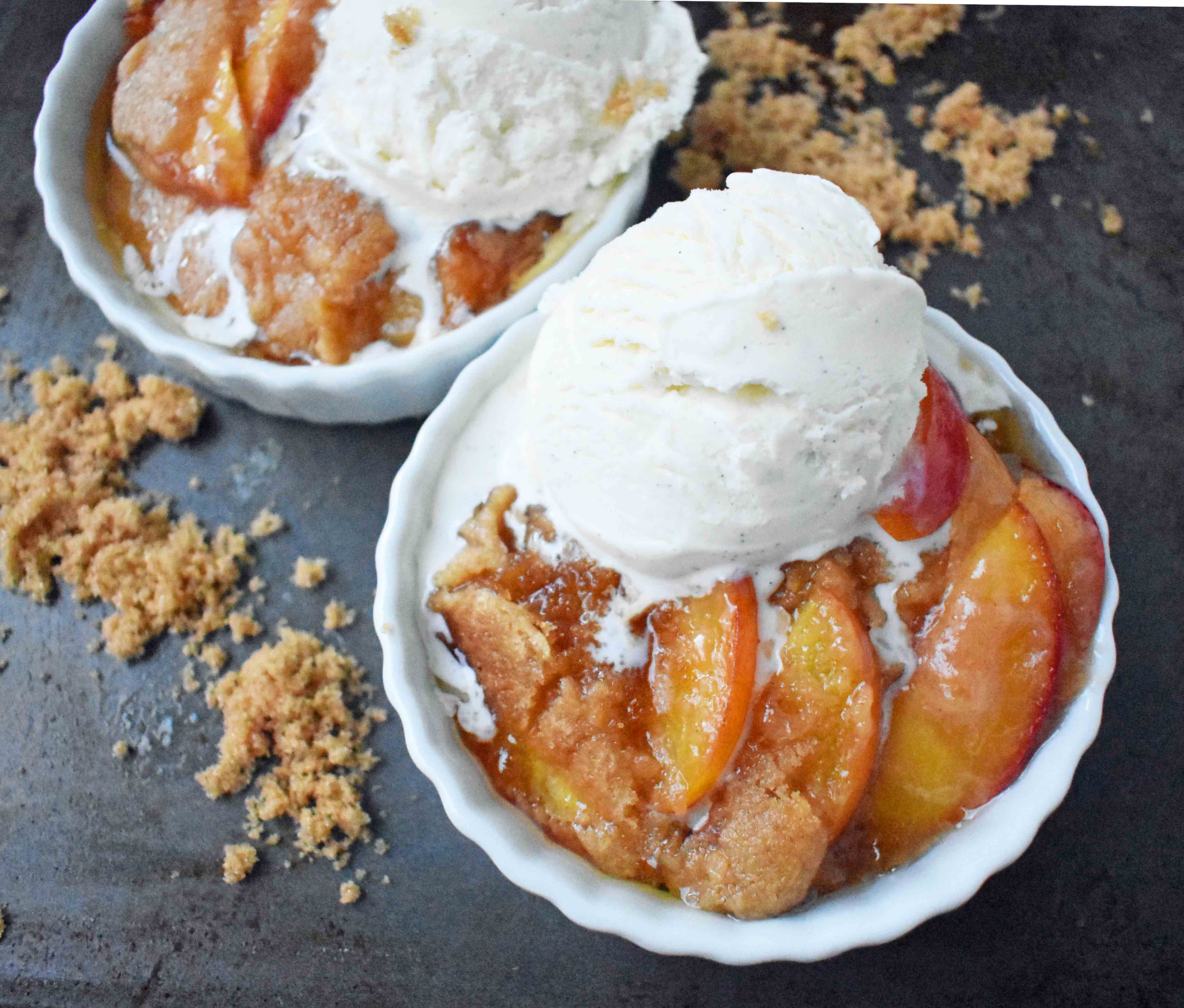 Pin this now to find it later
Pin It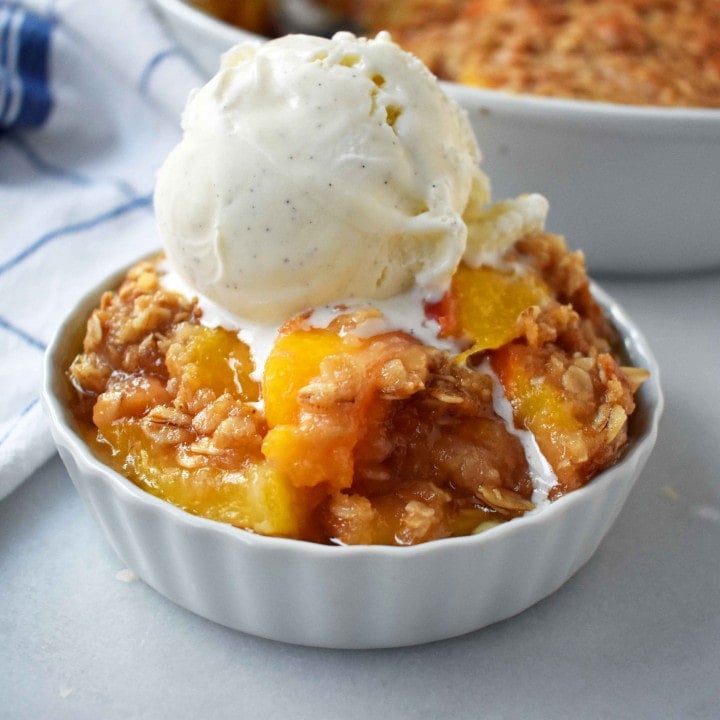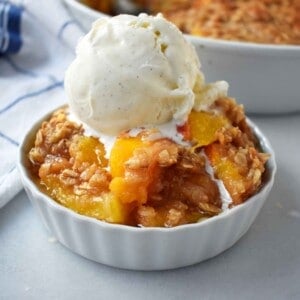 Nectarine Brown Sugar Crisp
A Nectarine Brown Sugar Crisp made with sweet ripe nectarines topped with a brown sugar oat crumble.
Ingredients
4

cups

Nectarines or Peaches

peeled and sliced

1/4

cup

Sugar

1 1/2

Tablespoons

Cornstarch

1

Tablespoon

Fresh Lemon Juice
Brown Sugar Oat Crumble:
3/4

cup

Oats

3/4

cup

Flour

1/2

cup

Brown Sugar

1/3

cup

Sugar

8

Tablespoons

Cold Butter

cut into small pieces
Instructions
Heat oven to 350 degrees.

Place sliced nectarines, sugar, cornstarch, and lemon juice in bowl. Toss to coat.

In small bowl, mix oats, flour, brown sugar and sugar. Cut in cold butter with a fork or pastry cutter until it is combined. You may have chunks of butter and that is okay as the butter will melt in the oven.

Place nectarines in 9-inch baking dish. Top with brown sugar oat crumble.

Bake for 24-32 minutes or until crumble is melted and starts to bubble. If the crumble starts to brown too much, cover with foil halfway through the baking time.

Serve warm with vanilla bean ice cream.
Nutrition information is automatically calculated, so should only be used as an approximation.
Top it with homemade vanilla bean ice cream. This is my favorite vanilla ice cream recipe because it is so easy and tastes amazing!