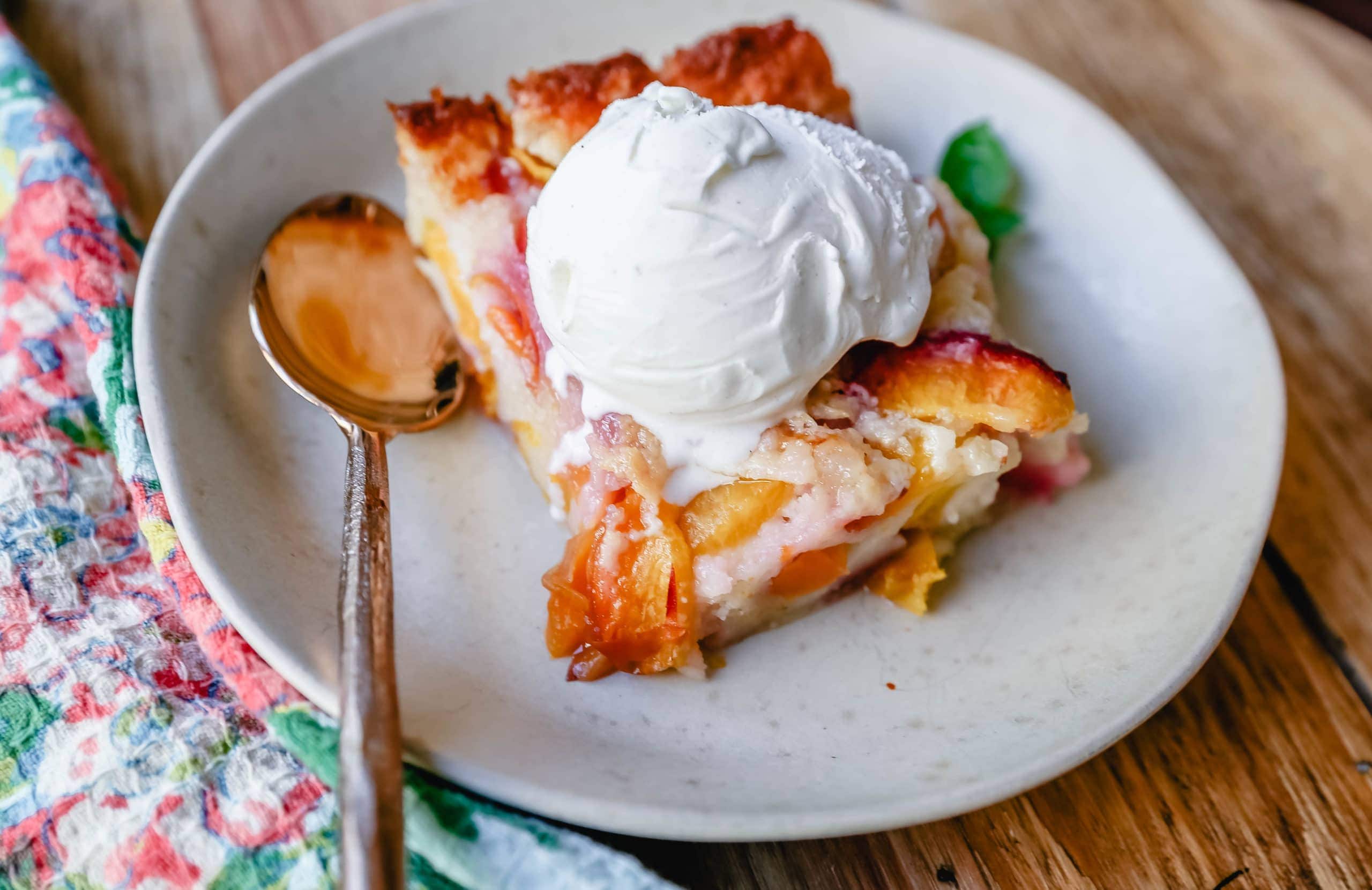 Texas Style Peach Cobbler
Fresh peaches sweetened with sugar and topped with a creamy buttery cake-like topping. A Texas favorite dessert!
I love the great state of Texas! We lived there for 3 years and some of my favorite memories with our family were spent there. Since I didn't know if we were going to live there for 1 year or 10 years, I wanted to experience all of the quintessential Texas favorites. I ate more Blue Bell ice cream than I would like to admit, fell in love with so many small charming Texas towns, frequented HEB grocery store several times a week, and ate so much good food.
Texas is definitely known for its BBQ and we were on a quest to find the best barbeque in Texas. The dessert we found at just about every single bbq restaurant we tried was peach cobbler. But it was a unique type of peach cobbler and we became hooked. Instead of a typical biscuit-type cobbler, it is a creamy cake-like cobbler topping and it is heavenly.
Years ago, I shared my Texas-Style Blueberry Cobbler on Modern Honey and it has been such a hit! I wanted to try it with the fresh peaches that are adorning my kitchen right now. I can't even choose my favorite type of peach cobbler recipe because they are so different yet both so amazing!
It all starts off with butter. I mean….is there anything better? Butter makes everything better! Butter is slowly melted in a baking dish in the oven. Then it is topped with a simple batter made with butter, sugar, buttermilk, flour, and baking powder. Buttermilk makes it extra tender and is one of my favorite ingredients in my kitchen.
Then you take fresh, ripe, peaches, sugar, and lemon zest and mix together in a bowl. The sugar brings out the natural sugars in the peaches which creates some natural juices. The batter is dolloped over the melted butter and then topped with the sweet, sugared peaches. As the peach cobbler bakes, the batter rises above the fresh peaches and makes a creamy cake-like crust.
This Texas-Style Peach Cobbler can be served warm with a big 'ol scoop of vanilla ice cream. It is the perfect summer dessert to celebrate peach season.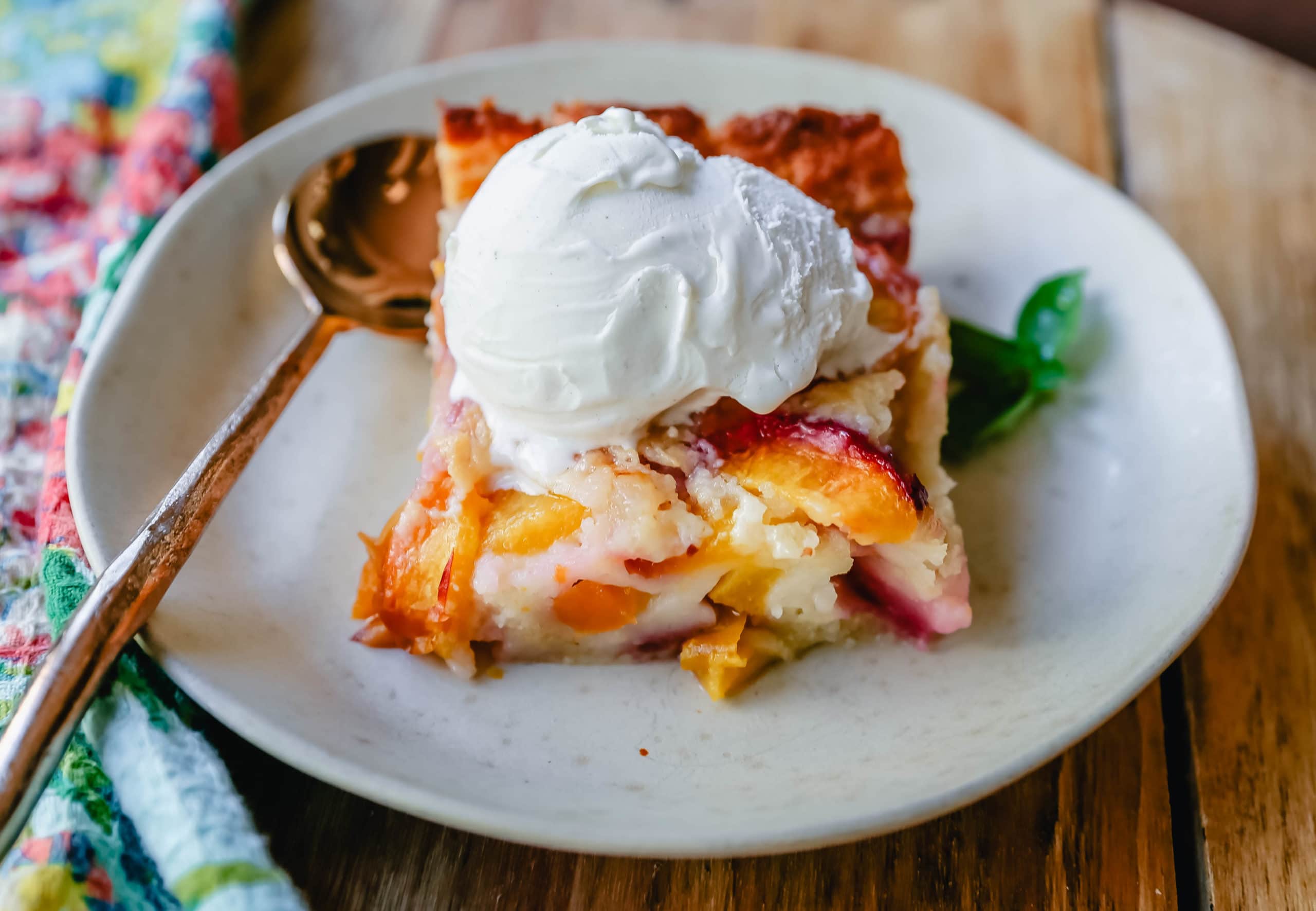 How to make Homemade Peach Cobbler:
Melt butter in a 9 x 13 baking dish until completely melted and remove from the oven.
Use Fresh Peaches, if possible. There's nothing better than using fresh, ripe peaches. You want to make sure they are ripe enough since it does affect the sweetness of this dessert. If you want a more rustic dessert, leave the skins on. If you want a more refined dessert, peel the peaches. Toss with sugar and fresh lemon zest.
Mix together dry ingredients — flour, baking powder, sugar, and salt. Add melted butter and give it a good stir. Then add the buttermilk. The buttermilk is such a game-changer because it creates a tender texture.
Pour batter on top of melted butter. Sprinkle with sugared peaches.
Bake until a light golden brown color and serve warm with vanilla bean ice cream.
Check out these popular summer dessert recipes:
I love to hear from you! If you make this recipe, please be sure to leave a comment and give this recipe a rating. Sign up for my newsletter below so you never miss a recipe. Thank you for following along! I truly do have the greatest readers. FOLLOW ME ON: INSTAGRAM — FACEBOOK— PINTEREST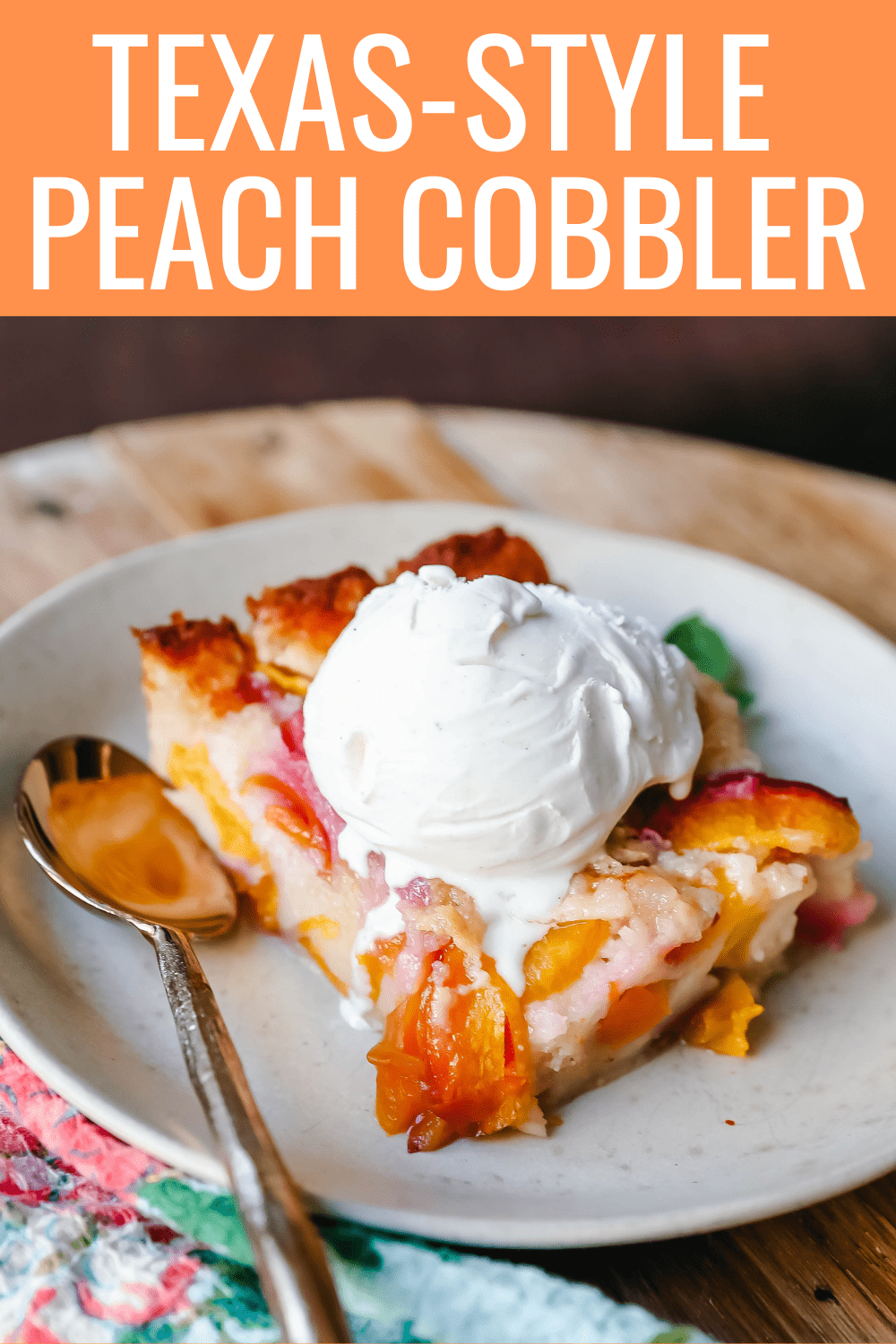 Pin this now to find it later
Pin It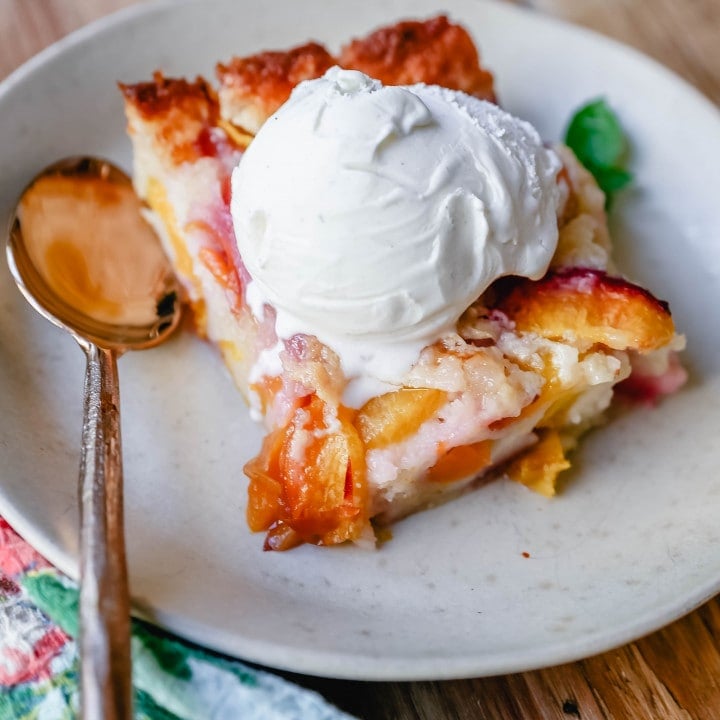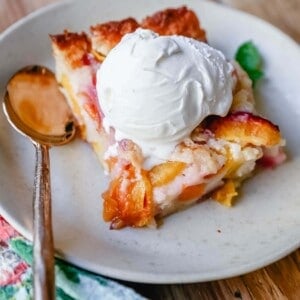 Texas-Style Peach Cobbler
Fresh peaches sweetened with sugar and topped with a creamy buttery cake-like topping. A Texas favorite dessert! 
Ingredients
12

Tablespoons

Butter

(divided)

1 1/2

cups

Sugar

(divided)

8

medium

Fresh Ripe Peaches

(peeled and sliced)

1

teaspoon

Fresh Lemon Zest

1 1/2

cups

Flour

2 1/2

teaspoons

Baking Powder

1/2

teaspoon

Salt

1 1/2

cups

Buttermilk

(or milk)
Instructions
Preheat oven to 350 degrees. Place 4 Tablespoons butter in a 9 x 13 baking dish. Place in the oven and let the butter melt, watching carefully. Remove from oven.

In a medium-size bowl, stir together 1/4 cup of sugar, fresh sliced peaches, and lemon zest. Set aside.

In a large bowl, stir together flour, baking powder, remaining 1 1/4 cup of sugar, and salt. In a microwave-safe bowl, melt the remaining 8 Tablespoons of butter. Whisk in melted butter (let cool for several minutes before adding) and buttermilk. Stir until smooth.

Pour batter into the pan with the melted butter. Sprinkle the peach mixture evenly over batter. Generously sprinkle with sugar. Bake until golden brown and edges are crisp -- about 42-48 minutes.

Serve with vanilla ice cream or homemade whipped cream.
Nutrition information is automatically calculated, so should only be used as an approximation.