When I was a little girl, I completed chores in order to be able drive to drive with my Mom to our nearest grocery store and pick up the largest brown coconut I could find. I would come home, take the fresh coconut into the backyard, and try to crack it with a hammer for about 20 minutes before it would open. The refreshing coconut water would spill out of it and I was in heaven. I had coconut cake for most birthdays, coconut cream pie at every Thanksgiving, and even named my first white fluffy stuffed animal, Coconut. I was obsessed to say the least.
Years ago, I was thumbing through a Martha Stewart magazine and found a Coconut Lime Mango Semifreddo dessert. It looked ridiculously simple and didn't even require an ice cream maker and it had to be mine. The lime zest however seemed to overpower the soft tropical flavors of the coconut and mango and the coconut lover in me was left a little disappointed. So, over the years I have tweaked the Coconut Semifreddo recipe and am now sharing the EASIEST ice cream ever.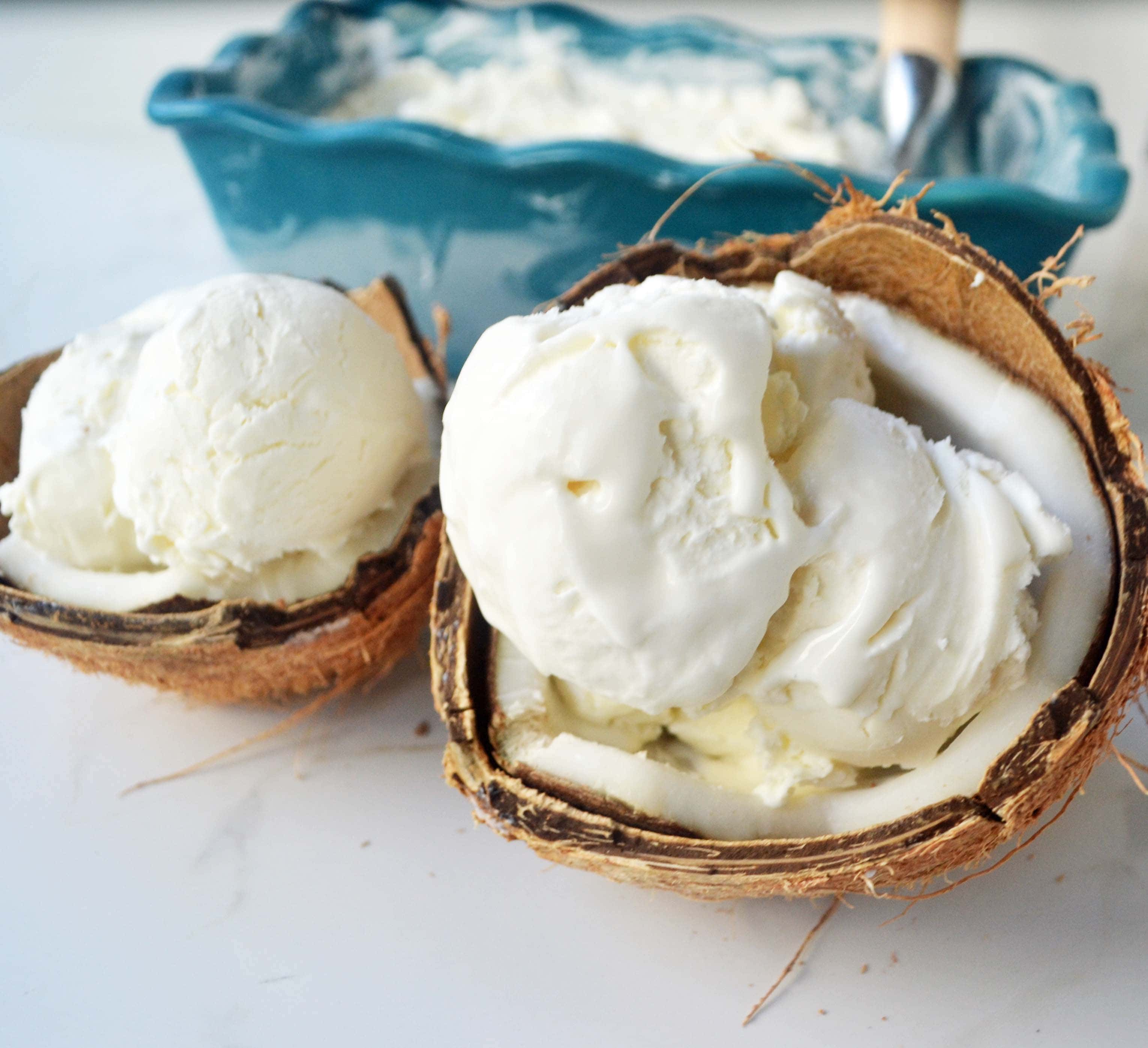 This No-Churn Coconut Ice Cream with Fresh Mango literally consists of 3 ingredients - cream of coconut, heavy cream, and fresh mango. That's it! Of course, there are additions such as coconut flakes and fresh lime zest but you can also keep it super simple.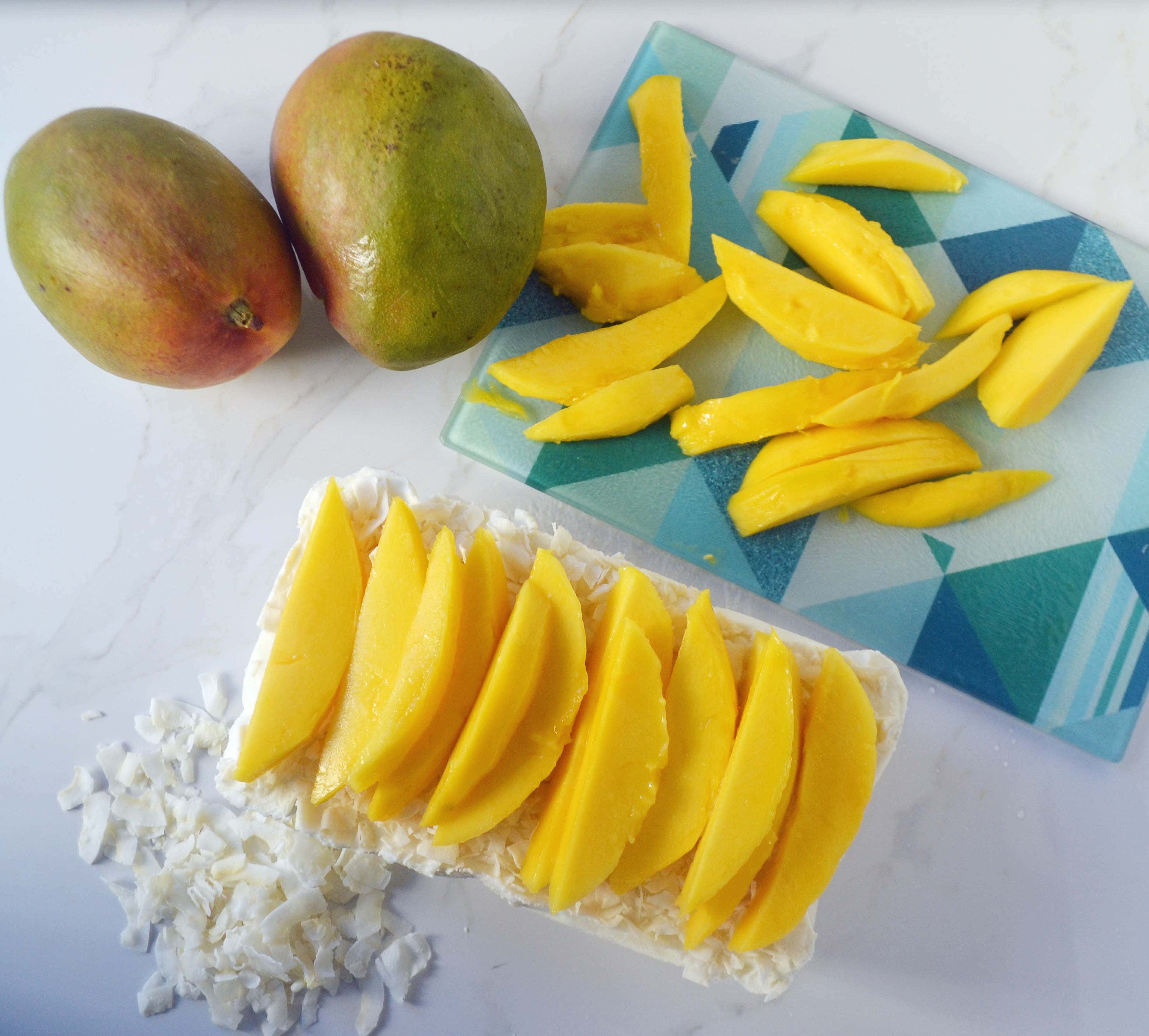 The best part of this No-Churn Coconut Mango ice cream is how simple it is to make. I can make this in my sleep. Seriously. You literally whip heavy cream in a mixer, fold in cream of coconut, pour into a loaf pan, and then freeze for at least 6 hours or overnight. There's no mess to clean up from an ice cream maker. There's no rock salt and ice and loud churning for hours.  It's a pour and go dessert.
I was skeptical at first but was pleasantly surprised to find that it scoops out like regular ice cream and is so creamy and delicious.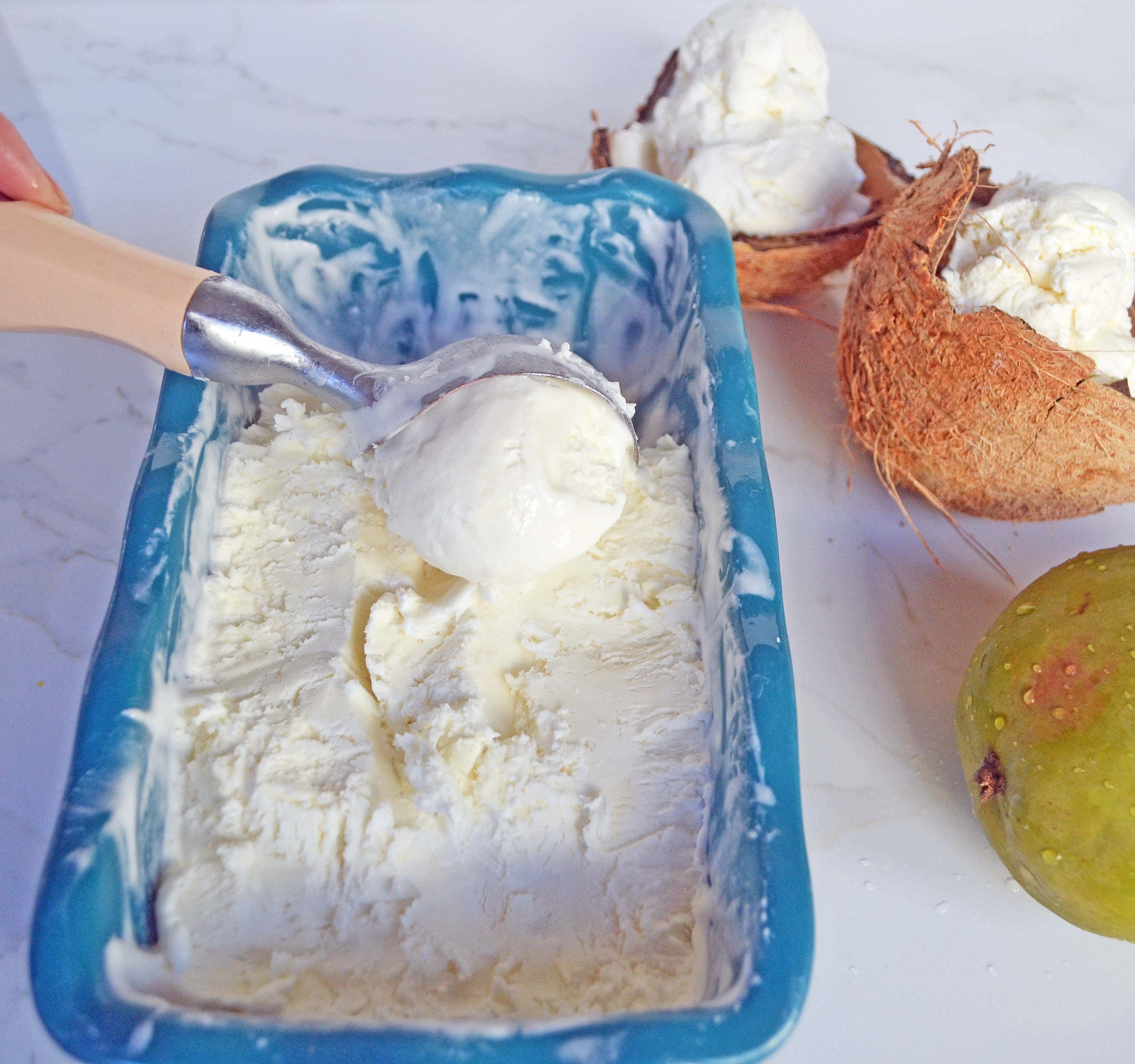 Coconut Cream should not to be confused with coconut milk. It is a sweet cream of coconut with sugar already added. It can usually be found where the alcoholic beverages are found because it's used to make pina coladas. I've used two brands - Coco Lopez or Cocoa Real. The Coco Lopez is in a can and Coco Real is in a plastic bottle. I can usually find it right next to the cherry grenadine. It contains no alcohol).
You can make this No-Churn Coconut Ice Cream with Fresh Mango one of two ways. After freezing it, you can scoop it out into ice cream scoops and serve it in fresh coconut, ice cream cones or bowls. You can also line the loaf pan with parchment paper and make a Coconut Semifreddo. After it is frozen, you can invert it and serve fresh mangoes on the top of it. It makes a stunning dessert! It can be sliced and be eaten with a fork or spoon.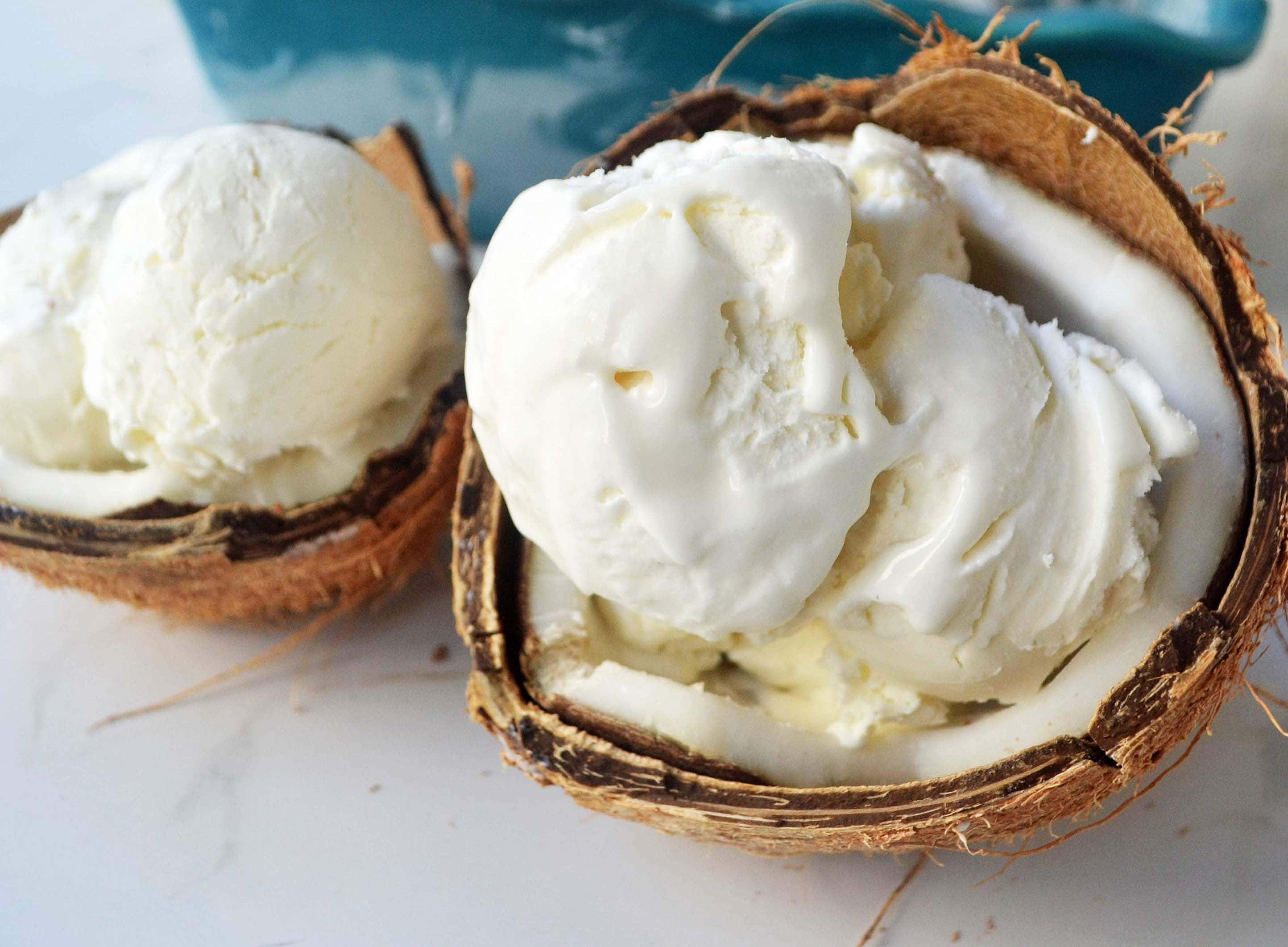 When you eat this No-Churn Coconut Ice Cream with Fresh Mango, you are going to feel as if you are on a tropical island.... minus the sandy beach, cool ocean breeze, and stunning blue waters.
Small details.
Happy Eating! xoxo