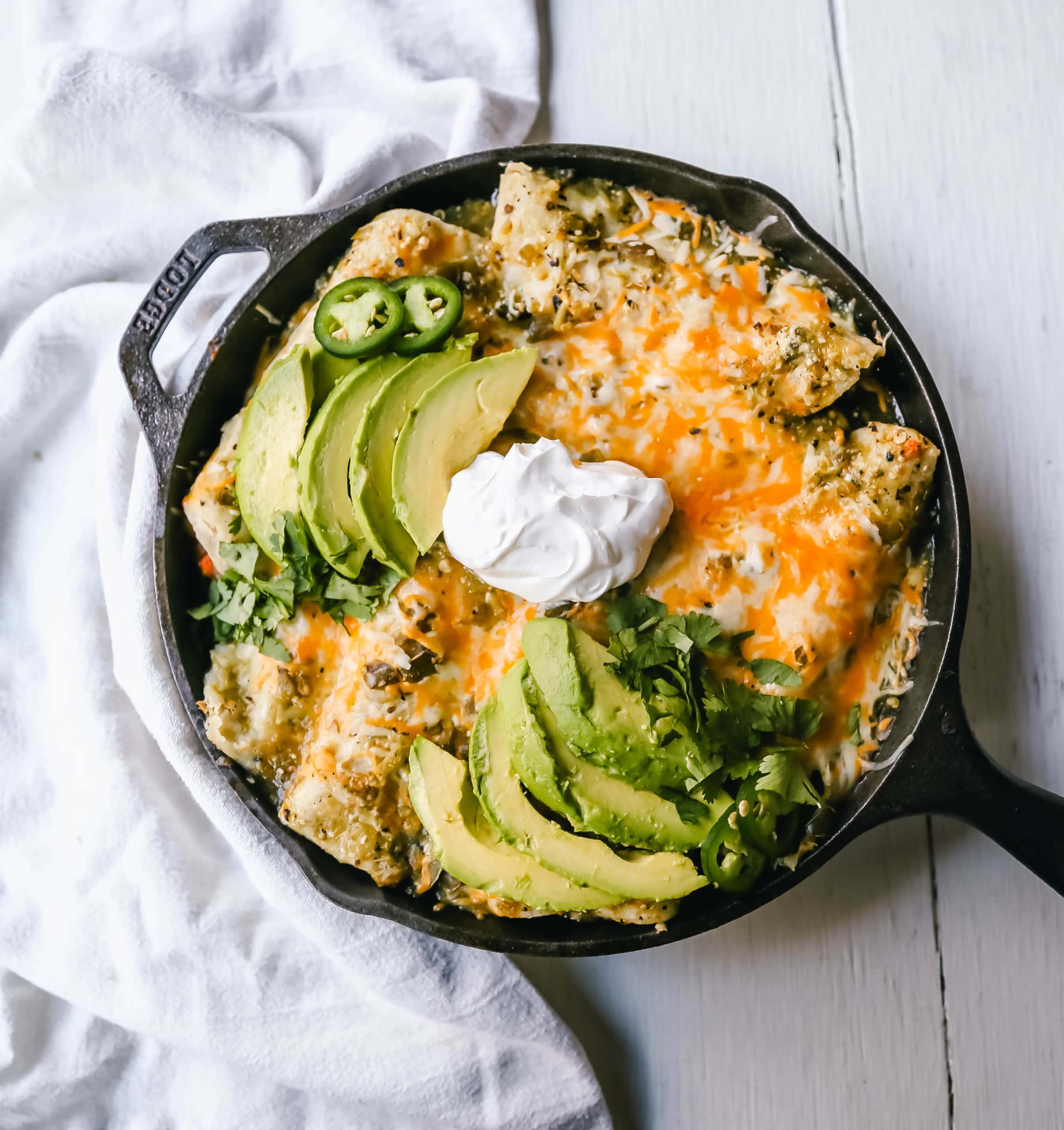 Sweet Potato Black Bean Enchiladas with Salsa Verde
Black beans, sweet potatoes, and roasted poblano chilies rolled into corn tortillas and topped with salsa verde and Mexican cheeses.
My husband declared these the best enchiladas he's ever had. This is a bold statement because enchiladas are a big deal in our home. Plus, these are vegetarian enchiladas with no meat and he still raved about them. We are on to something here.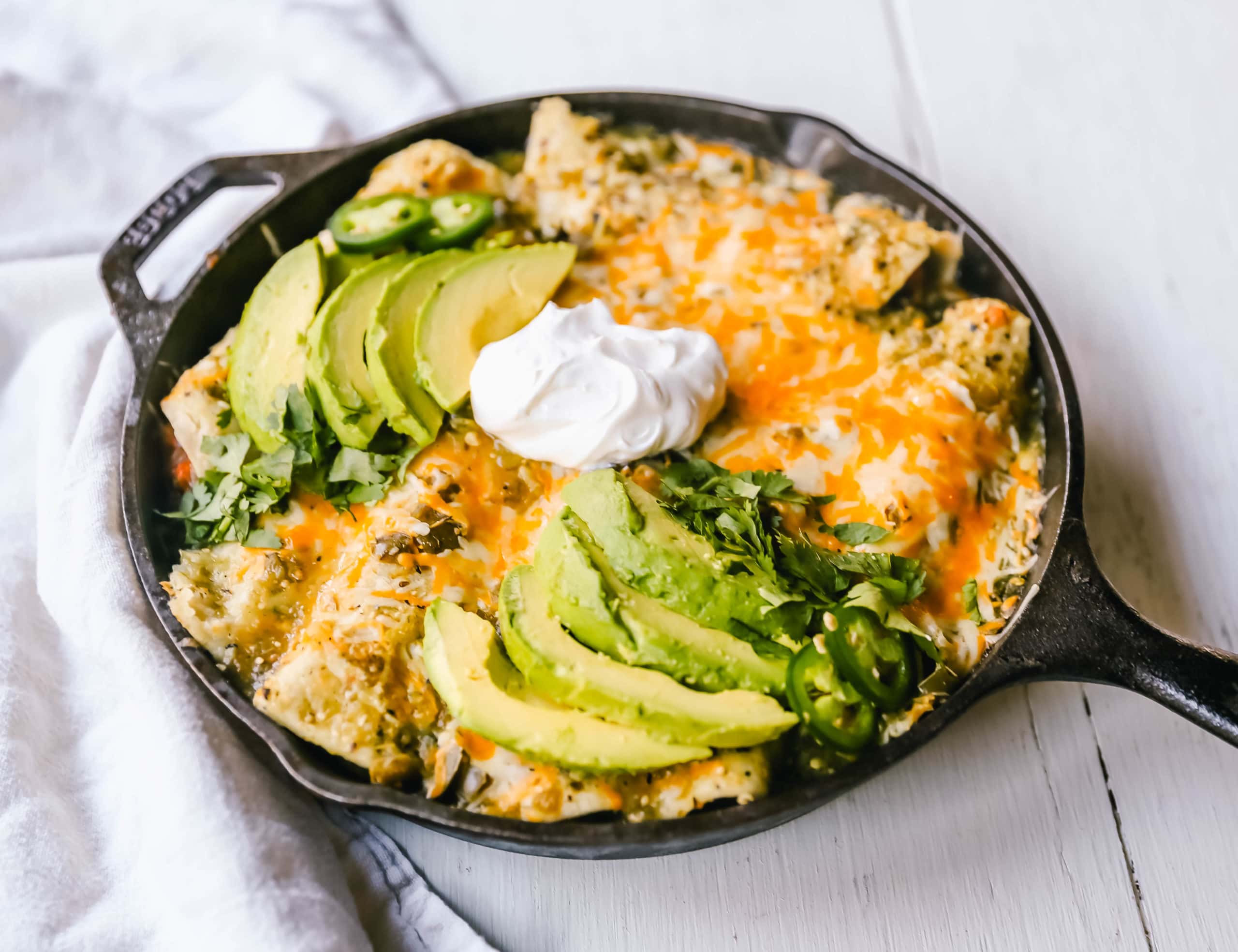 These Black Bean Sweet Potato Poblano Enchiladas are made with sweet potatoes, roasted poblanos, red onion, black beans, and Mexican spices. The filling is rolled into soft corn tortillas, topped with salsa verde, Mexican cheeses, and baked until hot and bubbly. It is the ultimate healthy comfort meal!
These vegetarian enchiladas are also gluten-free and I promise you won't even miss the meat! These sweet potato poblano enchiladas are unbelievably flavorful, with a touch of spice.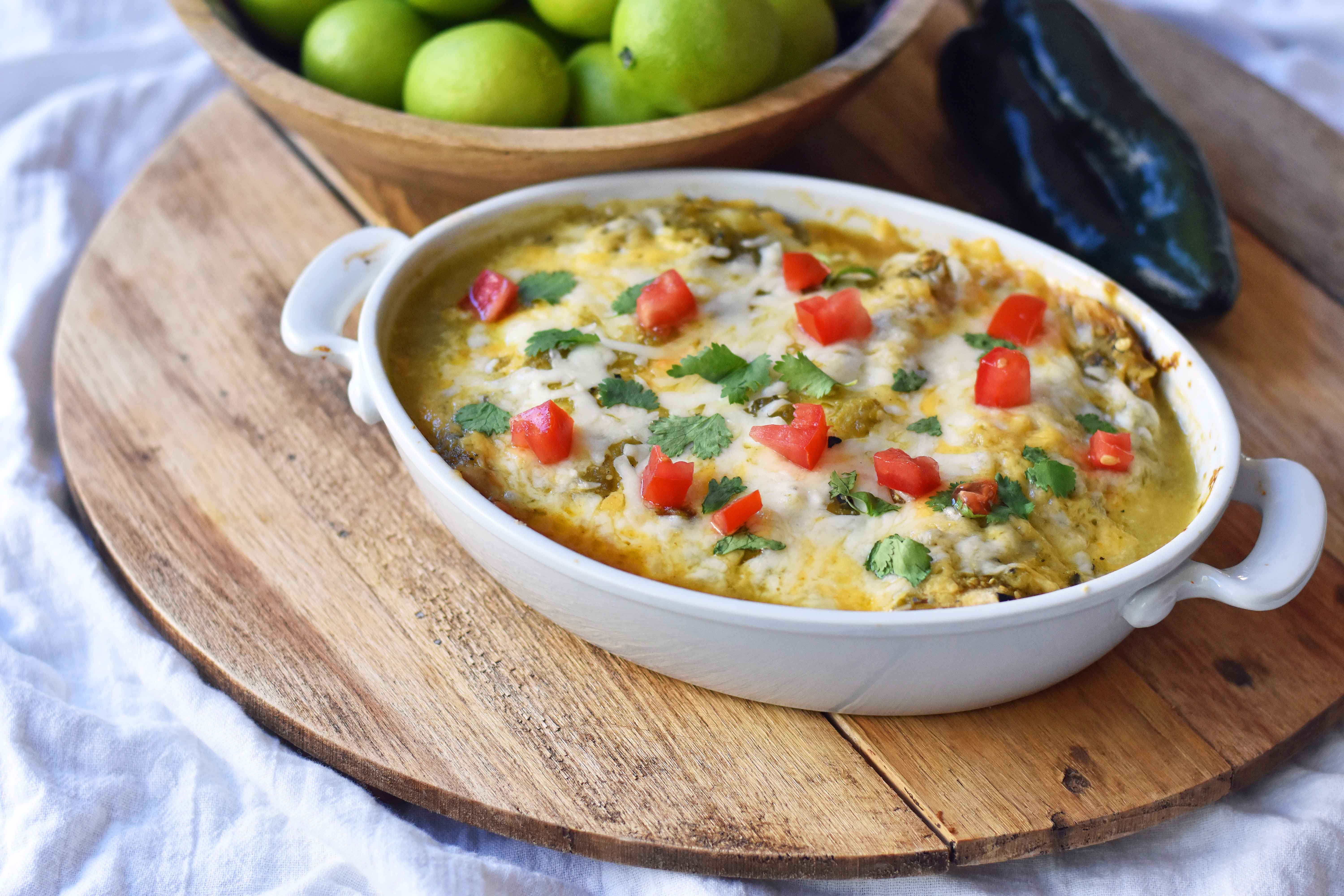 As I was creating this Sweet Potato Enchiladas recipe, I discovered how many nutritional benefits there were in the ingredients. Here is a list of the vegetarian enchilada ingredients and how they are good for you!
SWEET POTATOES -- known as the healthier potato as sweet potatoes are full of Vitamin A, Vitamin B-6, and Vitamin C. One medium sweet potato contains only about 100 calories and zero fat.

POBLANO PEPPERS

-- a mildly spiced pepper known for its Vitamin B-2, Vitamin C, and Vitamin A. It is low in calorie and one medium poblano pepper is only about 48 calories. You can substitute JALAPENOS for poblano peppers. If you are concerned about heat, remove the inner ribbing and seeds.
BLACK BEANS -- known for being high in fiber and protein. A one-cup serving provides approximately 15 grams of protein and fiber. It is also high in folate, magnesium, and iron.

RED ONIONS

-- known to give a lot of bang for their buck. They give dishes a lot of flavor without adding a lot of calories. A great source of Vitamin C too.
CORN TORTILLAS -- a gluten-free alternative to flour tortillas. Corn tortillas are also low in calories.
SALSA VERDE --- made with tomatillos, fire-roasted jalapenos, and salt. Tomatillos are a good source of fiber, niacin, potassium, and magnesium. Salsa adds so much flavor without packing on the calories and fat. It contains only 15 calories per serving.
How to make Sweet Potato Poblano Enchiladas:
Cook your Sweet Potatoes. This can be done in the microwave or in the oven. The microwave is so quick and easy! Take your sweet potatoes and pierce them with a fork. Cook for 5-8 minutes, depending on the size of the sweet potatoes. Set aside and wait until they are room temperature.
Roast the Poblano Chilies. Roasting works wonders on vegetables. It helps for the tough skin to blister and makes it easy to peel it off. It also softens the poblano chilies. Roast at 400 degrees for about 10-12 minutes, or until the inside is soft and the outside skin can easily be peeled. After the poblanos have been peeled, drizzle with a touch of honey and salt. You can also use JALAPENO peppers. I suggest finely dicing into small pieces and then removing the inner ribbing and seeds.
Finely dice the Red Onion. Since these sweet potato enchiladas aren't cooking for very long in the oven, the onions need to be very small so they will cook faster. Make them as small as possible so you don't end up with crunchy onions!
Drain the Black Beans. When you open the can of black beans, there is liquid at the top. Drain the liquid off of the black beans before adding to the sweet potato filling.
5. Heat the Corn Tortillas. When you place the corn tortillas over medium-low heat, they become pliable and easy to roll up. This keeps you from having to use hot oil to soften them and saves on calories. I use the uncooked corn tortillas but you can any type of corn tortillas.
6. Top with Salsa Verde and Mexican Cheeses. Be generous with the salsa verde because it is so packed with flavor and adds moisture to the tortillas. Once you add the cheese, cover the dish with foil to allow the filling to warm without browning the top too much.
7. Top with Fresh Avocado and Light Sour Cream, if so desired. These are heavenly with some diced avocado. If the poblano spice is too much for some people, have a bowl of sour cream nearby. It takes away a lot of the heat and makes them extra creamy.
Many of you have reached out asking me to include the products I use in my recipes. This isn't sponsored by these products but they are ones that I used in these black bean enchiladas. You can find the salsa verde in the refrigerated deli section at your local grocery store. I found it at Fry's.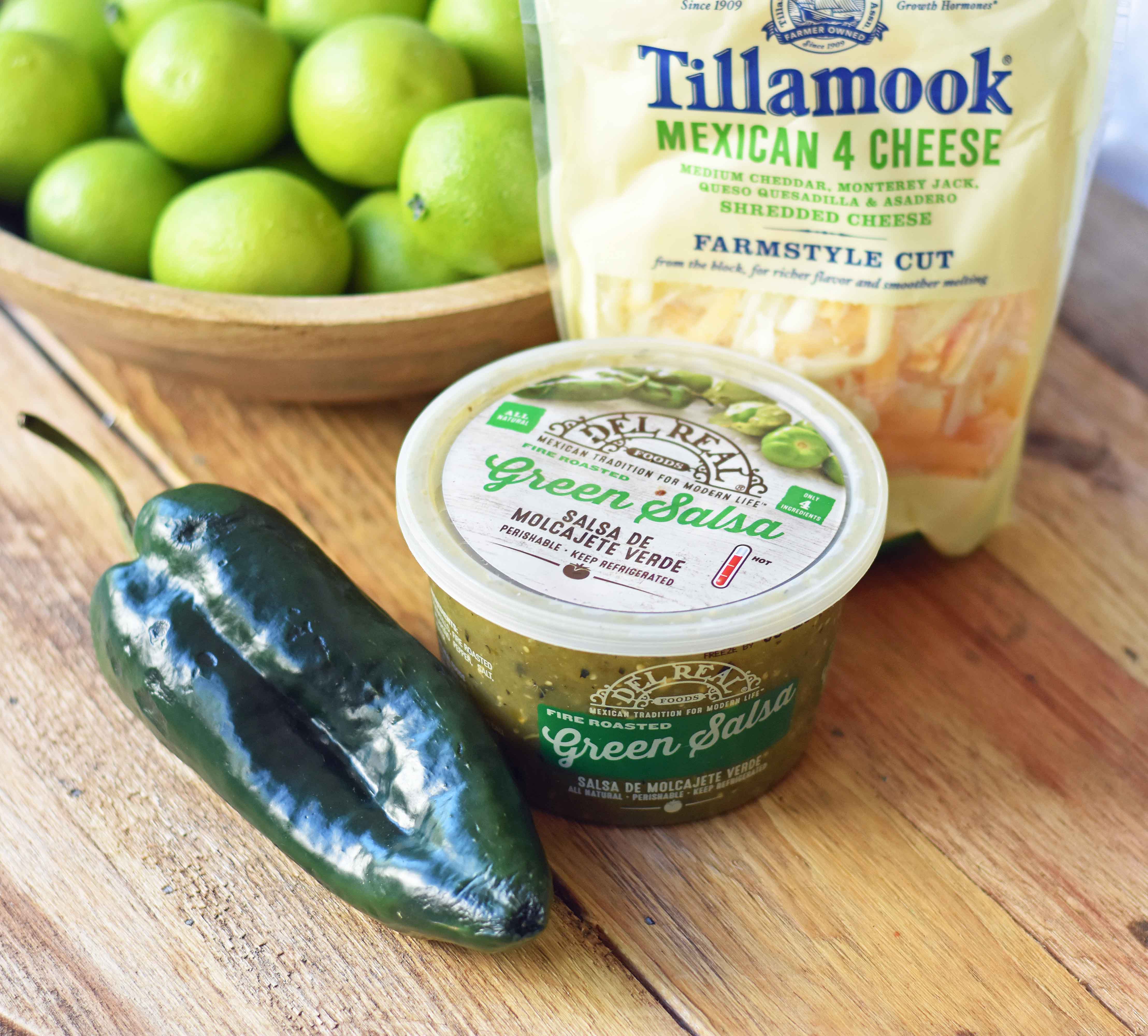 I just arrived home from the Everything Food Conference in Utah. Bloggers from all over the world come for three days to learn all of the latest blogging tips and tricks. It was such an amazing time and my to-do list is about a million miles long!
I was asked to teach a class at the conference. Que the nerves. I felt honored to be asked by Kroger to teach about Healthy Hacks for the Comfort Foods we Crave. This is right up my alley! I want to eat and enjoy comfort foods without the guilt. This goes right along with their Wellness Your Way Initiative to bring more healthy foods into our diets.
I taught a group of men and women about how to create these vegetarian sweet potato black bean enchiladas which are low in calories and fat but full of flavor. I also showed them how to create a simple naturally sugar-free sorbet using only a few ingredients. It was so much fun to share these "better for you" options to satisfy our cravings while staying healthy at the same time.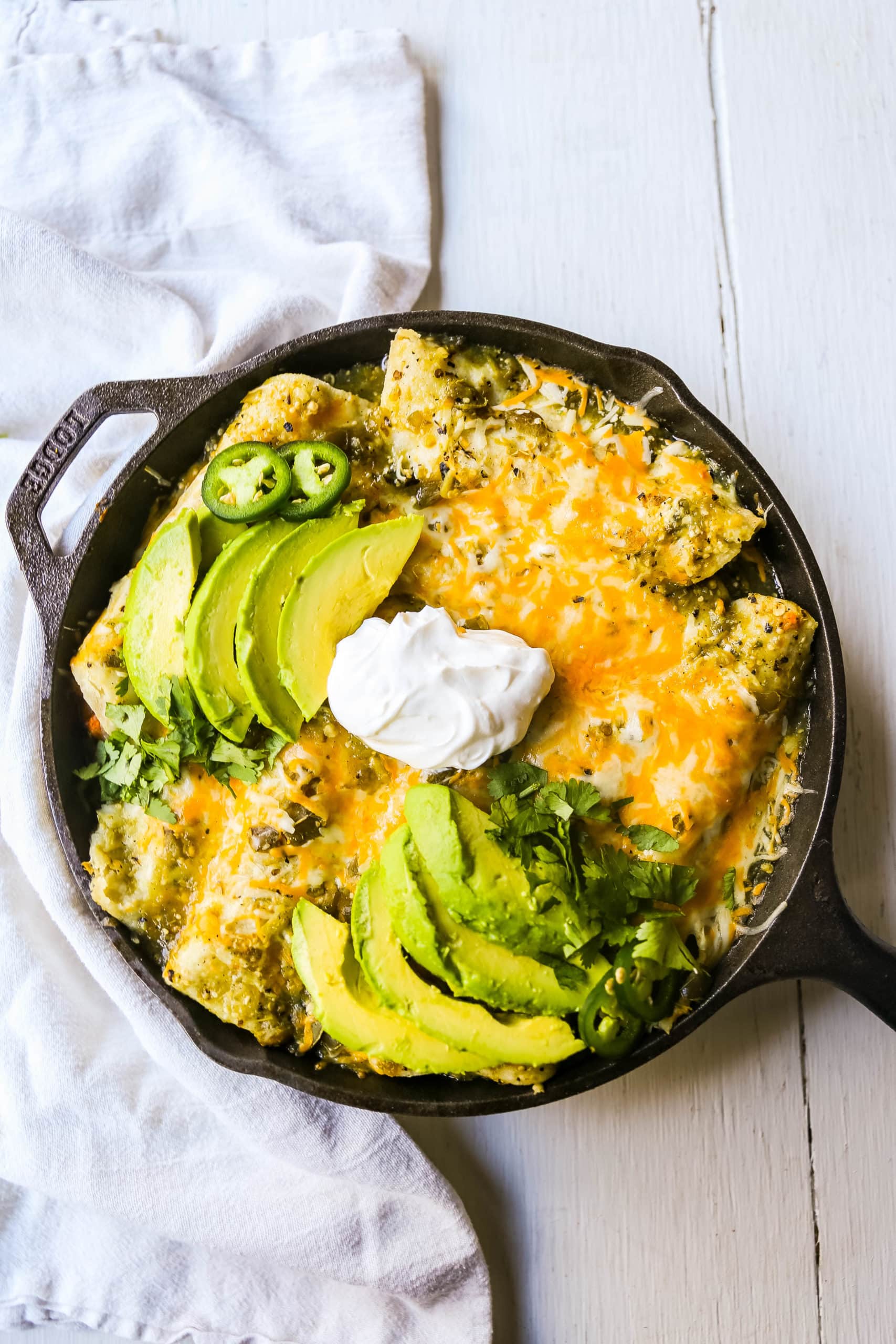 I also got to talk about the OptUp App, which I am officially obsessed over. It is already helping my family make more thoughtful decisions at the grocery store. You can find out more information and download it on the App Store or Google Play Store. You can also go to www.kroger.com to find out more.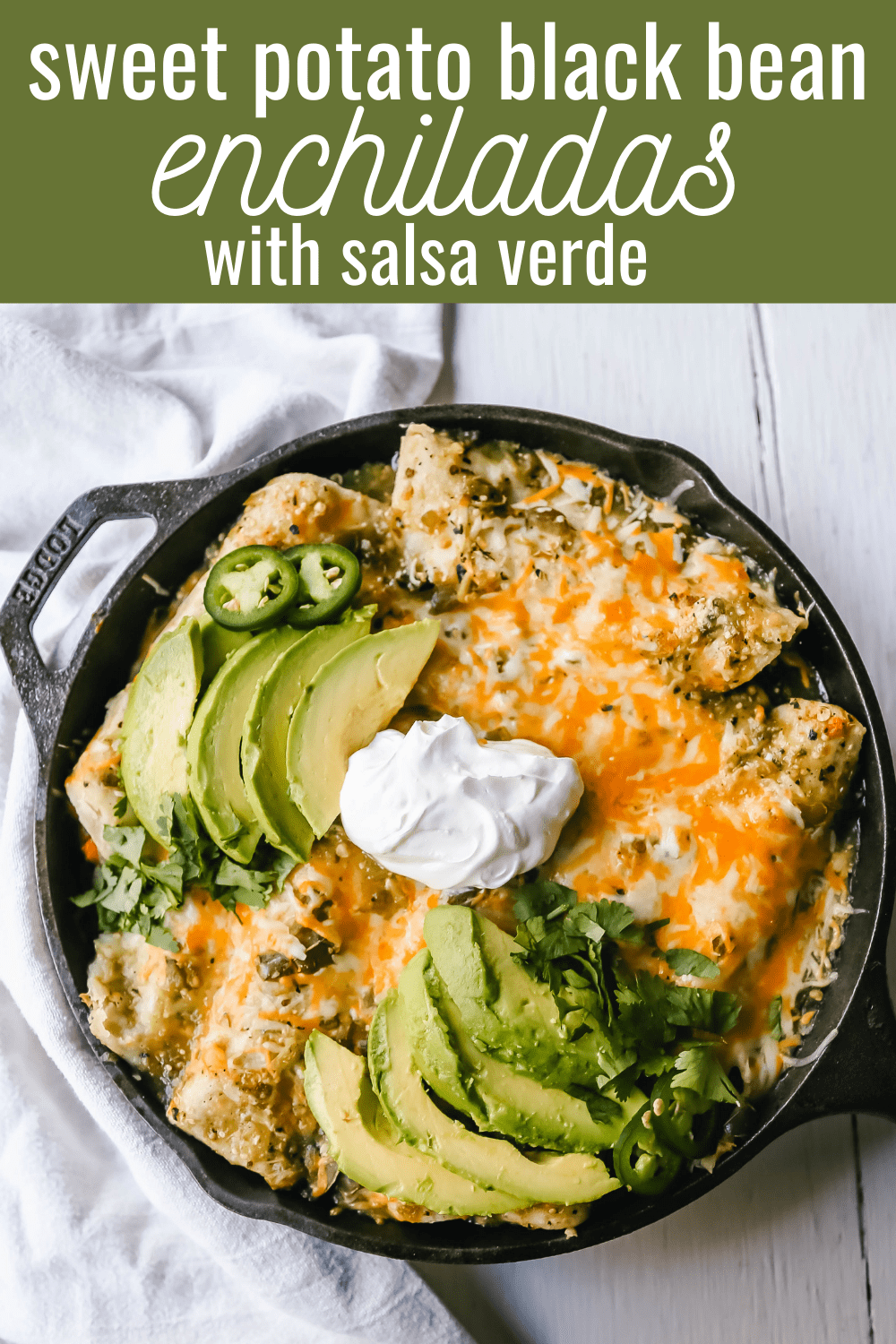 I hope you love these Black Bean Sweet Potato Poblano Enchiladas! Happy Cooking, my friends!