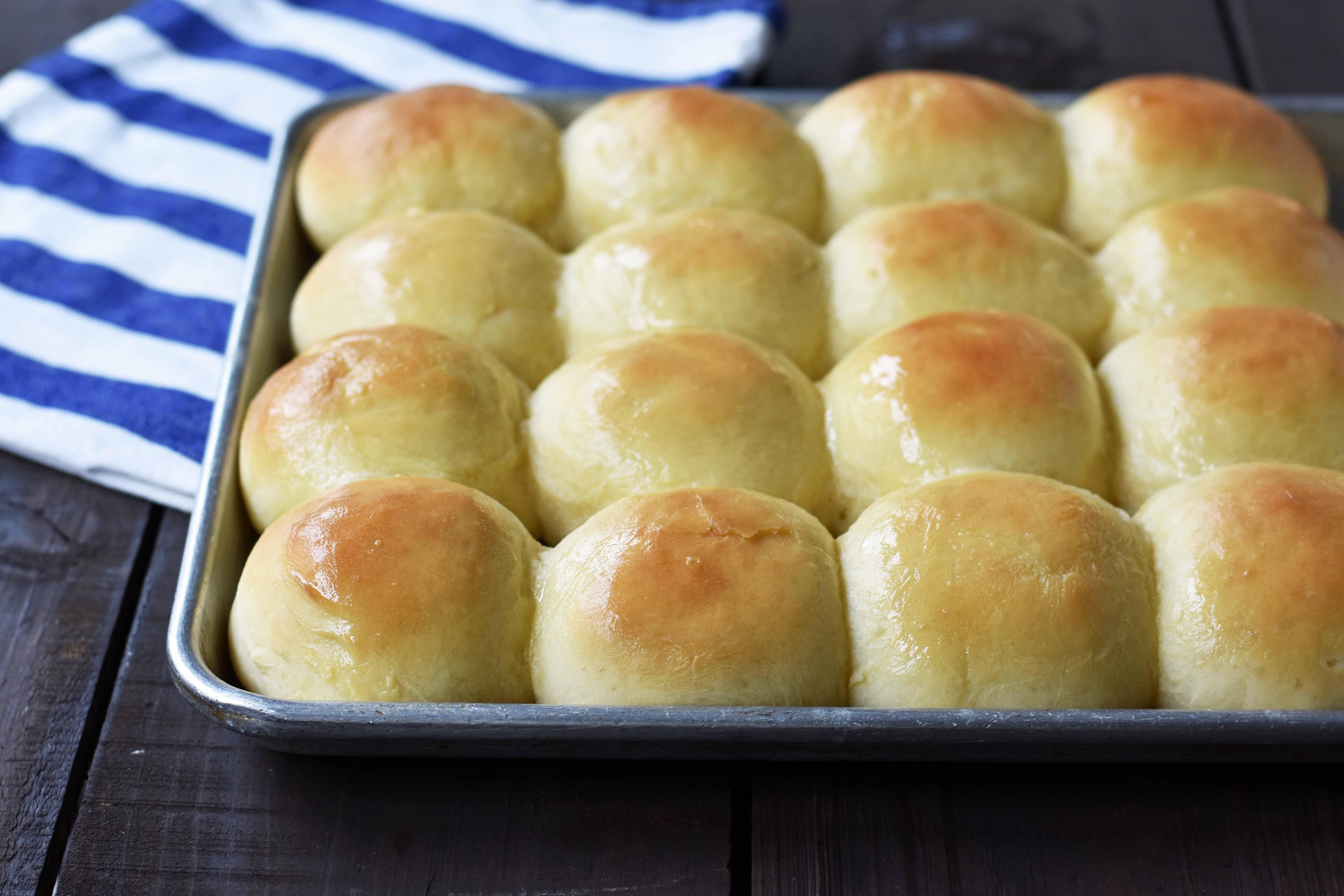 These Dinner Rolls are so light and fluffy and are the best homemade dinner rolls ever! These homemade rolls are made with only 8 ingredients and are so easy.
The Best Homemade Dinner Rolls are buttery, fluffy, and taste heavenly! These homemade rolls will be gone in no time in your home.
It is SIDE DISH week on Modern Honey so I can't wait to share everything I have been whipping up in my kitchen.
My Mom is the Roll Master. She will shake her head and say, "no honey, I am not"....but I am here to tell you she is wearing the crown. She has always said in her perfect world, she would live on homemade bread and rolls. She is always in her kitchen making up some sort of baked good to deliver to a neighbor in need. Her heart is made of gold, I tell you.
When I was teaching cooking school for kids, I had her come over and teach them everything she knows about bread. So when I wanted to learn how to make homemade rolls, I called up my Mom and she was ready to teach me all the tricks of the trade.
These BEST Homemade Dinner Rolls are heaven sent.
These rolls are made with simple ingredients -- yeast, water, sugar, butter, milk, flour, and salt. It's the ratios that matter. The dough has just the right amount of butter to make them melt-in-your-mouth rolls and enough yeast to help them rise and make them fluffy.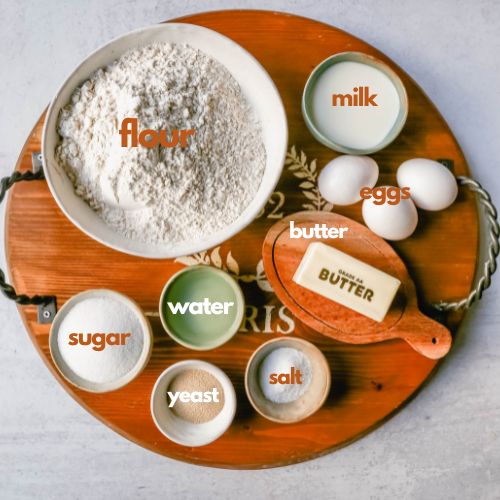 Dinner Roll Ingredients:
Yeast -- I suggest using instant yeast in this recipe but you can also use active dry yeast. More details about the differences between yeast are listed below.
Water -- using warm water (approximately 110 degrees) is the best way to active the yeast and let it proof, foam, and bubble
Sugar -- yeast loves sugar so this is a good way to ensure the yeast is working by adding it to the yeast and water mixture
Butter -- softened salted butter gives these rolls the perfect amount of richness and flavor
Milk -- use whole or 2% milk because of their fat content. It is best to slightly warm the milk to help it incorporate into the dough
Eggs -- the perfect binder to bring the dry and wet ingredients together
Flour -- you can use all-purpose flour or bread flour in this roll recipe
Salt -- this is one of the most important ingredients when baking bread. It is what brings out the flavor of all of the ingredients.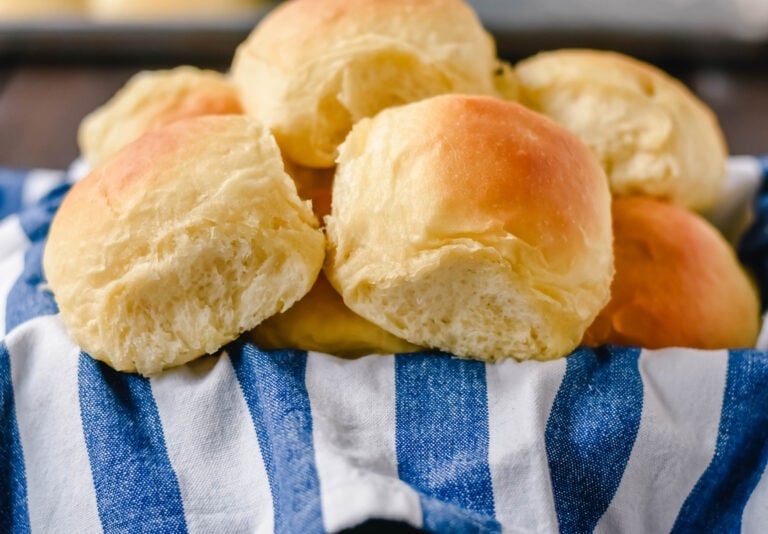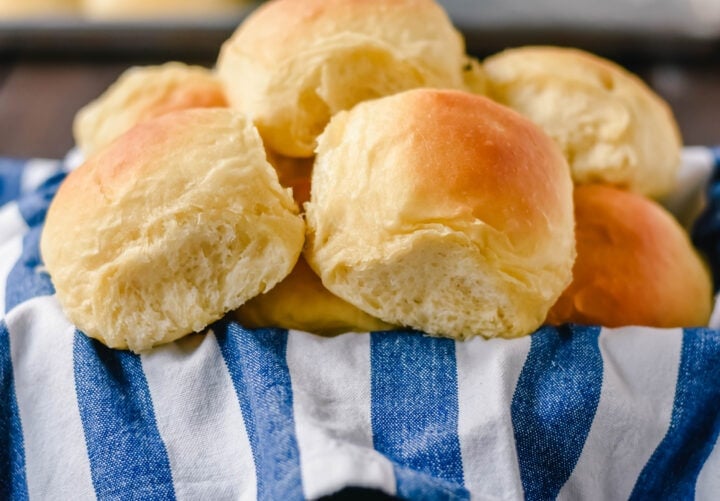 What type of yeast should I use in the dinner rolls recipe?
The most popular types of yeast used in baking are traditional active dry yeast and instant fast-rising yeast.
Active dry yeast has been around for ages and is sold in packets and in jars. It is a slower-working yeast. It can be added directly to the dough with the dry ingredients and doesn't need to be proofed or activated with warm water.
Fast-rising or Instant Yeast is a finer granule and is known to work 50% faster than active dry yeast. The most popular brand is Fleishmann's instant dry yeast. This yeast can be proofed or be added to the dry ingredients.
I always prefer to activate my yeast with warm water or warm milk and a sprinkle of sugar to ensure the yeast is working.
There is a Fleishmann's RapidRise Yeast that only requires one quick rise.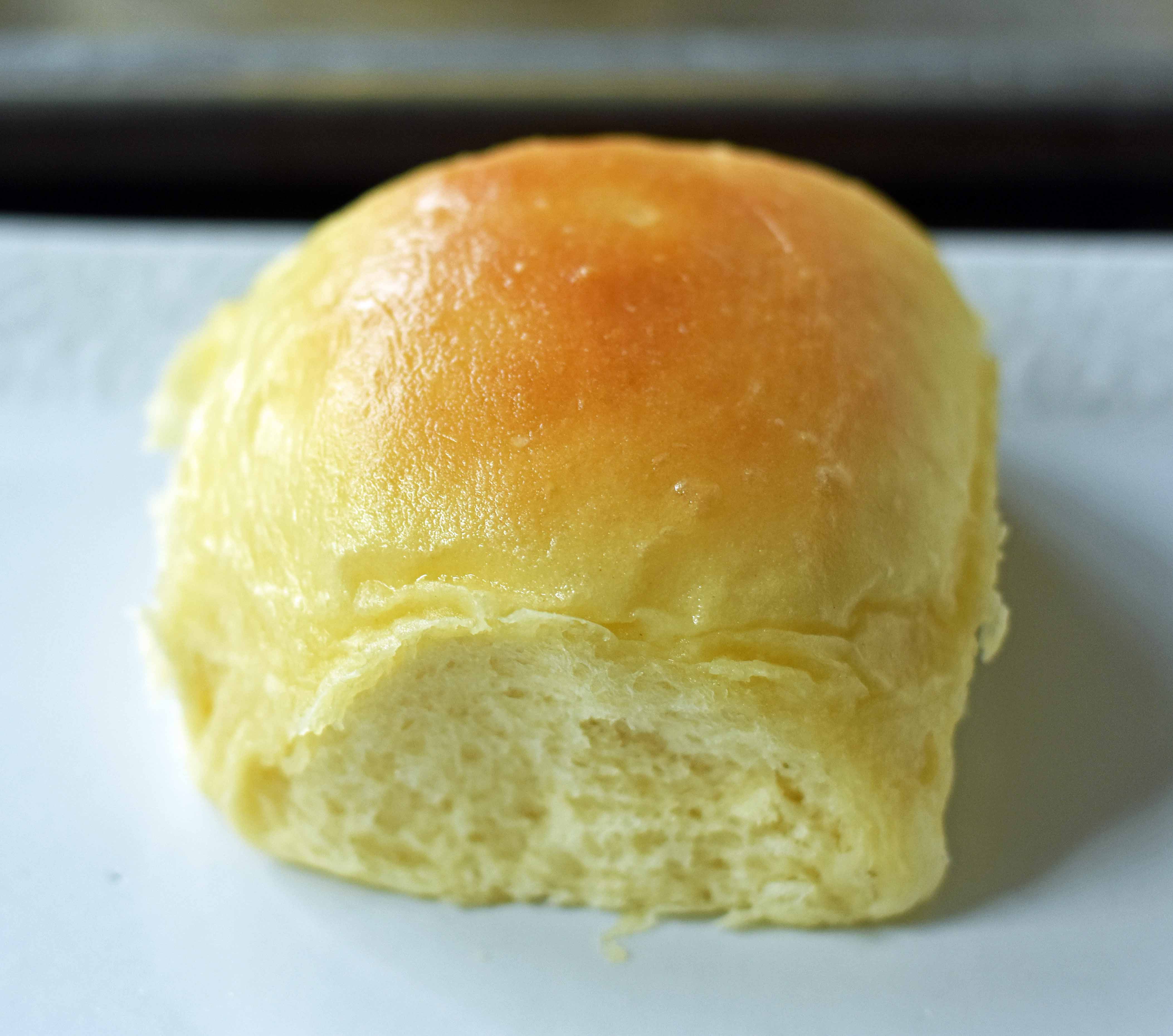 Buttery, light, fluffy homemade dinner rolls are a must in our home! I am sharing all of the tips and tricks to make perfect dinner rolls every single time.
How to make the BEST Homemade Dinner Rolls:
Let your YEAST PROOF. The key is to use very warm water (about 110 degrees). Adding sugar to the yeast helps it proof even faster. Let the yeast proof for at least 5 minutes. Remember to always use fresh yeast. You will know the yeast is working when it starts to form a creamy foam on the surface.

Use BUTTER and EGGS.

The butter and eggs are what adds richness to the homemade rolls dough.

Use a STAND MIXER

. This bread recipe is easiest with a stand mixer such as aBosch or Kitchenaid. This is a huge time saver as you knead the rolls for 5 minutes in the mixer. It saves you from doing it yourself! If you don't own a stand mixer, you can knead the bread dough by hand. Watch for the dough to start pulling away from the sides. You still want the dough to be slightly sticky but begin to pull away from the sides.

Let RISE until DOUBLE in size.

This can be done in a warm place. If you want the dough to rise faster, place the dough covered in a warm oven. Set the oven to 200 degrees, turn it off, and then place the dough in the oven and let it rise until double in size.

This expedites the rising process and cuts the time in half.

Roll into BALLS and brush with softened BUTTER

. Roll into desired size and place in baking pan. Place close together so as the rolls rise, they rise upwards and not out. It keeps them from spreading. Brush with softened butter.
BAKE until GOLDEN BROWN. Heat the oven to 350 degrees and bake until light golden brown. Remove from oven and spread butter over the top of rolls to give moisture and shine.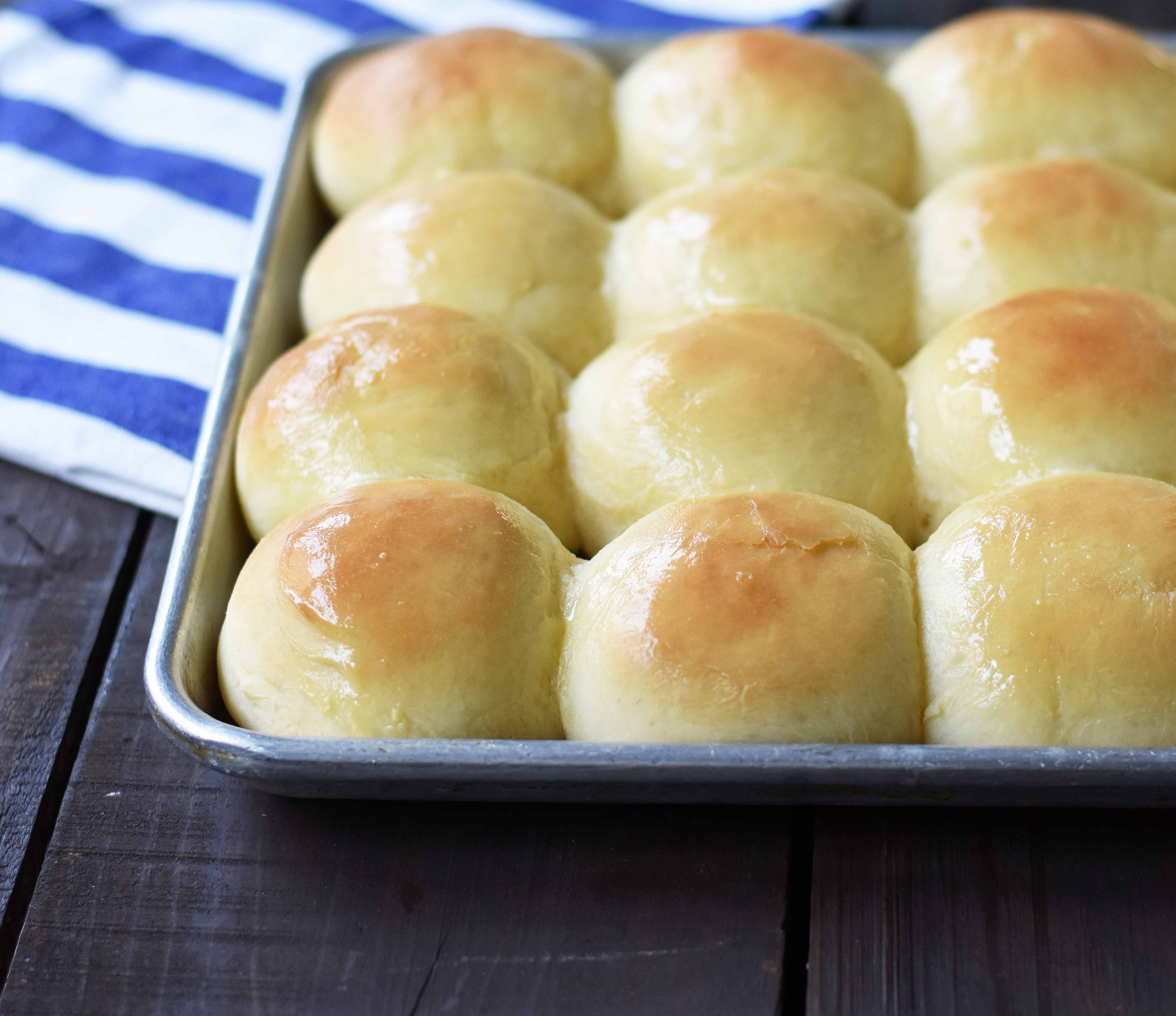 Frequently Asked Questions:
HOW TO KNOW IF THE YEAST IS WORKING?
The key to making any type of homemade rolls recipe is to ensure the yeast is working and activated.
I suggest mixing the yeast, warm water or milk (about 105-110 degrees), and a touch of sugar into a bowl. The sugar will help to "feed" the yeast and help it to activate quicker. Yeast loves sugar! The warm water or milk also helps to activate the yeast.
If the water or milk is too hot, it can kill the yeast, but if it is too cool, it won't incorporate with the other ingredients.
The yeast should start to become foamy or bubbles will begin to surface. This is a great sign that the yeast is working. Let it work for at least 5 minutes to see if it begins to proof.
If nothing happens, start again with a new batch of yeast, warm water, and sugar.
One other tip when trying to get the yeast to begin to foam and bubble, make sure to keep it away from salt as the salt can kill the yeast.
How to know if my roll dough has risen enough?
The rule of thumb with bread baking is to watch for the dough to double in size. If possible, place it in a warm place to expedite the process. You want it to look light and airy.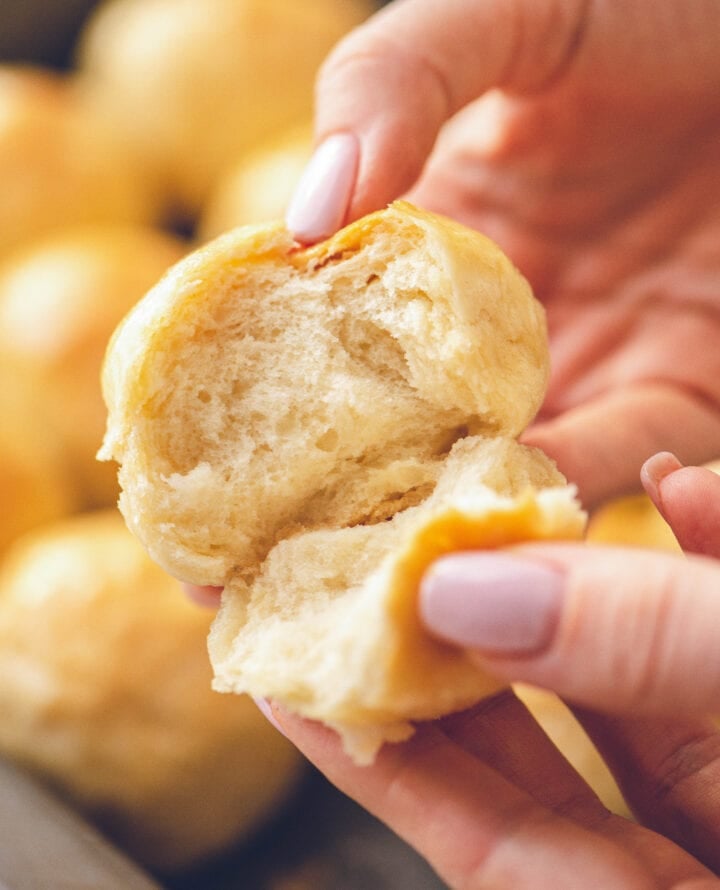 POPULAR HOMEMADE BREAD RECIPES: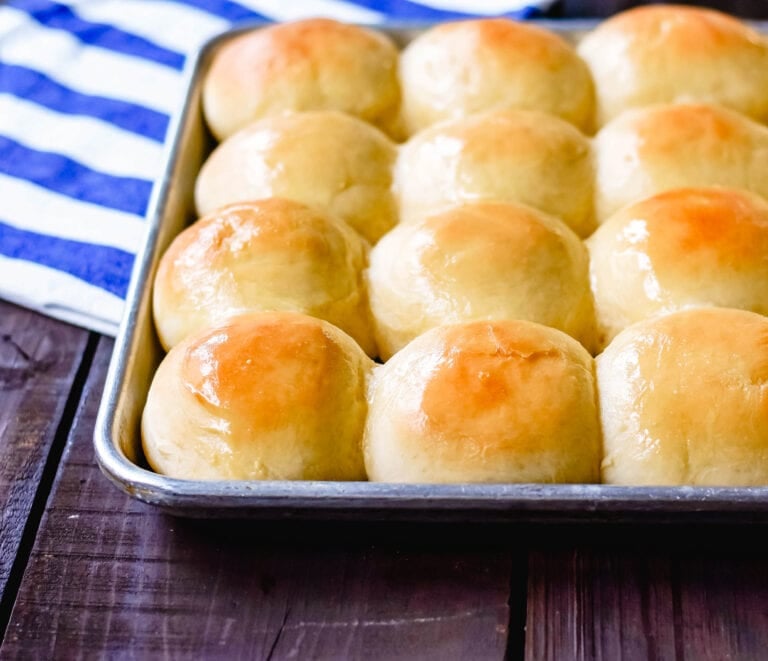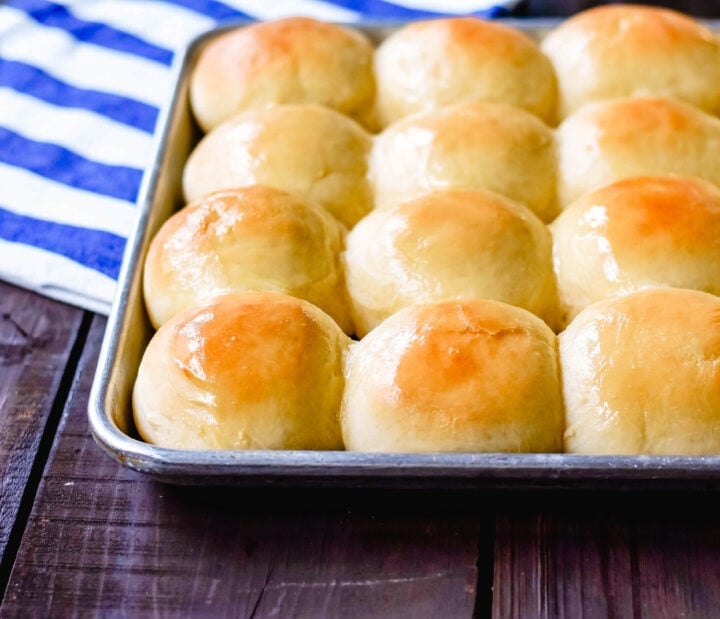 Find ALL of my Modern Honey Thanksgiving recipes by clicking HERE. Pin the image below on Pinterest to share with your friends and family.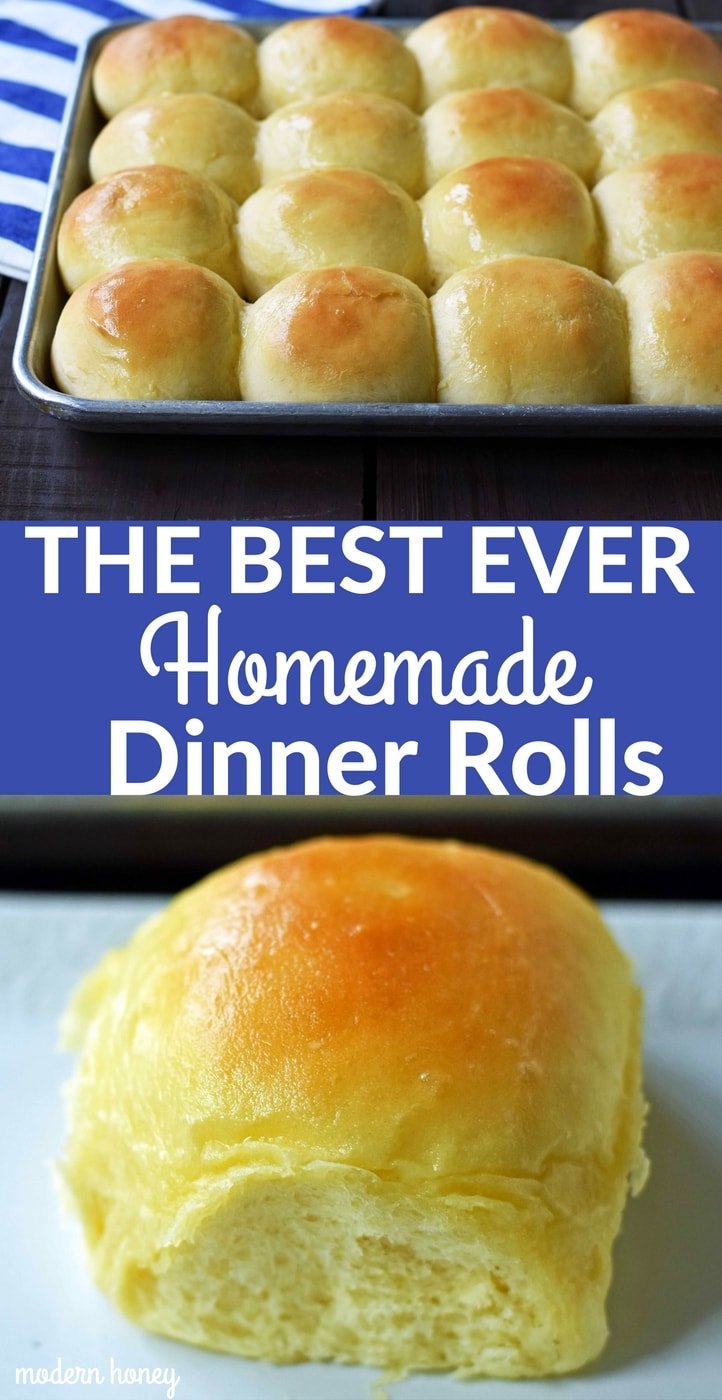 Happy Baking, my friends! xo