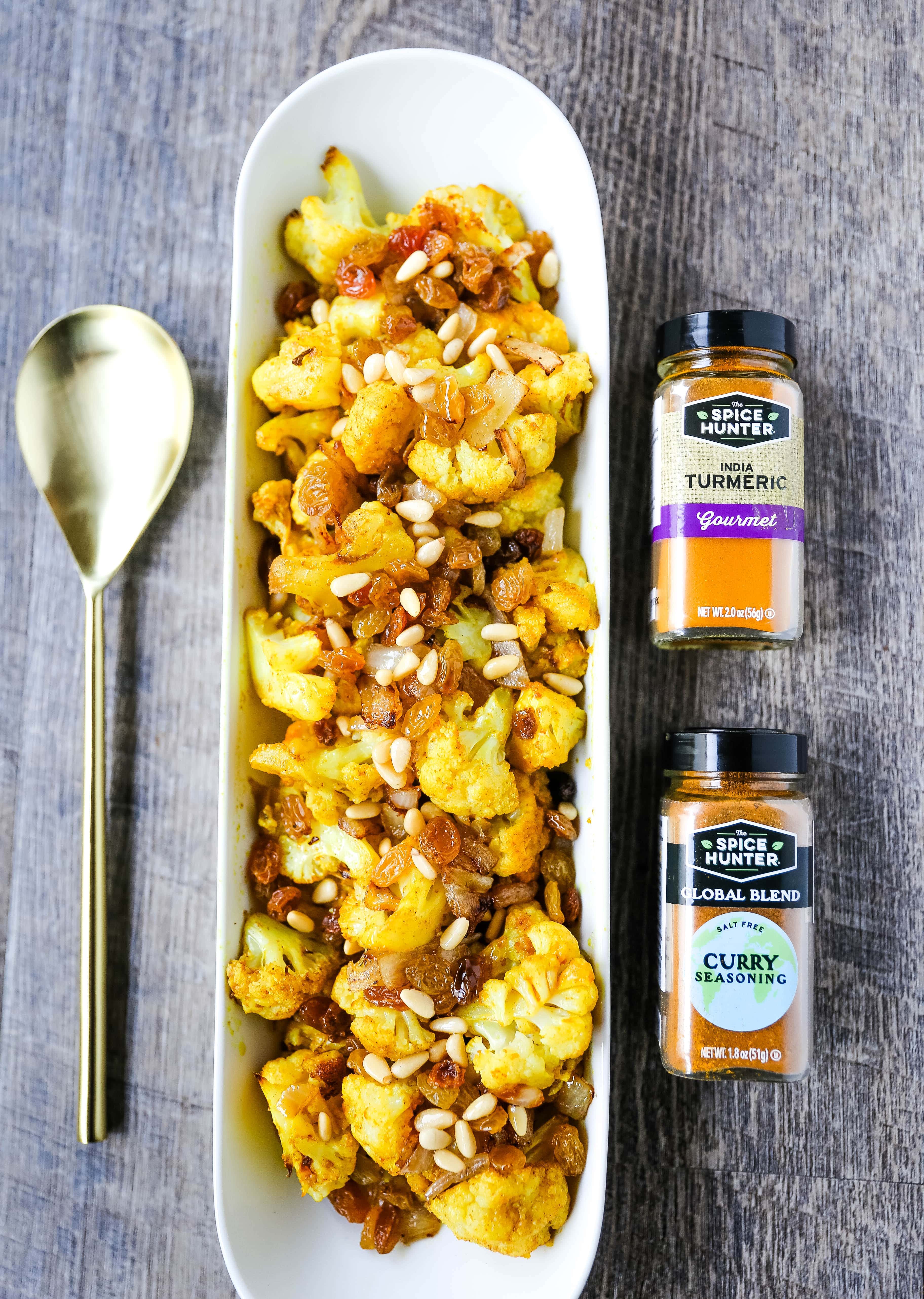 Turmeric Roasted Cauliflower
Indian spiced roasted cauliflower with warm spices, caramelized onions, sweet golden raisins, and crunchy pine nuts. A flavorful, healthy side dish perfect for any occasion!
This post is sponsored by The Spice Hunter and includes tracking links. For more information about tracking links and how to opt out, please visit All About Do Not Track prior to clicking any links found in this post.
I have a philosophy about vegetables. I have people tell me all of the time that they don't like vegetables. But I have turned some vegetable haters into vegetable lovers so I do have a few tricks up my sleeve! I believe that vegetables can be transformed by adding some savory spices, drizzling them with a little extra virgin olive oil, and roasting them in the oven. I am a huge fan of roasting veggies because it brings out the very best flavors of the vegetables.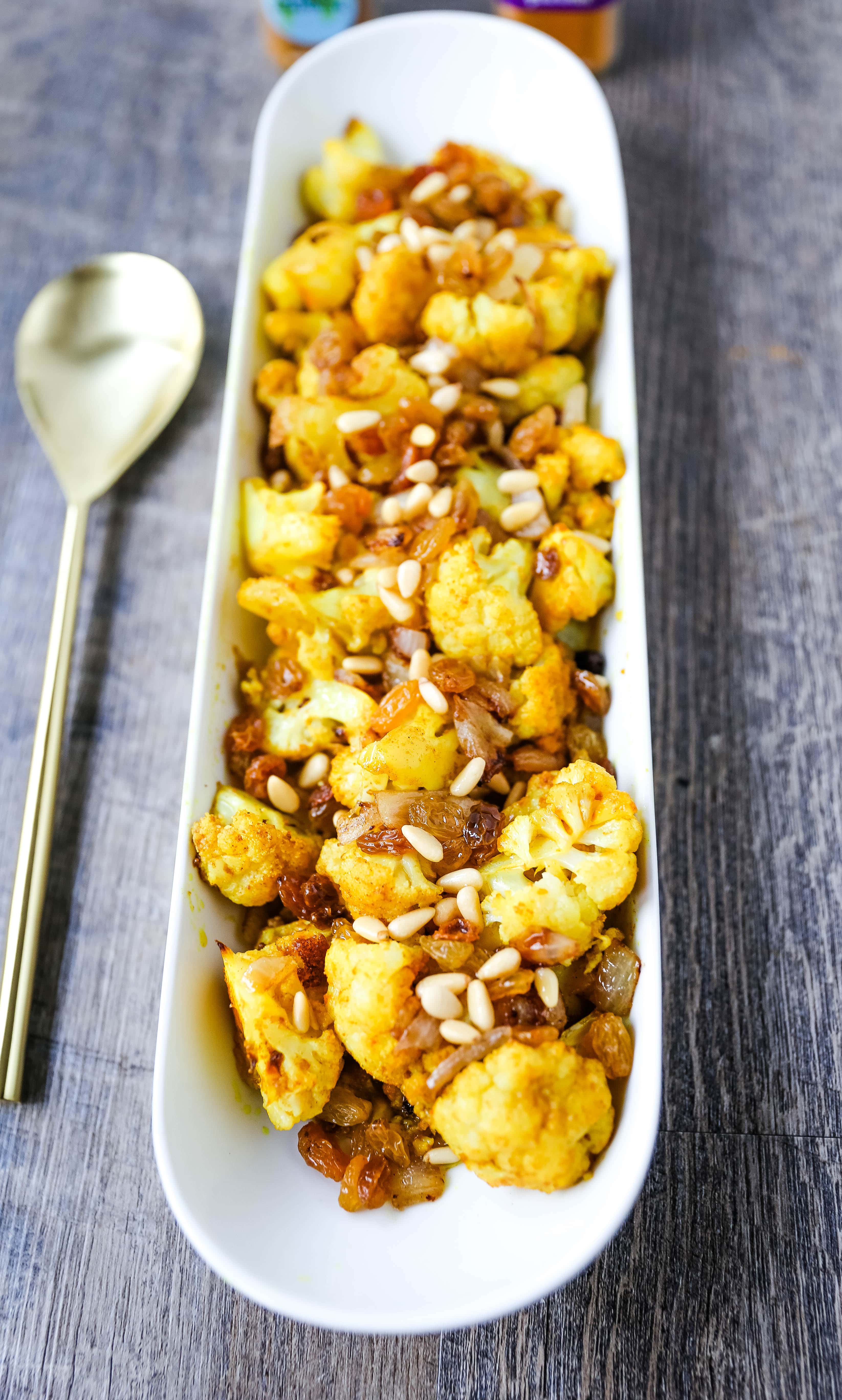 This Indian Roasted Cauliflower is all about the flavor. If you are going to eat vegetables, let's make them taste good! The Indian spices -- turmeric and curry -- pair so perfectly with the cauliflower. I use The Spice Hunter Curry Seasoning Blend, The Spice Hunter Turmeric, and The Spice Hunter Granulated Garlic. Their spices are high-quality and are such game changers in this roasted cauliflower dish. You will forget you are even eating a vegetable!
The beauty of spices is that they add so much warmth and flavor without the need to add as much salt. That is a win-win in my book!
I have been using turmeric for years because of its incredible health benefits. " Turmeric, known as the golden spice of India, is a versatile spice known for its musky aroma, bitter and citrusy flavor, and trademark golden-yellow color. While turmeric is a mainstay in curries and stews, it's currently trending among foodies and health enthusiasts due to its antioxidant-rich and anti-inflammatory properties. Now you can find ground turmeric in everything from smoothies and breakfast recipes to traditional Indian, Southeast Asian, and North African dishes."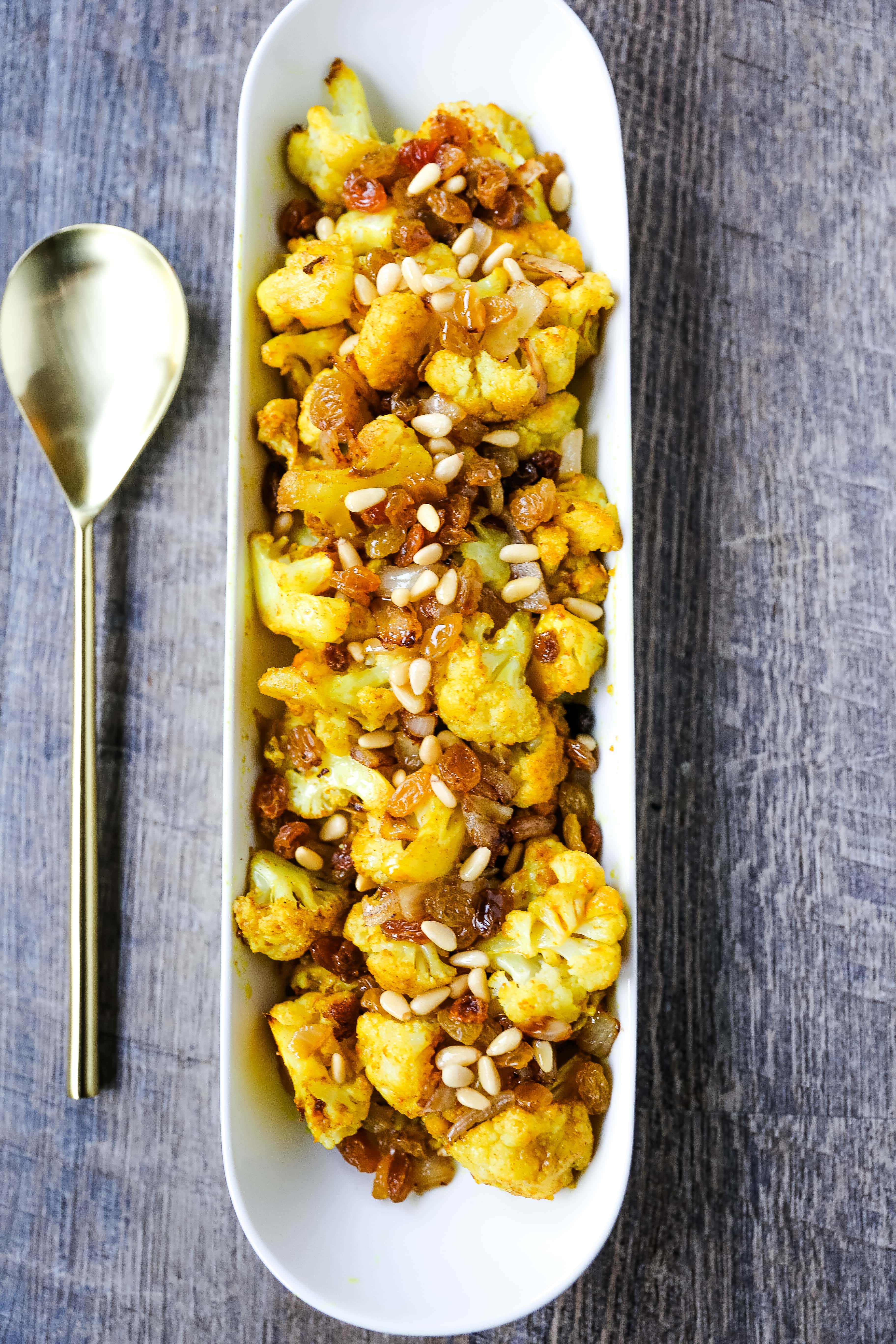 I love to use their curry seasoning which is a blend of cumin, turmeric, coriander, chile pepper, mustard, cardamom, ginger, cloves, nutmeg, red pepper, cinnamon, black pepper, saffron. It brings such a smokiness and warmth from the ginger, cloves, nutmeg, and cinnamon.
I love adding caramelized onions to my veggies! You can either roast the onions with the cauliflower or slowly caramelize the onions in a skillet with butter or olive oil while the cauliflower is cooking. I prefer to caramelize the onions in a skillet to bring out their sweetness.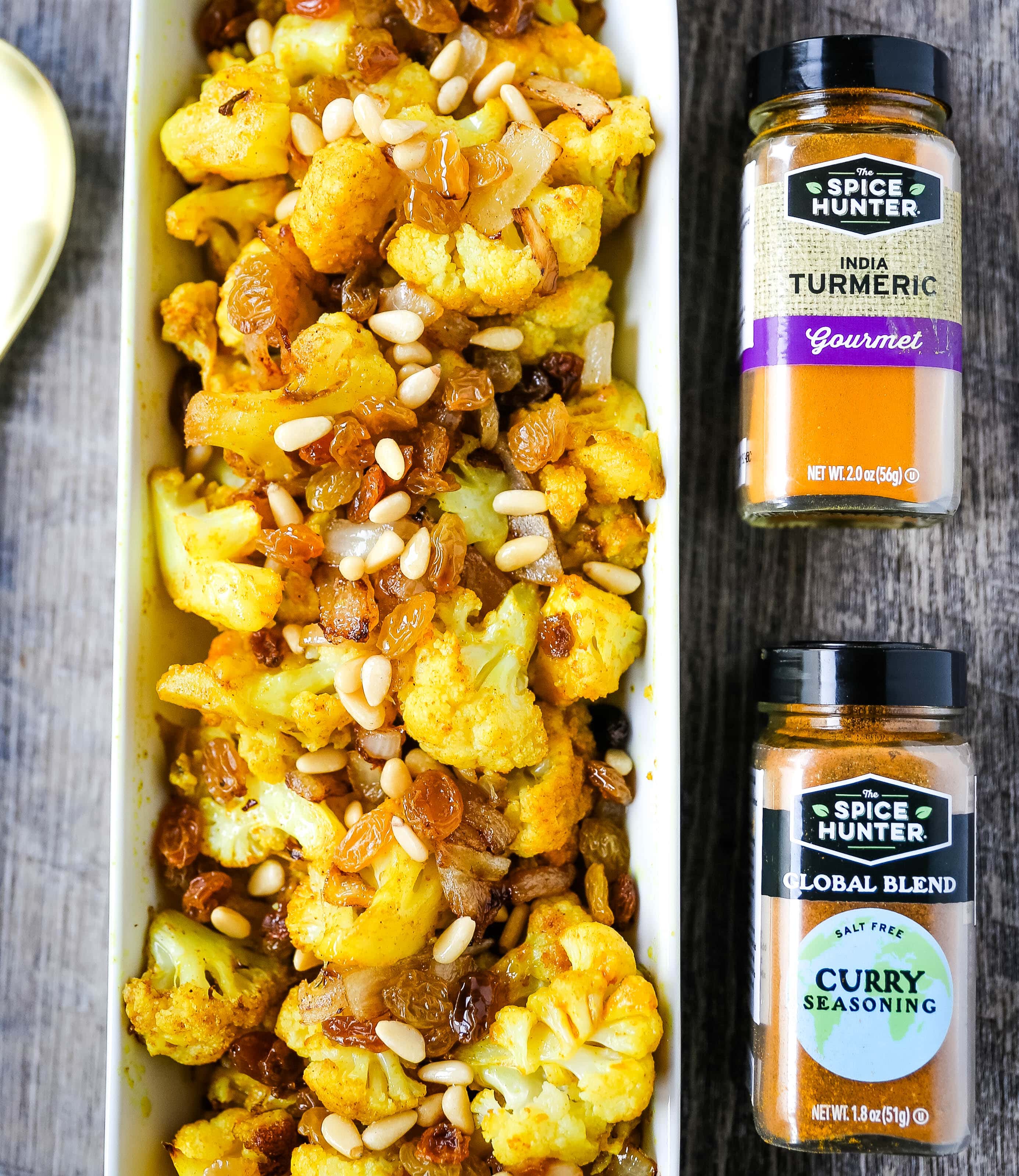 The cauliflower is drizzled with extra-virgin olive oil, sprinkled with the spices, and then roasted at 400 degrees for about 20 minutes. After you remove it from the oven, add some golden raisins (or dates), and pine nuts. Golden raisins are used in Indian cooking and known for their sweetness to balance out the warmth and spice. The pine nuts add the perfect amount of crunch and texture. If you aren't a raisin fan, substitute chopped fresh dates.
This has quickly become one of my family's favorite side dishes! You can pair it with any protein from grilled chicken or steak or even pair it with a bright salad for a meatless dinner.
How to make Turmeric Roasted Cauliflower:
 Start by chopping up a head of cauliflower into bite-size pieces. You can find already chopped up, packaged cauliflower at the grocery store if you want to save some time.
Place the cauliflower on a baking sheet and heat the oven to 400 degrees. Drizzle with olive oil and spices. Toss to evenly coat the cauliflower.
Roast for at least 20 minutes or until the cauliflower is fork-tender.
The onions can be roasted with the cauliflower or slowly caramelized in a skillet with butter or olive oil while the cauliflower is cooking in the oven.
Remove from the oven and toss with caramelized onions, golden raisins and pine nuts. May sprinkle with more spices as needed.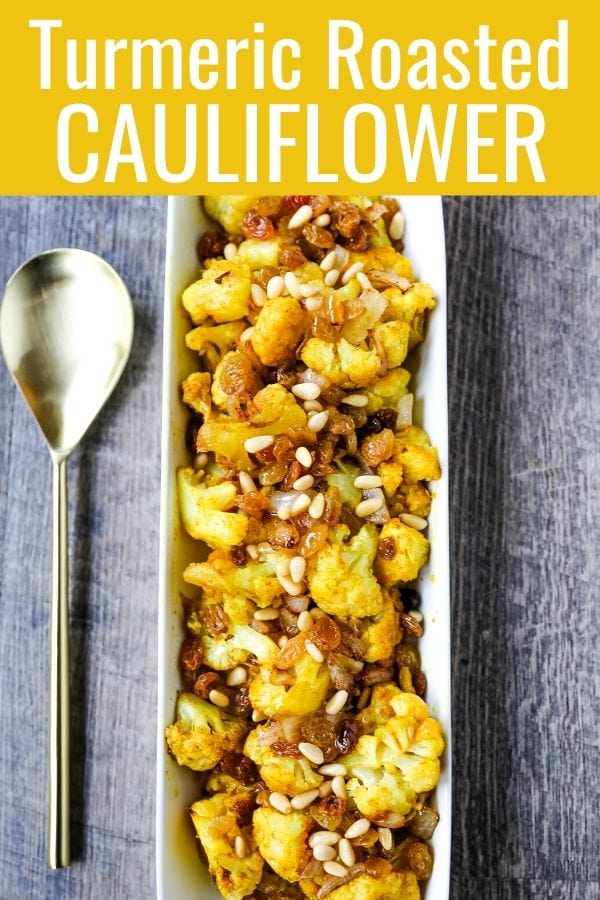 You can find all of the spices used in this Indian Spiced Cauliflower at a discounted price using a special code. 15% off all orders on Spicehunter.com (excludes branded merchandise) through 12/31/19 with code HOLIDAYSPICE19
Also, you can sign-up for The Spice Hunter's emails to receive coupons and recipe inspiration throughout the year.