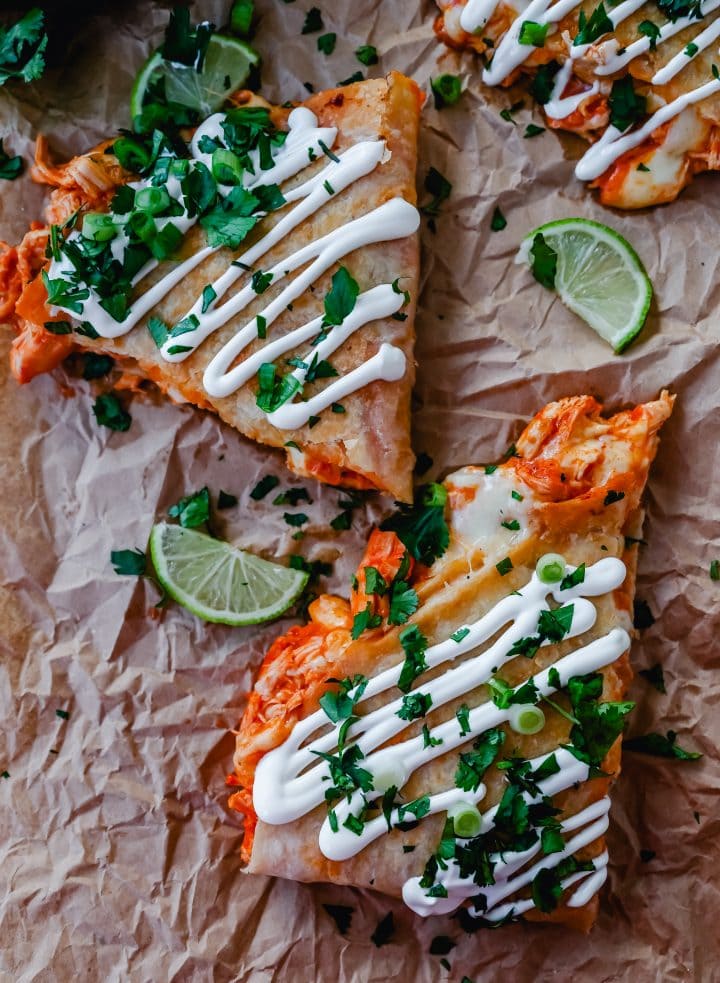 Buffalo Chicken Quesadilla is made with a hot wing buffalo ranch chicken and melted jack cheese in a buttery tortilla and cooked until golden brown.
The Super Bowl is coming up and football is a huge deal in our home! After church, my sons and husband turn on the TV to keep up on all of the games. If you watched any playoff games last week, you know there were some crazy games to watch. So much fun!
We may love sports in our home but we love food even more so we love to combine our two passions! I try to come up with all sorts of new food combinations and this Buffalo Chicken Quesadilla was off the charts good. One of my kids' all-time favorite foods is chicken wings. They go crazy over the buffalo sauce! They also love Mexican food so why not marry the two together?
These Buffalo Chicken Quesadillas are made with tender shredded chicken tossed with buffalo wing sauce and ranch dressing to give it some creaminess. The chicken is layered in a flour tortilla and topped with A LOT of cheese because cheese is king. Then you cook it in a skillet with a touch of butter to give it a buttery, golden flavor until the cheese is melted and ooey-gooey. Cut it into triangles, top it with swirls of Mexican crema, fresh cilantro, and green onions, if your heart so desires.
This is one of the easiest appetizers to make and everyone is always asking for the recipe so it is about time I share it!
What type of chicken should I use in this Buffalo Chicken Quesadilla?
For the sake of time, I love to pick up a rotisserie chicken from the grocery store (hello, Costco) and just shred it. You can also use shredded poached chicken. I always suggest when poaching chicken to ensure that you salt the water or salt the chicken when you shred it to ensure it has enough flavor.
What type of cheese should I use in this Buffalo Cheese Cheese Quesadilla?
There are so many cheeses that will work in this Hot Wing Chicken Quesadilla but I usually reach for a Monterey Jack or Pepper Jack Cheese. You can use a Mexican cheese blend, cheddar cheese, or even sprinkle in a little blue cheese. I prefer to grate a block of cheese rather than using pre-shredded cheese because it has better flavor!
How do I cook the Buffalo Chicken Quesadilla?
You can cook it a few different ways. I prefer to cook it in a warm skillet or griddle with a touch of butter until the cheese is melted. You can also put it in the oven to cook and I suggest spreading some butter on the tortilla to keep it from drying out. Another option is to cook it in an air fryer for an extra crispy tortilla. I love to re-heat any leftovers in the air fryer too.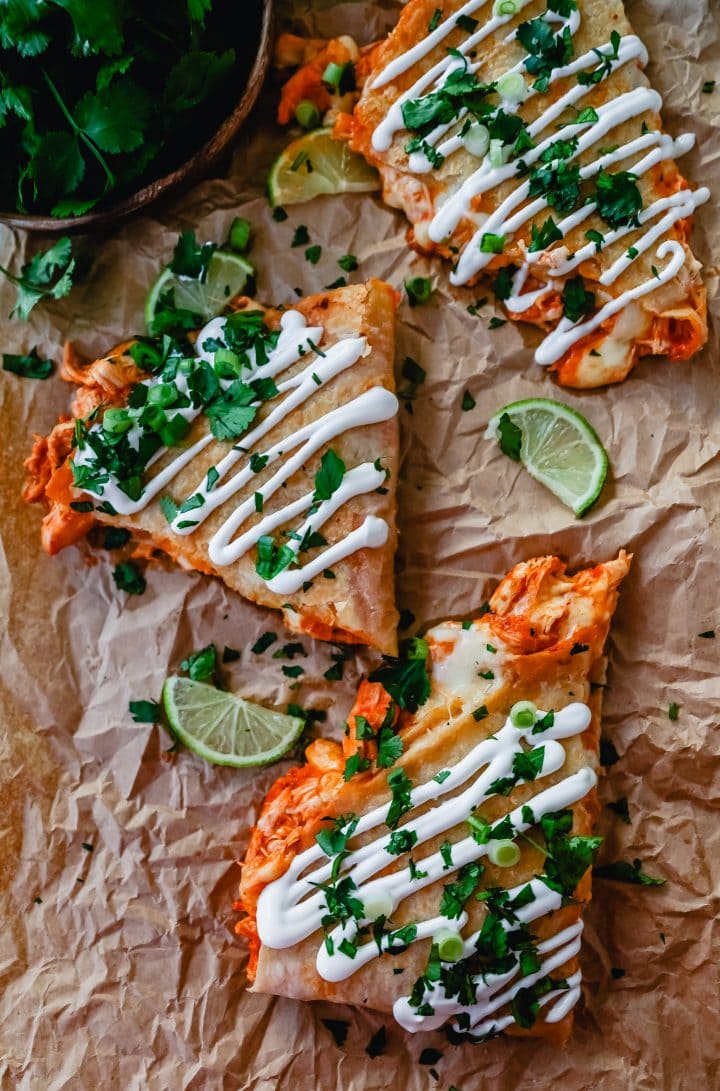 How to make the Buffalo Chicken Quesadilla:
Start by shredding the chicken and placing it in a bowl. I love to use rotisserie chicken to cut down on a step. We are making it so easy! Add in buffalo sauce and ranch dressing and stir it together until the chicken is coated.
Spread it on half of a flour tortilla and top it with a generous amount of cheese. I usually reach for Monterey Jack Cheese. If you love the flavor of blue cheese, sprinkle on a small amount on top of the Monterey Jack.
Heat a skillet or griddle over medium heat. Make sure it isn't too hot or the tortilla will brown too fast before the cheese is melted. If the tortilla is getting too brown, reduce the heat, and allow the cheese to melt. I like to add a small cube of butter to the skillet before adding the tortilla to achieve that buttery, golden flavor.
Serve with sour cream or Mexican cream, fresh cilantro, and green onions.
Check out these Appetizer Recipes:
Mexican Street Corn Chicken Tacos