How to make a beautiful Easter Candy Charcuterie Board featuring colorful and sweet Easter candies and decadent chocolates. I will share tips for making a gorgeous Easter dessert board.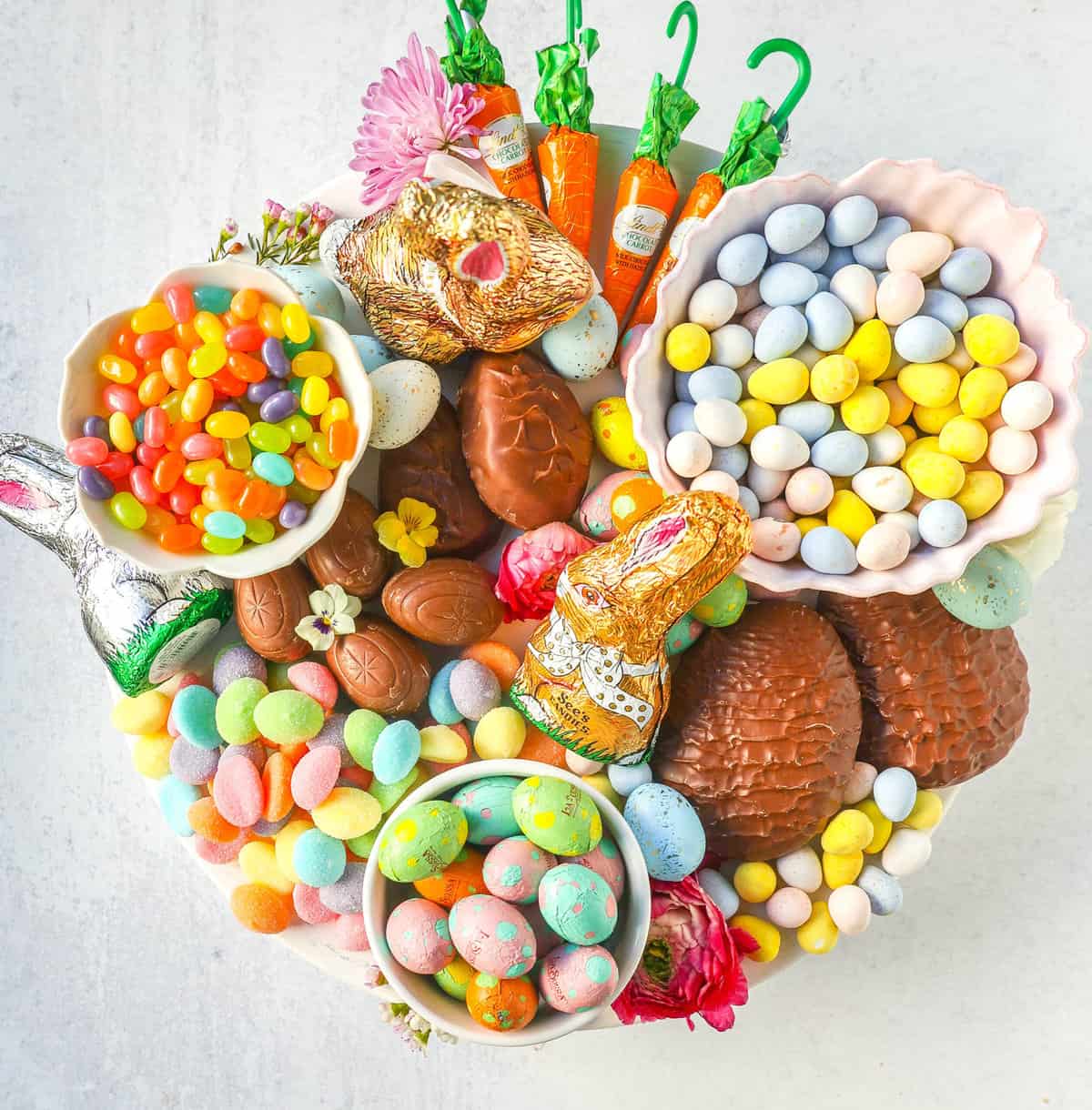 Easter is coming up this week so I am sharing a fun way to display Easter candy.
I am obsessed with making beautiful food boards. You can say that I love charcuterie boards and find any excuse to make one. You can find my Spring Easter Charcuterie Board, my Italian Charcuterie Board, and even my Chocolate Dessert Charcuterie Board.
Growing up, Easter was a huge deal. We would go to my grandparent's home on Camelback Mountain in Phoenix and have the biggest Easter egg hunt. My Grandma would special order See's chocolate candy eggs with our names on them. We felt so special.
So every single Easter I make a visit to See's candy store to stock up on my Easter candy essentials. I wanted to create a fun Easter candy charcuterie board for my kids because everything just looks more delicious displayed on a beautiful board.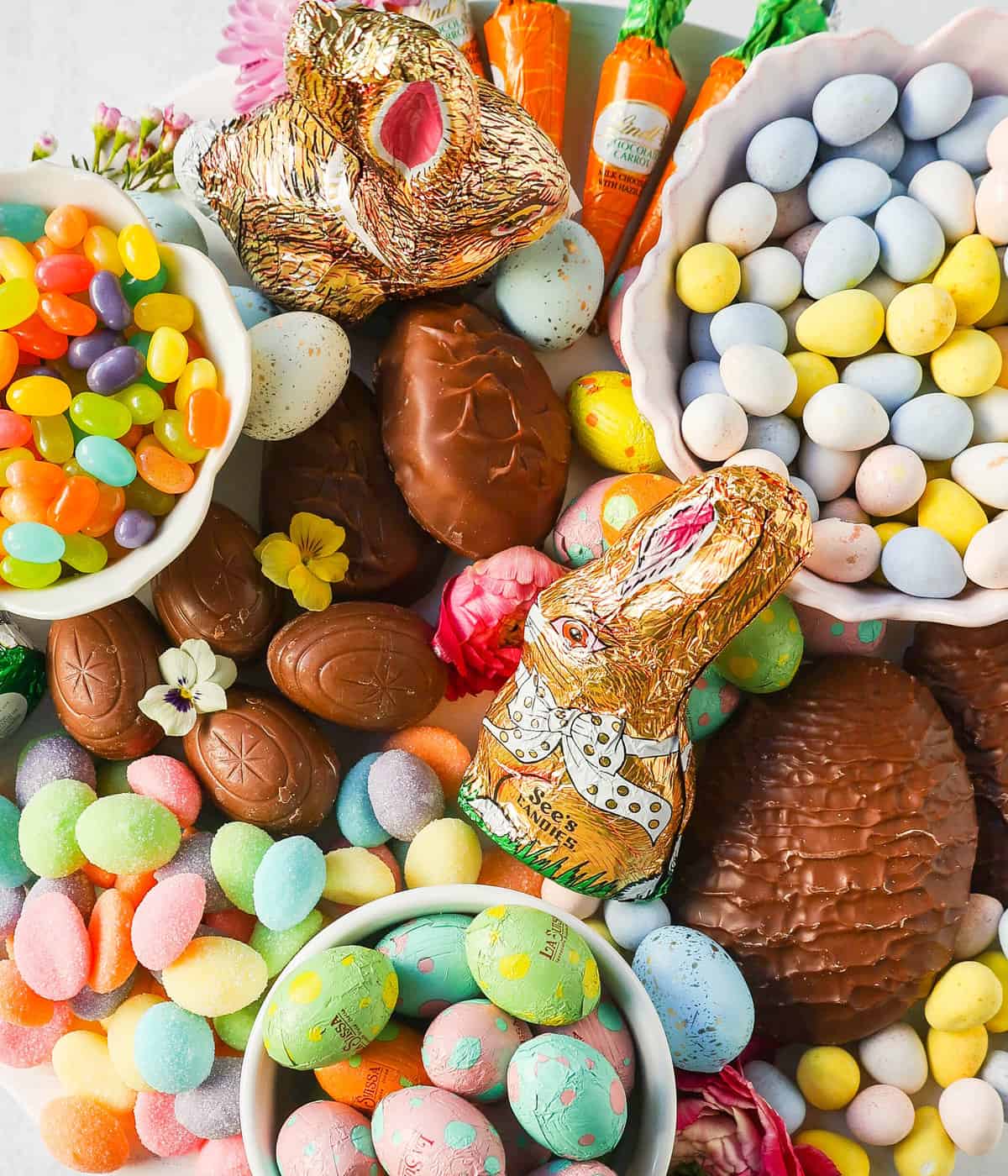 Ingredients
You can add all of your favorite Easter candy and Easter chocolates to your Easter dessert board. The sky is the limit! Here are some ideas and some of our favorite Easter candy...
Cadbury Mini Eggs -- the shelled chocolate candy is one of the most popular Easter chocolate candies ever.
Jelly Beans
Chocolate Eggs
Lindt Chocolate Carrots
Reese's Peanut Butter Eggs
Cadbury Creme Egg
Lindt Mini Gold Bunny
See's Candie's chocolate Easter bunnies
See's Candie's chocolate marshmallow eggs
Dove Milk Chocolate Eggs
Sour Patch Kids Easter Bunnies
Easter Gummy Candies
Peep's Marshmallow Chicks
Whopper Robin Eggs
M & M Easter Candies
Easter Hershey's Kisses
Reese's Pieces Easter Carrot
Hershey's Candy Coated Eggs
See's Candie's chocolate truffles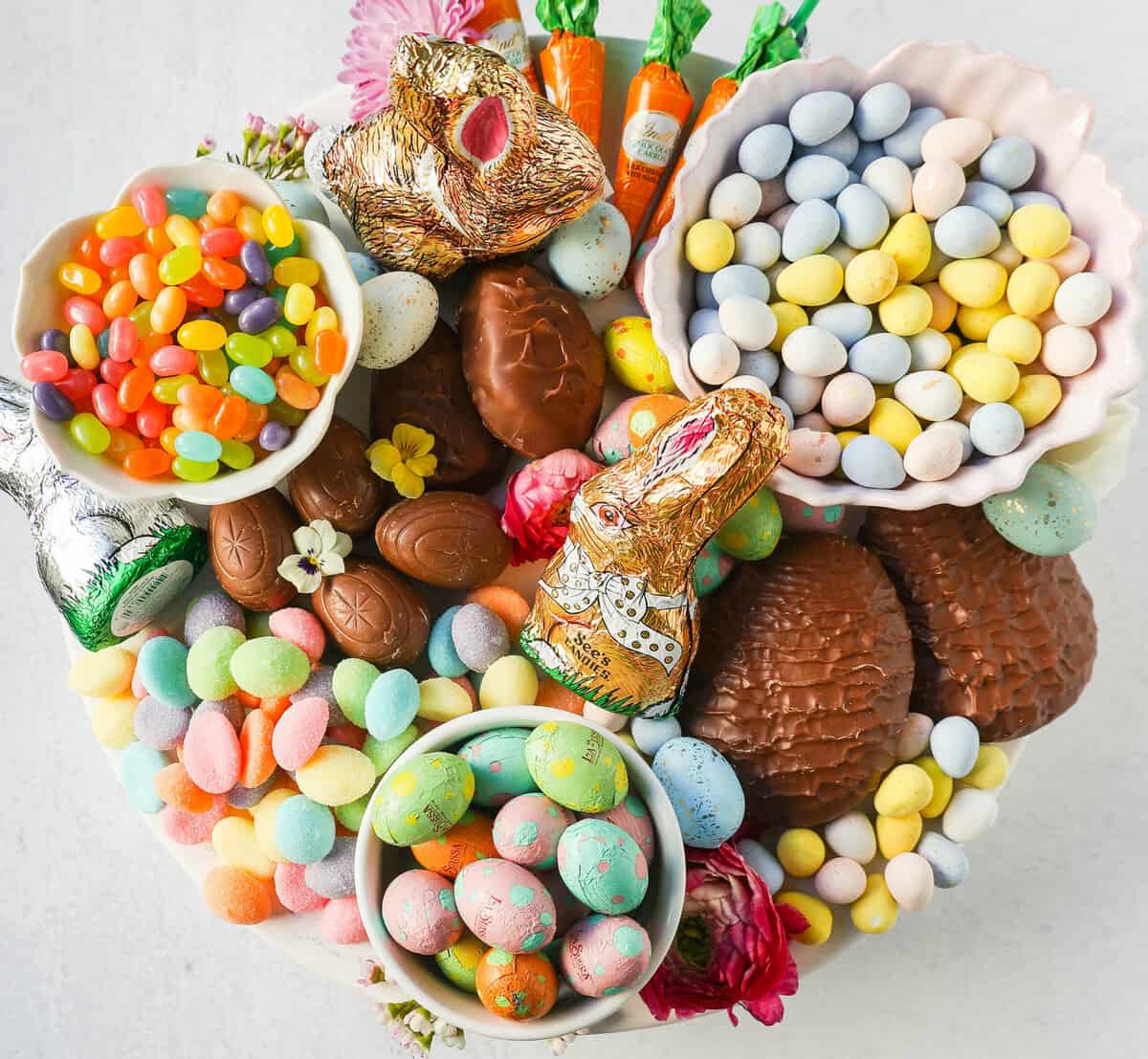 Instructions
Choose a beautiful board. My favorite boards are from EtuHome. They are a little bit of an investment but they are so well-made and beautiful. Here are some of my favorite boards -- White Round Charcuterie Board and a French Blue Charcuterie Board. I also find a lot of my boards at Home Goods and TJ Maxx.
Buy the Easter candies and chocolate to display on your board.
Place several bowls of different shapes and sizes on the board. Fill the bowls with candies like jelly beans or Easter eggs.
Start to place the other Easter chocolate and candies around the bowls until you completely fill the board.
Where to buy Easter candy?
I love to buy Easter chocolates at See's Candies. I always find a good selection of Easter candy at Target or Fry's grocery store. I even find some unique candies at Marshall's or TJ Maxx.
You can find delicious gummy candy at Trader Joe's. They have some fun and yummy Easter candy.
Top tip
Be creative! Have a variety of candies and chocolate to place on the candy board. Use a variety of sized bowls to put the candy in.
Related
Looking for other holiday ideas and recipes like this? Try these: