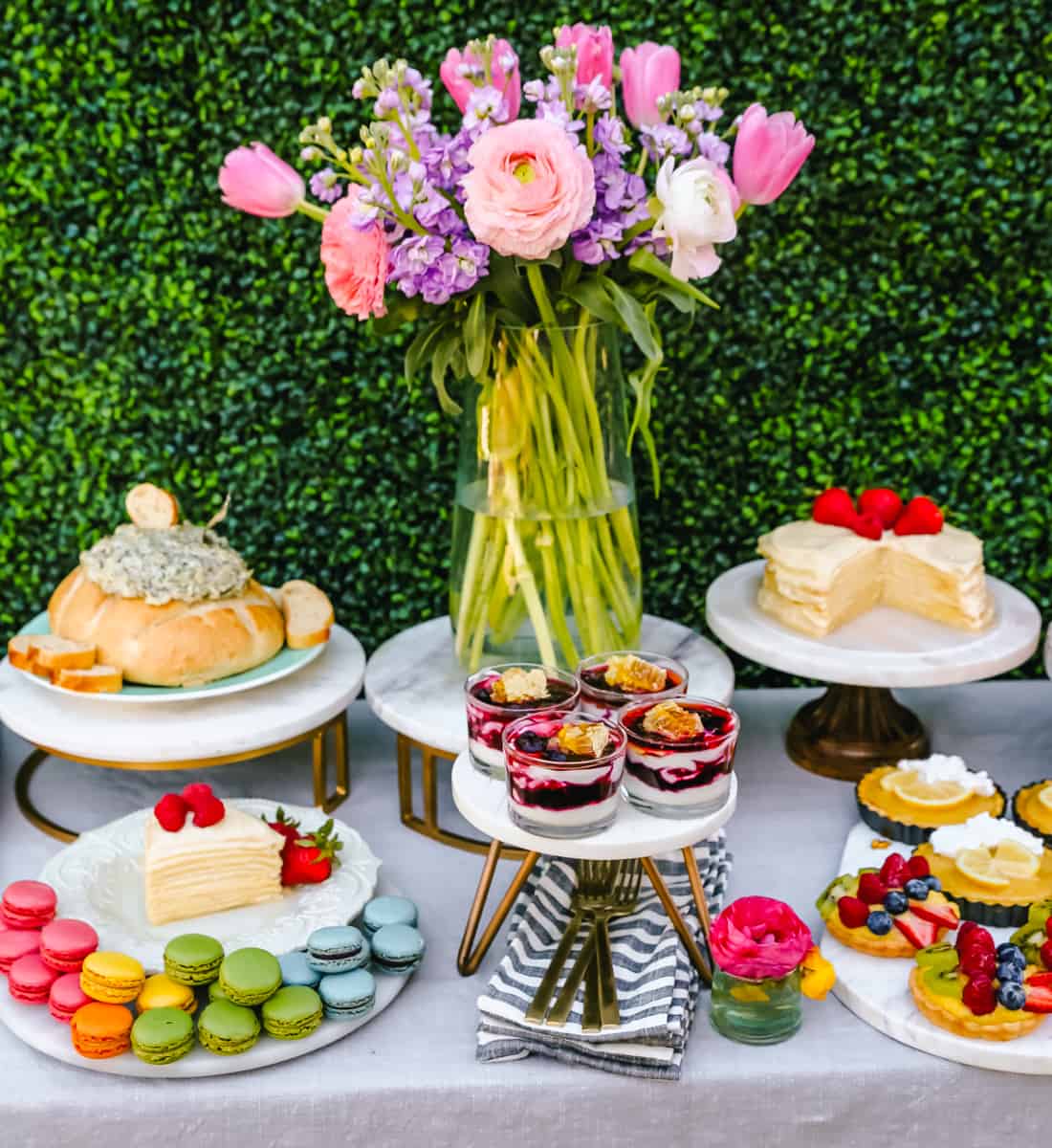 How to create the Ultimate Spring Brunch or Spring Party with an assortment of both sweet and savory breakfast items and beautiful desserts. 30+ Spring and Easter Party Food Ideas. How to decorate for a Spring Brunch and Party too.
Growing up we always celebrated Easter by going to church and then coming home and enjoying a beautiful Easter dinner together. On Saturday before Easter, we would drive up to Camelback Mountain in Phoenix where my grandparents lived, eat an Easter Brunch, and have an Easter Egg Hunt. I have the best memories of the Easter weekend growing up.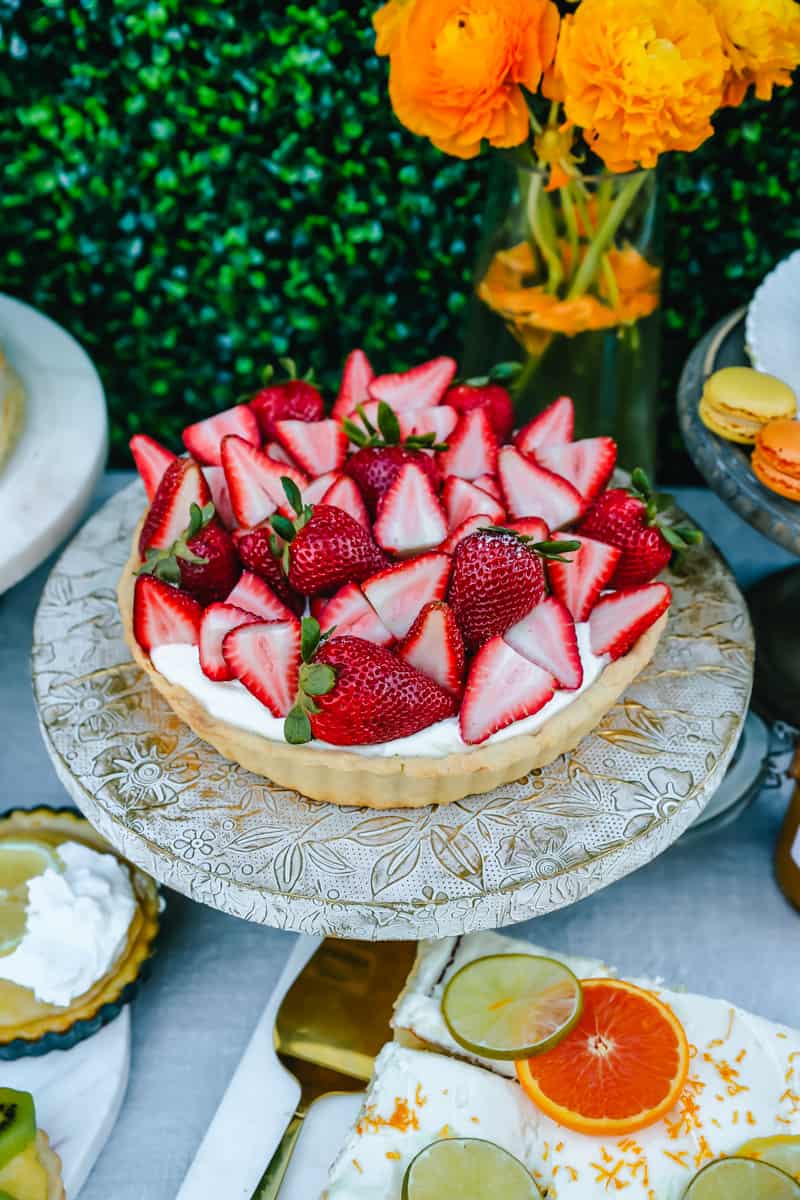 I wanted to throw my teenage daughter and her friends a special Spring Brunch where they dress up in pretty dresses and we eat delicious food and I can dish out advice on boys.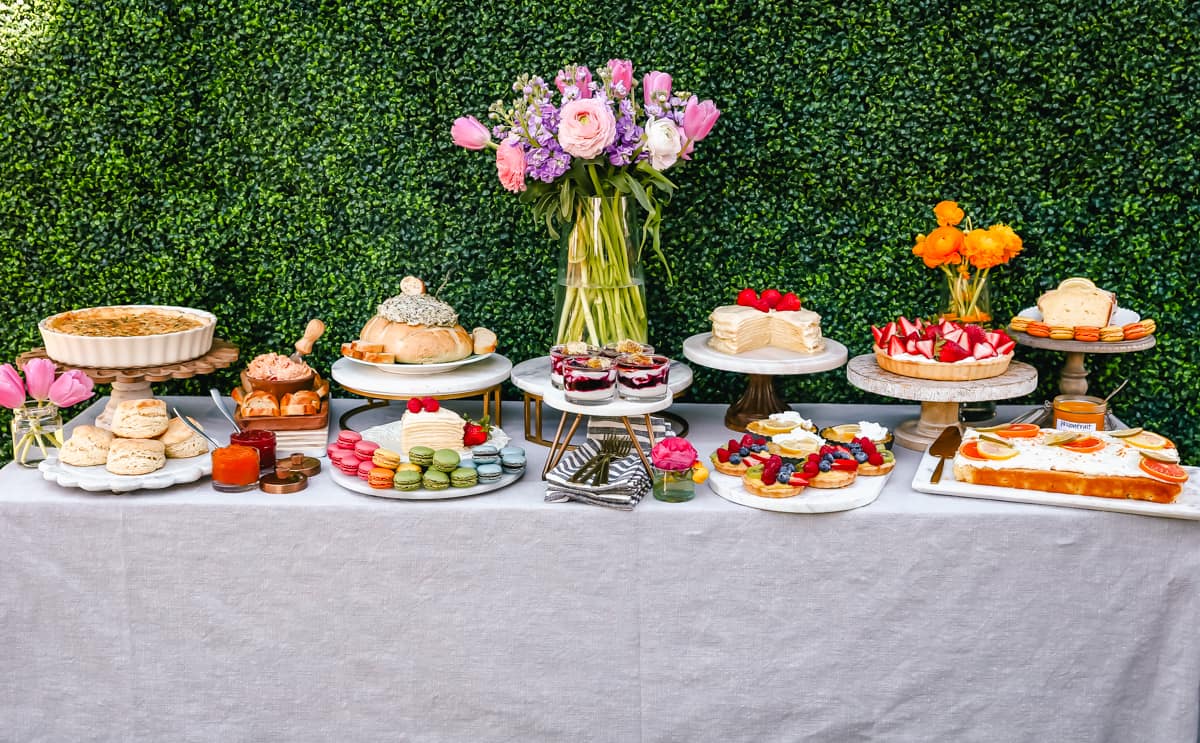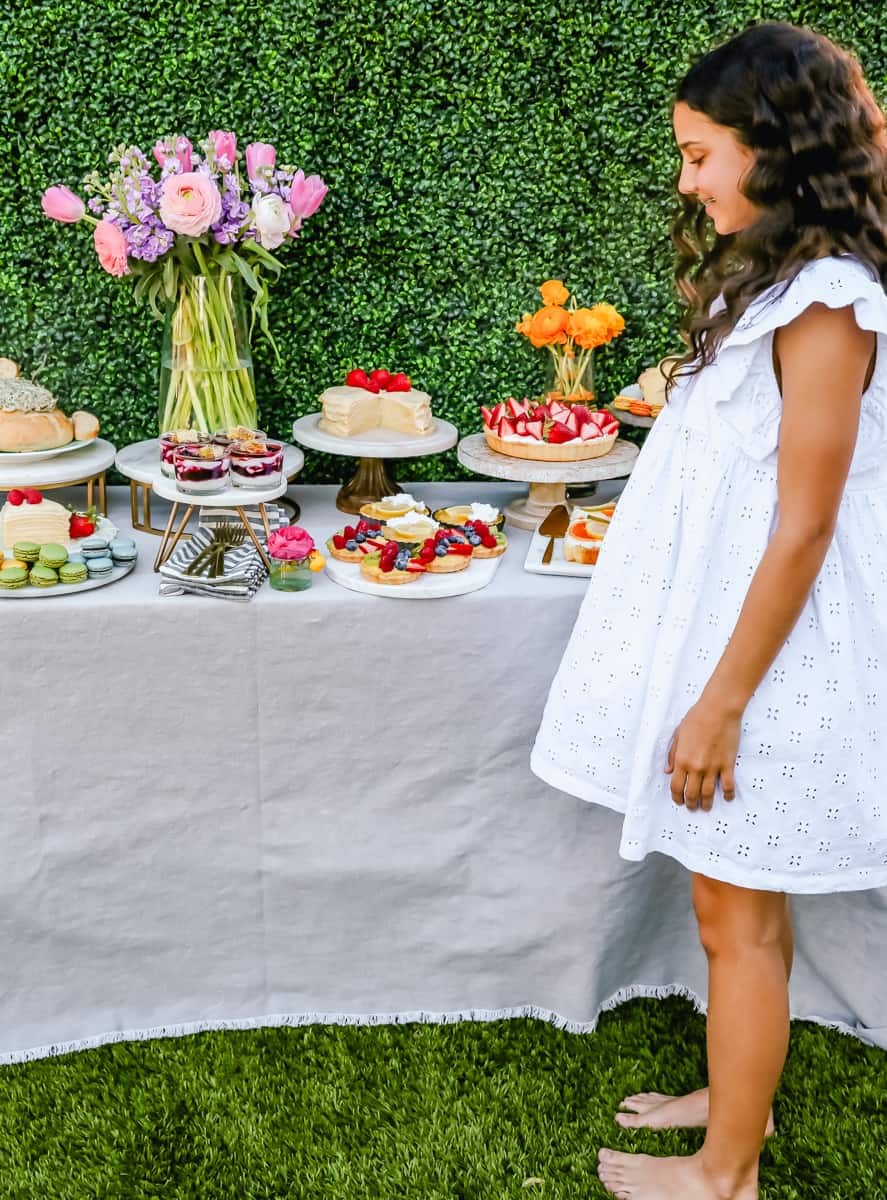 I wanted to serve an assortment of foods from savory to sweet from breakfast to dessert. It is always nice to have many options that include both breakfast and lunch foods when serving brunch. Here are 30+ Spring Brunch and Dessert Recipes. I will share tips on flowers and non-alcoholic drink bars down below.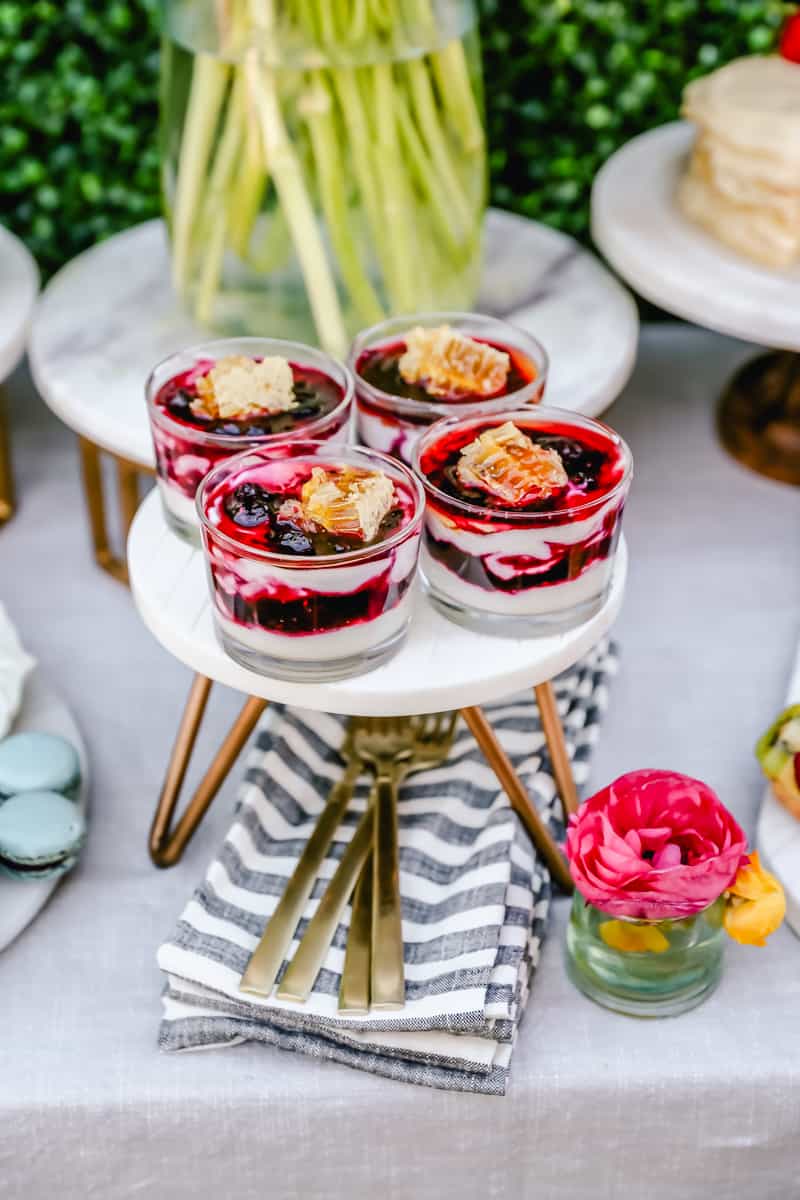 What to serve at Brunch?
Breakfast Items:
Biscuits and Homemade Jam
Yogurt Parfait with Berry Coulis
Crepe Cake
Quiche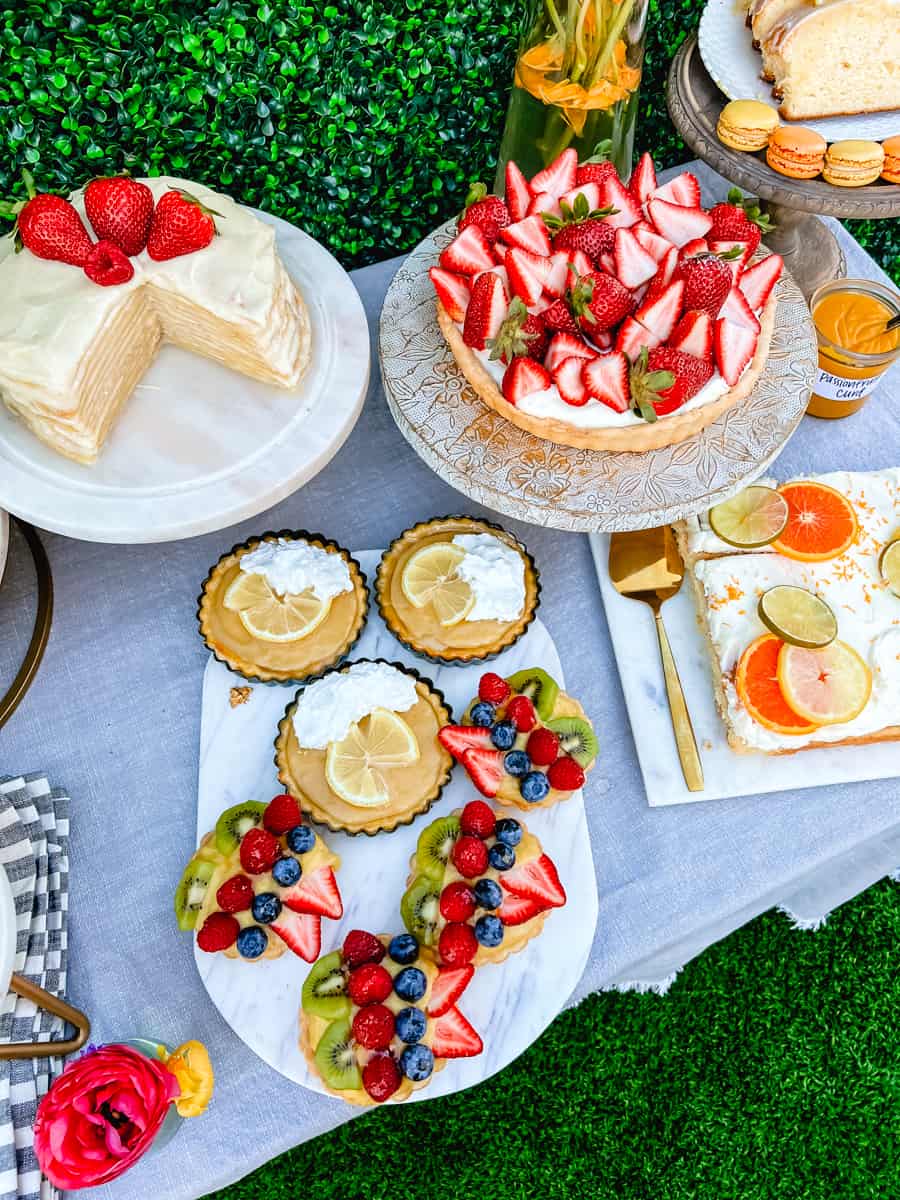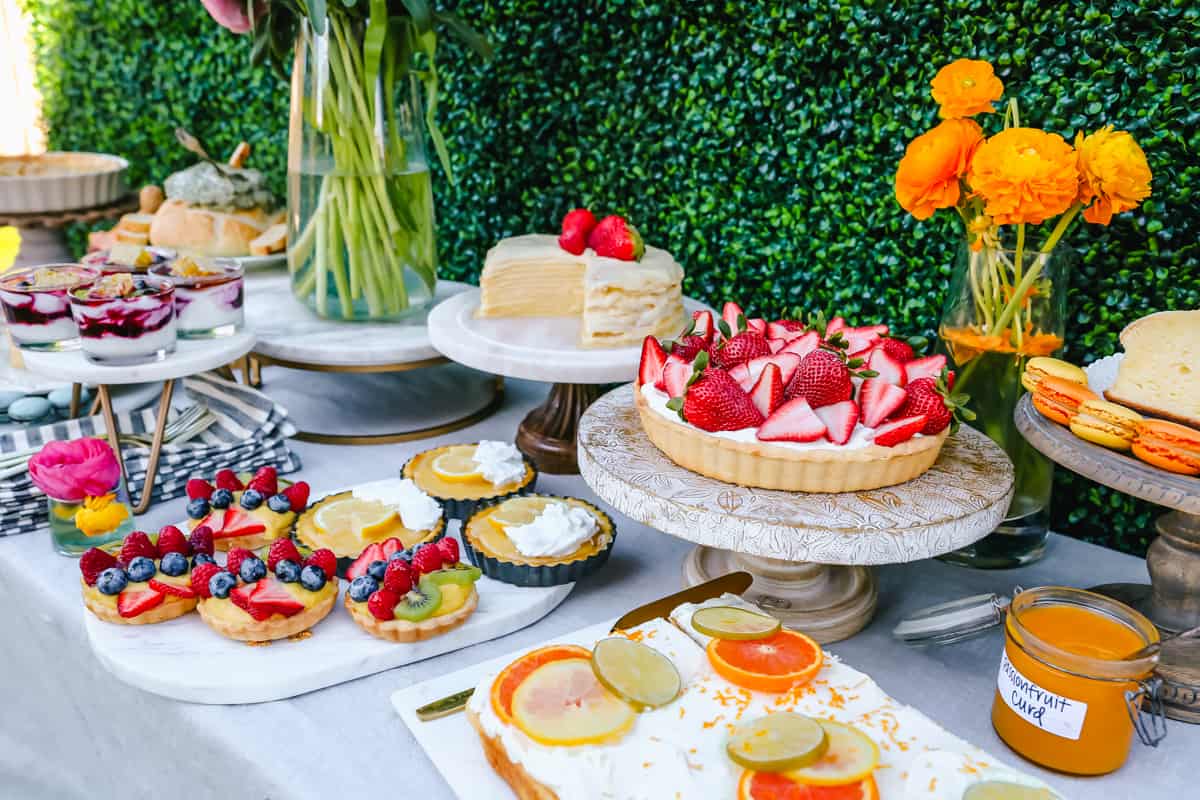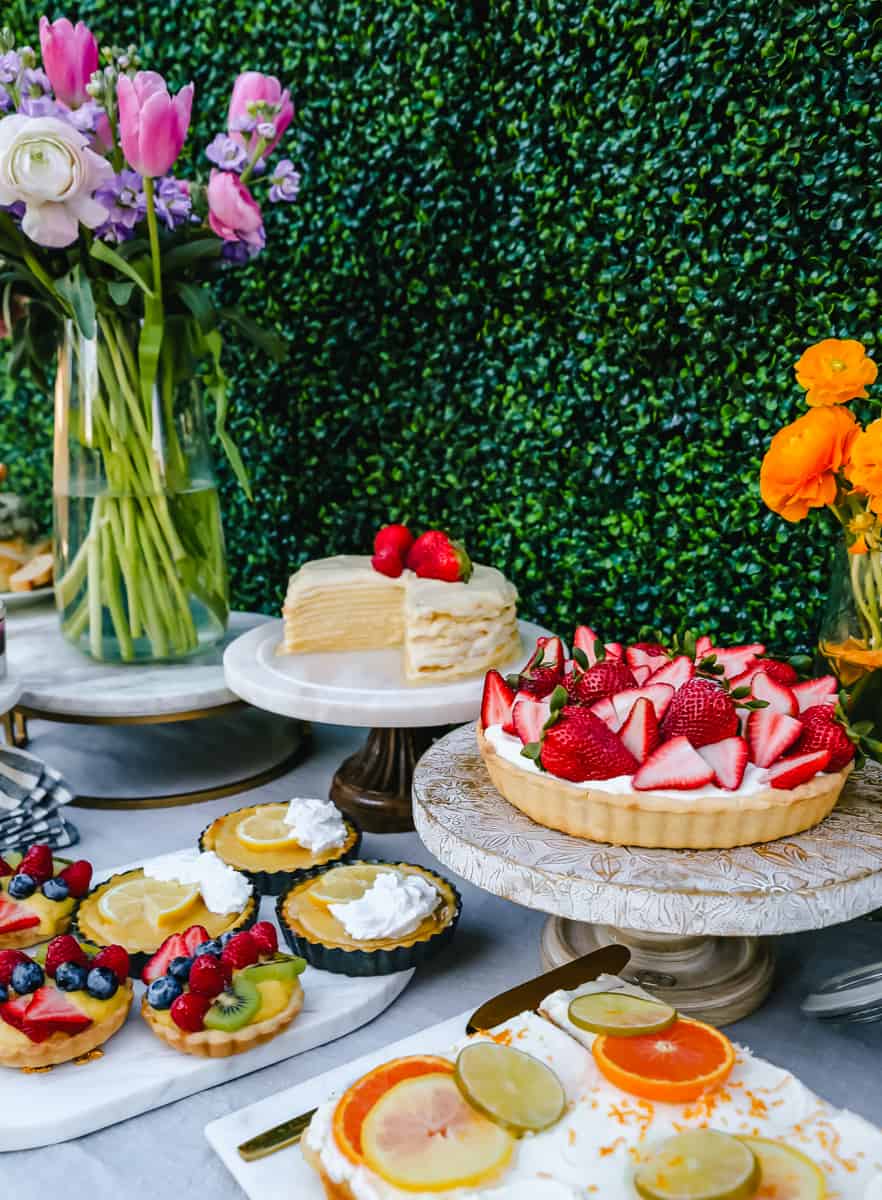 Desserts at Brunch: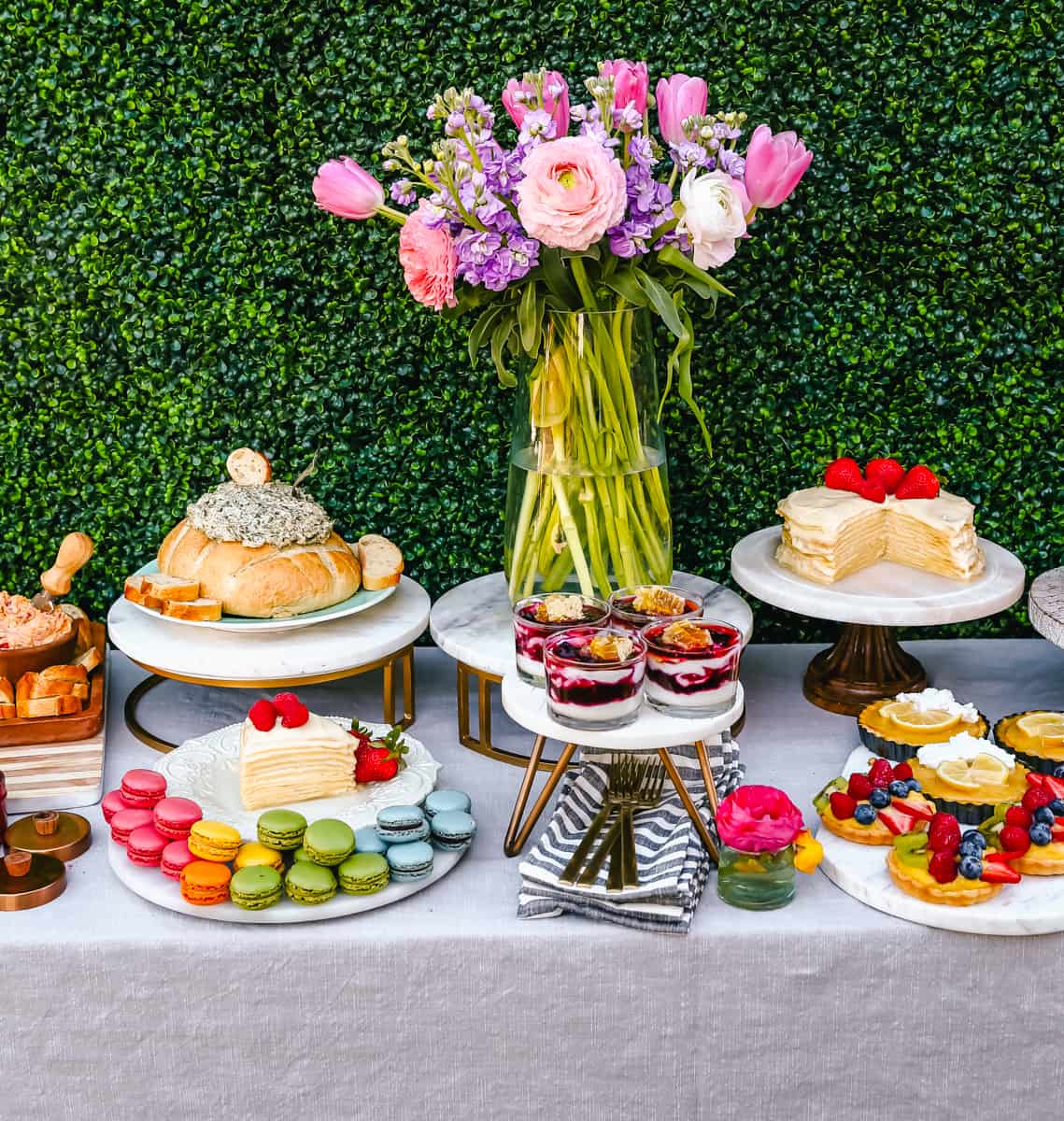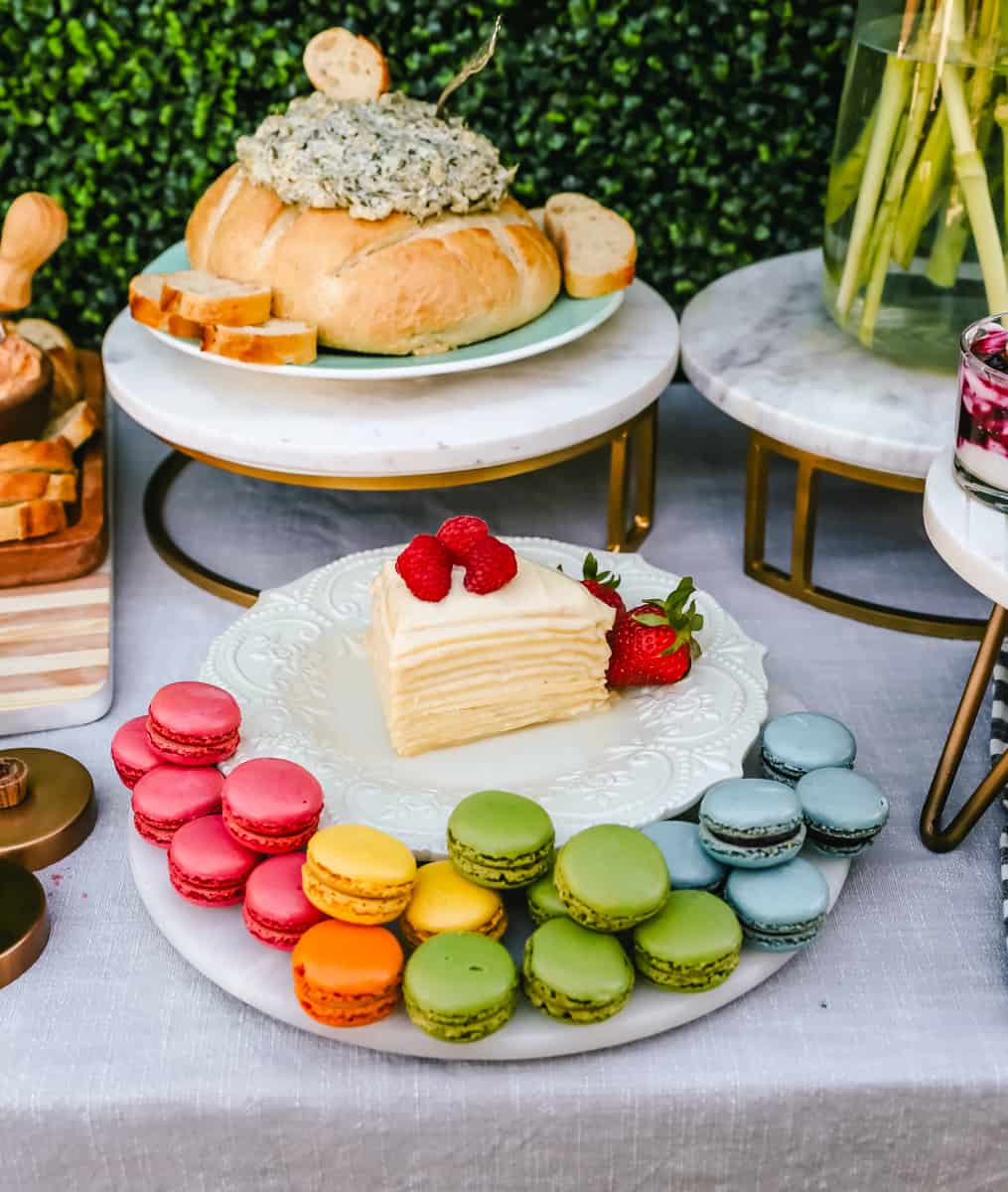 Savory Snacks at Brunch: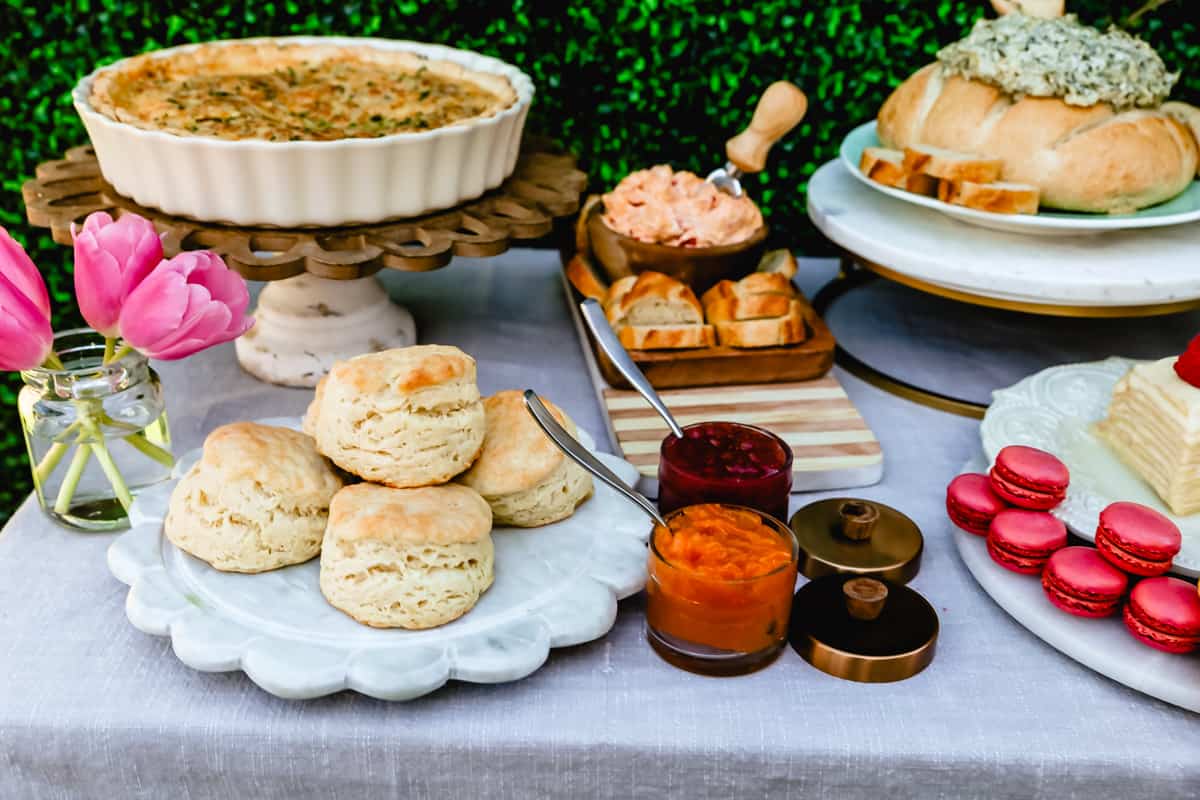 How to decorate a table for Brunch:
The first thing to think about is a table cover such as a cloth tablecloth. I find pretty ones at Home Goods, Target, TJ Maxx, and Williams-Sonoma.
The next thing is fresh flowers. I bought all of my flowers at Trader Joe's. Their flower bunches are only $5.99 and are absolutely beautiful. In the Springtime, ranunculus is in full bloom and they come in all sorts of colors -- pink, fuchsia, orange, and yellow. Their famous pink peonies are usually available in May and those make the most gorgeous floral arrangements.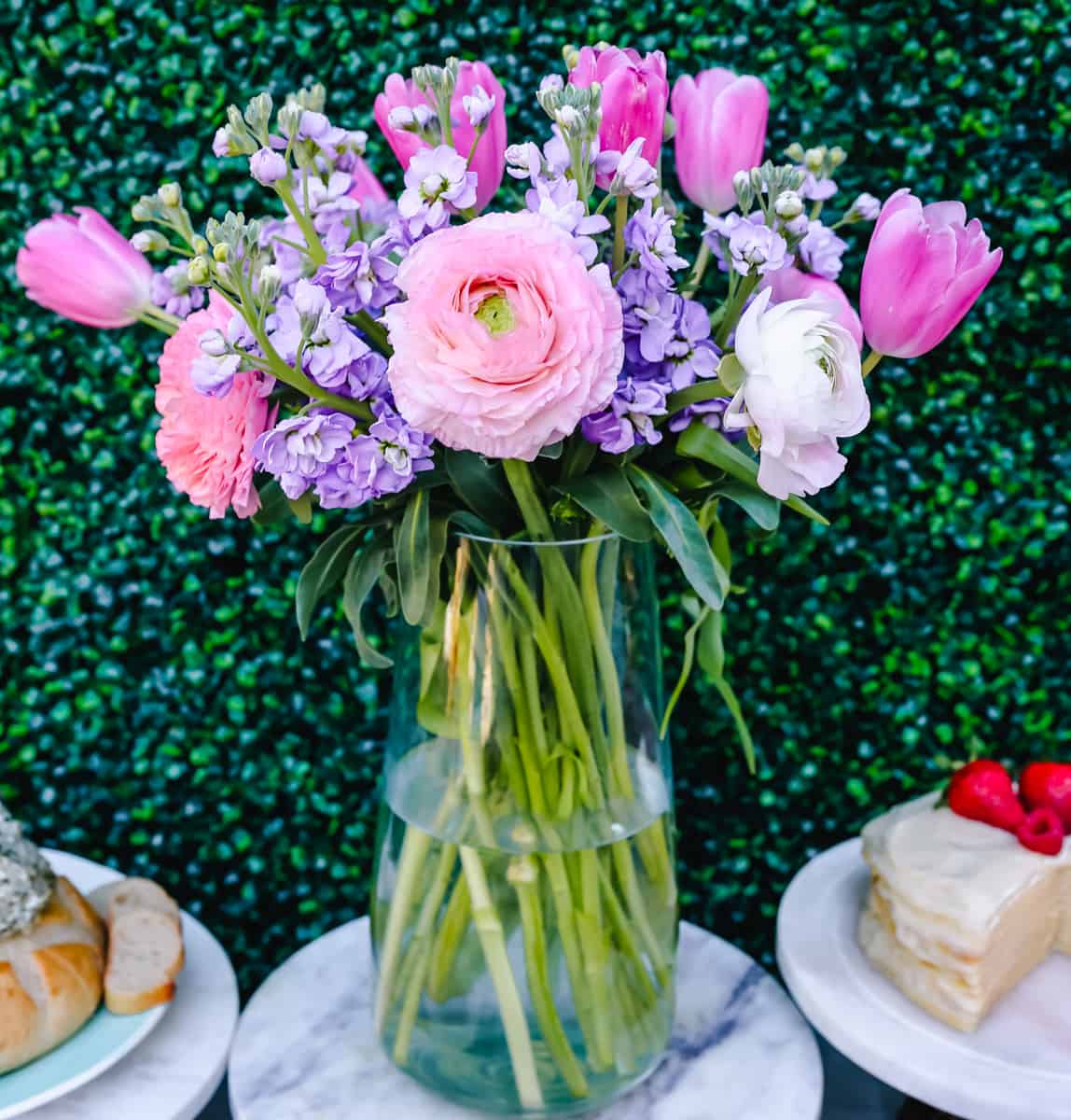 I found that you go early to secure your favorite flowers from Trader Joe's. You can even go to Trader Joe's a day or two before the event to allow your flowers to bloom. Did you know you can place an order for flowers at Trader Joe's? Next time you are in Trader Joe's, ask for the floral manager. Ask if you can order some flowers to be picked up on the day of your choice. They will order extra and set aside flowers just for you. This ensures you get the flowers you want!
If you decide to go with hydrangeas, I would suggest picking them up on the day of the event. Hydrangeas are high-maintenance and need a lot of tender loving care.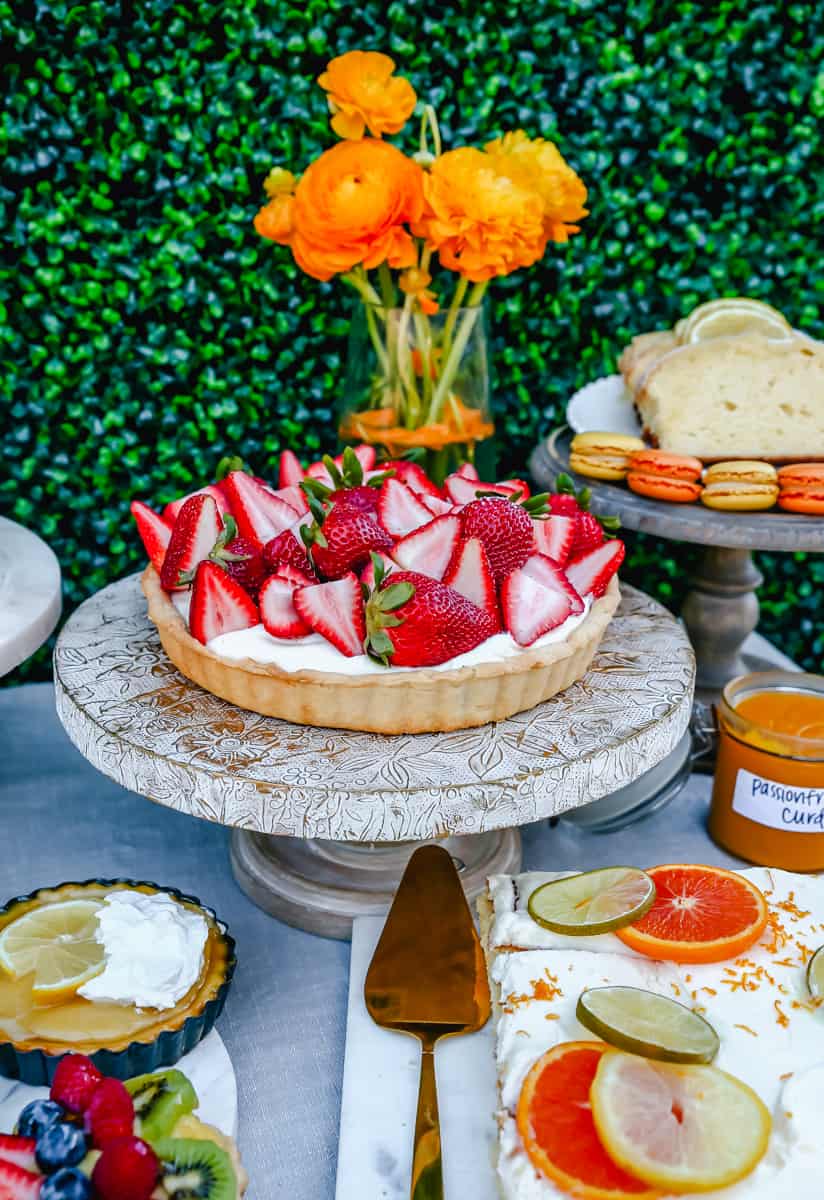 Collect beautiful serving platters, wood boards, cake stands, marble boards, and any other serving dishes for your brunch. I like to use varying heights so cake stands work beautifully when serving brunch. For example, I used a cake stand to put my quiche dish on just for the stature. I find most of my wood boards and serving platters at Home Goods. I also love these marble and gold serving stands from Cost Plus World Market.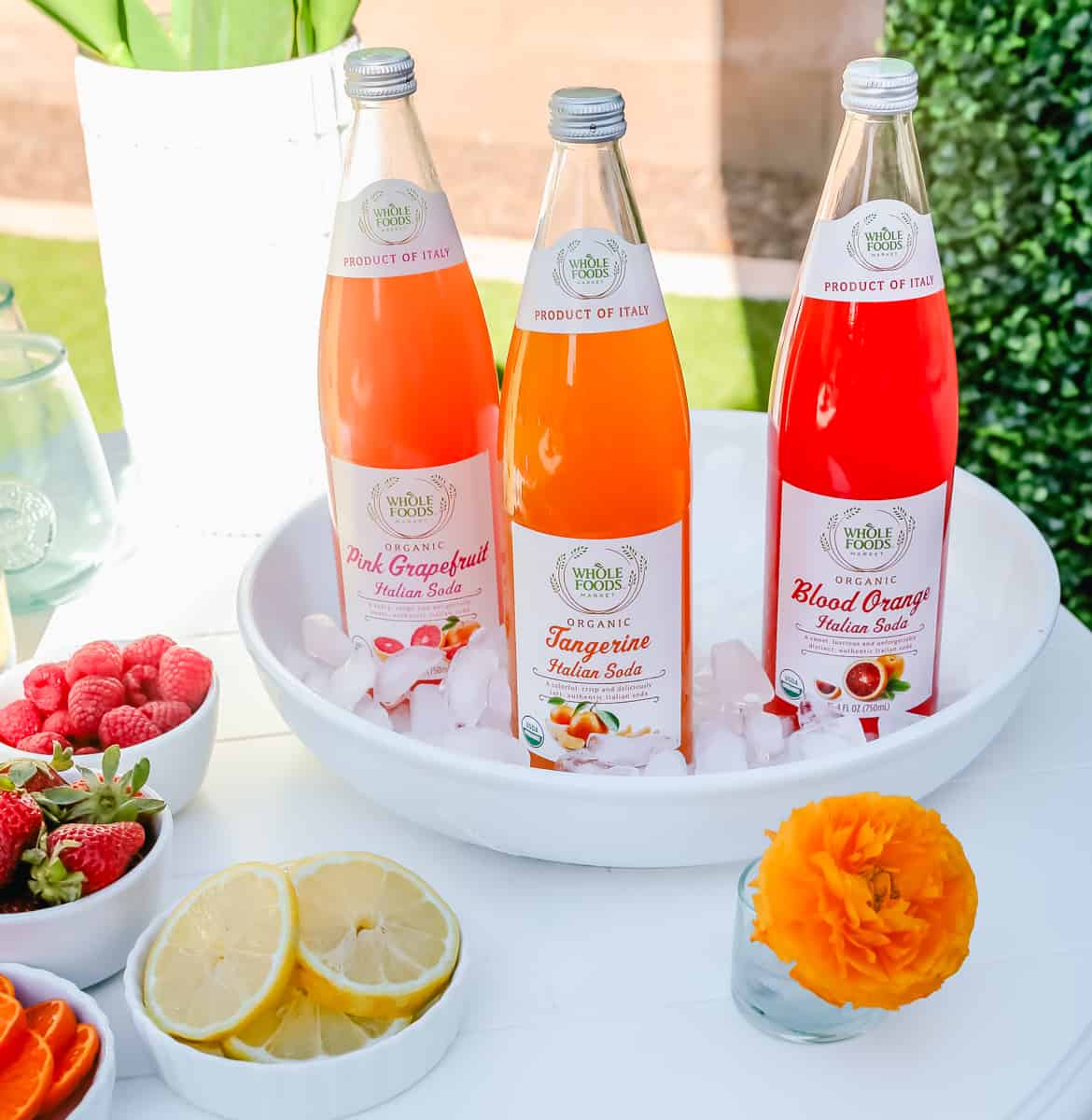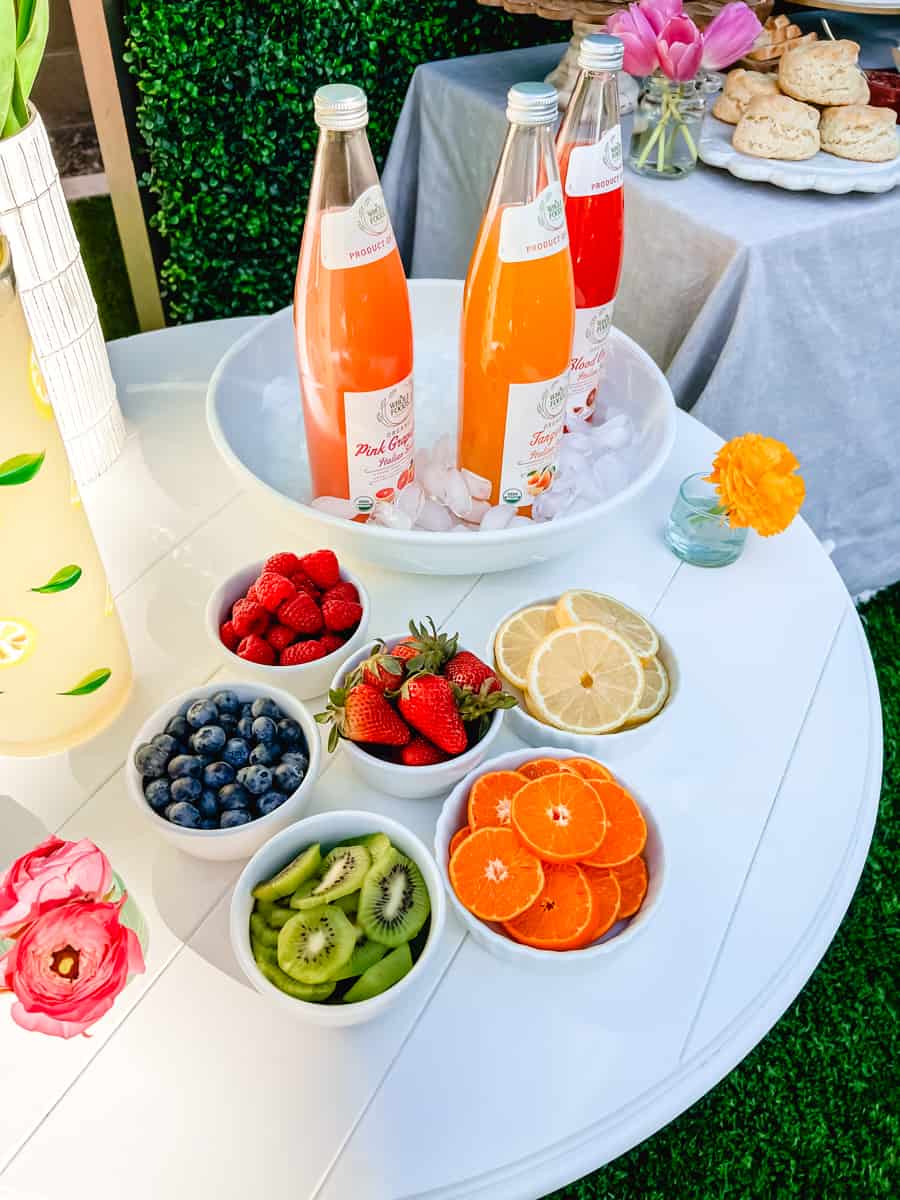 How to make an Italian Soda or Fruit Infused Water Drink Bar at Brunch:
Start off by creating a table just for drinks. This allows the guests to congregate in two different areas.
Pick up your favorite fruit Italian sodas, pink lemonade, homemade fresh lemonade, or make fruit-infused water. We love the Italian sodas from Whole Foods. Trader Joe's also carries them and pink lemonade in a bottle.
Cut up fresh fruit and place in small ramekin dishes. I would suggest placing the fresh fruit on ice to keep it cold and fresh.
Make sure to have a lot of ice on hand! You want to ensure super cold drinks so have an extra bag in your freezer, just in case.
Serve in pretty glasses.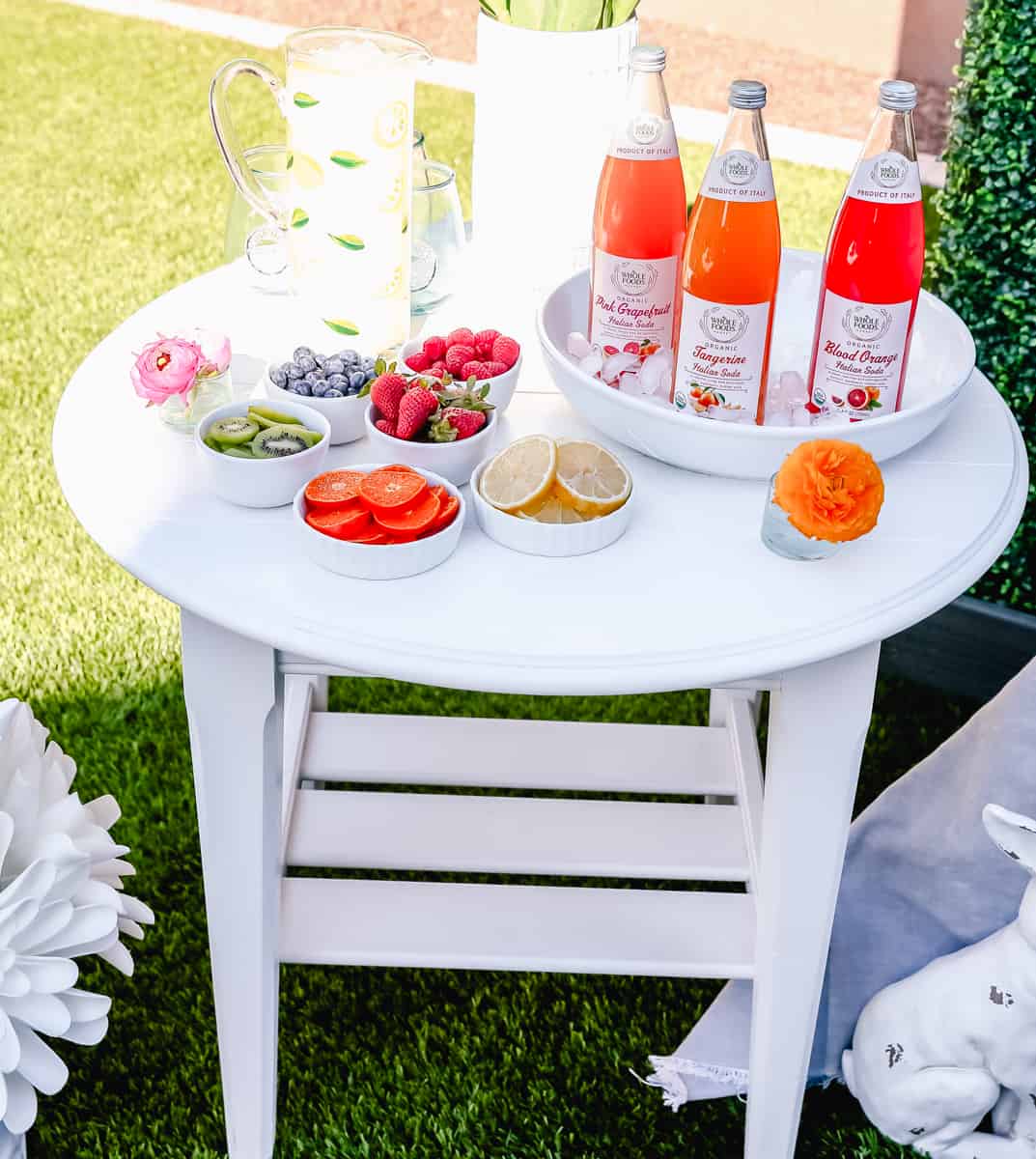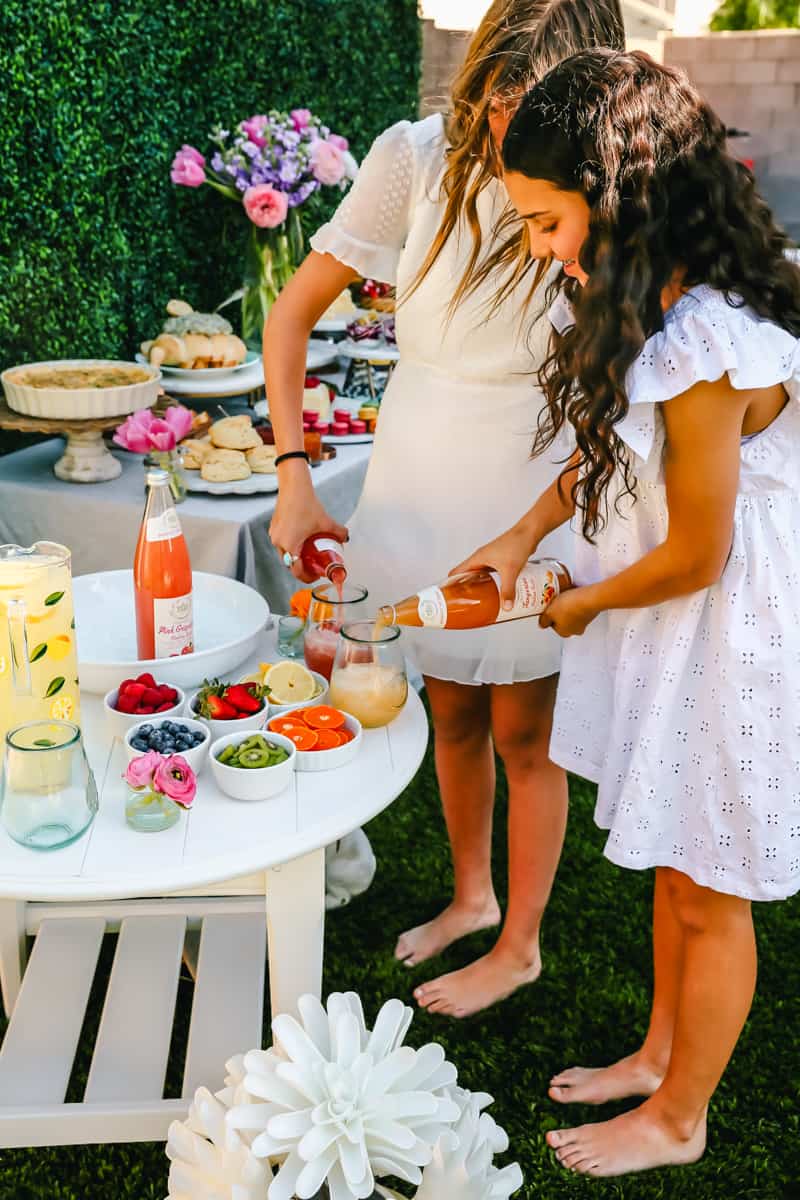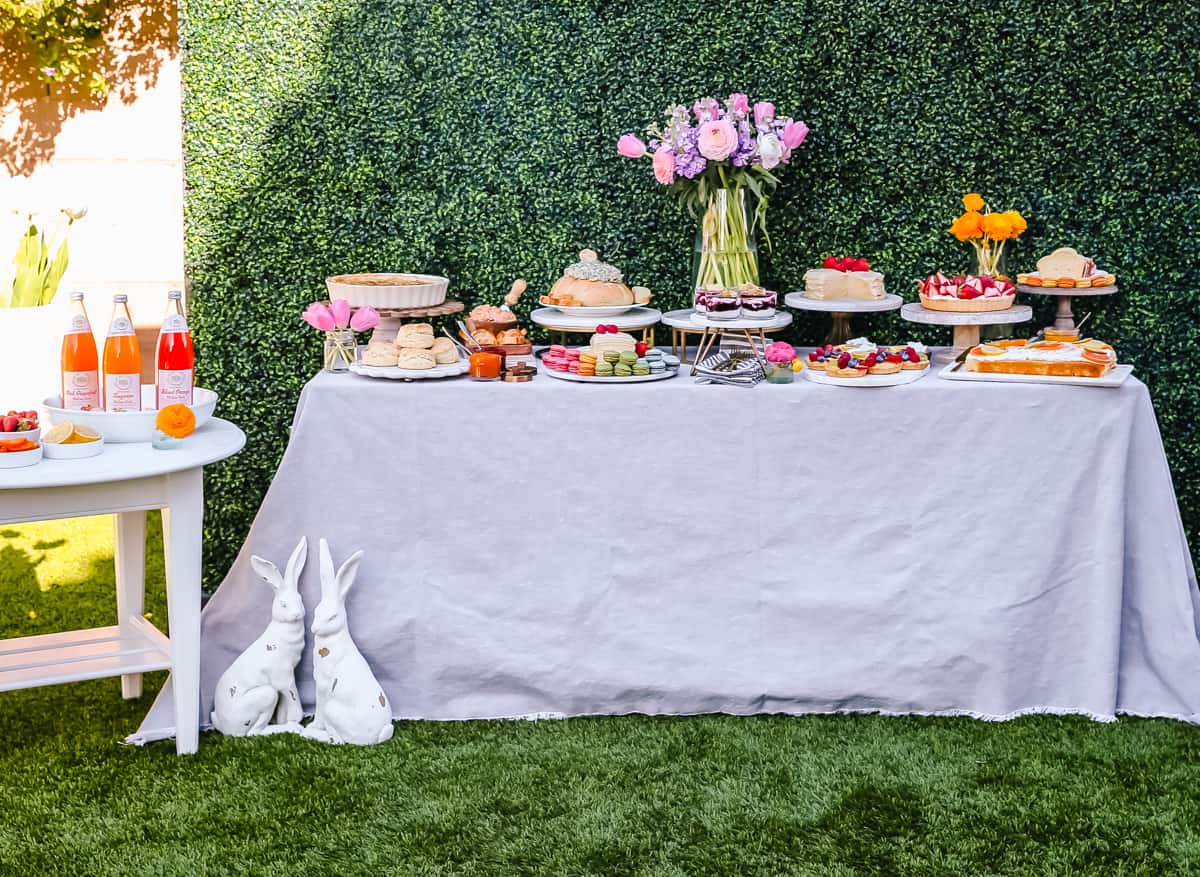 Happy Spring and Happy Easter, tomorrow! I hope you love these Easter Brunch ideas. Thank you for following along!