These Easter Cadbury Mini Eggs Blondies are chewy milk chocolate chip cookie bars filled with mini Cadbury eggs. These are the best mini egg blondies!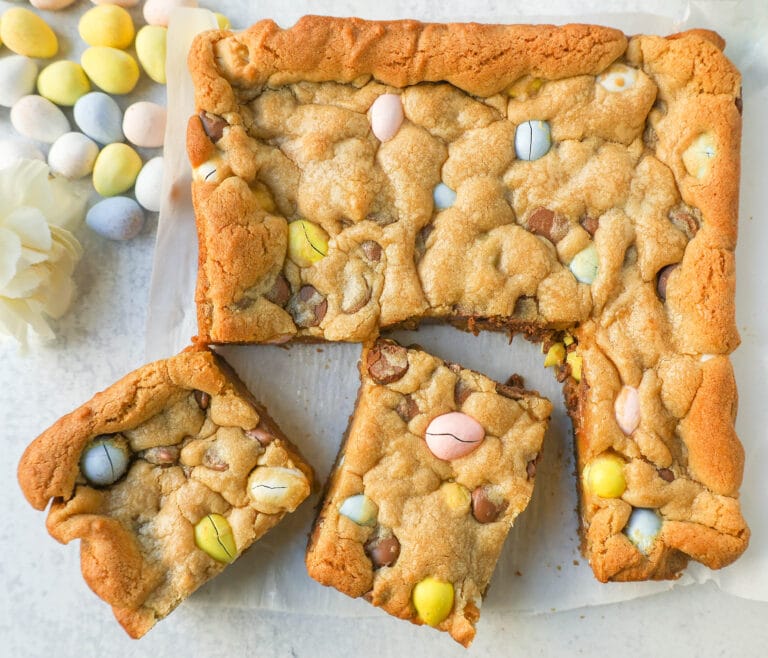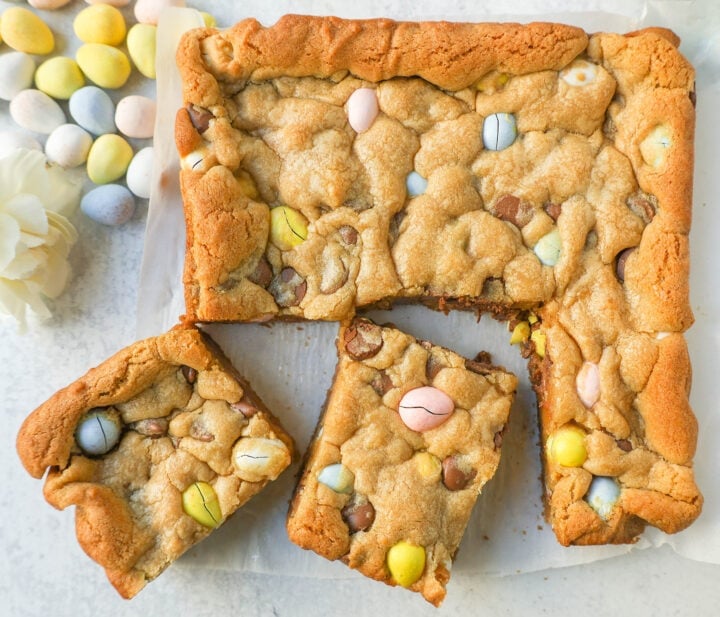 It is officially Easter candy season and I am all about it. I have already visited my local See's chocolate shop and loaded up on my Easter favorites.
Of course, it wouldn't be complete without picking up some mini chocolate candy shell coated eggs in my basket. I could eat a lot of those Cadbury eggs!
So I wanted to create a decadent Easter dessert bar that starts with a chewy milk chocolate chip cookie bar filled with mini eggs and baked until perfectly golden. These Easter blondie bars literally melt in your mouth!
I made Cadbury Egg Cookies last Easter and they were beyond delicious so let's turn them into an Easter blondie.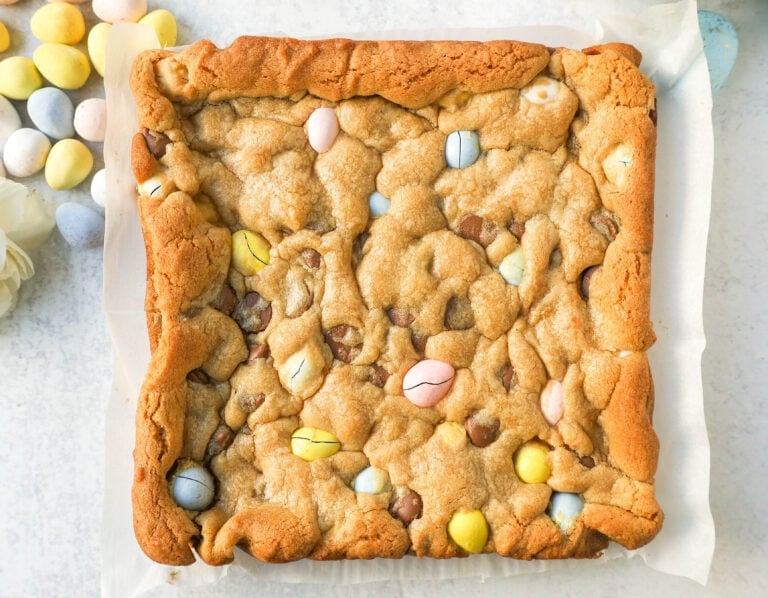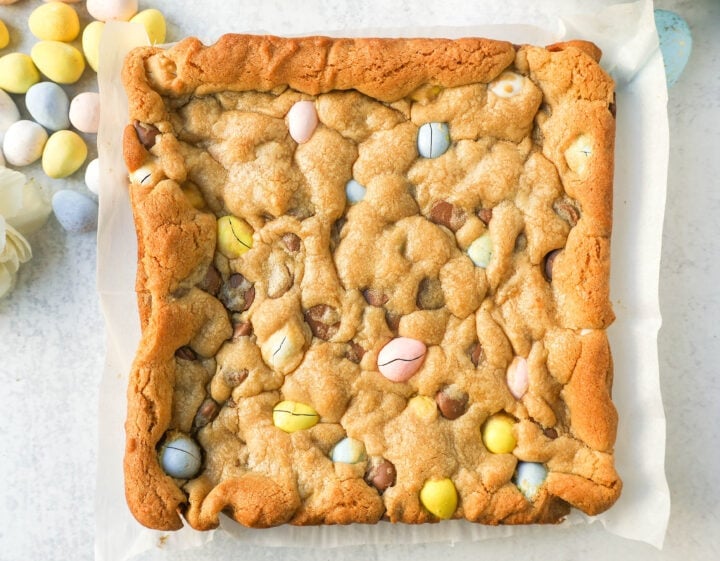 Mini Egg Blondies Ingredients:
These Easter blondies are so easy to whip up! They are an ooey gooey chocolate chip cookie bar with mini Cadbury eggs with a chewy center and crisp edges.
Butter -- use unsalted or salted butter in this recipe. If you use salted butter, reduce salt by ¼ teaspoon.
Brown Sugar
Sugar
Egg
Vanilla Extract -- my go-to vanilla extract for baking is Nielsen-Massey Vanilla Extract.
Flour
Cornstarch -- this creates a soft texture and helps to keep them soft for longer.
Baking Soda
Salt
Milk Chocolate Chips -- my favorite milk chocolate chip brand is Guittard.
Mini Eggs -- look for hard shell milk chocolate-filled candies called Cadbury Mini Eggs or Lindt Mini Eggs
If you want the mini eggs to stay together, I suggest hand-mixing the chocolate eggs into the dough. If you want the mini eggs to break up a little, you can use your hand mixer or Kitchenaid.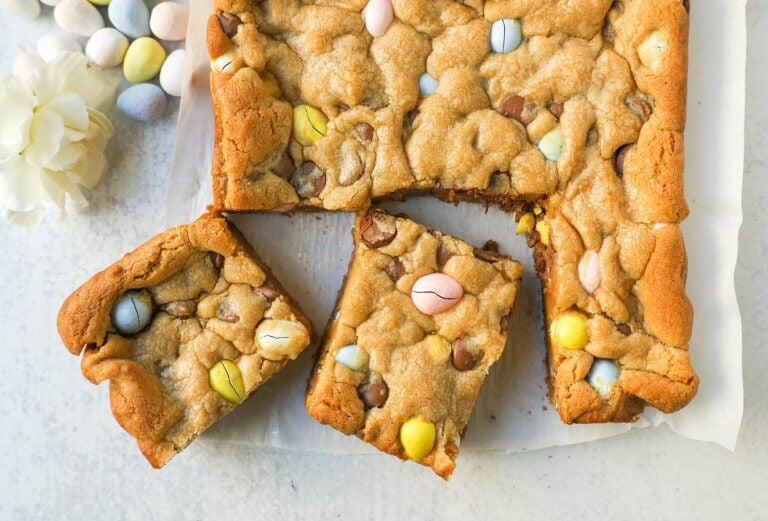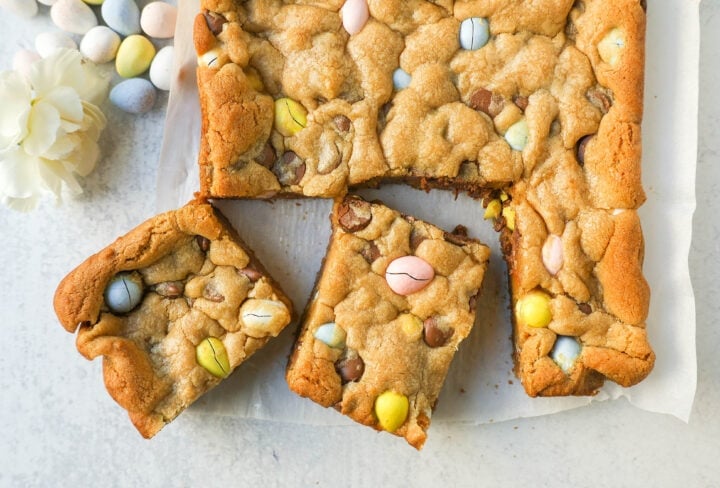 How to make Cadbury Egg Blondies:
These Mini Egg Bars are beyond easy! They take less than 30 minutes to make, start to finish and everyone loves them. These are the perfect easy Easter dessert.
Cream together softened butter, brown sugar, and sugar for about 3 minutes or until creamy, light and fluffy. You can do this with a stand mixer, like a Kitchenaid or hand mixer. You can also mix these Easter blondies by hand...just mix them long enough to dissolve the sugars.
Add egg and vanilla extract and mix until combined.
Fold in flour, cornstarch, baking soda, and salt. The cornstarch helps to keep the bars soft for days.
Fold in milk chocolate chips and mini eggs until combined.
Line a 8 x 8 or 9 x 9 baking pan with parchment paper and press into the edges. Press cookie dough into the pan. If you want a thicker blondie, use an 8-inch pan. In the photos above, I used an 8-inch baking pan.
Bake until the edges start to turn a light golden color. The blondies are meant to be chewy in the center so it is better to underbake rather than overbake. The cookies will set up after being removed from the oven.
Cut into squares. See the tips below for cutting the Easter blondies.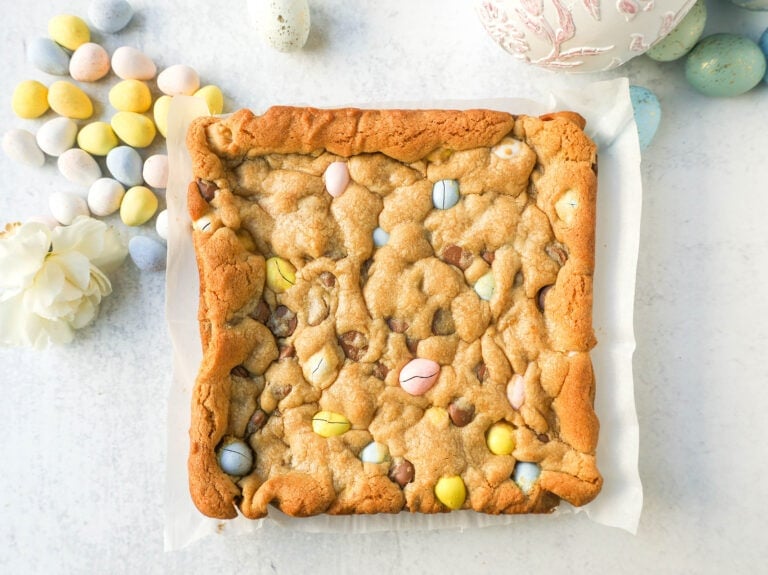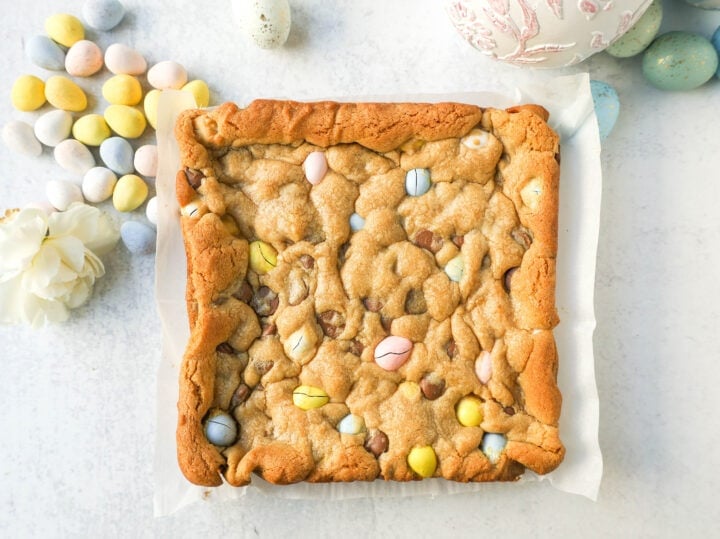 How to cut blondie bars:
If you want to know how to cut dessert bars, let me give you some of my favorite tips...
Use a plastic knife to cut into the dessert bars. The plastic glides through the blondies without tearing or giving a jagged edge. It works like a charm!
Use a knife dipped into hot water (and wiped off with a paper towel). This helps to glide through the dessert bars.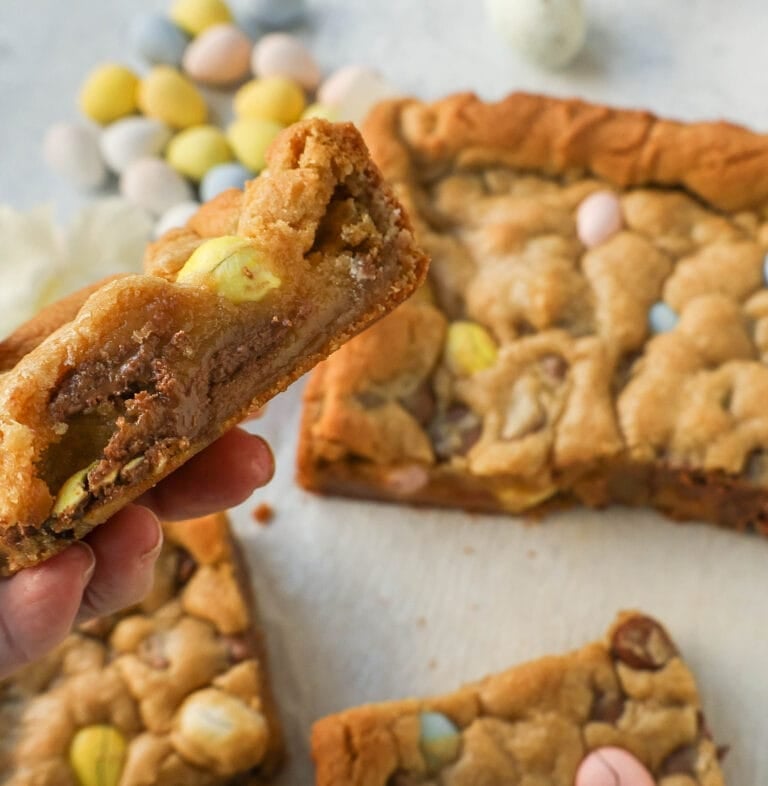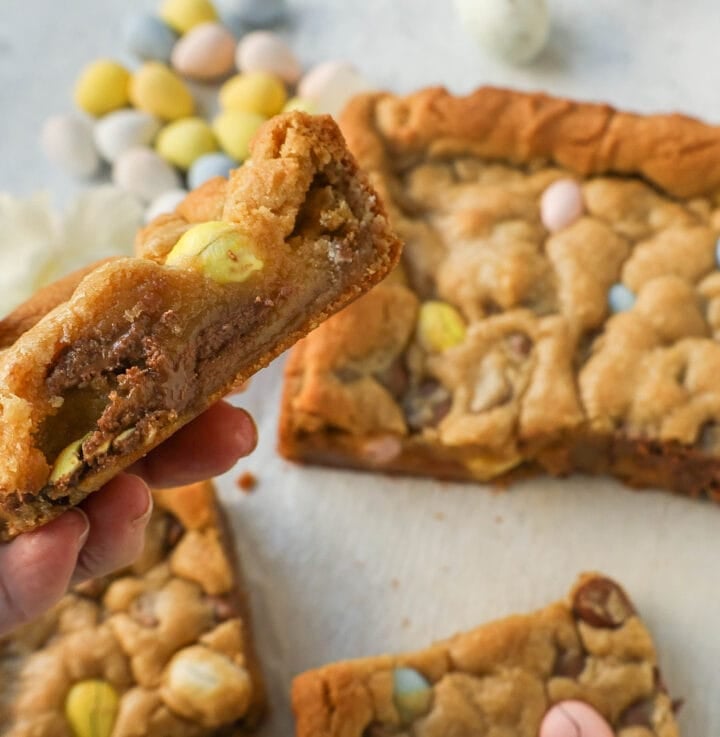 BAKING TOOLS:
I love to hear from you! If you make this recipe, please be sure to leave a comment and give this recipe a rating. Sign up for my newsletter below so you never miss a recipe. Thank you for following along! I truly do have the greatest readers. FOLLOW ME ON: INSTAGRAM — FACEBOOK— PINTEREST