Chocolate Cadbury Egg Cookies
A White Chocolate Chip and Famous Chocolate Mini Cadbury Eggs Cookie. Soft and chewy centers with crispy edges and decadent mini Cadbury eggs. A perfect Easter cookie!
Easter is a little over a week away and I already have a stash of three bags of mini chocolate Cadbury eggs. They are essential in our home once it hits March. Anyone else a huge fan of mini Cadbury eggs?
Growing up, my Mom made Easter extra special. It would last the whole weekend with a big Easter Egg hunt with all of the cousins, aunts, uncles, Grandmas, Grandpas on Saturday with an Easter feast. We would devour deviled eggs, ham and cheese sliders, potato salad, fresh fruit, and coconut cupcakes.
I remember vividly being disappointed when I opened eggs not filled with chocolate. I would usually trade all of my jelly beans for mini Cadbury eggs. The obsession definitely started young!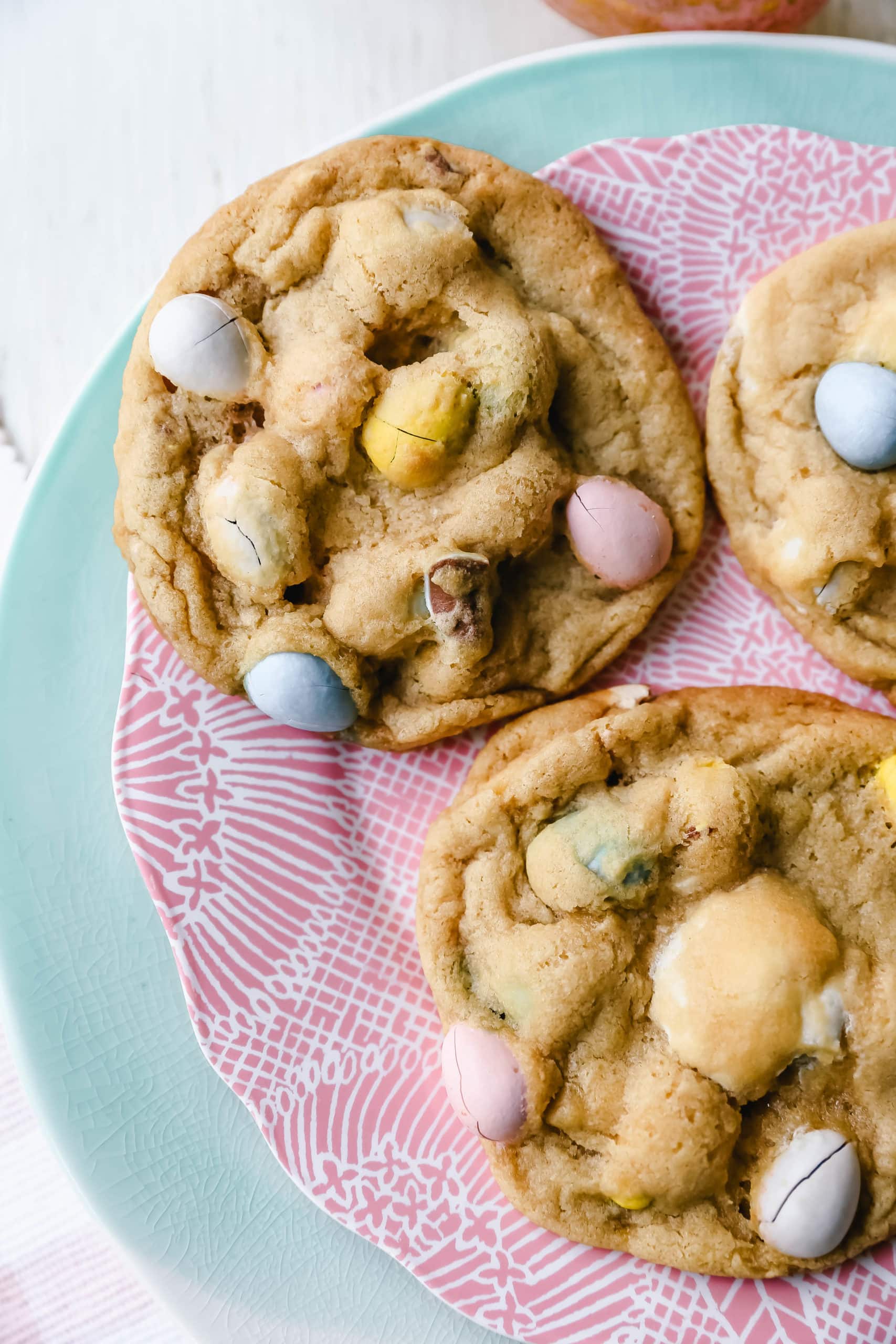 So I thought since Cadbury chocolate mini eggs are so good on their own...why not add them to a cookie? The results were Easter cookie perfection. I took a brown sugar cookie dough and added white chocolate disks and Cadbury eggs to it and baked them until a light golden color.
These are the perfect Easter cookie to take to your potluck or Easter gathering. You just have to make sure they get there before you are tempted to eat them all!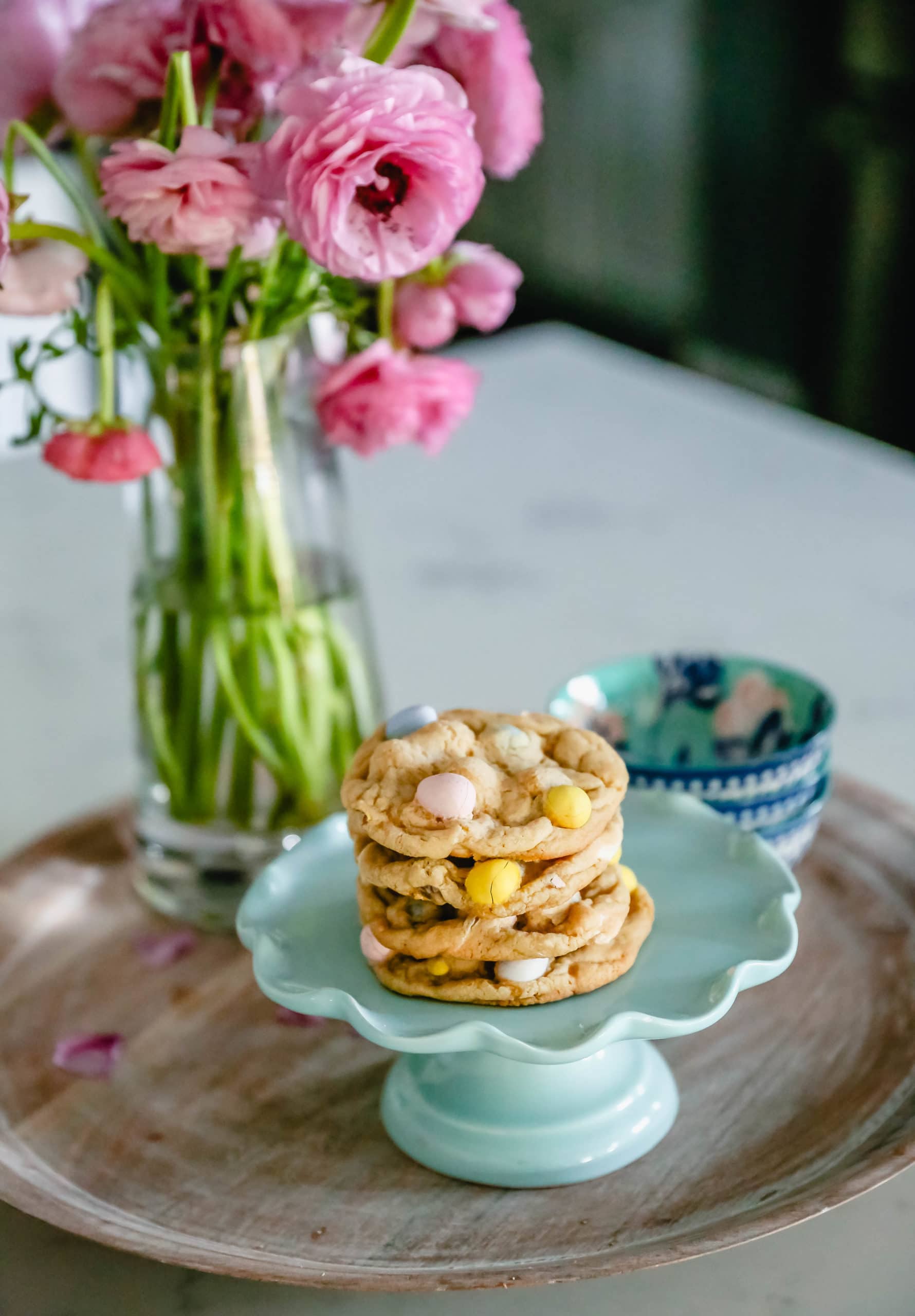 How to make the Best Easter Chocolate Cadbury Egg Cookies:
Start by creaming together softened butter and sugar for 4 minutes or until light and fluffy. Make sure to scrape the sides of the bowl and continue to mix to ensure even mixing. Add egg and vanilla.
Fold in flour, baking soda, and salt, just until mixed together. Add white chocolate and mini chocolate Cadbury eggs and lightly mix. This will allow to break up a few of the Cadbury eggs. You want to have some remain whole and intact and some of them can break apart a little. Set aside ⅓ of the bag to place on the cookies at the end. I used Ghirardelli melting wafers in this recipe but you can use any type of white chocolate chips or wafers...or omit it if you want to just focus on the chocolate.
If time is on your hand, wrap the cookie dough in Saran Wrap and place it in the refrigerator to chill. It is ideal to wait 24-48 hours but even 30 minutes can help. This helps to solidify the butter so the cookies don't spread as much and it deepens the flavor of the dough.
Since the Cadbury eggs are the star of the show, you want to highlight them. With about 1-2 minutes left of baking time, carefully open the oven and lightly place a few Cadbury eggs onto each cookie. You want to carefully (don't burn yourself) and lightly put them on (as to not flatten the cookies too much). Continue to bake for 1-2 minutes longer.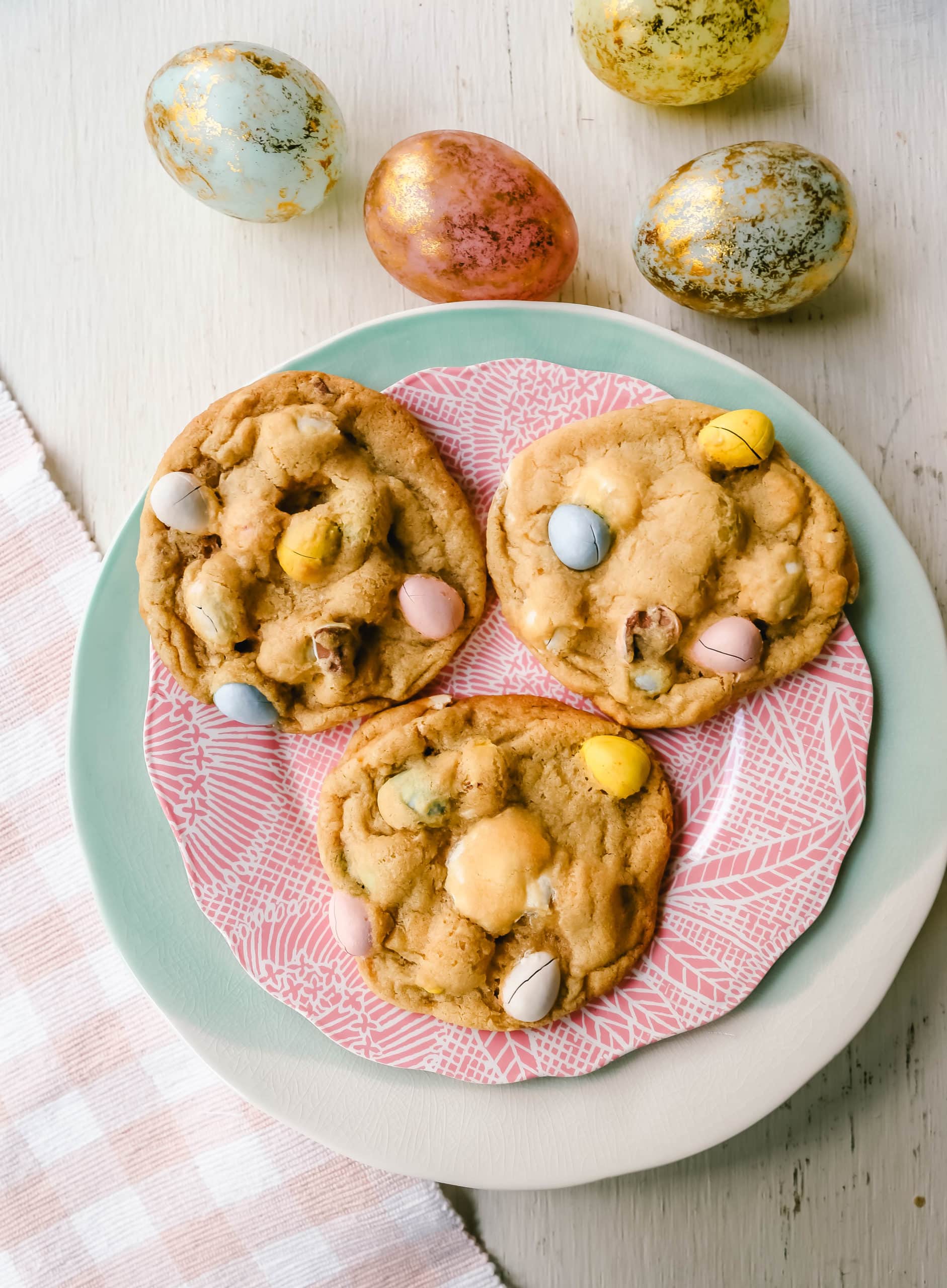 These are my favorite baking essentials:
Nordicware Light-Colored Baking Sheets
Parchment Paper Baking Sheets
Cookie and Brownie Spatula